September, 26, 2012
9/26/12
12:29
PM ET
Alabama coach Nick Saban took to the SEC's weekly teleconference on Wednesday morning to discuss this week's game against Ole Miss. While he was on the line, he talked about a number of issues, including the Rebels' up-tempo attack, the future of injury reports and how a few freshmen linebackers have improved this season.
1. Hurry-up issues
Saban isn't sleeping on Ole Miss' up-tempo offense and knows it's difficult to replicate in practice.
"Their hurry-up offense is really something that gets defensive players out of their comfort zone and we're working hard to get a picture of that and work on that," Saban said. "They've done a very good job of creating a lot of explosive plays for their really good skill guys."
Saban continued later in the call: "They also have pretty good players doing some of this stuff. They have really good speed, offensively, quarterbacks that do a good job executing what they do, a couple of wideouts who can make explosive plays. So this is a difficult preparation from the no-huddle part, but also from their ability to execute with some pretty good players.
2. NFL-style injury reports
Saban started off saying he didn't have an opinion on the desire for uniform injury reports, but went ahead and said what he thought anyways.
"If you're going to give injury reports, everyone should do them the same way," he said. "We kind of tell it like it is if he's going to be out.
"Even in the NFL, I think people manipulate the system to put questions in people's minds about whether a guy's going to play or not. I don't think it's imperative for the future of college football that we have an injury report. I'm not opposed to one if everyone has to do it the same way and it can be enforced."
3. Freshmen linebackers coming along
A number of freshmen have played at linebacker for Alabama in the first four weeks. From what Saban's seen, they're improving.
"[
Denzel Devall
] is playing a position that he's starting to develop confidence in what he's supposed to do," Saban said. "He's done a really good job for us and been productive, and we think he's going to be a really good player. We have confidence in being able to play him.
"
Reggie Ragland
was making really good progress and he was on a couple of special teams and got a high ankle sprain in the Michigan game, so he's just sort of getting back into it. We have high hopes for him.
"
Tyler Hayes
has gotten some playing time on special teams. All those guys have developed nicely for us and we're happy that they're making a contribution."
September, 26, 2012
9/26/12
11:18
AM ET
College GameDay's Kirk Herbstreit went on Mike & Mike in the Morning to talk some college football, touching on Saturday's Ohio State-Michigan State game, Alabama's potential, his expectations for USC, the best rivalries in college football and more.
Listen here

September, 26, 2012
9/26/12
8:25
AM ET
TideNation brings you another edition of The O-zone, a confidential look inside Alabama recruiting. Get the latest updates from the gridiron and the hardwood as it pertains to the Crimson Tide.
Decision day
The day has finally come. After pushing it back and pushing it back again, ESPN 150 athlete
Derrick Henry
will announce his college decision Friday at 3 p.m. EST from his high school in Yulee, Fla. He will choose between Alabama and Tennessee. Henry, who originally committed to Georgia last summer, nearly pushed the decision back even further because he wanted to visit Athens, Ga., one last time. However, after taking his official visit to Alabama over the weekend, he decided he was ready to pull the trigger. That has to bode well for Crimson Tide fans, along with the fact that UA has been his leader since he visited Tuscaloosa over the summer. Henry will play on ESPNU the same night against Florida running back commitment
Kelvin Taylor
.
To continue reading this article you must be an Insider
September, 26, 2012
9/26/12
8:20
AM ET
ESPN 150 cornerback
Jalen Ramsey
(Brentwood, Tenn./Brentwood Academy) committed to USC in July, but that hasn't stopped him from taking other visits. He took his first official visit to Florida during the weekend for the Kentucky game.
"It went good," Ramsey said. "It was a good visit. It was my first official, so it was official-like. I liked the coaching staff. It was just a good environment. I liked the fans. It was fun getting to hang with some of the players and just watching some football."
After his visit to Florida, the USC coaches called to see how the trip went, but Ramsey said it was nothing more than the weekly call he shares with the staff.
To continue reading this article you must be an Insider
September, 25, 2012
9/25/12
9:30
PM ET
TUSCALOOSA, Ala. -- The fact that
Arie Kouandjio
is back on the football field is remarkable, surprising even. Multiple injuries have stymied the offensive lineman's young career, sending more road blocks than shortcuts his way in three years at Alabama.
The former top-15 guard out of high school played in two games last season before a knee injury required surgery and forced him to miss the rest of the year. A setback during rehabilitation kept him from participating in spring practice.
For Alabama coach Nick Saban, it was beginning to look like Kouandjio might never see the field.
"We weren't even sure that he would be able to get back and be able to play this season," he said.
September, 25, 2012
9/25/12
7:26
PM ET
It wasn't the route he expected to take, but East Mississippi Community College wide receiver
Corey Smith
still has the goal to play college football at the Division I level.
Coming out of high school in Ohio, Smith committed to play for Tennessee. When that didn't work out, he enrolled at a junior college in Grand Rapids, Mich., but after just one year, he transferred to East Mississippi CC.
He's finally found a temporary home where he's happy and excelling on the field.
To continue reading this article you must be an Insider
September, 25, 2012
9/25/12
4:27
PM ET
Another week and there's more movement in our Heisman watch:
1. Aaron Murray, QB, Georgia:
Murray just keeps impressing with that right arm of his. This past weekend, Murray lit up Vanderbilt's secondary for 250 yards and two touchdowns, completing 78 percent of his passes along the way. Murray is second in the SEC with 1,092 passing yards, is tied for second with 10 passing touchdowns and has a quarterback rating of 182.43. With help from Murray, Georgia has scored 40-plus points in four consecutive games for the first time in school history, and he's had a 100-yard receiver (three different ones) in all of the first four games.
2. AJ McCarron, QB, Alabama:
There might not be a more efficient quarterback in the SEC. He doesn't exactly light up the stat sheet when it comes to yards, but McCarron leads the SEC and ranks fourth nationally with a quarterback rating of 188.63. He's completing 63 percent of his passes and has thrown for 819 yards and 10 touchdowns to zero interceptions. The fact that he's on the No. 1 team in the country and has a chance to get to 3,000 yards and 30 touchdowns will only help his Heisman chances going forward.
3. Jarvis Jones, LB, Georgia:
Jones was slowed by an injury against Florida Atlantic, but rebounded nicely in the Dawgs' win over Vandy. He registered seven tackles, including three for loss, and a sack. He now has 4.5 sacks, 7.5 tackles for loss and 13 quarterback hurries to go with 24 total tackles this season. You just can't find a better game-changer on defense. He might not fly all over the field like Tyrann Mathieu did when he was a Heisman finalist last year, but his ability to completely change offensive game plans makes him just as dangerous as the Honey Badger was.
4. Todd Gurley, RB, Georgia:
Yes, a freshman makes our list. Who cares that a frosh has never won the Heisman? After the first four games of his collegiate career, Gurley leads the SEC in rushing with 406 yards and is averaging 9.2 yards per carry. He's also tied for first in the league with six rushing touchdowns. Oh, and he's been pretty solid on special teams, averaging 34.7 yards per kickoff return, including one that he took to the house in Georgia's opener. After carrying the ball 16 times for 130 yards and two scores against Vandy, Gurley now has three 100-yard rushing performances this season.
5. Marcus Lattimore, RB, South Carolina:
Lattimore shed his knee brace and looked even stronger against Missouri. He rushed for 85 yards and two touchdowns on 21 carries and caught seven passes for another 60 yards. He has 320 rushing yards and six touchdowns and has caught 13 passes for 93 yards. Slowly, we're starting to see Lattimore look like his old self as he continues his comeback from last year's season-ending knee injury. He's getting tougher to bring down and looks way more confident in his runs now.
September, 25, 2012
9/25/12
9:20
AM ET
Earlier this month, ESPN 150 defensive back
Vonn Bell
(Rossville, Ga
.
/Ridgeland) announced via his head coach that he had a top three of Alabama, Ohio State and Tennessee. On Friday, Bell discussed why each college was atop his list of offers under consideration.
Alabama:
"They are the No. 1 team in the nation. Coach Nick Saban is about business. He knows what it takes to get his guys to the next level. And you know they are going to get the job done. They bring in elite players and they are national championship winners. That is all I can say."
Ohio State:
"You saw what Coach Urban Meyer was able to do
at
Florida. He took a break, but all I see is a national championship in the Buckeyes' future. I know he is going to bring in elite players and
do
it big there. I just spoke to Coach (Everett) Withers Thursday, and he wished me good luck in my game. He wished he could be down here to watch me, but he said he would be down during their bye week. As far as distance is concerned, you have to become a man one day, so at some point it is time to get out of the house. This is a business, so if you want to get to the next level you have to do whatever it takes and whatever is best for you."
To continue reading this article you must be an Insider
September, 25, 2012
9/25/12
8:51
AM ET
The University of Georgia is recruiting some of the top prospects in the country, and DawgNation takes a look at 10 targets and prospects that had standout performances on the field last week.
Derrick Henry
, ATH (Yulee, Fla
.
/Yulee) – The ESPN 150 prospect had 42 carries for 502 yards and six touchdowns in a 45-28 win over Jacksonville (Fla.) Andrew Jackson, breaking the single-game record for rushing yardage in the state of Florida. Henry also passed Emmitt Smith (8,804) for 2nd in career yards in Florida with 9,255. Henry now has 38 straight games with 100 yards rushing or more, one shy of the national record set by 2012 ESPN 150 prospect Rushell Shell, now at Pitt.
Brendan Langley
, ATH (Marietta, Ga
.
/Kell) - The ESPN 300 prospect had seven catches for 104 yards, three interceptions, 97 return yards, two touchdowns and a blocked extra point in a 33-29 win over Creekview.
To continue reading this article you must be an Insider
September, 25, 2012
9/25/12
7:30
AM ET
Each week at TideNation we'll take a look at how Alabama's players up for postseason awards fared in action. All told, 12 Alabama players were put on watch lists this offseason.
QB AJ McCarron, Jr.
(Maxwell, Manning, O'Brien, Camp): McCarron continued to play efficient football on Saturday, getting the ball into his receivers hands quickly against FAU and letting them do the rest. He finished with three touchdowns and no interceptions, extending his streak of games without throwing a pick.
[+] Enlarge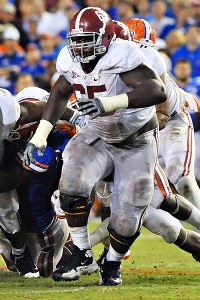 Al Messerschmidt/Getty ImagesChance Warmack continues to dominate opponents.
RB Eddie Lacy, Jr.
(Maxwell, Walker): It's safe to say Lacy is back, and in a big way. He looked like his old self again on Saturday, breaking the 100-yard rushing mark before halftime.
TE Michael Williams, Sr.
(Mackey): Williams got off the schneid against Florida Atlantic, pulling in a single-game high four receptions.
C Barrett Jones, Sr.
(Rimington, Outland, Lombardi, Walter Camp): There were a few mental mistakes on a first half drive, but give Jones credit for his body of work, helping the running game which featured four backs averaging more than 6 yards per carry.
G Chance Warmack, Sr.
(Outland, Lombardi): Warmack continues to be the best lineman on the field each and every week.
RT D.J. Fluker, Jr.
(Outland, Lombardi): Fluker moved around better against Florida Atlantic than in weeks past and didn't allow a sack.
CB Dee Milliner, Jr.:
(Nagurski): Quarterbacks are beginning to look at Milliner, and quickly look away. Florida Atlantic didn't test Alabama's best cornerback on Saturday.
LB Nico Johnson, Sr.:
(Nagurski, Lombardi): Johnson was notably absent on defense against FAU, failing to register a tackle despite dressing out and playing some on special teams.
LB C.J. Mosley, Jr.:
(Nagurski, Lombardi): Mosley has been a quiet force on the defense, once again leading the team with six tackles on Saturday, including an assist on a sack.
S Robert Lester, Sr.:
(Thorpe, Nagurski, Bednarik): Lester missed an interception opportunity against Florida Atlantic, but was able to make plays, coming off the edge for a sack on Saturday.
DT Jesse Williams, Sr.
(Outland, Bednarik, Bronko Nagurski, Lombardi): Williams is getting more and more comfortable at nose guard, showing up on Saturday with three tackles and a number of pressures in the backfield that don't show up on the stat sheet.
K Jeremy Shelley, Sr.:
(Groza): Shelley finally got back on the board for the first time since Week 1, nailing two field goals against FAU.
September, 24, 2012
9/24/12
4:18
PM ET
ESPN 150 athlete
Derrick Henry
(Yulee, Fla./Yulee) set a Florida state single-game rushing record Friday when the 6-foot-3, 245-pound senior had 502 rushing yards. Yulee head coach Bobby Ramsay has seen Henry have big games before, but Friday's performance in a 45-28 victory over Jacksonville (Fla.) Andrew Jackson was one for the books.
"I was telling someone Saturday that there are a lot of variables that go into having that sort of a performance," Ramsay said. "For one thing the game has to be close enough for him to stay in. There have been situations where he could have probably run for 700 yards, but it wasn't worth the risk of injury.
"And we played a good team. They flipped the field on us several times and that forced us to have long drives and give him plenty of opportunities to gain yardage. We needed the offensive line to be at their best and those guys also gave a quality performance Friday night. They did an excellent job. All in all it was a special night and Derrick is a special player. I'm happy for him; I'm happy that we as a team and a program and a community could share in this moment."
To continue reading this article you must be an Insider
September, 24, 2012
9/24/12
3:38
PM ET
TUSCALOOSA, Ala. -- Hoover defensive back
Marlon Humphrey
was at it again Friday night. In a Class 6A matchup between top 10 teams, the 2014 star made sure to put his stamp on the Bucs' 55-7 win over Northridge.
At cornerback, Humphrey didn't have the ball thrown his way often, but he made his presence felt on special teams. To start the second half, he nearly took the kickoff back for a touchdown before just stepping out of bounds deep in the opponent's territory.
Not long after that, Humphrey blocked a punt that resulted in another Hoover score. It was his second blocked punt in as many weeks.
To continue reading this article you must be an Insider
September, 24, 2012
9/24/12
3:28
PM ET
TUSCALOOSA, Ala. -- Alabama defensive end
Damion Square
smiled when he remembered last year's game against Ole Miss.
[+] Enlarge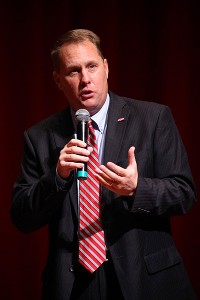 Shelby Daniel/Icon SMIOle Miss coach Hugh Freeze has the Rebels playing better on offense.
"It was a good day," he said with a laugh, thinking back on the 52-7 win in Oxford, Miss.
The Crimson Tide dominated from start to finish that day, out gaining Ole Miss 615 yards to 141. The defense racked up five sacks and 14 tackles for loss. Square, then a junior, had three tackles, including one and half that resulted in negative yards.
"The defense got after them pretty well," he said.
But that was then and this is now.
No. 1 Alabama began preparation for a new-look Ole Miss team on Monday afternoon, one guided by new philosophies under first-year coach Hugh Freeze, who has the Rebels at 3-1 heading into their SEC opener.
Alabama coach Nick Saban said the Rebels are a "much, much improved team" with Freeze at the helm. On offense, Ole Miss has gotten better, increasing from 16.1 points per game in 2011 to 36.8 in 2012.
"They have been very, very impressive," Saban said. "The no-huddle style is a little bit like Auburn used to be when Gus Malzahn [was there]. They're playing hard, they're playing with a lot of spirit. They've got a lot of good skill players."
September, 24, 2012
9/24/12
2:23
PM ET
By
TideNation staff
| ESPN.com

The defending BCS National Champs have their own trading card set, and Michele Steele is joined by Upper Deck brand manager Brandon Miller to discuss what collectors can expect to find in it
September, 24, 2012
9/24/12
11:44
AM ET
Junior running back
Racean Thomas
(Oxford, Ala./Oxford) might be closing in on a decision, but he wanted to visit Auburn before he commits anywhere. On Saturday, he was in town to watch the Tigers take on LSU.
"It was good," Thomas said. "I got to talk to a few coaches that I didn't really get to catch up with for a while since the camp I went to. The atmosphere was great, a lot of good fans out there. I got to go in the locker room a little bit to see how the players prepare for the game. That was a really good experience for me."
On his visit, Thomas met with AU head coach Gene Chizik and assistant coach Trooper Taylor, who told him to just enjoy the day.
To continue reading this article you must be an Insider