December, 17, 2014
Dec 17
12:00
PM ET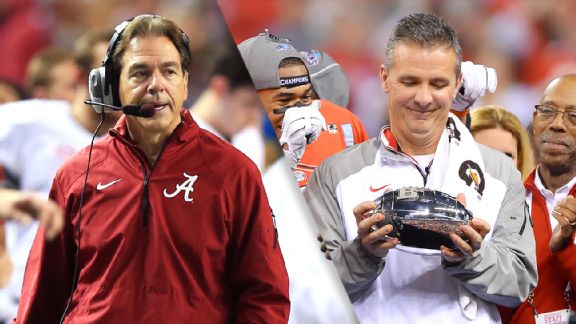 USA TODAY Sports, Icon SportswireNick Saban and Urban Meyer agree that players' families should get assistance to offset the cost of attending playoff games.
COLUMBUS, Ohio -- On the surface, there may not be all that much in common between the two rivals on top of the coaching game.
Urban Meyer is the offensive guru, a master motivator with a reputation for his relationships with players. Nick Saban is the defensive genius, a notedly strong disciplinarian with an incredible attention to detail.
The lines between them may actually blur at times, with Saban also beloved by his players and Meyer not one to let his organization fall out of order. And the truth is, other than that split between offense and defense, the two might actually be more like-minded than they're given credit for, a point that was driven home again when they took up yet another issue in lockstep to try to change college football for the better.
"I know we both committed our entirely livelihood to college football and believe in players," Meyer said. "The players are the most important part of this whole institution of college football.
"So we've had many, many conversations about how to make sure we keep the game or do the best we can to make sure the game stays what it is."
That previously put agents on campus and the possibility of providing stipends for players in the cross-hairs of arguably the two most famous coaches in America, and now they're pushing for some help for families ahead of a historic meeting between Alabama and Ohio State in the semifinal of the inaugural College Football Playoff.
With expensive price tags on flights and hotels around the Allstate Sugar Bowl and the possibility of an additional game looming with a victory, families have expressed their concerns both in letters and on social media that they can't afford to see their sons play in the most important games of their lives. Ohio State was able to offer $800 in reimbursements through the student-assistance fund, but that isn't likely to come close to covering even one trip on relatively short notice, and Saban and Meyer are once again raising their voices to draw attention to an issue that might otherwise be overlooked.
"I just hope that because it's a first that we do the best job that we possibly can for all teams involved, all players involved, all families involved, assessing how we do this so that we can make it better for the families in the future," Saban said. "I think that when I say make it better, I think for the travel that's involved with all the families, that maybe we should do something for the family so that they have an opportunity to get to the game so that they can see the players play.
"I think that would be something great, and I think that's something that all the coaches up here really, really support."
Sitting right next to him at the news conference last week in Orlando, Saban already had an ally who had strongly come out in favor of assisting the extended football family, with Meyer pointing to the huge amounts of money the playoff format is expected to bring in for conferences and universities.
Figuring out exactly how to slice up the pie and make sure moms and dads are in the building moving forward surely won't be an issue that is resolved in time for the first playoff. But just like they did back in the SEC, a pair of powerful rivals are at least making it a topic of conversation to potentially influence some change down the line.
"That was my first thought," Meyer said. "I want to see how our families are going to be able to afford two bowl games if we're fortunate enough to keep going. Universities and conferences are making a lot of money off the TV deals, how are we going to treat the families of the players? I still haven't heard much about it, but I'm going to keep pushing it because I want to know.
"I'm not sure what the answer is. ... They had a room where all those people sat and selected [the teams], I wonder if they have another room where people decide on how we make sure we treat the players the right way. You talk about stress over the holidays? Watch what happens here over the next month. I've spoken to some of my colleagues about it."
The conversation between long-time rivals was surely a short one this time. Once again, Saban and Meyer were already on the same page.
Saban vs. Meyer
SEC SCOREBOARD
Saturday, 12/20
Monday, 12/22
Tuesday, 12/23
Wednesday, 12/24
Friday, 12/26
Saturday, 12/27
Monday, 12/29
Tuesday, 12/30
Wednesday, 12/31
Thursday, 1/1
Friday, 1/2
Saturday, 1/3
Sunday, 1/4
Monday, 1/12