October, 29, 2014
Oct 29
12:00
PM ET
It's easy to look at
Amari Cooper
and be dismissive of his chances to win the Heisman Trophy.
First of all, he's a receiver, meaning he's reliant on someone else to get him the football, unlike, say, a quarterback or running back.
Secondly, he's a receiver, meaning there hasn't been a player at the position to win the award in more than two decades.
[+] Enlarge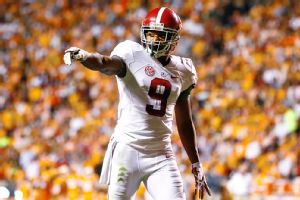 Kevin C. Cox/Getty ImagesAmari Cooper might not get as many touches as a QB or RB, but what he does with the touches he does get is unmatched.
Lastly, he's a receiver and nothing more, meaning the only two receivers to ever hoist the trophy, Desmond Howard and Tim Brown, both doubled as return men.
See where we're going with this? The odds are stacked against Cooper.
So we should just throw in the towel and pin the SEC's hopes of claiming the Heisman on Mississippi State QB
Dak Prescott
, right?
Of course not.
Cooper doesn't have a single first- or second-place vote in the most recent
ESPN Experts' Poll
, and that's surprising. If the Heisman Trophy is meant to recognize "the outstanding college football player whose performance best exhibits the pursuit of excellence with integrity," then Alabama's junior receiver certainly applies. He's never been in trouble with the law, plays through pain, and is one of the most dominant players in college football, regardless of position.
Yes, as a receiver he's reliant on the quarterback to get him the football, but if you watch him play on a consistent basis then you know how many of his yards are picked up after the catch. His 1,146 yards from scrimmage ranks 11th nationally. There are 10 running backs ahead of him, and his yards per play (15.28) dwarfs all of them. Think of it this way: He has 75 total touches, compared to Melvin Gordon's 162 or Ameer Abdullah's 193. Even with so few opportunities, no one in college football has more plays of 20-plus yards than Cooper's 19.
If they'd let him, Cooper would return kicks and punts and add to his overall numbers. While coach Nick Saban said that Cooper would be "
the first guy
" to volunteer to do so, he doesn't want to risk injury to his best player. Additionally, Saban wants to spread around opportunities to guys such as
Cyrus Jones
and
Christion Jones
, who are capable of making plays on special teams.
While it's hard to argue that anyone effects the outcome of the game as much as a quarterback, Cooper's impact goes beyond the typical receiver. He's been targeted 96 times this season, which accounts for nearly 40 percent of all of Alabama's pass attempts. He's caught 19 passes on third down, which is more than every other Alabama receiver combined.
In short, Cooper
is
Alabama's offense. It's hard to imagine where
Blake Sims
would be without him.
Balance? Who needs balance when you have No. 9 to throw the ball to?
"You know that's kind of like saying you get 26 outs in the game throwing fastballs, so you should throw a changeup and then the guy hits it out of the park. I mean, should you play to your strengths or not?" Saban told reporters after Alabama beat Tennessee, 34-20, on Saturday. "Now, we have other good players ... but as long as No. 9 is getting open and as long as we're throwing him the ball, I don't think we should tell the quarterback, don't throw it to him."
Said Butch Jones, who watched his defense allow Cooper an Alabama-record 224 yards: "They do different things with him, but he runs after the catch, makes every catch. He's an elite player -- very deserving to be spoken about in the Heisman Trophy race. I have a lot of respect for him as a competitor."
But does respect equal a trip to New York City for the Heisman Trophy ceremony? Only time will tell.
But so long as Cooper keeps posting eye-popping numbers, his name should be in the conversation. Even if he's a receiver.
October, 29, 2014
Oct 29
12:00
PM ET
In the 100 days leading up to signing day 2015, RecruitingNation will be looking back at our ESPN recruiting rankings from 2006 to the present and counting down the best player of the past 10 years at each ranking position, No. 100 to No. 1.
C.J. Mosley, No. 99 in the 2010 class.
Mosley was one of the big Mobile-area recruiting battles between Alabama and Auburn that helped Nick Saban and the Crimson Tide to back-to-back BCS National Championships. While Mosley officially visited Auburn and gave the Tigers a chance, he grew up an Alabama fan and was a near lock to head to Tuscaloosa. Mosley was a member of the Crimson Tide's No. 3-ranked recruiting class that included 2013 top 10 NFL draft pick DeMarcus "Dee" Milliner, Adrian Hubbard and DeQuan Menzie. Current members of the Crimson Tide team in Mosley's class are quarterback
Blake Sims
, fullback
Jalston Fowler
, offensive lineman
Austin Shepherd
, safety
Jarrick Williams
and receiver
DeAndrew White
, among others.
Mosley appeared in 51 games in four season in Tuscaloosa, including 29 starts. He was a member of the Alabama 2011 and 2012 BCS National Championship team, as well as being a two-time All-American in 2012 and 2013. He was also the SEC defensive player of the year in 2013 and took home the prestigious Butkus Award in 2013, joining Derrick Thomas and
Rolando McClain
as the winners from the University of Alabama. Mosley finished his career at Alabama with 319 tackles, 23 tackles for loss, six sacks and five interceptions.
Honorable mention
:
Knowshon Moreno
. Moreno came out of New Jersey as one of the most highly sought running backs in the 2006 class. After three seasons at Georgia, including 2,734 rushing yards and 30 touchdowns and two first-team All-SEC selections, Moreno declared for the 2009
NFL draft
and was selected No. 12 overall.
October, 29, 2014
Oct 29
11:55
AM ET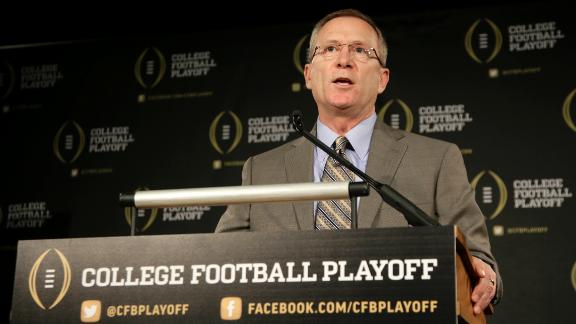 The College Football Playoff selection committee should engineer a commercial deal with the upcoming "The Avengers: Age of Ultron" movie so it can create this scene: A cacophonous room overflowing with complaining fans of every hue and region -- "Three from the SEC!" "Notre Dame is too low!" "Overrated!" "Bias!" -- but then Hulk, Thor and Iron Man zoom down from the sky, smashing through the whiners and leaving a gaping, silent void.
After pregnant silence: "Shut up," grunts Hulk. "And win."
For that is the only meaningful takeaway from the inaugural College Football Playoff rankings from the selection committee. Folks, it's not even November.
Fourteen of the 16 one-loss teams from Power 5 conferences have another one-loss team left on their schedules, so lots of second losses will be handed out no matter what. Worried about SEC world domination? There are four remaining regular-season matchups between top-six teams -- all involving SEC West teams -- including No. 3 Auburn at No. 4 Ole Miss on Saturday (7 p.m. ET on ESPN). In the vaunted SEC West, there's a good chance -- 43 percent, according to ESPN Stats & Info -- that the division champion will have at least two losses.
Ergo, lots of football left. Said committee chair Jeff Long: "The bottom line is it's early, it's close, and it's going to change as we move forward."
In fact, with Auburn and Ole Miss playing Saturday, it's going to change in a notable way next week, which makes our task today somewhat important: The case for No. 5. As in: Who moves into the joyous, warming glow of the top four next week?
You could go with a number of teams as candidates, particularly if you projected forward, but we're going to focus on the next three in the rankings as the most likely to move up next Tuesday: No. 5 Oregon, No. 6 Alabama and No. 7 TCU, a troika of strong one-loss teams.
October, 29, 2014
Oct 29
9:00
AM ET
By
ESPN.com staff
| ESPN.com
The College Football Playoff committee has spoken, and there are four teams from the SEC West in the top six, including three in the top four. Who says the SEC isn't getting two teams in the playoff? There's still plenty of football to be played, though. For now, here's a look at where each SEC playoff contenders stands heading into Week 10.
Mississippi State
Record:
7-0 (4-0)
Rank:
No. 1
Next big obstacle:
Nov. 15 at Alabama
Reason for optimism:
Entering Saturday's game with Arkansas, Mississippi State ranks first nationally in both strength of record (which measures the difficulty in achieving its record based on its strength of schedule) and game control (which gauges its command of games from beginning to end) according to ESPN Stats & Information. In other words, the Bulldogs have earned their No. 1 national ranking.
Cause for concern:
There are still two top-10 opponents left on the schedule, and the Bulldogs will face both of them on the road. On Nov. 15, they'll visit Alabama (State is 0-2 in Tuscaloosa under Dan Mullen and has won there just twice since 1957) and end the regular season with a trip to Ole Miss (the home team in the Egg Bowl is 12-2 in the 2000s).
Who they'll be rooting for this week:
Auburn at Ole Miss
-- David Ching
Auburn
Record:
6-1 (3-1)
Rank:
No. 3
Next big obstacle:
Nov. 1 at No. 4 Ole Miss
Reason for optimism:
How can Auburn not be happy? At No. 3, the Tigers are the top-ranked one-loss team according to the committee. They're ahead of Oregon, TCU, Notre Dame and even in-state rival Alabama. On the field, they have to be happy with the way the offense looked this past weekend against South Carolina.
Nick Marshall
and Co. seem to be clicking again after playing their most complete game of the season.
Cause for concern:
It was only one game, but the Auburn defense took a major step backward Saturday. The Tigers couldn't get off the field at times, and they allowed South Carolina to throw for 416 yards and five touchdowns. Not to mention, the Tigers also have arguably the most treacherous road ahead among the playoff contenders.
Who they'll be rooting for this week:
Sure, it would be nice to see No. 1 or No. 2 go down, but Auburn should also pull for Kansas State to handle its business at home against Oklahoma State. That nonconference win looks better and better with each Wildcat victory.
-- Greg Ostendorf
Ole Miss
Record:
7-1 (4-1)
Rank:
No. 4
Next big obstacle:
Nov. 1 vs. No. 3 Auburn
Reason for optimism:
Despite losing at LSU this past weekend, the Rebels aren't out of the playoff race by any means. That shiny No. 4 ranking proves that the committee has been very impressed with what the Rebels have done to this point. Ole Miss also gets Auburn and Mississippi State at home, somewhat smoothing out the road to Atlanta.
Cause for concern:
Well, that loss destroyed the chance at a perfect season, and we saw what happens when you couple an average running game with a quarterback who loses the mental edge with an opponent's crowd.
Bo Wallace
was never in rhythm against LSU (just look at that ugly game-clinching interception) and the running game just wasn't a threat.
Who they're rooting for this week:
Arkansas over Mississippi State
-- Edward Aschoff
Alabama
Record:
7-1 (4-1)
Rank:
No. 6
Next big obstacle:
Nov. 8 at No. 19 LSU
Reason for optimism:
Given the way Alabama struggled in a loss at Ole Miss and a narrow win at Arkansas, there were questions about whether Lane Kiffin's offense could go on the road. But they were answered Saturday when the Tide went to Rocky Top and dominated Tennessee 34-20.
Cause for concern:
If you want LSU, you want them early. You want the young, unsure team that lost to Mississippi State, not the confident, maturing bunch that upset Ole Miss. Alabama gets the latter, a team that now believes it can beat anyone, especially in Tiger Stadium.
Who they'll be rooting for:
The SEC will take care of itself, so in order to get two teams from the conference in -- and increase Bama's chances of making the playoff -- Tide fans should be hoping for Louisville to beat Florida State or Stanford to beat Oregon.
-- Alex Scarborough
Georgia
Record:
6-1 (4-1)
Rank:
No. 11
Next big obstacle:
Nov. 1 vs. Florida (in Jacksonville, Florida)
Reason for optimism:
Find a true competitor in the East, and then maybe the Dawgs would have to look over their shoulders down the home stretch. There just isn't a team right now that anyone thinks can seriously contend with the Dawgs in November. The defense is now on the same page with the offense, and that's a great sign.
Cause for concern:
We are still awaiting word on
Todd Gurley
.
Nick Chubb
has been great in his place, but you just have to wonder how much of a beating the true freshman can take down the stretch. Auburn awaits, and the Dawgs would still have to play -- and beat -- a behemoth in the West in Atlanta.
Who they're rooting for this week:
Kentucky over Missouri
-- Edward Aschoff
LSU
Record:
7-2 (3-2 SEC)
Rank:
No. 19
Next big obstacle:
Nov. 8 vs. Alabama
Reason for optimism:
Look who's back. Most of us thought we'd seen the last of LSU as a playoff contender when Auburn humiliated Les Miles' club 41-7 on Oct. 4. But after winning three in a row, including one against Ole Miss on Saturday, the Tigers might not be out of it after all. They can truly state their case against Alabama next weekend.
Cause for concern:
The Tigers haven't exactly been lighting up the scoreboard against better opponents. They turned it over and scored just 10 points gainst Ole Miss. Until it is more balanced on offense, LSU will lean heavily on its defense and running game and hope that's enough to win. The results on that front have been mixed.
Who they'll be rooting for this week:
Ole Miss vs. Auburn, Arkansas at Mississippi State
-- David Ching
October, 29, 2014
Oct 29
8:30
AM ET
Now that we have had time to digest the
first Top 25
from the College Football Playoff Committee, it is pretty obvious the group delivered on the promises it made before the process began.
Strength of schedule matters.
Quality wins matter
.
The AP and coaches poll do not.
One glance at the College Football Playoff Top 25 and the other rankings clearly illustrates the committee truly started with a clean slate.
There are several discrepancies that illustrate this point:
October, 29, 2014
Oct 29
8:00
AM ET
1. The initial
College Football Playoff rankings
came out on Tuesday night, and the "First Four" was all anyone could talk about, especially after the World Series Game 6 devolved into an
old-fashioned Kansas City barbecue
. With three teams in the top four,
#SECbias
was probably trending worldwide. Fans of other conferences were going berserk. Nevermind that voices of reason such as playoff chairman Jeff Long (full disclosure: he's also Arkansas' athletic director) said
there's a lot of time for things to change
. Heck, look no further than this week's schedule. Two of the top teams in the nation will play this week, as No. 3 Auburn visits No. 4 Ole Miss. Fans of other conferences can delight in knowing the SEC West will
bludgeon itself throughout November
. And as for No. 6 Alabama getting a so-called snub? Well, this sums up the Tide's plight:
Why would Alabama not be "thrilled?" They play No. 1 and No. 3 at home..

— Cecil Hurt (@CecilHurt) October 28, 2014
2. As the AJC's Chip Towers said,
"Gurley Watch" reached Day 19
on Tuesday and still no update on the Georgia running back's status for Saturday's big game against Florida. The
Bulldogs are cautiously optimistic
, as Todd Gurley continues to practice. Meanwhile, the Gators' defensive players say
they are expecting, preparing and actually hoping to face the Heisman candidate
on Saturday. Despite Florida's downward spiral in the past two seasons,
the Gators say they're confident
. The history of this bitter rivalry suggests
the game is usually closely contested
. At least one thing that's guaranteed is a good time at the ol' Cocktail Party. It's always cool to see the intermingling of red, black, orange and blue inside and outside the stadium. On Saturday, we'll see it on the field as well. Georgia is the home team, but
both teams agreed to wear home jerseys
in what should make for a neat visual.
3. Determined to snap its three-game losing streak, Texas A&M underwent
a sweeping round of soul-searching
during its bye week with a willingness to re-evaluate
every position on the team
. That includes the quarterback position, where sophomore starter Kenny Hill is now battling with freshman Kyle Allen with a
decision to come on Thursday
. It's a stunning turn of events for Hill, who started the season with a school-record 511 yards passing in the opener and has thrown for 2,649 yards in eight games. Allen actually
went to offensive coordinator Jake Spavital's office
to ask if the starting job was really up for grabs. Yes, he was told, this is really happening. The same could be said for the Aggies' tailspin, but at least the bye week came at a perfect time. A&M is still reeling from its last game, a 59-0 loss at Alabama. Saturday's home game against Louisiana-Monroe
ought to do wonders in boosting some confidence
in Aggieland. Especially for the QB, whoever he is.
Around the SEC
" Mississippi State QB Dak Prescott
ditched his walking boot and practiced
on Tuesday. He's not sure what all the fuss was about, saying: "I'm sure there's some boots Beyonce or somebody's worn before that people have made a big deal about."
" Ole Miss
changed its play-calling terminology
after a former intern left in the offseason to join the Auburn staff.
" Michigan native and current Tennessee coach Butch Jones
swatted aside speculation
that he could be a candidate to be the Wolverines' next coach.
" Vanderbilt quarterback Johnny McCrary will be
the "lead dog" against Old Dominion
, but coach Derek Mason also hopes Patton Robinette will play after being medically cleared last week from a concussion suffered on Sept. 20.
Tweet of the day
It should be an eight-team playoff. Bama, Georgia, LSU and Tennessee should be in there

— Mark Schlabach (@Mark_Schlabach) October 28, 2014
October, 28, 2014
Oct 28
8:32
PM ET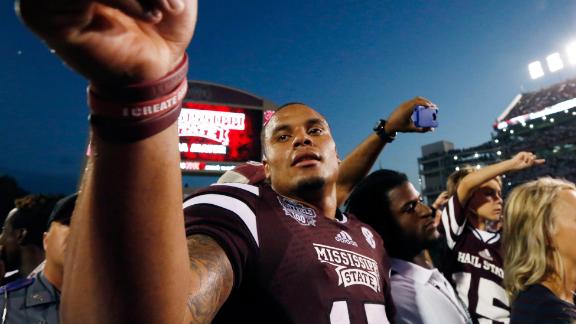 GRAPEVINE, Texas -- The suspense is over.
In what was a historic day for college football, the 12 members of the College Football Playoff's selection committee have determined that three SEC West teams are among the top four in the country, along with undefeated defending national champ Florida State.
The committee's top four was: 1. Mississippi State, 2. Florida State, 3. Auburn, 4. Ole Miss.
[+] Enlarge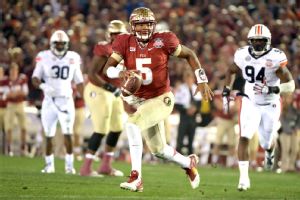 Kirby Lee/USA TODAY SportsFlorida State and Auburn in Pasadena worked pretty well last season, why not do it again in the College Football Playoff?
Here is what the College Football Playoff would look like right now if the season ended today:
Semifinal:
Mississippi State vs. Ole Miss (Allstate Sugar Bowl)
Semifinal:
Florida State vs. Auburn (Rose Bowl Game Presented By Northwestern Mutual)
That's right, the committee just delivered Egg Bowl II and a rematch of the 2013 national championship. The Sugar Bowl looks like the perfect spot for the state championship, and why not have FSU and Auburn return to the scene of what was an instant classic to end the BCS era?
The displaced conference champions that aren't playing in the semifinals are guaranteed spots in the other New Year's Six bowls. Based on the committee's rankings, ESPN.com is projecting No. 5 Oregon to win the Pac-12, No. 7 TCU to win the Big 12, and No. 8 Michigan State to win the Big Ten.
The Capital One Orange Bowl lost the ACC champion (FSU) so it gets the next highest-ranked ACC team, No. 21 Clemson. Then the Orange selects the next highest-ranked team from the Big Ten, SEC or Notre Dame. That would pit Clemson against No. 6 Alabama.
Now here's the rest, including the highest-ranked conference champion from the Group of 5, which would be No. 23 East Carolina:
Fiesta:
No. 5 Oregon vs. No. 9 Kansas State
Cotton:
No. 7 TCU vs. No. 8 Michigan State
Chick-fil-A Peach Bowl:
No. 10 Notre Dame vs. No. 23 East Carolina
Here's the final look:
Dec. 31
12:30 p.m. ET – Peach Bowl – No. 10 Notre Dame vs. No. 23 East Carolina
4 p.m. ET - Fiesta Bowl – No. 5 Oregon vs. No. 9 Kansas State
8 p.m. ET - Orange Bowl – No. 21 Clemson vs. No. 6 Alabama
Jan. 1
12:30 p.m. ET – Cotton Bowl – No. 7 TCU vs. No. 8 Michigan State
5 p.m. ET – Rose Bowl – No. 2 Florida State vs. No. 3 Auburn (Semi No. 1)
8:30 p.m. ET – Sugar Bowl – No. 1 Mississippi State vs. No. 4 Ole Miss (Semi No. 2)
Of the 18 one-loss teams left in the country, the committee decided Auburn was the best, and it showed it valued head-to-head competition by ranking Ole Miss ahead of Alabama, Auburn ahead of K-State, and Oregon over Michigan State. The Ducks were also ahead of Arizona, though, even though they lost to the Wildcats on their home turf. No. 7 TCU was also ranked ahead of No. 13 Baylor in spite of the loss to the Bears.
"Head-to-head is important," committee chair Jeff Long said, "but it's not the only factor, obviously."
No. 10 Notre Dame had the biggest difference between the Associated Press rank, where it was No. 6, and the committee's. Louisville was the only team not in the Associated Press Top 25 that was in the committee's, replacing undefeated Marshall. That showed that the committee valued No. 23 East Carolina's strength of schedule ahead of Marshall's undefeated season.
October, 28, 2014
Oct 28
8:31
PM ET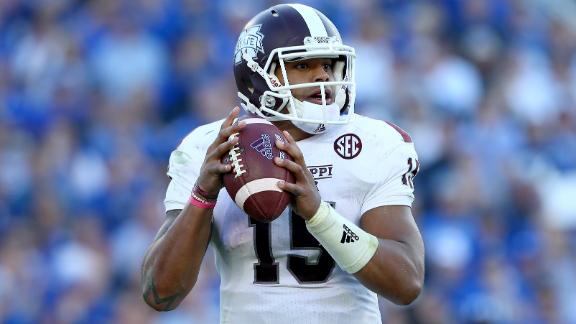 Upon seeing the inaugural College Football Playoff rankings, there's no doubt that many fans' first impressions had something to do with the SEC having three of the top four and four of the top six teams. I get that.
But a few other things jumped out to me that might give us some insight to the selection committee's deliberations and could be a sign of things to expect in future weeks.
1. No bias toward recent results
The committee seems to be looking at the entire body of work for these teams and was not overly influenced by what happened most recently.
No. 3 Auburn just had a narrow, seven-point win at home against a mediocre South Carolina team in which it allowed 35 points and more than 500 yards. No. 4 Ole Miss just scored only seven points in a loss to an LSU team that wasn't ranked in the top 20. The polls typically downgrade teams immediately after performances like these, especially a loss, but in order for these teams to have these respective rankings, the committee must have placed just as much importance on what happened in the first eight weeks of the season. That's a good thing.
If this is an accurate observation and not merely a coincidence, then it's possible that a late-season loss to a quality opponent might not be as damaging in the playoff era as it often was when the polls had a great influence on the national championship race.
To continue reading this article you must be an Insider
October, 28, 2014
Oct 28
8:15
PM ET
Now that the first batch of playoff rankings is out, we can really dive into postseason projections.
Three
SEC teams in the top four of the playoff committee's rankings? I actually didn't see that coming. While I do agree that those are three of the four best teams in the country, I figured the committee would lean toward not having three teams from the same conference -- let alone the SEC -- take three slots up top in the first set of rankings.
But that's what happens when you deal with the human element, and that's what is going to make the next few weeks in college football delightful.
So how does that affect our bowl projections for this week? Well, for starters, we can go on ahead and put two SEC teams in the two semifinal games. I think folks below the Mason-Dixon Line were kind of expecting that anyway.
I'm not ready to put three SEC teams in, though. It's just not going to happen. These rankings are fun to look at and make projections with, but let's face it, no conference -- not even the big, bad SEC -- is going to get three teams into the playoff.
So for now, the SEC is left with two teams in the final four. The good news for the conference is that those two teams won't play each other in our fictional first round, making for a possible fictional all-SEC national championship.
Oh, the country would just LOVE that!
I have 10 SEC teams making bowl games this year:
College Football Playoff semifinal (Allstate Sugar Bowl):
Mississippi State
College Football Playoff semifinal (
Rose Bowl Game Presented By Northwestern Mutual): Auburn
Capital One Orange Bowl:
Ole Miss
Cotton Bowl:
Alabama
Chick-fil-A Peach Bowl:
Georgia
Citrus Bowl:
LSU
TaxSlayer Bowl:
Kentucky
Outback Bowl:
Missouri
Franklin American Mortgage Music City Bowl:
Texas A&M
Belk Bowl:
South Carolina
October, 28, 2014
Oct 28
5:26
PM ET
ESPN.com news services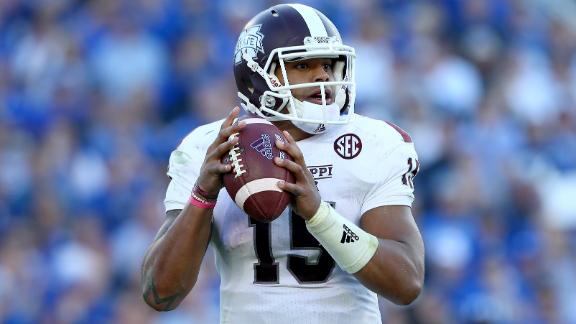 GRAPEVINE, Texas -- The College Football Playoff selection committee has spoken -- and it likes the SEC.
At least for now.
Mississippi State, Florida State, Auburn and Mississippi are the top four teams in the first College Football Playoff rankings.
The first of seven Top 25 rankings compiled by a 12-member selection committee was released Tuesday night. The selection committee will ultimately pick the four teams to play in the national semifinals and set the matchups for the other four big New Year's Day bowls that are part of the playoff rotation.
"It was extremely difficult, more difficult than any of us had expected having gone through our mock selections before," Arkansas athletic director and committee chairman Jeff Long said. "There are 18 one-loss teams in FBS at this point in time, and the difference between many of them is very slim."
Oregon was fifth and Alabama was sixth, giving the Southeastern Conference's West Division four of the top six teams. There are still four games remaining matching those SEC West rivals, starting with Saturday's matchup of Auburn and Ole Miss in Oxford, Mississippi.
"We don't analyze it by conference," Long said. "We look at those teams and evaluate the teams they played and the success they had, or the failures they had."
The final rankings will be released Dec. 7, the day after the most of the conference championships are decided.
"Everyone on the selection committee recognized that our rankings will change over the next six weeks," Long said. "I think that's important for us to emphasize. We expect our rankings to change over the next six weeks. One week's rankings won't influence the next week's rankings."
October, 28, 2014
Oct 28
4:00
PM ET
By
ESPN.com staff
| ESPN.com
The College Football Playoff Committee's first rankings will be revealed Tuesday at 7:30 p.m. ET on ESPN and WatchESPN.com. Immediately following the release, join ESPN.com reporters Andrea Adelson, Edward Aschoff and Chantel Jennings for reaction, commentary and debate over the committee's choices.
Bama DB Landon Collins in the Film Room