Alabama Crimson Tide:

Kansas Jayhawks
April, 29, 2014
4/29/14
9:00
AM ET
Florida has Florida State. Georgia has Georgia Tech. Kentucky has Louisville. And, of course, South Carolina has Clemson.
When it comes to the
new SEC scheduling format starting in 2016
, those four schools are already on board. Their annual rivalry games fulfill the league's forthcoming requirement for a yearly nonconference game against an ACC, Big 12, Big Ten or Pac-12 school.
But for the rest of the teams around the league, there's a void.
Sure, they can go year to year and rotate in nonconference opponents. But where's the fun in that? Let's create some new rivalries, and in the case of some programs, reignite old ones.
[+] Enlarge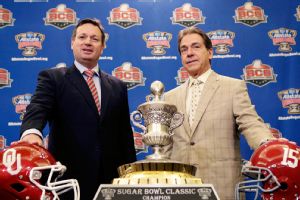 AP Photo/Gerald HerbertThe spectacular salaries of college football coaches such as Bob Stoops, left, and Nick Saban are generated mostly by the labor of unpaid workers.
Alabama-Oklahoma:
If FSU wasn't already taken, the Noles would have been a perfect fit. The physical and philosophical proximity between programs is obvious. But looking elsewhere, Oklahoma might be a fun matchup. The Sugar Bowl has already created tons of tension on both sides with
Sooners coaches delighting in calling out Nick Saban
and the SEC.
Arkansas-Baylor:
Call it a throwback to the old Southwest Conference. Arkansas, which didn't join the SEC until 1992, has played more games against Baylor (69) than any school in its current conference. On top of that, the differences between Bret Bielema's physical style and Art Briles' free-flowing offensive scheme would be a joy to watch.
Auburn-Oregon:
Recent history and playing styles dictates this matchup. Not only do we get a rematch of the 2010 BCS National Championship Game, but it pits offenses that live to go fast. Maybe it could be a two-hand touch game in which whoever reaches 100 points first wins.
LSU-Notre Dame:
We couldn't make a list of nonconference matchups and leave Notre Dame off, could we? Pitting the Golden Domers against an SEC program would be appointment viewing. Make that program LSU and the opposing coach Les Miles, and television networks will scratch each other's eyes out to get the game.
Mississippi State-Texas Tech:
The Bulldogs have shied away from high profile nonconference games in the past, loading up on the likes of Memphis, UAB and South Alabama. Well, it's time to infuse a little spice into the schedule. Kliff Kingsbury is too cool to keep out of the SEC. His Red Raiders would be a good matchup with Mississippi State, which faced Texas Tech seven times from 1953-70.
Missouri-Kansas:
Does this one really need to be explained? The Border War should have never gone away in the first place. Now is the perfect opportunity to save face and bring back a rivalry that goes all the way back to 1891.
Ole Miss-Miami:
We've got to get 'The U' involved. Miami and Ole Miss have already played a few times in their history, with the Rebs holding a 2-1 series lead. But bigger than that, it would get the SEC back into South Florida on a permanent basis because
Miami and Florida don't have the common sense to do that
already.
Tennessee-North Carolina:
Even if most people don't remember it, there's history there. Tennessee and UNC have played 29 times, with the Vols holding a 20-8-1 advantage. Plus, even if your memory is short, you should recall the double overtime
Music City Bowl from 2010
between the schools. If they can re-create that just once, it would make the rivalry worth it.
Texas A&M-Texas:
See Missouri-Kansas. Don't let conference affiliations ruin great rivalries. Texas A&M-Texas should have never been shelved in the first place. And while the
UT administration
might not see a reason to bring it back -- nor
Texas A&M's leadership,
for that matter -- surely both fan bases do.
Vanderbilt-Duke:
Call it a private school showdown. The proximity is reasonable, the fan bases similar, and the rivalry could easily extend to the hard court. Plus, have you seen Derek Mason's nonconference schedule this year? It needs help.
December, 30, 2013
12/30/13
5:26
PM ET
As expected, Day 2 at the Under Armour All-America practices were smoother, more concise and much more productive. The players are now starting to think less and play more. Natural ability is starting to come to the forefront, which allows for them to be more productive. There have been fewer dropped passes, fewer misses by the QBs and the offensive lines are starting to jell quicker than expected. Perhaps the most impressive thing about this group is there have not been any true letdowns. They have stepped up and been as advertised almost top to bottom for both squads. Let's hit the highlights of the day:
Top performers
WR Cameron Sims (Monroe, La./Ouachita Parish):
Sims might not wow anyone with his 40-yard dash time, but it may not matter. Sims is so similar to
Mike Evans
at Texas A&M. He just makes plays. He has extremely long arms and is outstanding when in contested matchups. The ball will look like it is uncatchable and then next thing you know he jumps out of nowhere, extends and makes a play and the defender is left scratching his head. When it comes down to it, the QBs for Team Highlight can trust that if they need to throw it up, Sims will make a play. The most basic thing about the position is catching the football and Sims has no problem doing that.
July, 18, 2013
7/18/13
8:00
AM ET
By
ESPN.com staff
| ESPN.com
Join our ESPN.com college football experts for a live blog from SEC media days. We'll have highlights, pictures, videos and interviews with SEC players and coaches from Alabama, Georgia, LSU and Vanderbilt live from Hoover, Ala.
Join us beginning at 9:30 a.m. ET by submitting your comments and questions. See you there. You can also view all the action on ESPNU or
WatchESPN.com
.
Here is our live blog of
Day 1
and
Day 2
in case you missed it.
July, 17, 2013
7/17/13
8:00
AM ET
By
ESPN.com staff
| ESPN.com
Join our ESPN.com college football experts for a live blog from SEC media days. We'll have highlights, pictures, videos and interviews with SEC players and coaches from Texas A&M, Kentucky, Mississippi State, Tennessee, Auburn and Arkansas live from Hoover, Ala.
Join us beginning at 9:30 a.m. ET by submitting your comments and questions. See you there. You can also view all the action on ESPNU or
WatchESPN.com.
Here is our
live blog of Day 1
in case you missed it.
January, 2, 2013
1/02/13
3:08
PM ET
SAN ANTONIO -- Wednesday was a day off for the U.S. Army All-American Bowl teams. Instead of working out and participating in drills, the players took in visits around the city -- including a stop at the Alamodome for photo opportunities and to see their game apparel -- and used the day to recover from two days of practice.
The teams will return to the fields on Thursday in arguably the most important practice of the week. Here are five things to keep an eye on for Thursday's practice:
To continue reading this article you must be an Insider
October, 9, 2012
10/09/12
9:45
AM ET
The Big 12's held on all season, but the SEC finally passed it for the No. 1 spot in the
ESPN Stats & Info Conference Power Rankings.
The Big 12 still has the No. 1 spot in the computer polls, but the Big 12 took a hit in the human polls after just four Big 12 teams showed up in Sunday's AP rankings. The SEC took the lead by a full point after steadily creeping up on the Big 12 since the rankings debuted.
September, 12, 2012
9/12/12
3:36
PM ET
TideNation recruiting writer Greg Ostendorf brings you another edition of The O-zone, a confidential look inside Alabama recruiting. Get the latest updates from the gridiron and the hardwood as it pertains to the Crimson Tide.
Volunteer visitor
Yulee, Fla., running back
Derrick Henry
is closing in on his decision date (Sept. 27), and this weekend, Tennessee has one last chance to impress the ESPN 150 star as he's set to visit Knoxville for the Florida game. Sources say Henry would have to be blown away on his visit to Tennessee if it were to surpass Alabama. He's scheduled to visit Tuscaloosa the next weekend for the Florida Atlantic game, giving Alabama a chance to make the last impression before he makes his decision. One key factor working to the Tide's advantage is Henry's relationship with the current players at UA. He feels like he would fit right in with the team if he chose to go there.
To continue reading this article you must be an Insider
August, 22, 2012
8/22/12
9:11
PM ET
Christian Russell was once all North Carolina Tar Heel. That seems to be the case no longer.
"I'm still open right now," the 6-foot-1, 245-pound middle linebacker from East Mississippi Community College said. "I'm just taking it slow, taking it through the season. Probably by the end of the season I can make a decision where I want to go to."
Who can blame Russell? Since he signed with North Carolina in February 2011, there's been a coaching change, NCAA sanctions and allegations of academic fraud among football and basketball players, which means the NCAA could be coming back again.
To continue reading this article you must be an Insider
August, 10, 2012
8/10/12
5:32
PM ET
ESPN 100 forward
Tyler Roberson
continued to see his stock rise after a strong summer, and he's reached the next step in the recruiting process, narrowing his list to 10 schools.
The schools that made the cut: Alabama, Florida, Kansas, Kentucky, Rutgers, Seton Hall, SMU, South Carolina, Syracuse and Villanova.
"Because this is my top 10, from a basketball standpoint, all the schools would fit me," Roberson said. "It basically comes down to how hard they're recruiting me. That's a major factor.
To continue reading this article you must be an Insider
July, 8, 2012
7/08/12
2:04
PM ET
By
Dave Telep
| ESPN Insider
Point guard
Anthony Barber
(Hampton, Va./Hampton) has been sensational in June and July. Considering only the point guards, Barber's moved his stock to a different level and is sitting as the nation's No. 3 point at this moment. How'd he do it?
"I'm shooting the ball better and being more vocal as a point guard," Barber said. "I'm not going at the same speed all the time and I've learned how to slow down. I think I've improved more as a point guard than I was last year."
Barber and his Boo Williams AAU team faced adversity in the spring. With plenty of talent, Boo Williams couldn't get it right and was in jeopardy of missing its first Peach Jam. Then, in Oakland at the final Nike Elite Youth Basketball League session, they got the mix down.
To continue reading this article you must be an Insider
June, 17, 2012
6/17/12
2:21
PM ET
CHARLOTTESVILLE, Va. -- When it comes to speed and quickness with the basketball, you have to put ESPN 100 point guards
Anthony Barber
(Hampton, Va./Hampton) and Seton Hall commit
Aquille Carr
(Baltimore/Patterson) at the top of the list.
[+] Enlarge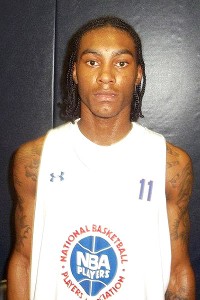 Courtesy of Reggie RankinAnthony Barber is ranked No. 26 overall in the 2013 class.
Both have been relentless putting pressure on defenses at the NBPA Top 100 Camp. Both push the ball at high speeds and are threats to take it coast to coast and finish with flair. They get into the paint at will, can score with floaters, use their court vision to deliver an assist or knock down 3s with time and space.
"I am a scoring point guard that can also get my teammates involved," said Barber, who is being pursued by Kansas, Kentucky, Virginia, Virginia Tech, Memphis, Louisville and reportedly has an upcoming unofficial visit to Alabama. "I have to be more vocal and lead but I am getting better at it."
To continue reading this article you must be an Insider
Scout's Take: Atlanta Opening Regional
SEC SCOREBOARD
Thursday, 9/3
Saturday, 9/5