Alabama Crimson Tide:

BCS
January, 13, 2014
1/13/14
9:30
AM ET
There are coaches with more BCS appearances than Nick Saban. There are coaches with better BCS winning percentages than Nick Saban.
But there is nobody with more BCS national championships than Saban.
That is why he is the best coach in the BCS era.
[+] Enlarge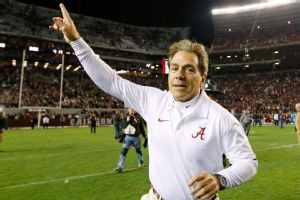 Kevin C. Cox/Getty ImagesNick Saban has re-established Alabama as a football dynasty.
Winning championships trumps any other BCS coaching statistic out there. None of this diminishes how many times Bob Stoops has taken Oklahoma to BCS games (nine, with a win over Saban in the Allstate Sugar Bowl two weeks ago). Or how impressive it is that Urban Meyer took three different programs to BCS games, going 4-1 with two national championships at Florida.
But Saban took two different schools to national championships, starting with LSU. He has four championships in all, having never lost a title game and has re-established Alabama as a football dynasty with three BCS championships over the past five years.
While there are probably folks in Baton Rouge and Miami still smirking over the way Saban left their programs, college football has been almost re-energized since Alabama re-emerged as a force, allowing fans outside Tuscaloosa and the SEC to pool their collective animosity together at both the program and the coach. Everybody loves a winner. But everybody also loves to root against a winner that wins too much, too.
Saban has not won many fans along the way to greatness for a host of well-documented reasons, but you do not have to like him to respect what he has accomplished. He is a coach who generally thrives when pressure is at its greatest. His ability to win at an iconic program with an iconic former coach speaks to that. His 4-0 mark in BCS national championship games speaks to that, most especially the 21-0 retribution victory over LSU in 2012. So does his 0-2 mark in BCS games when there are no championships on the line (losses to Utah and Oklahoma).
Those BCS victories have served Saban well for obvious reasons. But they have also had an impact on the entire college coaching fraternity. As Saban has continued to win, his contract has grown, ballooning to jaw-dropping values. When Saban was first hired at LSU in 1999, he received a five-year deal worth $6 million total.
Eight years later, Alabama hired him from the Miami Dolphins at an unprecedented $4 million per season. In the recently concluded 2013 season, seven more coaches joined him in the $4 million club. Of those seven, six have gone to BCS games and four have won the national championship. Only one coach among the seven -- Stoops -- won a national title before Saban did.
Next season, Saban is set to earn in the $7 million neighborhood, outdistancing himself from his coaching peers once again. With the BCS chapter now closed, Saban must get to work on making himself the best coach in the playoff era, too.
Honorable mention
Urban Meyer:
Meyer has taken Utah, Florida and Ohio State to BCS games, going 4-1 in his five appearances with two national championships. His Utah team was the first BCS buster from outside the automatic qualifying conferences, taking down Pitt in the 2005 Fiesta Bowl.
Bob Stoops:
Stoops has the most BCS appearances of any coach, with nine, though he is probably known most for failing to win on the big stage. His teams played for four national championships but won only one, in the 2001 Orange Bowl over Florida State. His overall BCS record is 4-5.
December, 8, 2013
12/08/13
9:06
PM ET
Red Smith, the poet laureate of sweat, once wrote that 90 feet between bases is the nearest to perfection that man has yet achieved. The basepath has nothing on the length of college football's regular season, which, with the patience of a kindergarten teacher and the tenacity of Scotland Yard, identified Florida State and Auburn as the two best teams to play for the BCS National Championship.
Tenacity is the lifeblood of a sport that demands physical and mental exertion for 60 minutes. Patience, not so much. Patience in college football is attributed to tailbacks who wait for a hole to appear. But in a sport in which a quarterback may have three seconds to complete a pass without getting his slobber knocked, patience often goes untapped.
Yet patience has never been more important than it has been in 2013, and not just because it was nearly midnight on the final Saturday of the regular season before Michigan State proved that Ohio State didn't have the credentials to play for the crystal football. In a season made predictable only by its unpredictability, patience became the coin of the realm.
Patience rewarded no fans more than at Auburn. It didn't take any patience to appreciate the rapid rise of the Tigers from 3-9 in 2012 to 12-1 this year. But the way that the Tigers waited until the very end to upend Georgia on a Hail Mary tipped pass and defeat archrival No. 1 Alabama on a 109-yard field goal return for a touchdown, focused upon the power of faith no matter what reality promised.
Patience proved critical at Florida State, not because head coach Jimbo Fisher decided to start a redshirt freshman at quarterback. Jameis Winston played with poise and the acumen of an upperclassman as the Seminoles cruised to a 13-0 record (12 wins by at least 27 points). But Florida State fans had to hold their collective garnet-and-gold breath for several weeks before local authorities decided not to charge Winston in a sexual assault case.
Patience paid off at Missouri, which had endured a 5-7, injury-filled debut in the SEC in 2012. Coach Gary Pinkel revamped his training and practice methods, and took advantage of the depth that resulted from playing so many players in 2012. The Tigers won the SEC East and finished 11-2 this season.
To continue reading,
click here
.
October, 30, 2013
10/30/13
5:00
PM ET
Jimbo Fisher hates the computers.
The Florida State coach doesn't claim to have much understanding of the formulas the BCS computers use, but he knows enough not to trust them. They're faceless, emotionless automatons programmed to chew up data and spit out rankings without much logic mixed into the recipe along the way.
Football, he believes, requires instincts and passion and perspective.
Sure, Fisher backtracked a tad when the first BCS standings of 2013 had his team at No. 2, but that was short-lived. Florida State dipped to third this week, and Fisher was back on the human-voter bandwagon.
"You have to come back to the eye test," Fisher said. "People are so important in this poll. People watch teams."
Fisher has watched his BCS competition, and the eye test tells him Florida State is not No. 1 -- at least not yet. He has a vote in the USA Today coaches' poll, and while he declined to reveal the entirety of his ballot, he strongly hinted that Alabama owned the top spot.
The Crimson Tide, Fisher said, pass the eye test.
"Alabama's playing great defense, they've got playmakers that can run the football, they're very physical," Fisher said.
He's right on all counts, but Fisher's take on Alabama -- his eye test -- is as much about the perception of the program as it is about the reality of how the Tide have played this season.
To continue reading,
click here
.
January, 7, 2013
1/07/13
1:46
PM ET
By
ESPN.com staff
| ESPN.com
Join our ESPN.com college football experts for the Discover BCS National Championship between the Notre Dame Fighting Irish and Alabama Crimson Tide.

Contribute your thoughts and questions beginning at 8 p.m. ET. See you there.


Alabama Dismisses Jonathan Taylor
SEC SCOREBOARD
Thursday, 9/3
Saturday, 9/5