September, 2, 2014
Sep 2
12:00
PM ET
These are the best debates to have, the ones that don't have a wrong answer.
Would you rather have
Georgia
's group of running backs or
Alabama
's?
If you gave the 120 other FBS coaches in the country a choice, their answer would likely be, "Yes."
You can't go wrong with either, you see.
But for the sake of argument, we had Edward Aschoff and Alex Scarborough take sides.
Edward Aschoff:
Don't get me wrong, I love what Georgia has at tailback. I think
Todd Gurley
is the best player in the country, regardless of position. A healthy
Keith Marshall
is scary, and those freshmen could be special.
But
Alabama still has the best running back duo in the SEC with
T.J. Yeldon
and
Derrick Henry
. Both of those guys could start at just about any school in the country, and they have health on their side. Yeldon has carried the ball 405 times for 2,469 yards and 28 touchdowns in his career and has missed only one game because of an injury. Gurley missed a month of work last year and Marshall missed most of last season with a knee injury.
What we've seen from Yeldon and Henry in the past two games has been nothing short of fantastic. The two have combined to rush for 411 yards and five touchdowns on 65 carries. That's 6.3 yards per touch. Yeldon has had fumbling issues in the past, but the Yeldon we saw against West Virginia ran with that ball tucked tightly. He also ran with a purpose and looked faster than ever. He became the first back at Alabama to ever rush for 1,000 yards in each of his first two seasons, and if he can continue to run with the power and speed that he displayed Saturday, he'll get to 1,000 again.
And that's even with Henry chugging right alongside him. I think Henry, who looks a like a tank on the field, could hit 1,000 yards as well. He's a bigger, more physical runner than Yeldon, but has that explosive speed to hit the home run ball. These two are going to absolutely punish defenses.
Don't forget about
Kenyan Drake
(982 career yards) or big ol'
Jalston Fowler
. When Drake gets on the field, he's the most dynamic running back the Tide has. He's the fastest and shiftiest of the three. He'll get more chances to run the ball and he'll show off that lightning speed and Playstation moves. Fowler doesn't have the speed that any of those other backs have, but he just runs people over. He's one of the toughest runners in the league.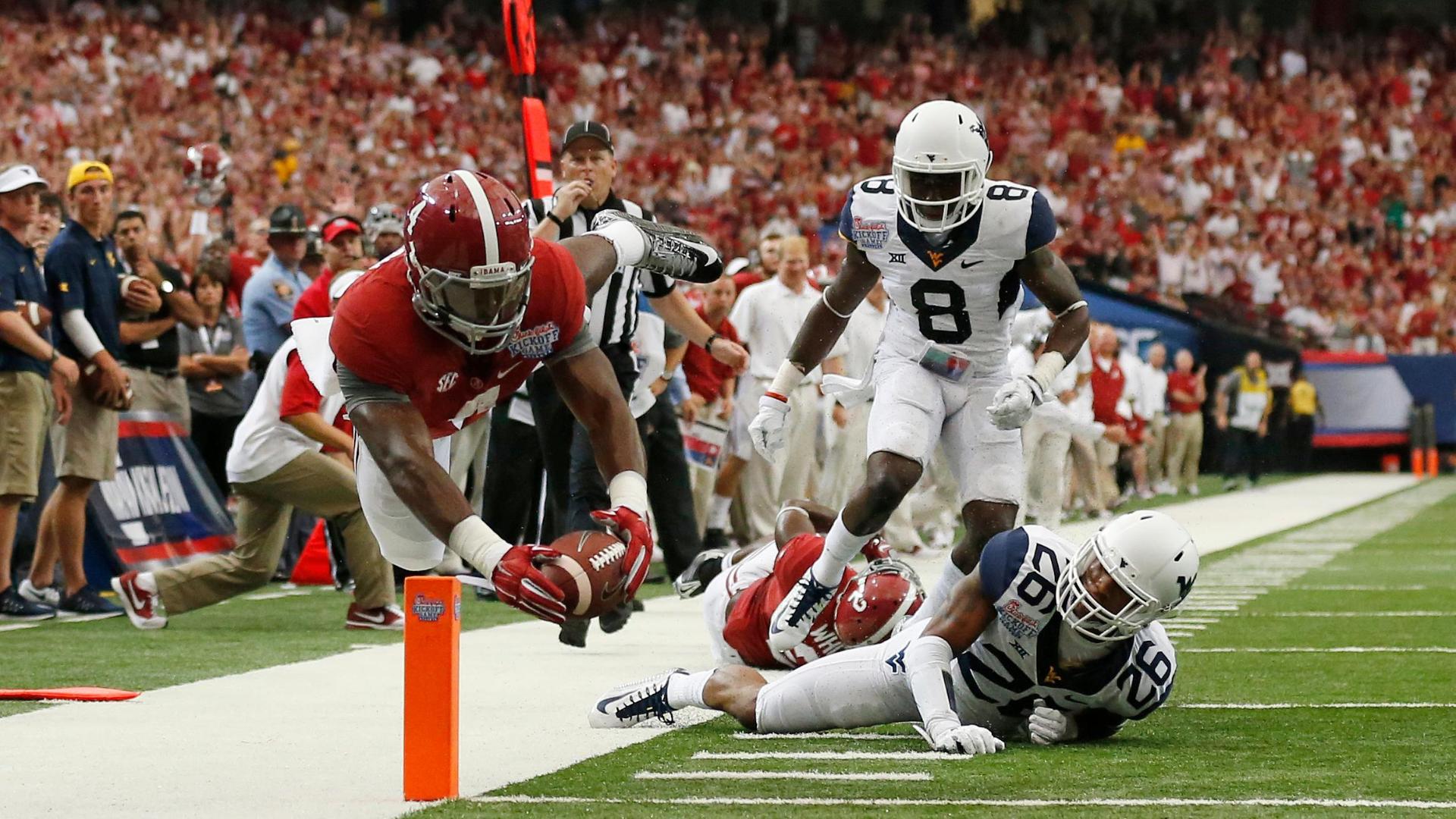 Alex Scarborough:
It appears Aschoff beat me to the punch. The conservative in me -- don't even think I mean politics, OK? -- says to go with the backfield less likely to fail. And that, to me, is Alabama's. Yeldon has been the most consistent tailback in the county since bursting onto the scene as a true freshman in 2012. He's never had injury concerns and can do it all on the field: run, block, catch passes. His steady hand, combined with the dynamite talents of Henry and Drake, makes for a terrific trio at offensive coordinator Lane Kiffin's disposal.
But if I'm going for sheer upside, there's no question in my mind Georgia is the backfield to choose. Gurley, when healthy, is the best player in the country, hands down. He's big, strong and explosive. Backs that well built aren't supposed run as fast as he does. Yet he's the one guy I look at in the SEC and know he can take over the game whenever he wants. Just look at Saturday against Clemson. He got the ball only four times in the first half. So what'd he do? He went in on special teams and took the kickoff 100-plus yards for a touchdown. In the second half he ran for 154 yards, doing everything he could to win the Heisman Trophy Week 1 of the season.
You think Henry is a beast? Just look at
Nick Chubb
. You didn't need to see the freakish Herschel Walker-type photo that surfaced of him this summer to know how physically gifted the true freshman is. All you had to do was watch Clemson's defenders struggle to tackle him Saturday. He was a bowling ball with jets, running around or right through would-be tacklers. No one in college football has a better yards per rush average (17.5) than he does (minimum four carries).
Oh, and lest we forget, there's also Keith Marshall and
Sony Michel
to consider. When Marshall is healthy, we all know what he brings to the table. But Michel, another freshman, has the chance to be special. He's a lot like Drake. Each time he touched the football against Clemson, it looked as if he was shot out of a cannon. Six carries for 33 yards may not sound like much, but watch the tape.
Good luck to the poor souls trying to tackle Michel, Marshall and Chubb after Gurley has pounded them for three quarters. With Georgia's emerging offensive line, it looks like power football is the way to go.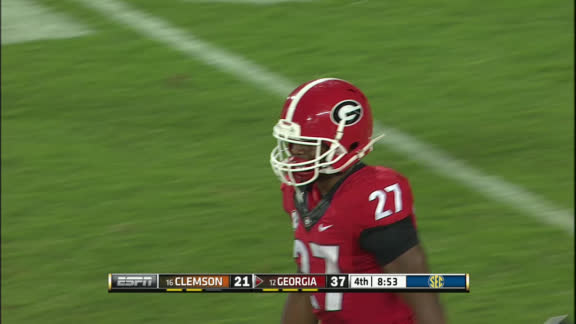 September, 2, 2014
Sep 2
8:00
AM ET
1. So while
Blake Sims
earned the right to start for Alabama in the season opener against West Virginia, his 250-yard performance in the Crimson Tide's 33-23 win wasn't enough to cement him as the starter going forward. He'll likely be the guy who walks out with the starters against Florida Atlantic on Saturday, but expect to see him share snaps with
Jake Coker
. As Nick Saban puts it, there's
still a quarterback competition going on in Tuscaloosa
. The good news is that the Tide doesn't
really
need a true starter until the week of the Florida game, which isn't until Sept. 20. Don't have a starter set then? Well, that certainly isn't ideal. Speaking of quarterbacks, it didn't matter who Auburn threw out under center,
Arkansas' defense just couldn't stop either of them
.
Nick Marshall
and
Jeremy Johnson
combined to throw for nearly 300 yards, with Johnson throwing for 243 yards and two touchdowns. Now, here's the problem for Arkansas: Expect a lot more of that read-option because that's what the majority of the SEC West will be running this fall.
2. You guys have to feel bad for the Gators, right? I mean put your college colors aside for a second and think about the fact that a program looking to rebound from a disaster of a season was
soooooo
ready to get back on the field and debut its new offense only to be washed away by a swamp inside the Swamp. So instead of joining all the fun with everyone else in the country, Florida and Idaho huddled inside Ben Hill Griffin Stadium for hours while it poured and lightening bolts shot through the skies. Florida coach Will Muschamp, who is very much coaching for his job this year, said he
supported the officials' decision to suspend the game
due to weather and unsafe field conditions. Whether or not that game will be played at a future date is unknown at this point. They both have a bye week on Oct. 25, which just so happens to be the week before Florida's crucial game with Georgia. Yeah, you try convincing Muschamp and athletic director Jeremy Foley to play a game
during the open week before Georgia
. No,
seriously
. ... Well, the good news for the Gators is that when their season officially opens this Saturday against Eastern Michigan
they'll have three suspended players back
. Now, before you bash Mushcamp, remember that Texas A&M coach Kevin Sumlin
did something similar in 2012
with the postponed Louisiana Tech game.
3. Georgia coach Mark Richt thinks the running back group that he has now
is the best he's ever had
. Yeah, I'd agree with that when you consider that the Bulldogs had 328 rushing yards and averaged 8 yards per carry against Clemson.
Todd Gurley
, who I think is the nation's best player, got 198 of those yards and had three rushing touchdowns. Chubb had 70 yards and a touchdown on four carries and
Sony Michel
had 33 yards on six carries. By the way, those two are true freshmen. And
Keith Marshall
will only get better as he comes back from his knee injury.
More from around the league
Tweet of the day
Tyson Clabo's workout w/Cards went well enough that they were interested in signing him, but both sides couldn't come to an agreement.

— Adam Caplan (@caplannfl) June 9, 2014
September, 1, 2014
Sep 1
1:44
PM ET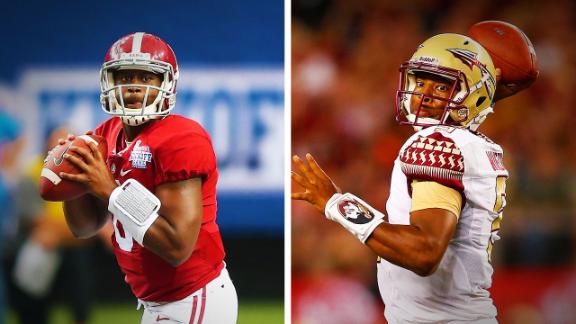 TUSCALOOSA, Ala. -- Alabama learned a lot from its season-opening win over West Virginia on Saturday, but it came at a cost as the Crimson Tide lost a pair of veteran starters for a significant amount of time.
Jarrick Williams, a senior defensive back with 10 career starts, will miss four weeks with a fractured foot, and DeAndrew White, a senior starting wide receiver, will miss two weeks with a shoulder injury, coach Nick Saban announced Monday.
Who will be throwing the football to White's replacement at receiver, though, remains unclear.
Saban committed to playing both Blake Sims and Jake Coker against Florida Atlantic on Saturday, but the coach wouldn't say how the two would share reps.
"When I figure it out, I won't tell you," Saban said with a smile.
Sims started and played all but a few snaps against West Virginia, completing 73 percent of his pass attempts. Coker came on late, handing the ball off a few times before the game ended.
"I still don't hesitate to say there's a quarterback competition," Saban said.
Saban said Geno Smith and Maurice Smith are the options to start in place of Williams at the "star" position.
September, 1, 2014
Sep 1
12:10
PM ET
ATLANTA --
Blake Sims
wouldn't say if he ever thought there was a question that he'd be Alabama's starting quarterback on Saturday. But the faint smile he tried to contain when asked might have said otherwise.
Regardless of whether Sims ever worried about beating out Jacob Coker during fall camp, the starting job is his, and after a decent first start -- and win -- it's clear his team has the utmost trust in him to be the leader in Tuscaloosa.
"He earned that position to start and did a fantastic job at it," safety
Landon Collins
said.
[+] Enlarge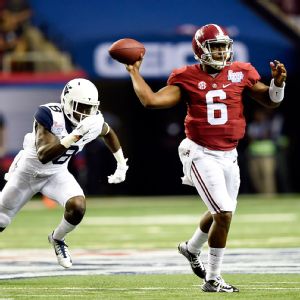 John David Mercer/USA TODAY SportsBlake Sims completed 24-of-33 passes for 250 yards in his debut as starter.
Of course there were hiccups for Sims, who is now in charge of leading the No. 2 team in the country. There were underthrows, overthrows and throws behind receivers. Sims will by no means earn any Heisman points with his performance during the Crimson Tide's 33-23 win over West Virginia on Saturday inside the Georgia Dome, but he earned a ton of respect from his teammates and coaches with 250 yards and an interception. And we all know that openers can tell you only so much about what a team or individual players will look like come November.
Sims knows he was far from perfect, but he also knows he rebounded well after some poor plays to march the Tide down the field for scoring drives. He actually directed back-to-back scoring drives twice in the first half of his debut. He was a leader who calmed guys down in the huddle. And he learned from his own mistakes as the game went on.
Most importantly, he learned that handing the ball off to
T.J. Yeldon
and
Derrick Henry
will make his job much easier, and targeting
Amari Cooper
is a very, very good thing. He hit Cooper 12 times for 130 yards, and it's no surprise that his first attempt went Cooper's way, which resulted in a 24-yard pickup.
"It got the nerves out. That let me know that everybody's behind me," Sims said.
Oh, and they were. Players said they never got down on Sims when he struggled or got out of rhythm in the second half. His coach even went against his own nature and implemented some no-huddle in the second half to get Sims more comfortable and loosen him up after a slow start.
"I couldn't be more proud of the guy," offensive lineman
Austin Shepherd
said. "I've been here five years with him and I'm happy [for him]. He played an awesome game.
"I told him before the game, 'Man, we got you. Don't worry about a thing. Whatever you do, we'll back you 100 percent and we'll get you out of it.'"
Coach Nick Saban said Sims got a little rattled in the second half and called some formations incorrectly that forced the Tide to burn a couple of timeouts. Saban even flirted with the idea of bringing Coker in, but decided to leave Sims in and see how the no-huddle helped him.
Good call.
"That one little stretch in the second quarter where we got a little bit out of sync was really the only time, but I thought Blake did a really good job," Saban said. "… But all in all for him to throw for 250 yards, he did a pretty good job of executing, and I'm happy with his progress."
Sims was happy with his performance but understands he still has a ways to go. There were easy throws that he just plain missed on, but he turned around and stood tall with some big passes to extend drives. He threw out of bounds when he needed. He checked down when he had to. And his legs got him out of a few sticky situations.
"I feel like I did OK," Sims said. "I can get better in all situations."
He'll have to, and the next few tuneups before facing Florida's defense should help him do that.
September, 1, 2014
Sep 1
10:00
AM ET
The
Alabama Crimson Tide
couldn't handle the hurry-up.
Clint Trickett
might as well have blown kisses to Nick Saban the way he paraded West Virginia's offense up and down the field.
The
Auburn Tigers
struggled with the power running game. The same
Arkansas Razorbacks
' offense that ranked last in the SEC a year ago manhandled the Tigers' front seven, posting 21 points by halftime.
The
South Carolina Gamecocks
just didn't show up. Steve Spurrier's defense laid down for the
Texas A&M Aggies
. His star running back,
Mike Davis
, shouldn't have bothered dressing out.
[+] Enlarge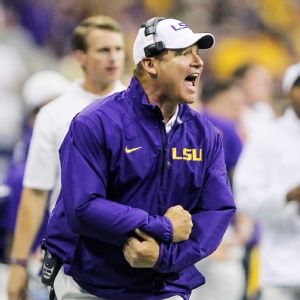 Troy Taormina/USA TODAY SportsLes Miles and LSU joined several SEC teams who won their openers, but looked flawed in the process.
They all entered their season-openers with hopes of competing for a spot in the College Football Playoff, but the SEC's three highest-ranked teams showed significant flaws in Week 1. The Gamecocks had their doors blown off. The Tide and Tigers won, but it wasn't pretty. Even the
LSU Tigers
, a popular dark horse pick to reach the final four, had to be bailed out by a bit of Les Miles magic and the Wisconsin's' abrupt aversion to the running game.
By the time Monday rolled around, the dust settled and the big picture of the SEC became clear, it wasn't what anyone expected. Somehow it was the
Georgia Bulldogs
and Texas A&M left standing as seemingly the league's best hope of reaching the playoff.
But with all due respect to Todd Gurley's inhuman exploits and Kenny Hill's inspired performance, should we be sold? For that matter, should we be ready to call anyone the class of the SEC?
Right now there are far more questions than answers. Everyone, it seems, has flaws.
The East is a toss-up. Georgia certainly holds promise, but quarterback
Hutson Mason
still needs to show he can carry an offense, Gurley has to stay healthy and the secondary must continue improving despite missing so many starters from a season ago. South Carolina, meanwhile, has to do a complete 180 or it will lose to Georgia in two weeks and find itself in an insurmountable hole. Then there are the
Florida Gators
, who are a complete unknown given Mother Nature's refusal to let them finally turn the page on 2013.
The West is even more convoluted. Texas A&M might be the real deal, but its offense is so young and it is still too early to say whether Mark Snyder has orchestrated the most impressive turnaround in history with that defense. Alabama has serious questions on defense, too, and at quarterback we might be jumping the gun a bit in proclaiming
Blake Sims
the answer. LSU could very well settle on
Anthony Jennings
under center, but he has the potential to be a reboot of Jordan Jefferson, which isn't a good thing. Then there is Auburn, stuck with too many quarterbacks and not enough defenders, not to mention its brutal schedule.
If you're looking for one of the favorites to run away with it, don't hold your breath. In fact, if Week 1 showed us anything, it's that while there are a bunch of good teams in the SEC, there is no one dominant team like in years past.
The
Missouri Tigers
won handily, the
Ole Miss Rebels
turned it on in the second half and the
Mississippi State Bulldogs
cruised to victory. All three should feel good about their dreams of reaching Atlanta.
Arkansas looked improved. So did the
Kentucky Wildcats
and
Tennessee Volunteers
. Though none of the them should go booking trips for the postseason, they could play the role of spoilers.
The only real slouches are the
Vanderbilt Commodores
.
When it comes time for playoff jockeying and the "my conference vs. your conference" disputes, parity will be the SEC's No. 1 point of emphasis. But it will also be the reason it doesn't yield an undefeated or even a one-loss team.
Alabama will get better. So will LSU and Auburn. Even South Carolina should improve with time. It is, in fact, only Week 1 we're talking about.
But first impressions do mean something, and the first look we had of the SEC revealed a pack of teams loaded with potential but saddled with problems.
Until we find out who is ready to take a step forward and lead, it will continue to be a wide open race.
September, 1, 2014
Sep 1
8:00
AM ET
What a weekend of college football. The SEC kicked off the festivities with three games on Thursday night and wrapped it all up with the Tennessee-Utah State game on Sunday night. Here's a look at the five best performances from Week 1.

Kenny Hill, QB, Texas A&M:
The award for most obvious helmet sticker goes to the Aggies' sophomore quarterback, who dazzled in his first start. Hill broke
Johnny Manziel
's single-game school record with 511 yards passing. His 44 completions (on 60 attempts) broke another Manziel record and were the second most in SEC history. We'd give a special sticker to head coach Kevin Sumlin if he only wore a helmet, because Sumlin's offense might be the biggest story of the league's opening weekend.
Todd Gurley, RB, Georgia:
Another obvious sticker recipient, Gurley carried his Bulldogs to a huge statement win against Clemson. His 293 all-purpose yards broke Rodney Hampton's school single-game record. Gurley had 198 yards rushing with three touchdowns as well as a 100-yard kickoff-return TD that wrestled momentum back for UGA after Clemson had taken a 21-14 lead. As a precaution, Georgia limited his carries to 15, and Gurley still averaged 13.2 yards per carry. Imagine what he could do with a full load.
Alabama running backs:
With a new quarterback and a feisty opponent, the Crimson Tide needed every ounce of effort from their stellar backfield tandem. When the final whistle blew and Bama had edged West Virginia, there was little to distinguish between the results of junior
T.J. Yeldon
(126 yards rushing and two touchdowns) and sophomore
Derrick Henry
(113 yards and one touchdown). Sometimes Yeldon starts a drive, sometimes Henry does. It's anyone's guess which back finishes them.
Cameron Artis-Payne, RB, Auburn:
In his second career start for the Tigers, the senior and former juco transfer showed little drop-off as the replacement for star running back
Tre Mason
. Artis-Payne proved capable of being Auburn's bell cow with a total of 26 carries. After scoring a first-quarter touchdown, he helped the Tigers wear out the Razorbacks defense in the second half with 122 of his career-high 177 rushing yards.
Cody Core, WR, Ole Miss:
There were plenty of worthy candidates for Week 1 helmet stickers, but Core deserves to bask in the limelight after dealing with the tragic loss of his mother in late July and then fighting his way up the depth chart in preseason camp to win a starting job. Core had four catches for 110 yards, including the Rebels' two biggest plays of the night -- a 30-yard TD grab in the first quarter to open the scoring and a decisive 76-yard catch-and-run TD in the fourth quarter.
August, 31, 2014
Aug 31
11:49
PM ET
August, 31, 2014
Aug 31
11:00
PM ET
The Early Offer is RecruitingNation's regular feature, giving you a daily dose of recruiting news across the country. Today's offerings: Despite losing to Florida State, Oklahoma State could end up being a winner on the recruiting trail because of its effort. Plus, Oregon brought in two key official visitors for its first game of the season and was rewarded with an ESPN 300 commitment, and we continue our tour of the top recruiting happenings on social media.


August, 31, 2014
Aug 31
1:10
AM ET
Wow, what a first weekend of football around the SEC. And it's not over yet, since Tennessee-Utah State will wrap up the weekend on Sunday.
For now, though, let's recap some of what we've learned so far about the SEC of 2014.
[+] Enlarge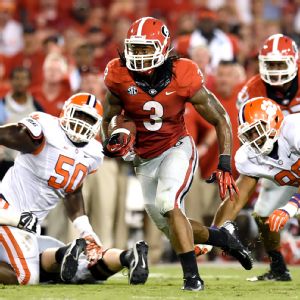 Dale Zanine/USA TODAY SportsTodd Gurley and Georgia made a loud statement with their 45-21 trouncing of Clemson on Saturday.
The league looks wide open:
If we learned anything over the last couple of days, it's that both of these division races will be wide open. It started when Eastern Division favorite South Carolina laid an egg against Texas A&M on Thursday, but several of Saturday's games only solidified the point.
Alabama -- particularly its reconstructed secondary -- had all sorts of problems against West Virginia and its vaunted passing game. Defending league champ Auburn remains an offensive juggernaut, but its defense got manhandled at times early by an improving Arkansas offense. And LSU was on the verge of getting blown out early in the second half before a fake punt gave the Tigers some life, helping them rally from a 24-7 deficit to beat Wisconsin 28-24.
With Texas A&M and Georgia also making statements with impressive wins in their season debuts, it's evident that nobody has a cakewalk to reach Atlanta. The preseason favorites all have questions to answer, and there are several candidates to rise from the middle of the pack to challenge them.
Heisman hopefuls make moves:
Texas A&M quarterback
Kenny Hill
wasn't the only SEC player to jump into the Heisman Trophy conversation. Hill's school-record 511 passing yards and three touchdowns on 44-for-60 passing had to go down as one of the most impressive starting debuts in recent memory. But he had company among SEC offensive standouts.
Todd Gurley
broke Rodney Hampton's Georgia record with 293 all-purpose yards against Clemson -- 198 on the ground and 100 more on a kickoff return for a touchdown (he lost five yards receiving). Between his running and a dominant second half from Jeremy Pruitt's defense, the Bulldogs were able to bury Clemson 45-21.
Cameron Artis-Payne
ran for 122 yards in the second half against Arkansas and finished with 26 carries for 177 yards and a touchdown as Auburn held the Razorbacks scoreless in the second half to put away a 45-21 win.
Quarterback races progress:
Hill made as emphatic a statement as possible about his status as Texas A&M's starting quarterback after winning a preseason battle. But some of the league's other QB races remain, well, unclear.
Blake Sims
(24-33, 250 yards, INT, plus 42 rushing yards) did a fine job in taking nearly every snap in Alabama's win over West Virginia. And
Patrick Towles
(20-29, 377 yards, TD, plus a 23-yard rushing score) was outstanding in Kentucky's rout of overmatched Tennessee-Martin.
But then a couple of QB battles don't seem resolved at all. LSU's
Anthony Jennings
played most of the game against Wisconsin, but the Tigers' offense struggled mightily before closing with a flourish. He finished 9-for-21 for 238 yards and two touchdowns. However, freshman
Brandon Harris
looked lost during the one series he was in the game, so he doesn't appear to be a better option right now.
Vanderbilt also faces a bit of a quandary at the position.
Stephen Rivers
(12-25, 186 yards, INT),
Patton Robinette
(4-6, 38 yards) and
Johnny McCrary
(0-3, 2 INTs) all played, but nothing went right for the Commodores in a 37-7 loss to Temple.
We'll see how Tennessee's
Justin Worley
fares on Sunday night after winning the Volunteers' preseason QB battle.
Bad teams are better:
Arkansas and Kentucky -- two teams that went winless in SEC play a season ago -- made it clear that they will be tougher in 2014.
It's difficult to know what to make of Kentucky's 59-14 win over UT-Martin. We probably shouldn't read too much into a blowout against a middling FCS program, after all. And yet the Wildcats showed off some impressive new weapons.
How about Nebraska transfer
Braylon Heard
taking his only two carries for touchdowns of 73 and 43 yards? And Towles connecting with 10 different receivers? It was an impressive debut to be sure.
Even in a losing effort, Arkansas' physicality had to be what Razorbacks fans wanted to see from a club that lost nine straight games to close out the 2013 season. They pushed Auburn around for a portion of the game and were still thinking upset until Auburn's
Jermaine Whitehead
made it a two-touchdown game by returning a deflected pass for a score with 2:39 left in the third quarter.
Auburn really can pass:
We heard all offseason that Auburn would put the ball in the air more frequently this season, and it looks like the Tigers have the pieces in place to do that.
Junior college transfer
D'haquille Williams
was outstanding in his Auburn debut, catching nine passes for 154 yards and a touchdown, while
Nick Marshall
and
Jeremy Johnson
combined to throw for 293 yards and a pair of scores. The ground game is still the Tigers' calling card (Auburn rushed for 302 yards), but they're going to be even tougher to defend if they keep throwing like this.
August, 31, 2014
Aug 31
12:51
AM ET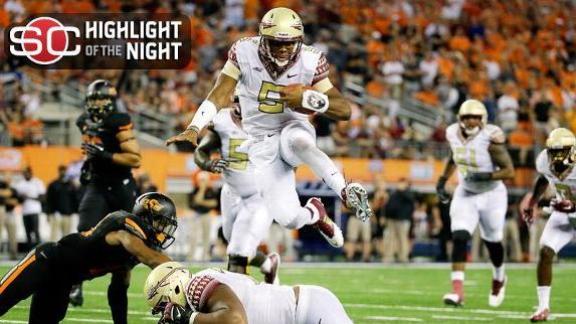 ARLINGTON, Texas -- We pontificate and analyze and study for months, and then the games start, and we find out how much we don't know. We write and speak with good intentions. We're as excited about the season getting here as you are.
But then, like most newborns, it acts nothing like imagined. Little 2014 has a mind of its own, and already we see the darling barely resembles our expectations.
We thought Florida State was invincible, and it's not.
We thought the SEC would hang on to its predominance, and it didn't.
We thought UCLA would resemble a top-five team, and we didn't see it. In fact, we thought the Pac-12 might be the best conference in the nation, and -- oh, wait a minute, we might have gotten that one right.
It's August, not November, and we are trying to solve big puzzles with small clues.
All that practice, all those meetings, all that information has to be synthesized and turned into efficient, crisp football. History tells us we don't see a lot of that on Labor Day weekend. But who remembers history when there's a new season to embrace?
No. 21 Texas A&M kicked off the season by looking all grown up and embarrassing No. 9 South Carolina 52-28. But the Aggies proved to be the anomaly. No. 4 Oklahoma and No. 15 USC dominated overmatched foes.
No. 2 Alabama looked exactly like Florida State and against a similar opponent, and they defeated West Virginia, 33-23. Those games might have been won on the past couple national signing days. When neither team is executing well, talent rules the day. It might wait until the fourth quarter, when minds are tired and precision is an elusive goal. No. 5 Ohio State and No. 13 LSU eventually found a way to beat Navy and No. 14 Wisconsin, respectively.
Drive Through: Week 1 Thoughts