April, 20, 2014
Apr 20
12:19
PM ET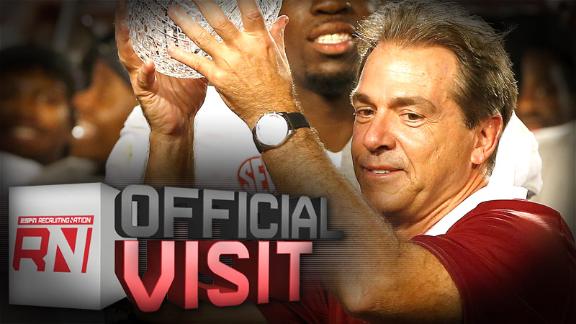 Alabama has finished atop the Recruiting Nation class rankings the past three years, and if Saturday's monster haul is any indication, a four-peat is more probable than possible.
Headed into Alabama's A-Day game on Saturday, which drew over 73,000 fans, the Crimson Tide sat atop the initial
2015 class rankings
released earlier in the week.
A class that already featured nine ESPN 300 pledges quickly jumped to 13.
To continue reading this article you must be an Insider
April, 19, 2014
Apr 19
9:41
PM ET
Alabama has a new top recruit for the 2015 class in Under Armour All-American cornerback
Minkah Fitzpatrick
. Read below to see our analysis of the Crimson Tide's big pickup:
What he brings
: The No. 4 corner in the country has an impressive blend of size, speed and athleticism as well as great instincts and football intelligence. Fitzpatrick can play both man and zone schemes effectively and wins most one-on-one battles out on the perimeter with his length, recovery speed and awareness when the ball is in the air. He anticipates and closes as fast as any in this class, and his savvy and overall understanding of the position was likely a trait Alabama coveted.
How he fits
: The Tide like big corners with speed, and they landed one in Fitzpatrick. Nick Saban and Co. also value perimeter defenders who know the nuances of the position and are proficient in varied alignments and coverages, and Fitzpatrick excels with the mental aspect of the game.
Prediction for performance
: It's not easy to step right in and play corner for the Tide with their sophisticated coverage system, but we expect Fitzpatrick to play sooner rather than later as he is entering Tuscaloosa ahead of the curve when it comes to an understanding of coverages. Physically, he should be ready as well.
Who he reminds us off
:
Champ Bailey
, New Orleans Saints. Bailey is a future Hall of Famer due to great physical tools but also with what he brings to game above the shoulders. Fitzpatrick has size, speed and range to match up with prototypical receivers one-on-one but also a savvy understanding of where to position himself on the field to make plays.
How the class is shaping up
: The Tide have controlled the class rankings since Saban's arrival, and it looks like 2015 will be no different. Alabama is looking to capture its fourth straight top national ranking with a great start to this class. The Tide claimed the top class in our first rankings released last week and solidified it with a big day that saw commitments from two top-50 overall defensive players in linebacker
Leo Lewis
and Fitzpatrick.
April, 19, 2014
Apr 19
5:55
PM ET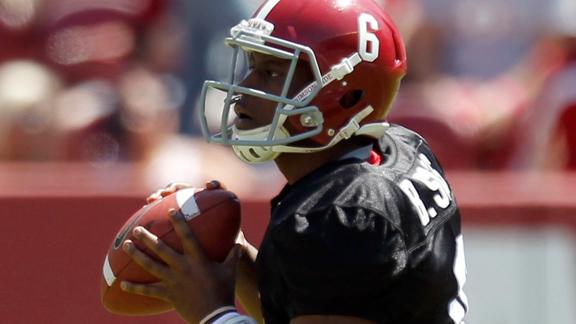 TUSCALOOSA, Ala. -- Alec Morris may have had the biggest impact of any Alabama quarterback during the Crimson Tide's spring game Saturday. The problem, however, is that he stood out most as a punter, booming 15 kicks for an average of 38.4 yards.
In a game that was built up as a quarterback showcase, the defense ultimately stole the show while the passing game went missing in action.
AJ McCarron was on hand for A-Day in Tuscaloosa, but only to be inducted into the Walk of Fame. His potential replacements under center, meanwhile, looked far away from fulfilling his legacy as a starter.
Blake Sims, McCarron's backup a year ago and the early leader in the quarterback race this spring, threw for an underwhelming 178 yards, one touchdown and two interceptions on 13-of-30 passing. A 55-yard touchdown pass to Chris Black late in the fourth quarter helped salvage some of his day as the "Crimson" team starter, but it was a far cry from his reported 515 yards, five touchdowns and no interceptions in two earlier scrimmages this spring, both of which were closed to the media.
"Blake had a really good spring and did a really good job in the scrimmages," Alabama coach Nick Saban said. "I thought ... the game speeded up today and he tried to speed up with it, rather than just staying in his rhythm."
April, 19, 2014
Apr 19
1:58
AM ET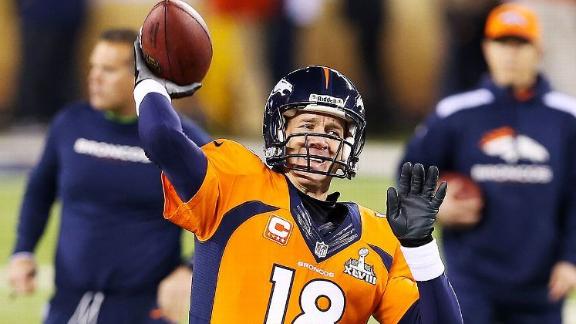 Nick Saban visited with Denver Broncos quarterback Peyton Manning at the Alabama football offices early last week. Saban also spent time with Broncos offensive coordinator Adam Gase -- on the same day and in the same location.
But don't connect the dots any further than that, Saban insists.
"I never said we sat down together," Saban said in an interview with The Denver Post on Friday night.
The Alabama coach made headlines Thursday when he told reporters of the visit with Manning and Gase.
The meeting, as Saban described it, was a mutually beneficial experience in which Manning sought out ways to improve his game, Gase was able to talk shop, and Saban and his staff were able to learn a thing or two about the no-huddle offense.
But had the visit of Manning and Gase occurred simultaneously, it might constitute a violation of the NFL collective-bargaining agreement that forbids players from having meetings with coaches before teams begin their offseason workout programs.
Saban's vague language Thursday -- "The two of them were just making some visits" -- seemed to indicate it was a collaborative effort, prompting an NFL review of the matter. Saban's collective use of the word "them" seemed to tie the coach and coordinator together.
Whether it is a punishable violation by the NFL is still to be determined, the league has said.
As Saban told reporters Thursday night: "Since they're a no-huddle team, we had a lot of questions for them, in terms of what gives them problems and what defensive teams do that gives them problems. That was kind of a mutual, hopefully beneficial.
"I know it was a benefit to us. I hope it was a benefit to them as well."
April, 18, 2014
Apr 18
4:00
PM ET
Turnovers are the great equalizer in football.
Teams that turn it over consistently don't win very often, and teams that force turnovers typically find ways to win.
Looking back at the SEC in the last three seasons, it's not surprising that Alabama and LSU lead the way in turnover margin. The Tigers are plus-36 and the Crimson Tide are plus-24 during that span. They've combined to win two of the last three SEC titles and played each other for the national championship in 2011.


Alabama has been especially good at not turning the ball over. The Crimson Tide haven't turned it over 20 or more times in a season since 2007, Nick Saban's first year in Tuscaloosa. Alabama and LSU are the only teams in the league that haven't had a 20-turnover season at least once over the last three years. During that three-year span, Alabama has turned it over just 44 times.
By contrast, Ole Miss has turned it over 75 times during the last three seasons, which is the most in the league. Arkansas is right behind the Rebels with 74 turnovers, and the Hogs have forced the fewest turnovers in the SEC since 2011 (47). Ole Miss and Texas A&M are the only SEC teams to turn it over more than 20 times in each of the last three seasons, although Texas A&M was a member of the Big 12 in 2011.
In the last three seasons, South Carolina's defense has led the way when it comes to creating turnovers. The Gamecocks have forced 86 turnovers. LSU is second with 82. The Gamecocks have intercepted an SEC-high 52 passes in the last three seasons. Vanderbilt is second with 48 picks during that span.
Ole Miss has thrown the most interceptions (44) in the last three seasons, just one more than Tennessee (43). Alabama has thrown the fewest picks (18).
Below is the turnover margin for all 14 SEC schools in the last three seasons. Missouri and Texas A&M were in the Big 12 in 2011.
1. LSU:
82 gained, 46 lost -- plus-36
2. Alabama:
68 gained, 44 lost -- plus-24
3. Mississippi State:
78 gained, 55 lost -- plus-23
4. South Carolina:
86 gained, 64 lost -- plus-22
5. Missouri:
77 gained, 57 lost -- plus-20
6. Georgia:
77 gained, 66 lost -- plus-11
7. Vanderbilt:
77 gained, 69 lost -- plus-8
8. Florida:
62 gained, 61 lost -- plus-1
9. Kentucky:
52 gained, 55 lost -- minus-3
10. Tennessee:
60 gained, 64 lost -- minus-4
11. Ole Miss:
67 gained, 75 lost -- minus-8
12. Auburn:
55 gained, 65 lost -- minus-10
13. Texas A&M:
53 gained, 66 lost -- minus-13
14. Arkansas:
47 gained, 74 lost -- minus-27
April, 18, 2014
Apr 18
12:00
PM ET
Alabama, Auburn and Missouri will all hold their spring games this weekend. To get you ready for all the action, be sure to check out Friday's lunch links.
April, 18, 2014
Apr 18
11:00
AM ET
TUSCALOOSA, Ala. -- Here are five things to watch when
Alabama
takes to Bryant-Denny Stadium on Saturday for A-Day, the finale of spring practice.
[+] Enlarge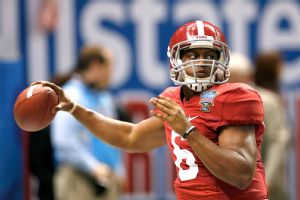 AP Photo/Aaron M. SprecherQB Blake Sims has had a good spring and hopes to finish with a strong effort in Alabama's spring game on Saturday.
1. The quarterbacks:
No, unfortunately the missing piece in the quarterback puzzle, transfer
Jacob Coker
, won't be on the field Saturday. Instead, he'll be in the stands watching his competition get a head start. And so far the clear leader has been veteran
Blake Sims
, who has put up some monster numbers in earlier scrimmages. He and
Cooper Bateman
have separated themselves, but
Alec Morris
and
Parker McLeod
will have an opportunity, however limited it may be, to make one final push before the offseason.
2. The Lane Train:
We've heard that he's more "player-friendly" and has "simplified" the offense since coming to Tuscaloosa. But the specifics of Lane Kiffin's transformation of Alabama's offense still remain to be seen. So while fans shouldn't expect much more than a vanilla playbook, do pay attention to the formations and how the ball is distributed.
3. A young secondary:
The focus of the spring has been primarily on Kiffin and the quarterbacks, and maybe that's rightfully so. But no one should forget Alabama's secondary, which faces a large rebuilding task. Starting safeties
Ha Ha Clinton-Dix
and
Vinnie Sunseri
are gone. So is former starting cornerback
Deion Belue
and top reserve
John Fulton
. With the exception of
Landon Collins
at strong safety, every position in the secondary is up for grabs.
4. Rushing the passer:
Defensive line coach Bo Davis has brought energy and a renewed focus on rushing the passer to Alabama this offseason. And with the depth he inherited at the position, he has the tools to get after the quarterback. Promising freshmen
A'Shawn Robinson
and
Jonathan Allen
are a year wiser,
Dalvin Tomlinson
is back from injury and
D.J. Pettway
returns after a year of exile. That's a good nucleus of pass-rushers, but don't forget
Dee Liner
and
Tim Williams
. Though the quarterbacks will essentially be playing two-hand touch, pay attention to how the down-linemen fire off the snap and get into the backfield.
5. The up-and-comers:
April, 17, 2014
Apr 17
8:14
PM ET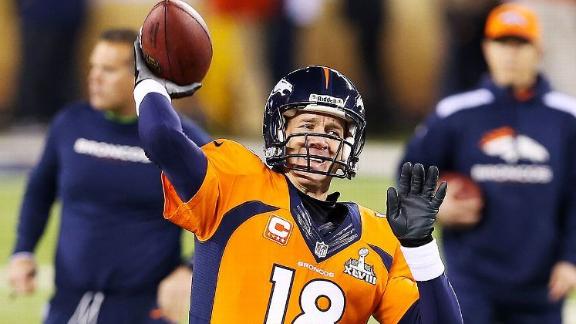 TUSCALOOSA, Ala. -- Nick Saban hosted Peyton Manning and Denver Broncos offensive coordinator Adam Gase last week for two days during a visit the Alabama Crimson Tide coach called mutually beneficial.
The presence of Manning struck a chord in Saban, who also said the quarterback was a good example of how athletes at all levels should approach their crafts.
The details of how the meeting came about weren't clear, but Saban said Manning and Gase were "making some visits" and wanted to stop by Tuscaloosa.
"A lot of people would say, 'Wow, the guy is one of the best, if not the best, from a career standpoint and about as good as anyone has been in the history of the league,' " Saban said. "After all the experience and knowledge that he has, he's going out to try and seek more knowledge and understudying of the game of football so he can play better."
The benefit, however, wasn't entirely one-sided.
Denver likely runs as efficient a no-huddle offense as any in the NFL. Manning, the orchestrator of the Broncos attack, threw for a league-record 55 touchdowns this past season.
Saban, for his part, has struggled some recently against no-huddle offenses. Alabama gave up a record 628 yards of offense in a 49-42 win over Texas A&M last season, and then lost in the final second to Auburn in a game that featured the Tigers running an uptempo attack that yielded 296 yards and two touchdowns on the ground.
"Since they're a no-huddle team, we had a lot of questions for them, in terms of what gives them problems and what defensive teams do that give them problems," Saban said. "That was a mutual benefit. I know it was a benefit to us. I hope it was a benefit to them as well."
April, 17, 2014
Apr 17
2:30
PM ET
Kentucky and Texas A&M both lost quarterbacks Wednesday, which means the race for their starting jobs is down to two.

Jalen Whitlow
is leaving Kentucky, and
Matt Joeckel
is leaving Texas A&M. Now, the reality might be that neither one of those guys was going to win the job. But in both cases, the Wildcats and Aggies are going to put a quarterback on the field in the fall who has very little experience.
They're hardly the only ones in that boat in the SEC.
Only three teams in the league are bringing back an established quarterback who started all or most of the season a year ago. Auburn returns
Nick Marshall
, while
Dak Prescott
is back at Mississippi State and
Bo Wallace
at Ole Miss. Fifth-year senior
Dylan Thompson
returns at South Carolina, but most of his work to this point has been coming off the bench in relief, although he did have the memorable performance against Clemson two years ago in a start when
Connor Shaw
was injured and couldn't play.
The bottom line: There aren't a ton of rock-solid quarterback situations in the SEC as we exit the spring.
Your homework assignment (the fans) is telling us who has the most precarious quarterback situation heading into the 2014 season. So go vote in our SportsNation poll, and we'll unveil the results in the next few days.
Obviously, the landscape can change pretty dramatically. Did anybody really know what Texas A&M had at quarterback with
Johnny Manziel
entering the 2012 season?
The five schools we've come up with as candidates all have some major question marks.
At Kentucky, sophomore
Patrick Towles
and true freshman
Drew Barker
are now battling it out. And at Texas A&M, it's down to a redshirt freshman (
Kenny Hill
) and a true freshman (
Kyle Allen
). Hill has already been in
trouble this offseason
, too.
Brandon Allen
is the guy at Arkansas, but struggled through an injury-marred season a year ago. The Hogs finished last in the SEC in passing offense.
True freshman
Brandon Harris
outplayed sophomore
Anthony Jennings
in LSU's spring game, so this summer and the preseason should be quite interesting on the Bayou.
And at Alabama, the Crimson Tide's starter for the 2014 season might well be attending classes at another school.
Jacob Coker
is transferring from Florida State and won't be on Alabama's campus until he graduates from FSU in May. Fifth-year senior
Blake Sims
has taken the lead this spring in the Tide's quarterback derby as he adjusts to Lane Kiffin's pro-style offense, but will have to hold off Coker. Whoever wins the job at Alabama will have very little, if any, meaningful game experience.
April, 17, 2014
Apr 17
1:00
PM ET
Let them eat a late lunch!
April, 17, 2014
Apr 17
10:15
AM ET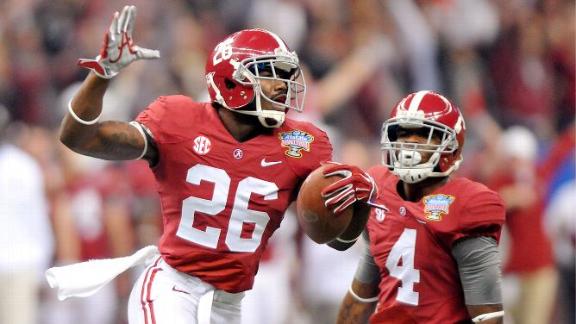 TUSCALOOSA, Ala. -- It didn't take long for the sickening feeling to seep out of
Landon Collins
' stomach and circulate through his body.
On the way back to Tuscaloosa after Alabama's humbling 45-31 loss to Oklahoma in the Allstate Sugar Bowl, the junior safety replayed the nauseating moments from a game in which the Crimson Tide, which entered the contest with the SEC's top-ranked defense, surrendered 429 yards of offense, nearly 6 yards per play, 348 passing yards and four passing touchdowns.
Collins called the performance by the defense "disgraceful" to Alabama football.
"We weren't the defense that we always used to be," Collins told ESPN.com in early April. "That's what we're working on this spring."
[+] Enlarge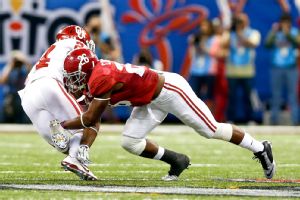 Derick E. Hingle/USA TODAY SportsAfter a less-than-stellar performance in its bowl loss to Oklahoma, Landon Collins expects Alabama's defense to play with a chip on its shoulder in 2014.
If Alabama is going to make it back to the national championship, Collins said the defense has to improve. During Alabama's two-year BCS title run (2011-12), the Tide finished first nationally in total and scoring defense in both seasons. Last season, Alabama finished in the top five in both categories, but that final game serves as a harsh reminder of the defense's flaws.
Associating Alabama's defense with anything less than elite feels awkward, but that's all you can say about Bama's bowl performance. Players were tired and run down against Oklahoma's hurry-up offense. This spring, Tide defenders saw red, as coaches constantly reminded them of that bowl performance. That led to tougher conditioning routines and more intense player interaction on and off the field, Collins said.
Looking back at the bowl game has been tough for players, but they know that it's a performance they never want to see again.
"It wasn't the way we play," linebacker
Trey DePriest
said. "We don't get that many points put up on us. That's way more than what our goal is -- 13 points or less. It didn't seem like us. We were ready, we just didn't go out and leave it on the field like it was our last game. It's definitely been a driving force."
But things won't be easier in 2014, not with a younger defensive look and the loss of leaders -- and producers -- like C.J. Mosley and Ha Ha Clinton-Dix. Collins and DePriest, picked to replace those two, now head a defense that will be playing angry in 2014 after losing five starters from last season's team.
Can guys like
Nick Perry
,
Denzel Devall
,
Xzavier Dickson
, A'Shawn Robinson and
Jarrick Williams
expand their roles? Can some of the youngsters like
Tony Brown
and
Laurence "Hootie" Jones
step up? And don't forget about the much-anticipated arrival of defensive end
Da'Shawn Hand
.
There's no shortage of talent, and this defense might even have a little more athleticism sprinkled around, but we all know talent can only go so far, even with the best teams.
For now, attitudes seem to be flowing in the right direction, DePriest said, but there's no getting around the fact that this entire defense has to grow up in the coming months to replace some valuable leaders.
"It's some big shoes to fill, definitely," Collins said. "A lot of us looked up to those guys. Without that leadership, we have to just step in and take over because we need that on the field constantly, and [we need it] off the field because without that, this program could go in a different direction that it doesn't need to."
There's a certain pride that this defense holds that it lost in that bowl game.
Or was it something that slowly trickled out before the Tide even got to Bourbon Street?
Alabama had holes in its defense all last fall, but found ways of patching them as the season went on. Alabama surrendered a school-record 628 yards in a 49-42 win over Texas A&M, allowed Zach Mettenberger to throw for 241 yards in the win over LSU and watched Auburn rush for 296 yards in that heartbreaking loss on the Plains.
Hundreds of other teams would kill for Alabama's 2013 defense, but it didn't live up to the standards this program holds so dear.
For Collins, the secondary is key. While Alabama ranked near the top nationally against the pass, there were times when the secondary surrendered too many big plays. Injuries contributed to some of the secondary's issues, but the last line of defense never truly looked settled last season.
Collins said the secondary put too much pressure on itself to live up to the enormous preseason hype after back-to-back BCS titles and wasn't always prepared for games.
"Our downfall was our secondary last year," Collins said. "We got picked apart because of that."
"If you watch our film of practice, you can see how hard we work every day. You can tell how hard we're working to establish our secondary to be dominant again."
Spring practice can only take a team so far, and Alabama defenders know that. They have that chip, they have that anger, but it's about carrying that feeling over to the season and performing.
The good thing for the defense is that it has a constant reminder in the bowl game that still fuels this unit.
"That just fires it up, because we know what type of defense we are," Collins said. "We already know what we are capable of. Just to hear that we got picked apart by an offense that shouldn't have been on the field with us, that's a disgrace to Alabama defense. We need to pick it up from that standpoint."
April, 17, 2014
Apr 17
9:50
AM ET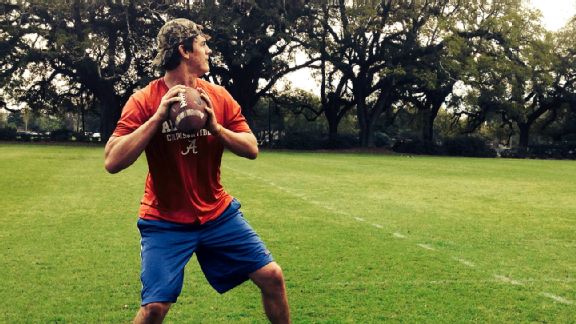 Courtesy of David MorrisBetween playing for Florida State and Alabama, Jacob Coker practices on a muddy field in Mobile.
MOBILE, Ala. -- Idle is not a position Jacob Coker prefers. Yet here he is, amid the constant swish of windshield wipers, sitting impatiently in the passenger seat of a silver sedan as a thunderstorm continues to pummel this swampy patch of the Gulf Coast.
It's a Friday morning in late March, and while many of Alabama's football players are laid out on sunlit beaches enjoying spring break, Coker has his mind set to working in his own slushy backyard.
The 21-year-old put aside a jam-packed final semester at Florida State to drive 250 miles home to Mobile, sit in a car and watch as rain threatened to wash away his scheduled throwing session with David Morris, his quarterback coach of more than five years.
A week earlier, Coker spent his spring vacation in Tuscaloosa watching film and working out. He missed walking in on AJ McCarron's pro day by minutes, leaving Alabama's indoor facility just as the Crimson Tide's former star quarterback began throwing for scouts.
Coker is the favorite to inherit McCarron's throne when he finishes his undergraduate degree and transfers to Alabama next month, but not before days like this -- days where you either push through less-than-ideal conditions or waste away at home. For his future teammates, if there's the slightest hint of precipitation, they move practice indoors to an air-conditioned, 97,000-square-foot facility. Meanwhile, Coker is left to create his own version of camp at empty high school stadiums and busy city parks. Wherever there's room and whenever there's time, he's training.
Spring Game Wrap-Up: April 19
SEC SCOREBOARD
Thursday, 8/28
Saturday, 8/30
Sunday, 8/31