March, 6, 2015
Mar 6
10:00
AM ET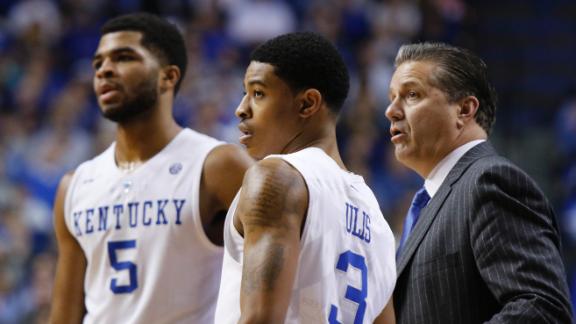 Well, this is it. We've had some good times and some bad times this season.
(
Last weekend represented the good
.)
But thanks for sticking with these Weekend Predictions.
Here we go. Last one of the year.
It's been real. Until next season.
Last week: 4-1
Overall: 50-30
Florida at No. 1 Kentucky, 2 p.m. ET, Saturday, CBS:
In "The Dark Knight Rises," Bane gets the best of Batman in a brutal fight scene. But it's a Batman movie. So we all knew that Batman would ultimately get his revenge, and he did. Maybe John Calipari felt a bit like Batman last season as Florida crushed Kentucky in that 84-65 whipping by Billy Donovan's squad at Rupp Arena, one of three Gators victories over the Wildcats. It wasn't clear then that we were watching
two
Final Four teams. At that moment, Florida had proved again that it was the superior team and a contender. But those roles are reversed as Florida prepares to face No. 1 Kentucky in a matchup that could seal a perfect regular season for the 30-0 Wildcats. The Gators are 3-6 in their past nine games and 8-9 in SEC play. They began the season as a ranked team, and they'll end it as a squad that will watch the NCAA tournament from home. But at least they can say that they were involved in Saturday's historic matchup.
Prediction: Kentucky 94, Florida 60
No. 2 Virginia at No. 16 Louisville, 6:30 p.m. ET, Saturday, ESPN
: In the first matchup, Virginia probably earned its most impressive win. The Cavaliers had to play without All-American candidate
Justin Anderson
, who suffered a hand injury, for the entire second half. Virginia held on, but Louisville outscored the Cavaliers 34-28 after halftime. The latter should induce confidence for a Louisville squad that will host a Virginia team that continues to await Anderson's return. But the Cavs have won seven in a row without Anderson, and they've clinched their second consecutive ACC championship, too. Their offensive efficiency has waned without Anderson, even though they've faced mid- to low-tier ACC competition down the stretch. But Louisville's offensive effectiveness has changed without recently dismissed point guard
Chris Jones
, too. The Cards are barely in the top 100 in Ken Pomeroy's offensive efficiency numbers. That matters. The first matchup was a 55-possession affair. Saturday's rematch should be a similarly rugged and tight encounter. This one will not be decided until the final seconds.
Prediction: Virginia 63, Louisville 60
No. 3 Duke at No. 19 North Carolina, 9 p.m. ET, Saturday, ESPN
: What's so special about North Carolina right now? Not much. The Tar Heels haven't won a game against a genuine NCAA tournament team since they squeezed by Louisville 72-71 on
Marcus Paige
's buzzer-beater on Jan. 10. After that? Losses to NC State and Pitt. No signature victories in nearly two months. But North Carolina showed up for the first rivalry game against Duke on Feb. 18. And it will fight again in the rematch on Saturday. Duke won the first game in overtime after connecting on 51 percent of its shots in a thriller. Expect another hectic rivalry game. But Paige won't go 2-for-11 again. And North Carolina's bigs --
Kennedy Meeks
,
Brice Johnson
and
Joel James
combined to shoot 18-for-24 from the field and grab 24 rebounds in the first matchup -- will have another solid (collective) effort against
Jahlil Okafor
. Still, Duke has more options in clutch situations.
Tyus Jones
,
Justise Winslow
,
Quinn Cook
and Okafor can all step up when necessary. North Carolina is still relying on Paige in key games and moments. That's fine, though. He'll hit the game winner to lock up a UNC win.
Prediction: North Carolina 89, Duke 87 (overtime)
St. John's at No. 4 Villanova, 2 p.m. ET, Saturday, Fox:
Remember that St. John's squad that fell apart in January when it lost three of four, a rut that was punctuated by a road loss to DePaul? Well, Steve Lavin's squad has righted the ship with a 7-1 record in its past eight games. Not a bunch of mediocre victories, either. We're talking about wins over Xavier (twice) and Georgetown. The Red Storm continue to hover around top-50 offensive and defensive efficiency numbers. So much is at stake in this St. John's-Villanova game. St. John's is far more comfortable than the multitude of bubble teams fighting for at-large berths. And a road loss to a potential No. 1 seed won't harm its résumé, but a win would certainly remove any doubt about its postseason fate. Villanova has had some rough nights in recent weeks. The Wildcats are coming off a tough game at Creighton. But no team has touched Villanova at home. Jay Wright's squad won't squander its chance to snatch a No. 1 seed, even though it is facing a hot team.
Prediction: Villanova 67, St. John's 58
No. 6 Wisconsin at No. 23 Ohio State, 4:30 p.m. ET, Sunday, CBS:
Earlier this week, ESPN.com's
Dana O'Neil's Four Corners
column identified Ohio State's
D'Angelo Russell
as one of the guys who could shake up the NCAA tournament the same way that Shabazz Napier did a year ago. Here's the money quote from Russell about his knack for entering Beast Mode late: "It's just a switch that just goes off." You have to wonder if that switch will go off in Columbus, Ohio, on Sunday against Wisconsin. The Badgers are a tough matchup for any team in America.
Frank Kaminsky
will win the Wooden Award in a few weeks. Put him next to
Nigel Hayes
and
Sam Dekker
and you have one of the best frontcourts in the country.
Bronson Koenig
is a special young guard, and
Josh Gasser
is the veteran glue guy that every team needs. But two of Wisconsin's losses have occurred on the road. And the Badgers will struggle to stay in front of Russell, who will have another big game that will impress NBA scouts. But how on earth will Thad Matta's program defend the Badgers for 40 minutes?
Prediction: Wisconsin 69, Ohio State 65