March, 26, 2015
Mar 26
7:30
PM ET
SYRACUSE, N.Y. -- Here are your convenient NCAA tournament storylines for this East Region:
The Louisville Cardinals, a team that couldn't score all season, is somehow almost inexplicably in the Sweet 16 and two games away from Rick Pitino's eighth Final Four.
[+] Enlarge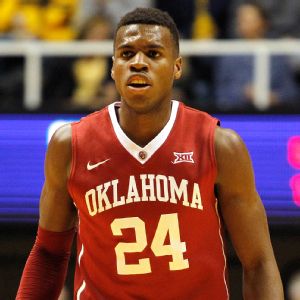 Justin K. Aller/Getty ImagesBuddy Hield has averaged 17.3 points and 5.4 rebounds per game this season.
The Michigan State Spartans, up and down all year and not really on anyone's radar, is of course back in the Sweet 16 because that's what Tom Izzo does every year.
The NC State Wolfpack, the upstarts that are loaded with talent, are suddenly putting it together.
Oh and then there are the Oklahoma Sooners.
The Sooners are just the highest seed left in this crazy region.
"To hear everyone talk, it sounds like maybe we're not," coach Lon Kruger said. "It's OK. It's nothing we can control."
The Sooners' anonymity is in part due to their coach. Kruger is a lifer, with success strewn across the country, but he has never been a "me guy," a rare exception in profession where the coach is the face of every franchise.
It's also because Oklahoma played in the insanity known as the Big 12, where one team's success melded with another and as always, everyone took a back seat to Kansas.
But the Sooners are not only the favorite here; they're also the only team with a conference player of the year on the roster.
That would be Buddy Hield, a wildly gifted player who somehow never quite attracted national attention. That could very well change this weekend because if Oklahoma is to get past Michigan State in this regional semifinal and knock on the door of the Final Four, Hield will get him there.
"What' he's done this year, the MVP of the league, the fact that he can score from inside and outside," Michigan State head coach Tom Izzo said. "He seems to play hard every day. I just have a great respect for what he's accomplished."
The Bahamian native averaged 17.3 points per game and 5.4 rebounds. He's a free spirit with an engaging personality that hides a nasty game. He's failed to reach double figures just three times this season, gifted not just with a pure shot but also with savvy shot selection.
This game, he admits, will be difficult. On the other bench sits Lourawls 'TumTum" Nairn (owner of the greatest name in college basketball), a fellow Bahamian who counts Hield as a mentor and friend.
"I consider him my brother," Hield said. "It's just fun matching up with someone from the Bahamas. Someone's going to lose tomorrow. I just hope it's not me."
If it's not, perhaps Hield -- and by extension Oklahoma -- will finally earn a headline.