August, 27, 2014
Aug 27
1:32
PM CT

By Jon Greenberg
ESPNChicago.com
Archive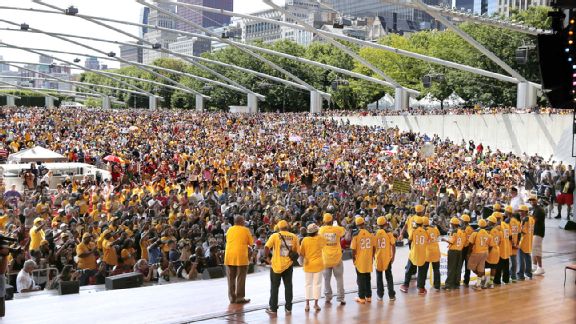 AP Photo/Charles Rex ArbogastChicago fans packed Millenium Park on Wednesday to celebrate U.S. Little League World Series Champions Jackie Robinson West. The event started on the South Side and included a parade to the park.
Chicago looked like a championship town Wednesday.
From the far South Side to Millennium Park, the city united to celebrate the amazing accomplishments of the 13-member Jackie Robinson West all-star team. Trolleys carried the team from its home park in Washington Heights through a buoyant South Side to its very own downtown rally, complete with celebrities and thousands of joyous fans.
All of the local networks went to live coverage of this event, with reporters interviewing third cousins, aunts, cousins and joyful South Siders just proud of this group of 11- and 12-year-old All-Stars who captivated a city and country as they won the United States bracket of of the Little League World Series.
"There is something so sweet and grassroots about all of this, an ABC 7 anchor said.
So true.
An all-black team from Chicago's South Side is the best Little League team in the United States. And it's very cool how this city responded with pure love. From the famous to the anonymous, a major American city rallied behind a group of pre-teens. I was awed by the absolutely packed crowd at Millennium Park as I watched.
August, 26, 2014
Aug 26
11:30
PM CT
CHICAGO -- The tag-team trio that was supposed to lead the
Chicago White Sox
's offense into the future was finally reunited Tuesday night.
Avisail Garcia
,
Adam Eaton
and
Jose Abreu
played in a White Sox lineup for just the ninth time this season and the first time since April 9 at Colorado, way back during the second week of the regular season.
That was the game when Avisail Garcia injured his shoulder, of course, and he originally underwent surgery that was expected to cost him the season. Credited with being a fast healer, Garcia was able to return to the White Sox on Aug. 16, but as fate would have it, Eaton was out with an oblique injury.
[+] Enlarge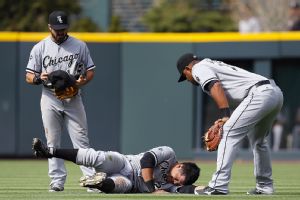 Doug Pensinger/Getty ImagesInjuries have limited Avisail Garcia, Adam Eaton and Jose Abreu to just nine games together.
The band was finally back together Tuesday giving the White Sox another look at the three central figures of their roster rebuild that started at last year's trade deadline. The White Sox still dropped their seventh consecutive game Tuesday, but in an 8-6 defeat to the
Cleveland Indians
, they scored their most runs since a 7-5 victory over the
Toronto Blue Jays
on Aug. 17.
The White Sox look out of gas with a little more than a month to play, but the hope is that the Garcia, Eaton, Abreu trio will spark a late-season offensive push and provide some optimism leading into the winter.
In constructing the White Sox's triple-threat offensive core, Garcia was added first on the day before the 2013 trade deadline when he was acquired from the
Detroit Tigers
in the deal that sent
Jake Peavy
to the
Boston Red Sox
.
Abreu was a six-year, $68 million free-agent signing this winter, and Eaton was acquired from the
Arizona Diamondbacks
in the three-team December deal that sent pitcher
Hector Santiago
to the
Los Angeles Angels
.
"Yeah, I didn't really notice that, but that's right," Eaton said about his second chance to play with a pair of heralded teammates again. "It's going to be good. Spring training is where we got some lengthy time together. Hopefully fans will want to see us all play together [again], so it will be very exciting."
Exciting isn't precisely what the White Sox are looking for. If exciting is the byproduct of being productive, the club will take it. Eaton and Abreu have been able to show their value this season, and Garcia seems to have picked up where he left off when he batted a team-leading .304 from Aug. 9 last year until the end of the season.
In the eight games since he has returned, Garcia was batting just .214 before Tuesday, but his slugging percentage was .500, with two doubles, two home runs and seven RBIs. Perhaps Eaton's return agrees with Garcia, who had a two-run double among his two hits Tuesday.
"I think Avisail Garcia is one of the more interesting young players in the league," Indians manager Terry Francona said at the start of the current three-game series. "When they got him, I remember thinking, 'Boy, that's a hell of a [player],' because he's a really interesting young player. I mean, he runs so much better than people think he can, and there's power in that bat and he can play all the outfield positions.
"He's got a chance to be a really good player. And from our side of it, I guess we hope he's not really ready to be hot and help them. And Eaton gives them kind of that spark at the top of the order. And then Abreu, being that like monster bat in the middle, man they've really helped their lineup a lot.
In fact, each member of the White Sox's three-man offensive core had a hit Tuesday with Abreu picking up a hit and two walks, while Eaton had an RBI single in the fifth inning.
"It is nice," manager Robin Ventura said of Eaton's return from the DL. "I think any time you need a shot in the arm, it's nice to have a guy that was in the middle of it when he was playing. I think any time you get back to some sort of normalness it's nice, but you're looking at a time when we haven't really had him and Avi together very much, so it will hopefully be nice to watch."
The White Sox's offense had been stuck in the mud without Eaton. It scored three runs or less in 14 of its last 17 games before Tuesday, and the club went 4-9 without its leadoff man. Eaton was hitting .435 (37-for-85) in his last 22 games before he was injured.
With another offseason approaching and the White Sox still in roster-rebuild mode, the front office wants to use the impact acquisitions from last winter as a guide when moving into the colder months this year.
"That's absolutely our intent," Hahn said of making more impact moves this offseason. "We obviously can't guarantee we're going to be able to make 'X' number of moves, and we're going to be able to hit on as high as percentage of our targets as we did last year, but it's certainly our goal to address ideally all of what we feel are our needs, before they shift, as quickly as possible.
"It has never been about, 'Hey, we got two things done, so we're good.' The fact of the matter is we didn't get everything done last offseason as we wanted to do, and we look forward to the chance coming up in the coming weeks, where we're able to get a little more aggressive in pursuing some answers out there."
August, 26, 2014
Aug 26
11:12
PM CT
Associated Press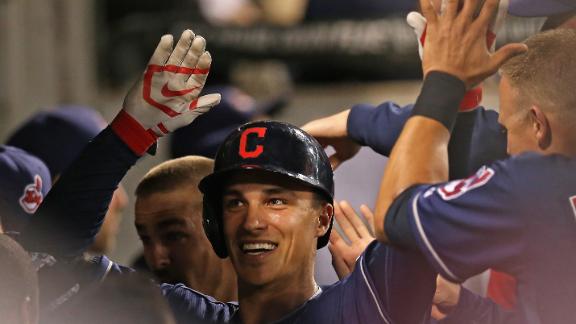 CHICAGO -- Zach Walters hit a two-run home run in the 10th inning, lifting the Cleveland Indians to an 8-6 victory over the sliding Chicago White Sox on Tuesday night.
Pinch-hitter Lonnie Chisenhall doubled to lead off the 10th against Jake Petricka (0-4), and after failing to sacrifice Chisenhall to third, Walters hit a 3-2 pitch well into the right-field bleachers to give the Indians the lead.
Bryan Shaw (5-3) pitched 2 1/3 scoreless innings in relief for the win, keeping Cleveland 5 1/2 games behind Kansas City in the AL Central.
Chicago lost its seventh straight and saw Petricka give up a go-ahead home run in his second consecutive appearance after allowing Brian McCann's 10th inning walk-off Sunday against the New York Yankees.

August, 26, 2014
Aug 26
10:59
PM CT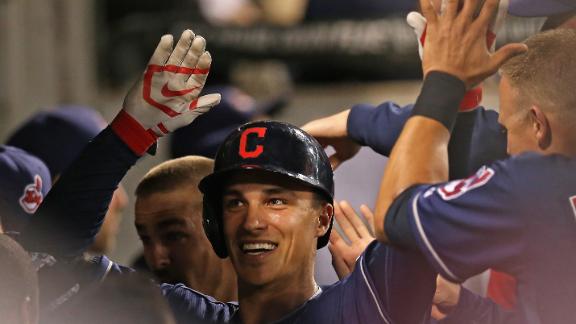 CHICAGO -- The
Chicago White Sox
extended their losing streak to seven games with an 8-6 defeat to the
Cleveland Indians
in 10 innings.
How it happened:
The Indians'
Zach Walters
, a designated hitter who started the game batting .182, hit a go-ahead, two-run home run against White Sox reliever
Jake Petricka
.
Alexei Ramirez
had three RBIs for the White Sox, including a two-run home run in the fifth inning.
Avisail Garcia
had a two-run double for the White Sox in the first inning, while
Adam Eaton
had an RBI single in his first game back from the disabled list. White Sox starter
Jose Quintana
gave up six earned runs, the most he has given up in a start since June 13 against the Royals when he also gave up six.
What it means:
Quintana finally got a little run support, but he couldn't help himself by giving up his six runs over five innings. The White Sox scored five runs before Quintana left the game. Over his last four starts, the offense had supported him with six combined runs while he was still pitching. After pitching well from the middle of June through July and into the first two starts of August, Quintana has now given up 14 earned runs combined over his last three starts.
Outside the box:
Tuesday was just the ninth time all season that Eaton, Garcia and
Jose Abreu
were in the same White Sox lineup. Garcia injured his shoulder during the eighth game of the season, and when he returned on the last homestand, Eaton was on the DL with an oblique injury.
Offbeat:
Fielders often have little tricks to fool base runners and sometimes they only end up fooling themselves. On a line drive to center field in the sixth inning, Eaton tried to trick the Indians base runners into thinking he was about to catch a line drive off the bat of
Roberto Perez
. Instead, the ball skipped passed him before he could get his glove back into proper fielding position and two runs scored. One batter later, though, Eaton threw out Perez at home plate on another hit to center field.
Up next:
The White Sox will send right-hander
Hector Noesi
(7-8, 4.39 ERA) to the mound Tuesday in the middle game of the three-game series. The Indians will counter with right-hander
Corey Kluber
(13-7, 2.46) in the 7:10 p.m. start from U.S. Cellular Field.
August, 26, 2014
Aug 26
8:28
PM CT
CHICAGO – The Chicago White Sox had seven players in their minor league system assigned to the Arizona Fall League's Glendale Desert Dogs for the upcoming season.

At No. 85 in the mlb.com rankings, shortstop Tim Anderson is the highest ranked White Sox player headed to the AFL. Other players on the team are pitchers Chris Bassitt, Francellis Montas, Jefferson Olacio and Scott Snodgress, catcher Kevan Smith and infielder Rangel Ravelo.

Anderson and Montas have both worked through injuries this season.

"They both missed time, so it's good to get them additional reps, especially Montas, who had two setbacks -- one with each knee -- but is now, knock-on-wood, healthy," general manager Rick Hahn said. "But it's also about challenging them with a little bit of a higher level.

"Obviously, the level of play in the fall league over the years has been really prospect-laden and a good test for guys in their development, and we feel that both those guys are ready for it from a performance standpoint. They also happen to have missed a little developmental time, so they're a perfect fit for that."
August, 26, 2014
Aug 26
8:14
PM CT
CHICAGO -- The
Chicago White Sox
announced that U.S. Cellular Field will be a stop on the Jackie Robinson West Little League parade route Wednesday.
The team of 11- and 12-year-olds won the United States title at the just-concluded Little League World Series in Williamsport, Pennsylvania, and was runner-up internationally to South Korea.
[+] Enlarge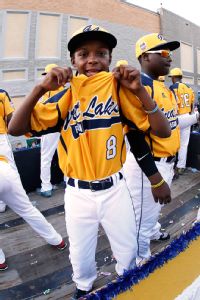 AP Photo/Gene J. PuskarThe Jackie Robinson West Little League team will be honored with a parade and rally after winning the U.S. title.
"It was not only exciting to bring everyone together in the city to root for a common goal in baseball, which doesn't happen around here too often, but it was just fun to watch the kids battle and succeed on the highest stage," White Sox general manager Rick Hahn said. "I look forward to the next couple of days, as they continue to be appropriately feted throughout the town."
Six members of the Jackie Robinson West all-star team are members of the White Sox's Amateur City Elite (ACE) program, designed to give instruction to inner-city baseball players, while also giving them guidance on what it takes academically to be a college baseball, if they go that route.
"Any time as a kid you're playing for something like that, it's fun and it's something you always take it with you," manager Robin Ventura said. "I remember games that I had as a kid -- not to their level -- but you still remember them. You're playing with your best friends that you grew up with. I think that's the special part of it. To be able to win the U.S. championship is special as well.
The parade begins at 9:50 a.m. from Jackie Robinson Park (10540 S. Morgan Park St.). A neighborhood rally will take place at 9 a.m.
The team is expected to arrive at U.S. Cellular Field at some point before 10:30 a.m. for a salute outside of Gate 4. Free parking will be available in Lot B. The parade will conclude at Millennium Park.
White Sox coaches Harold Baines, Daryl Boston and Todd Steverson are expected to be on hand for the Little League team's appearance, as well as organizers of the ACE program.
Ventura believes that the Jackie Robinson West team could inspire more inner-city kids to start playing baseball.
"You hope so," Ventura said. "You've seen things like that happen in different arenas and sports that get people caught up in it and kids start to play it, but you hope it catches on and you see kids look up to those kids and want to become those kids."
There is always a chance the kids in the ACE program become White Sox players one day. But even if they play elsewhere, the club will be happy.
"If this exposure leads to more kids getting drafted by other organizations, fantastic," Hahn said. "More importantly, it leads to more kids having educational opportunities, which was the original goal of the program, even better. How quickly the program has grown in the last few years and how much success we have had is giving everyone great reason for pride and it sure looks like the future is even brighter."
August, 26, 2014
Aug 26
7:36
PM CT
CHICAGO – As the losses mount, the
Chicago White Sox
still have a chance to accomplish some impressive feats, especially on offense.
As expected, if it has to do with the offense, then
Jose Abreu
must be involved. Abreu's .308 batting average at the start of play Tuesday was eighth in the American League and just three points behind fifth place
Michael Brantley
of the
Cleveland Indians
.
Right behind Abreu in ninth place was
Adam Eaton
, who was batting .304. Eaton returned to the White Sox lineup Tuesday night after missing the last two-plus weeks while on the disabled list because of a strained right oblique.
Rounding out the top 10 of the American League batting chase was
Conor Gillaspie
, who was at .303.
"Definitely I'm very happy about that and I think it is a good sign the team is headed in the right direction," Abreu said through an interpreter Tuesday. "I am proud of the individual accomplishments that I have been able to get, but I am not very happy with where we are at as a team, so we will have to work on that."
The
Detroit Tigers
were the only other AL team with more than one player in the top 10 batting leaders.
Victor Martinez
was second at .328, while
Miguel Cabrera
was seventh at .308.
"It's a sign in the right direction from where we were last year," manager Robin Ventura said. "We have Jose in the middle of it. There were signs of turning it around. Alexei (Ramirez's) year has been pretty nice, too. Eaton and Abreu, it helps offensively of what you're going through from what we had last year, you feel like you're able to score some runs."
According to STATS LLC, the last time the White Sox had two players who finished in the top 10 in batting average was in 1993 when
Frank Thomas
was sixth with a .317 mark and Lance Johnson was 10th at .311.
The last time the White Sox had three or more players in the top 10 was in 1960 when Al Smith was second with a .315 average, Minnie Minoso was third at .311, Roy Sievers was sixth at .295 and Nellie Fox was ninth at .289.
August, 26, 2014
Aug 26
7:01
PM CT
CHICAGO -– As tough as it was for
Gordon Beckham
to leave the only franchise he has ever known, he is excited for his chance to play for a playoff-contending team in the
Los Angeles Angels
.
Beckham spoke respectfully about the
Chicago White Sox
while sounding optimistic about the future in a conference call with Chicago reporters Tuesday, five days after he was dealt to the Angels for a player to be named later or cash considerations.
"It's an exciting time, it really is, because of where this team's at and where I'm at in my career," Beckham said about playing for the first-place Angels. "I'm happy for a clean slate, I really am, and anything I can do to help this team win is much more important than anything personally. I just want to be here, show up every day, do the work and contribute when I get called upon."
Beckham tried to be that player in six seasons with the White Sox, but it never panned out after an impressive rookie season in which he batted .270 with 14 home runs and 63 RBIs in 2009. He played in only 59 minor league games before his arrival on the South Side.
Beckham batted .244 in 2,607 career at-bats with the White Sox, hitting 61 home runs with 276 RBIs and a .306 on-base percentage.
"I think being up there so quick and not having much failure in the minors, I had to learn kind of on the big stage how to fail and how to fail with grace, I guess," Beckham said. "It would have been easy for me to just make excuses and blame other people for my shortcomings. I'm glad I handled it like that and didn't blame anybody else. But I just didn't fail a lot in the minors.
"To come up in the big leagues and fail in front of a big league audience, it was definitely tough and it took a lot from me. But it made me a better person, it made me a better player, honestly, as much as some people probably wouldn't believe that. I learned how to play the game. I learned the ups and downs are difficult but manageable."
Beckham knew all along that a trade was likely, especially with the White Sox heavy on second-base prospects, and despite not knowing about his own trade options he had no issues with the process.
"I had a conversation with a couple people just about trying to do well, I guess," he said. "I didn't expect them to keep me in the loop [on trades]. As a player you go and play and you do what you're told. I didn't expect it and I didn't ask. No, there was no communication and I didn't expect that. I didn't expect them to communicate with me, saying that there's a chance I still might be traded. That's not really my place to ask, honestly, so I didn't."
The White Sox and Angels have identified a pool of players in the Angels' system that the player to be named later will be picked from. General manager Rick Hahn has said that decision won't be made until the offseason.
August, 26, 2014
Aug 26
6:30
PM CT
CHICAGO – Any thought that first-round pick Carlos Rodon would start one of the games in Saturday's doubleheader against the
Detroit Tigers
was squashed by general manager Rick Hahn.
Asked point blank if Rodon is under consideration for a Saturday start, Hahn closed his eyes, smiled and let out an exasperated chuckle.
"He's thrown like 20 innings as a pro; let the kid go," Hahn said. "I understand the thought behind the question, but we simply can't lose sight of the fact that he is in the infancy of his professional career and what he is doing right now, while impressive, is part of his development.
"Any decision about his future, where his next start will or won't be, is based strictly on the long-term view of getting him to Chicago ultimately to stay and contribute at the front end of our rotation for a long time. We aren't going to rush that process."
The 21-year-old Rodon has made two abbreviated starts for Triple-A Charlotte over the past week and combined to give up two runs on two hits over seven innings. He continues to build up his pitch count after a long layoff between the end of his college season at North Carolina State and the start of his pro career in late July.
Rumors have run rampant that despite Hahn's desire to take a more deliberate path with Rodon, the left-hander still will be up with the White Sox when rosters expand Sept. 1, two days after this weekend's doubleheader. Combine that concept with the fact that Rodon's next scheduled turn in Charlotte's rotation is Saturday, the idea that he could start this weekend isn't completely out of nowhere.
As for whether or not Rodon actually will be a member of the White Sox at the end of the current homestand, Hahn wasn't about to reveal anything.
"I think he's extremely well-grounded," Hahn said. "I think he knows his next start is coming for Charlotte and then we will have a conversation after that. He's not looking past what is immediately ahead of him. It's important that we don't lose track of the fact that this kid has thrown about 22 or so innings as a professional.
"He's already made three stops with our affiliates within a month of being a pro. Although he is having success, he has moved very quickly. That makes his success even more impressive. It has been a very fine year for him."
Charlotte's final game of the season in Sept. 1.
August, 26, 2014
Aug 26
3:01
PM CT
CHICAGO -- Seven more days remain before the
Chicago White Sox
will get some reinforcements in the form of September call-ups from the minor leagues.
General manager Rick Hahn has already suggested that the White Sox will call up five to eight players, with that set to happen after the current homestand is completed. That homestand begins Tuesday night with a three-game set against the
Cleveland Indians
, followed by a four-game series against the
Detroit Tigers
that includes a day/night doubleheader Saturday.
The dog days of August certainly seem to have taken their toll on the White Sox, who are fading fast. They are just 6-15 in August, after going 14-12 in July and will enter Tuesday night's game a season-high 12 games under .500 at 59-71.
Where the White Sox need the most help is in the bullpen. They are 13th in the 15-team American League in bullpen ERA at 4.41, 14th in save percentage at 60 percent and last in strikeouts from their relievers at 297.
The bullpen is operating without a left-hander, although that could change if they add Carlos Rodon to the mix next month. The team's first-round draft pick this June already has delivered two impressive outings at Triple-A Charlotte over the past week.
The expected number of reinforcements might be one player less since infielder
Carlos Sanchez
has already arrived, joining the team after
Gordon Beckham
was traded to the
Los Angeles Angels
last week. And Hahn already has said that infielder
Marcus Semien
will join the team on or after Sept. 1.
One year after being completely dominated by the Indians, when the White Sox went 2-17, they are a much-improved 8-5 against their division rivals, although each team has scored 58 runs in the season series.
HEAD TO HEAD
Indians rookie starter T.J. House faced the White Sox in his third career outing in May, giving up one run on five hits over 6 1/3 innings of a game the White Sox eventually won. ... The White Sox's
Jose Abreu
is 3-for-9 against Indians starter
Corey Kluber
this season with a home run. ... The White Sox's
Alejandro De Aza
is 5-for-10 (.500) with two doubles and four RBIs against Indians starter
Carlos Carrasco
. ... The Indians'
Michael Brantley
is 7-for-15 (.467) with two doubles, a home run and four RBIs against White Sox starter
Jose Quintana
. ... The Indians'
Jason Kipnis
is 0-for-10 with two strikeouts against White Sox starter
Hector Noesi
. ... The Indians'
Ryan Raburn
is 14-for-42 with five doubles, three home runs and 11 RBIs against White Sox starter
John Danks
.
NOTES
Adam Eaton
, who has been out since Aug. 9 with a strained right oblique, has been reinstated to the active roster. ... The White Sox are on a season-long six-game losing streak and they have also lost 13 of their last 17. ... Abreu has hit safely in nine of his last games and is batting .395 (15-for-38) over that stretch with two home runs and eight RBIs. ... De Aza is batting .354 (23-for-65) with six doubled and two RBIs over his last 18 games, hitting safely in 15 of them with seven multi-hit contests in that stretch. ... De Aza needs one hit for 500 in his career. ...
Adam Dunn
needs three home runs to tie Jose Canseco (462) for 34th on the all-time list, and needs two walks to tie Ken Griffey Jr. (1,312) for 41st on the all-time list. ...
Paul Konerko
needs one home run to tie
Jason Giambi
(44) for 41st on the all-time list. ... The Indians' Brantley is batting .100 (3-for-30) over his last eight games.
PITCHING MATCHUPS
Tuesday:
White Sox LH Jose Quintana (6-10, 3.25 ERA) vs. Indians LH T.J. House (2-3, 3.80), 7:10 p.m. CST
Wednesday:
White Sox RH Hector Noesi (7-8, 4.39) vs. Indians RH Corey Kluber (13-7, 2.46), 7:10 p.m. CST
Thursday:
White Sox LH John Danks (9-8, 4.96) vs. Indians RH Carlos Carrasco (5-4, 3.14), 7:10 p.m. CST
August, 26, 2014
Aug 26
12:16
PM CT
CHICAGO -- The
Chicago White Sox
made it official Tuesday, reinstating center fielder
Adam Eaton
from the 15-day disabled list.
The leadoff man, who is batting .304 with 55 runs scored this season, had been on the disabled list since Aug. 9 with a strained right oblique. He was 37-for-85 (.435) over his last 22 games before going on the DL.
Eaton will take the roster spot of outfielder
Jordan Danks
, who was optioned back to Triple-A Charlotte on Monday.
The White Sox open a three-game series Tuesday night at home against the
Cleveland Indians
.
August, 26, 2014
Aug 26
9:08
AM CT

By Keith Law
ESPN Insider
Archive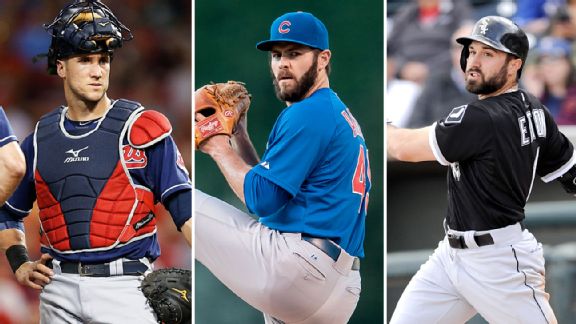 Getty ImagesMany "breakthroughs" are more products of small sample sizes or good luck. These appear different.
For these breakthroughs, I considered:
• Players who were no longer rookies to start 2014.
• Players who either established a substantially higher level of performance, or who established themselves as everyday players/mid-rotation starters when they were previously part-time or extra players.
While many other players had apparent breakouts this year (e.g.,
Josh Harrison
), these 10 players all have had breakouts that I believe are sustainable into future seasons. I picked five starters and five position players.
Pitchers
Garrett Richards

Unfortunately, Richards' season is over due to a freak knee injury that might put him out of action into spring training of 2015, which hurts the Angels' chances of advancing in the postseason and overshadows what an amazing year he's had. Richards was throwing mostly four-seamers and sliders before this season, which made him vulnerable to left-handed batters and generally to hard contact when he left the fastball up. This year, he added a two-seamer, with more life than the four-seamer (which has some natural cut) and a different look, while also adding a curveball to complement the slider, a pitch with similar shape but lower velocity. Assuming his knee allows it, he'll return to ace status next year.
August, 25, 2014
Aug 25
5:28
PM CT
CHICAGO -- Despite their similarities,
Chris Sale
and Carlos Rodon figure to be different enough to form a formidable 1-2 punch at the head of the
Chicago White Sox
's rotation one day.
Rodon and Sale are both talented left-handed pitchers who were high draft picks and look to be on a similar route from college starter to a major league roster in the same year. Both compliment a plus fastball with an impressive slider.
The White Sox haven't announced what is next for Rodon, who has made two starts at Triple-A Charlotte this month. It is suspected, though, that the 21-year-old will be called up to the major leagues when rosters expand in September.
Rodon's first taste of the major leagues could be out of the bullpen, just as it was for Sale, but he could be in the club's rotation as early as next season. If Sale and Rodon end up pitching back-to-back in the rotation one day soon, their differences could prove to be an advantage.
As White Sox center fielder
Adam Eaton
observed this past weekend while on an injury rehab assignment at Charlotte, these aren't copy-cat sliders.
"It's good," Eaton said about Rodon's slider. "It's short but it's very late (breaking). It's definitely not a Chris Sale slider that will break two feet, a foot and a half. A Rodon slider is kind of short has kind of the same type of arm action as a (fastball). Both are very effective, but definitely different-looking."
Rodon's first two Triple-A outings have been impressive. He gave up one run on one hit over four innings Sunday against Norfolk, while striking out eight. Last week against Gwinnett, he gave up one run on one hit over three innings while striking out three.
The White Sox continue to build Rodon's pitch count (he threw 73 pitches Sunday), all while declining to outline the plans they have for him in the near future. General manager Rick Hahn won't say if Rodon is coming up to the major leagues in another week, although he did seem to suggest that if he did, he would be a reliever.
Rodon said he doesn't know the plan, when asked about it by reporters in Charlotte on Sunday.
"I have no idea," he said. "I assume probably (pitching for Charlotte) Saturday."
Beyond that, only the front office seems to know for sure.
Despite his impressive results during his short time in the White Sox's organization, Rodon sounded like a guy who is still looking to refine some things.
"I felt good, better command, struggled a little bit but made an adjustment and it ended up working well," he said after Sunday's start. "(The slider) wasn't bad. A lot of them were for strikes and I need to work on getting it down to be somewhat of a chase pitch."