July, 21, 2014
Jul 21
11:22
PM CT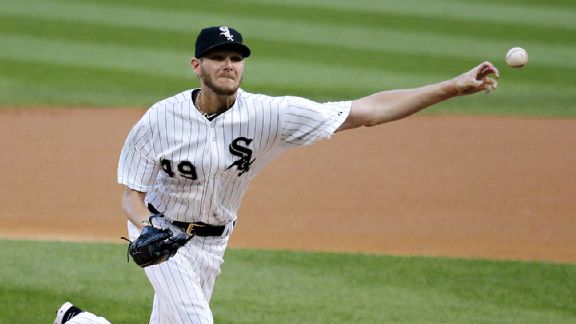 AP Photo/Charles Rex ArbogastChris Sale (9-1) is second in the AL in ERA (2.03) and tops in WHIP (0.86) among starters.
CHICAGO – While
Jose Abreu
looks to be headed toward rookie of the year recognition,
Chris Sale
is pointing himself in the direction of the Cy Young Award chase.
The
Chicago White Sox
staff ace didn't have his best stuff Monday night in a 3-1 victory over the
Kansas City Royals
, but it was enough to shut down his opponent, yielding just one run on seven hits over seven innings.
Despite missing a month early in the season with a sore arm, Sale improved to 9-1 with a 2.03 ERA that is second-best in the American League. He even has a 0.86 WHIP that leads all AL starters who qualify.
"All the good teams have a legitimate ace and not only are they good, but once every five days you have a really good chance to win, and that's the kind of pitcher [Sale] is," said
Adam Dunn
, who drove in the first two White Sox runs on a first-inning single and scored the third in the sixth inning.
Whether or not Sale is Cy Young-worthy is a question that will be answered over the final two months of the season. The left-hander will have a tough time battling a name-recognition guy like
Felix Hernandez
of the
Seattle Mariners
, with
Scott Kazmir
of the
Oakland Athletics
,
Garrett Richards
of the
Los Angeles Angels
and
Jon Lester
of the
Boston Red Sox
sure to have a say in the proceedings as well.
"There is no reason why [Sale] shouldn't be in the discussion," manager Robin Ventura said. "I don't care if you miss a month or not. I mean, he's good. That part [missing time], I don't care about."
When it comes to the Cy Young voting, Sale has been moving in the right direction in recent years. In his first season as a starter (2012), he finished sixth in the voting. Last season, he was fifth. If the voting took place today, it would appear to be a race between him and Hernandez.
Jake Petricka
doesn't get a vote, and he might be slightly biased as a White Sox reliever, but he knows who the Cy Young winner is this year.
"Oh yeah, every time he goes out there he shows he should be in contention for it," said the right-hander, who pitched the ninth inning Monday for his fourth save. "And I think this might be his year."
Sale might be willing to do everything for his team, but one thing he won't do is promote himself or pump up his chances for pitching's greatest annual prize. He said he wouldn't vote for himself in the Final Vote for the All-Star Game and still got a spot on the team. He will take a similarly silent route when the Cy Young talk starts to heat up.
"Like I've always said, I don't really pay too much attention to any of that," Sale said when the subject came up after Monday's game. "I have a job to do and I have to focus on doing that. We're right in the hunt right now. These are the dog days and you've got to bear down now. Now is not the time to be thinking about yourself or some whatever trophy."
It doesn't mean Sale wouldn't proudly display a Cy Young trophy on his mantel one day. He just doesn't want anything to do with talking about it.
"It's almost a new season from here on out," Sale said. "This is the most important part of the season. I think getting a little time off helped everyone relax a little bit and then get back to it."
There are plenty of key numbers to help make a case for Sale. Monday was his seventh consecutive quality start and he has recorded double digits in strikeouts four times this year, although just once over his past six starts.
Over his past three outings, he is 2-0 with a 1.47 ERA, so he is only getting better as the season progresses. And after a White Sox defeat, Sale is 4-0 with three no-decisions, proving to be an ultimate stopper. Then there are his 17 walks ... in 15 starts.
And as long as he can squeeze in more home starts, he will be in business. Sale is 7-1 this year at U.S Cellular Field with a 1.90 ERA.
"I'm just trying to get better day in and day out, not walking a lot of guys," Sale said. "That's something I really pride myself on: throwing strikes and working quick."

July, 21, 2014
Jul 21
10:16
PM CT
CHICAGO -- The
White Sox
nailed down the series opener with a 3-1 victory over the
Kansas City Royals
on Friday and are 3-1 on the homestand.
How it happened:
The White Sox put their first four batters of the game on base, scored twice in the opening inning and starter
Chris Sale
made it stand up.
Adam Dunn
had a two-run single just to the left of the defensive shift to bring home both first-inning runs. Sale gave up just one run on seven hits over seven innings. Dunn scored an insurance run in the sixth inning on a fly ball to shallow right field by
Gordon Beckham
.

What it means:
Sale wasn't as dominating as he has been in the past, but he still had plenty in the tank to dispatch the Royals. Now 9-1 with a 2.03 ERA, Sale continues his march toward Cy Young Award recognition, despite missing a month with a sore muscle in his left arm. It was Sale's first start since pitching in Tuesday's All-Star Game.
Outside the box:
The White Sox had their chances to blow things open but couldn't get the key hits they needed. The White Sox not only left eight runners on base, they were 2-for-9 with runners in scoring position.
Tyler Flowers
missed a three-run home by inches when his towering drive was just foul down the left-field line.
Jose Abreu
managed to hit a double to extend his hitting streak to 12 games and give him a hit in 30 of his last 31 contests.
Offbeat:
Once Royals starter
Jeremy Guthrie
got a rough first inning out of his system, he was off and running; he gave up two runs and hit two White Sox batters with pitches in the opening frame. In the top of the second, Sale hit
Danny Valencia
with a pitch on the knuckles. It was the sixth time Sale has hit a batter this season.
Up next:
The White Sox will send right-hander
Scott Carroll
(4-5, 4.19 ERA) to the mound Tuesday in the middle game of the series. The Royals will counter with left-hander
Bruce Chen
(1-2, 6.46) in the 7:10 p.m. CT start from U.S. Cellular Field.
July, 21, 2014
Jul 21
10:05
PM CT
Associated Press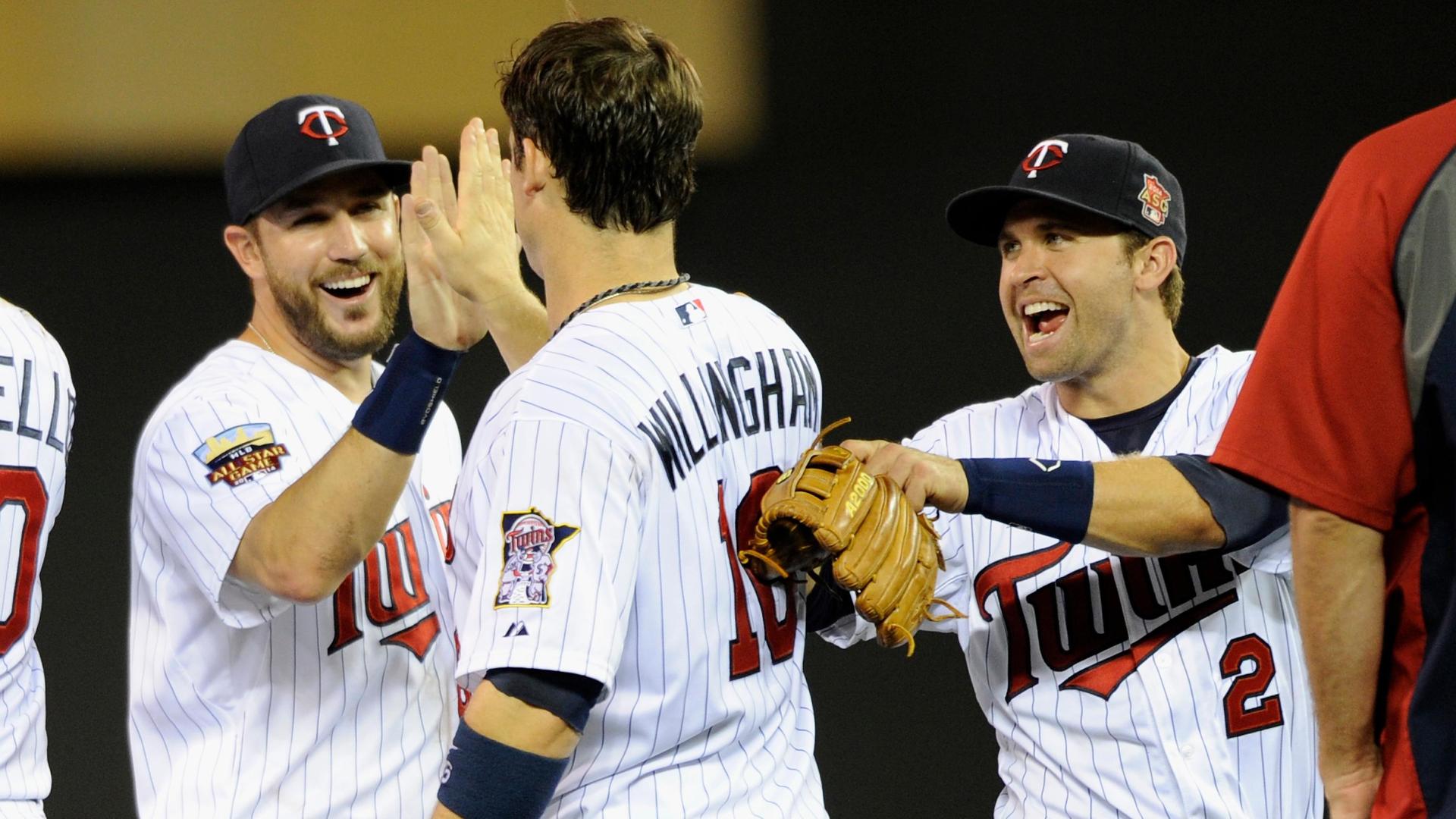 CHICAGO -- Chris Sale pitched seven effective innings in his first outing since the All-Star break and Adam Dunn had two RBIs and scored a run to lead the Chicago White Sox to a 3-1 victory over the slumping Kansas City Royals on Monday night.
Sale (9-1) wasn't at his best, allowing seven hits and a walk in seven innings, but he worked out of jams in the fourth and sixth innings. He struck out eight and now has allowed three runs or less in 14 of his 15 starts this season. Jake Petricka pitched the ninth for his fourth save.
Dunn went 1-for-2 with a pair of walks as the White Sox for the fourth time in six games.
Danny Valencia went 1-for-2 with a RBI for Kansas City, which has dropped four straight and seven of eight. Jeremy Guthrie (5-9) gave up three runs on five hits in six innings.
July, 21, 2014
Jul 21
8:10
PM CT
CHICAGO --
Chicago White Sox
pitching coach Don Cooper missed his second consecutive game Monday and has been diagnosed with vertigo.
"He has vertigo so it's possible he won't be here for a few days," manager Robin Ventura said. "He had it yesterday. He's not feeling too good. I talked to him today. I've never had it but by listening to him, it doesn't sound very good."
Vertigo, which is marked by dizziness and an off-center sense of balance, also recently struck
San Francisco Giants
pitching coach Dave Righetti. On Thursday, the Giants' team plane was even diverted to Las Vegas en route to Miami so Righetti could depart and be examined at a hospital. He has since been released.
"We were just talking about Dave Righetti the other day so it might be psychosomatic," Ventura said with a chuckle. "I don't know how you get it."
Bullpen coach Bobby Thigpen moved into the pitching-coach role for a second day, while Mark Salas took over as bullpen coach.
July, 21, 2014
Jul 21
7:17
PM CT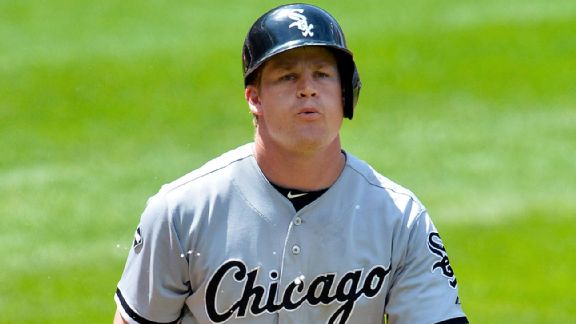 David Richard/USA TODAY Sports"You just have to let it happen the way it's going to happen," Gordon Beckham said of trade rumors.
CHICAGO –
Gordon Beckham
struggles as the scouts gather to watch him play, and it would be shortsighted not to think that the latter is having a major influence on the former.
The
Chicago White Sox
infielder knows a trade is likely coming. He is well aware of his situation as a solid major league mainstay who is only getting more expensive as a bevy of young second-base prospects are refining their talents right behind him.
He doesn't want to go, but also knows that a deal will possibly land him with a contender, so that isn't all bad. Ultimately it seems as if the uncertainty of it all is bothering the 27-year-old the most.
To Beckham's credit, though, he isn't blaming the unknown for his struggles. He doesn't want to make excuses. He won't make excuses.
"There is always a chance of [a trade]," Beckham said Monday before the White Sox opened a three-game series with the
Kansas City Royals
. "It's there, but that's about it. You just have to let it happen the way it's going to happen. It's not one of those things I'm going to worry about. If it's here or somewhere else, that's what's supposed to happen."
As the July 31 non-waiver trade deadline gets closer, the struggles only seem to mount. Beckham is batting just .083 (4-for-48) over his past 12 games. Over his past 31 he is batting .136 (16-for-117). He is no longer hitting the ball hard up the middle as he was early in the season, and the scouts have taken notice.
One major league scout noted Monday that Beckham is the perfect example of a player who just needs a fresh start with a new organization.
Beckham knows what is happening, and he is trying to block it out, but it has been difficult.
"A lot goes into it," Beckham said about being a successful baseball player. "You come in, show up every day, you work hard, you want it to work out for you and your team. Baseball is a very unforgiving game. When you're going well, all of a sudden it tends to not go well. It's a tough game. But there is a lot more that goes into it than the box score."
That seems to be Beckham's way of saying that baseball players are human and they have distractions too. But he doesn't say it and he won't make that excuse, even if it is a legitimate one.
"You just have to go play the game and it'll turn. ... It'll turn," he said, trailing off.
The
Toronto Blue Jays
were the team that was rumored to have the most interest in Beckham and have had a scout on hand for each of the four games of Chicago's current homestand.
If Beckham is dealt, the White Sox could immediately plug
Marcus Semien
into his spot. Eventually, though, it seems clear that Micah Johnson will be the second baseman of the future. The White Sox also have
Carlos Sanchez
and
Leury Garcia
, who can play second.
But right now Beckham is their man, and manager Robin Ventura is trying to get the most out of him.
"He really is focusing more on going the other way, which would help him a bit," Ventura said. "But when you press, it's harder to buy all in to be able to do that. You have to take baby steps, maybe give a little ground on power and things like that to get it over there."
The answer likely lies with the calendar changing to August. Then Beckham will finally know his fate.
"I haven't really talked to him about it but I'm sure some of that is probably there," he said. "You hear about it enough and any kind of distraction can be it. Hopefully it's not."
Beckham is simply trying to keep his head up and plug along the best he can. The White Sox are the only organization he has ever known and that might all change before the next 10 days come to a close.
"Yeah, I'm not worried about that," Beckham insisted, before quickly changing gears. "It will be tough to leave because I have always been here, but whatever happens, will happen and I'm prepared for anything."
July, 21, 2014
Jul 21
11:22
AM CT
CHICAGO -- The
Chicago White Sox
will return to American League Central play this week, set on tracking down not one, but two break-even points in the standings.
The White Sox will play host to the
Kansas City Royals
for a three-game series at U.S. Cellular Field starting Monday night with a 17-21 record in division play and a 47-51 overall record.


Monday's game is the start of a 13-game run all against AL Central rivals. After the Royals, the White Sox will head to Minnesota and Detroit, before coming home to start August with a series against the Twins.
The White Sox are currently nine games behind the first-place Tigers in the AL Central, but are just two games behind the third-place Royals. The
Cleveland Indians
are 5 1/2 games behind the Tigers in second place.
"(Division games) are very important, and we see it as such, especially when you're playing with guys ahead of you," leadoff man
Adam Eaton
said. "I'm not sure where we rank right now, but they're very important, and we'll continue to battle day in and day out and take the same approach as we did today, yesterday and the day before: Good pitching and timely hitting."
John Danks
had a rocky start Sunday against the
Houston Astros
, but likes the team's chances in the kickoff game against division foes Monday.
"We've got to win all the games we can," Danks said. "We've dug a little hole in the first half. There's plenty of baseball left, but we've got to get on a roll. We've got the right guy going Monday."
That "right guy" is left-hander
Chris Sale
, who will bring an 8-1 record and a 2.08 ERA into his first start since appearing in last week's All-Star Game.
HEAD TO HEAD
The White Sox's
Alexei Ramirez
is just 8-for-45 (.178) against Royals starter
Jeremy Guthrie
in his career, while Adam Eaton is 3-for-7 (.429) with two walks. ... If it seems that Royals starter
Bruce Chen
is always matched up against the White Sox, he must feel the same way. The left-hander's 124 2/3 innings against the White Sox are easily his most against any team and his 3.47 ERA is third-best among AL clubs, trailing only his 3.46 mark against the
Tampa Bay Rays
and his 2.97 number against the
Toronto Blue Jays
. ... Ramirez feasts on Royals starter
James Shields
, going 20-for-48 (.417) against him in his career with two home runs. ... The Royals'
Mike Moustakas
is just 4-for-20 (.200) in his career against Sale, but
Alcides Escobar
is 15-for-39 (.385). ... White Sox starter, and Kansas City-area native,
Scott Carroll
has faced the Royals twice, giving up six runs and eight hits in a no-decision in May and then giving up one run in a three-inning relief appearance in June. ... The Royals'
Billy Butler
might hit Sale well (14-for-37 with three home runs), but he doesn't do that much against White Sox starter
Jose Quintana
(5-for-24, no home runs).
NOTES
Jose Abreu
has hit safely in 29 of his past 30 games and is batting .353 over that stretch. He is also on an 11-game hitting streak where he is batting .400 (18-for-45). ... Eaton is on a modest seven-game hitting streak where he is 12-for-28 (.429), and has three multi-hit efforts over his past five games. ... The White Sox's pitching staff is coming off a game where it matched a season high by allowing 17 hits. It also happened May 13 against the
Oakland Athletics
. ... The White Sox are just 3-5 over their past eight games. ...
Conor Gillaspie
is batting .419 (13-for-31) with four doubles, three home runs, six RBIs and nine runs scored over his past nine games. ... The Royals opened the second half by getting swept over the weekend in a three-game series at Fenway Park against the
Boston Red Sox
. ... Guthrie, who starts the series opener for the Royals, has a 10.43 ERA over his past three outings.
PITCHING MATCHUPS
•
Monday:
White Sox LH Chris Sale (8-1, 2.08 ERA) vs. Royals RH Jeremy Guthrie (5-8, 4.56), 7:10 p.m. CST
•
Tuesday:
White Sox RH Scott Carroll (4-5, 4.19) vs. Royals LH Bruce Chen (1-2, 6.46), 7:10 p.m. CST
•
Wednesday:
White Sox LH Jose Quintana (5-7, 3.26) vs. Royals RH James Shields (9-5, 3.70), 1:10 p.m. CST
July, 20, 2014
Jul 20
8:02
PM CT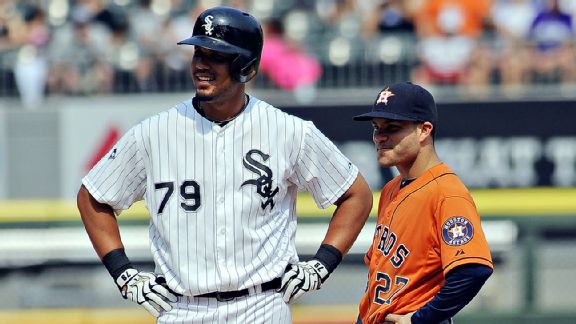 Matt Marton/USA TODAY SportsWith two more Sunday, White Sox rookie Jose Abreu has hit in 29 of his past 30 games.
CHICAGO – While a peaks-and-valleys season continued Sunday for the
Chicago White Sox
in an 11-7 defeat to the
Houston Astros
,
Jose Abreu
continued to ride high.
The rookie had two hits to extend his hitting streak to 11 games, while also continuing a run in which he has a hit in 29 of his past 30 games.
The last time Abreu didn't record a hit was July 5 at home against the
Seattle Mariners
, unless somebody wants to count his 0-for-1 performance at the All-Star Game on Tuesday, when he played in the actual contest but declined an appearance in the Home Run Derby in order to maintain his level swing.
And the line drives keep coming hard and fast off Abreu's bat, although he hasn't hit a home run since before the break.
"Everybody has their own opinion on the home-run contest, so him not doing it is a personal decision," manager Robin Ventura said. "Some guys do it and it doesn't affect them at all, and he felt that it was going to take away from what he is doing here and it's a mature response. There are other guys who did the same thing as well."
Abreu prefers to keep things as far from complicated as possible. It's all about the line drives, since he knows the pitches he gets his bat under ever so slightly have a good chance of leaving the park. He isn't even worried about facing one new pitcher after another in his first tour of duty in the American League.
Abreu was asked if getting to know pitchers is helping him during his recent run of success.
"I really don't know that," he said through an interpreter. "I know that I do observe and I do watch a lot, but that's about it. I don't know whether that's helping me or not. I just am totally concentrated on staying healthy physically and staying consistent with my work and routines so I can help the team continue to win."
Adam Eaton
has watched it all first-hand, often on base when Abreu delivers. Eaton is in the same position as Abreu when it comes to learning new pitchers in a new league, yet the leadoff man remains impressed with how his teammate has gone about things.
"He's a great player and I'm not surprised," Eaton said. "He's battled some injuries early, I think that's what kind of prevented him [from hitting .300 so far]."
Abreu has shown the power and the run production, and if a .300 batting average is the final frontier, he's approaching it quickly. His 2-for-5 Sunday got his average up to .293, up from .260 on June 14, which was the day before his 29-hits-in-30-games run started.
"It's funny, I talked to [White Sox manager of cultural development Lino Diaz] about it, and Lino has no doubts about it, [Abreu] will hit .300 in this league, and I don't think any of us do, either," Eaton said. "You throw him inside, he gets the barrel to it, he just hits it, flays it to right and then he does get the barrel to it and it goes 450 feet. He's a great hitter and I'm very blessed to be in front of him."
Abreu is on pace to hit 47 home runs with 121 RBIs, and if he can also start to move his batting average past the .315 mark, those numbers -- plus an OPS of .963 that could rise, too -- will go down as one of the greatest rookie seasons in major league history.
He already has an 18-game hitting streak in the books in addition to his current 11-game run.
"It doesn't surprise any of us that he has numbers like that," Ventura said. "He just continues to play and he's not worried about numbers and things like that. At the end of the year he's probably going to look at them and see what it is, but he prepares every day and how he goes about his work is the most impressive part."
Had Abreu signed elsewhere, maybe those numbers are directing a team toward a playoff berth, but in another impressive sign of maturity, he said isn't concerned with what-ifs.
"No, I really don't think about that," he said. "My thoughts and everything is based on the White Sox. That's the team that signed me, that's the team I play for every day and that's the only thing I think about."
July, 20, 2014
Jul 20
5:18
PM CT
Associated Press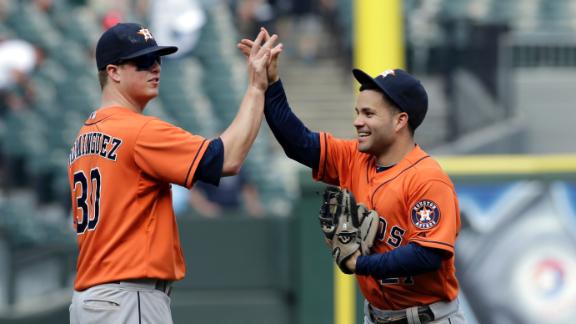 CHICAGO -- Matt Dominguez hit a two-run homer and a tiebreaking RBI double, and the Houston Astros tied their season high with 17 hits in an 11-7 win over the Chicago White Sox on Sunday that prevented a three-game sweep.
Chicago fell behind 4-0 early and tied the score 7-all in the sixth on Alexei Ramirez's RBI double, Jose Abreu's run-scoring single and a run-scoring two-out grounder by Dayan Viciedo that went through the legs of All-Star second baseman Jose Altuve for Houston's second error of the inning.
Daniel Webb (5-3) allowed RBI doubles in the seventh to Dominguez and L.J. Hoes, and Marwin Gonzalez followed with a two-run single. Dominguez had three hits and four RBIs.

July, 20, 2014
Jul 20
5:01
PM CT
CHICAGO -- The
Chicago White Sox
dropped the series finale 11-7 on Sunday against the
Houston Astros
.


How it happened:
John Danks
couldn't get through five innings, giving up seven runs on 12 hits and the Astros eventually avoided the series sweep. The White Sox still managed to tie the game in the sixth inning, but the Astros erupted with four runs off White Sox reliever
Daniel Webb
in the seventh to take the lead again.
Jose Abreu
had two hits in the defeat, extending his hitting streak to 11 consecutive games. He also has a hit in 29 of his last 30 contests.
What it means:
Danks' run of 10 consecutive impressive starts ended Sunday right where it began, opposite the Astros. On May 8, Danks gave up eight runs (seven earned) on 10 hits in a loss at Houston. He then went on to post a 2.69 ERA and go 5-2 in outings from May 24 to July 13. Sunday's outing was more like the Danks from early in the season when he struggled with his command and couldn't get a good feel for his changeup.
Outside the box:
Right-handed reliever
Taylor Thompson
made his debut for the White Sox in the fifth inning in relief of Danks. The first batter he faced was the Astros'
Robbie Grossman
, who managed to bloop a single into shallow center field for an RBI single. He retired the next four batters he faced. Thompson had a 2.61 ERA in 31 appearances at Triple-A Charlotte this season.
Off beat:
With two walks in his first two at-bats Sunday,
Alejandro De Aza
now has more free passes than Abreu. De Aza has 25 walks, while Abreu is at 23. It's not like De Aza is averse to taking a pitch or two, since he did have 50 walks last year and 47 in 2012. Instead, this is more an indicator of how aggressive Abreu is at the plate and how he would rather deliver a big hit than work counts, which is an area of improvement the White Sox figure to target in the future.
Up next:
The White Sox will send left-hander
Chris Sale
(8-1, 2.08 ERA) to the mound Monday against Kansas City in the opener of a three-game series. The Royals will counter with right-hander
Jeremy Guthrie
(5-8, 4.56) in the 7:10 p.m. start from U.S. Cellular Field.
July, 20, 2014
Jul 20
1:51
PM CT
CHICAGO --
Chicago White Sox
reliever
Matt Lindstrom
could be a little more than a week away from heading out on a minor league injury rehab assignment and inside of three weeks from a return to the bullpen.
The right-hander, who has been out of action since May because of surgery in the area of his left ankle, threw a bullpen session Saturday and is set to go on the White Sox's next road trip to continue his rehab.
"I'm going to throw another bullpen (Monday) then I'll throw live BP (to
Avisail Garcia
) up in Minnesota," Lindstrom said of next weekend's series against the Twins. "And then I guess we'll take it from there, whether I will do another one, but I really don't want to do another one after that, I would rather go on a rehab assignment."
July, 20, 2014
Jul 20
1:05
PM CT
CHICAGO -- The
Chicago White Sox
filled out their bullpen Sunday, purchasing the contract of right-hander
Taylor Thompson
, who was being used as a closer at Triple-A Charlotte.
The White Sox had made room on the 25-man roster Saturday when they optioned infielder
Carlos Sanchez
back to Triple-A. To make room on the 40-man roster,
Felipe Paulino
(shoulder) was transferred to the 60-day disabled list.
The 27-year-old Thompson was 2-0 with a 2.61 ERA in 31 relief appearances at Charlotte and was 6-for-6 in save opportunities. The former 44th-round pick in 2009 credited the revival of a pitch he had turned his back on for his success this year.
"It's probably my split-finger this year," Thompson said. "I hadn't thrown it for the last few years, and I brought it back this year to try to give me another edge. It's really helped. Other than that, I probably have a standard fastball. I'm glad I brought it back for sure."
July, 19, 2014
Jul 19
11:05
PM CT
CHICAGO -- The
Chicago White Sox
optioned infielder
Carlos Sanchez
to Triple-A Charlotte after Saturday's game and will have a corresponding move before Sunday's series finale against the
Houston Astros
.
The White Sox are expected to call up a pitcher to get some bullpen depth.
Sanchez was called up last Sunday when
Alexei Ramirez
was experiencing back issues and started at shortstop in the first-half finale. Pitcher
Andre Rienzo
was sent back to Charlotte at the time.
The White Sox bullpen hasn't been scored upon over the past two games but has pitched seven innings while essentially operating a man short.