September, 13, 2014
Sep 13
11:09
PM CT

By Doug Padilla
ESPNChicago.com
Archive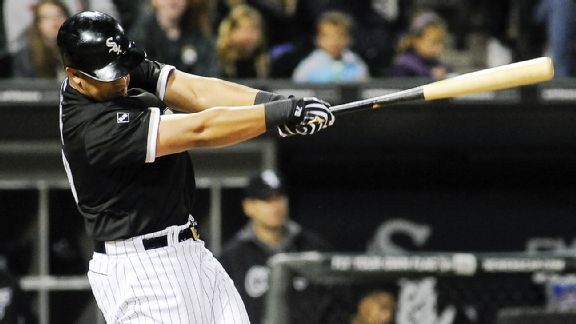 AP Photo/Matt Marton"In the end you know he's the guy you want to put your buck on," Robin Ventura said of Jose Abreu.
CHICAGO --
Jose Abreu
is not waiting to apply what he has learned about preserving himself for a long 162-game season.
Seemingly drained of power late in his first year in the major leagues, Abreu used a long work day Saturday to flash the kind of overall game that the
Chicago White Sox
hope will define his career.
After 18 games without a home run (69 at-bats), Abreu not only hit one in a 7-6 victory over the
Minnesota Twins
in Game 2 of Saturday's doubleheader, but he launched it to the right side of center field. It was his 34th home run of the year and gave him 100 RBIs, making him the fourth White Sox rookie ever to hit that milestone.
That the blast came in the second game of a doubleheader that ended with a White Sox sweep seemed to go a long way toward dispelling the exhaustion notion.
But this wasn't just about Abreu showing that he does have a little left in the tank. The home run might have actually been his second-best at-bat of the game to his ninth-inning, 14-pitch walk that was key to the comeback victory, which was capped when
Dayan Viciedo
hit a game-ending two-run home run two batters later.
Abreu also had a single in the second game after delivering two doubles in the first.
"For him, just the bat speed, everything else, it's there," said White Sox manager Robin Ventura, who has been peppered with questions this month about what appeared to be a tired Abreu. "Everybody's going through little issues of fatigue. It's a long season, but in the end you know he's the guy you want to put your buck on just because he's the guy. He continues to have great at-bats, learning how to do it, but he's also shown guys how to do it, which is great. He's a leader, that's what he is."
Abreu's English still is limited (he intends to work on it during the offseason), but his ninth-inning walk spoke volumes without needing any words. At one point during the plate appearance he fouled off eight consecutive pitches against Twins closer
Glen Perkins
before earning the walk.
The Twins had just gone up by a run in the top of the ninth, and Abreu's never-say-die walk made him the potential tying run. Two batters later, Viciedo cracked his winner on a full count over the wall in left field to cap the sweep.
"First of all, I'm just thankful that we are able to do what we're doing and be able to win the game," Abreu said. "That at-bat it was a difficult at-bat, but I went into the at-bat thinking to myself that I would do whatever I could to get on base and help tie the game. I just tried to work as much as I could to get the right pitch."
A willingness to keep the line moving is what sets Abreu apart in muscle-flexing world of power hitting. Abreu's ego didn't tell him he needed to be the hero and tie the game with one swing; rather, his baseball acumen told him that baserunners lead to runs scored and potential game-winning rallies.
"I think it was a great at-bat," said Viciedo, who was waiting to come to the on-deck circle when Abreu was at the plate. "The way he just settled in and just waited for his pitches and he fought, that was the fundamental thing to get on base and do whatever we can to tie the game or win the game. That was a great at-bat, going pitch for pitch and settling in."
Viciedo's reaction to his teammate's walk is evidence of Ventura's proclamation that what Abreu was displaying Saturday was leadership above all else.
"Just the at-bat Jose had in the last inning, I think that's indicative of who he is and what he brings to the table," Ventura said. "It was a great at-bat leading off an inning against a great closer that he just keeps wearing him out to where he gets a walk. Those are the kinds of things you need to do to win games. He's that type of player and it sets the tone for that inning."
And to think, Abreu had waited nearly two weeks for his milestone 100th RBI, and when it came it was actually overshadowed by a base on balls.
The only other White Sox rookies to record at least 100 RBIs were Smead Jolley (114 in 1930), Zeke Bonura (110 in 1934) and Ron Kittle (100 in 1983). Abreu also became the fourth rookie in major league history to record at least 30 doubles, 30 home runs and 100 RBIs, joining Hal Trosky (1934), Ted Williams (1939) and
Albert Pujols
(2001).
"The thing I'm most thankful for is this organization for the opportunity to play this game at this level," the 27-year-old Abreu said. "I'm happy about 100 RBIs, I'm happy about 34 home runs. I'm just happy how I've been able to do this this season. I'm happy my family is here with me. I'm happy for my success."