July, 26, 2014
Jul 26
1:13
PM CT
ESPN.com news services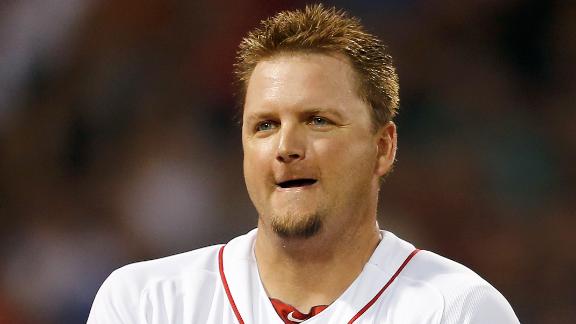 CHICAGO -- The St. Louis Cardinals have signed veteran catcher A.J. Pierzynski.
Pierzynski, 37, was in the starting lineup and batting sixth for the Cardinals' afternoon matchup against the Chicago Cubs. Catcher George Kottaras was designated for assignment to make room on the roster.
The Cardinals have been looking for a steady presence behind the plate since All-Star Yadier Molina went down with a torn ligament in his right thumb on July 9. Molina underwent surgery on July 11 and is expected to miss 8-12 weeks.
"I think one thing you need to do is you need to actually get to know somebody," Pierzynski said of joining a new team. "It's easy to believe what people write and say outside of people on the team. But whatever's said is said, I'm in a new place, so whatever's said is in the past so it doesn't really matter."
The left-handed hitting Pierzynski played 72 games this year with the Boston Red Sox, hitting .254 with four home runs before being released on July 16. He has a career average of .282 over 17 seasons with six teams.
ESPNChicago.com contributor Sahadev Sharma and The Associated Press contributed to this report.
July, 26, 2014
Jul 26
9:00
AM CT
CHICAGO – One by one, they're going to make their way to Wrigley Field. The
Chicago Cubs
' farm system -- the best in in baseball, according to ESPN.com -- is producing major leaguers and will be for the foreseeable future.
Arismendy Alcantara
,
Kyle Hendricks
and
Dallas Beeler
are a few of the names who have made their debuts this season. The pressure that comes with it can be overwhelming. That's where teammates like
Anthony Rizzo
and
Starlin Castro
come in. Both made the All-Star team this year and feel they can make the Cubs newcomers comfortable. Their message?
Be yourself.
"It's not easy," Rizzo said before the Cubs defeated the
St. Louis Cardinals
on Friday. "You play in a minor league stadium, then with one with a third deck. You can't prepare for that. You get used to it."
The sooner you get used to it, the sooner you can produce is how the thinking goes. That's why the Cubs' message is to change nothing. Adjust when adjustment is called for, but don't change who you are as a player.
"We have a lot of conversations about the game at this level," Castro said of Alcantara, who made the second error of his major league career Friday. "When he learns a little more he'll be a better player."
Castro said his new, sometime-double-play partner is a "good listener" and takes things to heart. Alcantara knows he would be foolish not to listen to those who've had success before him.
"They tell me to play hard," the 22-year-old said. "I want to learn how to play here."
Rizzo was asked how a player can get away from being himself. Where can it go wrong?
"Looking at too much video or over-analyzing things," he responded. "Things like that. Worrying about the big-name pitcher who's throwing like
[Adam] Wainwright
on Sunday. He's not just another right-hander, but you have to treat it like that as much as you can."
Cubs manager Rick Renteria's specialty is developing and dealing with young players. He's going to have a slew of them in the coming months and years. His best advice mimics that of Rizzo and Castro.
"Don't try to do too much," Renteria said. "The game is still the same. Those are the biggest things I can share with them. They're pretty sharp young men. Sometimes I don't have to say a word. They just go out there and make adjustments."
It wasn't long ago that Rizzo and Castro were the ones trying to settle in at the major league level. Now they are the teachers. A little bit by default, but also because they're having good seasons. You can't lead from the bench or if you're hitting .220.
"Come in here and play hard," Castro advised. "You have great talent. Just play."
"That's my role on this team," Rizzo added. "That's my job. It's something I embrace.
Both will be doing a lot of nurturing in the coming years.
July, 25, 2014
Jul 25
7:05
PM CT
Associated Press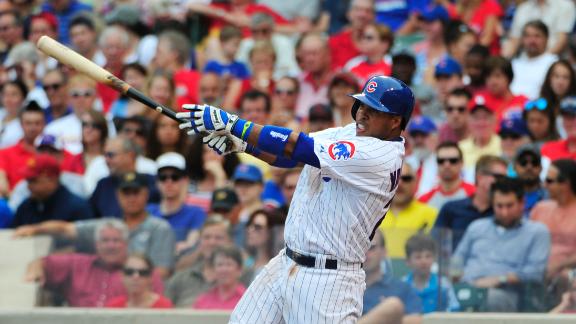 CHICAGO -- Luis Valbuena hit a decisive two-run homer in the seventh inning Friday, and the Chicago Cubs overcame a three-run deficit to hand the St. Louis Cardinals the fourth straight loss, 7-6.
The teams combined for five home runs and 23 hits with a persistent wind at their backs.
The Cardinals tied the score 5-5 on solo homers by Matt Carpenter and Matt Holliday in the fifth inning. Pinch-hitter Oscar Taveras singled to break the tie in the sixth, but the lead was short-lived.
Kevin Siegrist (1-2) hit Anthony Rizzo with a full-count pitch to lead off the seventh. One batter later, Valbuena sent hit a first-pitch homer into the bleachers in center field.
Justin Grimm (3-2) pitched a scoreless inning for the win. Hector Rondon retired the side in the ninth for his 12th save in 15 chances.

July, 25, 2014
Jul 25
6:55
PM CT
CHICAGO -- The
Chicago Cubs
beat the
St. Louis Cardinals
7-6 on Friday afternoon. Here's a quick look at the game.
How it happened:
A wild, back-and-forth game was won by the Cubs when
Luis Valbuena
erased a one-run deficit with a two-run homer in the seventh inning. The Cardinals scored three unearned runs in the first inning as
Arismendy Alcantara
threw away a potential double-play ball at second base and
Chris Coghlan
misplayed a double in left. But the Cubs tied the score on
Ryan Sweeney
's three-run home run in the second and then took the lead with a Sweeney RBI single with two outs in the third inning. Cubs' starter
Travis Wood
homered in the fourth to extend the lead, but solo shots by
Matt Carpenter
and Matt Holiday tied the score in the fifth. After a pinch-hit RBI single by
Oscar Taveras
put the Cardinals ahead again in the sixth, Valbuena helped win the game for the home team. Wood lasted five innings throwing 113 pitches.
What it means:
Wood had some bad luck with the errors, but he's no longer reliable in the way other top pitchers are when things go wrong behind him. He had a 5-3 lead in the fifth and promptly gave it back with two solo shots. His pitch count told his story. If anyone wants Valbuena or Sweeney before Thursday's trade deadline then they must have liked what they saw out of them playing long ball. Both went opposite field in key moments in the game.
Largest crowd:
The Cubs and Cardinals played in front of the largest crowd of the season: 41,534.
Ruggiano, Jackson OK:
Before the game, manager Rick Renteria indicated
Justin Ruggiano
was available despite nursing a sore groin. He pinch hit in the bottom of the sixth inning but struck out.
Edwin Jackson
will make his next start after leaving Thursday's game because of cramping in his hands.
What's next:
Game 2 of the series takes place Saturday afternoon when
Jake Arrieta
(5-2, 2.12) faces
Shelby Miller
(7-8, 4.25).
July, 25, 2014
Jul 25
3:17
PM CT
CHICAGO -- It wasn't exactly a long closed-door meeting, but
Chicago Cubs
manager Rick Renteria felt the need to address his team after a 13-3 loss to the
San Diego Padres
on Thursday night.
"Spoke to these guys just to encourage them," Renteria said before the Cubs began a new series against the
St. Louis Cardinals
on Friday. "Things haven't gone as well as we would have liked over the past couple of weeks. We need to keep sticking together."
That's an understatement considering his team followed a modest four-game win streak by dropping 13 of their next 16 games after the July 4 trade of pitchers
Jeff Samardzija
and
Jason Hammel
. It's left the Cubs a season-high 18 games (41-59) under .500 heading into Friday's affair.
"It was just quick," Renteria said of his meeting. "We didn't quit [Thursday]. We fell behind by quite a few runs, but we were still grinding. They kept playing the game. The need to know we appreciate them continuing to play the game."
This might be one reason Renteria was brought in to manage the team. His "every day positive attitude" is going to be needed as the Cubs make do without the veteran pitchers they traded and as young players go through their growing pains. For example, newcomer
Arismendy Alcantara
is just 4-for -his-last-21. And rookie reliever
Brian Schlitter
just gave up six runs without getting an out on Thursday.
"It's not a time to beat people up," Renteria said. "It's a time to let them know 'Hey, you guys are grinding and things haven't gone well but they will.'"
Renteria uses the word "grind" often. He knows that's the type of club he has right now. The Cubs aren't going to have many pretty wins without their veteran pitchers around and
Anthony Rizzo
and
Starlin Castro
can't do it alone on offense. When he stops using that word is when the talent has arrived for the Cubs. We're not there yet.
"We have 61, 62 ballgames of the regular season left," Renteria said. "We have to keep grinding."
July, 25, 2014
Jul 25
2:02
PM CT
By Staff
ESPNChicago.com


ESPNChicago's Jesse Rogers talks with Cubs pitcher
Kyle Hendricks
about his first career win, life in the big leagues and how a former Cub helped him get to where he is now.


Click here for more audio from ESPN Chicago
.
July, 25, 2014
Jul 25
12:54
AM CT
By Sahadev Sharma
Special to ESPNChicago.com
Archive
CHICAGO --
Edwin Jackson
, who has played for eight teams and been dealt six times in his career, is once again hearing his name floated as the trade deadline approaches.
After a 13-3 loss to the
San Diego Padres
on Thursday night, the
Chicago Cubs
starter said his perspective with regard to being traded hasn't changed much from when he first got moved.
[+] Enlarge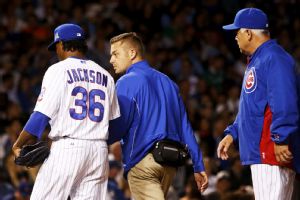 AP Photo/Charles Rex ArbogastEdwin Jackson exited Thursday night's game early with hand cramps. With the trade deadline looming, there is speculation his time with the Cubs is limited.
"I think I've always looked at it the same," Jackson said. "It's one of those things that you can't worry about and you can't control. That's pretty much been my take on it since the first time that I've been traded. I've been traded after All-Star years. I've been traded after subpar seasons. I've been traded after bad seasons. I've been traded in the middle of seasons. Most of the time when you see people get traded, they go to a playoff contending team, so all trades aren't bad.
"At the present time, I'm right here with Chicago, and that's what I'm focusing on. I'm not really focusing too far down the road."
The Cubs already have traded away two-fifths of their rotation for the third season in a row. And with the team headed toward its fifth straight fifth-place finish in the NL Central, the trade rumors aren't letting up.
Jackson said he and his teammates can't fret the rumors or the departure of
Jeff Samardzija
and
Jason Hammel
, who were traded over the Independence Day weekend.
"It happens," Jackson said. "At the end of the day, we all have a job to do; we all have to go out and pitch. We can't pitch for those guys, and we aren't those guys. It's a tough loss for the team. Those two guys were pitching real well. But at the end of the day, sometimes things happen that you can't control.
"We can't let two guys that we lose dictate our season. We still have to go out, and we still have to play baseball games. We still have to finish the season, whether those guys are here or not."
After giving up five runs (four earned) in five-plus innings Thursday night, Jackson has a 5.68 ERA and a 9.8 percent walk rate on the season.
Jackson is in the second year of a four-year, $52 million deal with the Cubs. During that time, he has racked up 291 innings with the team and posted a disappointing 5.26 ERA.
When Jackson was signed, a point of emphasis was on his ability to eat innings. But he has thrown more than six innings only three times this season, and hasn't done so since May 17.
"Coming back from the break, I've been feeling pretty good," Jackson said. "I feel like I can throw strikes and pound the strike zone. It's just one of those things that you work off that and try to go deep in games and save the bullpen a little bit."
Though the results haven't been exactly as hoped, Jackson is trying to focus on the positives in his recent outings. The righty has walked only one batter -- which came after
his hand cramped Thursday night
and he lost command of his fastball -- in his 10 1/3 innings since the All-Star break.
"I haven't been walking a lot of people; earlier in the season I was struggling with walks and big innings," Jackson said. "But I've been feeling pretty good after the break."
Despite what Jackson feels has been better play of late, it's hard to imagine a player with his recent performance and current contract garnering much trade interest.
Prior to joining the Cubs, Jackson had a 4.29 ERA and averaged 193 innings per season since becoming a full-time starter in 2007.
The Cubs' best bet might be to hope Jackson can soon show signs of returning to the innings eater with a league-average ERA they thought they were getting when he signed with the team more than 18 months ago.

July, 24, 2014
Jul 24
10:58
PM CT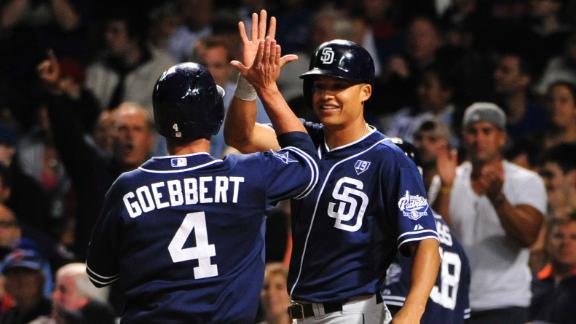 CHICAGO -- The
Chicago Cubs
were pummeled by the
San Diego Padres
on Thursday at Wrigley Field. Here's a quick look at the contest:

How it happened:
For the second night in a row, the Padres jumped out to an early lead on the Cubs. After quickly retiring the first two batters of the game,
Edwin Jackson
gave up a bloop single to
Seth Smith
.
Yasmani Grandal
followed with a hard-hit ground ball down the right-field line for an RBI triple. Grandal came around to score on
Will Venable
's broken-bat single to put San Diego up 2-0 early. The Cubs cut the lead in half with
Luis Valbuena
's RBI single in the fourth, but the Padres got the run back almost immediately on
Rene Rivera
's solo home run in the top half of the fifth. The Padres broke the game open with a nine-run sixth that saw 14 batters come to the plate and went on to defeat the Cubs 13-3.
What it means:
Jackson went five-plus innings and gave up five runs (four earned) on seven hits while striking out four and walking one. Jackson was having a relatively solid outing but allowed the first two men to reach in the sixth before being removed with cramping in his right hand. Both men came around to score in the Padres' big inning. Jackson, who still has two years remaining on his four-year, $52 million deal, is having another rough season for the Cubs and saw his ERA balloon to 5.68.
Outside the box:
A pair of top prospects made their debut Thursday night after being promoted a level. Albert Almora went 0-for-4 with a strikeout in his first game at Double-A Tennessee.
Jorge Soler
fared better in his first game with Triple-A Iowa, going 1-for-3 with two walks.
Up next:
The Cubs open a three-game set with the
St. Louis Cardinals
at Wrigley Field on Friday at 3:05 p.m. CT with
Travis Wood
taking the mound against
Joe Kelly
.
July, 24, 2014
Jul 24
10:57
PM CT
Associated Press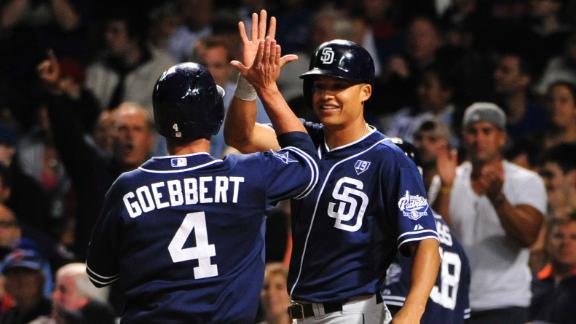 CHICAGO -- Tyson Ross struck out a career-high 11, and the light-hitting San Diego Padres broke out for a season-best nine runs in the sixth inning in a 13-3 rout of the Chicago Cubs on Thursday night.
Ross (9-10) allowed one run, five hits and one walk in six innings to reach a career high in wins. He went 3-2 in five July starts, but gave up just four earned runs in 35 innings.
Rene Rivera had three hits, including a home run, and drove in three runs. Will Venable had three hits and two RBIs, and Alexi Amarista and Chris Nelson also drove in two runs apiece with singles in the sixth-inning outburst that gave the Padres their highest scoring output this season.
Edwin Jackson (5-11) left in the sixth because of a cramp in his right hand and took the loss.
July, 24, 2014
Jul 24
9:55
PM CT
CHICAGO --
Chicago Cubs
starting pitcher
Edwin Jackson
exited Thursday night's game against the
San Diego Padres
in the sixth inning with cramping in his right hand.
"He's fine," Cubs manager Rick Renteria said after the team's 13-3 loss. "He started developing some cramps in his hand. Kept shaking it out, we saw it and it was just best to not take a chance. But he's fine. We'll know more tomorrow."
Jackson walked
Yasmani Grandal
to lead off the sixth, then allowed a single to
Will Venable
before Renteria and trainer PJ Mainville came to the mound and eventually removed Jackson from the game. Both runners would end up scoring in a nine-run inning for the Padres.
Jackson said he has experienced the issue once before in his career, but it didn't cause him to miss any time and he expects to be ready to make his next start.
He said the previous incident was due to dehydration, but he didn't believe that was the case in this instance.
"I felt it at the beginning of the inning," Jackson said. "It's just kind of unfortunate that the bullpen has to come in in a game like that. I was still feeling pretty good and then all of sudden you can't throw a fastball for a strike.
"I still would rather stay out there and try and battle with it than have the bullpen come in. They've been having a little tough run having to come early in games. It's just a little frustrating when you go from feeling pretty good, feel like you can go deep into a game, and then all of a sudden you can't throw a strike."
Jackson is in the second campaign of a four-year, $52 million deal with the Cubs and has struggled for much of his time with the team.
He tossed five-plus innings and gave up five runs (four earned) on seven hits, while striking out four and walking one in Thursday night's loss. Jackson fell to 5-11 with a 5.68 ERA on the season.
July, 24, 2014
Jul 24
9:01
PM CT
CHICAGO -- With
Greg Maddux
's Hall of Fame induction right around the corner,
Chicago Cubs
manager Rick Renteria shared his thoughts on one of the greatest pitchers of all time.
Renteria's first season on a big league bench was in 2008 with the
San Diego Padres
. Maddux made 26 starts with the Padres that season, his last in the majors.
"He was a very intuitive," Renteria said of the 20-time Gold Glove winner. "He could literally sit in the dugout and say, 'This guy is going to hit this ball right between his legs right now,' and, sure enough,
boom
, the guy would hit it right between his legs.
"He had a knack of recognizing and knowing where a ball was going to be projected. It was evident when you saw him fielding when he pitched. Many times he'd already be moving to the area where the ball was going to be batted to and had a step up on fielding the ball."
Renteria marveled at Maddux's longevity and ability to stay healthy, something that's become rare for today's pitchers. Maddux played 23 seasons in the big leagues and during that time had just one stint on the disabled list. He tossed more than 200 innings 18 times in an era when reliever use increased significantly.
"I think that the ability for him to stay healthy and do what he did is a gift," Renteria said. "You're either born with the genes to be able to do things like that or you're not.
"I think there's some things that contribute to the deterioration of the body at some point, but he was able to find something that kept him on the field a long time."
Maddux played the first seven years of his career with the Cubs, winning the first of his four consecutive Cy Youngs in 1992, before returning for parts of three seasons, beginning in 2004.
Maddux won 355 games with a 3.16 career ERA.
He'll join
Tom Glavine
,
Frank Thomas
, Bobby Cox, Tony LaRussa and Joe Torre as 2014 Hall of Fame inductees.
July, 24, 2014
Jul 24
6:41
PM CT
By Sahadev Sharma
Special to ESPNChicago.com
Archive
CHICAGO -- Cuban outfielder Rusney Castillo will be holding a workout this Saturday in Miami, and the
Chicago Cubs
will have a significant presence looking on, including some high-ranking officials, according to multiple sources with knowledge of the situation.
Opinions vary on Castillo's potential, but those who like the right-handed free agent believe he has a chance to impact a big league roster soon with his speed and surprising power.
Though he hasn't seen live pitching in a while, Castillo is said to be very coachable and has even improved his swing since leaving Cuba. An explosive athlete, the 27-year-old Castillo is apparently in great condition but currently not in baseball shape.
At 5-foot-9 and 185 pounds, Castillo is well built, but a smaller, stocky player who has enough speed to be able to stay in center field for a few more years. The complimentary comparisons start at
Brett Gardner
and go as high as
Minnesota Twins
Hall of Famer Kirby Puckett.
However, the evaluations aren't all positive for Castillo.
While Castillo's numbers look strong, they don't represent the type of dominance seen from recent Cuban sensations
Yasiel Puig
,
Jose Abreu
and
Yoenis Cespedes
, which draws concerns from talent evaluators.
There is a prevailing sentiment that after age 24 or so, Cuban players aren't challenged enough by the pitching in their home leagues, thus limiting their development and making it hard to determine just how much of an impact an older defector may have in the majors.
There are also significant questions about Castillo's plate approach, as he has a reputation of being a free swinger, which certainly has to be an issue for a front office that often focuses on acquiring patient offensive players. Add in the fact he's right-handed while the Cubs are in need of lefty talent, and one has to wonder if he's the right fit for this organization.
With five years of experience in Cuba's top professional league, Castillo is exempt from MLB's international spending restrictions. Any interested team will only have to pay money to obtain Castillo's services, as opposed to giving up a draft pick or trading away prospects. With that in mind, the bidding for Castillo will almost certainly go quite high, and the Cubs will have to weigh the positives and negatives before deciding whether investing big money in him is the right move for them.
The Cubs have done quite a bit of homework on Castillo, and, while Saturday's workout certainly won't be the deciding factor for the Cubs, it will be a good opportunity for some of their advanced scouts to get their eyes on him and evaluate his skill set.
As the Cubs have shown, they're of the philosophy that one can never have enough bats in the system. If the right people come away impressed with Castillo, expect the Cubs to be in on the bidding.
July, 24, 2014
Jul 24
3:41
PM CT

By Doug Padilla
ESPNChicago.com
Archive
CHICAGO -- When Jerry Reinsdorf took ownership of the
Chicago White Sox
in 1981, Tony La Russa was already in place, like 25-foot ceilings on a new home, or the sunroof of a new car.
[+] Enlarge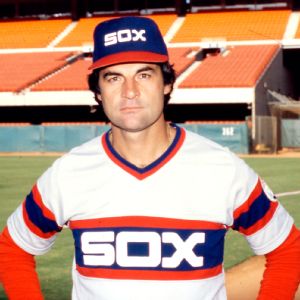 AP Photo/FileTony La Russa had a .506 winning percentage in eight-plus seasons as White Sox manager.
Well, those are the traits that eventually could be likened to La Russa. When Reinsdorf first took over the White Sox, he was under the impression that the manager of his new club was more like termite damage or a faulty transmission.
"When [La Russa] came to Chicago, I was a fan; I didn't own the team at the time," Reinsdorf said. "He came up sometime in the 1979 season and managed in 1980, and I bought the team in 1981.
"I remember at the time I bought the team, I thought 'Well, one of the first things I'm going to have to do is fire the manager,' because the broadcasters, [Harry] Caray and [Jimmy] Piersall, kept talking about how bad he was. And then I met him and realized how wrong they were."
Eventually Ken "Hawk" Harrelson was unable to realize the greatness as well during a brief turn as general manager, and he fired La Russa at the start of the 1986 season. It is the moment in Reinsdorf's ownership that he seems to regret the most.
Despite La Russa moving across the country to manage the
Oakland Athletics
, Reinsdorf stayed close with his former manager and the two have a unique bond to this day.
"Over the years we've really become like brothers," Reinsdorf said. "It's just a very, very special friendship. As great a manager as he is, he's a better human being. He's just a great person."
La Russa wasn't a very accomplished major league player, seeing time in 132 career games with the Kansas City/Oakland A's, the
Atlanta Braves
and the
Chicago Cubs
. And as a manager he raised eyebrows with his use of the bullpen and a sporadic strategy of using the pitcher in the No. 8 spot in the lineup.
But he is recognized as changing the game, especially with how relievers are used.
That is at least part of the reason La Russa will be inducted into the Baseball Hall of Fame on Sunday. Former White Sox player
Frank Thomas
also will be inducted.
"Obviously having two people connected with the White Sox going in at one time is special, but it's really special for me to see Tony go in knowing how he suffered early in his career and the abuse he took and to see that he proved all the critics were wrong," Reinsdorf said. "I just wish Harry Caray were alive."