August, 2, 2014
Aug 2
12:36
AM CT
Associated Press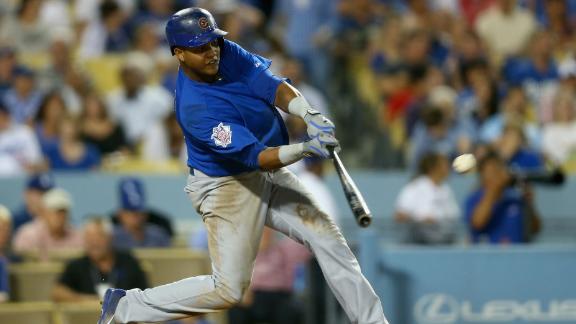 LOS ANGELES -- Kyle Hendricks scattered four hits over seven innings, Starlin Castro had three hits and scored three runs, and the Chicago Cubs beat Los Angeles 8-2 on Friday night, snapping the Dodgers' six-game winning streak.
Making his fourth major league start after being called up from Triple-A, Hendricks (2-1) allowed one earned run, struck out three and walked one in his return to Dodger Stadium, where he pitched in high school. The rookie had two of Chicago's 13 hits.
Ryan Sweeney had two hits and scored twice, and Luis Valbuena homered and drove in two runs for the last-place Cubs, who have won four of their last five.
Dan Haren's woes followed him into a new month. He is in the midst of a career-worst five-game skid, having lost all four of his starts in July. The right-hander (8-9) gave up seven runs -- six earned -- and eight hits in 4 1/3 innings, struck out three and walked two.
July, 31, 2014
Jul 31
8:10
PM CT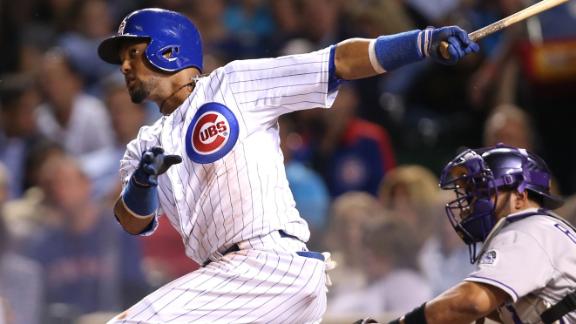 CHICAGO -- At least James Russell went out a hero.
In his last act as a Chicago Cub on Thursday morning, the bullpen workhorse took one listen to the awful techno music coming out of the clubhouse speakers and decided, no more.
"This sucks," he said to a group of reporters.
So Russell marched over to the team iPod and, a few minutes later, the sweet sounds of Bob Marley wafted through the cramped space.
Too bad Russell, one of two holdovers from the 2010 team, won't be around to enjoy the acoustics in that space-age clubhouse the players have been promised.
But everything is going to be all right for the hirsute left-handed reliever, who was dealt to Atlanta, along with utility man Emilio Bonifacio, at baseball's trading deadline.
As the rest of the league buzzed with Tampa Bay's David Price going to Detroit, Jon Lester and Yoenis Cespedes trading spots in Boston and Oakland, and John Lackey going to St. Louis, the Cubs sending two veterans for a promising Class A catcher in Victor Caratini was almost an afterthought.
"We'll probably slide under the radar a little bit," Cubs general manager Jed Hoyer said with a laugh.
More veterans will likely exit during August's waiver season, but in a ceremonial sense, this should be the Cubs' last deadline day as sellers. For a while, at least. For one thing, they're running out of guys to sell. For another, 2015 is an important milestone in what looks like a five-year rebuilding project, which is an eternity in a major market.
July, 31, 2014
Jul 31
7:18
PM CT
CHICAGO – Another trade deadline has come and gone and, predictably, the
Chicago Cubs
were sellers. Their trade of reliever
James Russell
and versatile position player
Emilio Bonifacio
to the
Atlanta Braves
for Class A catcher Victor Caratini went down at about 2:45 p.m. CT -- 15 minutes before the deadline.
"In the world of trade deadlines, that's a fair amount of time," general manager Jed Hoyer joked afterward.
Here's some fallout from the move:
Schwarber effect:
Hoyer was asked if the addition of the switch-hitting Caratini to Class A Kane County meant a permanent position change for Class A Daytona catcher and 2014 first-round pick Kyle Schwarber.
"No, he's catching less, but that's more to rest him after a long season." Hoyer said. "He'll do a lot of catching in instructional league. This does not affect him."
Pitcher Felix Doubront:
The lefty starter/reliever was acquired for a player to be named later from the
Boston Red Sox
on Wednesday but is going on the disabled list with calf soreness.
"Sometimes, guys need a change of scenery," Hoyer said. "He's been struggling. That's no secret. Different ballpark, different league. Hope that clicks together."
Doubront is 2-4 with a 6.07 ERA in 17 games, including 10 starts, this season. The Cubs plan to use him as a starter once he comes off the disabled list, most likely at Triple-A Iowa.
Pitcher Dan Straily:
Acquired from the
Oakland Athletics
in the
Jeff Samardzija
deal, Straily's struggles were likened by Hoyer to Doubront's in that both have had success previously in the majors, though not this season.
"Straily not that much different than Doubront," Hoyer said of the right-hander. "He's not having as strong a year. We know he can do it in the big leagues. We just need to get him back to that point."
Straily is 0-3 with a 5.85 ERA in four starts for Triple-A Iowa.
Cespedes/Milone:
Hoyer was asked if there were any talks about outfielder
Yoenis Cespedes
or pitcher
Tommy Milone
, both of whom were traded by the Athletics on Thursday.
"[Our] deal with Oakland was pretty defined," Hoyer said.
In other words, minor league shortstop Addison Russell was the Cubs' target.
Waiver deals:
Starting Friday, teams can put players through waivers, and if they clear, they can still be traded.
"We've already started work on that," Hoyer said. "That starts up tomorrow. I don't know what's going to happen in August."
Kyuji Fujikawa:
His rehab stint is almost over, and the Cubs will soon recall the right-handed reliever, who has been recovering from Tommy John surgery.
Russell on playing in a pennant race:
"That will be exciting. Something I've never experienced," the 28-year-old lefty said of joining the Braves, who are in the thick of the National League East and wild-card chases. "I'm sure there will be a lot of adrenaline, a lot of emotion. It will be fine. I'll see what I'm made out of."
July, 31, 2014
Jul 31
6:20
PM CT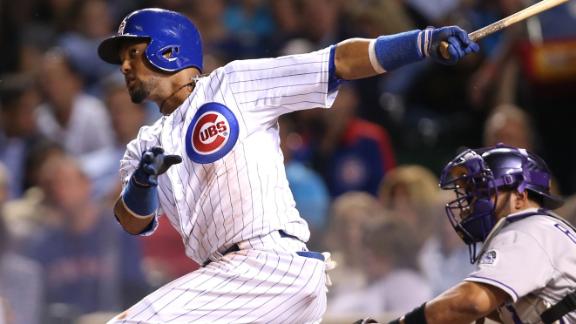 CHICAGO – Admit it. The moment you heard the
Chicago Cubs
had traded
Emilio Bonifacio
and
James Russell
to the
Atlanta Braves
for Class-A catcher Victor Caratini you thought of one name.
Javier Baez.
The Cubs' first-round pick of 2011 won't be coming up from Triple-A Iowa to replace Bonifacio on the roster -- at least not yet. The Cubs haven't announced their roster changes, but they made sure to announce that.
"We're not going to change our timetable on any of our prospects based on a moves we made at the big league level," general manager Jed Hoyer said not long after the trade. "When we feel like they are ready to contribute, we'll do that."
Baez must be getting close. After an extremely slow start, he's raised his batting average to .255 and he hit his 20th home of run of the season Wednesday. Since moving to second base earlier this month – another indication he's close to a promotion – Baez is hitting .328 with six home runs. His final hurdle might be to improve his strikeout-to-walk ratio. It's still high at 4-to-1.
"All the stuff you hear about the young guys in the minor leagues, you hear for a reason," Russell said before leaving town to join his new team. "They're going to be good. There's a reason everybody gets that much coverage. It'll be fun to see them come up here and start contributing."
Russell's departure is symbolic of the Cubs' transition to a younger team. He was the final, lone holdover from an era of Cubs teams that included veterans Kerry Wood, Alfonso Soriano and
Ryan Dempster
. Ironically, he might be the final trade of a veteran at the in-season deadline.
"That's certainly the goal," Hoyer said of wanting to be buyers instead of sellers.
But the Cubs are going to take things at their own pace. They deemed
Arismendy Alcantara
ready for prime time, but they haven't made that decision with other top prospects. Money could be playing a part, as highly-touted first-round picks eventually become arbitration eligible and then eligible for free agency. Either way, Baez is still expected to see the big leagues this season. It just won't be in Los Angeles, where the Cubs play next.
"It was different, going through that little face-lift kind of thing," Russell said of the Cubs rebuilding. "Next thing you know we're doing a merry-go-round with managers and moving guys every which way. It will be fun to see things slowly stop, pieces get added and watch things take their course here."
The Cubs will undoubtedly be a team to watch even if Russell has to do it from afar. It might be a team to view for good reasons or the plan might blow up in the Cubs' face, but either way there is a story to be told, and it's coming soon. Russell was asked what he would tell the prospects about playing in Chicago.
"There's not many better places to play," he responded. "Fans are great. If you're not playing good they'll let you know it, and if you're playing really good they'll even let you know that too."
Jeff Samardzija
,
Jason Hammel
,
Darwin Barney
, Emilio Bonifacio, James Russell have all been traded. And that's just this year. The fans will definitely let the Cubs know what they think of their rebuilding, as coming back to them this trade season was a Double-A shortstop (Addison Russell), a Triple-A pitcher (
Dan Straily
), a Single-A catcher (Victor Caratini), a struggling lefty (
Felix Doubront
) and players to be named later.
"It'll be fun for the young guys to come up and see how the fans take everything in and kind of help you get to where you want to be," Russell said.
Baez is one step closer to it all after Thursday's deal -- but he's not here just yet.
July, 31, 2014
Jul 31
5:16
PM CT
Associated Press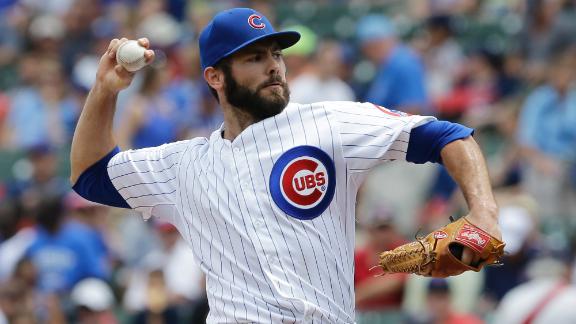 CHICAGO -- Jake Arrieta struck out seven in seven innings, leading the Chicago Cubs to a 3-1 victory over the Colorado Rockies on Thursday.
Arrieta (6-2) allowed one run and three hits in his first victory since June 30 at Boston. The 6-foot-4 right-hander has a 1.73 ERA in his last 11 starts, holding opponents to a .162 batting average.
The Cubs won three of four in a matchup of last-place teams. The Rockies have lost four of five and 11 of 15 overall.
Pedro Hernandez (0-1) allowed three runs and six hits in 5 2/3 innings in his first start for Colorado.

July, 31, 2014
Jul 31
4:27
PM CT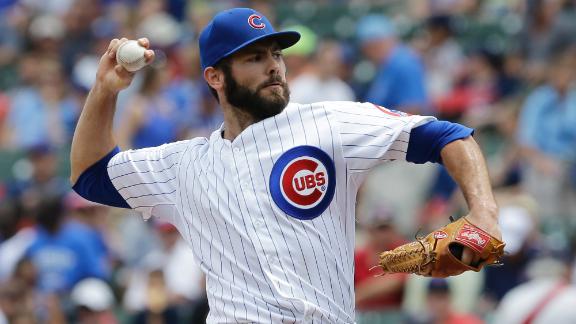 CHICAGO -- The
Chicago Cubs
beat the
Colorado Rockies
3-1 on Thursday afternoon. Here's a quick look at the game:
How it happened:
The Cubs scored all three runs in the sixth inning as
Starlin Castro
walked with the bases loaded,
Justin Ruggiano
hit a sacrifice fly and
Luis Valbuena
grounded out to record the third RBI of the inning. Colorado scored in the seventh on a double by
Nolan Arenado
.
Jake Arrieta
earned his sixth win while
Hector Rondon
notched his 14th save.
What it means:
Arrieta continued his dominance with a seven inning, three-hit performance. He gave up one run and struck out seven while walking just one batter. His ERA is 2.11 heading into the final two months of the season.
Russell/Bonifaco say goodbye:
Reliever
James Russell
was seen saying goodbye to teammates on the field during the seventh inning as he and
Emilio Bonifacio
were traded to the
Atlanta Braves
for Class-A catcher Victor Caratini.
What's next:
The Cubs begin a six-game road trip on Friday starting with a 3-game series against the
Los Angeles Dodgers
.
Kyle Hendricks
(1-1, 2.33) faces
Dan Haren
(8-8, 4.49) in the opener at 9:10 p.m. CT Friday.