March, 5, 2015
Mar 5
5:34
PM CT
MESA, Ariz. -- The
Chicago Cubs
tied and lost their duo of Cactus League games Thursday as they were defeated by the
San Francisco Giants
8-6 in Scottsdale while battling the
Oakland Athletics
to a 2-2 final after nine innings in Mesa.
Here's a look at some highlights:
The Good:
Kyle Schwarber hit a grand slam in his first big league spring at-bat in the second inning off of Giants starter
Ryan Vogelsong
. The blast was preceded by a single by
Jorge Soler
and a walk to Kris Bryant, setting the stage for the Cubs' 2014 first-round pick. Billy McKinney, acquired with Addison Russell in the deal for
Jeff Samardzija
last year, also went deep.
In Mesa,
Mike Olt
provided the offense for the Cubs, clubbing a two-run home run in the second inning before striking out his next time at the plate.
Both
Jacob Turner
and
Travis Wood
threw two scoreless innings each. Wood went six up and six down against the A's, and Turner allowed three baserunners on two walks and a hit against the Giants.
The Bad:
It's not exactly bad, but the combination of the Cubs' top four hitters --
Dexter Fowler
,
Anthony Rizzo
,
Starlin Castro
and
Miguel Montero
-- went 1-for-8 against the A's. Pitcher Hunter Cervanka gave up four earned runs in one-third of an inning against the Giants, who tallied five runs in the eighth inning to win the game.
The Weird:
A's pitcher Pat Venditte had Fowler confused for a moment. Venditte is an ambidextrous hurler who warmed up mostly from the right side to begin the third inning, so the switch-hitting Fowler took his warm-up swings lefty.
"I was swinging left-handed because he was throwing right-handed," Fowler explained. "Then he gets up there and switches, so I asked the umpire. My whole thing was I should be able to take some practice swings instead of just walking up there and having to hit."
According to Fowler, the pitcher has to declare which side he'll throw from for the at-bat before the hitter gets in the batter's box -- but that's too late for him.
"I wish he would have done it earlier," Fowler said. "That's what should happen."
Fowler took notice that after throwing lefty to him and then Rizzo, Venditte threw a couple of times to his second baseman as a right-hander because righty Starlin Castro was entering the batter's box. In other words, Venditte got in a couple of warm-up throws before facing Castro. Fowler didn't think that was fair.
"It was kind of weird," he said.
Notes:
There are people within the Cubs organization as high on Schwarber as they are on minor league player of the year Kris Bryant. That's how good he might be. And he's on the same path as Bryant -- neither has stopped hitting since being drafted.
Cubs pitchers who matter looked decent, especially Wood. He worked fast and didn't just put the ball on a tee as he did most of last season. It's a start.
Though Olt struck out in his second at-bat after homering, he didn't go down easily. He worked the count full before fouling off several pitches and then missing on a good offspeed pitch.
March, 5, 2015
Mar 5
5:31
PM CT
Associated Press
SCOTTSDALE, Ariz. -- Ryan Vogelsong gave up a grand slam to Kyle Schwarber, the Cubs first pick of last June's draft, but the San Francisco Giants rallied to beat a Chicago split-squad 8-6 on Thursday.
Giants' outfielder Hunter Pence left the game after getting hit by a pitch in the sixth inning.
Jeremy Affeldt allowed a run in one inning as the Giants won their first in three exhibition games between the teams.
Jacob Turner threw two scoreless innings in his spring debut with the Cubs. He gave up a hit, walked two and struck out a batter.
Schwarber, taken fourth overall, connected in his first at-bat against a major league pitcher. He was hitting behind Kris Bryant, drafted in the first round in 2013.
Vogelsong pitched two innings. He threw a perfect first, but gave up hits to Jorge Soler and Wellington Castro and walked Byrant ahead of Schwarber, who drilled a 1-2 delivery over the right field fence.
March, 5, 2015
Mar 5
5:06
PM CT
Associated Press
MESA, Ariz. -- Manager Joe Maddon made his spring debut with the Chicago Cubs on Thursday, a 2-2 tie against Barry Zito and the Oakland Athletics.
Travis Wood pitched two perfect innings for a split-squad of Cubs, and Mike Olt hit a two-run homer in the second inning.
Maddon opted out of his contract with Tampa Bay over the winter and then agreed to take over the Cubs, who begin the year with big expectations after an active offseason.
Zito pitched two innings in his first spring game for the A's after taking last year off. The left-hander allowed two hits, struck out two and walked none.
Zito retired his first five batters, including strikeouts of Starlin Castro and Miguel Montero. But he hit Chris Coghlan in the second and then yielded the long drive to left by Olt.
March, 5, 2015
Mar 5
4:37
PM CT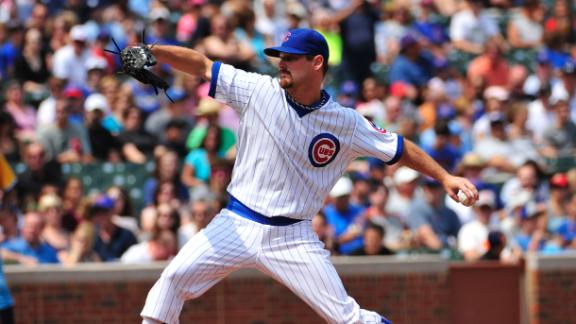 MESA, Ariz. -- Call it a chip on his shoulder or maybe it's simply a player with a purpose, but
Travis Wood
wants nothing to do with his disastrous 2014 season.
"The purpose is to not have a year like last year," Wood said Thursday after throwing a perfect two innings in his spring debut.
Wood looked like the 2013 version in retiring the six
Oakland Athletics
he faced. But this is just spring training -- one start so far -- and it hardly erases a season in which he produced the third-highest ERA (5.03) among all qualified starters. Maybe battling as the underdog suits Wood best. He went from being a relative unknown in baseball to an All-Star to fighting for a roster spot in the span of a couple seasons. Competing for a job is what he knows.
"Every year but last year that's been the role I've had to come into," Wood stated. "I've been there. I know how to handle it. Just makes you want to work harder."
Wood is getting "back to basics," simply trying to pound the zone while working the edges when needed. He gave up one hard-hit ball Thursday, a line drive to left field which was caught. It's something to build off of as he battles with others for the final starter's spot in the
Chicago Cubs
rotation.
"The team is trying to put the best 25 out there," Wood said. "If I don't think I'm one of the best 25, why should I think they (would)?"
It's an honest approach, and if Wood can find his form it'll be a big benefit to the Cubs, one way or another. Without an injury to the pitching staff, it's very doubtful Wood,
Tsuyoshi Wada
and
Edwin Jackson
all make the 25-man roster. Wood would be the most attractive of the three on the trade market as a lefty who's made an All-Star team. How about the Cubs call the
Philadelphia Phillies
later this month and offer them a rotation pitcher in Wood, a starting catcher (
Welington Castillo
) and a couple of prospects not named Bryant, Schwarber or Russell for lefty starter
Cole Hamels
? Or if the Cubs keep Wood, he could be one of the better No.5 starters in the league. It's a good problem to have. But that kind of talk can't begin to happen unless Wood shows scouts he's back.
And a trade would mean leaving the team just when things are starting to turn for the franchise.
"We are definitely going to play in October, I feel like right now," Wood said. "Whenever we do it we're going to surprise people just because of how long it's been."
A return to form for Wood may or may not surprise the Cubs, but one thing is for sure, it would be a huge storyline for them this spring.
March, 5, 2015
Mar 5
2:28
PM CT
MESA, Ariz. -- The
Chicago Cubs
agreed to terms with all 20 players with 0-3 years of service time on their 40-man roster, the team announced on Thursday.
Coming to terms were pitchers
Dallas Beeler
,
CJ Edwards
,
Justin Grimm
,
Kyle Hendricks
,
Blake Parker
,
Neil Ramirez
,
Hector Rondon
,
Brian Schlitter
,
Drake Britton
,
Eric Jokisch
,
Joe Ortiz
and
Zac Rosscup
.
Infielders
Arismendy Alcantara
,
Javier Baez
,
Tommy La Stella
,
Mike Olt
,
Christian Villanueva
along with catcher
Rafael Lopez
also agreed to contracts, as did outfielders
Junior Lake
and
Matt Szczur
.
Terms of the contracts were not disclosed.
March, 5, 2015
Mar 5
12:24
PM CT
[+] Enlarge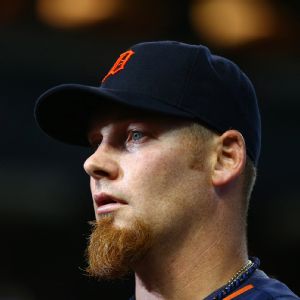 Mark J. Rebilas/USA TODAY SportsPhil Coke is poised to compete for a spot in the Cubs' bullpen after pitching for the Tigers (2010-2014) and Yankees (2008-2009).
MESA, Ariz. -- It's not official yet, but the Chicago Cubs plan to add another left-handed arm to the bullpen mix in the form of former Detroit Tigers reliever Phil Coke, according to a source familiar with the situation.
Coke, 31, appeared in 62 games for the Tigers last season, compiling a 3.88 ERA. In his seven-year career with both the New York Yankees and Tigers, he is 22-27 with eight saves and a 4.16 ERA.
"It's not a secret we're seeking that left-handed kind of specialist, but it's also nice to have that lefty that can get out a righty," manager Joe Maddon said Thursday morning. "I've seen Phil Coke a lot in the past, and he was able to get righties out as well."
Coke has a career .243 batting average against when lefties hit off of him, but that balloons to .303 against righties. Last season's splits (.257/.333) were no different. And in appearances deemed late/close, Coke's career splits are similar (.232/.309), according to ESPN Stats & Information.
Maddon likes a certain criteria that he's found successful in the past.
March, 5, 2015
Mar 5
11:23
AM CT
MESA, Ariz. --
Chicago Cubs
first baseman
Anthony Rizzo
will bat second while shortstop
Starlin Castro
will hit third in new manager Joe Maddon's first lineup for their Cactus League opener on Thursday against the
Oakland Athletics
.
Maddon has most of his veterans playing in the home game while a group of prospects will take on the
San Francisco Giants
at the same time in Scottsdale in the split-squad affair. Bench coach Dave Martinez will manage the road game with spring assistant Rick Sutcliffe helping out, while Maddon will manage at Sloan Park with Chris Bosio.
Rizzo has mostly been a No. 3 hitter for the Cubs but could find himself hitting No. 2 if/when Maddon decides to bat the pitcher No. 8.
"I liked Jimmy Edmonds batting two," Maddon said when Edmonds was an Angel. "I liked when we put him in the two hole. When you get a better hitter like that in the lineup, you want someone at the bottom to feed him."
Like Castro -- and most players -- Rizzo wouldn't mind being in the same place in the lineup every day, but right now he's not focused on anything but getting his timing down at the plate.
"I think everyone would like one spot but it doesn't matter to me," Rizzo said Thursday morning. "I just want to see a live at-bat first before I worry about where I'm hitting."
Maddon has stated he wants to win in spring training, and while most managers will echo those thoughts he sounds a little more intense about it.
"There should be (intensity)," Rizzo said. "Especially guys that get in late in the game. Everyone has something to prove. It starts now. It's starts today."
Here are the lineups for both games:
Vs. Oakland
Dexter Fowler
CF
Rizzo 1B
Castro SS
Miguel Montero
C
Javier Baez
2B
Chris Coghlan
LF
Mike Olt
3B
Ryan Sweeney
DH
Junior Lake
RF
Travis Wood
P
Vs. San Francisco
Tommy La Stella
2B
Chris Denorfia
LF
Arismendy Alcantara
CF
Jorge Soler
RF
Welington Castillo
C
Kris Bryant 3B
Kyle Schwarber DH
Chris Valaika 1B
Addison Russell SS
Jacob Turner
P
March, 4, 2015
Mar 4
1:18
PM CT
MESA, Ariz. -- Let the games begin! The Cactus League starts Thursday for the
Chicago Cubs
, and here's what you need to know:
The Cubs will play 31 games before ending their stay in Arizona with two exhibition contests against the
Arizona Diamondbacks
on April 3 and 4. The only day they don't have a game scheduled is March 23. Thursday's split-squad openers feature
Travis Wood
taking on the
Oakland Athletics
at Sloan Park and
Jacob Turner
pitching against the
San Francisco Giants
in Scottsdale.
While spring statistics are mostly meaningless, that may not be the case for those vying for roster spots. Manager Joe Maddon has said a player's "body of work" is most important, but if all things are equal, the guy who dominates in the spring could win the job. The opposite is true of the player who struggles all month. Last year Jose Veras never found his groove during the spring, and he struggled to start the season. The same was true of Carlos Marmol in 2013.
But be wary of the hitter who puts up monster spring numbers. Maddon doesn't put much stock into it. However, again, the player who never gets it going is the one the Cubs should keep an eye on. Is it part of the process or the next Veras?
"I want to have that one outing where everything clicks," pitcher
Jason Hammel
said Wednesday. "As long as the progression is there and then I have that game, I'm good."
Fifth starter:
For all practical purposes, this is Wood's job to lose. But if
Edwin Jackson
somehow regains any kind of decent form, he could end up being the fifth starter. Crazier things have happened. More than likely, if everyone is healthy, the Cubs will trade one of those two pitchers -- or
Tsuyoshi Wada
. Turner and
Felix Doubront
are long shots for the job. Turner thinks he can be better after a year that produced a 6.13 ERA and then a winter of reflection.
"It's tough to make adjustments during the season," Turner said. "That's what the offseason is for."
Javier Baez:
There's plenty to watch when Baez comes to the plate, starting with his approach.
"For now, we are going to be working on making more contact and seeing the ball all the way through the zone," Baez said.
Baez was asked if he'll shorten up with two strikes, something he never did last year.
"You're probably going to see me doing it with one strike too so I can work on it," he responded.
Remember, early offensive results in the spring should be taken with a grain of salt, as hitting conditions are ripe for batters and pitchers aren't throwing their hardest -- or with their best stuff.
Lefty in the pen:
It doesn't get much attention -- until the eighth inning of an April game on the line -- but the Cubs need a lefty specialist, or at least a lefty long man, in the bullpen. There is no clear cut favorite for the job.
"I don't think one person has the job over another," southpaw
Zac Rosscup
said. "Its fun to compete. They're all great guys."
Rosscup joins a group that includes newcomer
Drake Britton
and
Joe Ortiz
as candidates to make the bullpen.
"This is a great opportunity for me," Britton said. "There are a lot of good lefties here. We're in a friendly competition. I'm going to do everything I can to get it."
If there is any position on the team that spring games will determine a roster spot, it's left-handed reliever.
Third base:
The other position up for grabs is third base. Is it
Tommy La Stella
or
Mike Olt
? Or maybe
Arismendy Alcantara
finds his way there. Their defense at the hot corner might help determine a winner, as only Olt has played there on a regular basis. But is the winner really winning when he'll lose his job as soon as the Cubs bring up Kris Bryant from the minors? In a way, he is, because if he's playing well, he may retain his roster spot even though he might not be the starter for more than a few weeks.
The lineup:
Maddon revealed a partial lineup for Thursday's home game against the Oakland Athletics. He'll try different combinations throughout the spring:
Dexter Fowler
Anthony Rizzo
Starlin Castro
Miguel Montero
Javier Baez
March, 4, 2015
Mar 4
10:00
AM CT
MESA, Ariz. -- Baseball's top prospect, Kris Bryant, sat down for a question-and-answer session as he and the
Chicago Cubs
get ready for Cactus League games to start this week:
Jesse Rogers: I'm going to give you a break and not ask you about making the team out of camp. Instead I'll ask an equally awkward question. Kyle Hendricks recently told me you could be the "best player in baseball, hands down." That's an exact quote. Your response?
Kris Bryant:
That's, well, incredible to hear from a teammate. Obviously he's a good player himself and I enjoyed playing behind him. Just to hear that kind of praise from him is an honor.
I mean this is a pretty quiet guy, a man of few words, and he's well-educated, from Dartmouth, so maybe he knows what he's saying.
[laughing] He's probably smarter than me, though University of San Diego is pretty good but, man, Dartmouth.
Rogers: Does it make you think, "Hey, slow down a little?"
Bryant:
Yeah, but it's the nature of playing this game. I did have a good season and I was talking to some buddies this offseason about the hype and they were like, "That's your fault, you brought that on yourself." I enjoy it. I enjoy my teammates, but I have equal praise for them. They've taken me under their wing and treated me amazing. I feel so comfortable here and I couldn't be more happy where I am.
Rogers: It's funny you bring that up about your friends because I was going to ask you how tiresome the questions are about you making the team, but then I figured your smile tells the story. It beats the alternative. We could be asking "What happened to Bryant last year?" or "Is he ever going to make it?"
Bryant:
I agree. I'm doing something right and I'm going to continue to do what I've done to get to this point. Hopefully I have a great season, but you can't see the future. You just have to try and get better. I remember coming into spring training last year and I didn't know what to expect. I didn't know where I was going to play -- Daytona, Tennessee or where. I was just taking everything in stride and focusing on the day to day. I got my feet wet in big league spring training, then got sent back to the minor league side. I did absolutely terrible in minor league camp. I probably hit .120, then I go out there and have a great year. You just never know what to expect. You have to take things with a grain of salt and play as hard as you can.
Rogers: Do you think you struggled in minor league camp because of a little bit of a letdown, little adrenaline drop or something?
Bryant:
I can't blame it on that, but sure you go from 30,000 fans to 10. Not 10,000 but 10. Count it on two hands.
Rogers: The reason I asked that is because guys like Hendricks or Javier Baez were on the cusp last year, and when they went down to Triple-A they struggled. Hendricks admitted it was on his mind. But he also said he didn't think that would happen to you.
Bryant:
Yeah, I don't approach the game that way. If there is an umpire and some fans in the stands, I turn on the switch and I'm ready to go. I don't care if it's Wiffle Ball and my dad is umpiring. I'm a competitor and I want to win in everything I do. That brings out the best. If I were to struggle, it won't be because of that. I'll just have to figure it out.
Rogers: OK, with games finally starting this week are you excited to put a hurting on some balls? And I say that because I know you are a baseball rat and you've been away from competitive baseball for a while since the minors season ends early.
Bryant:
Sept. 1 was the last game. Batting practice got the feeling back here, but nothing beats hitting the ball on the fat part of the bat with people watching and cheering you. It's very exciting, so yeah, getting that feeling back on the field and trying to win every spring training game is our goal.
Rogers: And seeing what [Cubs manager Joe] Maddon is like in-game? He has this larger-than-life reputation.
Bryant:
Yeah, absolutely. He's instilling the winning way early in us. He's made it clear he wants to win every spring training game. That's really cool. For me, I'm a competitor. I like it. I'm going to run just as hard down the line and let them know I'm here to play.
Rogers: You mentioned hitting the ball on the fat part of the bat. I was looking up some numbers and the hard hit average last year when a batter goes up the plate is .166. So 16.6 percent of the time hitters are making really good contact. It's hard, isn't it?
Bryant:
This game is so tough. When you're struggling, that's normal. You can't be killing it every time. And these pitchers are crazy. With the pitches they throw now, sometimes I've wondered how I hit them or my teammates hit them. It's just that good. But the times that you do -- the 16 percent -- it's why we play this game. It's like golf. You hit a good shot and you come back for another round, but it's hard.
Rogers: Tell me about the pitching machine/cage at your home.
Bryant:
It's just like the ones we have here. Last offseason my dad was just lobbing them in there, so it was good to see some curveballs and some velocity earlier so I'm ready for these games.
Rogers: You and Anthony Rizzo seem to be bonding. Is it because you have similar paths as highly touted players and stuff like that?
Bryant:
He's been just a good teammate and a good guy. And our interests are very alike and aligned. We like to give back and be nice to the people that got us here, as well as do well on the field. And we're kind of similar players. It's cool to have a guy like that -- one I can kind of cling to and learn how he goes about his ways. He's helped a lot so far.
Rogers: Yeah, I caught a bro-hug between you guys the other day. Was that about anything in particular?
Bryant:
Oh, I think that was after the live batting practice I had. He's like, 'You're a stud, dude.' He said something like, 'Whatever you're doing now I want to do, so I'm going to follow you around.' Something like that.
Rogers: Isn't that high praise? I mean it's only BP, but ...
Bryant:
Oh for sure. It's definitely weird because he's done it in the big leagues and I haven't, yet he's saying he wants to be like me. It should be the other way around, but it gives me that boost of confidence and I appreciate that.
Rogers: Your dad has been a big part of your baseball life. Any advice he's giving you for this specific season or camp?
Bryant:
Yeah, make the decision hard for them. That's always what I'm going to do. I've done a good job of that my whole life, so I don't think it will change.
Rogers: What have you been doing away from the park?
Bryant:
I'm rooming with Albert Almora, Dan Vogelbach and Stephen Bruno; it's a good group of guys. We're hanging out, goofing around. We went golfing a couple times and we have a putting green in our backyard, so we're out there. We went to Top Golf a couple of times.
Rogers: Where is your defense right now at third base?
Bryant:
It's good, but practice is a whole different animal. It might take me a little to get back into it because there is a hitter in the box and you have to react to it. But yeah, it's coming along.
March, 3, 2015
Mar 3
7:06
PM CT
MESA, Az. -- It's not the most important question in
Chicago Cubs
camp -- far from it. But who catches
Jon Lester
on opening night and throughout the season is an ongoing query for manager Joe Maddon this spring. He has lefty
Miguel Montero
or righty
David Ross
to choose from. If somehow, someway
Welington Castillo
is still around, that further complicates matters. Don't count on that latter option being an issue, though.
Naming Lester as the Day 1 starter on April 5 was an easy call. The catcher that night? Not as easy.
"I have not agonized over that thought yet," Maddon said Tuesday after workouts. "I don't think he [Lester] wants to attempt to dictate who's going to catch him on any specific night. I haven't gotten there yet."
Lester has downplayed the connection with Ross, though the two have worked well together. There are those who believe Ross was signed solely to catch Lester, so there's little reason for him to be around if he doesn't. The Cubs would strongly disagree with that notion, as Ross might be the best of the veterans they acquired this offseason in terms of much-needed leadership.
This much we know: Ross will catch on Friday when Lester makes his spring debut for the Cubs. Maybe that's a sign. But Maddon added that Lester will throw to all catchers in camp throughout the Cactus League season.
And then there's this thought:
"I don't want to catch Ross too much," Maddon said. "That's not good for him or for us."
Ross will be 38 on March 19 and he's coming off a season in which he hit .184, but he's 20 points better against lefties than righties in his career. There is little doubt Montero will sit against some left-handed pitching. So will Ross really play once every five days to catch Lester and then against lefties? Probably not.
And consider this potential bottom of the lineup on opening night if Kris Bryant starts the season in the minors, as expected, and Ross is behind the plate:
6.
Javier Baez
(.169, 95 K's)
7.
Mike Olt
(.160, 100 K's)
8. David Ross (.184, .158 versus righties)
8. Jon Lester (.000, career 0-for-41 including postseason)
Of course Olt might not be in there, and even Baez might not be, but you get the picture: Montero might be needed for his offense. And remember, he's just as good a defensive catcher as Ross and led all of baseball in getting extra calls from umpires due to his pitch-framing ability.
Maddon was asked if Lester might want the comfort of Ross, considering it's opening night and he's pitching for a new team.
"My first thought is Jon Lester has pitched in the World Series," Maddon responded.
In other words, he's felt a lot more pressure and succeeded. Stay tuned to opening-night drama. We have a month left.
Fundamentals:
The Cubs worked on relay throws and did some baserunning drills Tuesday. Maddon said baserunning is an area of the game in which you can learn a young player's baseball smarts, so he'll be watching as Cactus League games begin.
"I'll try to bear down on [a player] on the bases to figure out how high his baseball acumen is," Maddon said.
Pitchers hitting:
Maddon said he'll use a designated hitter in the lineup until the middle of the month when starters are stretched out on the mound and will need at-bats to prepare for the season.
The Quote:
"You don't have to go to an Ivy League school to overthink it. You could go to a state school, too." -- Maddon, on some players who overthink the game.
March, 3, 2015
Mar 3
1:50
PM CT
Associated Press
[+] Enlarge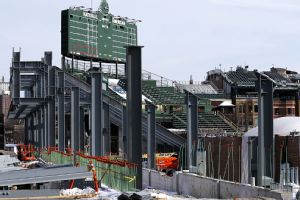 AP Photo/Charles Rex ArbogastThe Cubs want to extend working hours in order to complete the Wrigley Field renovation as soon as possible.
CHICAGO -- The Chicago Cubs' scramble to get as much of a massive renovation of Wrigley Field done before next month's opening day hit a bump Tuesday when Mayor Rahm Emanuel dashed the team's hopes of winning city approval to keep construction crews working around the clock.
"The city ordinance is clear that you can't have 24-hour building,'' the mayor told reporters. Emanuel also made a point of saying that whatever the Cubs told the media about extending the hours of construction, they had not raised the issue with him.
Team officials, who said that they need to pick up the pace of the project because winter weather has put construction behind schedule, tried to assure people that whatever they said Monday about asking the city to let construction go "more 24/7'' was not what they would seek.
Saying the team understands the mayor's "perspective'' and the "need to be conscious of the impact on our neighbors,'' the Cubs in a statement issued Tuesday said they hope the city will allow work to be done from 6 a.m. until 10 p.m. and Monday through Saturday, instead of the 8 a.m. until 8 p.m. schedule they must adhere to now.
March, 3, 2015
Mar 3
12:01
PM CT
MESA, Ariz. -- This week's Twitter mailbag features Chicago Cubs first baseman and All-Star Anthony Rizzo:
#AskRizzo what sports did you play in high school?

— Larry Goodwin (@lg3685) March 2, 2015
Rizzo:
I played football and baseball. I quit football my junior year when I hurt my leg. I played tight end and defensive end.
@ARizzo44 If you could have a walk-up song, what would it be? #AskRizzo

— C›Sž¥ (@cdubtx) March 2, 2015
Rizzo:
I don't know yet. You guys will have to wait and find out. I'm still figuring it out myself. But I'll have one.
#AskRizzo What are your thoughts on the concept of team captains?

— steve highfill (@HighfillSteve) March 2, 2015
Rizzo:
If someone is a captain he has earned the respect of his teammates and the organization, all of his peers. It's a responsibility that comes along with the territory of hard work. It's not something I think about at all.
If you could give one piece of advice about hitting to a young lefty,what would it be? #AskRizzo

— Michael Lambert (@coachmike023) March 2, 2015
Rizzo:
The biggest piece of advice I would give to anyone is 'see the ball, hit the ball.' And be ready to hit. Lefty, righty, whatever. Be ready when the pitch is coming and if you see it, hopefully everything else takes care of itself.
#AskRizzo Have you been doing any conditioning on your back to make sure it doesn't get hurt again?

— Adam Serink (@AdamSerink) March 2, 2015
Rizzo:
No, I haven't done a thing on it (sarcastic and laughing). Of course, been doing a lot of Core work. Just have to stay on top of it throughout the season.
@ARizzo44 if you were stranded on an island, what three things would you bring with you? #AskRizzo

— Austin (@ASErurik32) March 2, 2015
Rizzo:
I would bring a knife for survival. Same with water and I guess an iPod.
.#askrizzo what's the biggest difference in the clubhouse from this year compared to last year?

— Carl LaFlamme (@imlivingmydream) March 2, 2015
Rizzo:
The biggest difference is we're a year older. It's another year for the young guys getting to grow up, including myself. Castro getting to grow up. And then bringing in some real veteran presence here, it's nice to have that after a few years. And everyone is more excited.
How do you build off of last year's breakout season? #AskRizzo

— Cody (@Schinsational_) March 2, 2015
Rizzo:
Just keep going about my business. My expectations for myself are higher than anyone else can put on me. Just never satisfied.
#AskRizzo: Epstein/Hoyer use a great deal of sabermetrics/analytics in making decisions. As a player, what—if any—faith do you put in data?

— BaseballMatterz (@BaseballMatterz) March 2, 2015
Rizzo:
Zero faith. None. For me the game is all feel. Every situation dictates itself. In game situations that the average person and even the numbers may not get. But at the end of the day, I know those numbers don't lie, but I don't pay attention at all.
#AskRizzo we always here from "experts" on how you turned your year around last season. What do you credit as being the biggest factor?

— J (@fungitrophia) March 2, 2015
Rizzo:
The biggest factor is balls falling in. Honestly. You can't control everything. I've liked my approach the last two years but sure I've understood my swing as things have gone on. The biggest thing is consistency. I have to stay more consistent. Next step is being a better teammate. It doesn't matter how I do, it matters if we win.
RT @Katie_H7:Who is the biggest goof in the clubhouse? #AskRizzo RT:@.vid.http://t.co/uP2wm9pnms

— DCgirls News (@dccell) March 2, 2015
Rizzo:
I would probably say myself. Yeah, I'm an idiot. Oh, wait. Junior Lake. I forgot about him. He's hilarious.
RT @IzzyT93:Will u go all the way into the Reds dugout this year? #AskRizzo RT:@.vid.http://t.co/AQucBRxo0Y

— ReTweet Support (@ReTweetsupport) March 2, 2015
Rizzo:
I would rather not answer that one.
RT @Jrick84:@ARizzo44 what is your favorite road stadium to play in and why? #askrizzo RT:@.vid.http://t.co/5mqTdAZBd3

— FatGirls Never Sad (@AQufat) March 2, 2015
Rizzo:
I would say Citi Field in New York. It's New York. I love New York. It's always fun going there. I have some family in New Jersey and I'm just a big fan of the field.
RT @carneAASADA:Who was your favorite team and player growing up? #AskRizzo RT:@.vid.http://t.co/KZ4iMEB5Z0

— Sanin Lagaja (@SLagaja) March 2, 2015
Rizzo:
The Marlins. I'm from there so I followed them the most. Gary Sheffield was the guy I followed the most.