April, 16, 2014
Apr 16
8:23
AM CT
MLB execs claim to value defense, yet the big contracts, like Miguel Cabrera's $292M deal, routinely go to sluggers, not glovemen. Last year Cabrera had the worst Ultimate Zone Rating -- a metric that measures how many runs a player saved through his fielding -- among all qualifying third basemen. No matter. Says Mets GM Sandy Alderson, "The market is established by offense because defensive numbers are difficult to ascertain." But that's changing. Stats like UZR are gaining traction, and this season MLB is debuting technology that tracks every defensive play in glorious, granular detail. By 2015, the system will be in every MLB park. Until then, catch these defensive bargains.

To continue reading this article you must be an Insider
April, 15, 2014
Apr 15
10:16
PM CT
NEW YORK -- The
Chicago Cubs
will take on the
New York Yankees
in a one-day, two-game series on Wednesday after their Tuesday night game was rained out.
The match-up:
Game 1, Wednesday, 12:05 p.m.,
Jason Hammel
versus
Masahiro Tanaka
; Game 2, Wednesday, 6:05 pm,
Travis Wood
versus
Michael Pineda
.
Honoring Robinson:
The Cubs and Yankees will wear No .42 in the night cap in honor of Jackie Robinson. Before the game, the family of Robinson and Nelson Mandela will be on hand when the Yankees unveil a plaque for the former South African leader. Tuesday was Jackie Robinson Day around baseball.
Alfonso Soriano:
He'll face his former team for the first time since being traded last season for a minor league pitcher. The Cubs are still paying Soriano nearly $18 million of his salary this year. He has three home runs in the Yankees' first 12 games.
Cubs bullpen:
It should be fully rested after a rare two days off in a row because of a scheduled off day Monday and the rainout Tuesday. With recalled minor leaguers
Chris Rusin
and
Blake Parker
picking up innings over the weekend, the regular relievers should be more than ready for the doubleheader. It's still not clear who closes out a game in a save situation.
Streaks:
The 4-8 Cubs have lost 2 of 3 in every series so far this season. They dropped the final two games in St. Louis over the weekend but haven't lost three in a row yet. They'll try to avoid that in Game 1.
April, 15, 2014
Apr 15
3:49
PM CT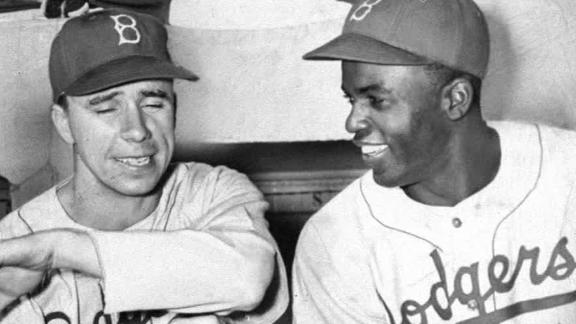 In the spring of 2000, Oakland A's general manager Billy Beane and I sat in his office at Phoenix Municipal Stadium, and the GM asked a direct question: "Do you think I'm a racist?"
The A's were in a difficult position. They had produced players such as Vida Blue, Blue Moon Odom, Reggie Jackson, Rickey Henderson and Mike Norris and were situated in a city that housed a large African-American community and was historically and culturally famous, among numerous touchstones in the civil rights movement, for the Black Panther Party for Self-Defense. But for the first time the A's were in danger of starting the regular season without a single African-American player on the roster.
Beane painfully listed his bona fides: the middle-class, diverse, military upbringing in San Diego; and his friendships with numerous African-American players, both inside and outside of baseball. The notion that he was purposely constructing a roster without black players was both hurtful and offensive.
I told Beane that I did not believe he was a racist, but the end result of the way baseball teams were increasingly being built -- targeting college players over high school prospects when 2 percent of college players are African-American, relying heavily on Latin American players, and reducing the emphasis on the stolen base in a power era -- would yield fewer black players.
Terrence Long ended up making the Athletics' 2000 roster, and an infamous milestone was averted, temporarily. Fourteen years later, as Jackie Robinson Day in baseball is again commemorated with disturbing, declining numbers of black participation, now down to 7.8 percent, the game might very well have reached its on-field nadir. Today, the San Francisco Giants, Arizona Diamondbacks and St. Louis Cardinals do not employ an African-American player.
April, 15, 2014
Apr 15
3:25
PM CT
NEW YORK -- The
Chicago Cubs
have hired former outfielder
Darnell McDonald
as a baseball operations assistant, the team announced on Tuesday.
McDonald, 35, retired from baseball at the end of spring training which he spent with the Cubs in Arizona. He was a 16-year professional having spent last season with the Cubs, appearing in 25 games. He finished as a career .250 hitter with 20 home runs in parts of seven major league seasons.
In his new role McDonald will contribute to "all elements within the club's player development and amateur scouting departments," according to a release. He'll also visit minor league teams and help evaluate amateur players leading up to the draft.
April, 15, 2014
Apr 15
12:49
PM CT
Associated Press
[+] Enlarge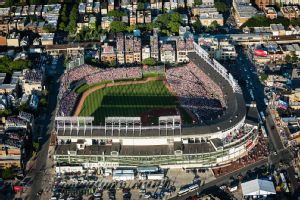 Matthew Kosterman/MLB Photos/Getty ImagesCubs owner Tom Ricketts says that the team remains committed to refurbishing Wrigley Field.
NEW YORK -- Chicago Cubs owner Tom Ricketts thinks a move to the suburbs might be lucrative but says his team remains committed to refurbishing century-old Wrigley Field.
The Cubs won approval from Chicago's city council last July for a $500 million renovation that would include installation of a 5,700-square-foot video scoreboard at Wrigley, which turns 100 on April 23. The team also wants to erect a 650-square-foot sign in right field with a guarantee neighboring rooftop owners won't slow construction with a lawsuit.
A member of the audience Tuesday at the MLB Diversity Business Summit asked a panel that included Ricketts about the Atlanta Braves' planned move in 2017 from downtown to a suburban Cobb County and how the team could maintain a connection with the community near Turner Field.
Ricketts said the Cubs have been trying to avoid such an issue.
"We've been approached by several suburban sites and alternatives to move the Cubs to a new ballpark," Ricketts said, "and although I haven't studied it thoroughly, I imagine that's probably an attractive proposition for us.
April, 15, 2014
Apr 15
12:30
PM CT
By
Mark Simon
| ESPNChicago.com
We've reached the point in the season where the first calls are coming into sports-talk radio. You know the kind. The ones that say "Bench (fill in the blank), he's terrible" or "(fill in the blank) is finally going to be a star."
But there are usually explanations for these small-sample spikes or sputters, the most common of which is "It's early!"
Nonetheless, some trends are starting to emerge. We'll see how long-lasting these are.
Jay Bruce
Bruce has been a victim of infield shifts this season.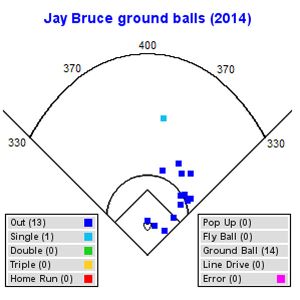 He's 0-for-9 when hitting a groundball against a defensive shift and you can see from his spray chart that he's already got a fair number of outfield ground outs.
Bruce is a good example of someone for whom shifts have contributed to frustration in a number of areas.
Over the last five seasons, his batting average on groundballs has sunk from .314 to .275 to .205 to .185 to its current 1-for-14. That's what happens when you pull 71 percent of your groundballs, as he has this season.
Prince Fielder
Fielder is also having trouble with shifts.
But his issue isn't with pulled balls, it's with getting the ball through the middle of the diamond.
Fielder is 3-for-18 when hitting a grounder or soft liner against shifts. He's 0-for-9 on the ground balls hit between where the second baseman and shortstop would typically play, as since they've shifted slightly, they're in ideal position to field his ground balls. Last season, on balls hit to those same locations he was 21-for-78 (.269).
Anthony Rizzo
Cubs first baseman Anthony Rizzo is off to a good start after a 2013 in which his numbers never reached anything near the expectation level the Cubs had for him.
Anthony Rizzo got a base hit on this pitch against the Pirates last week.
Rizzo is hitting .319 in his first 47 at-bats and he can thank his duck snorts for that start.
Rizzo is 10-for-33 on balls classified as either softly-hit or medium-hit after batting .156 when hitting those same types of balls last season.
The classic example of that is this -- Rizzo reached out and got a base hit on a pitch that was thrown to the spot noted in the image on the right. Those hits make a big difference in the numbers this early in the season.
Jason Heyward
Last season, Victor Martinez of the Tigers got off to a slow start. But there was
reason to believe that Martinez's performance would eventually catch up
with how often he was hitting the ball hard (a lot) and it did.
This year, it looks like Jason Heyward is headed down the Martinez path.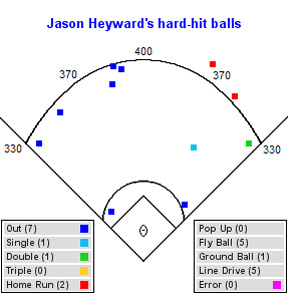 Heyward is hitting .160 and is 4-for-11 when hitting a ball that our video-tracking system classifies as hard hit. Over the previous two seasons, Heyward hit .746 and .718 on his hard-hit balls.
Heyward is 0-for-15 in 2014 when hitting a fly ball that doesn't go out of the ballpark. That includes a pair of well-muscled fly balls that found gloves against the New York Mets and Washington Nationals.
He's also 1-for-11 on his groundballs despite not being regularly shifted against and that might be a little misleading since he has reached base twice on errors (had those been scored hits, his batting average would have jumped 40 points).
Matt Wieters
At least for two weeks, Wieters has used the center of the field as his primary means for reaching base. From 2011 to 2013, Wieters pulled 43 percent of the balls he put in play and hit 28 percent of them to center field. This season, he's reversed those numbers, pulling 29 percent and centering 41 percent.
The result of that has been more line drives. Last year, Wieters totaled 15 line drives to center field as a left-handed hitter. In the first two weeks of the season, he's already got seven. The effort to pull the ball less often is a route that Torii Hunter went last season
with modest success
. We'll see if Wieters has made the adjustment or if it's just temporary results.
April, 15, 2014
Apr 15
11:54
AM CT
NEW YORK -- The
New York Yankees
announced that tonight's game against the
Chicago Cubs
has been postponed because of rain and will be made up tomorrow as part of a day-night separate-admission doubleheader.
Starting pitchers have not been announced but it is likely
Masahiro Tanaka
, tonight's scheduled starter, will go tomorrow along with
Michael Pineda
, although the club has not yet announced who will start which game.
Also postponed is the dedication ceremony for a plaque commemorating Nelson Mandela to be displayed in Monument Park; that ceremony will now be held on the field prior to the second game of the doubleheader, scheduled for 7:05 p.m.
Tickets for tonight's game will be honored at tomorrow's 1:05 p.m. game or for any regular-season game at Yankee Stadium within 12 months of tonight's postponement. However, tickets for tomorrow night's second game will not be honored at the 1:05 game.
For a complete explanation of the Yankees rainout policy, visit
www.yankees.com/rainout
.
April, 15, 2014
Apr 15
10:41
AM CT
NEW YORK -- The interleague game between the
New York Yankees
and
Chicago Cubs
has been postponed because of bad weather.
The teams will make up the game Wednesday as part of a day-night doubleheader.
New York also postponed ceremonies marking the unveiling of a plaque honoring Nelson Mandela's visit to Yankee Stadium in 1990. The ceremonies, planned during the offseason for Jackie Robinson Day, were rescheduled to before Wednesday night's game.
A light rain was falling in late morning Tuesday, and rain was in the forecast throughout the day.
April, 15, 2014
Apr 15
10:17
AM CT
ESPNChicago.com
[+] Enlarge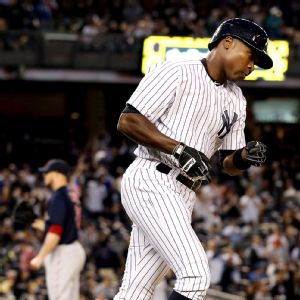 Adam Hunger/USA TODAY SportsAlfonso Soriano has put up solid power numbers for the Yankees.
NEW YORK -- The Chicago Cubs are paying almost $18 million of Alfonso Soriano's salary this season, but team president Theo Epstein says the July 2013 trade has benefited both the Cubs and New York Yankees, Soriano's original major league team.
Maligned in his early years as a Cub, Soriano redeemed himself at the end, becoming a better defender and leader as he played out the sixth year of a seven-year, $136 million contract. The Cubs were able to move him last summer for minor league pitcher Corey Black while also agreeing to pay about $17.7 million of the estimated $24.5 million remaining on Soriano's deal, which runs through this season.
"It looks like a deal that worked out for both sides," Epstein told ESPNChicago.com's Jesse Rogers on Monday, the day before the Cubs and Yankees were rained out in the Bronx. The teams will play a doubleheader Wednesday.
"He had a no-trade clause and the Yankees were a team he felt comfortable with. We were in talks for a while. They said no to all the players [we asked for], including Corey Black. And then eventually they said they would do Black."
April, 14, 2014
Apr 14
2:14
PM CT

ESPNChicago's Jesse Rogers talks with first base coach
Eric Hinske
about transitioning from player to coach as well as the Cubs' play on the field over the first two weeks.


Click here for more audio from ESPN Chicago
.
April, 14, 2014
Apr 14
1:22
PM CT
After two weeks on the job,
Chicago Cubs
manager Rick Renteria might best be described by one word: unpredictable.
Maybe he realizes he doesn't exactly have a roster full of All-Stars or maybe this is how he's always going to be as a manager. But either way, trying to guess a lineup or strategy move of his isn't the easiest of tasks.
[+] Enlarge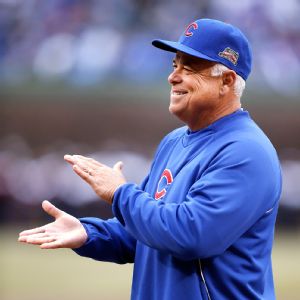 AP Photo/Andrew A. NellesRick Renteria hasn't shied away from some unconventional decisions in his first two weeks as Cubs manager.
He has bunted in unusual moments, called hit and runs when least expected and hasn't used the same lineup twice. In fact, only two players --
Anthony Rizzo
and
Starlin Castro
-- have started every game. The result is a 4-8 record as the Cubs take an off day in New York before beginning a series with the Yankees on Tuesday.
This past weekend in St. Louis some of his unconventional thinking was on display. On Friday, after the Cubs tied the score 1-1 in the seventh and put runners on first and second with none out, Renteria called for a hit and run as
Nate Schierholtz
took off for third and Castro swung and missed at a pitch. Schierholtz was easily thrown out and the inning ended soon after.
"Here is a guy [Castro] who had been swinging the bat really well," Renteria said after the game. "You would think I might bunt him there ... Starlin hits a lot of ground balls. My hope was at the bare minimum he puts the ball in play and we have men at second and third and I'm back to the same situation."
It's unconventional as much for what Renteria said just there as anything. Castro was hot, plus the Cubs had just reached with three straight batters, and with a slower runner in Schierholtz trying to make it to third, Castro almost had to hit a ground ball or get a base hit for a good outcome. And pitcher
Carlos Martinez
had gotten 32 percent of hitters to swing and miss at him so far, well above the league average, according to ESPN Stats &samp; Information. In fact, Renteria said he's done the same move in the past and hit into a line-drive triple play. But he did it anyway.
Then there's the bunting. The Cubs are at the top of the league in sacrifice bunts with seven and that doesn't include the unsuccessful tries such as later in Friday's game. It was the top of the 11th in a 3-3 game and after already bunting
Ryan Sweeney
successfully to get Schierhlotz to third, Renteria had lefty
Ryan Kalish
attempt a safety squeeze with one out. Kalish was so taken aback by the sign he wasn't focused enough on the execution.
"I put all thought of anything besides I need to hit out of my head when I finally got [the sign] I didn't execute," Kalish said after the game. "My goal was to bunt it down to first base. They had to get my attention."
Schierholtz was as surprised as anyone. (By the way, does Renteria think Schierholtz is faster than we think?) With the great
Yadier Molina
behind the plate and a lefty up, he didn't exactly have a great lead and so a perfect bunt was needed. Kalish popped out but luckily catcher
Welington Castillo
followed with a homer to help win the game.

"Believe me I sit there thinking, 'Guys, I'm thinking outside the box here and here are all the things going through my mind and why,'" Renteria said.
So he knows it isn't the norm to call some of these plays, yet Renteria is willing to try. That part of his managerial style might be a work in progress but some of the other results so far give credence to his abilities as a communicator.
Rizzo and Castro are off to good starts, so whatever buttons he's pushing are working there. And as Renteria preached "good approaches" at the plate during spring training, and the first week of the regular season, the offense sputtered. He stayed the course -- and for better or worse -- stayed with his platoon lineups. The result was seven straight games last week of scoring four runs or more. The last time the Cubs did that was late May of last season. In that span they went 5-2. This time it translated into a 3-4 record and they have dropped two of three in every series so far.
"If we keep pushing, at some point it has to turn," Renteria said after Sunday's 6-4 loss to the Cardinals. "If we were playing really bad baseball I'd go, 'Gosh, I'd be really concerned.' But the reality is they're showing a lot of fight."
Renteria's defense of his players also fits with people's descriptions of him before he took the job. He has gone to bat for the struggling
Edwin Jackson
as well as
Jose Veras
, though he didn't remain stubborn after initially saying Veras was still the closer. He backed Veras up Saturday to reporters after a blown save then talked to him Sunday and announced a change. There's nothing wrong with that.
Analyzing Cubs managers is a rite of spring -- and summer, fall and winter as well. With just a few short weeks on the job, Renteria is already leaving an impression. Is it the start of something special or is he too optimistic and unconventional for the gig in the Cubs dugout? Time will tell, but it has been an interesting start to his managerial career.
April, 13, 2014
Apr 13
7:56
PM CT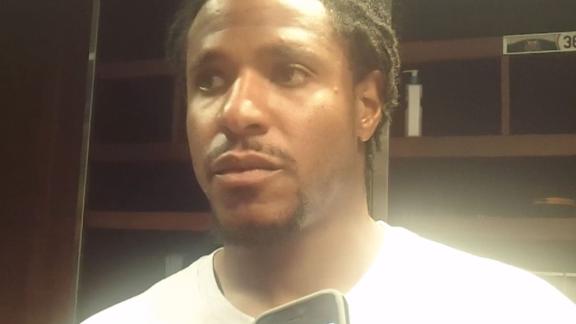 ST.LOUIS -- It might be premature right now, but the time could be approaching for the
Chicago Cubs
to consider doing something with pitcher
Edwin Jackson
besides letting him start a game every five days.
He has picked up where he left off last season, and that's not a good thing.
"I feel like it's better [than last year]," Jackson said after losing to the
St. Louis Cardinals
on Sunday. "It's just a matter of a pitch here or there. I feel good. I feel like I'm in a rhythm."
[+] Enlarge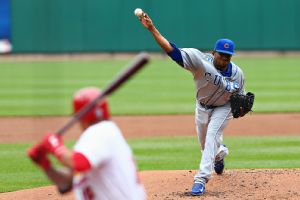 Dilip Vishwanat/Getty ImagesCubs starting pitcher Edwin Jackson has started this season like he played last year, and there's not much upside to that.
However, Jackson's stuff simply isn't good enough for a starting pitcher right now. Even if he's not getting rocked when he takes the mound, he's still not fooling anyone, either.
Bat is hitting ball and the contact is enough to make things happen for the opposition. He went six innings giving up four runs on eight hits and four walks on Sunday. And that was a good day for him. His ERA actually went down.
On the days he doesn't have his control, it's even worse. He gave up one lead, then gave another one back to the Cardinals after the Cubs tied it.
"It doesn't matter," Cubs manager Rick Renteria said in trying to defend Jackson. "He went out there and grinded it out. We're still today in a limited bullpen situation, and he ate up some innings for us. And I think all things being equal, he kept us in the ballgame."
That's probably not going to sit well with Cubs fans, because six innings of four-run ball isn't exactly exemplary stuff.
Former Cubs manager Dale Sveum used to say that struggling players eventually will play to the back of their baseball card. Meaning that over time, a player's production -- especially for a veteran with a résumé -- will lead back to his career numbers.
But that sentiment doesn't account for aging and wear and tear on a pitcher's arm. Or the notion that the more money a player has made the less potential motivation he might have.
Who knows the reasons, but the bottom line is Jackson was an average major league starter before his struggles.
Now, it seems, he barely gives his team a chance.
Consider:
According to ESPN Stats & Information, Jackson has a strike rate of 61 percent going back to the beginning of last year. That ranks 88th out of 92 pitchers that qualify for the category. Is there anything more important for the foundation of a pitcher than throwing strikes?
"It's early in the season and clearly you want to get off to a good start; we haven't been able to do that," Jackson said. "It's a pitch here or there."
It's actually been a year and three starts of frustration for Jackson. So what to do with him?
The angriest of fans would say release him. But that's not how it works when a guy is owed nearly $33 million. The better solution is to send him to the bullpen. That's not unheard of for players of his stature and contract.
Carlos Zambrano
was banished to the pen with the Cubs in 2010 and again with the Marlins in 2012.
Barry Zito
pitched in relief during his time with the
San Francisco Giants
after signing a monster contract.
Roy Oswalt
was demoted, as was
Ryan Dempster
and
Phil Hughes
. They were all at varying degrees in their careers and contracts, but the point is, it happens.
At some point, trade value and earning a big paycheck have to take a back seat to common sense and doing what's right -- not just for the fans but for the team.
Jackson is going to cash his paycheck whether he starts or relieves, so doing what's best for the squad is the best option.
It might be early in the season, but the Cubs need to start thinking of ways to mitigate a disastrous free agent signing.
As everyone knows, this isn't about three starts in 2014; this is about 34 starts since Jackson came to the Cubs.
They could use a long man with
Carlos Villanueva
still in the rotation. And even when
Jake Arrieta
returns from injury, the Cubs could go with 13 pitchers on the staff and 12 position players. The versatility of
Emilio Bonifacio
allows for it. That way they can hide Jackson even more if that's what they wanted.
Obviously Jackson's contract plays a big part in these types of decisions. But the Cubs can't really believe
Chris Rusin
or even Kyle Hendricks couldn't do better than Jackson right now.
There's one way to find out.

April, 13, 2014
Apr 13
5:24
PM CT
ST.LOUIS -- The
Chicago Cubs
lost 6-4 to the
St. Louis Cardinals
on Sunday, dropping their fourth consecutive series to begin the season. Here's a quick look at the game.
How it happened:
Anthony Rizzo
's two-run home run in the first inning was quickly erased when the Cardinals scored three times in the second. The Cards' scoring came on four hits and a walk off of starter
Edwin Jackson
, three of the hits coming with two outs. After a 46-minute rain delay the Cubs tied the game in the fourth on a two-out rally as
Welington Castillo
knocked in
Junior Lake
, who had singled earlier in the inning. But Jackson gave it right back after
Peter Bourjos
tripled to lead off the bottom of the inning and
Matt Carpenter
brought him home with a sacrifice fly. The Cardinals tacked on two more off of newly recalled reliever
Blake Parker
in the eighth to seal the deal, though a Junior Lake triple and
Mike Olt
single in the ninth scored one more for the Cubs, who left the tying runs on base.
What it means:
Once again, Jackson failed to give his team a quality start as he gave up eight hits and four walks in six innings. He was actually better after the rain delay, but throwing over 50 pitches in the first two innings is a recipe for a short afternoon. He made it to six innings but still wasn't very good. The Cubs fell to 4-8 on the season by losing 2 of 3 in every series so far. They've been in games, but keep coming up short in one or another aspect of the game.
Wright pitches:
Lefty reliever
Wesley Wright
got into a game for the first time since April 4. He came in with two outs and two on in the eighth inning and got Carpenter to line out to first base.
What's next:
The Cubs will travel to New York from St. Louis before an off-day on Monday there. Then comes a two-game series against the Yankees, including a Tuesday night contest against
Masahiro Tanaka
.
Jason Hammel
will pitch for the Cubs while
Alfonso Soriano
will face them for the first time since being traded to New York last summer.