October, 25, 2014
Oct 25
10:35
PM CT

By Jon Greenberg
ESPNChicago.com
Archive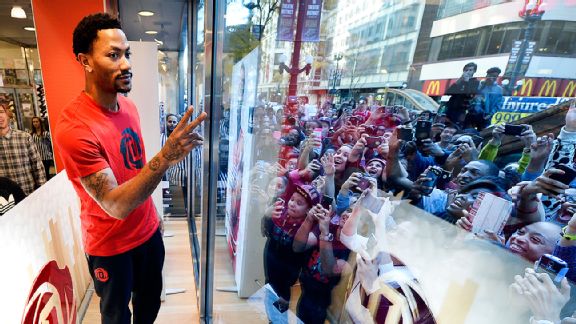 Courtesy of AdidasWith Derrick Rose coming off another lost season, the hype for his latest shoe has been toned down.
CHICAGO -- At a downtown shoe store Saturday,
Derrick Rose
held his newest signature shoe, the D Rose 5 Boost, up for the cameras.
This season, he plans on wearing it, too.
After playing 10 games over the previous two seasons thanks to two different knee injuries, the
Chicago Bulls
star is raring to go for his second comeback season. Third, if you count the season he wound up missing.
No need to hype this "Return."
The Bulls finished a 4-4 preseason with a loss to the
Minnesota Timberwolves
on Friday in St. Louis. They are set to open Wednesday against the Knicks in New York, then to return to Chicago for a much-awaited home opener against
LeBron James
'
Cleveland Cavaliers
.
While the Bulls lost their final two preseason games, Rose was better than ever, scoring 57 points on 58.5 percent shooting, hitting 7 of his 12 3-point tries.
Rose was on a minutes watch for most of the eight-game preseason slate and didn't crack the 22-minute mark until the sixth game. In his final three games, he averaged just under 25 points in 28 minutes per. His speed is definitely still there, and his skill at getting to the rim seems intact. Even his jumper, which was missing during the FIBA Basketball World Cup in Spain, looked steady.
"I think the whole preseason I've been switching up my gears," he said. "I haven't been playing at one pace the entire time. You see little bursts of speed here and there. You don't get a steady diet of it. I've been trying to use little things in my offensive game, floaters, using the backboard on my floaters, hitting my jump shots. Just using little things to keep them off balance."
Rose started his Saturday at an event at the Adidas store in Water Tower Place for kids from After School Matters, a charity that supports after-school activities for Chicago teenagers. Rose donated $1 million to it this fall. He spoke to 20 kids, sharing life lessons and taking questions for almost an hour.
Then he trekked to a Foot Locker store, where fans camped out to meet Rose and get his newest shoes. The first 50 got to meet him.
Three years ago, he released his first signature shoe at this store during the NBA lockout. Back then, he was the defending MVP.
The next two years saw massive, glitzy Adidas events, including the now-derided hype campaign for "The Return" in 2012. The hype was toned down a bit this time around, and the result was a more organic, natural feel. That's Rose's appeal. He's a local kid made good.
"You come out here and you got people standing outside wearing your stuff, it kind of freaks you out a little bit," Rose said.
There was a host of Adidas employees in town for the event, and, like Bulls employees, all are hopeful that Rose is finally healthy. It's tough to sell the signature shoe of a player in a suit and tie. His shoes are selling quite well overseas, and as the line snaking around Foot Locker showed, fans in Chicago still believe in him.
As for the rest of the basketball world, after two missed years, and three lost postseasons, no one is quite sure where Rose, now 26, stands in the NBA firmament.
One recent example: Rose was
ranked No. 28
in ESPN.com's collaborative TrueHoop rankings, or one spot lower than Suns guard
Goran Dragic
, the victim in a classic Rose dunk from yesteryear.
"I mean, I hear about the rankings here and there," Rose said. "But I know where I am with my game. I know I'm not a top-30 player, I know I'm much higher. But everyone has their own opinions, so I can't get mad."
October, 24, 2014
Oct 24
10:54
PM CT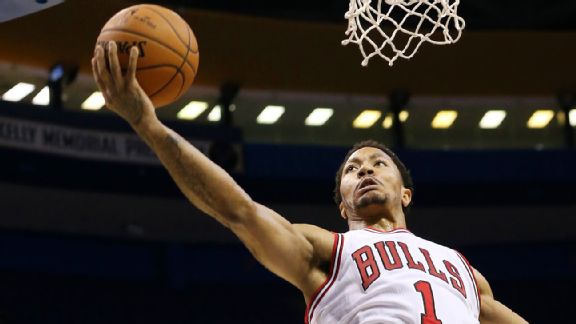 David Sherman/NBAE/Getty ImagesThough the Bulls lost their preseason finale, "I feel like I'm in a good place," Derrick Rose said.
ST. LOUIS -- The bad outweighed the good for
Chicago Bulls
coach Tom Thibodeau in his team's final preseason tuneup on Friday.
The good was represented by Bulls guard
Derrick Rose
playing a preseason-high 31 minutes, 37 seconds and again being aggressive offensively, finishing with a game-high 27 points. Center
Joakim Noah
also played a preseason-high 31:58 to go with 6 points, 17 rebounds and 9 assists.
The bad came in the form of the Bulls committing 18 turnovers, allowing 35 first-quarter points, being outscored 30-21 in the fourth quarter, blowing a 13-point lead in the game's final eight minutes and losing to the
Minnesota Timberwolves
113-112 at the Scottrade Center.
Thibodeau was in regular-season form when it came to his frustration over the defeat.
"We obviously got a lot of work to do," Thibodeau said. "That's what it reveals to you. Give up 30, score 21. Blow a 13-point lead. Turn the ball over like crazy."
Even Rose couldn't escape Thibodeau's disappointment.
"We lost," Thibodeau said. "He runs the team. He's the point guard."
Rose also wasn't happy with the result, but put the game in perspective. It was another significant step in his return. He created for himself and his teammates within the offense and in transition. He knocked down 3 of 7 3-point attempts. He worked hard to defend Timberwolves point guards
Ricky Rubio
and
J.J. Barea
. Just as important, his minutes increased again.
"Moving up, man," Rose said. "Moving in the right direction. I felt good. Just trying to stay positive even when I do things wrong, just try to learn from it, try to learn from my mistakes and just try to make myself a better basketball player by using my IQ of the game.
"I feel like I'm in a good place. Just missing two years, coming back, being able to play again against all these great players and really go up against them. I don't know if they would be able to do the same if they were in my shoes, but the situation happened with me and all I can do is try and be motivated by it and just try and move in the right direction every day. Stay positive."
While Rose and Noah closed out the preseason strong, Thibodeau had mixed feelings about
Pau Gasol
's overall performance. The forward ended it on a low note as he committed seven turnovers and was pulled from the game in the fourth quarter Friday.
"Probably over-passing right now," Thibodeau said. "Rather have that problem and get him to look to score more than have a guy who's not unselfish. It wasn't all on Pau. We have to play with an edge. We have to play defense. There's no getting around that. You have to be in great shape. There's no getting around that. You have to play with a lot more toughness. I know that."
Rose agreed that the Bulls have some work to do, but said he didn't think they were that far off from putting it all together.
"I'm not concerned at all," Rose said. "I'm not concerned with the team. I know how hard we work as a team. Individually, I'm definitely not concerned with that. But as a team, seeing how everybody is focused. As long as everybody is focused on the same page, like I said, keep putting in that consistent work, that's all you can ask for. That's all you can ask from your team."
October, 24, 2014
Oct 24
10:17
PM CT
Associated Press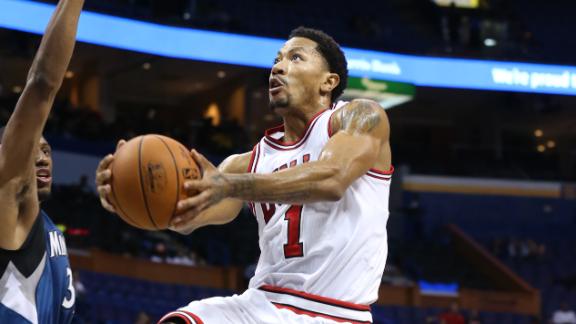 ST. LOUIS -- Rookie Zach LaVine scored all six of his points in the final five minutes, helping the Minnesota Timberwolves erase a 13-point deficit midway through the fourth quarter and close the preseason with a 113-112 victory over the Chicago Bulls on Friday night.
Derrick Rose had 27 points and five assists for Chicago (4-4). Rose had 57 points the last two preseason games for the Bulls, hoping to rejoin the contenders in the Eastern Conference.
Ricky Rubio led the Timberwolves with 19 points, five assists and two steals. Minnesota (5-2) won its last four in the preseason.-
Anthony Bennett hit the go-ahead basket with 2:05 left, making it 107-106. Two free throws by LaVine made it 113-109 with 4.2 seconds to go and the Timberwolves survived when Thaddeus Young missed a pair with one second left and Mike Dunleavy missed a desperation heave.
October, 24, 2014
Oct 24
6:25
PM CT
ST. LOUIS --
Jimmy Butler
remained confident Friday that he and the
Chicago Bulls
will work out a contract extension prior to the approaching deadline.
Butler and the Bulls have until Oct. 31, the deadline for first-round picks heading into their fourth season, to come to terms. He will become a restricted free agent after the season if a deal cannot be agreed upon before the deadline.
"I think we're going to figure it out," Butler said prior to the Bulls' game against the
Minnesota Timberwolves
. "My main focus is now of all time is to get healthy. If you're healthy, you'll get paid anyway. That's all I'm worried about it."
Has Butler ever wavered about wanting to be with the Bulls?
"No, no, no, no.This is definitely the city, the team I want to be on," Butler said. "At the end of the day, at the beginning of the day, I want to be a Chicago Bull for as long as possible."
Bulls coach Tom Thibodeau commended Butler on how he's dealt with the contract discussion.
"I think Jimmy's handled it well," Thibodeau said. "He's allowing his agent to take care of the business side for him so we can lock into the basketball part of it. Jimmy has done a good job with that. I want him to continue on that path."
Butler's focus is getting back on the court. He sprained ligaments in his left thumb against the
Charlotte Hornets
on Sunday and will miss his second consecutive game Friday because of the injury. He is scheduled to be re-evaluated next week and is uncertain for Wednesday's season opener.
"I don't know," Butler said regarding whether he'll be ready for the season opener. "I really don't. I wish I could tell you yes or no. I don't want to lie. If I can, I definitely will. That's for sure."
October, 24, 2014
Oct 24
1:12
PM CT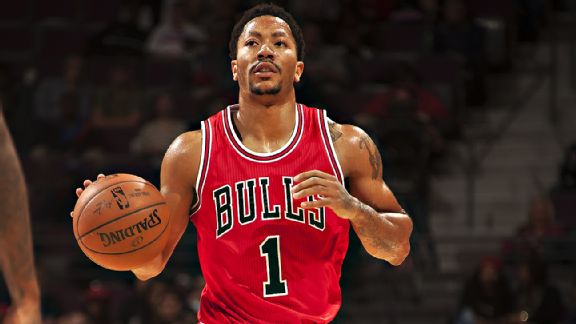 Dan Lippitt/NBAE/Getty ImagesDerrick Rose is just trying to get better each day as the regular season closes in.
ST. LOUIS --
Chicago Bulls
guard
Derrick Rose
gets one final preseason tune-up Friday before embarking next week on his first regular-season game in nearly a year.
For Rose and Bulls coach Tom Thibodeau, their final preseason game against the
Minnesota Timberwolves
on Friday represents another chance for Rose to work toward regaining his form.
"Just keep making progress," Thibodeau said after the team's shootaround at the Scottrade Center. "The conditioning is a big thing. He just needs to continue to work at that. I like where he is. He's gotten better each game."
Rose made significant strides in the Bulls' last two games. He played a preseason-high 28 minutes against the
Charlotte Hornets
on Sunday and scored a preseason-high 30 points on 12-of-18 shooting against the
Cleveland Cavaliers
on Monday.
Rose's focus Friday continued to be his timing. He has averaged 15 points on 47.2 percent shooting, 3.7 rebound, 2.6 assists and 20.6 minutes in seven preseason games.
"Just, of course, working on my timing," Rose said. "Just know that we can get better every day. We had a great shootaround. Hopefully, when we come back later on tonight we have the right concentration for a good game.
"It's always a positive. You always get a positive out of the preseason no matter [what] because it's early. Like, who cares? You can always improve. That's what we're doing right now. We're on the road to improving. Take every day seriously and get the most out of every day."
October, 24, 2014
Oct 24
12:42
PM CT
ST. LOUIS --
Chicago Bulls
guard Jimmy Butler's left thumb has decreased in swelling, but his status for next week's season opener is still in question, Bulls coach Tom Thibodeau said Friday.
Butler suffered the injury during the first quarter of Sunday's game against the
Charlotte Hornets
. An MRI revealed he sprained ligaments in his left thumb. He will miss his second consecutive game when the Bulls play the
Minnesota Timberwolves
on Friday.
"He'll be reevaluated next week," Thibodeau said after the team's shootaround at the Scottrade Center. "The swelling is down. That's a good thing. But it would be premature at this point [to say anything] other than I know the doctors are going to look at him again at the beginning of next week."
Thibodeau was preparing both ways for Butler to be in and out of the lineup when the Bulls open their regular-season schedule against the
New York Knicks
on Wednesday.
"Whatever it is, it is," Butler said. "If they tell me he can go, great. If they tell me he can't go, next guy get in there, get the job done."
Butler was having a strong preseason prior to the injury. He averaged 15.8 points with a 58.8 shooting percentage, 8.6 rebounds and 26 minutes in six preseason games. He scored 29 points against the
Atlanta Hawks
on Oct. 16.
October, 23, 2014
Oct 23
3:29
PM CT
CHICAGO – Just because it is the preseason does not mean the
Chicago Bulls
have not taking the results seriously.
Red flags have been raised with the team's rebounding as the Bulls have been beaten on the glass 314-312 in seven preseason games. Opponents also have 81 offensive rebounds to the Bulls' 74.
It wasn't expected to be this way, not with the 7-foot
Pau Gasol
joining the 6-foot-11
Joakim Noah
in the frontcourt this season.
"Obviously, you're always concerned about that," coach Tom Thibodeau said. "Your defense and rebounding and keeping your turnovers down are three things you have to do to put yourself in position to win. You eliminate the ways you beat yourself first. Those are areas we locked into."
While Thibodeau has yet to spell out what his chief concerns have been during training camp, no doubt the rebounding remains one of the biggest issues yet to be resolved.
"The turnovers have gone way down, the challenge of the shot has been there, the contact has been there," Thibodeau said. "But then the fight for the ball hasn't been there. You have to do all those things. That's all part of establishing a multiple effort mentality. Part of that is your toughness and conditioning and discipline. Those are things we still have to work on.
Gasol leads the Bulls with 8.3 rebounds per game in the preseason. Noah has averaged 6.8 rebounds in the six preseason games he has played, well off his career mark of 11 rebounds per game, but he is also playing reduced minutes in the preseason.
"I think it will get better," Noah said after practice Thursday. "Obviously, it's been a concern right now of ours, but I think it's going to be better and better."
Noah, who is coming off offseason knee surgery, wouldn't blame his minutes for his low rebounding totals. "I would never make excuses for rebounding," he said.
So what is the answer?
"The answer is, it will get better," he said.
If there is one chief focus heading into Friday's preseason finale against the
Minnesota Timberwolves
at St. Louis, getting after rebounds figures to be it.
"That's what Thibs does, make sure that we're ready for every second we're together, whether it's a meeting, watching film, whether it's practice, a preseason game, staying in the moment," Noah said. "We need this [last game]. We need this as a team."
October, 23, 2014
Oct 23
3:05
PM CT
CHICAGO -- The NBA's general managers have spoken and the
Chicago Bulls
are being thought of in high regard for the 2014-15 season.
In a poll at NBA.com
, the league's general managers were asked about a wide-range of topics, including who will win this year's title (San Antonio), who will be named MVP (
LeBron James
) and who made the best offseason moves (Cleveland).
While the Cavaliers are considered the most likely team to face off with the Spurs in the NBA Finals, the Bulls were the second choice to win the Eastern Conference, holding 25.9 percent of the vote. The Cavaliers got 70.4 percent.
Joakim Noah
was not only selected as the league's best defensive player, with 35.7 percent of the vote, he was also voted the league's third best overall center behind
Dwight Howard
and
Marc Gasol
.
As for coaching, Tom Thibodeau was easily voted the coach with the best defensive schemes, earning 92.9 percent of the vote. The Bulls were obviously selected the league's top defensive team, getting 85.7 percent of the vote.
October, 23, 2014
Oct 23
2:29
PM CT
CHICAGO -- If he has even the slightest spare minute of time, the sense is that
Chicago Bulls
coach Tom Thibodeau will use it to figure out a way to make his team better.
So if there is court time available and another NBA team sitting at the bench on the opposite side of the arena, you can bet that Thibodeau will take advantage of it.
With the Bulls' final preseason game approaching Friday against the
Minnesota Timberwolves
at St. Louis, Thibodeau isn't looking at it as an opportunity to take it easy on his starters and see what his bench can give him for 30-plus minutes.
"In general, you don't want to skip any steps; this is your final test," Thibodeau said after practice Thursday. "You can use it, and as you do with every game, analyze the things you're doing well, the areas you need to lock into to improve and clean up.
"I don't want us to get wrapped up in 'This is the last preseason game' or 'The start of the season.' Just concentrate on exactly what is in front of you, what are we trying to get accomplished today and lock into that. If we do the right things and put the right amount of work in, things will take care of themselves."
October, 23, 2014
Oct 23
9:34
AM CT
What a season we are in for. I get excited about every NBA season, but 2014-15 will go down as one of the most anticipated seasons in recent history.
There's a new Big Three aiming to bring the city of Cleveland its first major sports title since Jim Brown was in his prime; a former MVP returning from knee injuries to play essentially for the first time in three years; and another former MVP (and five-time champion) dusting off the cobwebs to prove his detractors and Father Time' wrong.
That's just scratching the surface.
I asked a few NBA types to comment on five of the most intriguing storylines of the season. Here's what they said:
---
Eastern Conference scout: "Those three guys -- LeBron James, Kevin Love and Kyrie Irving -- are really legitimate top players. Obviously, LeBron is the best player, but they might all be top 10 players. I'm a big Kyrie Irving fan. He's extremely, extremely talented. He has the talent to be the best point guard in the league. I think he's got the best left hand of any point guard in the league ... He can do anything with it -- shoot, pass. He's done a lot of losing, but I think LeBron will come in and change that culture.
October, 22, 2014
Oct 22
3:07
PM CT
CHICAGO -- The NBA voted down the plan to
restructure the league's draft lottery
, and
Chicago Bulls
coach Tom Thibodeau elected not to gamble with his own money.
Asked about the vote to not change the current lottery system, which some point to as encouraging teams to tank games to improve their draft odds, Thibodeau started to answer and then stopped.
"The thing that I don't like about it is," Thibodeau said before pausing. "It just seems like … I think it's bad when …"
Thibodeau then wrinkled his face.
"No, I don't know," he said. "I guess it's fine. I'll try to save my money."
That money Thibodeau was trying to save was a potential fine for being critical. So he gathered himself and started all over again.
"Nah, I want what's best for the game," Thibodeau said. "I guess there's always flaws in any system you use. But I think the intent of trying to do your best is important for the game. When there's so-called incentives to lose, I don't think that does anyone any good.
"I think we have a great game. It's in a great place. We have to keep striving to keep it there and to improve it. I do like the fact they're looking at those type of things. I have a lot of confidence in [commissioner] Adam [Silver]. I think he's going to be terrific, so whatever he decides, I'm good with."
Now there's a lesson on turning a negative into a positive.
The Bulls haven't been in the draft lottery since 2008, when they ended up with the No. 1 overall pick despite a 1.7 percent chance to nab the top spot. They used the pick on
Derrick Rose
.
October, 22, 2014
Oct 22
2:31
PM CT
CHICAGO --
Chicago Bulls
head coach Tom Thibodeau will not commit to a minutes restriction plan for any of his players, especially when there still is a week of preparation time remaining before the regular season begins.
Yet, with
Derrick Rose
returning from essentially a 2½-year absence and
Joakim Noah
coming off knee surgery this offseason, Thibodeau will be forced to take a road lesser traveled for him: Keeping playing time to a reasonable level.
"We'll just see how it goes," Thibodeau said. "We've got some guys where it's a situation where they need to work, they need to play. But they also need to do what they can handle. It all plays into it."
With the Oct. 29 season opener at New York fast approaching, Thibodeau no longer seems as high-strung about the preparation process as he did earlier in camp when he didn't feel the team was coming together fast enough.
"We're not there, but we're moving in the right direction," Thibodeau said Wednesday. "We all have to do more. It'll be here before you know it. Every game reveals something to you. I think we learned a lot from the Cleveland game (Monday). It was good for us.
"There was a lot that happened: back-to-back, an injury (playing without
Jimmy Butler
), minutes restrictions. That tells you everyone has to be ready. And you have to find a way. That's why it's so important for everyone to know what they have to do when they get out here."
Noah continues to insist that his knee continues to get better and was asked if he experiencing any pain.
"Nope; none at all," he said. "In the beginning, I was a little bit more uncomfortable, I was a little limited. I still have to get my strength back; I have to get the strength back in my leg. I'm just trying to manage practicing, playing. But overall I'm happy with where it's at."
He also knows he doesn't figure to be ready to go from tip off to final buzzer by next week.
"There's a plan," Noah said. "We'll just take it day by day and see how it feels, see if there are any setbacks."
Thibodeau might like to get the most out of his players physically, but he isn't blind to Noah's situation. One major hurdle cleared was having Noah play in games both Sunday and Monday.
"He's a work in progress," Thibodeau said. "I think he's starting to feel better. You can see his timing is coming around. For him, that was his first back-to-back. That was good. He has to work at it."