March, 13, 2014
Mar 13
2:48
PM CT
[+] Enlarge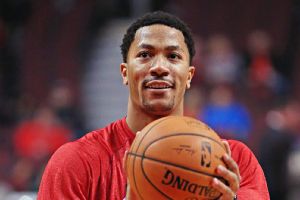 Jonathan Daniel/Getty ImagesIt will be the Bulls' call if Derrick Rose can play for Team USA at this summer's World Cup, Mike Krzyzewski says.
Team USA coach Mike Krzyzewski said it will be up to the Chicago Bulls whether Derrick Rose plays in this summer's FIBA Basketball World Cup as the former MVP recovers from a second knee surgery.
"We get information from all the clubs and we know that the most important thing for these guys is their health and what they're doing with their parent teams," Krzyzewski said Thursday. "And so our communication with the Bulls, or any organization, is straightforward and we'll follow their guidelines."
Krzyzewski is hopeful Rose, who tore his meniscus on Nov. 22 and has been ruled out for this NBA season, will be able to play this summer in Spain.
"Well I'm hoping 100 percent," Krzyzewski said. "We're all hoping that he'll be part of the group that comes in there. And then just because we haven't seen him play to see how he's doing. We'd never try to put him in harm's way for his career. But if he's ready we'd welcome Derrick. Derrick's one of the great guys, in addition to being an outstanding player. He's a great team guy. And that's why we want him part of USA Basketball."
March, 13, 2014
Mar 13
1:40
PM CT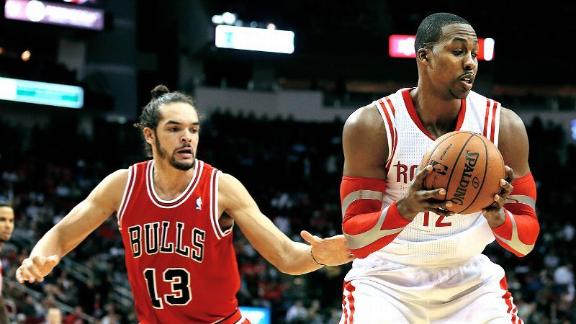 CHICAGO -- Kevin McHale said Thursday that Bulls center Joakim Noah should win the league's Defensive Player of the Year Award based on his performance this season.
The Houston Rockets coach knows a special defensive big man when he sees one. He was one himself, being selected multiple times to the NBA all-defense team. He has also coached two previous award winners in Kevin Garnett and Dwight Howard.
McHale included Noah in that elite category Thursday. Noah is averaging 12.2 points, 11.3 rebounds, 4.9 assists, 1.1 steals and 1.5 blocks this season.
"He's played very well," McHale said after his team's shootaround at Moody Bible Institute. "He should be defensive player of the year. He's done a great job with these guys. They've been winning a lot just on his energy and effort, his kind of determination and toughness. Those are all qualities everybody appreciates."
McHale was complimentary not only of Noah's defensive game but of his offensive one as well.
"He's just more confident in what he's doing," McHale said. "He's making plays with the pass. He's driving and kicking. When he was coming out, I thought he'd be a pick-pop-and-drive playmaking 4. He's doing more of that now."
Howard also spoke highly of Noah's progression. The two first played against each other in high school when both were part of the Class of 2004, which also produced center Roy Hibbert.
March, 13, 2014
Mar 13
1:45
PM CT
March, 13, 2014
Mar 13
11:15
AM CT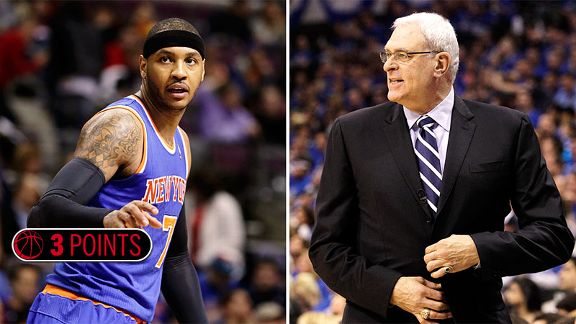 AP PhotoIs Carmelo Anthony Phil Jackson's kind of player?
Every week, ESPNChicago.com Bulls writer Nick Friedell is joined by two other ESPN writers to weigh in on three questions that are on the minds of Chicago Bulls followers.
1. Would Phil Jackson taking over the Knicks help or hurt the Bulls' chances of landing Carmelo Anthony?
Nick Friedell:
It isn't going to help the Bulls, that's for sure. I've always believed Anthony was going to stay in New York and take the extra money, but it can't hurt to have Jackson in the fold with his championship pedigree. How well he will do as an executive is to be determined, but he has the rings to back up any point he wants to make to Anthony and his teammates.

Jon Greeberg:
It should definitely hurt. While "Big Chief Triangle" (Jeff Van Gundy's nickname for Jackson when JVG was the Knicks' coach) has been critical of Anthony from afar, his arrival should help assuage Anthony's fears that he's going to finish the prime of his career playing for a three-ringed circus. Or at least, it'll give Anthony false hope that Jackson will help lead this mess to a title. Don't think like a fan. You know Anthony would love to stay in New York, because he'll get paid like a superstar in the center of the modern world. While I'm sure Chicago intrigues him and the chance to play in Miami would excite him, I'd bet a New York bialy he wants things to work out in Manhattan.
Scoop Jackson:
My initial answer is hurt, but it really all depends on the position Phil takes once there, what his intentions are -- if any -- as far as coaching and whether he has any interest in keeping Melo there. That's the great
and
potential unknown. If/when Phil takes over and wants Melo to re-sign, what is he going to tell him that is going to make him stay? Is he going to promise him a new coach? Is he going to promise him that if that new coach doesn't work out after one year, he'll come down from his front office and do a Pat Riley and coach the team himself? Is he going to promise to get rid of
J.R. Smith
and get him a better point guard? It's really too soon to answer that question.
---
2. Can the Bulls beat the Pacers in the playoffs?
Friedell:
Yes. I don't believe they will right now, but I believe they can. The reason being that they aren't scared of Indiana. The Pacers have gotten better over the past couple of seasons and almost knocked off the Heat in last year's playoffs, but the Bulls have always viewed them as a "little brother." They respect the Pacers, but they still think they can beat them in a seven-game series.
[+] Enlarge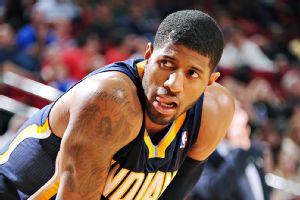 Bill Baptist/NBAE/Getty ImagesThe Bulls are 1-1 against Paul George and the Pacers this season.
Greenberg:
Yes. I don't think it would happen this season, but the Bulls can do it. The Bulls would need some good fortune and near-perfect defense, but it's possible. The obstacle to beating the
Miami Heat
in the playoffs is, of course,
LeBron James
.
Paul George
isn't LeBron. Indiana doesn't have that one guy, but it is a very balanced, defensively regimented championship contender. Still, the Bulls won't get mentally or physically bullied by their conference foe. While the Bulls' defense can corral Indiana, the big problem would be scoring against the only defense stingier than their own. While the Bulls' woebegone offense has picked up in the past couple of months, they have failed to score more than 80 points in three of their past four losses, and the outlier was against San Antonio, where they scored just 33 points in the first half. I'm excited to see these teams face off March 21 for the first time since
Derrick Rose
was injured. That will tell me a little more about the Bulls' chances.
Jackson:
No. Not this year. Barring any significant injury to any main/core player on the Pacers' roster, that's asking too much of the Bulls to carry out that task over seven games without having HCA (home-court advantage). Two things would have to happen over the span of two weeks: The Bulls would have to play seven games at the same intensity and efficiency level they did against the Heat last week, and the Pacers over those same seven games would have to play like they recently did during the four games in a row they just lost. That's real talk. And if anyone honestly thinks both of those things are going to happen simultaneously ...
---
3. Is Jimmy Butler a top-five defender like Tom Thibodeau believes?
Friedell:
Yes. Butler has taken over for
Luol Deng
on the defensive end without a hitch. He guards the opponent's best perimeter player each night and enjoys the challenge of trying to stop him. There aren't many guys in the league who have had success guarding
Kobe Bryant
, Anthony and LeBron James over the years, and Butler has slowed each one of them down at times. To take the next step in his progression, he must start shooting the ball better, but his defense is great.
[+] Enlarge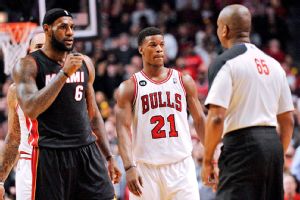 Rob Grabowski/USA TODAY SportsJimmy Butler held LeBron James to 2-of-11 shooting while he was guarding the Heat star on Sunday.
Greenberg:
Sure, he's probably in the neighborhood of that arbitrary number -- how many swingmen are known for their defense nowadays? -- but what's important is that Butler believes he's the best wing defender in the game. Shutting down LeBron at home -- James shot just 2-for-11 against Butler in the Bulls' win -- will do more for Butler's confidence than looking at his Synergy Sports numbers. Thibodeau trusts Butler to guard the best offensive wings, and his teammates back him up in the Bulls' all-for-one, one-for-all defense. Butler, like the rest of the Bulls, has to approach each game like it's Game 7 to keep winning at their current pace. He's an interesting player to study because he's only had one pro coach, and that's Thibs. He's been learning the same system since leaving Marquette, and all credit goes to Butler for thriving in it.
Jackson:
Over the course of the season, I'd have to say no. But right now, without question, he is. Jimmy is playing defense at a level now that is as good as anyone in the league guarding from the 2, 3 and 4 positions. He's in a defensive zone right now that is equal to a great shooter saying, "The rim looks like an ocean." Offensive players have been
at his
mercy over the last month, not the other way around. The only problem is that he hasn't been consistently this dominant all season long. He'll make the All-Defensive Second Team this year and
Joakim Noah
will get the Defensive Player of the Year. But next year, Jimmy will not only be respected as one of the top-five defensive players in the league, he'll be rewarded by making All-Defensive First Team (with Noah).
March, 13, 2014
Mar 13
10:38
AM CT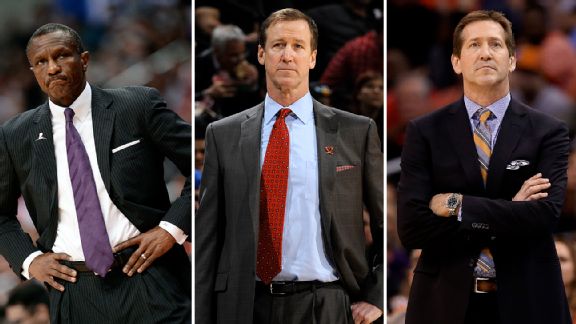 Getty ImagesDwayne Casey, Terry Stotts and Jeff Hornacek have helped their teams surpass all expectations.
Here's where the beauty in all of this resides: Tom Thibodeau's Bulls beat the Heat, and the arguments get louder about him being the best coach in the NBA. Frank Vogel finds a way to lose four games in a row, but his Pacers still maintain the second-best record in the league. Gregg Popovich, aka Everyone's Greatest Coach Coaching, loses Tony Parker, Kawhi Lenard and Manu Ginobili for stretches during the season, yet his Spurs have the league's best record. Doc Rivers, in just a half-season, turns Blake Griffin into a complete player (which no other coach has been able to do), loses Chris Paul and J.J. Redick for blocks of games, and could still possibly win 60 games. Scott Brooks loses Russell Westbrook for over half a season and OKC barely (yeah, I said it, "barely") misses a beat, and starts playing below-average ball only when Westbrook returns. And not one of those aforementioned gurus above is front-running for this year's NBA Coach of the Year.
Yes, the least talked about, least sexy award in the NBA, the one that George Karl won for the first time in his career last year, only to get fired 29 days afterward, is the best under-the-radar race going in the NBA.
March, 13, 2014
Mar 13
8:44
AM CT
There is a growing debate about this year's choice for first-team All-NBA center, as Joakim Noah's reputation grows with each dive to the floor and triple-double on the stat sheet. Meanwhile, Dwight Howard is enjoying a banner first season in Houston. Howard had his five-year streak of first-team selections snapped last year, and he's looking to reclaim the crown this season.
It's been pointed out that, for Chicago, Noah's candidacy for first-team All-NBA goes beyond being a fun debate. There are possible cap and tax ramifications involved, so this is serious business for the Bulls.
Howard and Noah will clash at the United Center in Chicago on Thursday, making this a perfect time to compare the arsenals of two guys who play the center position extremely well but do so in wildly disparate manners.
Though five centers in the NBA are on pace to finish at least 12 wins above replacement, including Noah (13.1) and Howard (12.5), most would agree the two have distinguished themselves beyond the numbers. It's going to come down to the ultimate contrast between a prototypical power big man in Howard and one whose game is based on elite skill in Noah.
So who is the first-team All-NBA center? Who's better?
To continue reading this article you must be an Insider
March, 13, 2014
Mar 13
7:41
AM CT
The Chicago Bulls are doing it again. Without injured star Derrick Rose, the Bulls have used elite defense and just enough offense -- the same formula that won them a playoff series last year -- to stay in the mix for home-court advantage in the Eastern Conference.
The Bulls have gone 11-4 in their last 15 games entering their nationally televised matchup against the Houston Rockets on Thursday night, and center Joakim Noah has drawn some MVP consideration. Though Noah has unquestionably been Chicago's most valuable player this season, he might not be the most important part of the team's overachieving success. Instead, that honor might belong to coach Tom Thibodeau.
Thibodeau's four years in Chicago have resulted in two first-place finishes in defensive rating, and second place so far this season, not to mention a Coach of the Year nod (in 2010-11) and twice posting the league's best record during the regular season. While statistical analysts have yet to make much progress in valuing coaches, let's take a look at what various approaches indicate about Thibodeau's value to the Bulls.
To continue reading this article you must be an Insider
March, 12, 2014
Mar 12
8:11
PM CT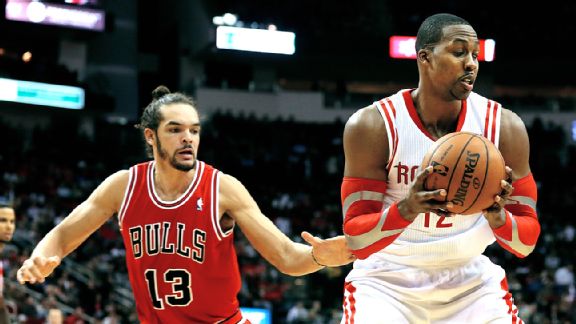 Scott Halleran/Getty ImagesTwo of the game's best centers, Joakim Noah and Dwight Howard, will clash Thursday night in Chicago.
DEERFIELD, Ill. --
Joakim Noah
plays with the type of consistent fire and passion that fans and coaches have been wanting to see from
Dwight Howard
for years. But does that make Noah the better player?
If a franchise had to pick one center to build a team around, the odds are still higher that many around the league would take Howard. After all, he is an eight-time All-Star and carried the
Orlando Magic
to an NBA Finals appearance in 2008-2009.
He may not be the most complete center in the league, a title for which Noah could make a claim. But despite a tumultuous two-year stretch during which he forced a trade out of Orlando, then left the
Los Angeles Lakers
after a season, Howard is largely regarded as the better player as his
Houston Rockets
come into town to face Noah and the
Chicago Bulls
on Thursday night.

Howard is averaging 18.7 points, 12.4 rebounds and 1.8 blocks a game. That's a little more day-to-day production than the 12.2 points, 11.3 rebounds and 4.9 assists that Noah has put up this season -- the best of his six-year career.
Maybe Noah isn't the best statistical choice to build a team around, but the argument already has been made by some, including TNT analyst and former Bull
Steve Kerr
, that only
LeBron James
and
Kevin Durant
would be the preferred choices over Noah in a Game 7 situation.
The fact that Noah has even closed the gap to the point that questions like this can be bounced around indicates how far he has come in his development during the past two seasons. While Howard became a fixture on the All-NBA team during his time in Orlando, Noah has blossomed to the point that it's likely he will earn some votes for the coveted position at the end of the season.
"I'm biased, so I'm probably not the right guy to ask that question," Bulls coach Tom Thibodeau said Wednesday after practice when asked who he would vote for between Noah and Howard, if he had a vote. "But for what Jo does for our team, I don't think there's anyone better for that."
No matter what direction the NBA writers and broadcasters vote at the end of the season, it's clear both players have earned respect throughout the league. They've also earned each other's respect over the years, speaking glowingly of one another.
"I think he's a great player and he's been playing great all year," Noah said of Howard on Wednesday. "His team is playing great. He's in a good place right now. I think he looks pretty happy to be in Houston. He's happy with his decision. I'm just trying to focus on us and what we've got to do to find a way [to] win."
Noah said he thought Howard was the best center in the league when asked, but he doesn't believe that. He believes that he has put in enough time and work into his game that he can beat anybody in the league with his teammates. In many ways, the biggest change between the two players' games is that Noah has developed into the type of leader the Magic and Lakers always wanted Howard to become.
When
Derrick Rose
went down with another major knee injury earlier this season and
Luol Deng
was traded to Cleveland, it was Noah who elevated his game on and off the floor.
He has become a de facto point guard for the Bulls, as the offense continues to run through him each night. He's also become a sounding board for his teammates -- the guy that everybody takes their cues from on the floor.
Thibodeau said he believes Noah, who isn't playing quite as many minutes this season, has found a sweet spot in terms of his nightly output.
"He's done a good job with it," Thibodeau said. "I think he's at a good number. We just want to make sure he can play hard on every possession. I think he's in great shape. He's done a really good job of preparing himself for the season. So I like where he is right now. But he's got to keep grinding. I think he can go to another level."
Does Thibodeau worry his leader may get mentally fatigued because of all the emotion he pours into each game?
"No, because I think you train yourself for that," Thibodeau said. "That's the nature of this league. If you want to do something special, I think you have to commit to that. That's building the right habits throughout the course of the season.
"The teams that achieve in this league are able to sustain their concentration level and their effort level over a long period of time. So hopefully we're building the right habits and he can do it."
Noah and his teammates know that in order to get back on track Thursday, they've got to do a solid job staying in front of Howard. He may not play with the type of fire that has come to define Noah, but he can still play as well as any big man in the league. Gibson spoke of Howard as if he were "The Incredible Hulk."
"I feel that you don't want to make him mad," Gibson said. "Once you make him mad he's going to call for the ball mostly every time he's down in the paint. He's going to bang you, just try to dominate you in a lot of different fashions."
So what's it like trying to guard Howard?
"It's like a tractor trailer backing [up] a small car," Bulls forward
Taj Gibson
said. "His strength is crazy."
Howard's strength and length are what have given Noah problems in the past. It will be a challenge to stay in front of the Rockets' big man, but it's just the next thing on a list that Noah has pushed past this season.
Noah may not have the type of gaudy numbers Howard produces, but Noah's teammates and coaches don't care. They know that for what the Bulls want to do, there's nobody better.
"I like the guy we have," Thibodeau said. "The guy we have is pretty special."
March, 11, 2014
Mar 11
11:44
PM CT
The first words out of
Joakim Noah
's mouth after Tuesday night's loss to the
San Antonio Spurs
were as predictable as they were truthful.
"We got our asses kicked."
He was right, of course. The Bulls played one of their worst games of the season. They got outscored 38-14 in the first quarter and never came close to crawling out of that hole. Tom Thibodeau preached before the game about "readiness to play," but it was clear his team didn't subscribe to that notion. After an emotional win over the
Miami Heat
on Sunday, the Bulls looked lethargic against one of the best teams in the league. Noah tried to brush off the notion that Sunday's game had anything to do with Tuesday's game, but Thibodeau took responsibility for how poorly his team performed.
[+] Enlarge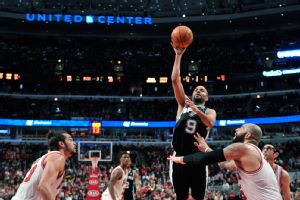 Rob Grabowski/USA TODAY SportsThe Bulls let the Spurs jump out to an early lead and trailed by as many as 32 points. It was one of their worst performances this season.
"Like I told them, that [performance is] completely on me," Thibodeau said. "My job is to have them ready. We had no edge to us. That's a championship-caliber team that's playing on all cylinders and they're going after it. So if you don't match that intensity to start, you are going to get in a big hole. So I didn't prepare them the way they needed to be prepared for that, so that's on me."
Thibodeau's words are well-intentioned, but the players know they just didn't play up to their usual level. It wasn't like the Bulls didn't know the Spurs were good. They just got planted by a better team and they knew it.
"It's on us," Bulls guard
Jimmy Butler
said. "We're the ones that are out there playing so we got to bring it each and every night. Thibs can only do so much. But you learn from it. We knew to be ready. I guess we weren't, so to speak. So it's in the books. We've got another one on Thursday."
The Bulls have played so well for the last few weeks that they weren't too concerned about this game lingering. The players appreciated Thibodeau's sentiment but they expected more out of themselves. That's what makes them the team that they are. And they got another glimpse of the team they want to become by watching San Antonio in the process.
"Just frustrated with tonight," Noah said. "It's going to be tough to go to bed tonight. But move on [to Wednesday], practice, and get ready for the next team."
Thibodeau has gotten his players so well conditioned to his message after four years that it's become easy for them to diagnose their own problems. They let their foot off the gas early in this one. Hell, they never even started the car. The good thing for them is that there's always another game staring them in the face, always another chance to get better. They'll learn from this one and move forward. The irony is that Thibodeau's message after this game was likely the same one he gave his team after Sunday's win.
"Be ready," Butler said of Thibodeau's words. "We got another one on Thursday."
If they had embraced those words a little more early in this game, maybe the result would have been a bit different.
March, 11, 2014
Mar 11
9:54
PM CT
Associated Press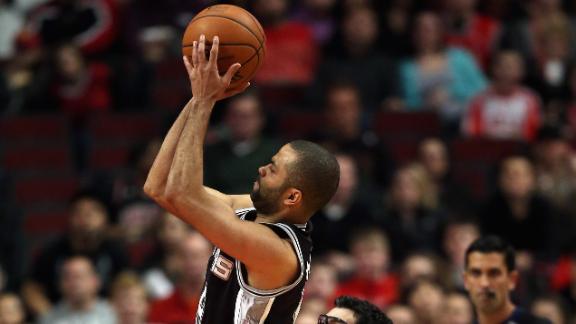 CHICAGO -- Manu Ginobili scored 22 points and Tony Parker had 20 as the league-leading San Antonio Spurs beat the Chicago Bulls 104-96 on Tuesday night.
Kawhi Leonard added 16 for San Antonio, which won its seventh straight and 10th in its last 11. The Spurs (47-16) maintained their hold on the NBA's best record, staying ahead of Oklahoma City and Indiana, who both started play Tuesday a half-game behind the Spurs.
San Antonio jumped out to a big lead early, taking a 61-33 advantage into halftime, including 18 from Parker. That helped them improve to 24-6 on the road, the NBA's best mark away from home.
March, 11, 2014
Mar 11
9:34
PM CT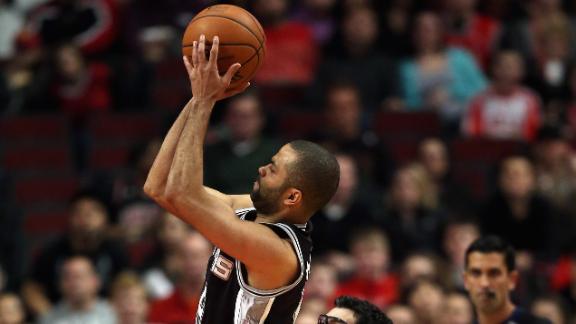 CHICAGO -- Let's take a quick look at how the
San Antonio Spurs
cruised to a 104-96 win over the
Chicago Bulls
on Tuesday night at the United Center.
How it happened:
Tony Parker
had 20 points and nine assists while
Manu Ginobili
chipped in with 22 points as the Spurs dominated this game from start to finish.
Jimmy Butler
had 23 points and six rebounds, but it wasn't close to enough for a Bulls team that looked like it had a collective hangover after Sunday's big win over the
Miami Heat
.
What it means:
Bulls coach Tom Thibodeau talked about readiness to play before this game and the trouble they would be in if his team was still thinking about the Miami game. The Bulls didn't heed Thibodeau's advice because this game was over by the end of the first quarter, even as the Spurs pushed their lead up to 32 points by midway through the second. Any team can have a bad night, but the Bulls couldn't make the mistakes they made against a great team -- and that's exactly what the Spurs are.
Hits:
D.J. Augustin
had 24 points and four assists off the bench.
Misses:
Kirk Hinrich
was 1-for-9 from the field.
Stat of the night:
The Spurs outscored the Bulls 38-14 in the first quarter.
What's next:
The Bulls take on the
Houston Rockets
on Thursday night at 6 p.m. CT.
March, 11, 2014
Mar 11
10:19
AM CT
CHICAGO -- The national love affair with
Joakim Noah
is starting to extend past the Bulls center as he continues to have the best stretch of his career. Now it's Noah's famous father, Yannick, who has caught the eyes (again) of sports fans all over the country.
[+] Enlarge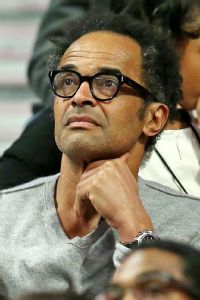 Jonathan Daniel/Getty ImagesYannick Noah cheered on his son in the Bulls' victory over the Heat on Sunday.
That's because Yannick, who was interviewed on the ESPN telecast of the Bulls-Heat game Sunday by Lisa Salters, showed the emotion -- in the stands -- that has come to define his son's game. He was shown cheering and yelling with his daughter, Yelena, each time Joakim made a play. His joyous reaction was replayed on television and social media throughout the day.
"I just know that he's happy right now," Joakim said after the game. "I can't wait to see him and celebrate this win with him. I don't get to see him a lot, but my father's always been there for me my whole life. To be able to share these moments with him; I know that he's a nervous wreck during games. I always tell him to drink a brewski and just chill. But I know how he is so I can't wait to celebrate with him."
Noah said after Monday's practice that that's exactly what they did Sunday night.
Bulls coach Tom Thibodeau was happy to see the father and son have some time together on Sunday.
"Of course, he's done great things in his own career," Thibodeau said of Yannick, who is now a famous pop star in France. "But Jo and his dad have a great relationship, and it's great to see."
Thibodeau said he's gotten to meet Yannick, a former French Open champion, and appreciates the bond Noah has with his father.
"What that guy did (as a tennis player), and then he's gone on to another career (as a singer) -- and he's been just as great there," Thibodeau said. "But I've gotten to know him a little bit, I know they're very proud of each other. Whenever you see that type of relationship, it makes you feel good."
What's next:
The Bulls take on the
San Antonio Spurs
, who Thibodeau has called the "gold standard" of the NBA, at 7 p.m. Tuesday night.
The last word:
Noah, on all the accolades he has been receiving, including chants of "M-V-P" during Sunday's game: "I don't like it. I don't really like it. It's not what matters."
The only thing that matters to Noah is a championship. He's said it over and over again throughout the years.
"We're hungry, man," Noah said after Sunday's game. "We're a hungry group. That's all I want. I just want everybody in this locker room, when you wear a Bulls jersey, we're going for one thing -- and that's the championship. One day I want to party in Chicago and I want to see what the feels like. One day."