November, 25, 2014
Nov 25
10:49
PM CT
Associated Press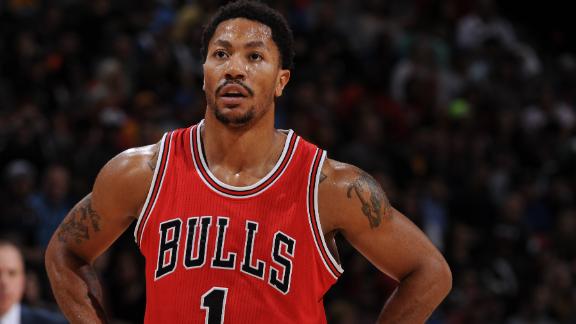 DENVER -- Ty Lawson scored 20 points, including a key jumper in the waning seconds, and the Denver Nuggets beat the Chicago Bulls 114-109 on Tuesday night for their fifth straight win.
Arron Afflalo added 19 points and Danilo Gallinari had 15 for the Nuggets, who defeated the Bulls for the eighth straight time in Denver.
Bulls point guard Derrick Rose was limited to 10 minutes in his second game back from a left hamstring strain. Rose, who scored 18 points in his return Monday night against Utah after a four-game absence, felt tightness in the hamstring during the first quarter and didn't play the rest of the way.
Jimmy Butler had 32 points for Chicago.
November, 25, 2014
Nov 25
10:55
PM CT

By Chris Forsberg
ESPNChicago.com
Archive
The
Boston Celtics
are hoping to have rookie guard
Marcus Smart
back on the practice court on Wednesday afternoon. His return to game action won't be far behind and could come as early as Friday's matinee against the
Chicago Bulls
.
[+] Enlarge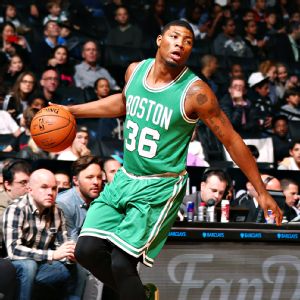 Nat Butler/NBAE/Getty Images
It's unfair to think that (1) Smart will be 100 percent healthy as he recovers from a severe ankle sprain and bone bruising or (2) his presence alone will remedy some of the woes that Boston's defense has endured since he injured his left ankle earlier this month.
But his return certainly will help Boston, giving the team back one of its most impactful players despite his rookie status.
Consider this: Smart owns the team's best on-court net rating -- the difference between the team's offensive and defensive ratings. Boston is plus-11.3 points per 100 possessions during Smart's 102 minutes of floor time. Most notably, Boston's defensive rating is 100.2 with Smart on the court, which is 6.7 points per 100 possessions better than the team's season average and 8.2 points better than when he's off the court.
You can make the case that it's a factor of a small sample size, but remember that two of Boston's early-season games came against Dallas and Toronto, the two top offenses in the league. The Celtics are a better defensive team when Smart is on the floor with his ability to harass multiple positions.
In individual defensive data logged by Synergy Sports, Smart is allowing a mere 0.61 points per play and ranks in the 97th percentile among all league players. The league's player tracking data might be even more impressive. Smart is limiting opponents to 28 percent shooting, which is a staggering 15.1 percent lower than the average of the shooters he's defending.
The Celtics showed some encouraging strides defensively in Sunday's loss to the
Portland Trail Blazers
. Smart is only going to help the defense tighten up, particularly when you consider he'll be helping to defend players who have typically been checked by the likes of
Evan Turner
or
Marcus Thornton
, two players whose individual and team defensive numbers are not quite as glossy.
Again, it's likely that Smart will need some time to reintegrate and he might not be as crisp while that ankle recovers. But he's going to help Boston. A glance at Boston's top two-man lineups finds Smart accounting for a handful of them. The Smart-
Jared Sullinger
lineup had a net differential of plus-38.3 in 43 minutes of court time (pairing an offensive rating of 134 with a defensive rating of 95.7). Smart and Rondo were plus-11.8 in net rating in 45 minutes together.
Smart had to be stretchered off the court after stepping awkwardly on the foot of Indiana's
Lavoy Allen
while driving to the basket back on Nov. 7. Tests revealed only a severe sprain of his left ankle and bone bruising, and the team announced his recovery would take two to three weeks. Friday's game would be exactly three weeks from the injury.
Celtics coach Brad Stevens has noted that the team will not rush Smart back until he's ready. If he wakes up Wednesday -- or Friday morning -- and the ankle doesn't feel right, there's no sense in forcing him to go.
But there's no denying that Boston is a better team with a healthy Smart.
---
While the Celtics enjoyed a second straight off-day on Tuesday, Smart traveled north for a "Teaming Up Against Cancer" pep rally with students at South Lawrence East Elementary School.
Smart told the students about watching his older brother, Todd Westbrook, lose his battle with cancer. And Smart applauded the efforts of the elementary school kids, who are wrapping up a monthlong program aimed at raising awareness for social causes.
"I was 10 years old when I lost my brother to cancer," said Smart. "Seeing these kids here and what they're doing teaming up against cancer, it almost brings tears to your eyes that somebody so young understands and they can make a difference at their age."
November, 25, 2014
Nov 25
9:36
PM CT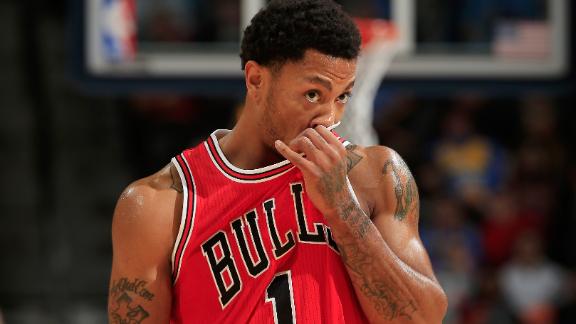 DENVER -- Chicago Bulls point guard Derrick Rose's left hamstring hampered him in the first half of Tuesday night's game against the Denver Nuggets, and he did not return for the second half as the Bulls fell 114-109.
The Bulls officially listed the injury as left hamstring tightness, but Rose said after the game his hamstring was fine and he did not have a setback. He was "just trying to be smart" given his recent injury history.
"It wasn't nothing like I'm limping or I pulled it or anything, it wasn't any of that," Rose said. "It was just that I wasn't moving the way I wanted to while I was on the floor. So why push through it when I wasn't able to affect the game the way I wanted to? I came in here and talked to (Bulls coach Tom Thibodeau) and we both agreed on just sitting out."
Rose was 1-for-4 from the field for two points in 10 minutes, but was not aggressive when he was on the floor. Rose acknowledged that Thibodeau initiated the conversation at halftime and Rose agreed with his coach's decision because he was having a hard time moving around on both ends of the floor against the Nuggets' high-tempo offense.
"It's frustrating," Rose said. "But you can't let it get me down. I know that at the end (the setbacks) are just going to be minor but it's a long season and we just got to keep going and I know the team, they're not worried about me. I should be good."
November, 25, 2014
Nov 25
6:56
PM CT
DENVER -- Chicago Bulls center Joakim Noah did not play Tuesday night against the Denver Nuggets because of left knee and left eye injuries.
"He's out," coach Tom Thibodeau said before the game. "Knee effusion and eye abrasion."
Noah's left knee has been giving him problems since training camp after having arthroscopic surgery right after last season ended. Noah got poked in his left eye during the third quarter of Monday night's win over the Utah Jazz, but returned to the game.
Kirk Hinrich did play after missing the last two games because of bruised ribs suffered in last Thursday night's loss to the Sacramento Kings.
Derrick Rose and Pau Gasol played on the second night of a back-to-back after returning to the lineup Monday night. Thibodeau said power forward Taj Gibson is still "day-to-day" and remains in Chicago receiving treatment for a sprained left ankle suffered in Friday's loss to the Portland Trail Blazers.
November, 24, 2014
Nov 24
10:46
PM CT
Associated Press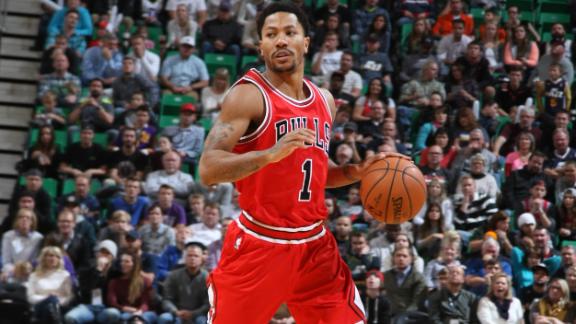 SALT LAKE CITY -- Jimmy Butler scored 25 points and Pau Gasol added 23 points and nine rebounds to lead the Chicago Bulls to a 97-95 victory over the Utah Jazz on Monday night.
Derrick Rose scored 18 points in his return to the Bulls' lineup. Chicago beat the Jazz for ninth time in the last 12 games between the two teams.
Derrick Favors scored 21 points and pulled down a season-high 15 rebounds for Utah, which rallied from a 21-point deficit, but couldn't close it out. Enes Kanter had 19 points and eight rebounds while Trey Burke had 18 and 10 assists.
Utah took its first lead of the game early in the fourth quarter when Trevor Booker made a layup to put the Jazz up 80-78.
Chicago briefly retook an 87-84 lead when Aaron Brooks drained a 3-pointer. Utah answered by scoring seven unanswered points, going up 91-87 on a running jumper from Favors with 3:30 left.
November, 24, 2014
Nov 24
7:55
PM CT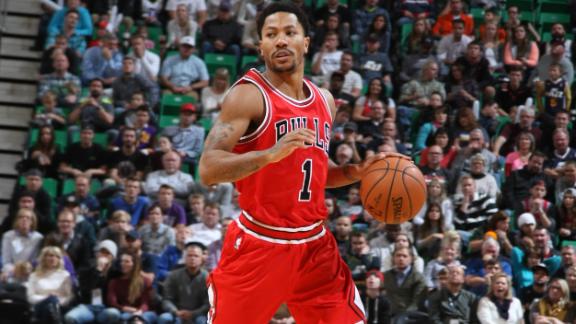 SALT LAKE CITY -- Chicago Bulls point guard Derrick Rose returned to the floor in Monday night's 97-95 win over the Utah Jazz after missing the previous four games because of a strained left hamstring.
Rose went 5-for-10 from the field with 18 points, five assists and three rebounds in 25 minutes, but it was Bulls coach Tom Thibodeau's comments that might draw more attention than Rose's play.
Asked whether Rose looked fatigued in the second half of Monday's game, something the 26-year-old discussed before Monday's shootaround in regard to his muscle recovery after missing more than a week, Thibodeau chafed.
"Oh, I don't know. Jesus. He's got to get out there and play," Thibodeau said. "I thought he did a lot of good things. You could see he's not real comfortable with the ball yet, but that will come. When Derrick strings some games together, he's going to take off. He's got to go. That's the bottom line. He's got to go."
Rose has tried to be cautious about his future and has missed eight games overall after missing four earlier in the season because of sprained ankles. But the former All-Star seems to understand that Thibodeau is frustrated by his on-again, off-again health status. Monday marked just the third time this season the Bulls' starting five of Rose, Joakim Noah, Mike Dunleavy, Pau Gasol and Jimmy Butler played together.