July, 29, 2014
Jul 29
2:05
PM CT
If the excitement surrounding Derrick Rose's performance at the Team USA training camp in Las Vegas turns out to be warranted, his return to prominence could prove to be the biggest news of the Chicago Bulls' offseason. Indeed, any hopes that Chicago has for climbing back into contention are contingent upon Rose returning to his All-Star form.
There's a long time to go between now and the regular season, but there could be no better late-summer news for Bulls fans than the hyperbole regarding Rose's practice form. A healthy Rose brings the Chicago roster into focus, and it's one that is a little more balanced and every bit as deep as the version the Bulls fielded during Rose's MVP season in 2010-11. However, it's not a perfect roster. It still has holes.
Here are six title contenders -- including the Bulls -- that still have glaring holes on their rosters. How will they fill them? Who's the best fit?
July, 29, 2014
Jul 29
10:28
AM CT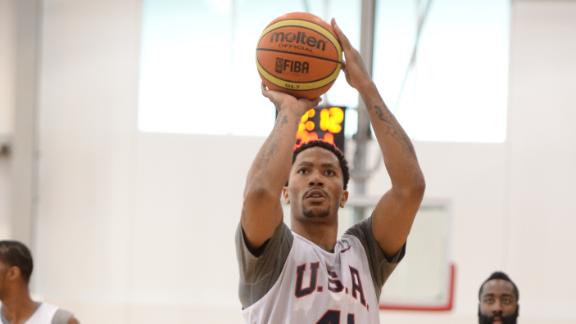 LAS VEGAS --
Derrick Rose
's game is going to change as he tries to make his way back from yet another knee injury, but it hasn't altered the
Chicago Bulls
star's mindset on the court.
The former MVP still believes he is the best player on the floor.
[+] Enlarge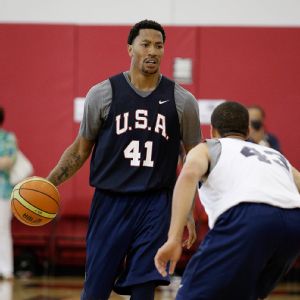 AP Photo/John LocherDerrick Rose expressed confidence in his game Monday after his first practice with Team USA.
"If you're right there [in front of me], then I'm going to try to dunk," Rose said after Team USA's first practice Monday. "I don't care. My legs are healthy, so I'm not worried about injuring myself or anything. I'm just trying to do anything to win that game at that time."
But even Rose, 25, knows things will be different with this comeback. After playing in only 49 games the past three seasons, and only 10 in the past two seasons, things have changed.
So what are some of the biggest differences between today's Rose and the one from a few years ago?
"Body control," he said. "I'm able to control my body a little bit more, using my speed. Being smart with my speed, instead of just running wild out there. Just being smart. I'm a smarter player, but I'm mad it took me seven years to learn that."
Rose's outward confidence hasn't been shaken, but his game has shifted. Six-foot-3, 190-pound Rose won't try to force contact as much as he has in years past, a smart move, given his injury history.
"I think you will see that next year," he said. "Just trying to [keep] people off my body. I'm using a lot of floaters, using a lot of pull-ups, stuff like that so that I won't get touched as much."
The biggest key in the minds of Rose and Bulls coach Tom Thibodeau is that Rose is playing with more patience.
"I think when I came back last time I wanted it too bad," Rose said. "I was trying to force the game. And this time around I'm just trying to let the game come to me. Of course, be aggressive, but at the same time have control of the game and be smarter. And being able to run the team at the point guard position."
Rose emerged as a superstar in the 2010-11 season when he became the youngest NBA MVP in history after averaging 25 points and 7.7 assists in leading the Bulls to the best record in the NBA. After missing the entire 2012-13 season after ACL surgery, Rose's comeback lasted just 10 games last season. He showed flashes of his old explosive self in averaging 15.9 points on 35 percent shooting but was still trying to get his game back when he suffered a torn meniscus in his right knee in November 2013.
After practicing with the Bulls late last season, he has continued to rehab the knee, with the Team USA training camp his latest step. Rose is not assured a spot on the team, which also has fellow combo guards
John Wall
,
Damian Lillard
,
Kyrie Irving
and
Stephen Curry
.
Team USA coach Mike Krzyzewski came away impressed by Rose after the first day of practice.
"I was ecstatic about watching him today," Krzyzewski said. "He's better than four years ago. Four years ago, he was 21, and he was just on the verge of becoming who he was going to be. But he had a great practice today. You don't practice like this [every day]. He hasn't been in practices like this. Now [we'll] watch what he does for the next few days."

Thibodeau is happy Rose is coming back into this kind of environment with Team USA because he knows his star isn't going to have as much offensive pressure as he normally would with the Bulls. He said Rose has learned from his first comeback attempt.
"Derrick's very bright," Thibodeau said. "I think he's learned from each situation that he's been in. So that was his first comeback really [last year], and I think he had the opportunity to look back and say, 'OK, this is how I want to approach it this time.' So I think he's grown from it. I think the adversity has made him a lot stronger mentally and he's playing patiently. I think he understands exactly where he is."
When he returns to the Bulls in September for training camp, Rose is excited about the prospect of spending even more time playing off the ball with
Kirk Hinrich
or new acquisition
Aaron Brooks
running the point. That can only help take some of the pressure off Rose.
"Catch and shoot," Rose said. "Hell yeah. I've been doing a lot of catch and shooting, running off floppy [sets]. Just trying to make the game simple. Find ways to score, or find ways to affect the game by not scoring. And me playing the 2 sometimes, coming off a floppy, catching the ball getting to the hole, throwing [alley-]oops. Get other people open with just a live dribble. I think this year will be the first time I have played the most in my career with catching the ball and having a live dribble."
As Rose enters his seventh NBA season, he certainly has a lot to prove with a Bulls team, bolstered by offseason acquisitions
Pau Gasol
,
Nikola Mirotic
and first-round pick
Doug McDermott
, that has title aspirations. Rose knows what it has taken to get back on the floor -- again -- and he seems at peace with his evolution as a player.
"I'm a totally different player, but it comes with experience," he said, "Just playing, playing through your mistakes. Just playing in an NBA game, you're going to learn. So I'm happy I have people around me to give me advice, learn from people, and I'm happy I have the IQ to actually learn."
July, 28, 2014
Jul 28
8:33
PM CT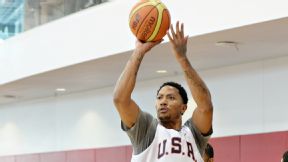 Andrew D. Bernstein/NBAE/Getty ImagesDerrick Rose said that though he was disappointed Carmelo Anthony did not sign with the Bulls, he is pleased with the teams' offseason acquisitions.
LAS VEGAS -- Chicago Bulls point guard Derrick Rose says he is happy with the moves the team made in upgrading its roster this summer and believes the Bulls are a "contender" to win the East.
"I think we have a contender," Rose said after Team USA's first practice Monday. "I wouldn't say ... (people) were saying put us at the top of the East or whatever, but we have a contender team. We know as a team what we were trying to do. We all have one goal. And individually, this whole summer I think everybody worked on their games, and everybody's trying to compete for that title next year."
Rose, who is trying to work his way back from a torn meniscus in his right knee that cost him all but 10 games of the past season, is confident in the direction the Bulls chose to go after missing out on New York Knicks star Carmelo Anthony. But he did say missing out on Anthony was tough.
July, 28, 2014
Jul 28
8:06
PM CT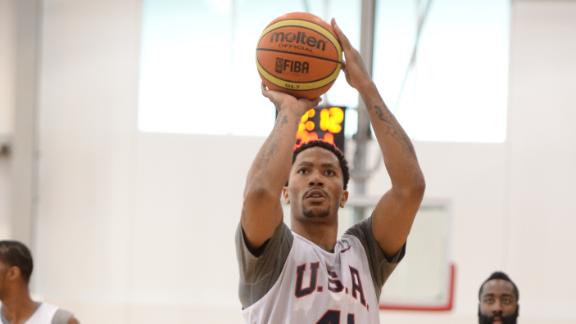 LAS VEGAS -- Chicago Bulls guard Derrick Rose says his confidence is "through the roof," and he's looking forward to proving his doubters wrong this season as he tries to make his way back from two serious knee injuries.
Rose, who has played just 10 games in the past two seasons because of a torn ACL in his left knee in April 2012 and a torn meniscus in his right knee in November 2013, is confident he will return to being the player he was before the injuries.
He is in Team USA's training camp this week as the group prepares for the World Cup of Basketball in late August in Spain.
"I'm there, man," Rose said, when asked how close he is to playing like his old self. "I'm not worried about that. My confidence is very high, and that's the only thing you might see this year -- that my confidence level is through the roof."
Rose, who hasn't played in an NBA game since Nov. 22, said he felt no pain in his knee during Team USA's first practice on Monday. Team USA head coach Mike Krzyzewski said there were no restrictions on Rose, and he was very pleased with what he saw.
"I was ecstatic about watching him today," Krzyzewski said. "He's better than four years ago. Four years ago, he was 21, and he was just on the verge of becoming who he was going to be. But he had a great practice today. You don't practice like this [every day]. He hasn't been in practices like this. Now [we'll] watch what he does for the next few days."
Rose is emboldened by how much time he has spent working on his body -- and his game -- the past couple years. He said the presence of his baby son, Derrick Jr., has helped give him balance as he tries to make another comeback from his latest injury.
July, 28, 2014
Jul 28
1:59
PM CT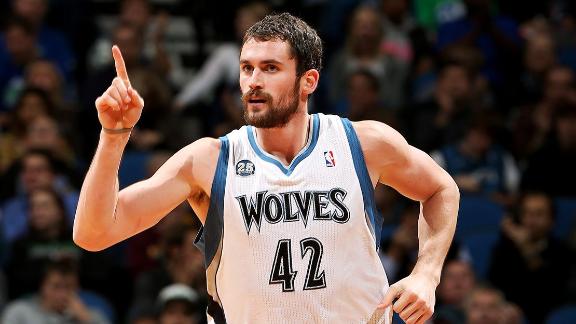 The Minnesota Timberwolves have expressed interest in Philadelphia 76ers power forward Thaddeus Young as a potential replacement for Kevin Love, according to sources close to the situation.
Sources told ESPN.com that the Wolves, while continuing to discuss trade proposals that would send Love to the Cleveland Cavaliers, have been exploring their options for acquiring Young from the Sixers, either through a separate transaction or as part of an expanded Love trade.
Whether Philadelphia proves willing to part with Young, though, remains to be seen.
Young has two years left on his contract, including a player option for the 2015-16 season, valued at a combined $19.3 million. Sixers general manager Sam Hinkie said in June that he anticipates Young starting next season in Philadelphia, but it's believed that the club is willing to move Young if the assets acquired in return are sufficiently attractive.
Because of his ongoing trade limbo with the Wolves, Love has removed himself from the Team USA squad that started training camp Monday in Las Vegas in advance of the FIBA Basketball World Cup that starts Aug. 30 in Spain. With Love widely expected to be dealt before the start of next season, both he and the Wolves deemed risking injury with the national team before a trade was consummated to be too risky.
July, 28, 2014
Jul 28
10:31
AM CT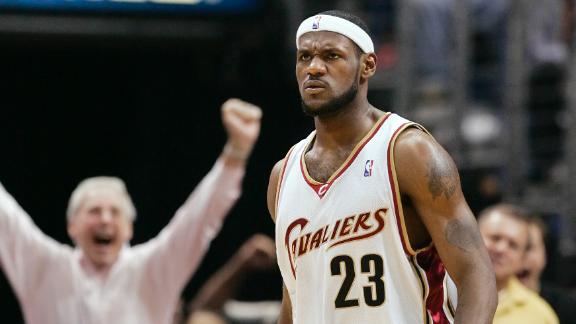 Michael Jordan has no problem with LeBron James returning to No. 23 in his second stint with the Cleveland Cavaliers.
"I'm cool with it,'' Jordan told ESPN.com via text message Monday morning. "I don't own a number.''
Jordan, who now owns the Charlotte Hornets, wore No. 23 during his legendary playing career. James idolized Jordan growing up and wore No. 23 during his first seven seasons with the Cavaliers.
But after leaving Cleveland and joining the Miami Heat four years ago, James switched to No. 6, saying it was as a tribute to Jordan. He announced he would change numbers in November of 2009, his last season in Cleveland.
"I just think what Michael Jordan has done for the game has to be recognized some way soon,'' James, who had worn No. 23 since his sophomore year in high school, said at the time. "There would be no LeBron James, no Kobe Bryant, no Dwyane Wade if there wasn't Michael Jordan first.
"He can't get the logo, and if he can't, something has to be done. I feel like no NBA player should wear 23. I'm starting a petition, and I've got to get everyone in the NBA to sign it. Now, if I'm not going to wear No. 23, then nobody else should be able to wear it.''
James did not contact Jordan before deciding to return to No 23. James announced his number choice
July, 27, 2014
Jul 27
9:55
PM CT
LAS VEGAS --
Chicago Bulls
center
Joakim Noah
says he will be "ready" for training camp as he continues rehabbing from arthroscopic left knee surgery.
"I feel pretty good," Noah told ESPNChicago.com on Sunday during a promotional event for Adidas. "Obviously I have a ways to go, but I'm excited. When I see what our team looks like, I think that Gar [Forman] and Pax [John Paxon] put together a very solid team and I'm really excited about next year."
Noah was hobbled throughout the postseason after a season in which he earned the NBA's Defensive Player of the Year award. The knee injury came at the end of a long season in which he was also voted to the first team All-NBA squad at center. Noah spent some time Sunday being part of a few laid back 3-on-3 games set up by the sneaker company as part of the launch of its "boost" campaign.
Noah, who has dealt with plantar fasciitis throughout much of his career, credits his new shoes as part of the reason why he appears to have overcome the issue. After being sponsored by Le Coq Sportif throughout the first six seasons of his career, Noah switched to Adidas before last season.
"I'm very happy to be with Adidas," he said. "It's funny that the 'boost' is their new technology. It just puts so much cushion on your feet. That's exactly what I needed. Ever since I've been with Adidas my feet have been feeling great. I've had no foot issues. And I'm just really happy to be part of the Adidas family."
Noah knows he still has a lot of work to do to get his knee back in game shape, but he is confident he will be ready to go in the near future. His optimism regarding the upcoming campaign permeated through his answers.
"Every day I work out that's all I think about," Noah admitted, while discussing the possibility of winning a title alongside
Derrick Rose
. "It's just how great that party would be after we win the championship. But I know to get there there's going to be a lot of ups and downs. It's always a rocky road. It's never smooth in the NBA. But I love our team and now it's on us to get to work."
July, 27, 2014
Jul 27
9:38
PM CT
LAS VEGAS --
Chicago Bulls
swingman
Jimmy Butler
will not practice this week on Team USA's Select Team because of a slightly strained groin, USA Basketball announced Sunday.
The Select Team will practice against Team USA this week in advance of the national team's participation in the World Cup of Basketball in Spain in late August.
Butler was one of several Bulls scheduled to participate this week in the camp. Rookie
Doug McDermott
is on the Select Team, while point guard
Derrick Rose
is hoping to make the cut for the national team. Bulls head coach Tom Thibodeau is an assistant on Team USA's staff under head Mike Krzyzewski.
July, 27, 2014
Jul 27
8:35
PM CT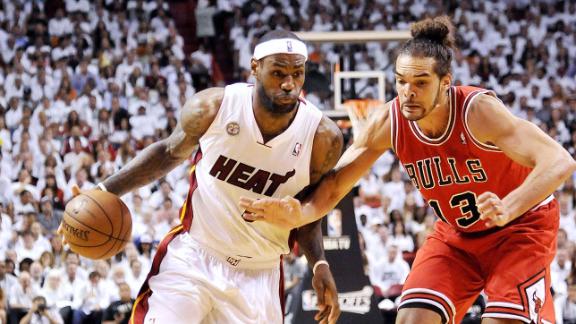 LAS VEGAS -- Chicago Bulls center Joakim Noah knows that in order to win a championship this season, he and his team are going to have to push through an opponent that has repeatedly stood in their way: LeBron James.
"Every time LeBron steps onto the court he's affecting the game," Noah told ESPNChicago.com on Sunday during a promotional event for Adidas. "He's the best player in the game, but that being said, I think we have a chance to beat them. And that's the goal. We want to beat LeBron James, we want to beat the Miami Heat, we want to beat all those teams who are in our way. He's obviously one of the big obstacles."
The emotional leader of the Bulls is excited about the roster moves his team has made over the past few weeks and is confident they can overcome James and the Cleveland Cavaliers this season.
"It's not about him. It's about us," Noah said. "It's about our team and being the best team that we can be, then time will tell."
Noah understands the expectations that are out there for the Bulls, but he is trying not to worry about the hype right now. He is making his way back from arthroscopic left knee surgery he had on May 2 and says he will be "ready" for training camp. He spent some time playing light 3-on-3 on Sunday and realizes that with a healthy Derrick Rose back in the fold, the Bulls will be expected to contend for a title.
July, 27, 2014
Jul 27
12:28
AM CT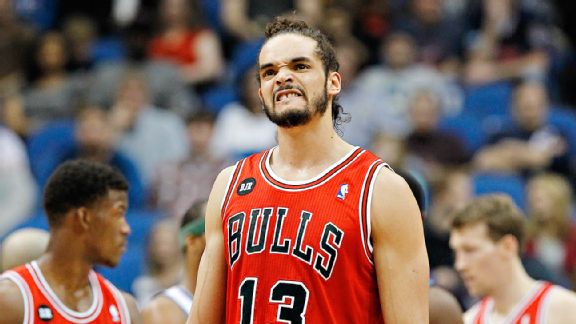 AP Photo/Ann HeisenfeltHelping his adopted Chicago, Joakim Noah said, is as important to him as winning a title.
CHICAGO -- "Dreadlocks coming into the game! Dreadlocks, what you going to do?"
"Ahhh! Dreadlocks!"
It was the Joakim Noah Show at the United Center on Saturday afternoon, but instead of thrilling a capacity crowd with his unique All-NBA game, the Chicago Bulls star was on the microphone playing hype man for a basketball game pitting the dreadlocked against the clean-headed, the undersized against the overweight, the South Side against the West Side.
On a muggy summer day, Noah's charity, the Noah's Arc Foundation, hosted its third annual "peace tournament," now called the "One City" basketball tournament, a simple event with a lofty goal: trying to unify a divided city and raise awareness of the violence that grips pockets of Chicago all year long, but particularly in the summer. The teams were made up of 18- to 24-year-old "at-risk" men from different parts of the city. These are men Noah wants to see return to their communities to "influence" younger kids in a positive way.
A 3-year-old boy was shot Friday. An 11-year-old girl was buried Saturday. Dozens shot every weekend. A city grows weary of constant gun violence.
But what can one man do?
Noah can't turn back the clock on housing discrimination and segregated urban planning. He can't attack poverty at its root causes without major help. He's rich, but not wealthy yet.
July, 25, 2014
Jul 25
5:20
PM CT

By Scott Powers
ESPNChicago.com
Archive
CHICAGO --
Chicago Bulls
center
Joakim Noah
said Friday he likes what the Bulls have done in the offseason and has gotten over
Carmelo Anthony
's decision to re-sign with the
New York Knicks
.
"I'm really excited," Noah said of the Bulls on Friday. "I think Gar [Forman] and [
John Paxson
] and everybody did a real good job. I'm really, really excited about the Bulls. It just makes you want to work hard and be as ready as possible for the upcoming season."
[+] Enlarge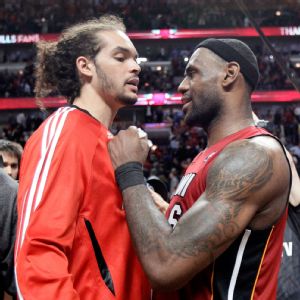 AP Photo/Nam Y. HuhJoakim Noah looks forward to matching up against LeBron James' Cavaliers this season.
Noah hoped Anthony would join the Bulls and he helped recruit him, but he understands Anthony's decision.
"I think he did the right decision for him," Noah said. "We obviously recruited him pretty hard. I think he had to make the best decision for him. I'm really excited for our team the way it is. I think we're deeper. I think those things, me personally, I can't control where another man goes. He feels like New York is the best position for him. I'm happy for him. But at the end of the day, what I care about is this city and the Chicago Bulls."
Noah is especially excited about adding
Pau Gasol
to the Bulls' frontcourt.
"I think it's going to be great," Noah said. "Pau is someone who is very, very smart. I think his father was a doctor. Someone who comes with a lot of experience. Not just a great player, but somebody who cares about the community as well. I'm excited to see him help us as well to try to slow down the violence and help the kids out here in Chicago. Somebody who is also very humbling to play with, somebody who has won championships and with his pedigree somebody I can really learn from."
Noah reported he's been rehabbing his left knee every day after having arthroscopic surgery in May.
He has also kept tabs on teammate
Derrick Rose
and his road to recovery in the offseason.
"I'm really proud of him because I know he sacrificed his whole summer," Noah said. "He sacrificed a lot to be the best that he can. That's all you can do. People's expectations, all that stuff doesn't matter. I'm proud of him for putting the work that he put in to be in the best position possible. He's doing a lot of things. He's helping us out too with our foundation. I got nothing but love for him."
Noah doesn't exactly have love for
LeBron James
and the
Cleveland Cavaliers
, though.
"Good for LeBron," Noah said of James rejoining the Cavaliers. "I'm happy for LeBron James. He gets to go home. People are happy over there. But I really hope that we can kick his [butt] as many times as possible."