April, 18, 2014
Apr 18
12:51
AM CT
CHICAGO -- Chicago Bulls star Derrick Rose is progressing in his rehabilitation, and the team expects him to return at 100 percent, general manager Gar Forman said Thursday night.
"He's making great progress," Forman said on ESPN Chicago 1000's "GameNight." "When he had the injury, we were very lucky that the meniscus could be repaired. He'll come back and be 100 percent -- there's no question in any of our minds. But because it was able to be repaired, he'll have great stability in that knee and it will take away the chances that it becomes arthritic towards the end of his career."
Rose was ruled out for the season after having surgery to fix the meniscus tear in his right knee Nov. 22. Forman again made it clear that Rose will not be back this season when asked Thursday night about the chances of Rose returning to play for the Bulls during the postseason.
"Our stance hasn't changed at all," Forman said.
Rose missed all of last season while recovering from a torn ACL in his left knee and was able to play in only 10 games this season before sustaining the second major knee injury of his career. Still, Forman remains confident Rose will come back at an elite level when he returns next season.
"Let's face it, he's still only 25," Forman said. "He's still got 10, 12, 15 years ahead in his career, so everything went as we wanted it to and he continues to make great progress. There's been no setbacks, and we see him returning at 100 percent."
The Bulls are hopeful Rose will be able to participate as part of Team USA's World Cup of Basketball squad that will play in Spain this summer.
April, 17, 2014
Apr 17
1:09
PM CT
By Staff
ESPNChicago.com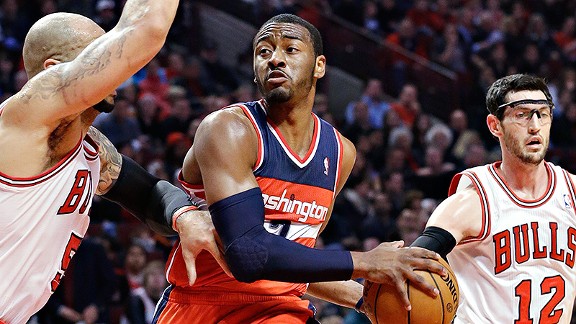 AP Photo/Nam Y. HuhJohn Wall averaged 19.3 points and 8.8 assists during the regular season, including 20.7 points in three games against the Bulls.
Every week, Nick Friedell is joined by two other ESPN writers to weigh in on three questions that are on the minds of Chicago Bulls followers.
1. What about the Wizards should concern the Bulls?
Friedell:
How will the Bulls be able to contain
John Wall
and will Tom Thibodeau be willing to use
Kirk Hinrich
more than his customary 25-30 minutes a night? Nene and
Marcin Gortat
have given the Bulls problems in the past. They can score and they know how to play on the blocks. It's going to be up to
Joakim Noah
and
Taj Gibson
to limit each player in what will be a physical matchup.
Jon Greenberg, ESPNChicago.com columnist:
I'll be Captain Obvious and say Wall. In going 2-1 against the Bulls this season, Wall averaged 20 points (shooting 50 percent from the field) and eight assists. With time to prepare, the Bulls will have a solid game plan to limit his penetration, swarming him off pick-and-rolls and disrupting his flow. No one preps better than Thibodeau, and his players listen with religious fervor. But Wall is finally realizing his potential as an All-Star-caliber player, and you can't always corral talent. Another area of concern is where the Bulls are the strongest. Chicago tends to have an advantage over most teams down low when Noah and Gibson are paired together. But with bruisers Nene and Marcin Gortat, the Wizards will give the Bulls' dynamic duo some trouble.
Scoop Jackson, ESPN.com columnist:
Their ability to shut teams down defensively, and the Wizards aren't the greatest offensive team in the league. The Wizards finished 10th in the NBA in field goal percentage, and the Bulls were the second-best team (behind the Pacers) in opponents field goal percentage. Usually, especially with a team like the Bulls, when the playoffs begin, defenses have a deeper impact in games. It takes most offenses a few games to get adjusted and going, and I think that's going to be the situation with the Wizards. They have six players (including Webster at 9.7 points a game) who average double digits. In this series against the Bulls, not only are all six of those players going to have problems reaching their averages, but collectively there probably won't be one game when all six score in double figures. And that eventually will be their downfall.
---
2. What's the most intriguing matchup between the Bulls and Wizards?
Friedell:
I'm curious to see what unfolds between
Jimmy Butler
and
Bradley Beal
. Both players are young, talented and they want to make a bigger name for themselves. They will be going after each other every game, and it should be fun to watch.
[+] Enlarge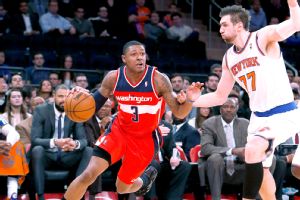 AP Photo/Jason DeCrowGuarding Bradley Beal, who averaged 17.1 points this season, will be a tough assignment for Jimmy Butler.
Greenberg:
Hinrich vs. Wall will be interesting. While their styles are, um, different, Hinrich had a hand mentoring Wall in his rookie season, and now the student must beat the master to become a true ... Ah, just kidding. Seriously, though, Hinrich has had a great season, because he hasn't had to exert himself every game thanks to the addition of
D.J. Augustin
. Hinrich is averaging 29 minutes a game and has been bulldoggy on defense. While the Bulls truly play a team defense, Hinrich will be responsible for disrupting Wall's flow. Butler against Beal will be another individual matchup to watch. Here's another question: How will the Wizards defend the Noah point-center offense?
Jackson:
Beal and whoever is guarding him from game to game. Between Butler,
Tony Snell
and
Ronnie Brewer
-- Hinrich is going to have his hands full with Wall -- Beal is going to have the Sybil of matchup problems. The Bulls are going to show him so many different looks with so many different players in front of him, it's going to be a thing of beauty either watching them confuse the hell out of him or him figuring it out and dropping 20-plus every game.
---
3. Who wins the series and why?
Friedell:
The Bulls in six. They are playoff-tested. They want to prove this season hasn't been a waste, and they are confident. On top of all that, they are as healthy as they've been in Thibodeau's tenure heading into a playoffs -- aside from
Derrick Rose
of course. The Bulls just have too much talent, too much experience and too much defensive prowess in the end.

Greenberg:
Call me a homer, but I'm saying the Bulls in six. They haven't lost consecutive games since Feb. 1-3, so I don't see that streak ending so soon. But the Wizards will still win at least a game, and I'm guessing two. I don't think the Bulls will steamroll Washington in their wins either. This will be a fun series to watch, but I think the Bulls are well-conditioned and mentally ready to advance in the playoffs.
Jackson:
The Bulls. They are just, excuse me, have just shown themselves to be, a better team than the Wizards over the course of this season. On the real tip though, we are going to find out in this series if the Wizards have any fight in them. We know the Bulls do, and eventually that's going to be the factor that wins it for the Bulls. But if the Wizards show that they have the will to
not wanna lose
, to win a few games in this series that they aren't supposed to win, then next year -- with the help of signing one midlevel vet in the offseason -- seeing them in the playoffs will be a problem.
April, 17, 2014
Apr 17
12:50
PM CT
[+] Enlarge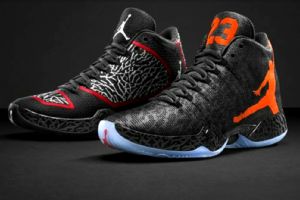 Nikeinc.comAvailable starting in September for $225 a pair, the Air Jordan XX9 is made to be noticed.
NEW YORK -- Michael Jordan introduced the 29th version of his shoe at an event hosted by Nike's Jordan brand in Manhattan on Thursday.
The Air Jordan XX9, which will be sold for $225 a pair in two distinct designs beginning in September, features a high-tech weaving process that designer Tinker Hatfield found in Italy. The upper part of the shoe will be made in Italy in flat sheets and shipped to Asia, where the rest of the shoe will be produced.
Hatfield, who has designed 17 of the 29 Air Jordan shoes, said the process to design the shoe took more than two years and involved a team of at least 20 people.
One version of the shoe, in the familiar black, red and white Chicago Bulls colorway, features the familiar elephant print used in one of the most popular Air Jordan shoes, the Air Jordan III, which debuted in 1988 and was the first shoe in the franchise that Hatfield designed.
"The elephant print is a unique icon that people can associate back to the brand and to Michael himself," Hatfield said.
April, 17, 2014
Apr 17
10:39
AM CT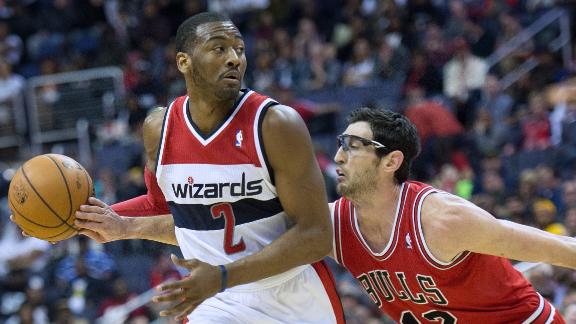 Any sane person would rather face playoff neophytes John Wall and Bradley Beal than Hall of Fame-bound Paul Pierce and Kevin Garnett this postseason. And any sane person would rather do battle with the fading, fretting, fragile Indiana Pacers than LeBron James and a band of two-time champions.
On Saturday they'll begin playing NBA playoff games on hardwood, but today we'll settle for fleshing them out on paper, which means the Chicago Bulls did pretty darned good Wednesday night, losing the season finale in overtime in Charlotte. It might not sound logical, making the case that losing to the seventh seed on the final night of the regular season could somehow help propel the Bulls to the Eastern Conference finals, but that's the case that'll be made here.
The Bulls were very, very unlikely to reach the conference finals going through the Brooklyn Nets and Miami Heat. OK, the Nets are hardly unbeatable; it's fair to be skeptical of any team, playing close to full strength, that gets blown out of its home season finale by the Knicks without Carmelo Anthony. But the Nets, after starting the season 10-21, finished it 34-17.
April, 17, 2014
Apr 17
10:31
AM CT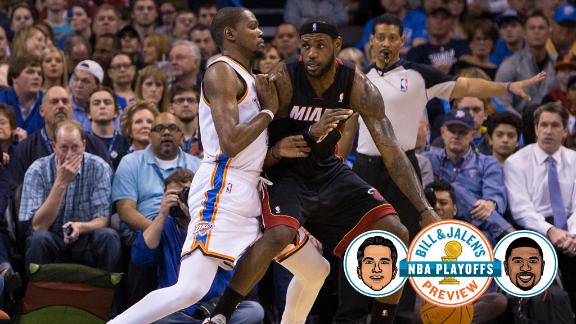 LeBron James once again has the NBA's best-selling jersey, but Kevin Durant is as close as he has ever been to the top, finishing the regular season in second place for the first time.
The rankings are based on sales during the season at NBAStore.com, figures that were released by the league on Thursday.
Despite playing in only six games this season, Kobe Bryant still finished third in jersey sales. Chicago Bulls guard Derrick Rose, who played in only 10 games, finished fourth, and Golden State Warriors guard Stephen Curry rounded out the top five.
Thanks in part to James, who has finished with the top-selling jersey in six of his 11 seasons in the league, the Heat are the best-selling team. The Lakers, Knicks and Celtics finished second, fifth and sixth in merchandise sales, respectively, despite all missing the playoffs.
One surprise name on the list is San Antonio Spurs center Tim Duncan, who squeaked into the top 15 at No. 14. It's the first time Duncan has been in the top 15 since 2007.
April, 17, 2014
Apr 17
9:36
AM CT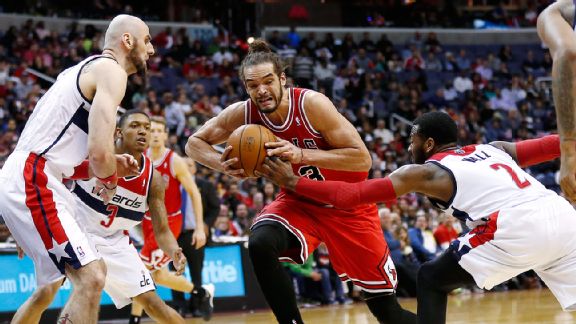 Geoff Burke/USA TODAY SportsJoakim Noah's Bulls face a young and talented team in the Wizards in the first round.
CHARLOTTE, N.C. --
Taj Gibson
and his
Chicago Bulls
teammates didn't try to sugarcoat how difficult a matchup they believe they have in front of them against the
Washington Wizards
in the Eastern Conference quarterfinals that start Sunday night at the United Center.
"Tough team, man," Gibson said after Wednesday night's loss to the
Charlotte Bobcats
. "Tough, tough team. They gave us so many problems in the regular season. Great shooters. They've got some great bigs in Nene and [Marcin] Gortat.
John Wall
is playing some phenomenal basketball.
Bradley Beal
is playing great basketball, too. Their bench is even loaded up. I don't know. It's going to be tough, man."
The Bulls respect the Wizards, but they still believe they can beat them.
Let's take a look at a few of the keys in this series:
1. Slowing down Wall
Wall
John Wall is in the midst of the best season of his career, averaging almost 20 points a game with almost nine assists. The job of defending Wall will fall to the point guard duo of
Kirk Hinrich
and
D.J. Augustin
. Hinrich spent some time playing with Wall during his rookie year and doesn't seem surprised he has become so good.
"When he came into the league he was very talented," Hinrich said. "A good player, and just kind of the natural maturation [of a player]. He's gotten to an All-Star level; he's a great player and a great guy so I'm happy for him."
Hinrich's job over the last two weeks will be to make Wall miserable, though. The question for Bulls coach Tom Thibodeau is how many extra minutes he'll be willing to use Hinrich in the playoffs. After spending the past few years battling various injuries, Hinrich has stayed relatively healthy by playing between 25-30 minutes this season. Thibodeau is going to have to decide how far he wants to push Hinrich because the veteran is clearly his best defensive option.
2. The battle on the blocks
No matter which Bulls player talks about the Wizards, usually one of the of the first things they mention is the big man duo of Nene and
Marcin Gortat
. The pair has given the Bulls trouble in the past, and it's worth noting the one game the Bulls beat the Wizards in this season was when Nene didn't play because of an injury. In order to win this series, the Bulls must find a way to control the battle between the big men. It will be up to
Joakim Noah
and Gibson to hold down the fort.
"They got a very tough frontcourt in Nene and (Marcin) Gortat," Noah said. "So we have to be ready for that. They have a great backcourt as well with Wall and (Bradley) Beal. They have a lot of talent so they're definitely a tough matchup. It's not going to be easy. Every game's going to be a tough battle, but I think we're a team that's battle-tested. We know what it takes and this is exciting. You never know what's going to happen in the playoffs. I just can't wait to compete."
3. Butler takes center stage
Since
Luol Deng
was traded to Cleveland,
Jimmy Butler
has filled in on the defensive end without missing a beat. The question for him now becomes after a full season of playing 40-plus minutes a night, will he be able to withstand the pressure of the playoffs on both ends of the floor. Butler will be asked to guard Beal and will be looked upon to provide an offensive punch. It's a tall order for the 24-year-old, but one that he's willing to embrace. His teammates believe in him, and he continues to gain more confidence in himself.
"I think we did well," Butler said of the season. "We did what we were supposed to do -- make it to the playoffs. Now it's time to win 16 games and bring the chip home."
April, 16, 2014
Apr 16
11:50
PM CT
CHARLOTTE, N.C. -- Tom Thibodeau had a simple message for his team before it played in Wednesday night's game against the
Charlotte Bobcats
.
"Before the game, he was like, 'Be prepared to win,'" Bulls guard
Jimmy Butler
said.
[+] Enlarge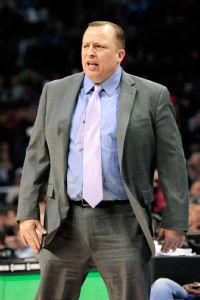 Sam Sharpe/USA TODAY SportsTom Thibodeau didn't let up on the intensity in the Bulls' regular-season finale, but that's no surprise.
Thibodeau didn't care about the fact it was the 82nd game of the regular season. He didn't care that the Bulls would be best served to land in the fourth spot in the Eastern Conference playoff seedings and would avoid a possible second-round matchup with the
Miami Heat
. He didn't care that Butler had piled up plenty of minutes over the course of a long NBA season -- Thibodeau did not want to change the way he prepared his team to play at all.
"He told that to everybody," Butler said of the message. "He played guys -- he wanted to win the game. All those minutes, I think it was worth it. But, obviously, we didn't pull it out. We didn't win."
Butler sat in front of his locker stall with the same tired look on his face he usually has after games as he said this. The Bulls didn't beat the Bobcats, but Thibodeau's message was clear: The Bulls play to win every game. It is a belief that has defined him in his career and one he's not going to turn his back on now. The veteran coach knows he'll be criticized for his decisions, but he doesn't care. He doesn't care what fans think, he doesn't care what the media thinks, he doesn't care what some people in the organization think -- all Thibodeau cares about is doing what he thinks is best for his team at that given moment.
"I just didn't think we needed to do that," Thibodeau said when asked why he chose not to rest guys. "I think D.J. [Augustin] missed a game, so I think it was important for him to get minutes. Once you start resting guys, sometimes they get out of rhythm, and for us right now, I think our team is well rested. We've been concerned with rest for a while, and we've given our guys a lot of days off. So from the rest standpoint, I think we're in great shape. You want the rhythm, you want to be playing well, you got to be sharp."
April, 16, 2014
Apr 16
10:17
PM CT
ESPN.com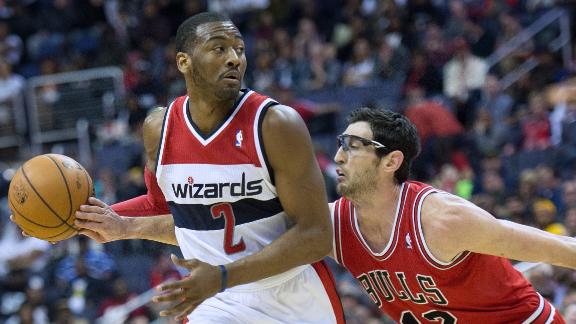 Our 5-on-5 crew breaks down the first-round matchup between the Bulls and Wizards:
---
1. What's the scariest thing -- good or bad -- about the Bulls?
Bradford Doolittle, ESPN Insider: Chicago's defense is a near constant, but the Bulls also have managed to find enough offense over the past two months to win most games. They really seem to have found something in point-center Joakim Noah, and because Tom Thibodeau's system keeps Chicago's offensive expectations low, the Bulls have become awfully dangerous.
Dan Feldman, Piston Powered: Thibodeau. He is a maniac, and I mean that mostly as a compliment. He will ensure that his players bring maximum effort and defend hard. Until they collapse from playing 45 minutes per game.
Nick Friedell, ESPNChicago.com: Thibodeau's defense. It can eat teams alive at times. The Bulls trust in the system and believe everything the coach sells. That's a scary thought for any team heading into the playoffs.
Curtis Harris, TrueHoop Network: Their maniacal pursuit of defensive perfection as Thibodeau barks out orders from the sideline like a merciless Roman ship captain to overworked oarsmen. Led by Noah, the players follow every demand and apply a harrowing defensive pressure that leaves opponents haggard.
April, 16, 2014
Apr 16
8:52
PM CT
Associated Press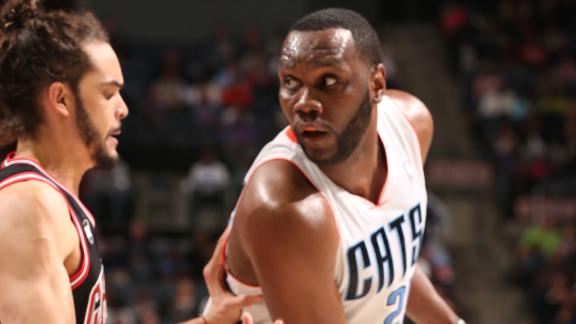 CHARLOTTE, N.C. -- Kemba Walker scored eight of his 22 points in overtime to help the Charlotte Bobcats defeat the Chicago Bulls 91-86 Wednesday night and finish the season with eight wins in their final nine games.
Al Jefferson added 10 points and 18 rebounds for Charlotte, and Chris Douglas-Roberts finished with 13 points after being held scoreless for the first three quarters.
Josh McRoberts made a key play in overtime, blocking D.J. Augustin's 3-point attempt. Walker grabbed the loose ball and raced the length of the court for a layup that gave the Bobcats an 88-81 lead with 1 minute left.
Augustin had 17 points for the Bulls, who are locked into the fourth seed in the Eastern Conference. They will play either Brooklyn or Washington in the first round.
April, 16, 2014
Apr 16
8:47
PM CT
CHARLOTTE, N.C. -- Let's take a quick look at how the
Charlotte Bobcats
earned a 91-86 overtime win over the
Chicago Bulls
on Wednesday night at the Time Warner Cable Arena in the regular-season finale.
How it happened:
Kemba Walker
had 22 points, eight assists and seven rebounds, and
Chris Douglas-Roberts
chipped in 13 points.
Joakim Noah
once again paced the Bulls to the tune of 14 points, 13 rebounds and six assists, and
Carlos Boozer
had 14 points and 11 rebounds, but the Bulls came up short in what could end up being a meaningless game as far playoffs seedings go if the
Toronto Raptors
beat the
New York Knicks
and lock the Bulls in at the No. 4 seed in the East.
What it means:
Tom Thibodeau is a creature of habit and principle. He plays to win every game -- even if it ends up not mattering in the standings. Those beliefs were on full display Wednesday night. Thibodeau could have decided to rest his players down the stretch in this one and play for seeding, but he decided to send a message to his players that they had to play hard until the end. But the veteran coach was absolutely playing with fire in this game -- if somebody got injured or if the Bulls won and then the Raptors lost and the Bulls ended up with the No. 3 seed with the potential of facing the
Miami Heat
in the second round -- Thibodeau would have gotten crushed. Here's the key, though: He doesn't care what anyone thinks. He's going to pace his team the way he wants and he's going to do things his way until the end. For better or worse, he proved that again Wednesday.
Hits:
Mike Dunleavy
chipped in with 12 points, seven rebounds and three assists in 41 minutes.
Misses:
Taj Gibson
was 2-for-10 from the field.
Stats of the night:
The Bobcats out-rebounded the Bulls 53-44 and outscored them 42-28 in the paint.
Jimmy Butler
played 48 minutes. Noah played 42 minutes.
What's next:
The Bulls' playoff opponent is still to be determined. They host Game 1 at the United Center on Sunday night at 6 CT.
April, 16, 2014
Apr 16
5:34
PM CT
CHARLOTTE -- The NBA announced Wednesday that the
Chicago Bulls
will open up their postseason run at 6 p.m. CT Sunday at the United Center, regardless of their opponent.
The Bulls come into Wednesday night's game against the
Charlotte Bobcats
in the fourth position in the Eastern Conference. Depending on how games play out tonight, the Bulls could play either the
Brooklyn Nets
or
Washington Wizards
.
If the Bulls lose to Charlotte tonight they will finish as the fourth seed. They would also claim the fourth seed if the
Toronto Raptors
beat the
New York Knicks
, regardless of the Bulls outcome tonight. The Bulls get the third seed if they beat the Bobcats and the Raptors lose.
April, 16, 2014
Apr 16
3:59
PM CT
CHARLOTTE --
D.J. Augustin
is happy to be back with the
Chicago Bulls
after missing Monday's game against the
Orlando Magic
to be with his wife as she gave birth to a baby boy, Trey.

Augustin
Augustin proudly rattled off the details of the newest member of the family after Wednesday morning's shootaround.
"He was 7 pounds, 2 ounces and he was 18 inches, so that was pretty big for 37 weeks," Augustin said. "If he'd have stayed in 40 weeks, he would have been eight pounds, nine pounds, something like that."
Augustin joked that he thought about naming the baby after Bulls coach Tom Thibodeau given how much success he's had with his new team since December.
"I thought about Thibs," he joked. "I thought about Gar, (for Bulls general manager Gar Forman). Jimmy (Butler's) been asking me to name him Jimmy. I gave them all consideration, but I had to go with Darryl. ... He's going to be Trey. I never went by Darryl growing up. I was always went with D.J., so he's going to be Trey."
Augustin said mother and baby, the couple's second, are doing well. He hopes his new son will turn out to be a basketball player just like his dad.
"Yeah, definitely," Augustin said. "He's going to be a player. I don't know how tall he's going to be, but that's all right. We can work on his floater."