February, 28, 2015
Feb 28
12:23
PM CT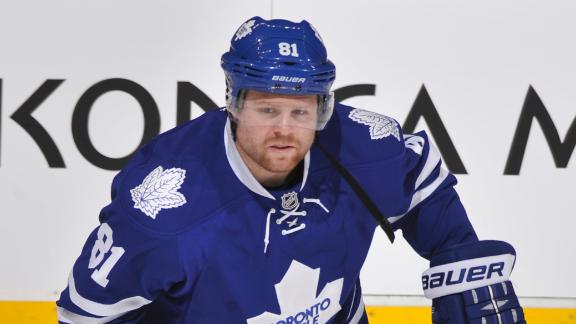 The flurry of activity in the days leading up to the trade deadline Monday has us wondering how many deals we will actually see on the big day. But it's worth noting that exactly nobody saw that David Clarkson-Nathan Horton swap between the Toronto Maple Leafs and the Columbus Blue Jackets coming, so there might still be some surprises in store. With the Evander Kane blockbuster completed weeks ago, and veteran Jaromir Jagr already shipped to South Florida, some of the big names already have been moved. Logic dictates that marquee players are much more likely to be traded near the draft than in the tight window we're currently seeing, but who knows? Here are five players who could be traded, but probably won't be.
February, 28, 2015
Feb 28
11:54
AM CT
The
Chicago Blackhawks
placed defenseman
Tim Erixon
on waivers on Saturday.
Erixon, 24, will be assigned to the Rockford IceHogs of the AHL if another team does not claim him.
The Blackhawks acquired Erixon from the
Columbus Blue Jackets
in exchange for forward
Jeremy Morin
on Dec. 14. Erixon has zero points, is a plus-1 and has averaged 9:59 of ice time in eight games for the Blackhawks this season. He played in the Blackhawks' last two games after being a healthy scratch for 16 consecutive games.
The Blackhawks' move with Erixon comes a day after they acquired defenseman Kimmo Timonen from the
Philadelphia Flyers
.
February, 27, 2015
Feb 27
10:35
PM CT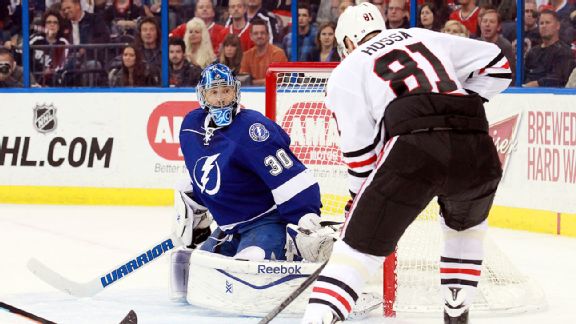 Kim Klement/USA TODAY SportsMarian Hossa and the Hawks couldn't get anything past Ben Bishop despite 28 shots Friday.
TAMPA, Fla. -- On Dec. 16, the
Chicago Blackhawks
beat the
Minnesota Wild
5-3 for a second consecutive victory in regulation. They began that month by winning five straight, and they finished with eight wins in regulation and 10 overall. Since then, however, they have failed to win two games in a row in regulation. In fact, after an eight-game win streak bridging November and December, the Blackhawks have not strung together three straight victories.
On Friday, they had that chance, following a home-and-home sweep of the
Florida Panthers
, but Chicago was heavily outplayed by the
Tampa Bay Lightning
and lost 4-0 in front of a sold-out crowd at the Amalie Arena. Fatigue was surely a factor for the Blackhawks, who were taking the ice for a sixth time in 10 days against a Tampa Bay squad that hadn't played since Sunday.
"At the end of the day, we don't know their schedule, and we're focused on our games," said Chicago defenseman
Duncan Keith
, who was assessed six minutes of penalties. "We don't make any excuses. It wasn't our best game. In a game like this, we have to know going in, we have to keep it simple. They have a lot of skill. They can all skate. They can all make plays."
Playing against the Atlantic Division's second-place team, the Blackhawks gave the Lightning six power-play opportunities, two of which Tampa Bay cashed in.
Ryan Callahan
boosted the lead to 3-0 at 7 minutes, 37 seconds of the third period after a tripping call on
Kris Versteeg
; Lightning leading scorer
Steven Stamkos
lit the lamp with a little under five minutes to play following Versteeg's hooking penalty.
"It's been frustrating," said
Scott Darling
, who saved 25 of 29 shots in his second start this week. "We had a couple strong games there against the Panthers, and we were looking forward to carrying it over into tonight's game. Obviously, we weren't good enough tonight. It's a disappointing feeling, getting on the plane after that one. We'll take a couple days to rest and be ready to get back at it on Monday."
The Blackhawks now get a bit of a break, with four games in 11 days beginning Monday at the United Center against the
Carolina Hurricanes
.
"We played a lot of games in a short amount of time here, and it was one of those games where you just had to find a way," Blackhawks coach Joel Quenneville said. "We weren't as competitive as we needed to be in this game."
February, 27, 2015
Feb 27
9:38
PM CT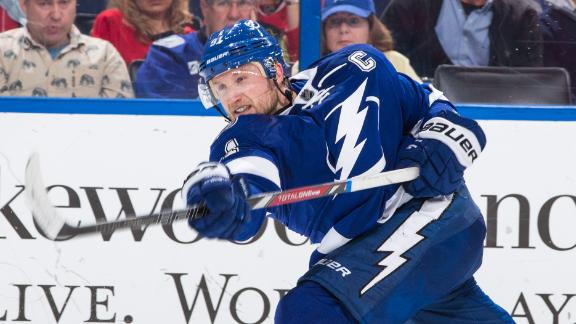 TAMPA. Fla. -- Here's a quick look at the
Chicago Blackhawks
' 4-0 loss to the
Tampa Bay Lightning
on Friday night at the Amalie Arena:

How it happened:
A night after
Corey Crawford
blanked the
Florida Panthers
, the Lightning flipped the script on the Blackhawks, albeit with
Scott Darling
tending the net for Chicago. Lightning center
Brian Boyle
broke a scoreless tie in the second period with a goal at the 8:27 mark.
Steven Stamkos
then scored his 33rd goal of the season with a little over two minutes left in the frame. The Lightning added two more in the third period.
What it means:
Playing in front of a crowd bathed in red and black, it's clear the Blackhawks would have their share of fans on hand if they were to meet the Lightning for the Stanley Cup -- although it's fairly certain not as many locals would surrender their tickets during an NHL finals. The Blackhawks were unable to sweep the season series against Florida's two hockey squads.
Player of the game:
More like the general manager of the game, as Blackhawks GM Stan Bowman pulled off a trade for veteran defenseman
Kimmo Timonen
while Chicago was playing in Tampa.
Stat of the game:
The Blackhawks suffered their sixth shutout of the season.
What's next:
After playing three games in four days, the Blackhawks get some rest before hosting three straight at the United Center, beginning Monday versus the
Carolina Hurricanes
.
February, 27, 2015
Feb 27
9:17
PM CT
Associated Press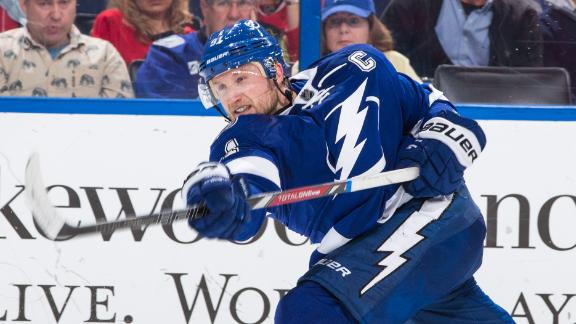 TAMPA, Fla. -- Ben Bishop made 28 saves for his second shutout, Steven Stamkos scored two goals, and the Tampa Bay Lightning beat the Chicago Blackhawks 4-0 on Friday night.
Brian Boyle and Ryan Callahan also scored for the Lightning, who returned home after a 3-2 road trip against Western Conference teams.
Stamkos has 11 goals and 17 points in nine games against Chicago.
Chicago backup goalie Scott Darling stopped 25 shots.
The Blackhawks beat Florida 3-0 Thursday in their first game since losing leading scorer Patrick Kane, placed on long-term injured reserve Wednesday with a broken left collarbone suffered in Tuesday's 3-2 shootout win over the Panthers.
February, 27, 2015
Feb 27
9:22
PM CT

By Craig Custance
ESPN Insider
Archive
Blackhawks get:
Kimmo Timonen
Flyers get:
Blackhawks' second-round pick in 2015, conditional fourth-round pick in 2016. If the Blackhawks win two rounds in the playoffs and Timonen plays in 50 percent of the games, the pick becomes a third-rounder in 2016. If Chicago wins three rounds and he plays in 50 percent of the games, it becomes a second-rounder in 2016.
---
February, 27, 2015
Feb 27
7:32
PM CT
[+] Enlarge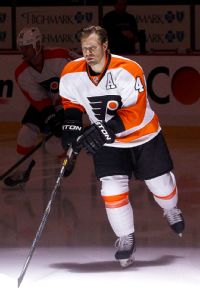 Charles LeClaire/USA TODAY SportsKimmo Timonen ranks third among active defensemen with 571 career points in 1,092 games.
The Chicago Blackhawks acquired defenseman Kimmo Timonen from the Philadelphia Flyers on Friday for a second-round draft pick in 2015 and a conditional fourth-round pick in '16.
Timonen, who will turn 40 on March 18, has not played this season after doctors discovered blood clots in his lower right leg and in both lungs. He has been cleared for contact.
"Obviously this last summer when I got sick, I was back in Finland in a hospital bed, and they said you have to wait six months to see what's going to happen," Timonen told reporters on a conference call Friday night. "Obviously I was asking a lot of questions about my career and can I still return playing hockey. [The specialists] said, 'Well, you have to eat this medicine for six months, then you have a small chance to get back on the ice. So in that moment, I decided if that small chances happen the only thing I'm missing from hockey career is a Stanley Cup.
"That was the only goal which I would return to hockey. It wasn't money. It wasn't anything else that was missing.
"I'm really excited about joining the Chicago team. ... It's been a tough couple days. I always wanted to retire [in Philadelphia]. Again, my goal was to win the Stanley Cup and get into the playoffs. I feel like this was the right move.
Timonen, who began practicing a few weeks ago, will arrive in Chicago on Saturday and will practice with the team Sunday. He is unsure if he will play in the Blackhawks' next game on Monday.
"It's going to take a few days [to get into game shape]," he said. "I don't have a exhibition game to kind of easy myself into it. I have to be good to go right away, and I have to feel 100 percent. I feel really good right now."
When asked when he expects Timonen to play, coach Joel Quenneville said the plan is "right away."
Timonen began having conversations with the Flyers about his future several weeks ago. The Flyers' playoff hopes appeared slim then, and Timonen said he would be OK with a trade if it gave him a chance to win a Stanley Cup. Chicago-based Markus Lehto, who has been Timonen's agent for 20-plus years, said the Flyers were respectful of Timonen and cleared the trade with him before making it.
"We've been working on this one for a while," said Blackhawks general manager Stan Bowman, who is with the team in Tampa Bay -- Chicago lost to the Lightning, 4-0
February, 27, 2015
Feb 27
6:42
PM CT
TAMPA, Fla. -- While
Chicago Blackhawks
coach Joel Quenneville joked before Friday's contest against the
Tampa Bay Lightning
that he "only thinks short term," the decision to put
Tim Erixon
in the lineup for the second straight game could lead to more ice time for Erixon.
"We'll see how it works out," Quenneville said prior to the game.
Erixon was an integral part of the overall team defense that helped earn a 3-0 victory over the
Florida Panthers
on Thursday. He was plus-1 and took two shots on goal.
"I thought [Erixon and
Kyle Cumiskey
] both played fine," Quenneville said. "They did a nice job. I thought our defense as a group, our team defense was solid. They were steady. That was part of our success last night."
Coming over from the
Columbus Blue Jackets
in a trade for
Jeremy Morin
on Dec. 14, Erixon had played just two games so far in 2015. Erixon has seven shots on goal with the Hawks and made the most of his first appearance since Jan. 18 and anticipates building off Thursday's performance.
"I try to keep it simple and build from that," Erixon said when asked about balancing a large dose of adrenaline with playing within himself. "You want to contribute and show what you can do, but you have to make sure you don't overdo it. The biggest thing is just sticking with your game. My goal [on Thursday] was to be good on both ends. I felt it went pretty good, pretty solid."
Notes:
After stopping all 20 shots Thursday,
Corey Crawford
got the night off against the Lightning in favor of
Scott Darling
. With the Blackhawks having a relatively "light March schedule," Quenneville anticipates Crawford getting a bulk of the time moving forward. …
Michal Rozsival
is a healthy scratch for second straight game. ...
Johnny Oduya
(upper body) is about a week away from returning to the ice, according to Quenneville.
February, 27, 2015
Feb 27
12:35
PM CT

By Pierre LeBrun
ESPNChicago.com
Archive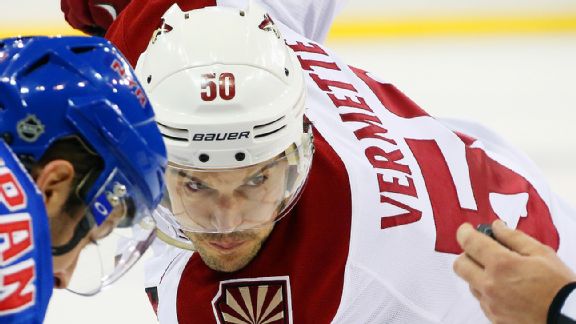 Bruce Bennett/Getty ImagesLooks like the Bruins are now in on the Antoine Vermette sweepstakes as well.
The
Boston Bruins
continue to shop away as the clock ticks toward Monday's trade deadline.
As of Friday morning, the Bruins remained in the mix for the services of pending unrestricted free agent winger
Chris Stewart
from the
Buffalo Sabres
, a dance that's been going on all year, but another source said that the Bruins are in on the
Antoine Vermette
derby as well. Management from the Bruins and the
Arizona Coyotes
spoke a few times Thursday.
It's believed the Bruins' shopping list also includes
Erik Cole
of the
Dallas Stars
and
Cam Atkinson
of the
Columbus Blue Jackets
.
Vermette would be a big pickup, especially with star center
David Krejci
hurt. But the
Chicago Blackhawks
are seen as being very eager for Vermette as well, among other potential forwards. A source told ESPN.com Friday morning that the Blackhawks were hoping to complete a trade by the end of Friday.
And whether it's a forward or a defenseman remains to be seen; the Blackhawks could end up with both before Monday's deadline.
February, 27, 2015
Feb 27
12:07
PM CT

By Katie Strang
ESPNChicago.com
Archive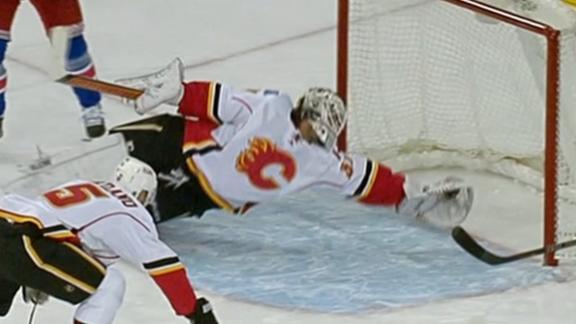 FORWARDS
Trending up: Teuvo Teravainen, Chicago Blackhawks
-- Considering the injury to
Patrick Kane
, who is expected to miss 12 weeks after undergoing surgery to repair a broken clavicle, Teravainen's progression has never been more important for a Blackhawks team missing its biggest star. In the wake of Kane's injury, Teravainen was recalled by the Hawks in advance of their game against the Panthers Thursday night, and the 20-year-old Finnish center wasted no time getting himself on the score sheet. Teravainen scored 3:08 into play to help lead Chicago to a 3-0 win over Florida.
Trending down: Nick Bjugstad, Florida Panthers
-- Though the Panthers added veteran scorer
Jaromir Jagr
in a trade Thursday to help propel the club's push for the playoffs, the Cats will need the help of their talented youngsters as well. That means Bjugstad has to work his way out of his current rut if Florida is going to catch Boston in the race for that last wild-card spot in the East. Bjugstad has been held off the score sheet in his past five games and is minus-7 over that span.
[+] Enlarge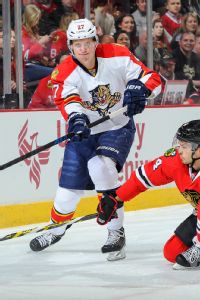 Bill Smith/NHLI via Getty ImagesNick Bjugstad has been held off the score sheet in his past five games and is minus-7 over that span.
Surprise of the week: David Clarkson/Nathan Horton, Columbus Blue Jackets/Toronto Maple Leafs
-- Don't feel bad if you did not expect the stunning swap between the Maple Leafs and Blue Jackets. No one did. But in a creative deal that has garnered Leafs general manager Dave Nonis tons of credit, Clarkson and his albatross of a contract were shipped to Columbus in exchange for injured winger Horton. Initially, the deal was a head-scratcher, considering the assumption that Horton's degenerative back injury could prevent him from ever playing again. But the Leafs gained some much-needed cap space by utilizing their ability to place him on long-term injured reserve and pay him to not play, while the Blue Jackets gained an actual roster player who can contribute for the money they were already spending because Horton's contract was not insured. Very interesting.
DEFENSEMEN
Trending up: Andrej Sekera, Los Angeles Kings
-- Things are looking up for Sekera, who upgraded from a floundering
Carolina Hurricanes
squad to a potential Cup contender in the Kings via trade this week. Sekera was a coveted trade target as teams honed in on defensive help, but it was ultimately GM Dean Lombardi who snatched up the defenseman in hopes of bolstering the Kings' blue line. Lombardi told reporters it was a reward for the team's fine play recently. Had to feel like a reward for the 28-year-old Sekera, too.
Trending down: James Wisniewski, Columbus Blue Jackets
-- First, he was scratched. Then he was placed on the trading block. And the most recent development in the ongoing saga between the veteran defenseman and the Blue Jackets is that he is reportedly using his limited no-trade clause as a way to obstruct a potential move. According to The Columbus Dispatch's Aaron Portzline, Wisniewski's recently submitted list of the 10 teams to which he would approve a trade makes it "difficult" for GM
Jarmo Kekalainen
to find a suitable partner. According to the report, Wisniewski's list was all teams with limited cap space (Wisniewski carries a $5.5 million cap hit) and no need for an offensive defenseman.
Surprise of the week: Adam Larsson, New Jersey Devils
-- Larsson's tenure in New Jersey has been puzzling to say the least, but the 22-year-old seems to be finally finding his way as of late. Larsson, the fourth overall pick in the 2011 draft, has five points in his past four games, including a three-point effort in the team's 4-2 win against the
Vancouver Canucks
last Friday.

GOALTENDERS
Trending up: Andrew Hammond, Ottawa Senators
-- The rookie netminder posted back-to-back shutouts this week, blanking both the
Anaheim Ducks
and Kings on consecutive nights. The 27-year-old Hammond, thrust into action by Ottawa as a result of injuries to both
Craig Anderson
and
Robin Lehner
, has won all four of his starts this season and has turned away 60 of 60 shots in his past two games.
Trending down: Eddie Lack, Vancouver Canucks
-- With
Ryan Miller
out the next four to six weeks with a sprained knee, the pressure falls squarely on Lack's shoulders as the playoff race heats up out West. And while Lack bested the
Boston Bruins
in his first start following Miller's injury, he faltered in the Canucks' 6-3 loss to the lowly
Buffalo Sabres
on Thursday, giving up five goals on 23 shots to the worst team in the league, despite the fact that Buffalo was also without its top two scorers in
Zemgus Girgensons
and
Tyler Ennis
. Yikes.
Surprise of the week: Jonathan Bernier, Toronto Maple Leafs
-- Following a brutal stretch in which he was winless in 10 games, Bernier has since rattled off two straight victories for the Leafs. Most recently, he delivered a spectacular 47-save performance as the Leafs edged the
Philadelphia Flyers
3-2 on Thursday night. Captain
Dion Phaneuf
told reporters that Bernier stole the game for Toronto, and Phaneuf was right. That hasn't happened too often recently for Bernier.
February, 27, 2015
Feb 27
10:39
AM CT
Former
Chicago Blackhawks
defenseman Brent Sopel announced his retirement from hockey Friday.
Sopel, 38, played for six different teams throughout his NHL career from 1998-2011 and was a member of the Blackhawks' 2010 Stanley Cup championship team. He had 44 goals, 174 assists and was a plus-32 in 659 NHL career regular-season games. He also spent three seasons in the KHL and played in 29 games for the Chicago Wolves in the AHL this season.
"I have been so lucky to play the sport I love for the last 18 years," Sopel said in a statement. "I fulfilled a lifelong dream of winning a Stanley Cup Championship with the 2010 Chicago Blackhawks.
"Today's decision is not made lightly. This is the right time for my next chapter. I look forward to staying involved with hockey while maintaining family roots in Chicago. I am excited to spend more time with my children in the city we call home."
Sopel especially reflected fondly on his time with the Blackhawks. He played 154 games for them from 2007-2010.
"While each professional season holds a special place in my heart, the years I spent with the Chicago Blackhawks are my fondest memories," Sopel said. "The Chicago Blackhawks are a top class organization with a foundation for success on and off the ice."
Wolves general manager Wendell Young released a statement Friday thanking Sopel for his time with them.
"We thank Brent for his service and his professionalism this season," Young said. "He has been an excellent role model for our players. We wish him the best as he pursues other dreams in the hockey world."
Sopel plans to continue with a broadcasting career in Chicago and coach youth players at the Sopel Academy of Defense camps. He has also accepted a role of athlete mentor at Ti22 Marketing, a Chicago-based company.
February, 27, 2015
Feb 27
10:06
AM CT
Here are five thoughts on the Chicago Blackhawks following their 3-0 win over the
Florida Panthers
on Thursday.
1.
Blackhawks coach Joel Quenneville made one of his boldest decisions of the season by healthy scratching
Michal Rozsival
on Thursday. Rozsival's inconsistencies have been apparent for some time, but Quenneville has often glossed over them whenever asked about Rozsival's play. Rozsival has been an everyday player for much of the season and has been getting major minutes. Quenneville finally was swayed against Rozsival after witnessing him be on the ice for five 5-on-5 goals over the previous two games. "His last two were not good enough," Quenneville told reporters Thursday.
With
Johnny Oduya
also still out with an injury, Quenneville put
Kyle Cumiskey
,
David Rundblad
and Tim Erixon into the lineup, and it worked. All six defensemen held their own against the Panthers. Some ended up with negative Corsi numbers as the Panthers got aggressive late in the game, but each one of them had zero or positive possession numbers in close 5-on-5 situations, which is defined as when the game is within a goal in the first two periods or tied in the period. All six defensemen also played 12-plus minutes. It was no surprise the pairing of
Niklas Hjalmarsson
and
Duncan Keith
led the effort Thursday. Quenneville will likely stick with the same pairings Friday.
2.
The Blackhawks got off on the right foot without
Patrick Kane
, but that was expected. The Blackhawks were motivated for a number of reasons. First, they want to prove they're still more than capable of winning without Kane. Secondly, they just played the Panthers and felt they let a regulation victory slip away. Thirdly,
Corey Crawford
was driven to bounce back and was due for a solid game.
There's also the fact the Blackhawks are simply better than the Panthers, who weren't all that impressive in the last two games and are now on a four-game losing streak. The real challenge for the Blackhawks will be facing the
Tampa Bay Lightning
on Friday. It'll be the second game of back-to-back road games, and the Blackhawks are likely going to have score goals to stick with the Lightning, who lead the league with a 3.24 goals-per-game average. The Blackhawks haven't scored three goals, excluding empty-netters, in the last seven games.