December, 24, 2014
Dec 24
11:28
AM CT
Chicago Blackhawks
assistant equipment manager Clint Reif was well known to the people within the organization, especially the players he served on a daily basis. As media and fans, we never really got to know Reif, who died at the age of 34 on Sunday.
EPIX's second episode of "Road to the NHL Winter Classic", which premiered Tuesday night, provided a glimpse of Reif's personality, what he did for the Blackhawks and why Blackhawks coach Joel Quenneville and the players were so distraught by his loss.
Reif is first shown in the episode early on as he's sharpening skates before a game. Knowing what happens just days later, it's certainly eerie. It'll undoubtedly be a difficult episode for the Blackhawks to watch if they choose to do so.
EPIX's crew had talked to Reif at length recently, and it was this footage they chose to use later in the episode. Reif and the narrator explain Reif's role on the team and get into some details about it, including just how specific Reif and other equipment staff members have to be with NHL players.
"Definitely a lot of superstitions," Reif said. "Maybe changing laces or a certain tape which might not be in another city, so you have to make sure that you have that packed up and ready to go. A little tuck inside of a jersey or another guy said maybe, 'Hey, cut down my stick for me,' and he scored a goal that night, so for the next 10 years of his contract you're cutting down sticks for him. Just knowing a lot of what the guys' superstitions are and staying out of the way of them."
Blackhawks captain
Jonathan Toews
recently touched on Reif's selflessness and how he would do anything for the players, and you could see how Reif wanted to make sure everything was just right for the Blackhawks, especially in the example of Duncan Keith's skate laces.
December, 23, 2014
Dec 23
11:25
PM CT
CHICAGO -- The
Chicago Blackhawks
don't have to think about or play hockey for the next three days, and that's probably a good thing, considering hockey wasn't exactly kind to them on Tuesday.
The Blackhawks' objective during the league's three-day break is to forget about what happened in their 5-1 loss to the
Winnipeg Jets
on Tuesday. The defeat was their worst of the season.
The Blackhawks appeared as if they started their holiday break early. They were off from the start of Tuesday's Central Division matchup. They especially struggled to exit their defensive zone and often had their passes intercepted or didn't connect at all through the neutral zone.
The Jets made them pay for it, too. Winnipeg scored three times on their first 13 shots, and that was basically the game. The Jets added another goal to go ahead 4-0, and that finally snapped the Blackhawks awake, but it was too late, as they scored only once off 32 shots in the final two periods.
"We look at all year long," Blackhawks coach Joel Quenneville said. "It's one game that will stick out that said one of those nights where [we] didn't have much going for us across the board early and often. They get a 3-0, 4-0 lead against you, you're not going to win many games. I think we've been in every hockey game except for tonight."
The overall play and result were completely out of the ordinary for the Blackhawks, as of late. They were riding an eight-game home win streak and hadn't lost by more than one goal in a month. They had gone 11-1-1 since losing to the
Vancouver Canucks
4-1 on Nov. 23.
"[We haven't been outplayed] a whole lot, but tonight we did," Blackhawks defenseman
Duncan Keith
said. "That's for sure."
If Quenneville's long list of mistakes was any indication of how upset he was during the game, EPIX undoubtedly caught an abundance of profanity from him on the bench.
"We definitely turned the puck over several times -- too many incomplete passes, too many turnovers, no strength in the puck area, didn't come up with any loose pucks, poor passing, poor puck support, poor coverage at the net," Quenneville said.
Although Quenneville expressed that frustration with the loss, he was also able to see the bigger picture. The Blackhawks have been one of the league's hottest teams and head into the break in first place in the Central with 48 points and a 23-10-2 record.
Quenneville's message to his players was to enjoy the three days away.
"You know, got three days to recover and get excited again. Certainly disappointing ending, but very good stretch and enjoy the Christmas break," Quenneville said.
Blackhawks forward
Kris Versteeg
believes he and his teammates will do just that.
"We're going to need these three days to recover," Versteeg said. "Like I said, we've had a string of games where it's been every other day, if not every day. It'll be nice to get a few days off and forget about the game for a few days."
December, 23, 2014
Dec 23
10:33
PM CT
CHICAGO --
Chicago Blackhawks
defenseman
Michal Rozsival
did not finish Tuesday's game against the
Winnipeg Jets
due to a lower-body injury.
Rozsival missed the entire third period due to the injury. He played the final 43 seconds of the second period and did not return to the bench for the final period. He played 15 shifts and had 12:10 of ice time in the Blackhawks'
5-1 loss
.
Blackhawks coach Joel Quenneville said he believed Rozsival is going to be OK. The Blackhawks won't meet as a team again until Saturday with the entire NHL having the next three days off.
Rozsival has one goal, three assists and is a plus-6 rating in 26 games this season. He has played in the past 18 games for the Blackhawks after being a healthy scratch early in the season.
December, 23, 2014
Dec 23
10:20
PM CT
Associated Press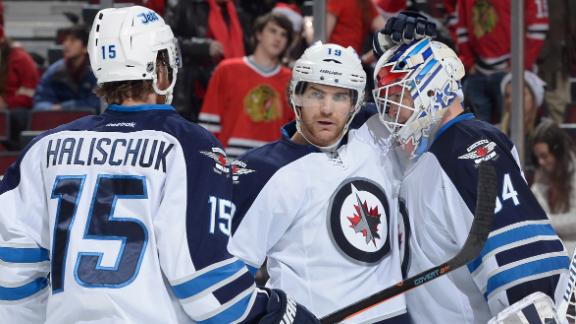 CHICAGO -- Mathieu Perrault scored two goals while extending his point streak to eight games, and the Winnipeg Jets routed the listless Chicago Blackhawks 5-1 on Tuesday night.
Bryan Little also had his team-best 13th goal as Winnipeg stopped Chicago's eight-game home winning streak. The Jets are responsible for two of the Blackhawks' four regulation home losses, also winning 1-0 at the United Center on Nov. 2 in their first meeting of the season.
Winnipeg (18-10-7), one of the NHL's biggest surprises, won for the third time in four games, bouncing back from a 4-3 overtime loss to Philadelphia on Sunday. The Jets led the Flyers 3-1 after two periods, but were unable to close it out.
December, 23, 2014
Dec 23
10:09
PM CT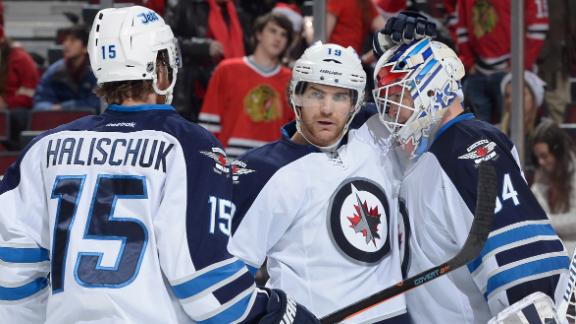 CHICAGO -- Here's a quick look at the
Winnipeg Jets
' 5-1 win over the
Chicago Blackhawks
at the United Center on Tuesday:

How it happened:
The Jets scored three goals in the first 15 minutes, 30 seconds of the game and never looked back. Blackhawks starting goaltender
Corey Crawford
was pulled after the third goal. He hadn't been removed from a game in the first period since Nov. 19, 2013.
Mathieu Perreault
,
Bryan Little
and
Anthony Peluso
accounted for the Jets' first-period goals.
The Jets extended their lead to 4-0 when Perreault scored a power-play goal in the second period. Forward
Marian Hossa
broke through for the Blackhawks with a goal at 12:05 of the second period. The Jets'
Blake Wheeler
added an empty-net goal in the third period. Jets goaltender
Michael Hutchinson
recorded his second win against the Blackhawks this season.
What it means:
The Blackhawks had their home winning streak snapped at eight games. They dropped to 23-10-2 on the season. The Jets have defeated the Blackhawks in both of their meetings this season. The Jets won 1-0 earlier in the season. Both games were at the United Center. They'll play three more times.
The Jets improved to 18-10-7 on the season. If the season ended today, the Blackhawks and Jets would face each other in the first round of the playoffs. The Blackhawks are in first place in the Central Division and the Jets are in fourth place. The Blackhawks' penalty kill allowed only its third goal in December.
Player of the game:
Perreault extended his points streak to eight games with two goals. He has five goals and four assists in the streak.
Stat of the game:
The Jets scored three goals on their first 13 shots.
What's next:
The entire NHL has the next three days off. The Blackhawks resume play against the
Colorado Avalanche
on the road on Saturday.
December, 23, 2014
Dec 23
6:34
PM CT
December, 23, 2014
Dec 23
2:46
PM CT
Associated Press
BUFFALO, N.Y. -- Zemgus Girgensons feels a little sheepish discussing how fans back home in Latvia have clicked and quadruple-clicked his name so often that the Sabres forward is running away with the NHL All-Star Game vote.
The second-year player appreciates the overwhelming support he's received from the Baltic nation. And yet the 20-year-old Girgensons doesn't consider himself worthy of being included among the league's elite.
"It's a little bit embarrassing and funny at the same time," Girgensons said, before the Sabres hit the road for a two-game swing that concludes Tuesday at Detroit. "It came out of nowhere. I know people know me back home, but I didn't think it was going to go that far. That's like crazy far."
As of Tuesday, Girgensons has a league-leading 1,291,186 votes, with about 80 percent coming from Latvia.
The only limit on voting is fans can use the same device no more than 10 times a day.
Chicago's Patrick Kane (815,990 votes) is second among forwards, followed by teammate Jonathan Toews (803,034).
Blackhawks players hold down the three other remaining spots eligible to be selected by vote. Chicago's Duncan Keith (790,922) and Brent Seabrook (641,736) lead defensemen, and Corey Crawford (714,471) leads goalies.
With voting set to close Jan. 1, Girgensons is on the verge of clinching a spot to play in the All-Star Game at Columbus on Jan. 25.
"If I have to, it's awesome" said Girgensons, the only Latvian currently playing in the NHL. "It'll be satisfaction to the fans, really."
December, 23, 2014
Dec 23
12:39
PM CT
December, 23, 2014
Dec 23
12:02
PM CT
CHICAGO --
Chicago Blackhawks
forward
Brad Richards
will not play against the
Winnipeg Jets
on Tuesday, missing a second consecutive game with an upper-body injury.
Richards said Tuesday he and the Blackhawks decided for him to sit out against the Jets to allow him to rest a few extra days with the NHL's upcoming three-day Christmas break. Richards participated in the team's morning skate on Tuesday. He is expected to play against the
Colorado Avalanche
on Saturday.
"Talked with the staff and [Blackhawks coach Joel Quenneville] with three days, you know rushing into a game tonight, why not get a few more days and get back after break and know I'm ready to go?" Richards said.
Richards has six goals, 12 assists and is a plus-9 in 33 games this season.
Kris Versteeg
replaced Richards as the Blackhawks' second-line center against the
Toronto Maple Leafs
on Sunday and played alongside
Patrick Sharp
and
Patrick Kane
.
December, 23, 2014
Dec 23
12:03
PM CT

By Craig Custance
ESPN Insider
Archive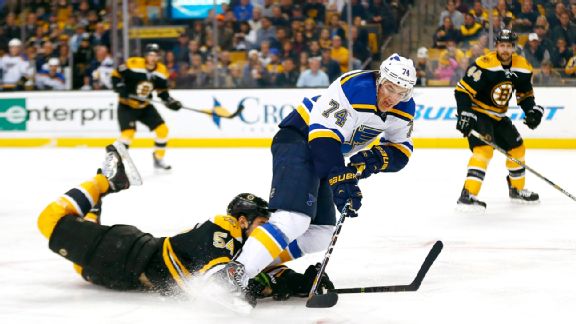 AP PhotoBlues forward T.J. Oshie is among the players who could be moved when the roster freeze is lifted.
On Dec. 27, the NHL's roster freeze is lifted, and general managers can return to trying to address their teams. Moves have been relatively quiet this season, but every day the trade deadline draws closer, the chances we'll see trades increases.
In January of last season, the pace picked up considerably with eight trades that month, twice as many as December. The Rangers did a nice job to pick up
Kevin Klein
for
Michael Del Zotto
last January, a move that's still paying dividends. The Oilers hoped to address their goaltending with a trade for
Ben Scrivens
. The Hurricanes and Maple Leafs swapped defensemen on the same day Toronto was playing in the Winter Classic.
It's quite possible that this January will be just as active.
So what are the needs of each team as GMs have a couple of days to gather their thoughts and formalize their game plans heading into trading season? Here's a look at the top need for all 30 teams:
Anaheim Ducks
We expect GM Bob Murray to aggressively pursue a top-four defenseman before the trade deadline, but what he does at forward may depend on whether or not
Matt Beleskey
stays productive. He currently has a gaudy 17.9 percent shooting percentage and has eclipsed his career high in goals (15). He's provided another scoring option on the wing and the depth up front the Ducks needed in the middle of their injury issues.
His teammate
Francois Beauchemin
thinks it can continue. "I think so," he said. "He has a great release and a great shot. He plays hard, which is what you want."
Arizona Coyotes
The Coyotes need an offer they can't refuse for
Keith Yandle
.
December, 23, 2014
Dec 23
9:58
AM CT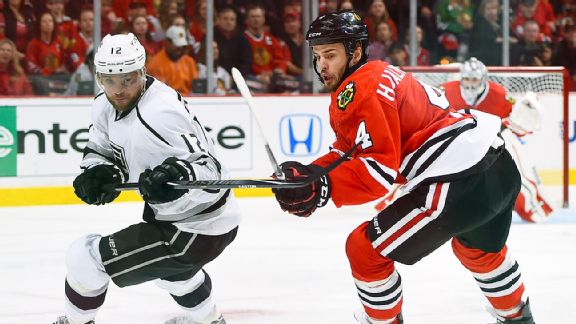 Mike DiNovo/USA TODAY SportsThe Blackhawks have allowed just eight power-play goals in 95 opportunities this season.
CHICAGO --
Patrick Kane
entertains his Chicago Blackhawks' teammates by the different ways he's able to put pucks inside opponents' nets.
Kane's teammates entertain him with the ways they keep opponents' power plays from doing the same on the Blackhawks' net.
"It's fun to watch," Kane said. "You're confident when you take a penalty that it's going to be killed off. They're doing a great job."
Great may not be a strong enough adjective for what the Blackhawks' penalty kill has been doing. Their penalty kill is headed toward becoming the NHL's best of all time. The 2011-2012
New Jersey Devils
hold the league's regular-season record with an 89.6 penalty-killing percentage. The Blackhawks have a 91.6 percentage through 34 games.
Like Kane's offensive game, the Blackhawks' penalty kill can beat an opponent in a lot of different ways. They disrupt passing lanes. They're aggressive when they need to be, but also hold back when the situation calls for it. They work together like an orchestra in a lot of ways. They possess depth with each forward and defenseman being as capable as the one they replaced. They're not afraid to step in front of shots. It's also helped their goaltenders have made saves when the puck has gotten through to the net.
Put it all together, and the Blackhawks' penalty kill is difficult to score upon. The Blackhawks have allowed eight power-play goals in 95 opportunities this season. They have shut out opponents on the power play in 27-of-34 games. In December, the Blackhawks have killed off 23-of-25 penalties.
With the Blackhawks' power play still lacking consistency -- it's ranked 16th in the league with a 18.0 percentage -- it's the penalty kill which has often come to the special teams' rescue, especially in close games. The Blackhawks have held their opponents without a power-play goal in six of their 11 one-goal wins this season.
December, 22, 2014
Dec 22
1:51
PM CT

ESPNChicago's Scott Powers and NHL.com's Brian Hedger discuss the passing of assistant equipment manager Clint Reif, Bryan Bickell's value, the third defensive pairing, the Winter Classic, and EPIX's documentary.


Click here for more audio from ESPN Chicago
.