March, 31, 2015
Mar 31
12:01
AM CT

By Scott Powers
ESPNChicago.com
Archive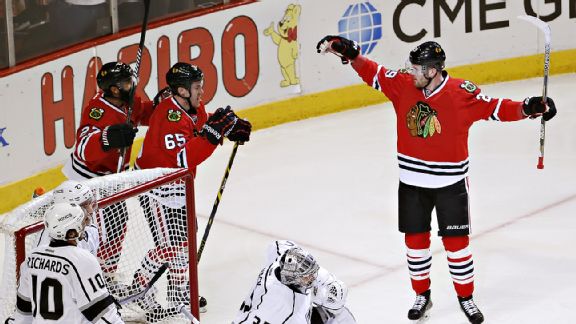 AP Photo/Charles Rex Arbogast"A nice response to a couple tough losses," Joel Quenneville said of his team's two-game win streak.


CHICAGO -- Chicago Blackhawks coach Joel Quenneville carried the confidence of a politician who believed his election bid was gaining momentum following his team's 4-1 victory over the Los Angeles Kings on Monday.
It had been only four nights since Quenneville stood before the media in the same spot and ran down all of his team's faults. From offense to defense to special teams, he was displeased. The Blackhawks were on the verge of being knocked into a wild-card spot, and were quickly running out of to time to correct their issues. On Friday, Quenneville sounded like a coach who understood all of that.
By Monday evening, the Blackhawks had put Quenneville in a better frame of mind. With wins over the Winnipeg Jets and Kings on consecutive days, the Blackhawks had defeated two desperate teams, were firmly back into the Central Division playoffs and had made up ground on the Nashville Predators and St. Louis Blues.
When Quenneville was asked whether Chicago could make a run at first-place Nashville, which is four points ahead and has played one more game than the Blackhawks, Quenneville didn't duck the question. His confidence led him into it.
"I think our objective is to make the playoffs, finish as high as we can, win the division," Quenneville said. "That's where we want to go. That's one step at a time."
Those steps seemed gigantic after the way the Blackhawks played against the Dallas Stars, Carolina Hurricanes, Philadelphia Flyers and Columbus Blue Jackets in their previous four games. Their offense and defense had dropped off and they were outscored 14-6 during those contests.
"Wasn't the way we want to play at all," defenseman Niklas Hjalmarsson said of those four games. "You know you go through stretches during the season that's not going to be that great, but that was pretty ugly, those four games."
It's not as if Sunday's 4-3 victory over the Jets was exactly picturesque, either. The Blackhawks couldn't take the puck away from the Jets early in the game and allowed three special-teams goals they could have easily prevented. But Sunday's objective was never to play pretty hockey -- just winning hockey. Chicago achieved that by continuing to scrap, and ultimately scored the winning goal in the final minute.
Monday's victory was a different story. The Blackhawks were feeling good and played as well as they have in some time. They created chances early and kept them coming. The Kings entered Monday's contest allowing a league-low 27 shots per game, and the Blackhawks surpassed that by the second period. The Kings are also one of the top possession teams in the league, and Chicago was a plus-10 Corsi on the night.
"Sometimes when you're thrown right back into it real quickly the next night -- and we're coming off a big win and good emotion from the last game -- it can carry over," Blackhawks defenseman Duncan Keith said. "I thought we did that. We had a good period, and I thought we had a real solid team game all the way through."
Two of the main reasons for the Blackhawks' turnaround were their defensemen getting more involved in the offense, and their four-line rotation.
Chicago's defense hasn't been much of an offensive factor this season. Most of the unit's production numbers have been down, and Nick Leddy's absence has been felt. In the past two games, however, the defense was more active. Hjalmarsson, Johnny Oduya and Keith scored or had the primary assist on four of the Blackhawks' past eight goals.
"Yeah, it helps a lot," Oduya said. "It takes some of the pressure off the forwards. They got a lot of pressure on them to score goals. Sometimes [to] chip in a couple of goals or even get into plays and create some more space is important. We want to attack five guys and defend five guys. That's something that's key for us."
Another key for the Blackhawks in the past has been a consistent four-line rotation. Quenneville has been excessive with his line blender in recent weeks, and it hadn't created much consistency. In Chicago's two recent victories, Quenneville stuck with his lines and used them throughout.
The Blackhawks have particularly benefited from the fourth line of Andrew Desjardins, Marcus Kruger and Teuvo Teravainen the past two games. The line had the best Corsi numbers Monday, and Teravainen had a game-high eight shots.
"They did a great job tonight," Quenneville said. "They had the puck a lot, good recognition to feed off of one another, good rotation in the zone, had some quick looks at the net, good play recognition with the puck and good presence with it. Teuvo, and Desi -- I thought he had his best game. It was a nice couple of games as well."
Overall, Quenneville felt the Blackhawks had answered his call.
"Certainly a nice response to a couple tough losses," Quenneville said. "Knowing that the challenge was tough. You know we lost a placing in the standing, and a great response."