March, 28, 2015
Mar 28
2:08
PM ET
Seven-time Pro Bowl linebacker Lance Briggs told ESPN.com he has a Monday visit scheduled with the San Francisco 49ers.
Briggs just completed his 12th and final season with the Chicago Bears. The Elk Grove, California, native grew up 1 ½ hours from Candlestick Park and was a 49ers fan.
The 49ers are in desperate need of help at linebacker following the retirements of Patrick Willis and Chris Borland. The team only has three experienced inside linebackers on the roster.
Briggs, who turns 35 in November, said he strongly believes he can "still perform at an elite level" as he looks to continue his career. He played in just eight games last season before being placed on injured reserve with a groin injury.
According to statistics compiled by the Bears, Briggs surpassed 100 tackles in a season eight different times. In his career, he also has 16 interceptions, 15 sacks and five defensive touchdowns. Briggs is one of four linebackers in franchise history to be selected to seven consecutive Pro Bowls, joining Hall of Fame members Dick Butkus, Bill George and Mike Singletary.
49ers general manager Trent Baalke confirmed the team's interest in Briggs when he spoke at the NFL owners meetings.
Briggs has drawn interest from the Tampa Bay Buccaneers and Dallas Cowboys as well.
March, 28, 2015
Mar 28
9:00
AM ET
Thanks everyone for participating in this week's Twitter mailbag. We're going to try something a little differently over the weekend, and split this thing up into two parts to run on Saturday and Sunday.
So here's Part 1.
@mikecwright @ESPNChiBears I believe in 2nd chances-Do u believe we have enough leadership in the locker room 2 help McDonald #bearsmailbag

- BrianandMaleta Hill (@BrianLvsMaleta) March 27, 2015
@mikecwright: Excuse me for being direct here, but Ray McDonald is a grown man. He shouldn't need someone in the locker room to influence him to make the right decisions. While McDonald hasn't been formally charged with anything, the allegations are pretty serious, and we haven't lost sight of the fact he's actually suing one of his accusers. But given all the success San Francisco has achieved throughout McDonald's first eight years in the league, do you really mean to tell me that there weren't any leaders in the 49ers' locker room? As I said, McDonald is a grown man, and will do whatever he wants to do, regardless of what a "leader" says to him. So forget about leadership with regards to McDonald. This boils to decision making and accountability. He's got to help himself.
@mikecwright #bearsmailbag I've heard rumors of Kyle Long moving to tackle, but why not move him to center? He has the leadership qualities. - Matt Ahrens (@mattahrens) March 26, 2015
@mikecwright: Leadership qualities aren't a factor in the team's thinking here as much as athleticism. Yes, centers are important from a leadership standpoint because they're charged with making adjustments in protection and making sure the entire line gets all the calls. But when you look at offensive lines around the NFL, typically the most athletic players on those units are the tackles. That's because tackles are usually lined up across from the opponent's speedy outside pass rushers, which can clock the quarterback in the mouth if he's not properly protected. So basically, if you put Long at center, you're wasting his tremendous athleticism when it could be better used elsewhere. If you go back and look at the 2014 season, you'll see Bears tackles Jermon Bushrod and Jordan Mills struggled. That's a big part of why the team is considering moving Long to tackle.
@mikecwright @ESPNChiBears Do the recent additions to the defense point towards Bears picking a WR or QB with the first pick? #bearsmailbag

- MANNYNNAM (@manny2shoes) March 26, 2015
@mikecwright: I'd say you're on the right track here, but I'd also say the team's recent additions gave it flexibility to actually adhere to its stated draft philosophy of taking the best available player regardless of position or need. So yes, the team's recent additions free it up to take the best available player, but I'm not sure the Bears did all the work they've done in the offseason specifically to draft a receiver or a quarterback with the No. 7 pick. I truly believe Ryan Pace will draft the best available player remaining on Chicago's board, regardless of position, when it's the Bears' turn to pick. The club's work in free agency paved the way for that occurring.
March, 27, 2015
Mar 27
1:05
PM ET
ESPN.com news services
[+] Enlarge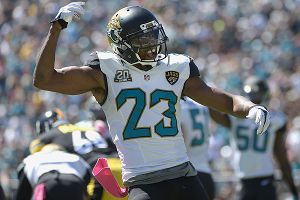 Phelan M. Ebenhack/Associated PressFormer Jaguars CB Alan Ball signed a one-year deal with the Bears on Friday, the team announced.
The Chicago Bears signed former Jacksonville Jaguars cornerback Alan Ball to a one-year contract, the team announced Friday.
Earlier in the free-agency signing period it appeared Ball would be headed to the Panthers with sources telling ESPN.com that he had agreed to a deal with the team, but he ended up leaving his visit to Charlotte without a contract.
Ball, who turns 30 on March 29, was drafted by the Dallas Cowboys in the seventh round in 2007. He started seven games for the Jaguars last season before suffering a biceps injury and being placed on injured reserve. He had 22 tackles, one interception and three pass breakups before getting hurt.
The Jaguars signed Ball to a two-year, $1.67 million contract in 2013, and he immediately became the team's best corner. He led the team with 14 pass breakups and two interceptions in his first season with the team.
His best season in Dallas came in 2010 when he started 16 games, made 45 tackles, broke up six passes and intercepted two passes. However, he started just two games in 2011; his contract wasn't renewed after the season.
March, 27, 2015
Mar 27
12:00
PM ET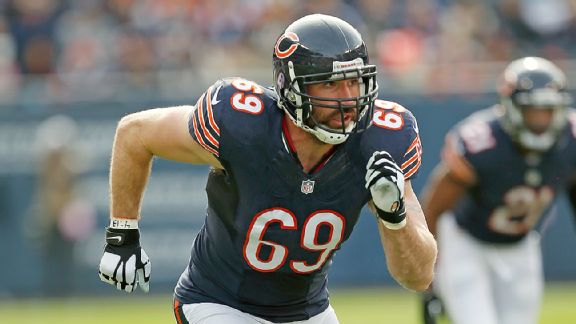 AP Images/Scott BoehmJohn Fox recently talked to Jared Allen, who will move from defensive end to outside linebacker this season.
Chicago Bears coach John Fox spoke briefly during the NFL owners meetings last week with Jared Allen, who lives in Arizona during the offseason.
Fox came away from the brief talk with Allen encouraged about the veteran's prospects for 2015.
"I don't know that [2014] was his best season. I think there were reasons, not excuses," Fox said. "I talked to him briefly out here. He lives out here. So it's good to touch base, air and share some ideas. He'll get that opportunity to compete. He could be one of those guys that might make a big jump."
Having played defensive end his entire 11-year career, Allen makes the switch to outside linebacker in Vic Fangio's 3-4 front in 2015, and faces competition for time on the field from players such as Lamarr Houston, Willie Young and recent signee Pernell McPhee.
Houston and McPhee possess enough bulk to play inside at defensive end in base packages, but Allen will play exclusively at outside linebacker, according to Fox and general manager Ryan Pace. Based on Fangio's past, it's expected the Bears will deploy Allen in creative ways in the team's substitution packages.
Allen played in 15 games last season, producing 64 tackles and just 5.5 sacks. Prior to the 2014 season, Allen had racked up double-digit sack totals for seven consecutive years, including eight of the last nine seasons.
Allen missed the team's Week 4 loss to Green Bay due to pneumonia, which caused him to lose 15 pounds, and ended a streak of 113 consecutive starts.
Fox also cleared up confusion regarding the expected role for 2012 first-round pick Shea McClellin, who moved to linebacker last year, after spending his first two seasons at defensive end. Fox plans to try McClellin at inside linebacker in the club's base package, which means he'll be fighting for playing time alongside new signee Mason Foster, Jonathan Bostic and Christian Jones.
McClellin started 10 games in 2014 and contributed 84 tackles and a sack.
"We don't really know. I think the biggest success I saw of him was when he came out of Boise State was as a 3-4 outside backer," Fox said. "It hasn't gone as well for him as far as position fit, in fairness to him, and that's not being judgmental on anyone. I think we're going to start him inside because it's a harder position to learn, but he will be both. So we don't really have a position per se. A linebacker is a linebacker, and he'll get a chance to compete at both. But more likely, we'll start him inside."
March, 26, 2015
Mar 26
10:00
AM ET
Chicago Bears coach John Fox called it "all an open competition" Wednesday at the NFL owners meetings when asked whether there was any scenario in which he envisioned Jay Cutler competing for the starting job at quarterback.
"I would say logically if you are looking at the depth chart and you are asking me for it two weeks before we can really get anything going, I'd say he'd be first on the depth chart, yeah," Fox said. "Obviously you've got to start somewhere and my experience in football and really anything is it's not where you start the race, it's where you finish it. We have to start the race with some kind of lineup, and we have not discussed that in depth. We have not presented it to our players in depth. I think it's important for them to see it maybe more than you guys. I've had guys who were third on the depth chart that by the time we started the opener were first. I can't tell you what's happening. If I could I'd be at some racetrack somewhere."
[+] Enlarge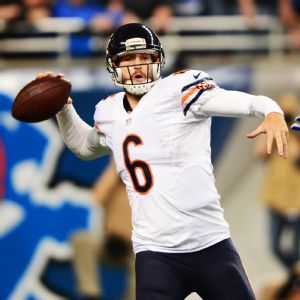 Andrew Weber/USA TODAY SportsJay Cutler enters the second season of a seven-year, $126.7 million contract he signed in January 2014.
Either way, it's clear Fox and the Bears plan on placing their bet first with Cutler, who in six seasons with the team has gone through four offensive coordinators, two head coaches and two general managers. Cutler set Chicago's single-season record last season for completions (370) and finished with career highs in completion percentage (66.0) and passing touchdowns (28). But Cutler also led the league in turnovers, which played a role in his benching, not to mention the current climate of uncertainty regarding the quarterback.
Cutler enters the second season of a seven-year, $126.7 million contract he signed in January 2014.
Having studied Cutler thoroughly during extensive roster evaluations shortly after taking over as coach, Fox identified one of the main factors in the quarterback's struggles from last season.
"I think maybe he got to a point where he lacked confidence. He has to build that back up, and it's going to take time," Fox said.
The coaching staff can help, Fox said.
"Football-wise, there are things you can do in coaching; playing defense, playing complementary football is going to be something that helps," he said. "I liken it a little bit, and not being critical to Tony Romo. I know he's a tremendous competitor. I thought he had one of his better seasons a year ago, and with success comes confidence. I'm not going to be critical of last year. I wasn't here last year. I had my own problems. I know this: Unless something good happens, it's hard to have confidence. Our job is going to be building that confidence. I've seen him have success; maybe not super recently, but in spurts, in sections of his career. Now, like anybody, it's becoming more consistent with that success."
At this point, veteran Jimmy Clausen seems to have the best chance of unseating Cutler. But such a scenario isn't likely. Fox served as the head coach in Carolina when the Panthers selected Clausen in the second round in 2010, and the quarterback started 10 games as a rookie in leading the team to a 2-14 record, which resulted in the coach's firing.
Clausen started one game in 2014 when former coach Marc Trestman benched Cutler and the former Notre Dame star completed 60 percent of his passes for two touchdowns and an interception to go with a passer rating of 77.0 in a Dec. 21 loss to the Detroit Lions. Fox didn't rule out the possibility of adding another quarterback in the upcoming draft, but the team's moves in free agency up to this point indicate the Bears will be in position to stick to new general manager Ryan Pace's philosophy of selecting the best available player, regardless of position or need.
"Ryan has the approach, which I'm on board with, of taking the best available player," Fox said. "We're sitting there at No. 7. I'm not sure what could happen with that, but we'll look at the best available player. I think quarterback is a unique position. I've been places where we took one just about every year, whether it was a college free agent or late in the draft, early in the draft or middle of the draft."
March, 26, 2015
Mar 26
3:49
AM ET
ESPN.com news services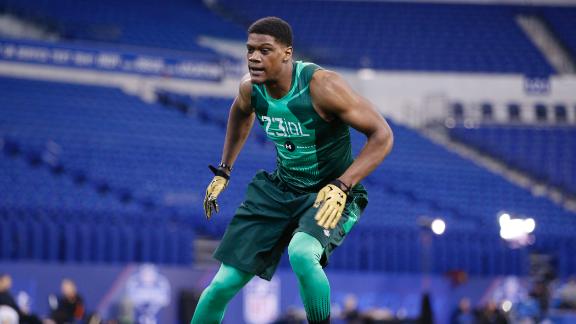 Outside linebacker Randy Gregory, a potential top-10 NFL draft prospect, said Wednesday that he tested positive for marijuana in February at the scouting combine.
"I blame myself," Gregory told NFL.com in revealing the positive test. "And I know it sounds cliché, but there's really no one else I can blame."
Gregory, who starred at defensive end for Nebraska the past two seasons, admitted he has a lengthy history with marijuana, saying he began smoking after graduating from high school. He tested positive for the drug in January 2014 and April 2014 at Nebraska, according to the NFL.com report, and faced being kicked off the team had he failed a third test.
He said the positive test at the scouting combine resulted from high levels of the drug that lingered in his system even though he had not smoked marijuana since December.
"I was worse at Nebraska than I've ever been at any other time of my life," he told NFL.com. "But I know how I am now. I think if teams really look at how I am now more so than the past, they'll see I'm making strides to get better, as a person and as a player."
He said he now is focused on his "dream" of playing in the NFL.
"I don't wake up every day saying, I'd really love to go smoke," he said. "It's not a struggle for me every day (now), it really isn't. In the past, hell yeah, it's been a struggle. It really has been."
The positive test could send Gregory down draft charts. In their latest mock drafts, ESPN's Mel Kiper Jr. had Gregory going seventh overall to the Chicago Bears
March, 26, 2015
Mar 26
2:40
AM ET
Apparently, it doesn't take much to impress Chicago Bears chairman George McCaskey.
At least that's the conclusion I came to after reading his comments about signing free-agent defensive end Ray McDonald.
When new general manager Ryan Pace first brought the idea of bringing in McDonald, McCaskey's first instinct was to steer clear of him because of his recent history. McDonald was cut by the San Francisco 49ers in December after a second incidence of suspected domestic violence in a span of five months.
But the unemployed McDonald was persistent. He wanted a job with his ex-coordinator, Vic Fangio, who is now with the Bears, so he asked for a meeting and even paid his own way to Chicago.
[+] Enlarge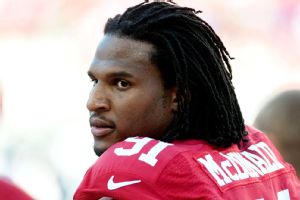 Ed Szczepanski/USA TODAY Sports
George McCaskey stressed he has final say on defensive end Ray McDonald coming to the Bears.
Next thing you know, he's a Chicago Bear on a one-year contract.
"So the fact that he proposed that idea, I gave him a lot of credit for," McCaskey told a few Chicago reporters on Tuesday, according to an online transcript. "And he was very candid, very forthright. It was a difficult conversation. It was long. It took a lot out of me. And I think it took a lot out of him. And after that conversation, I told Ryan that he had our permission [to sign him]."
To refresh, McDonald was arrested on suspicion of felony domestic violence on Aug. 31, 2014, and was investigated for sexual assault on Dec. 17, 2014, not long after which he was cut by the Niners. He wasn't charged in either case, though the latter one remains open. He recently sued the woman who accused him in the December assault case.
I'm not sure what McCaskey was expecting from McDonald in a man-to-man conversation and what qualifies him to be a judge of character, other than his title and birthright of being related to George Halas.
While McCaskey stressed to reporters that he's trusting Pace's decision-making on a very thorny issue, he has the final say.
McCaskey, who had no player personnel experience before taking over as chairman, said he also talked to McDonald's parents. While qualifying he didn't expect anything critical to come from them, he told reporters he was impressed by McDonald's "support system."
The Bears also believe McDonald seems like a good teammate. Fangio backed him, as did coach John Fox based on Fangio's recommendation and after the team's extensive evaluation process. McCaskey came away "very impressed" with what Fangio had to say about him.
McCaskey, who said it was not his place to dig into the specific allegations against McDonald, was pleased to hear the player has a "strong work ethic" and is "motivated to make this work."
But McDonald's on-field or locker room demeanor isn't the issue and his work attitude shouldn't be conflated with his off-field problems.
Color me unconvinced that McCaskey is some kind of character judge. Not that I expect much sensitivity from an NFL owner, even an anodyne sort like McCaskey.
It shouldn't take a wave of domestic violence cases to make us care about this issue, but that's what happened in the past year or so.
The Bears, like every other NFL team, are empathetic to social ills, but this is a bottom-line business, one that employs men who practice violence for a living. Some are excellent citizens, valiant poet-warriors. Others are bad guys.
But given that the NFL pays players as fungible assets, why take a chance on this guy? Well, the Bears think McDonald can help them win football games. And perversely, because of his troubles, he comes at a good price, allowing the Bears to improve their team in other areas as well.
It's a gamble they're willing to take, even as it offends a portion of their paying audience. But then again, we all know the outrage will die down. It always does.
I don't blame McCaskey or Pace for taking this chance. We all use justifications to shape our daily lives. I also don't blame Bears fans for being turned off by this addition.
The Dallas Cowboys offered much of the same sentiments as the Bears did when they recently signed defensive end Greg Hardy, who was convicted last summer of assaulting and threatening his then-girlfriend. Hardy is appealing the conviction and still could be suspended by the league.
Dallas has been lambasted for the move. Jerry Jones' daughter, Charlotte Jones Anderson, serves as the team's chief brand officer, and she defended the signing as a teaching moment and an "opportunity."
"I think you will look back and you will say this is the right move for the Cowboys," she told the Dallas Morning News.
It doesn't have to be said that people can learn from their mistakes and can change for the better.
Brandon Marshall has a new lease on life after a past of alleged violence against women. The Bears took a chance on him and it mostly turned out OK.
The Bears hope McDonald, who could still get punished under the league's ever-changing behavior policy, doesn't get in trouble under their watch, and that his one-year contract is motivation for a new life of clean living.
We should all hope that is the case, more for any potential victims than the state of the Bears' "brand."
March, 25, 2015
Mar 25
3:46
PM ET
Chicago Bears coach John Fox plans to implement changes to the club's offseason conditioning program, tweaks he believes should help Alshon Jeffery as he ascends to the role of No. 1 receiver with Brandon Marshall out of the picture.
"I really liked Alshon coming out [of college]," Fox said Wednesday from the NFL owners meetings. "One of the things I'd say is we had a lot of soft-tissue injuries last year as a football team. We've kind of changed philosophically in the weight room. I think you'll see we're going to do things a lot different from offseason conditioning, the approach to how we handle that. I don't think we had a soft-tissue injury a year ago in Denver other than one particular guy."
In Chicago, the Bears finished up the 2014 season with 10 players on the injured reserve, with Jeffery spending most of the year battling through nagging hamstring issues. Still, Jeffery put together his second-consecutive 1,000-yard season, catching 85 passes for 1,133 yards and 10 touchdowns.
Set to enter the final season of his rookie contract, Jeffery wasn't approached by the team's brass about doing a contract extension.
Jeffery tied for 11th in receptions among receivers last year and tied for seventh in receiving touchdowns and receptions for gains of more than 25 yards (12).
"I think [the new conditioning approach] will help him," Fox said. "There have been times in his career when he might have been a little bit overweight, but obviously a beast as far as size, and a guy we're looking forward to getting to know better."
March, 25, 2015
Mar 25
1:43
PM ET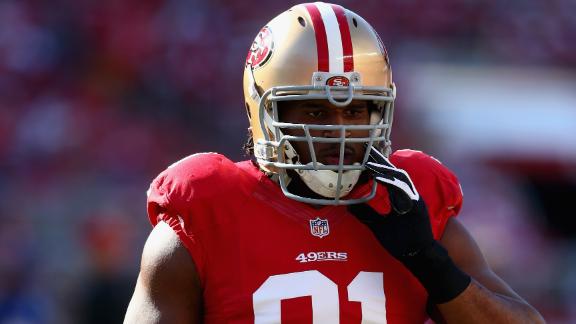 PHOENIX -- John Fox did not frame it as a zero-tolerance policy.
But the Chicago Bears coach said Wednesday that defensive end Ray McDonald will be held accountable in all aspects after agreeing to a one-year contract with the storied franchise a day earlier.
"I think Ray understands we have a standard," Fox said at the NFL owners meetings. "He's going to need to meet that standard moving forward much like all of the players we'll acquire moving forward."
The 49ers released McDonald last December after law enforcement officials in San Jose, California, said he was under investigation on suspicion of sexual assault. McDonald hasn't been charged in that case, which remains open.
The Bears, who gave up more yards than all but two teams last season, took a chance on McDonald after he flew to Chicago on his own dime to meet with team chairman George McCaskey.
The Bears had been opposed to signing McDonald before he essentially recruited them as he tries to get his career back on track.
"I have a lot of respect for the fact that the young man wanted to come in and meet with ownership after he was told no," Fox said. "Flew in on his own dime after George said yes, he'd be willing to talk with him and probably much like people who have spent a lot of time with him felt a little more comfortable moving forward."
What also helped McDonald's cause is a strong recommendation he received from new Bears defensive coordinator Vic Fangio. The two were together the previous four years in San Francisco -- Fangio was the 49ers' defensive coordinator from 2011 to '14 -- and Fangio vouched for McDonald, something that put him on the Bears' radar long before he signed with them.
"His name came up very early in the process, I think probably a day after Vic Fangio was hired, so it's not a snap decision by any stretch," Fox said. "A lot of research in all areas of Ray McDonald. Like most players a lot goes into the evaluation process. No different with him. Obviously any off-the-field problems we take very serious. They do happen. As much as you would like to keep them out of your building you coach against it, just like you do on the field. We felt strong about it, him especially, leaning heavily on four years of the relationship that [defensive backs coach] Ed Donatell and Vic Fangio had with him."
As for what he heard from Fangio about McDonald, Fox said, "He thought he was a great teammate. He thought he was one of the leaders on the defense, he and Justin Smith
March, 25, 2015
Mar 25
9:00
AM ET
The Chicago Bears have six selections in the 2015 NFL draft, which will be held April 30 to May 2 in Chicago. Here's a breakdown of the Bears' selections:
First round: 7th overall selection

Second round: 39th overall selection

Third round: 71st overall selection

Fourth round: 106th overall selection

Fifth round: 142nd overall selection

Sixth round: 182nd overall selection

Seventh round: No selection. Pick sent to New York Jets in exchange for their fifth-round pick as part of Brandon Marshall trade.
March, 24, 2015
Mar 24
5:53
PM ET
[+] Enlarge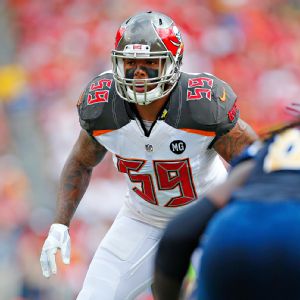 AP Photo/Jeff HaynesFormer Buccaneers LB Mason Foster has agreed to a one-year deal with the Bears, according to his agent.
The Chicago Bears agreed to terms Tuesday with former Tampa Bay Buccaneers linebacker Mason Foster on a one-year deal, according to his agent, Steve Carric.
A Bears' target from the start of free agency, Foster came into the period somewhat under the radar after missing six games in 2014 due to injury. The sides expressed mutual interest early in the free-agent signing period, with Foster believing Chicago's system, led by defensive coordinator Vic Fangio, would be the best fit for his talents.
Chicago's current roster at inside linebacker features players such as Jonathan Bostic, Khaseem Greene, Christian Jones and DeDe Lattimore, which gives Foster a strong chance to immediately come in as a starter in the middle.
Foster separated a shoulder early in the season, but returned to the lineup after missing three of the first six contests. He missed three of the last four games of the 2014 season with a strained Achilles, but is fully healthy now, according to a source close to the linebacker.
March, 24, 2015
Mar 24
3:50
PM ET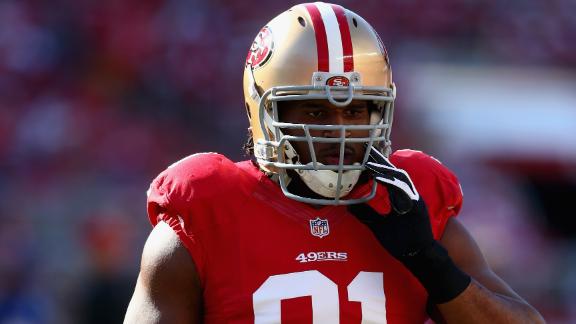 The Chicago Bears took a measured approach after the initial big-money first wave of free agency, and the club's patience may have actually paid off Tuesday with the expected additions of defensive ends Jarvis Jenkins and Ray McDonald.
Sources confirmed the Bears plan to sign Jenkins to a one-year contract, provided he passes a physical. ESPN NFL Insider Chris Mortensen reported Chicago's plans to sign McDonald.
After spending approximately $31 million guaranteed to land outside linebacker Pernell McPhee, safety Antrel Rolle and receiver Eddie Royal, the Bears continued into the second wave of free agency looking to land bargains as they attempt to fill out the defense for the switch to defensive coordinator Vic Fangio's 3-4 scheme.
With plenty of options at outside linebacker, including McPhee, Jared Allen, Willie Young and Lamarr Houston, the Bears needed to add a couple of interior defenders to play defensive end. The Bears appear to have filled the void at those spots with a couple of steady performers in Jenkins and McDonald.
Jenkins played the run solidly last season at Washington, but has posted just two career sacks. Jenkins told ESPN Redskins reporter John Keim he plans "this offseason to do 100 pass rushes every day on a lineman. I have to work on it if I want to be a dominant player in this league. It's obvious my downfall [is] sacks. [Redskins coach Jay] Gruden explained it to me and said guys like you that are athletic, you're supposed to have sacks. This is a sack league. It will be the main thing I work on, to get my sacks up."
In Fangio's 3-4 scheme, that really won't be necessary, as outside linebackers are charged mostly with the responsibility of netting sacks, while defensive ends serve primarily as run defenders.
That brings us to McDonald, an acquisition sure to stir up some controversy given his recent past. The 49ers released McDonald back in December for what they called a "pattern of poor decision-making" after learning police were investigating the defensive end on suspicion of sexual assault. McDonald was never charged in that case, and the defensive end is suing the woman who accused him of the assault.
McDonald was also implicated in a domestic abuse case involving his fiancée last August, but it was announced in November he wouldn't be facing charges in that case with authorities citing insufficient evidence as the alleged victim declined to cooperate with investigators.
"I feel like what I am doing is the right thing because I know that I am not this bad person that people are making me out to be," McDonald told ESPN last week. "I've been fired from my job. I know some teams don't even want to talk to me because of this past accusation. All I am trying to do is clear my name and move on with my life."
There's a good chance that won't be easy in Chicago, at least not initially. According to a source, the Bears, internally, are bracing for the potential backlash likely to accompany the signing of McDonald. But while the accusations concerning McDonald are certainly serious, he hasn't been formally charged in either of the investigations, and according to NFL spokesman Greg Aiello, "the matter is under review" with regard to the defensive end potentially facing league discipline.
Ultimately, though, it's unlikely McDonald would have landed on Chicago's radar anyway without a strong recommendation from Fangio, the defensive end's former coordinator in San Francisco. McDonald played for Fangio from 2011 to 2014, having joined the 49ers in 2007 as a third-round pick out of Florida.
McDonald became a starter in 2011 under Fangio, and developed into a strong run-stopper capable of providing an added dimension as a pass-rusher. McDonald started 14 games for San Francisco in 2014, finishing fifth on the team in tackles. Pro Football Focus rated McDonald No. 12 among 3-4 defensive ends.
So on the surface it appears the Bears landed a couple of solid potential contributors as they look to restore the club's reputation for annually fielding one of the league's toughest defenses.
If Jenkins and McDonald pan out, along with new general manager Ryan Pace's other recent additions, the Bears could be well on their way to turning around last season's 5-11 mark without having to break the bank to make it happen.
March, 24, 2015
Mar 24
1:58
PM ET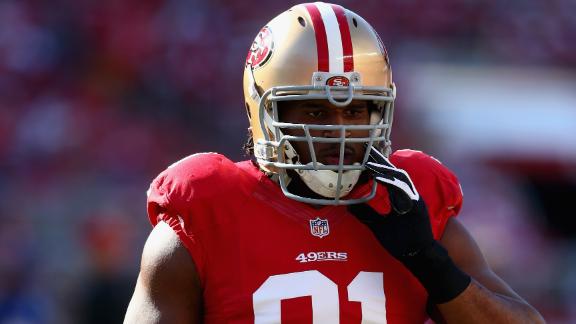 The Chicago Bears have reached agreement on a one-year contract with free-agent defensive end Ray McDonald, the team said Tuesday.
Terms of the agreement, which is pending McDonald passing a physical exam, are not yet known.
McDonald was released by the San Francisco 49ers in December after law enforcement officials in San Jose, California, said he was under investigation on suspicion of sexual assault. McDonald hasn't been charged in that case, which remains open.
Bears general manager Ryan Pace told reporters at the owners meetings in Arizona that, because there were character issues with McDonald to consider, Bears chairman George McCaskey weighed in on the decision before the team went through with the move.
McDonald paid for his own ticket to travel to Chicago and met with McCaskey for two hours, Pace said. George McCaskey also consulted with Virginia McCaskey and received her blessing before signing off on McDonald's addition.
"I was impressed with how sincere he was and how motivated he is," McCaskey told reporters Tuesday night at the owners meetings in Phoenix, referring to the meeting he had with McDonald. "He understands, I think, that he could have well been facing the end of his football career. And he loves football. And he wants that career to continue. So I was impressed with his motivation."
Pace and McCaskey also placed a phone call to McDonald's parents to discuss their son before being comfortable with the move.
"He said, 'If you want, you can talk to my college coach, Urban Meyer, and my position coach from college,' " McCaskey said, according to the Chicago Tribune. "And after talking to him I said, 'I think I'd like to talk to your parents.' And you need to be careful putting too much stock (in that). What would you expect a parent to say about their adult child?
"But the thing that impressed me after talking to them was the support system," McCaskey added. "They go to almost all of his games, even the out-of-town games. They're there for him. He came from a strong two-parent upbringing, which sad to say isn't all that common anymore these days. And even discounting what a parent had to say, I came away impressed with the support system that he has."
When contacted by ESPN.com on Tuesday, the NFL said that McDonald's case is "under review" for possible discipline.
San Francisco cited a "pattern of poor decision-making" at the time it "terminated" McDonald.
McDonald also was implicated in a domestic abuse case involving his fiancee last August. It was announced on Nov. 10 that he would not face charges in that case. The 49ers stood by him at that time.