September, 19, 2014
Sep 19
8:00
AM ET
Jubilant and still emotional after high-stepping into league history Thursday night on a 56-yard punt return to collect his NFL-record 20
th
career return touchdown, former
Chicago Bears
return man
Devin Hester
admitted to feeling unhappy about his role in the final years of his tenure with the club that drafted him.
Hester played receiver for six years of his eight-year tenure in Chicago, but spent his final season (2013) working exclusively as a return man.
[+] Enlarge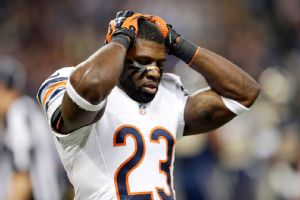 AP Photo/Nam Y. HuhDevin Hester was not happy with his limited involvement in the passing game in Chicago.
Now with the
Atlanta Falcons
, Hester scored on the return Thursday night as well as a 20-yard run in the first half of his team's 56-14 shellacking of the
Tampa Bay Buccaneers
, led by former Bears coach Lovie Smith.
"I'm gonna say it, man. I wasn't happy the last three or four years in Chicago," Hester said during the postgame show on NFL Network's Total Access. "Things weren't going the way I expected. I would always have a great camp; have all the receivers saying and all the coaches saying I had the best camp out of all the receivers. And then, once the season starts off, I'm not there."
Hester didn't elaborate, but sources have said he didn't want to play receiver for the Bears in 2013.
Hester spent eight seasons with the Bears (2006-13) and participated in 123 games, racking up 11,632 all-purpose yards. The veteran spent parts of his career playing defensive back and receiver with the team. But last season, the Bears coaching staff and Hester mutually agreed he'd concentrate solely on duties as a return man.
Hester caught a career-high 57 passes for 757 yards and three touchdowns in 2009, quarterback
Jay Cutler
's first season with the team. But Hester and Cutler never clicked. Hester finished with 2,908 yards and 14 touchdowns, but caught just 23 passes in 2012, his final season playing receiver for the Bears.
"I've got a quarterback now that ... he loves even the walk-ons," Hester said, "and coaches that know how to get the ball to me; how to make plays for me. I'm excited for this season, man. This is only the beginning for our team. It's a team that knows how to utilize their talent. Everybody's making plays, and we've got a team that, if you're good at running this route, we don't care if you've been a starter for 12 years. If this guy is two years in the league and he's good at this route, we're gonna let him run this route."
A three-time Pro Bowler (2006, 2007 and 2010), Hester was named to the 2000s All-Decade team by The Associated Press and ESPN. He was the rookie recipient of the team's 2006 Brian Piccolo Award, which is elected by Bears players for teammates they feel best exemplify the courage, loyalty, teamwork, dedication and sense of humor of the late Piccolo.
But the team informed Hester in March he wouldn't be returning for a ninth season in Chicago.
"For the past eight seasons, we have been honored to have Devin Hester as part of our organization," Bears general manager Phil Emery said at the time. "While Devin has redefined the pinnacle standard of the return position in the NFL, the memories and contributions he has given us cannot be measured by stats or numbers."
The Chicago Bears organization and former teammates
showered Hester with praise
and congratulatory words on Twitter after he broke Deion Sanders' record for return TDs.
Hester admitted that when he left Chicago, he was no longer the player he used to be. Still, he's plenty dangerous based off the performance against the Buccaneers.
"You hear rumors about, 'Man, he lost it.' You know, I lost it a little bit. I used to run a 4.2[-second 40-yard dash], but now I run 4.3," Hester joked. "I ain't gonna lie, I've lost it a little bit. But I've still got that hunger. As the years have grown, I've learned the game. I understand the game. I know what I'm capable of doing, and I know how to utilize and rally my troops. Those guys, I'm proud of them my blockers, because those guys wanted it just as badly as I did."
September, 19, 2014
Sep 19
8:00
AM ET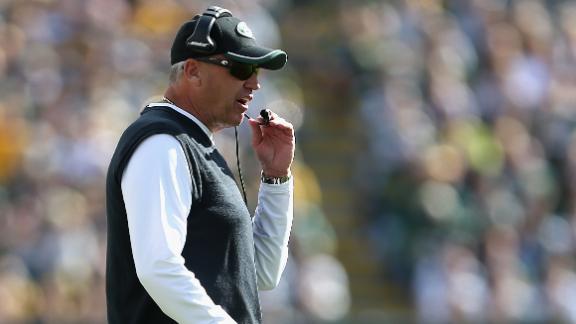 The
Chicago Bears
are coming off one of their best wins in recent memory; the
New York Jets
are trying to rebound from one of their worst losses -- ever.
Monday night's nonconference matchup at MetLife Stadium will be a fascinating study in how the teams -- both 1-1 -- handle extreme highs and lows. The Bears rallied from a 17-0 deficit to stun the
San Francisco 49ers
on the road 28-20. The Jets blew a 21-3 lead and fell to the Bears' top rival, the
Green Bay Packers
, 31-24.
The Jets and Bears are different on so many levels. The Jets like to play the game in the trenches, and they play it well. They lead the NFL in rushing offense and rushing defense, becoming the first team since the 2007
Minnesota Vikings
to lead those categories in the same week. The Bears struggle in those areas (30th and 27th, respectively), preferring to play the game on the perimeter with
Jay Cutler
throwing to a talented group of receivers.
ESPN Jets reporter Rich Cimini and ESPN Bears reporter Michael C. Wright discuss the matchup:
Cimini
: Obviously, there is a lot of interest in receiver
Santonio Holmes
. How is he fitting in with the offense and, given his diva reputation in New York, is he behaving in the locker room?
Wright:
Rich, the first week Holmes was here, I spent about an hour speaking with him one day after practice and we touched on his tumultuous tenure with the Jets. He seems to be genuine, and says that is probably what got him into trouble some in New York. From what I've seen of Holmes, though, he is a fairly quiet guy who seems to prefer to be alone. He understands the current situation is a tremendous opportunity; he wants to prove that he still possesses the skills to be an effective player and that he can be a person his coaches and teammates can depend on. He has been good in the locker room, sharing his knowledge and experiences with younger receivers.
Holmes is still learning the nuances of Chicago's system, which he said is similar to what the Jets ran during his tenure, and he is spending time after practice with receivers coach Mike Groh, learning the ropes. It appears he is becoming more comfortable with the offense, and I anticipate his role growing as the team moves forward.
Turning to the Jets, it seems there has been quite a bit of fallout over the timeout that negated what should have been the game-tying touchdown against the Packers. In a situation like that, a lot of blame can be thrown around. How are the Jets handling that, and have they done anything moving forward to eliminate another miscommunication?
Cimini:
Sheldon Richardson
and offensive coordinator Marty Mornhinweg have each taken responsibility for the costly, ill-timed timeout, truly one of the biggest gaffes in Jets history. In my opinion, it was a perfect storm, meaning a whole lot of bad stuff happened at the same time. Obviously, they learned a hard lesson. If they didn't know it already, the players on the sideline know they should stay out of the "timeout" business.
In terms of communication between the coaches, nothing will change, according to Rex Ryan. He feels confident the right system is in place. He and Mornhinweg communicate during the game via the headset and, if Ryan is on the defensive channel and can't hear Mornhinweg (which happened Sunday), he will get the message from someone in the coaches' booth. They feel last Sunday was an aberration.
It overshadowed the biggest concern -- the pass defense. Do you think the Bears will try to have more balance offensively, or will they let Cutler attack the Jets' suspect secondary?
Wright
: That depends on whether the Bears can be effective against the Jets' stingy run defense. Chicago has run the ball 35 times and passed 83 times this season. Against a defense like the Jets' -- regardless of the issues in their secondary -- that will get you beat. If Chicago can't show a semblance of a rushing attack, the offense becomes one-dimensional, which would allow the Jets to dial up the pressure on Cutler.
So the Bears definitely want to keep the Jets guessing. But as you mentioned, they will also want to attack with their huge receivers (
Brandon Marshall
and
Alshon Jeffery
) on the outside, and also utilize tight end
Martellus Bennett
down the seams. The Bears will definitely try to test New York's run defense early. But if they don't achieve any success, my guess is they will go heavy with the aerial attack.
Speaking of offense, New York seemed to be rolling early in the game against the Packers, scoring touchdowns on each of the first three drives. But in the last nine drives, the Jets came up with only a field goal. What is the team's explanation for what happened?
Cimini
: Get a load of this stat, Michael: The Jets scored 14 points in the first quarter for the first time since 2009. That is what you call a rare early explosion. They built the 21-3 lead with a run-heavy approach (18 runs, 10 passes), using a variety of schemes that kept the Packers off balance. The Packers adjusted and the Jets got away from the run, with a run-pass ratio of 16-26 over the final nine drives. I think the Jets got a little caught up in trying to keep pace with Rodgers, and it took them out of their comfort zone.
This week, there will be a renewed emphasis on the running game. Even though they ran for 146 yards, they weren't happy at all. The uncertain status of wide receiver
Eric Decker
(hamstring) makes the running game even more important. At the same time, they are trying to achieve more balance in the passing game. It has been a two-man show, Decker and
Jeremy Kerley
, and some of the players have approached Mornhinweg about trying to spread the ball around.
Statistically, the Bears' run defense stinks. How do you think it will fare against the Jets' run-heavy attack?
Wright:
In the opener, Chicago gave up 193 yards to the Bills on the ground -- but 85 came on two runs. Most of their issues against the run have been execution, and that is more acceptable than players simply being dominated physically. That is why the Bears weren't overly concerned with their performance in the opener. There were one or two occasions in which a player tried to do more than his own job. That resulted in the player jumping out of his gap, and a big gain followed. The Bears cleaned that up against the 49ers in Week 2, and I anticipate them being a tad better against the Jets. That doesn't mean the Bears will stop them. But I think they will allow fewer than the 4.8 yards per attempt they gave up last week.
There have been lots of Jets penalties so far. How have the flags affected this team's effectiveness, and do you think this speaks to an issue of immaturity or lack of discipline that can ultimately undermine the Jets?
Cimini:
The Jets have been called for 22 penalties (four declined), but who's counting? That total includes two roughing-the-passer penalties and two unsportsmanlike conduct calls, one of which resulted in the ejection of
Muhammad Wilkerson
. Yeah, there is a lack of maturity at times. The Jets are a relatively young team, and those young players tend to lose their poise. Some of it falls on Ryan, who is anything but a no-nonsense disciplinarian. He gives the players their space, and sometimes things get loosey-goosey, but they appreciate his player-friendly approach and they play hard for him. That is the tradeoff.
Obviously, they have to clean it up or they will lose a lot of close games. Teams with middling talent, such as the Jets, don't have a huge margin for error.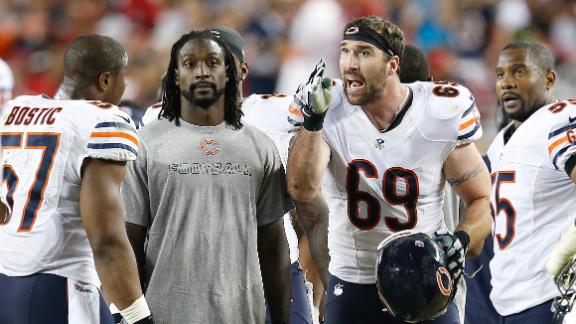 September, 18, 2014
Sep 18
6:23
PM ET
ESPN.com news services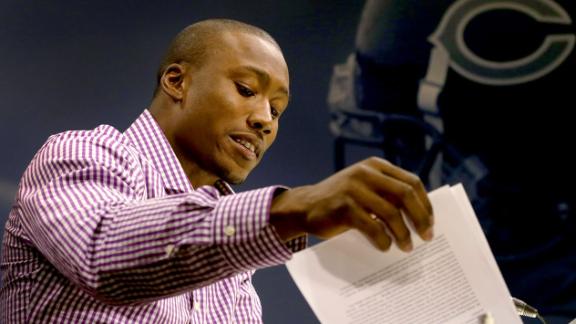 Bears receiver Brandon Marshall, who years ago was accused by a former girlfriend of abusing her, spoke out Thursday about the domestic violence issues that continue to plague the NFL and urged people not to rush to judgment before they hear both sides of a story.
The comments from Marshall, who spoke at the team's facility, come after attorney Gloria Allred on Wednesday said that NFL commissioner Roger Goodell ignored previous complaints lodged against Marshall.
"My view on the NFL and this current climate we're in, I think it's a shame," Marshall said. "But I do love and respect what we're doing because the NFL, we all know has the ability to transform lives, transform communities. We have influence to really shape and mold a culture. So these issues, you know, whether we're wearing lime green on the field, pink, orange, whatever, I think that is sweet. I love it, because of the amount of awareness we have and the amount of influence can really dictate a lot.
"But what I am disgusted over and I really believe it's not an issue of domestic violence or child abuse or drunken driving, it's really an issue of the condition of our hearts as people ... the way we treat one another ... it doesn't matter if the man's the aggressor or the woman's the aggressor or we're disciplining our kids in anger or disciplining our kids in love ... it's the condition of our hearts."
Marshall was accused of abuse by former girlfriend Rasheeda Watley in 2006. He was a member of the Denver Broncos at the time. He was charged with domestic violence in 2007, but the case was dismissed after he completed anger management classes.
September, 18, 2014
Sep 18
3:16
PM ET
LAKE FOREST, Ill. -- The
Chicago Bears
held seven players out of Thursday's practice in advance of Monday's night road game versus the
New York Jets
: center
Roberto Garza
(ankle), left guard
Matt Slauson
(ankle), cornerback
Sherrick McManis
(quad), defensive end
Trevor Scott
(foot), defensive tackle
Jeremiah Ratliff
(concussion), wide receiver
Brandon Marshall
(ankle) and defensive end
Jared Allen
(back).
The Bears still have two more days of practice before the team departs for the New York/New Jersey area on Sunday afternoon.
In more encouraging news, safety
Chris Conte
practiced on a limited basis on Thursday after being forced to leave the 49ers game early because of a shoulder injury. Conte is tied for the team lead with two interceptions over the first two weeks of the regular season.
The Bears also listed wide receiver
Alshon Jeffery
(hamstring) as having limited participation. Jeffery was a game-time decision in Week 2 but still managed to have three catches for 47 yards. The Bears admitted afterwards that Jeffery played at less than full strength.
Linebacker
Shea McClellin
(limited) is dealing with a hand injury.
Wide receiver
Josh Morgan
practiced without restrictions on Thursday after a groin injury sidelined him for the 49ers game.
September, 18, 2014
Sep 18
2:45
PM ET
Chicago Bears
wide receiver
Brandon Marshall
addressed the media in a news conference Thursday. ESPN Bears reporter Michael C. Wright and ESPN Chicago reporter Jeff Dickerson were there to report on his remarks.
September, 18, 2014
Sep 18
12:05
PM ET
LAKE FOREST, Ill. -- The
Chicago Bears
used their final open roster spot to re-sign cornerback
Demontre Hurst
, the team announced on Thursday.
Hurst earned a place on the Bears' 53-man roster at the conclusion of the preseason, and made his NFL debut versus the
Buffalo Bills
in Week 1, where he recorded two special teams tackles. However, the Bears waived Hurst following the loss to the Bills.
Hurst spent the entire 2013 season on the Bears' practice squad after joining the club as an undrafted rookie free agent out of Oklahoma.
In addition to possibly contributing on special teams, Hurst has practiced at the nickel back position in the past.
With veteran cornerback
Charles Tillman
lost for the year and
Sherrick McManis
dealing with a quad injury, the Bears have spent the past three days figuring out what to do in the nickel sub-package.
Rookie first-round pick
Kyle Fuller
is expected to stay outside at cornerback full-time in place of Tillman, and the Bears may ask
Tim Jennings
to do the same. If the Bears go that route, it opens a hole at nickel back. The team had rookie safety
Brock Vereen
slide inside and cover the slot after Tillman got hurt in the 28-20 win over the
San Francisco 49ers
, but head coach Marc Trestman said on Tuesday the team still considers Vereen to be a safety.
The Bears elevated last year's starting nickel back,
Isaiah Frey
, off the practice squad on Tuesday. Frey is a logical candidate to take over nickel after he started six games and recorded 62 tackles for the Bears in 2013.
It should be noted, however, that McManis had an excellent preseason. If healthy, McManis is fully capable of lining up at cornerback in the nickel defense if the Bears preference is to continue having Jennings cover inside.
September, 17, 2014
Sep 17
5:03
PM ET
ESPN.com news services
[+] Enlarge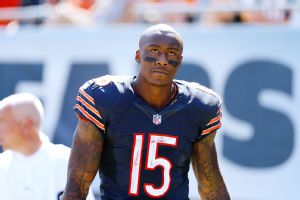 AP Images/Scott BoehmLawyer Gloria Allred says the NFL ignored complaints against Brandon Marshall stemming for a 2006 allegation of abuse.
Attorney Gloria Allred on Wednesday joined those calling for changes in the way the NFL investigates and punishes players accused of assault and domestic abuse, saying commissioner Roger Goodell ignored previous complaints lodged against Brandon Marshall.
At a news conference in Atlanta, Allred was joined by a friend of and the father of Rasheeda Watley, who alleged in 2006 that she was abused by Marshall, who at the time was a receiver for the Denver Broncos.
All three detailed how Watley had complained to the NFL after numerous police reports and at least one arrest involving Marshall, but said she got no response from Goodell.
In 2008, Marshall was suspended for three games for violating the NFL's personal conduct policy, but the suspension was reduced to one game and an additional game check. He denied ever abusing Watley in a 2009 interview with "Outside the Lines."
No new allegations were made Wednesday, though Allred said she would write to the NFL with her proposed changes.
"We want the NFL to get it right," Allred said. "It's long overdue for the NFL to get it right."
Marshall, 30, currently plays for the Chicago Bears
September, 17, 2014
Sep 17
1:22
PM ET
[+] Enlarge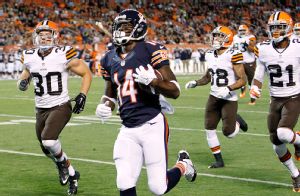 Ron Schwane-USA TODAY SportsSantonio Holmes has fit in nicely with the Bears after being cut by the Jets.
New York Jets coach Rex Ryan on Wednesday disputed the notion that Santonio Holmes was a divisive player in the locker room during his tenure there.
"No, that is totally untrue," Ryan said in a conference call with the Chicago media. "That was one of the biggest ... that's a joke. He wasn't that way at all."
Holmes spent four seasons with the Jets (2010-13) before signing in August with the Chicago Bears as a replacement for Marquess Wilson, who suffered a fractured clavicle during training camp. With the Jets, Holmes caught 146 passes for 2,168 yards and 16 touchdowns, but he came under fire toward the latter portion of his tenure after signing a five-year contract coming out of the NFL lockout in 2011 worth $45 million.
One New York Daily News report, citing anonymous sources back in January 2012, quoted a player saying Holmes is "a cancer. It's like dealing with a 10-year-old."
September, 17, 2014
Sep 17
1:15
PM ET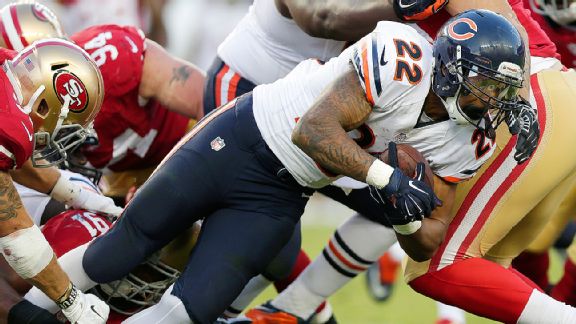 AP Images/Marcio Jose SanchezMatt Forte was held to just 21 yards rushing on 12 carries against the 49ers.
Kyle Long
said he was "embarrassed" by the
Chicago Bears
' running game in Week 2. Marc Trestman called it "very poor."
Facing a 17-point deficit against the
San Francisco 49ers
, the Bears had to look to pass more, but when they did run it wasn't pretty with
Matt Forte
rushing for just 21 yards on 12 carries. A week earlier, Forte was effective with 82 yards in Week 1 against the
Buffalo Bills
, but he got just 17 carries.
It doesn't get any easier in Week 3 against the
New York Jets
, who have allowed the fewest rushing yards (105) in the NFL this season. Is there reason to be concerned about the Bears' running game or is it all part of the game plan from week to week? Our panel weighs in on that and more:

Fact or Fiction: The Bears' running game is a concern after two weeks.

Jeff Dickerson:
Fact. Forte is an elite tailback. There is no issue with him. But Long labeled the Bears' effort in the run game "embarrassing" against San Francisco. That sounds a tad extreme. However, Forte only gained 21 yards on 12 carries on Sunday night. The best run came when
Jay Cutler
scrambled for 25 yards, so I think it's OK to call it concerning. But there's no reason to panic. Keep in mind, the Bears aren't exactly a power running team. They rely more on running outside the tackles with Forte. The ground game isn't the bread and butter of the offense. The Bears are a pass-first team. That's just the way it is. Also, fullback Tony Fiammetta hasn't been available yet this season due to injury and a release before re-signing. Maybe Fiammetta helps when he's on the field against the Jets roughly 15-20 percent of the time.
Jon Greenberg:
Fiction. It's just the way it is. I don't think Trestman is ever going to call a completely balanced game, run-pass wise. It'll always be slanted toward the pass with Cutler. After the opening loss against Buffalo, I asked Forte if he wanted more touches, and he admitted 17 carries was a little low, but that he'll get his touches on short passes ("extended handoffs"). He caught eight passes against the Bills. Those numbers dropped to 12 and 5 against the Niners. I'd like to see the Bears get more creative on runs -- San Francisco showed a few cool wrinkles Sunday night -- and more importantly, give him a few drives where he can really carry the load. Too often he was running on first down, getting stuffed because it was so obvious, and then the Bears went to the pass. But there were drives where they really tried to get him the ball. In the 13-play, 80-yard drive that spanned the third and fourth quarters, he touched the ball six times, four passes and two runs. But he only gained 18 yards, 11 coming on one pass. Long said he was frustrated in their run-blocking, so maybe Trestman was wise to spread the wealth.
---

Fact or Fiction: Charles Tillman is the best defensive back in Bears' history.
[+] Enlarge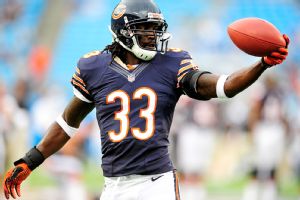 Grant Halverson/Getty ImagesCharles Tillman's Bears future is uncertain but his inclusion among the franchise's greats is not.
Jeff Dickerson:
Fact. It's a close race between Tillman (two Pro Bowls) and legendary safety Gary Fencik (two Pro Bowls). Fencik holds the franchise record with 50 takeaways (38 interceptions, 12 fumble recoveries) and won a championship in 1985. Tillman is the Bears' all-time leader in defensive touchdowns (nine), interception return yards (675), interception return touchdowns (eight), and ranks third with 36 career picks. However, Tillman revolutionized the game with his uncanny ability to force fumbles from the cornerback position. The "Peanut Punch" has been responsible for 42 forced fumbles since 2003, the second-highest total in the league over that span. Tillman changed the way coaches teach the game to younger players. Tillman gets the nod, in my opinion. But Fencik is underrated in terms of what he provided the Bears' defense in the mid-70s to late 80's.
Jon Greenberg:
Fact. It's so tough to judge between eras, but given Tillman's singular effect on the defense -- his ability to create takeaways -- and his team records in interception return yards, defensive touchdowns and interceptions returned for touchdowns, let's agree to call him that. Add to that, his 36 interceptions and 42 forced fumbles, he's got a great case. Tillman's had a fantastic career, if it's over.
---

Fact or Fiction: There won't be much of a dropoff on the defense with rookie Kyle Fuller replacing Tillman.
[+] Enlarge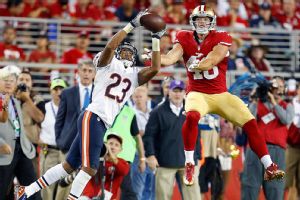 AP Images/Tony AvelarKyle Fuller came up big in place of Charles Tillman against the 49ers.
Jeff Dickerson:
Fiction. Fuller looks ready to assume a full-time starting role. He belongs. But rookies always experience a certain degree of growing pains when pressed into action straight out of college. That especially holds true at the cornerback position where players are taught to have short memories. The Bears play in a division with
Calvin Johnson
and
Aaron Rodgers
. I don't care how ready a player is, the Packers and Lions can throw the football. Fuller will be tested. I believe he will hold up OK, but let's hold off on the Tillman comparisons. Fuller will be making his first career NFL start on Monday night. Tillman made 158, including the postseason. Maybe Fuller eventually becomes the next Tillman. But it doesn't happen overnight. Give the rookie time.
Jon Greenberg:
Fiction. That's tough to say after two games. Check out the Bears' schedule, Fuller will have some difficult receivers to cover if the Bears throw him to the wolves and Megatrons of the league. The Bears are lavishing praise on him, and his two-pick game against the Niners augur good things to come. Fuller looks like an All-Pro, and he's got young legs, but while Tillman was getting older, experience is often a cornerback's greatest weapon. Tillman had seen it all and his instincts let him gamble for those punch-outs. The Bears would be better off with three strong cornerbacks.
---

Fact or Fiction: Special teams will cost the Bears at least one win this season.
[+] Enlarge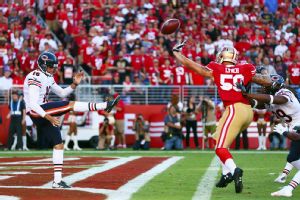 Jeff Gross/Getty ImagesThe Bears were able to recover after a blocked punt led to an early 49ers touchdown.
Jeff Dickerson:
Fact. This has been a problem since the summer. The Bears just don't seem talented, organized, or intelligent enough on special teams. They were lucky to avoid a complete meltdown after the 49ers' blocked punt led to an early touchdown. Next time, they may not be so fortunate. In the past, the Bears used to make their special teamers into positional backups. Now, the Bears try to make their positional backups into special teamers. The philosophical shift is partly to blame for the decline. Losing players such as
Devin Hester
, Craig Steltz,
Eric Weems
, Blake Costanzo,
Zack Bowman
, Anthony Walters and Jordan Senn hurts. I think it's fair to say coordinator Joe DeCamillis needs to do the best coaching job of his career to turn it around. DeCamillis has 26 years of experience coaching special teams in the NFL. This is probably one of his toughest assignments to date.
Jon Greenberg:
Fact. This group is awful. Disorganized and sloppy. Whither Dave Toub? Oh yeah, he's in Kansas City. It's not just coaching, it's the caliber of players in the group, and that's on GM Phil Emery and the coaches. The Bears cut
Shaun Draughn
after he committed two penalties on special teams and missed a block that led to a blocked punt. So it's not like the Bears aren't aware of the problem. So yeah, unless they can find some players on special teams, I think they could lose a game because of it.