January, 26, 2015
Jan 26
4:00
PM ET
Take a listen to this week's NFL Nation TV podcast as the crew breaks down the latest in "deflategate" and the lead-up to Super Bowl XLIX on Sunday at University of Phoenix Stadium in Glendale, Arizona.
Host Paul Gutierrez (
San Francisco 49ers
reporter) and co-hosts Coley Harvey (
Cincinnati Bengals
reporter) and Mike Wells (
Indianapolis Colts
reporter) are joined by two other NFL Nation reporters to discuss the big game.
Kevin Seifert (NFL Nation writer) takes us behind the multi-step process that goes into the pregame checking of football inflation, and the impetus behind the league allowing quarterbacks to play with their own footballs. He also chats briefly about the Super Bowl's head referee, Bill Vinovich, and what we might be able to expect from his mixed crew.
Jeff Legwold (
Denver Broncos
reporter) shares his thoughts on covering the Super Bowl after having been in the press box of each championship game since Super Bowl XXVIII in Atlanta in 1994.
Be sure to watch NFL Nation TV live on ESPN.com this Friday at 1 p.m./10 a.m. PT as we catch up with Legwold and ESPN Insider's Mike Sando, who will fill us in on the Hall of Fame selection process that will occur this weekend.
Also, be sure to give the show's podcast a listen following each taping.
Listen to this week's podcast here
.
January, 26, 2015
Jan 26
11:25
AM ET
Former
New York Giants
general manager Ernie Accorsi served as a consultant with the Chicago Bears as they worked through the process of bringing aboard GM Ryan Pace and new head coach John Fox.
Accorsi spoke recently about the process during ESPN 1000's "Waddle & Silvy" show, and he dropped several interesting tidbits. Here's Part I of an interview that we'll break down into three parts:
How was your experience working with the Bears throughout this process?
[+] Enlarge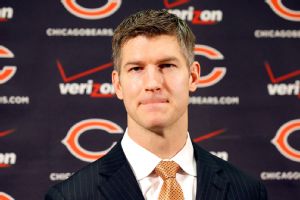 AP Photo/Nam Y. HuhErnie Accorsi on new Bears GM Ryan Pace: "He had an old-world, a throwback soul."
Accorsi:
I really feel good about it. And I loved the experience. I've done this a couple of times. I'm getting old. I don't want to do really any more of these. As you can see who I worked for in the past, I'm an incurable traditionalist when it comes to the old franchises. So I knew [team president] Ted [Phillips] for years, and I knew Ed McCaskey very well. When it was the Bears, I thought, 'You know what, this would be a great thing to do for my last one.' I grew up as a Baltimore Colts fan. We were in the Western division in those days, and played the Bears twice a year. It was such a great rivalry. I've always had great regard for the history of the Bears. So I was really anxious to do it. I had a great time. There was another connection with the Bears. I went to college with Brian Piccolo. In fact, we were in the same dorm. There was always a connection there for me because of Brian. All in all, it was a great experience that I felt really good about the whole process and the way it came out.
It was wise for the Bears to go with a football guy to help during this process. Throughout the process, was your voice the loudest in the room?
Accorsi:
No, one thing about it is, I've been around long enough to know [that] when you're an advisor, you're an advisor. My job was to just outline candidates and talk about them, and talk about structure. But they were the primary. It was George McCaskey and Ted Phillips. I was just there to complement them. I had a little bit of an advantage. The commissioner put together this Career [Development] Advisory panel two years ago. There are eight people on it: three former head coaches, five former GMs. And our job is to identify young general manager candidates and coaches who are coming up through the ranks, and track them. So we had a pretty good book on these up-and-coming people -- executives and coaches -- going into that, and former coaches who are still what we call Tier 1 candidates. I had that as a foundation. I knew what an advisor was. You give your opinion and shut up. It really worked well. I got along with them. There was an instant rapport with them. I had such a foundation with George's father. It was really a positive experience for me.
What was it about Pace that drew the decision makers to him, and why did you feel he would be a guy you would recommend to the Bears?
Accorsi:
Well, I did not know him. The first thing I do when I try to research up-and-coming general managers, I look at the team. If they're player personnel directors, I look and try to figure out how strong a voice they had in the acquisition of players, draft, free agency, and undrafted free agents. With only seven draft picks and so many teams, are you winning and are you winning with draft choices that you picked in the third, fourth, fifth, sixth round? The Steelers are a great example. They lose players. They don't sign everybody that becomes a free agent. You keep looking at their lineups. They're not only playing with mid-, sometimes late-round draft choices. They're winning with them, and the Saints were. I know Sean Payton. He's a good player evaluator. But he's a coach. And they can't spend their full-time job [evaluating players]. With research, I knew this young man was really running the personnel department. And I tried to get him to interview for the Carolina job when I did the Carolina consultation two years ago. He declined the interview. I don't think they wanted to lose him. He decided to stay. So this time around, I was determined to try to get an interview out of him. I told his agent. I said, 'If this guy wants to be a general manager, he's going to have to interview at some point.' I had done my research on him, but I had never met him. His interview was very, very impressive. I describe him as a cutting-edge young executive. Those guys today, the way they use the computer, I don't mean in evaluating, but [they can] call up every play they want. I couldn't do it. I don't have any idea what's going on with electronics. But he had an old-world, a throwback soul. He had a great sense of history. A lot of these young guys don't. He knew the history of the game. He knew the history of the Bears. The Bears meant something to him. So all in all, he was just a clear-cut package for us. The more I was around him, the more I was really pleased that he was gonna join us.
So he came in. We had interviewed two coaches, and we had set up Todd Bowles for the third the day we hired [Pace]. So he stepped right in and was in on that interview. From that point on, he was the lead interviewer, because he was the person that was going to have to work with the coach.
January, 26, 2015
Jan 26
11:00
AM ET
Join us today at 1 p.m. ET, 10 a.m. PT, for a special ESPN NFL Nation TV Super Bowl Week Spreecast as episode No. 41 will review Deflategate and look ahead to what the Seattle Seahawks and New England Patriots can expect heading into Super Bowl XLIX.
Host Paul Gutierrez (San Francisco 49ers reporter) and co-hosts Coley Harvey (Cincinnati Bengals reporter) and Mike Wells (Indianapolis Colts reporter) will be joined by EPSN NFL Insider Kevin Seifert and Jeff Legwold (Denver Broncos reporter).
Seifert, who has covered the world of NFL officiating with aplomb, will break down the process of inflating and inspecting footballs and how officials are involved in the process. He'll also give us a scouting report on the officials assigned for Sunday.
Legwold, who covered the Broncos in last year's Super Bowl, will then give us a day-by-day breakdown of the week and how teams attempt to stay focused with so many outside distractions.
Also, the crew will discuss the Pro Football Focus project that examined how many above-average players each NFL team was
from contending for this year's Super Bowl
.
Viewers are encouraged to log in and ask the panelists questions as well as contribute in the chat feature.
NFL Nation TV will have a second show this week on Friday at 1 p.m. ET, 10 a.m. PT.
January, 26, 2015
Jan 26
10:00
AM ET
NFL Nation
Arizona Cardinals
reporter Josh Weinfuss caught up with Bears guard
Kyle Long
at the Pro Bowl, and did us here in Chicago a solid by sending over the audio.
Here are some of Long's thoughts regarding all the team's new hires, and what he thinks new offensive coordinator Adam Gase can do to help out quarterback
Jay Cutler
:
What's it been like to see so much change going on with the Chicago Bears?
Long
Long:
I think it's been a really good couple weeks for the Bears, having a fresh start here, being able to bring Ryan Pace in, general manager. He has a lot of football experience. He's been around the game for a while, bringing John Fox in, the ultimate players' coach and a guy who has won in the league, has a track record of winning. His football teams are synonymous with toughness, and I think that's something we really need in Chicago, and that's what the people want to see.
What do you think of the hiring of Gase?
Long:
Very excited. He's been with Fox. So I know that they work hand in hand. Fox is more of a defensive guy. So Gase is his guy offensively. I have a lot of confidence in Gase, just really excited about the hire.
What do the Bears have to do to turn things around?
Long:
Listen to what the coaches have to say, buy into it, and be able to bring that on the field. That's the thing. You have to be able to have a message conveyed to you by your higher ups. You have to be able to internalize it and be able to put it on the field.
What can Gase do to help out Cutler and that offense?
Long:
I think being able to balance the offense out will help Jay out immensely. If we have the ability to run the ball, then it will force defenses to be honest. They won't just drop back in coverage. When Jay is throwing the ball 50 times a game, you're going to throw picks sometimes. You're going to give up sacks, you're going to throw picks; bad things happen when you have to throw the ball 50 times a game. We'd like to have a more balanced offense. We'd like to run the ball more.
What went wrong with the Bears in 2014 after such a promising first year under Marc Trestman?
Long:
I just think that we got away from our game plan. I don't know what it was. It's little things. It's the assignment errors. It's the mental mistakes, and they add up. They really do add up.
January, 26, 2015
Jan 26
9:35
AM ET
The
Chicago Bears
announced Sunday they reached agreement with Jay Rodgers to become the club's defensive line coach.
Rodgers, who is the older brother of recently hired special-teams coordinator Jeff Rodgers, worked the last six seasons (2009-14) for the
Denver Broncos
, where he was defensive line coach (2012-14) and also spent time as a coaching assistant (2009) and defensive quality control coach (2011).
Denver's defense finished the 2014 season ranked No. 2 against the run (79.8 yards per game), allowing the second-fewest runs for gains of 10 yards or more (29). The Broncos' defense also ranked fourth in the NFL in rushing average (3.66 yards per attempt) and tied for ninth in sacks (41).
Prior to working with the Broncos, Rodgers spent nine years coaching college football. A former quarterback at Indiana (1996-98) and Missouri State (1999), Rodgers started his coaching career as a graduate assistant at Louisiana State working as an assistant on offense (2001) and defense (2002). Rodgers served as passing game coordinator and quarterbacks coach at Dodge City Community College in 2003, and he's also worked with quarterbacks at Missouri State (2004) and Stephen F. Austin (2005-06) prior to heading to Iowa State to work with receivers (2007-08).
January, 24, 2015
Jan 24
6:00
PM ET
The
Chicago Bears
announced Saturday they reached an agreement with Bo Hardegree to join the club's staff as an offensive assistant.
The club added quarterbacks coach Dowell Loggains to the staff on Friday along with linebackers coach Glenn Pires.
Hardegree spent the 2014 season as an offensive quality control coach with the
Denver Broncos
, which finished second in the NFL in scoring offense (30.1 points per game) and fourth in total offense (402.9 yards per game).
Hardegree worked for three years at Louisiana State prior to joining the Broncos, serving as an intern on the offensive (2012-13) and defensive (2011) staffs. In Hardegree's three seasons at LSU, the Tigers compiled a 33-7 record, and won the 2011 SEC championship, in addition to advancing to the BCS National Championship Game.
Hardegree started his coaching career at Duke, working as a graduate assistant from 2008-10.
Hardegree played quarterback at Tennessee, and also participated in tennis, graduating in 2007 with a degree in exercise science.
January, 23, 2015
Jan 23
9:00
AM ET
Finally, the Bears made huge progress in assembling the coaching staff with the additions of offensive coordinator Adam Gase and defensive coordinator Vic Fangio as well as several assistants on both sides of the ball.
Now it's time for general manager Ryan Pace and coach John Fox to turn their attention to evaluating the players currently on Chicago's roster, which should make for some interesting developments over the next couple of months.
All the change naturally leads to questions about what might transpire in the future. So thanks to everyone for participating and sending all your questions for today's Twitter mailbag.
Let's get started:
@mikecwright Where do you see the Bears going with their 1st round draft pick? #bearsmailbag

— Jesse (@Mista_Jesse) January 21, 2015
@mikecwright:
If it were me, I'd address the safety position. But that's not Pace's style, as he firmly believes in taking the best available player, regardless of need. So the direction the Bears go will depend quite a bit on what happens over the first six picks.
Pace told a story recently about an experience with the Saints that played a role in shaping his draft philosophy.
"When I first started with the Saints, I might have just become a pro scout or a scouting assistant. We were in the draft. I want to be honest with you guys, honest assessment. When I talk about taking best player available, you have to be careful in the draft ... that's what I believe in. In the draft, it can be human nature to want to push up a position that you need. And that doesn't happen on draft day. That happens in the process leading into the draft, right? So we're talking about defensive linemen. We really need a D-lineman. Hey I know we don't have great grades on this player, but we're pushing him up because we need it. So we drafted a defensive tackle in 2003 that didn't end up being a good player for us, and I think that was partly because we pushed him up because of need. We should've just taken best player available. Honest answer."
@mikecwright How many changes to the roster will the Bears have to make to switch to Fangio's 3-4 defense. #bearsmailbag

— Lee Abner (@BigonDis) January 21, 2015
@mikecwright:
That's a great question and one I've spent some time thinking about. It's incredibly difficult to accurately project how many of the current Bears would fit into a 3-4 scheme because there are so many variables. For instance, there are "ideal" dimensions for players at certain positions in a 3-4 scheme, but those don't necessarily hold true in every case. Jeremiah Ratliff, based on his size, wouldn't be an ideal fit in a 3-4 at nose. But Ratliff at one time was one of the very best in the NFL as a 3-4 nose playing for the Dallas Cowboys. Also, you've got to consider the style of 3-4 defense the Bears would play. Would it be a one-gapping system or a traditional two-gap scheme?
Anyway, I did try my best to project how some of the current Bears would fit into a 3-4 scheme provided the club decided to go that route. You can check that out
right here
.
#bearsmailbag After they review the film and the players that quit, how many will remain??

— Eliseo Gonzalez (@leech11) January 21, 2015
@mikecwright:
I can tell you this much: not many. I go back to Ryan Pace's first press conference when the Bears introduced him as the general manager.
He said: "There are certain traits and qualities you look for at each position. But overall, the discipline, toughness, instincts, intelligence. We want reliable players that you know what you're getting from them on game day."
We obviously didn't see those qualities on a consistent basis with the Bears in 2014, and I agree with your assessment that some of the guys simply quit. That will definitely show up on film, and I doubt many of the guys displaying that on the tape will be showing up for 2015 Bears training camp in Bourbonnais, Illinois.
#bears #bearsmailbag Would it make sense to bring back Urlacher as a LB coach and team lead if the plan is to rebuild the classic D?

— Dallas Dave (@DallasDave22) January 18, 2015
@mikecwright:
Absolutely it would make sense, but the problem is Urlacher -- at this point in his life -- isn't interested in putting himself through the grind associated with coaching. Urlacher also said he's clueless regarding the 3-4 scheme the Bears are expected to run.
Here's what Urlacher said during ESPN 1000's "Waddle & Silvy" show on Jan. 21 regarding the possibility of him rejoining the Bears as a coach.
"I knew a lot about the defense they used to play in. Vic Fangio runs a 3-4. That's a whole different animal. I wasn't the greatest technician when I played. Technique wasn't my favorite thing to learn, and I doubt I would be great teaching it. [Coaches] work so much. Maybe when I'm older and my kids are older, but right now my kids are still young. So it's hard to imagine coaching now with my kids so young and all the things I do with them. ... To go along with my golf game and fishing. It's tough to imagine working 90 hours a week during the football season and wanting to do that."
@mikecwright what do u think the chances are of Fox signing Tebow since he played with him. #bearsmailbag

— Styngray (@StyngrayChosen) January 21, 2015
@mikecwright:
I'd say the chances would be very slim as Tebow appears to be done as an NFL player. Sure, Fox won a playoff game with Tebow at quarterback. But let's not forget that, by and large, Tebow struggled tremendously to adjust to the NFL game after one of the most storied careers in college football history at Florida. I believe Tebow has quite a bit of other things going on. He's become somewhat of a rock star as a television personality, and I know he's very busy with work on his Tim Tebow Foundation. So I don't anticipate a Tebow-Fox reunion in Chicago. But you never know. Stranger things have happened.
January, 22, 2015
Jan 22
1:32
PM ET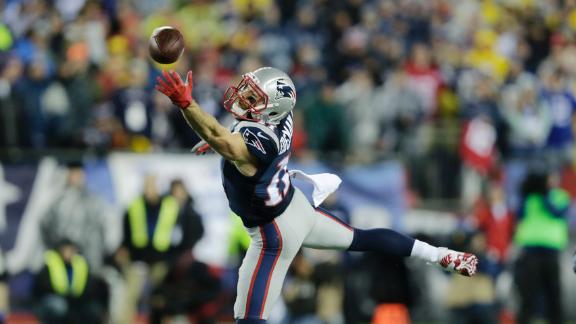 As per its custom, the NFL will follow a modified set of procedures to prepare game balls for Super Bowl XLIX. Established long before allegations of underinflated balls in the AFC Championship Game, the process includes independent equipment managers and ball attendants.
Still, the league "expects that the Competition Committee will review all of these procedures in the offseason," according to NFL spokesman Michael Signora.
The league found earlier this week that 11 of the New England Patriots' 12 game balls were significantly underinflated during the AFC Championship Game, ESPN's Chris Mortensen has reported. In that game, the Patriots' equipment staff supplied balls to referee Walt Anderson at the required two hours, 15 minutes before the game for inspection. As per NFL policy, Anderson marked each ball with his approval and ultimately returned them to the Patriots' ball boys.
In the Super Bowl, however, the NFL will use Chicago Bears equipment manager Tony Medlin to organize the process. Ball boys were hired prior to last week's games.
Here is the full statement Signora provided:
"Like many aspects of our policies and procedures, there are modifications for the Super Bowl.
"At the Super Bowl, the equipment manager of another team [Bears, Tony Medlin] is in charge of the game balls and arranging for the ball attendant crews, which are hired before the Super Bowl teams are determined. The officials will maintain strict control of the game balls for the Super Bowl.
January, 22, 2015
Jan 22
12:53
PM ET
ESPN NFL draft analyst Mel Kiper Jr.
re-graded the 2014 drafts of all 32 teams
, and Chicago's new grade is worse than the B-minus originally handed out in the aftermath of the club's draft.
Obviously, we all know it takes a few years to truly measure a draft class. But Kiper did put together some parameters in explaining the process. He wrote:
I look at first-year impact from the rookie class based on relative value -- contributing to a winner is worth more than piling up reps for a bad team. I included rookie undrafted free agents added after the draft. (That's part of the process, really. Like the rookie rankings, I try to ask whether players who contributed could do so for most teams. Again, relative value matters.
So Kiper's draft grades aren't necessarily based on performance as much as they are based on the total value added based on where he had originally ranked the players.
Fuller
Kiper liked what the Bears did in aggressively addressing the defensive side of the ball, but pointed out that the club suffered a bit of bad luck in being forced to throw some rookies into the fire, namely cornerback
Kyle Fuller
, who struggled partly due to experience, but mostly because of nagging injuries.
While defensive tackles
Ego Ferguson
and
Will Sutton
flashed at times as rookies, the former appears to possess more long-term upside than the latter. Ferguson and undrafted free agent pickup linebacker
Christian Jones
each finished 2014 tied for 14th among NFL rookies with two sacks apiece. Ferguson also broke up two passes and Jones notched both of his sacks in the last two games, as he showed growth throughout the season and appears to be set to take on a role at some point as a starter.
A third-round pick, Sutton (25 tackles, no sacks) appeared to be overmatched as a rookie, as did safety
Brock Vereen
, a fourth-round selection.
The verdict remains out on fourth-round running back
Ka'Deem Carey
because he didn't get much action playing behind
Matt Forte
. Carey averaged 4.4 yards per attempt as a rookie, but didn't play in the last two games. The expectation moving forward is for Carey to receive more playing time with the Bears moving to more of a run-first philosophy under new coach John Fox.
Sixth-round pick
David Fales
was active for only one game all season and didn't play a down. Punter
Pat O'Donnell
, another sixth-round selection, finished with a 43.8-yard gross punting average, which actually ranked as seventh-best in franchise annals.
Seventh-round pick
Charles Leno
Jr., meanwhile, played in six games with one start. Still, Leno didn't see enough action to glean a true evaluation.
Given Chicago's need at safety headed into the draft, the Bears missed the mark somewhat with the first-round pick. No doubt about it, Fuller will be a long-term fixture at cornerback for the Bears. But current
Green Bay Packers
safety
Ha Ha Clinton-Dix
was available with the Bears picked at No. 14 and he's coming off a rookie season in which he contributed 94 tackles and an interception. In the postseason, Clinton-Dix's two interceptions in the NFC Championship Game nearly helped the Packers advance to the Super Bowl.
January, 21, 2015
Jan 21
7:59
PM ET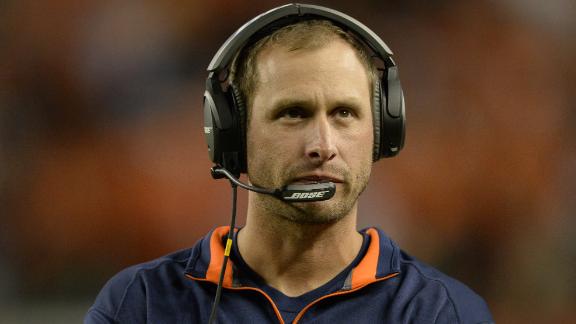 The Chicago Bears announced Wednesday that they have reached an agreement to bring on former Denver Broncos offensive coordinator Adam Gase to serve in the same capacity with the club.
Gase signed a three-year contract, according to a source.
Gase, 36, spent the day Wednesday interviewing with general manager Ryan Pace and head coach John Fox along with chairman George McCaskey and team president Ted Phillips. The interview marked the second time Gase spoke with the organization's decision makers. Gase interviewed with McCaskey, Phillips and consultant Ernie Accorsi during Denver's postseason bye week, just after the conclusion of the regular season.
A source told ESPN that St. Louis and San Francisco made efforts Tuesday night and Wednesday morning to bring in Gase before he flew to Chicago, including a Tuesday night phone call from Rams coach Jeff Fisher.
Gase worked the last six years with Fox on Denver's staff, spending the last two seasons as the team's offensive coordinator. The Broncos led the NFL in scoring offense (34 points per game), total offense (430.1 yards per game) and passing offense (315.8-yard average). The unit also racked up 157 plays for gains of 20 yards or more, which ranked No. 2 in the NFL.
In 2013, the Broncos set an NFL record by scoring 606 points, including a league-record 76 touchdowns. In 2014, the Broncos finished second in the NFL in scoring (482), which also ranked as the 25th-most in NFL history. The Broncos also accumulated 6,446 net yards, good fourth in the NFL.
January, 21, 2015
Jan 21
7:40
PM ET
Chicago reached an agreement with former
San Francisco 49ers
secondary coach Ed Donatell on Wednesday to join the Bears in the same capacity, the club announced.
With the hiring of Donatell, the Bears informed secondary coach Jon Hoke he will not return to the coaching staff for the 2015 season.
A 36-year coaching veteran, which includes 24 years in the NFL, Donatell worked the last four seasons with recently-hired defensive coordinator Vic Fangio in San Francisco, where the 49ers defense ranked second in the league in scoring defense (17.4 points per game) and opponent passer rating (76.8) while tying for second in interceptions (78), ranking third in total defense (210.2 yards per game) and sixth in pass defense (218.2 yards per game).
Four members of Donatell's secondary in San Francisco received a total of six Pro Bowl nods under the coach, a group that includes safeties
Dashon Goldson
(2011-12),
Eric Reid
(2013),
Donte Whitner
(2011-12) and cornerback
Carlos Rogers
(2011).
Donatell served as secondary coach of the
Denver Broncos
(2009-10) prior to joining the 49ers. It was Donatell's second stint with the team, and under his guidance, the Broncos ranked No. 9 in the NFL in passing defense (211.3 yards per game). Donatell previously worked as secondary coach for the Broncos from 1995-99.
Dontell's other NFL coaching stops include the
New York Jets
(1990-94, 2007),
Green Bay Packers
(2000-03) and
Atlanta Falcons
(2004-06).
January, 21, 2015
Jan 21
7:20
PM ET
MOBILE, Ala. – Mickey Loomis said he feels like a proud father who watched his son graduate – for better and for worse – when asked about new
Chicago Bears
general manager Ryan Pace on Wednesday.
Loomis, the New Orleans Saints' GM who worked with Pace for more than a decade as he climbed the scouting ranks, used that analogy Wednesday between Senior Bowl practices.
[+] Enlarge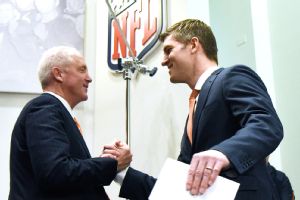 David Banks/Getty ImagesBears general manager Ryan Pace introduced John Fox as the team's head coach on Monday.
When asked if he's spoken with Pace, 37, since he became the NFL's youngest general manager two weeks ago, Loomis said, "Yeah, more than a few times."
"Well, first of all, if anybody has a son who's graduated from high school or college, you know how excited and proud you are. And yet, he's not your kid anymore. So it's a little bit of that feeling," Loomis said. "Look, I know that feeling of being overwhelmed right at first. But, man, he's handled it well. He's made a lot of great decisions already. He did a great job in his press conference. So I'm just proud of him.
"And we talk a little bit, mostly about personal things and how he's doing, and a few questions here and there. So he's gonna do well."
When asked if Pace got the right coach in John Fox, Loomis said, "Yeah, absolutely."
The Saints began moving on without Pace on Wednesday when Loomis
announced the hiring
of former
Miami Dolphins
GM Jeff Ireland to oversee college scouting. It sounds like both Ireland and pro personnel director Terry Fontenot will both play key roles in filling the void left by Pace. Loomis described Fontenot as another future NFL GM.
Pace will certainly be missed, but Loomis repeated what he's been saying for years – that he knew it was a matter of when, not if, Pace would get away.
"I knew years ago that Ryan Pace was gonna be a general manager, he was gonna have that opportunity," Loomis said. "He was very patient. He's had opportunities to interview in the past, he's turned some of those down. But this one felt right for him. And, man, I'm excited for him."
Pace also took longtime Saints scout Josh Lucas with him and named Lucas as his player personnel director. Lucas was one of two regional scouts for New Orleans.
"That's a good opportunity for Josh. He's a good scout. He'll do a good job in Chicago. But, look, we've got a good staff there and we'll make up that," said Loomis, who said both men were under contract, but, "We're in favor of our people getting opportunities."
"That just tells me we're hiring the right people; we've got the right people in our building," Loomis said. "And we've got some behind them that are gonna be just as good. So I'm excited for those guys."
January, 21, 2015
Jan 21
6:04
PM ET
CHICAGO --
Chicago Bears
President & CEO Ted Phillips said in a letter to season-ticket holders that prices for season tickets will not increase next year in the aftermath of the club's 5-11 finish in 2014 that cost head coach Marc Trestman and general manager Phil Emery their jobs.
"The 2014 season started with high hopes and ended in total disappointment," Phillips wrote. "We decided a new direction was necessary, and we have acted quickly and decisively."
Phillips added: "It's time to bring back a winning identity to the Chicago Bears."
Additionally, Phillips promised season-ticket holders "new enhancements to Soldier Field" in 2015.
This could be in reference to replacing the video screens that sit atop the north and south endzones inside Soldier Field. The Bears have actively researched the idea of installing larger and digitally enhanced video screens at Soldier Field, such as the
Cleveland Browns
unveiled in August at FirstEnergy Stadium.
The Browns received rave reviews after the installation of two, high-definition video boards that measure 192 feet wide and 40 feet tall.
"We will continue to deliver value to make your gameday experience at Soldier Field second to none," Phillips added. "Our goal is simple. Play tough and smart and bring the Super Bowl trophy back to Chicago for the greatest fans in the world. You deserve it."