Buster Olney:

Zack Greinke
February, 22, 2015
Feb 22
9:31
AM ET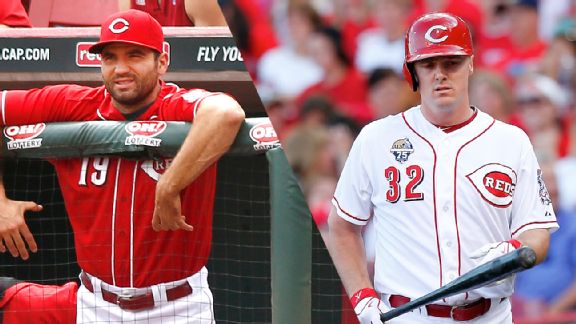 USA Today Sports, Getty Images Joey Votto , left, was limited to just 62 games last season, while Jay Bruce hit just .217.
Near the end of the Reds' lost season of 2014,
Jay Bruce
asked general manager Walt Jocketty if he could stop by his office for a conversation. By then, Bruce was already deep into the process of mentally preparing for 2015, having formulated his loose plans for the offseason.
He and Jocketty talked about what had gone wrong for Bruce, and for a team that opened 2014 with expectations of making the postseason. He told Jocketty that he intended to quickly resume the rehabilitation work on his surgically repaired left knee and then start his drills for the season sooner than he normally does.
Bruce followed through with everything he told Jocketty that day, and he burns for his next chance. "He is highly motivated to come back and have a good season," Jocketty said recently.
The GM senses the same about first baseman
Joey Votto
, who missed 100 games last season. Sean Marohn, the Reds' strength and conditioning coordinator, visited Votto several times in Toronto during the winter and reported that Votto is doing well. "I feel very good about both guys coming into camp healthy," Jocketty said.
That's crucial, because given the structure of the Reds' roster and the improvements of other teams within the National League Central, Cincinnati almost certainly cannot win without more from Bruce (who batted .217 last season with 18 homers) and Votto.
October, 11, 2014
10/11/14
10:43
AM ET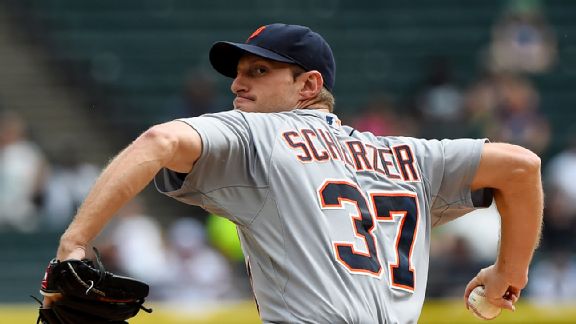 Mike DiNovo/USA TODAY SportsMax Scherzer will be hitting free agency this fall.
ST. LOUIS – A growing trend, over the last decade, has been for teams to lock down their best young talent into long-term deals, whether it be the Giants signing
Madison Bumgarner
to a contract through 2017 with club options for 2018 and 2019, or the Rays signing
Matt Moore
and
Chris Archer
to what are perceived to be team-friendly deals.
These sorts of contracts have meant that fewer high-end players have gone into free agency, and some agents say there has been a nudge from the players' association to get more players into the open market; to not settle for deals that are perceived to have significant value to teams.
An elite free agent, like
CC Sabathia
in the fall of 2008, has maximum leverage and can drive the salary ceiling higher. Sabathia got $161 million over seven years -- a record-setting deal that set the tables for some of the deals that followed, like that of
Felix Hernandez
,
Justin Verlander
and
Clayton Kershaw
, who all agreed to deals before reaching free agency.
Max Scherzer
and
Jon Lester
are heading into free agency this fall, along with
James Shields
, and they will all be paid well. But like changing weather conditions, the market setting for these free agents may not be as strong as it was for Sabathia.
To continue reading this article you must be an Insider
August, 11, 2013
8/11/13
10:00
AM ET
By
Brad Ziegler
| ESPN.com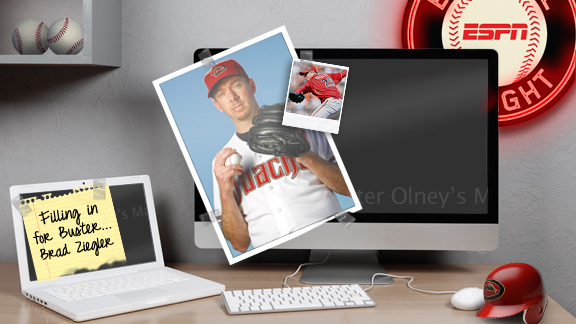 ESPN IllustrationArizona pitcher Brad Ziegler makes a Sunday column relief appearance for Buster Olney.
Buster Olney is on vacation this week, so for the second straight year, guest columnists are writing the lead of his column in his absence. Today, D-backs reliever Brad Ziegler chimes in on what makes union leader Michael Weiner such a special person.
This is a crazy game. If you had told me when I was growing up that I'd have at least six seasons of time in major league baseball, I'd have been absolutely ecstatic. While it was always a dream of mine to play, it also always seemed so far out of reach. Yet, here I am, blessed with so many things in my life, including a career that I truly enjoy. There are many other things, too: an amazing family (including the two friendliest dogs in existence), financial security and good health.
Good health -- something I'm thankful for every day. Something that not everyone in this life shares.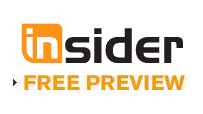 One of the most respected people in this game is in the fight of his life, and anyone -- everyone -- who has any part of this game is pulling for him. Players, coaches, general managers, owners, writers, umpires.
Everyone.
As many of you know, Michael Weiner is currently serving as the executive director of the Major League Baseball Players Association -- our union. And anyone who follows the game also knows that a year ago, Michael was diagnosed with a Stage 4 glioblastoma, an aggressive and inoperable brain cancer.
I've been a player representative for the union since the start of the 2009 season. In the middle of that season, I got a phone call from Donald Fehr, informing me that he was retiring as executive director. After a few conference calls, we selected the obvious replacement that December: Michael Weiner. I hadn't yet met Michael. My agent, Rob Martin, had met him a few times and heard him speak a couple of times, so I asked what he was like. "The man is a human computer," he said. "He can probably quote you the entire basic agreement."
In my time getting to know Michael at various union events or even through casual phone calls, I can honestly say I have seen zero instances to dispute my agent's assessment. However, I can also honestly say that while his knowledge of the basic agreement and labor law in general is impressive, it isn't even close to his best asset.
His best feature is, far and away, who he is as a person. He's a devoted family man. He often speaks of his wife, Diane, and his three lovely daughters, and you can tell how much he cares for them. Furthermore, he genuinely cares about every single ballplayer. Never once has he started a conversation with me in which the first topic wasn't about how my family and I were doing. I'm guessing he's the same way with every other player. Those who've taken the time to get to know him know exactly what I'm talking about.
[+] Enlarge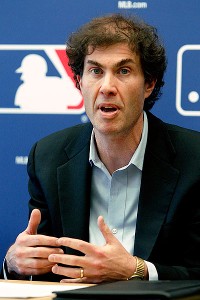 AP Photo/Frank Franklin IIMichael Weiner's leadership on the issue of PEDs has been pivotal, writes Brad Ziegler.
As far as his professionalism, there's one thing that has really stood out to me: He genuinely cares about improving the game of baseball. Don't get me wrong, he wants things to be as good as possible for the players. And he can get downright angry and ruthless when he feels like the owners are attempting to encroach on the principles we, as a union, have stood on since our inception. But he also gets the big picture: What is best for the game in the long run?
In my opinion, never has this been more evident than when dealing with our Joint Drug Agreement. Michael has listened to the players. We want the game clean. No more PEDs. Period. We want to be the era that, down the road, is widely accepted as the group of players who cleaned up baseball. We certainly want to punish those who are caught with something illegal in their system, even if it's not intentionally ingested with the mindset of gaining an edge on the field.
As for those who intentionally cheat? Ban them for a year. Or ban them for life. As for voiding their contracts, well, that time may be coming. Players are sick and tired of guys trying to beat the system, and at this point, we have no tolerance. We are tired of this being the focus of our sport, year after year. Baseball is an amazing game -- perfect in so many ways -- and we must keep the attention on the field, where it should be.
It has to be a tough spot for Michael to be in when it comes to this topic. He's supposed to represent all players and get the best possible outcome for them in every situation, right? No. Michael's response: "If they cheated, they should be punished -- I'm just here to help make sure they get a fair trial."
To me, that is someone who genuinely cares about our game and the way it's perceived publicly. We all leave a legacy in life, and he wants the game to be better when his time in the game is over than it was when he first got involved.
I recently had a casual conversation with an MLB general manager. We discussed Michael's medical situation, and he said something that really stuck out to me: "That guy is incredible. He's the best thing that's ever happened to this game."
And even if he said it in passing, I'm not sure he's far off.
Michael's legacy on this game has already been established. And whether he continues to build on it for the next 40 years, or if he's taken from this life sometime sooner, he continues to leave a mark on this game -- and on people's lives -- that won't ever be forgotten. It is an absolute privilege to work alongside you, Michael. And it's an even greater pleasure to call you my friend.
Notes and links (from Buster)
• Hanley Ramirez will try out his right shoulder on Sunday. Meanwhile, the Dodgers never lose: After Zack Greinke's strong effort Saturday, they've now won 36 of their last 44. The Rays pulled off a hidden-ball trick.
• The Braves' winning streak ended.
Jordan Schafer was activated from the disabled list, and Fredi Gonzalez intends to use him.
We had the Braves on "Sunday Night Baseball" the last two weekends, and our crew talked to Gonzalez about how he would structure his lineup down the stretch and into the playoffs. Gonzalez wasn't specific -- and he doesn't need to be -- but I walked away from those conversations convinced that his standards will be simple. He will play the best lineup he believes gives him the best chance of winning, regardless of contract size and track record. He reiterated that the Braves' collapse in 2011 changed the way he thinks, because now he's much more willing to make changes.
If B.J. Upton struggles early in September, he won't play as much in late September, I'd guess, and Schafer's presence gives Gonzalez an attractive alternative, especially against right-handed pitchers.
Brian McCann has a sore knee and was out of the lineup. The Braves' lead in the AL East gives Gonzalez the flexibility to liberally rest veterans such as McCann, and McCann has shown enough this season to demonstrate to teams that might be interested in him in the winter that he'll continue to be a productive player. He might be the most sought-after free agent of the winter, given that he could fit so many teams: Texas, Washington, the Yankees, Boston, San Francisco (with he and Buster Posey sharing catcher/first base duties), Philadelphia, the White Sox, etc.
• Miguel Cabrera did it again. His current triple crown standing:
Batting average: .363 (first, by 33 points)

Home runs: 35 (he trails Chris Davis, who has 42)

RBIs: 109 (tied for first with Davis)
• White Sox GM Rick Hahn and the players believe in Robin Ventura, writes Paul Sullivan.
• Ryan Ludwick is nearing his return, and undoubtedly, the Reds need him to come back and produce. The Reds have been a middle-of-the-pack offensive team since the All-Star break.
• Jason Hammel is hopeful that his forearm issue doesn't keep him out a long time.
• Ryan Raburn and Yan Gomes are getting more playing time, Paul Hoynes writes.
• The Rangers regained first place with help from Alex Rios.
• Will Middlebrooks is getting a welcome chance to reboot, writes Nick Cafardo.
• Jayson Werth had a really big day.
• The Astros are on pace to finish 52-110, with a run differential of minus-242.
• Jacoby Ellsbury led the Red Sox to victory.
• The Rockies are collapsing, and it's open season on internal evaluations.
• Adam Eaton has been finding his groove at the plate.
• The Phillies need to make a decision on Charlie Manuel, writes Bob Brookover.
In some parts of the Philadelphia organization, it's already taken as a fait accompli that Manuel and some staffers will be let go. But it'll be interesting to see if the logic used in the re-signing of Chase Utley -- he's an important part of the team's history, and he is still productive -- will be used in Manuel's case. Because if the Phillies don't believe Manuel is the best person for the job now, they should've already fired him, and if they think that like Utley, he can still do the job, they should extend him.
Other stuff
• There is a reported BALCO and Biogenesis link: Alex Rodriguez.
The tide has turned when it comes to MLB cheats, writes Tom Haudricourt.
Rodriguez is on a short leash with Yankees fans, writes Bob Klapisch.
• The ousted St. Louis radio duo of Jack Clark and Kevin Slaten are weighing their options.
• Ken Griffey Jr. was part of the ceremony in which he was inducted into the Mariners' Hall of Fame. He's a really complicated person.
And today will be better than yesterday.
June, 12, 2013
6/12/13
8:56
AM ET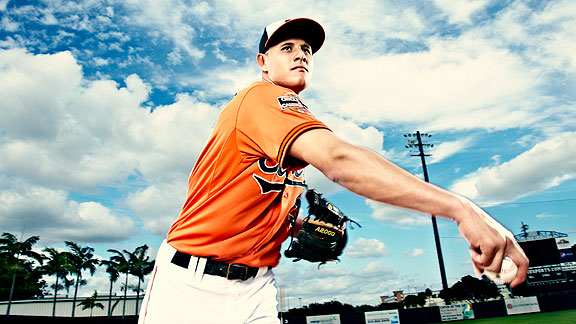 Peter Hapak for ESPNHow high does Machado rank among MLB evaluators? He's clearly in Harper and Trout's category.
One of baseball's most popular debates in the past year has involved two players:
Mike Trout
or
Bryce Harper
?
Harper is perceived to have more power, Trout more speed. Trout is thought to have more range, Harper the better arm.
But it's time that the conversation over the sport's best young player be changed. It must include a third player -- the Orioles'
Manny Machado
. In the year that Harper was drafted No. 1 overall, Machado was chosen two picks later, and the 20-year-old has continued to be overshadowed by Harper and Trout. He arrived in the big leagues a few months after the two last season, and hasn't had the sort of attention that the other two have had.
This season, however, Machado has blossomed, hitting .315 in his first 65 games, with 34 extra-base hits (including 27 doubles) and 41 runs. Already, Machado is regarded as one of baseball's best defenders on the left side of the infield.
I informally polled a bunch of talent evaluators around the sport about how they would rank the three players, and based on their answers, Machado already is viewed as a player comparable to the other two -- and there already is concern over Harper's ability to stay healthy.
Total number of votes: 9. Points are based on 3-2-1 system. Here are the results:
To continue reading this article you must be an Insider
April, 12, 2013
4/12/13
9:21
AM ET
Evan Gattis
has been destroying baseballs for the last calendar year, and it hasn't mattered whether he was playing in the minor leagues, winter ball or against the
Philadelphia Phillies
.
He is hitting everything, from a stance that seems very Barney Rubble-esque. Gattis is large, at about 6-foot-3 and 240 pounds, stands with a slightly open stance and a crouch and doesn't wear batting gloves. It's like he's swinging a sledgehammer, and from that setup, he has blasted everything on the inner half of the plate, such as
this pitch
against the Marlins on Wednesday night.
Now the onus falls on the pitchers around the league to try to make adjustments, and you can bet that scouts, pitchers, catchers and pitching coaches are working to come up with a plan on how to beat Gattis at the plate. This is the rhythm of adjustments in the big leagues: For each player having success, there are dozens who are looking for a way to neutralize him. The same thing is happening with
Chris Davis
,
Clayton Kershaw
and
Justin Upton
.
The following numbers from Justin Havens of ESPN Research confirm that Gattis is destroying everything on the inner half (while hitting pretty well on everything):
Inner half:
.545 BA; 1.765 OPS
Outer half:
.250 BA; .808 OPS
Upper half:
.357 BA; 1.143 OPS
Lower half:
.444 BA; 1.434 OPS
I asked ESPN MLB analyst Curt Schilling for a diagnosis of Gattis as well as what kind of pitching plan he would implement against him. Schilling indicated that he would need more information to develop a complete plan, based on swing percentage and whether the inner-half damage was on fastballs or soft stuff.
"I'd definitely start him like I did 99% of the guys in the big leagues -- fastball away," Schilling wrote in an email. "No one can protect both sides at 93 mph+ -- no one. What I'd do is start him away, and when ahead I'd work splitters middle in, since the split is a ball that never ends up a strike. You give him a ball in the 'area' he wants it, but when it arrives, it's no longer in that area."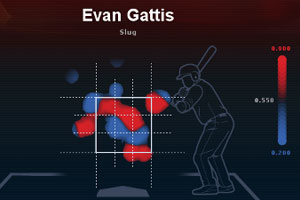 ESPN Stats & InformationHeat map of Evan Gattis' plate appearances during the 2013 season. Red indicates higher OPS.
Schilling referenced the hot-zone chart (right) that Havens sent along.
"I will bet you dollars to donuts that red in is not power red," Schilling wrote. "And if you notice, that blue spot at the hands? That's definitely where I'd go late count. Basically I'd start him away first at-bat, then pound him in off middle, then try to close away.
"With the second at-bat, I'd start away, and stay away, because after that 1st at-bat, he's going to have felt my 95 on his hands and will be wanting to get started early. So he spends at-bat No. 2 looking in, but I never give him anything there.
"Now on the third at-bat, he knows I am going away early, so I start with a curveball, or slider -- a curveball if he's cheating, slider if he's diving, because with the slider he ends up rolling over. But after that first strike, I beat the crap out of him corner in, and off, because at that point he THINKS I am going away at some point, and when you throw 93+ and you have a hitter thinking one side, he can't get to the other."
The Nationals will have their own thoughts Friday regarding how to pitch to Gattis, because the one thing he has shown is that no pitcher can keep throwing him fastballs inside. Every day in Major League Baseball, it's all about adjustments.
Fight fallout
With the Dodgers leading the Padres 2-1 in the sixth inning and the count 3-2, there was
no chance
that
Zack Greinke
was trying to hit
Carlos Quentin
on purpose.
To continue reading this article you must be an Insider
August, 6, 2012
8/06/12
9:33
AM ET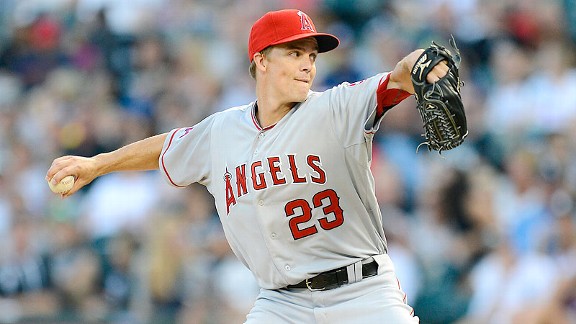 Mike DiNovo/US PresswireIf the Angels let Zack Greinke get to free agency, the Dodgers will be waiting with a blank check.
ST. LOUIS -- Some quick thoughts as we enter the 20th week of the season:
1.
The
Los Angeles Dodgers
are going to be an even bigger factor in the free-agent market than anybody anticipated. You figured they would be aggressive before the trade deadline and add some salary, and yes, they added
Hanley Ramirez
.
To continue reading this article you must be an Insider
October, 17, 2010
10/17/10
9:36
AM ET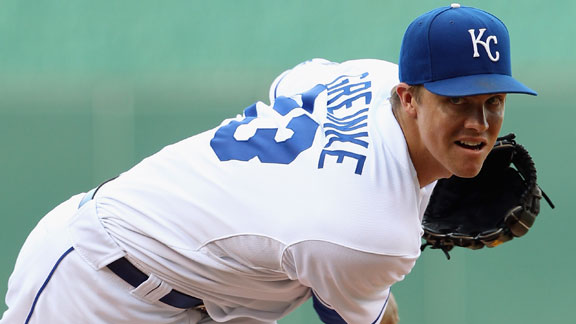 Jamie Squire/Getty ImagesWhat uniform will Greinke wear next season?
There will be teams that would love to add
Zack Greinke
but don't have the caliber of prospects necessary to get him. There will be teams that would love to have Greinke but, like the
Kansas City Royals
, are concerned about matching the timing of his contractual situation with their organizational development.
But there will be a lot of interest in a former Cy Young Award winner who will turn 27 this week, a pitcher who has Greinke's command and potential for dominance.
Any team entering a conversation with the Royals about Greinke must know that a refusal to deal prospects would be off-limits. Kansas City would ask the
New York Yankees
for Jesus Montero and more, and the
Boston Red Sox
about Casey Kelly and more, and the
Minnesota Twins
about Aaron Hicks and more.
With that in mind, it's worth culling through the teams to determine which ones would be most likely to make up the Zack Greinke market:
A Greinke deal doesn't fit these teams:
1. The Tampa Bay Rays
, who typically hoard their top prospects rather than trade them for more expensive players.
2. The Toronto Blue Jays
, who have a lot of excellent young pitching and prospects but would immediately put themselves back into a
Roy Halladay
box -- getting a star who is moving toward possible free agency.
3. The Baltimore Orioles
, who are still a couple of years from contending.
4. The Cleveland Indians
, who don't have much money to spend and are rebuilding their stock of young pitching.
5. The Oakland Athletics
, who have excellent pitching but have a glaring need for power.
6. The Seattle Mariners
, who have an ace in
Felix Hernandez
and need major upgrades among their position players.
7. The San Diego Padres
. Like the Rays, they won't give up their best young prospects to land an expensive veteran.
8. The Arizona Diamondbacks
. They are restructuring, and their more glaring needs are in other spots.
9. The San Francisco Giants
. Pitching is not a problem for them now. (Although it is fun to think about a rotation of Lincecum-Matt Cain-Jonathan Sanchez-Greinke, given that any Giants-Royals deal for Greinke almost certainly would have to include
Madison Bumgarner
.)
10. The Florida Marlins
. They'd be paying about $20 million and then $26 million to
Josh Johnson
and Greinke in the next couple of years if they made a deal. That's not really their style.
11. The Houston Astros
. They're going young, and it'd be tough for them to rip out the seedlings of their reconstruction and immediately trade them in an effort to win right away.
12. The Pittsburgh Pirates
. They are where the Royals were in 2007-08, so it would make no sense for them to put guys like
Pedro Alvarez
and
Andrew McCutchen
on the table.
13. The Detroit Tigers
. They've got an excellent young rotation in place, with
Justin Verlander
,
Rick Porcello
(who made great strides in the second half) and
Max Scherzer
, and
Jacob Turner
on the way. They have other needs.
Teams that might have the desire to land Greinke but not necessarily the caliber of prospects:
1. The Chicago White Sox
. They are aggressive and big-time deal-makers, as we know, but rival executives who combed through their farm system before the July 31 trade deadline don't see a lot of talent in the White Sox cupboard.
2. The Washington Nationals
. This is a team with two of the top young prospects in baseball, with
Stephen Strasburg
and Bryce Harper as well as an excellent young closer in
Drew Storen
. But unless they put those guys on the table -- and they almost certainly wouldn't part with Strasburg or Harper -- they might have a difficult time piecing together a deal suitable for Kansas City.
Teams that might have the desire to land Greinke but may or may not have what it takes to get him:
1. The New York Mets
. With
Johan Santana
down for much of 2011, there wouldn't be a more perfect Band-Aid than Greinke. But the next Mets GM -- Sandy Alderson, perhaps -- will have to decide whether it would better in the big picture to swap prospects to make the team better now, or to wait. And although
Ike Davis
and other young Mets have shown promise, the Royals might look for other stuff, given their needs. For example, they already have a top young first-base prospect on the rise in Eric Hosmer.
2. The Milwaukee Brewers
. Greinke would be a great complement for
Yovani Gallardo
, but like the Indians, the Brewers are in the midst of trying to rebuild their young pitching, and it's uncertain whether they would have enough to satisfy Kansas City's demands.
3. The Los Angeles Dodgers
. They probably already shot their big bullet of the offseason, agreeing to terms with veteran lefty
Ted Lilly
, and their most attractive trade piece,
Matt Kemp
, might not look so good to the Royals. By the time Kansas City would be ready to contend, Kemp would be on the verge of free agency; the Royals will want prospects on the verge of breaking into the big leagues, not older guys.
4. The Los Angeles Angels of Anaheim
. Rival evaluators love Angels prospect Mike Trout, who is regarded as one of the fastest players in baseball, and he'd be an interesting fit for the Royals in a possible Greinke conversation. But keep in mind that the Angels' needs are really about their position players; their rotation is not the problem.
Teams that have the need for Greinke and perhaps the desire -- and have the caliber of prospects necessary to get him (and these are listed in no particular order):
1. The Minnesota Twins
. Greinke would be perfect for the Twins in so many ways -- he is the kind of front-line ace with the swing-and-miss stuff to match up against great lineups in October, and the Twins have the kind of market and clubhouse in which Greinke would fit neatly. The question would be whether the Twins would part with their best prospects to get Greinke; as Charley Walters writes, they
rejected a proposal
from Seattle for outfielder Aaron Hicks that would have netted them
Cliff Lee
. The circumstances would be a little different in a Greinke deal -- he has two full seasons before he's a free agent, he is younger and might be more open to an extension than Lee would have been. But the Twins' philosophy through the years has been to develop pitching from within; they'd have to paint outside those lines to make this happen.
2. The Colorado Rockies
. They need an upgrade with their starting pitching, and they have a lot of good, young players.
3. The Philadelphia Phillies
. GM Ruben Amaro has demonstrated he can go big-game hunting for pitching, having landed Cliff Lee, Roy Halladay and
Roy Oswalt
in the past 15 months. But he has expressed a concern about his thinning farm system, and it's hard to imagine the Phillies' making a deal for Greinke without including
Domonic Brown
and others. Like with the Giants, it's fun to think about how good they could be with a rotation of Halladay, Oswalt, Hamels and Greinke.
4 and 5: The Yankees and Red Sox
. The first question that both teams would ask before seriously pursuing Greinke is how they think he would adapt to their high-pressure markets. Keep this in mind: The Yankees do have excellent catching prospects, and the Royals need catching, and even if they sign Cliff Lee, they would not hesitate to make a Greinke deal if they thought he could adjust to New York. GM Brian Cashman always has believed in shooting for high-end pitching.
A nightmare scenario for the rest of the AL: If
Andy Pettitte
retired and the Yankees signed Lee and made a Greinke deal, their rotation would look like this:
1.
CC Sabathia
2. Lee
3. Greinke
4. Phil Hughes
5. A.J. Burnett
6. The Atlanta Braves
. But their focus might be more about outfield and infield help because they have good pitching already.
7. The Chicago Cubs
. Who knows whether the Cubs would seriously consider doing something like this, but it's worth mentioning -- the Royals need a long-term solution at shortstop, and the Cubs have
Starlin Castro
.
8. The Cincinnati Reds
. They have good prospects. They could use an anchor for their rotation. They'd probably be in the running, as they were for Lee.
9. The Texas Rangers
. If they lose Lee, they'll be looking for a veteran starter like Greinke, and they have good young players to dangle.
10. The St. Louis Cardinals
. They could offer
Colby Rasmus
, a nice starting point for any conversation between the Royals and Cardinals, but remember, the Cardinals are facing a major payroll crisis -- they already have committed huge dollars to
Matt Holliday
and need to pay
Albert Pujols
while keeping
Adam Wainwright
and
Chris Carpenter
; those four players alone might cost the Cardinals upwards of $70 million in 2012. Greinke's talent certainly fits, but his salary might not.
The NLCS
Because of the Cablevision-Fox dispute, the National League Championship Series was not broadcast in my area. Following the game on radio brought me back to a different time and place -- growing up in Vermont, our family didn't have any television -- with one major difference. As a kid, all I could hope for was a reverberating nighttime signal that tended to go in and out. Through the wonders of modern technology, I intermittently listened to all three radio broadcasts -- of the Phillies, ESPN and the Giants. In the midst of the Giants' two-run rally against Roy Halladay, the big right-hander didn't get a two-strike call his way. KNBR's Mike Krukow immediately sided with Halladay, saying he couldn't figure out why Halladay didn't get a strike-three call, and then he noted, after
Pat Burrell
followed that near miss with a run-scoring hit, how Halladay barked at home plate umpire Derryl Cousins as he backed up home plate. Great stuff.
Halladay said afterward that he thought
the pitch was a strike
, and given his personality, this is, for him, the equivalent of a million-man protest down I-90.
Cody Ross
got to Halladay,
David Murphy writes
. He has turned into The Babe,
writes Tim Kawakami
.
From our guys at ESPN Stats & Information: Through 2 1/3 innings on Saturday, Roy Halladay had allowed no hits. During the next three innings, two inside fastballs to former Marlin Cody Ross changed that. Ross hadn't been much of a threat hitting pitches inside, but in the playoffs, all that can change.
The Giants have four of the 11 wins
they need for a victory parade
, writes Henry Schulman. The Giants' hitters
were aggressive against Halladay
.
The Phillies'
offense is a problem right now
, writes Bob Ford. The
hype didn't meet the expectations
, writes Phil Sheridan.
Ryan Howard
has been listening to the advice of
a guy who hit a lot of homers
.
Brian Sabean has
found solutions for the Giants
, Tyler Kepner writes.
Charlie Manuel's companion
takes the ups and downs in stride
, writes Mike Jensen.
The ALCS
Phil Hughes
had terrible command, as CC Sabathia had in Game 1, and after the Rangers hammered him for five runs in the first three innings, I thought for sure that Yankees manager Joe Girardi would get Hughes out quickly, setting him up to pitch Game 5 on three days' rest. After three innings, Hughes' pitch count was only 68, so he would've been properly rested for a Game 5; he got a little more extended,
finishing with 88 pitches
.
We could know more later Sunday about whether Sabathia is going to pitch Game 4, leaving Girardi to choose
A.J. Burnett
or somebody else for Game 5.
How Hughes got hammered, from Andrew Davis of ESPN Stats & Info:
A.
He couldn't finish hitters off when getting to two strikes. The Rangers were 5-for-11 (four extra-base hits), the most two-strike hits Hughes has allowed in a start since Aug. 25.
B.
Nine of the 10 Rangers hits went for extra bases, and four of the nine extra-base hits came with runners in scoring position.
C.
Hughes left his pitches up, and the Rangers capitalized. Texas went 6-for-8 on pitches up, which ties for Hughes' most hits allowed in that zone this season.
D.
The 55 pitches Hughes threw in the first two innings were his second-most in a start this season. At that point, The Rangers held a 3-0 lead.
From ESPN Stats & Info monster Mark Simon: Phil Hughes scored a 14 on the Bill James game score rating system. That's tied with Jim Perry (1970 Twins) and
Fausto Carmona
(2007 Indians) for the worst game score in ALCS history. In fact, it's tied for fourth-worst by any AL pitcher in any postseason game (tied with Perry, Carmona and
Matt Clement
of the 2005 Red Sox). It's the third-worst game score for a Yankees starting pitcher in the postseason, surpassed only by
David Wells
(2002 ALDS) and
Chien-Ming Wang
, who each scored a 12 (2007 ALDS Game 1). Both of those pitchers allowed eight runs in 4 2/3 innings of their respective games. Overall, it is tied for the 16th-worst game score, which puts it in the bottom 1 percent of the more than 2,500 postseason starts.
The script looked the same, but this time,
Texas didn't flinch
, Ben Shpigel writes. Joe Girardi should have started Andy Pettitte in Game 2,
writes John Harper
. The Rangers pulled off
a double steal
; on the broadcast, Ron Darling dropped the blame for the play right at the feet of catcher
Jorge Posada
.
The Yankees are essentially
trailing this series
, writes Mike Lupica. Just because Cliff Lee is starting Game 3 doesn't make it an automatic win for the Rangers,
Derek Jeter
says
within this George King story
.
Andy Pettitte gets the ball against Cliff Lee in Game 3,
Harvey Araton writes
. He's looking forward to it,
as he tells Joel Sherman
.
Colby Lewis
was excellent, and the Rangers' bullpen -- a disaster area in Game 1 -- finished it off for Texas. The Rangers broke free of
all playoff hexes
, writes Jeff Wilson. Game 2 was a bullpen
redemption tour for the Texas relievers
, writes Jennifer Floyd Engel. The Rangers have beaten up on
the front-line Yankees starters
.
One bad night
did not affect the Rangers
, writes Kevin Sherrington.
Moves, deals and decisions
1. Tony La Russa said that
Sandy Alderson is amazing
, and endorsed him for the Mets' job.
2. There are a
ton of managerial candidates
, writes Nick Cafardo.
3. The Dodgers
have an agreement in principle
with left-handed Ted Lilly, whose agent, Larry O'Brien, had made it clear weeks ago that he thought a deal was on the horizon. Presumably, Lilly got something close to the $29.75 million deal that
Randy Wolf
signed with the Brewers this past offseason.
And this depletes the field of free-agent pitchers even more; it's a very thin class behind Cliff Lee.
4. John Henry has a new soccer team, and he's
getting down to business
.
5. About six weeks ago, the relationship between Tony La Russa and the Cardinals seemed to settle. So it's not a surprise that
his return is almost certain
. One of the lingering questions that will be of national interest is whether
Mark McGwire
will be retained as the team's hitting coach.
6. Terry Pluto gauges Shin-Soo Choo's
value to the Indians
.
7. Pat Listach will
interview with the Brewers
.
8. The Rays are looking at some
very tough decisions this winter
, writes Marc Topkin.
9. Pete Mackanin is
being considered by the Jays
.
From the mailbag
To continue reading this article you must be an Insider