Buster Olney:

Yasiel Puig
October, 15, 2013
10/15/13
8:19
AM ET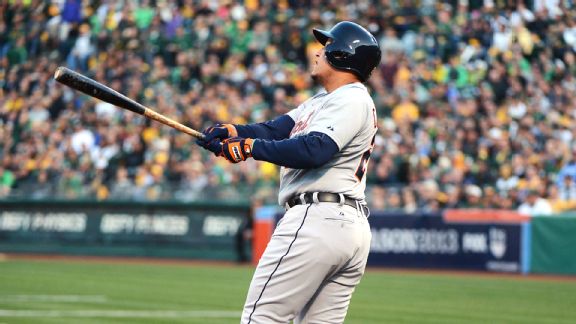 Kyle Terada/USA TODAY SportsMiguel Cabrera's battle against constant pain has caused him to alter his swing.
DETROIT -- This is the 25th anniversary of Kirk Gibson's home run in the 1988 World Series, when none of us -- Jack Buck,
first and foremost
-- could believe what we just saw.
In the moments leading up to that at-bat, Gibson had taken some swings in the tunnel behind the Dodgers dugout, trying to figure out a way he could be functional at the plate. He had a knee injury and a hamstring injury and could barely move, making his usual setup and swing mechanics obsolete. Gibson had to take the working pieces of his body and make it all work.
Miguel Cabrera
has been going through the same process in recent weeks. He has some sort of abdominal injury -- a best guess would be a sports hernia -- and he struggles to run, to move, to swing the bat. From Aug. 26 to Oct. 8, Cabrera had a total of two extra-base hits. But Cabrera, like Gibson, has been trying to figure out a way to make it work, and it has not gone unnoticed by the Red Sox that Cabrera has altered his swing mechanics to account for whatever he is feeling.
To continue reading this article you must be an Insider
August, 26, 2013
8/26/13
7:59
AM ET
LOS ANGELES -- Bits and pieces from the Red Sox-Dodgers series over the weekend:
Andre Ethier
recalls that he had always wanted to play center field as an amateur ballplayer, but when he got into professional baseball, he was moved to corner outfielder and that was that.
But with
Matt Kemp
sidelined and the Dodgers in need of a center fielder, Don Mattingly asked Ethier to move there and he has loved it -- and believes it's been good to be challenged in a different way at this stage of his career.
To continue reading this article you must be an Insider
July, 11, 2013
7/11/13
10:52
AM ET
A scout who saw
Yasiel Puig
in spring training provided this report in March:
He plays hard -- really, really hard.
He's got big-time power, to all fields.
He can run like crazy.
He's got a great arm.
And, the scout said, with zero emotion, "Other players are going to hate him."
Every game is filled with small gestures of acknowledgment and respect between brothers of the game. Before batting practice, rival players wave to each other across the field. There are handshakes and hugs among players wearing different uniforms. When
Derek Jeter
walks to the plate today for his first at-bat of the season, he will nod at the home plate umpire and likely tap the catcher on the shin guard with his bat. If he gets a hit, Royals first baseman
Eric Hosmer
probably will congratulate him and welcome him back.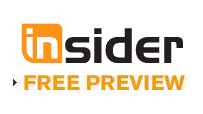 Before the first pitch of Game 7 of the 2001 World Series, Jeter stepped into the batter's box and looked out at the mound at
Curt Schilling
, and the two men greeted each other with their eyes, like two boxers tapping gloves before the start of a heavyweight fight.
It's part of the game and has been for a lot longer than even old-timers like to admit.
What the scout saw in Puig in spring training was someone who played as if he were the only person on the field. Without the niceties and with the body language that makes it clear that he believes he is the best player on the field and everybody else should get the heck out of the way. And it's working for him. He's hitting .394 and has been a driving force for the Dodgers in their push from the bottom of the National League West.
Whether you like this or hate it, this is the way he is. This is how he goes about his business, and as the scout predicted, he's rubbing other players the wrong way -- not only on other teams but also in his own clubhouse.
The Diamondbacks'
Miguel Montero
became one of the first players to put voice to it before Wednesday's game. From
Tyler Emerick's story
:
"If he's my teammate, I probably try to teach him how to behave in the big leagues," Montero said. "He's creating a bad reputation around the league, and it's unfortunate because the talent that he has is to be one of the greatest players in the big leagues.

"Right now, I'm not going to say he's the best because he hasn't proved anything yet. Does he have talent? Of course. Does he have the tools? Of course. He's got so much talent, it'd be really bad if he wasted it doing the stupid things that he's doing. You have to respect to earn respect. If you don't respect anybody, you aren't going to earn respect."

Even though Puig has been with the Dodgers for just over a month, the D-backs already have a lengthy history with the 22-year-old. On June 11, Ian Kennedy hit Puig with a pitch in the nose in a game that saw two bench-clearing incidents resulting in eight suspensions. Puig was fined for his role, but he wasn't given a ban, something that irked D-backs players who said he punched former Arizona first baseman Eric Hinske in the back of the head.

Then on Tuesday, Puig was thrown out easily at the plate in the fifth inning but not before he collided with Montero and then stared down the catcher as he walked back to the dugout. Replays showed Montero waving his finger at the rookie, a la former NBA big man Dikembe Mutombo.

"I don't blame him running me over, it's part of the game," Montero said. "The only thing I really don't appreciate is why you have to look back at me. I really don't appreciate that."
Luis Gonzalez
wasn't thrilled with Puig either, after
an exchange with him
.
How other players feel about him might be irrelevant in the end.
Barry Bonds
was disliked by almost all his teammates and many opposing players because they found him to be completely self-centered.
In time, we'll know if any of this perception affects Puig in any way.
He has earned the role of villain,
writes Bill Plaschke
.
The Diamondbacks bullpen unraveled,
Hanley Ramirez
came up big again
, and the Dodgers drew to within
1½ games of first place
.
Around the league
•
Travis Hafner
got hurt hitting against
a pitching machine
,
Brett Gardner
got hurt
during Wednesday's game
, and now Derek Jeter is on the way back. Jeter said
he felt ready
.
His return comes with all the necessary qualifiers: He's 39 years old; he's not a power hitter; he's coming back from a significant injury.
But it's worth remembering that he led the majors in hits last season, and quite simply, he's better -- even in a diminished state -- than what the Yankees have been playing with.
Joe DiMaggio once had a midseason return from injury that will go down as one of the greatest of all time,
as Mike Vaccaro writes
.
• Longtime columnist Patrick Reusse thinks the Twins should fire Ron Gardenhire to save him from the misery of this season.
From his column
:
It's time to go, Gardy, for no real reason, other than it's time to go.

This is remindful of Flip Saunders' long run as coach of the Timberwolves, except he was luckier than you. Flip was fired on Feb. 12, 2005, late in his 10th season, when a team with substantial expectations had quit playing for him.

Flip got to leave rather than stick around to coach through several more years of misery.

Think how great it would've been, Gardy, if the Twins had decided to have you take the fall for lost expectations in, say, August 2011, and you didn't have to stick around to be suffocated in the ensuing misery.

A sizable portion of the local sporting public likes to bring up early postseason exits to further criticize the Gardenhire legacy. From here, it's identical to Saunders' coaching legacy with the Wolves.

Saunders went 0-7 in playoff series against superior teams from 1997 through 2003, then went 2-0 against inferior teams in 2004 before losing to the superior Lakers.

The Twins from 2002 through 2010 won one series against a superior team (Oakland in 2002), lost one to an inferior team (Oakland in 2006), and lost five other series to superior teams.

Six division titles, seven runs to the finish, in nine years was outstanding stuff and improbable consistency from a manager.

But this isn't the same standard as when operating in the Metrodome was dirt cheap, and the Twins became an afterthought for owner Carl Pohlad, and Tom Kelly was basically bulletproof through his long stretch of having no chance.
The Twins lost again Wednesday night,
on a walk-off
.
•
Chris Carpenter
is making
strong progress in his rehab
.
• As we waited for the start of the Pirates' delayed game Wednesday, Curt Schilling mentioned that he thought
Francisco Liriano
was back -- because of his power stuff and the difference in velocity between his fastball and off-speed pitches. Liriano and the Pirates then ended their losing streak
with a shutout of the Athletics
.
• The Giants now have as many wins as the Mets and Cubs after getting swept in their own park this week.
Matt Cain
had the
shortest start of his career Wednesday
. The only thing really keeping them in the division race is the fact that no team has run away in the NL West -- but the Dodgers have the look of a team that could.
The Giants have lost 14 of 16 and have fallen from a second-place tie to the NL West cellar. Don't blame
Buster Posey
, though; he's hitting .339 in the stretch, while his teammates are hitting .192.
• As the Mets manage Matt Harvey's innings, they are making an exception for the All-Star Game,
writes Andrew Keh
.
Moves, deals and decisions
1. Gene Collier thinks the Pirates need
to go out and get a bat
.
2. The Phillies need to be realistic,
writes Bob Ford.
Dings and dents
1. Jim Leyland doesn't think Miguel Cabrera's
back issues are lingering
.
2.
Ryan Mattheus
is
well ahead of schedule
.
3. The injured Reds are
hanging in there
.
4.
Josh Beckett
had
a rib removed
.
Wednesday's games
1.
Zack Wheeler
was "the man" against
his former team
.
2. The Nationals put together
a home run barrage
.
3. The Red Sox put together a textbook rout,
as Tim Britton writes
.
AL East
•
Andrew Bailey
threw great the other night,
throwing a cutter
.
• The Orioles got a
huge boost with the return
of
Wei-Yin Chen
.
AL Central
• The Tigers' offense
broke out
.
• The Tigers have two relievers they can rely on,
writes Tony Paul
.
AL West
• Sonny Gray made
his major league debut
.
NL East
•
Taylor Jordan
is concerned about possibly tipping his pitches,
writes Amanda Comak
.
NL Central
•
Shelby Miller
is learning how
to hang in there
.
NL West
• Arizona GM Kevin Towers has
regained his voice
.
Other stuff
• With all the legal wrangling to come, the Biogenesis suspensions may not be served until 2014,
writes Ron Blum
.
• Major League Baseball may look into whether
Alex Rodriguez
has been impeding
the Biogenesis investigation
.
•
John Rocker
says PEDs made
for a better game
.
• Pirates announcer Greg Brown is
living the dream
.
•
The police report
on the
Chris Perez
bust came out.
• There is
really sad news
about Darren Daulton.
And today will be better than yesterday.
June, 7, 2013
6/07/13
8:19
AM ET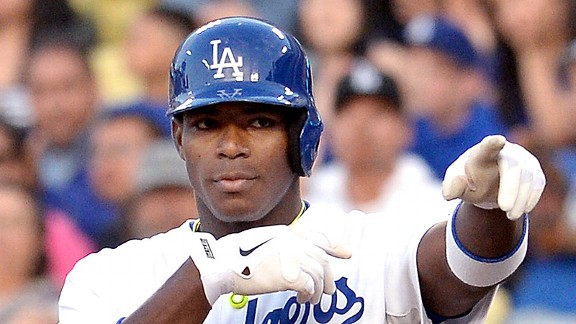 Jayne Kamin-Oncea/USA TODAY SportsWith three home runs in his first four games, things are pointed in the right direction for Puig.
Vin Scully has been doing his job since 1950, which means he saw Jackie Robinson steal home, witnessed a perfect game by Sandy Koufax, and was there when Kirk Gibson hit one of the most incredible home runs in baseball history. So if you can amaze the great Dodgers broadcaster, well, that's saying something.
And this is what Scully said after the latest feat by
Yasiel Puig
, on Thursday night: "I don't believe it!" (
You can hear it here
.)
Puig has been in the big leagues four days and so far all he has done is hit three homers, including a two-run shot, a three-run homer, and then Thursday's crushing grand slam.
To continue reading this article you must be an Insider
March, 25, 2013
3/25/13
8:31
AM ET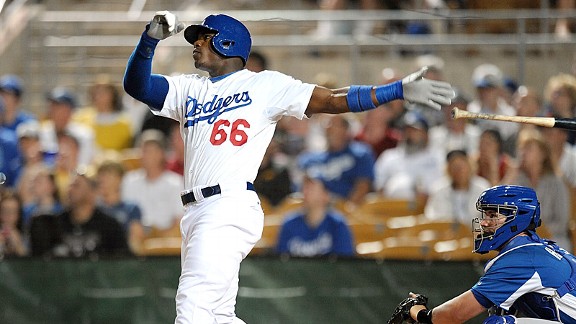 Norm Hall/Getty ImagesCuban sensation Yasiel Puig has been the talk of Dodgers camp this spring.
An evaluator who has logged a lot of spring trainings in Arizona considered the buzz that has surrounded the Los Angeles Dodgers' 22-year-old
Yasiel Puig
, and decided that the last time he could remember this much interest was back in the mid-80s, when
Jose Canseco
and
Mark McGwire
began establishing themselves as stars.
The evaluator wasn't saying Puig is going to be as good as Canseco and McGwire, and he certainly wasn't making a reference to PEDs. He was talking about how scouts and baseball executives see something
unusual and different
in Puig, because of how hard he plays, because of how he doesn't seem to miss any time he swings at pitches in the strike zone.
"He's very, very intriguing," said the evaluator. "He's still raw in some areas, but the passion with which he plays, and all the tools that he's had. He's been very good."
That's an understatement. Puig is hitting .547 this spring, and actually, he has a higher batting average than on-base percentage (.527). Pitchers have started pitching to him the way they might in the regular season, spinning breaking balls and busting him inside with fastball -- and when they eventually get around to throwing it over the plate, he squares up the ball. He seems to run with such aggressiveness that it's as if he'll keep on running until he gets tagged out.
This is a player who will have almost as many at-bats this spring (53) as he has accumulated in minor league baseball (82), which only further complicates the Dodgers' forthcoming decision on what to do with the right-handed-hitting outfielder.
There is no question that Puig has been the best player in the Dodgers' camp. Heck, he's been the best player in spring training, in either the Cactus or the Grapefruit League. If this decision were to be made the way cuts are made with JV basketball teams, Puig would open the season starting for the Dodgers.
But there are a whole lot more factors involved, and No. 1 is the fact that the Dodgers already have three All-Star outfielders in place, who will make a combined $53.5 million this year -- left fielder
Carl Crawford
($20 million), center fielder
Matt Kemp
($20 million) and right fielder
Andre Ethier
($13.5 million). Crawford and Ethier are each signed for five more seasons, and Kemp is signed for seven more seasons, and it's very hard to imagine the Dodgers would simply bench one of those players based on about 60 plate appearances in March.
The Dodgers' No. 1 priority for Puig right now is that he plays every day, to gain more experience in learning how to play defense, throw to the right bases and run more efficiently. After all, he was signed to a $42 million deal just last summer after defecting from Cuba and barely has any experience playing in the U.S. Unless there is an injury to one of the three starting outfielders -- and Crawford seems to be doing well in his comeback from Tommy John surgery -- Puig may well open the year in the minors.
But even if that happens and Puig is sent down, that would hardly preclude a rapid promotion, especially if Ethier and/or Crawford struggled against left-handed pitchers. Puig can play left field, he can play right, he can play center field, and depending on how the veterans fare, the Dodgers might like to have Puig in the big leagues to give manager Don Mattingly a right-handed-hitting option against lefty starters.
He might like having the competition, too, a player whose presence will push veterans, who will energize the other players.
Washington Nationals
manager Davey Johnson has long talked about the importance of always have at least a handful of newcomers, because they come to the park each day with unaffected enthusiasm and they can't wait to play. Some Dodgers joked with third-base coach Tim Wallach about Puig after
Hanley Ramirez
was hurt and
Luis Cruz
was moved to shortstop, asking them if he could start transitioning Puig to third base, to make sure he's in the lineup.
Puig hasn't drawn a walk this spring, which reminded Mattingly of what he used to say about
Robinson Cano
, who drew only 18 walks in 2006 while hitting .342:
What, you're going to tell him to stop hitting .340 and take more walks?
Puig has shown absurd strength, yet like
Vladimir Guerrero
, he always seems to barrel up the ball.
"Sometimes, you get those big guys like
Wily Mo Pena
and he's got a big long swing," said one Cactus League observer. "But Puig has such a short, quick swing."
It's a quick swing, and it's also a small sample, and might not even be a good sample. But it has everybody in the Cactus League talking, including the Dodgers, as they try to figure out with to do with such a unique talent.
Puig's breakout spring is getting goofy, says
his manager
.
Freese's injury
David Freese's back pain has persisted. From
Derrick Goold's story
:


Third baseman David Freese was a last-minute scratch from Sunday's game because of recurring back pain that requires an evaluation today to get to the bottom of an injury that has persisted for nearly three weeks. Freese joins Carlos Beltran, who has a small fracture in his toe, as starters who will have three or fewer exhibition games to play.

If, that is, they are available at all before the Cardinals leave Friday evening for Arizona. Freese's aggravation of a previous injury comes a day after closer Jason Motte was diagnosed with a strain in his right elbow.

"It's not the way you ever want to finish a camp," general manager John Mozeliak said. "We just have to take everything day to day, and it can't be a knee-jerk reaction. Let's see where we are in the next couple days."


To continue reading this article you must be an Insider