Buster Olney:

Yadier Molina
November, 16, 2014
11/16/14
9:33
AM ET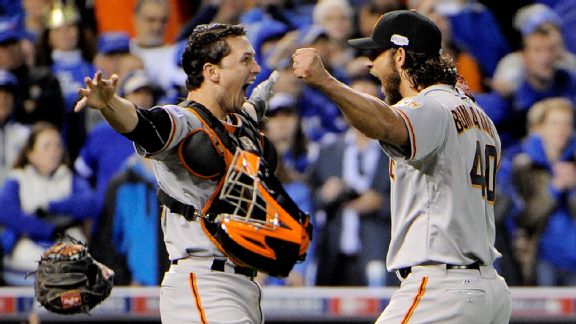 John Rieger/USA TODAY SportsIn Buster Posey's five seasons as the Giants' backstop, they've won three World Series titles.
In those handful of moments when the
New York Yankees
talked about an austerity drive a couple of years ago, when Hal Steinbrenner spoke of getting under the salary cap, they decided to let
Russell Martin
walk away as a free agent -- and he was snapped up by the
Pittsburgh Pirates
.
In December 2013, as the Yankees pared down a roster flush with catching, they decided to trade
Chris Stewart
, and the Pirates grabbed him to be Martin's backup.
Last week, as Pittsburgh looked to build a safety net in case Martin walks away as a free agent, the Pirates turned to the Yankees again, swapping veteran reliever
Justin Wilson
for
Francisco Cervelli
.
It's not a coincidence that there has been a Yankees-Pirates catching pipeline in place, because both teams apparently place the same high priority on pitch-framing, a skill that Martin, Stewart and Cervelli all possess, and a skill that is being increasingly valued by teams as they look for the smallest (and largest) advantages. The days when teams are content with slapping shin guards and a mask on a slugger and living with defensive deficiencies are just about over.
With that as the context for how catchers are evaluated in 2014, here's the first in a series of rankings of the top 10 players at each position, based on their overall skills on both offense and defense. The rankings are crafted with input from some general managers and other evaluators in the sport.
The top 10 catchers:
---
1. Buster Posey, San Francisco Giants
For every evaluator who prefers Posey, there's another who would rather take
Yadier Molina
. Some prefer Molina's defense, his ability to shut down a running game; others like Posey, because he has been the most consistently excellent hitter when compared to others at this position. He has a career OPS of .861, a neighborhood that Molina has achieved in only one season: 2012, when he had an .874 OPS.
Molina, a future Hall of Famer, is universally regarded as the better defensive player. But Posey's defense is good, and his pitchers say it's improving in how he calls games and how he handles situations.
October, 14, 2014
10/14/14
9:33
AM ET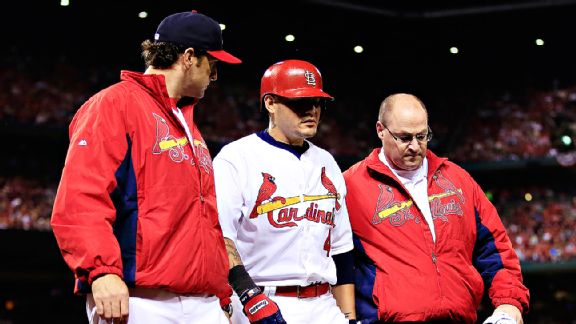 mie Squire/Getty ImagesA strained oblique has put All-Star catcher Yadier Molina's status for the rest of this series in doubt.
Yadier Molina
still hasn't ruled out the possibility that he could play in Game 3,
writes Derrick Goold
, but there is some mystery about what Molina's role could be,
writes Jayson Stark
.
Cardinals manager Mike Matheny isn't saying exactly how -- or when -- he might use Molina, but he sounded more inclined to consider him as a defensive replacement than as a starter. Molina didn't swing a bat Monday to test his oblique strain, but Matheny said that wasn't a priority.
Let's say Molina is out of the starting lineup Tuesday, and that his greatest contribution is the counsel he offers to the catcher who replaces him and to the pitchers. What is the practical impact of his absence?
1. Some baserunning possibilities open up for San Francisco.
To continue reading this article you must be an Insider
October, 4, 2014
10/04/14
11:42
AM ET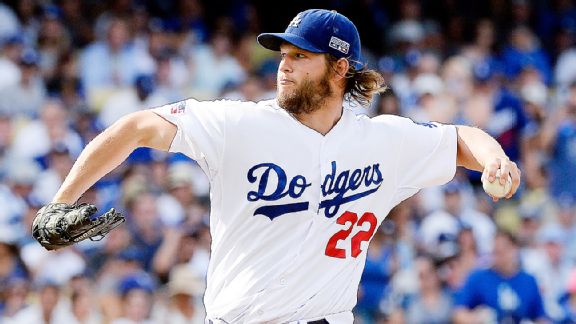 Richard Mackson/USA TODAY SportsClayton Kershaw may not get a chance for redemption.
LOS ANGELES -- A brood of reporters and cameramen waited near the locker of
Clayton Kershaw
, gathered for the expected confessional. With his hair still damp from the shower, Kershaw -- taller than most in the crowd before him -- glanced around the room, in the modestly sized Los Angeles Dodgers clubhouse, and decided to move, probably so he wouldn't inconvenience his teammates any more on this day.
Kershaw walked into the hallway outside the clubhouse and the media horde followed, and after Kershaw backed against a wall and the cameras and iPhones settled in a semicircle around him, he went about the business of dispensing blame.
On himself. Entirely.
It makes no sense that the best pitcher on the planet blew a five-run lead.
To continue reading this article you must be an Insider
May, 27, 2014
5/27/14
9:25
AM ET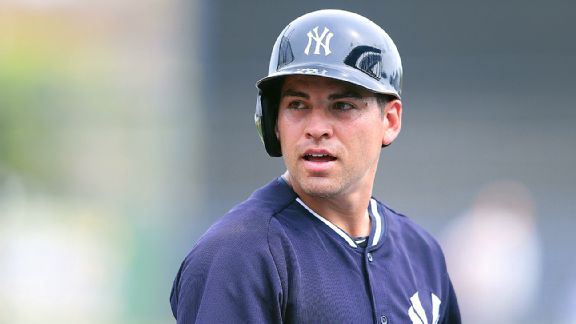 Leon Halip/Getty ImagesJacoby Ellsbury has a career stolen base success rate of 84 percent, the third highest of all time.
ST. LOUIS -- Mick Kelleher's first year in professional baseball was in 1969, and he says he had never seen before what he saw Monday: a crowd give a standing ovation to a catcher for throwing out a runner. But this is St. Louis and the catcher is
Yadier Molina
, and when he gunned down
Brett Gardner
in the eighth inning -- zipping a throw that
Jhonny Peralta
caught and dropped down on Gardner's left shoulder -- the fans all rose as one and chanted his first name.
"We've seen some pretty good catchers the last 40 to 50 years," said Kelleher, the first-base coach for the Yankees and a former Cardinal. "That was tremendous. I even get excited about something like that. Great baseball fans, great baseball city."
And an even greater catcher. Gardner was the 23rd baserunner who had attempted to steal a base against Molina this season, and the 13th to get thrown out. But when
Jacoby Ellsbury
drew a walk against
Randy Choate
to open the top of the 12th inning, with the score tied 3-3, Ellsbury figured he would try to steal at some point. The game situation dictated that he at least try, and besides, there is a difference between Ellsbury and most others who try to steal bases, including some faster than he is.
To continue reading this article you must be an Insider
June, 25, 2013
6/25/13
10:56
AM ET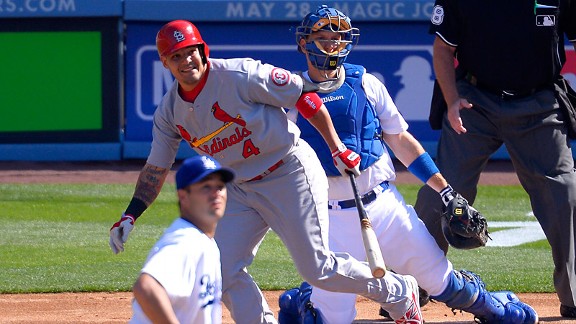 AP Photo/Mark J. TerrillYadier Molina now has a potent offensive game to go with his elite defensive skills.
I recently bumped into a longtime evaluator who offered an interesting handicap on the National League Most Valuable Player race. "Right now," he said, "
Yadier Molina
is the league MVP, hands down."
Over the next week to 10 days, every team will play its 81st game and reach the midpoint of the season, and the races for the major awards are starting to take form.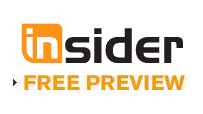 It's possible to win the MVP or the Cy Young Award with a mad finish, like
Vladimir Guerrero
did in 2004, but as the use of statistical analysis deepens, the more the broad, season-long view of performance will be weighted -- not only by teams, but also by the writers who vote, who have demonstrated they will pick and choose. We saw this in 2010, when voters ignored
Felix Hernandez
's 13-12 record and gave him the AL Cy Young Award. Of course, the same electorate ignored WAR and leaned on traditional numbers to select
Miguel Cabrera
over
Mike Trout
last year.
NL MVP:
Yadier Molina, Cardinals
He leads the NL batting race, with a .353 average, and among catchers he has the highest OPS. Remember, his offensive production is regarded as a complementary part of what he provides. He is renowned for his ability to handle a pitching staff -- and the Cardinals' work has been excellent this season -- and for positioning the defense, and for shutting down the running games of opposing teams.
Think about this number, which isn't necessarily related to Molina's MVP candidacy in 2013 but demonstrates the impact of his presence in a game. Since the start of 2006, these are the fewest stolen-base attempts against major league teams:
1. Cardinals: 645
2. Twins: 860
3. Reds: 863
4. Mets: 877
5. Diamondbacks: 889
6. Astros: 901
7. Mariners: 951
8. Brewers: 955
9. Nationals: 960
10. Orioles: 960
It's hard to measure exactly what a great catcher provides, but there's more than enough to support the scout's view that as of now, Molina's the front-runner.
The others in the conversation:
2.
Paul Goldschmidt
, Diamondbacks
3.
Carlos Gonzalez
, Rockies
4.
David Wright
, Mets
5.
Joey Votto
, Reds
Troy Tulowitzki
would be among the top three here if he weren't on the disabled list, with an extended absence ahead of him.
Carlos Gomez
, by the way,
ranks first in WAR
.
AL MVP:
Miguel Cabrera, Tigers
The guy is hitting .370, without the benefit of infield hits or being able to swing from the left side of the plate. And, by the way, he currently leads the AL in WAR.
2.
Chris Davis
, Orioles
3.
Evan Longoria
, Rays
4.
Manny Machado
, Orioles (second in AL in WAR)
5. Mike Trout, Angels
NL Cy Young Award:
Matt Harvey
, Mets
He's got a 2.05 ERA, which is second best in the NL behind
Jeff Locke
, and he leads in WHIP and in strikeouts.
2.
Adam Wainwright
, Cardinals (leads NL pitchers in WAR)
3.
Clayton Kershaw
, Dodgers (career 2.42 ERA in the second half)
Others in the conversation:
Patrick Corbin
, Diamondbacks;
Jordan Zimmermann
, Nationals.
AL Cy Young Award:
Max Scherzer
, Tigers
He's second in the league in WHIP, and in strikeouts. And he seems to be getting better as the season rolls along.
2.
Yu Darvish
, Rangers
3.
Clay Buchholz
, Red Sox (although he is drifting back because of his time on the disabled list)
Others in the conversation: Felix Hernandez, Mariners;
Hisashi Iwakuma
, Mariners;
Anibal Sanchez
, Tigers.
Around the league
•
Jose Reyes
is
rejoining the Blue Jays
. Reyes could be
back in the lineup Wednesday
.
•
Wil Myers
made himself at home in
his first game in the Trop
.
Jeremy Hellickson
is
on a roll
.
From ESPN Stats & Info, how Hellickson ended Toronto's winning streak:
A) Hellickson induced a career-high 14 outs on his changeup without allowing a hit. The 14 changeup outs are tied for the second most by any pitcher on changeups this season (
John Danks
, 16).
B) Hellickson started 19 of 24 hitters with a first-pitch strike (79 percent), his highest percentage in more than two years. He didn't go to a single 2-0 count for the first time this season.
C) Hellickson threw 66 percent of his fastballs down in the zone, his highest percentage since his rookie season in 2010. He induced 10 groundouts, tied for his second most in the past two seasons.
• There is really bad news for
Angel Pagan
,
Henry Schulman writes
.
• As
Vin Scully says
of
Yasiel Puig
here: "The kid has done it again." He led the
Dodgers to victory
.
There are more adjustments to come from opposing pitchers, given Puig's hyper-aggression at the plate. His rate of swinging at pitches outside of the strike zone is over 40 percent, which is very high, but not
at the rate of hitters
like
Pablo Sandoval
and
A.J. Pierzynski
.
When the pitch is inside the strike zone, his
rate of swinging is the highest in the majors
.
And as the pitchers try to adjust, so, too, will Puig.
From ESPN Stats & Info:
Two of Puig's three hits Monday, including his go-ahead HR in the first and his go-ahead single in the eighth, came early in the at-bat, something Puig has made a habit out of this season. All of his extra-base hits and homers have come within the first three pitches of a plate appearance. He's hitting "only" .286 after the plate appearance reaches four pitches, including .214 with two strikes.
Other assorted Puig notes:
1) He's hitting .688 (11-for-16) in the first inning this season.
2) Five of his seven homers have been to right field; no other righty has more than three such homers since Puig's MLB debut.
3) Puig leads all of baseball in batting average (.442) and hits (34) and ranks second in slugging (.753) since his debut on June 3.
4) The Dodgers are now 5-1 in games in which Puig has homered this season.
• We are re-learning this summer that even with the advances of modern medicine and the remarkable understanding doctors have of how the body works, what they present remains an educated guess, because of all the variables involved.
The belief was that
Mark Teixeira
would be able to play sometime in early May, and instead he took longer than that. Now, after coming back, he's still apparently not right and could be
headed for season-ending wrist surgery
.
On the other hand:
Alex Rodriguez
appears to be making
more progress than expected, quickly
.
The Nationals' medical staff
is under scrutiny
.
Bryce Harper
is set to begin his
injury rehabilitation assignment today
.
Ask
Corey Hart
about
how precise medicine is
.
• There's nothing new happening in the contract talks of
Robinson Cano
, he said, after
first saying he'll be a free agent at the end of the season
.
• On Monday's podcast,
Joe Nathan
talked about his
unusual path to the big leagues
, and about his conservations with
Mariano Rivera
.
Moves, deals and decisions
1. The Pirates aren't saying whether they will limit the innings of
Gerrit Cole
,
writes Travis Sawchik
. From his piece:
The baseball industry has managed young arms carefully in recent years, the most notable case being the Nationals' controversial decision to shut down Stephen Strasburg after their ace reached a predetermined innings limit last season despite the Nationals being in the midst of a postseason chase.

Does Cole face a similar innings cap if he remains with the Pirates?

Neal Huntington declined to answer Monday when asked if a specific innings cap for Cole exists, but the Pirates' GM indicated Cole is a considerable distance from reaching his workload limit.

"Part of our development plan is to build guys accordingly so that when they get to the big leagues, they are hopefully in a position to be able to log the innings without the media attention that some have gotten," Huntington said. "If he ever gets to his workload limit, we'll let you know."
One lesson that the rest of the industry gleaned from the Strasburg debate last year: Don't talk about innings limitations.
2. The Indians called
up a reliever
.
3. The Reds' next stretch of games
could impact the deadline talks
.
4.
Dan Straily
was
optioned to the minors
.
5. Mike Kickham was called up to
be part of the Giants' rotation
.
Monday's games
1.
Jonathan Papelbon
blew
another save chance
. It's worth repeating: The Phillies are crazy if they don't at least field offers and consider trading him right now, when there's a lack of available closers in the market and they have a chance to step away from the back end of his contract.
From Ryan Lawrence's story:
Papelbon, who had converted 13 straight save chances to begin the season, has blown 4 of his last 5 save opportunities. "He's in a little funk," manager Charlie Manuel said. "Things aren't going his way right now."

"It's not any tougher than any other situation I've been in," Papelbon said of his sudden cold spell. "I've been in this situation a million times before. I don't really carry previous ballgames into the next day. It's just not what I do. If you're a closer or relief pitcher or starter, if you take stuff into the next day, it gets out of hand."
2. The Indians are gathering momentum:
they won again
.
Dings and dents
1. Meanwhile,
Mike Adams
got bad news, but
Roy Halladay
got
good news
.
2.
Dylan Bundy
continues to
experience discomfort in his forearm
.
3.
Jedd Gyorko
continues
to make progress
.
4.
Alex Cobb
is hopeful he
can return this season
.
5. Carlos Gomez avoided major injury
the other day
.
6.
Peter Bourjos
has managed
to avoid the disabled list
.
NL East
•
Zack Wheeler
takes the mound for the Mets on Tuesday night,
looking to do better
.
• For
Justin Ruggiano
, opportunity
has paid off
.
• Atlanta GM Frank Wren believes his
offense will eventually click
.
NL Central
• Jeff Locke's parents
don't watch him pitch
, because they don't have the baseball package, while living in their little New England town. Nice piece by Michael Sanserino.
•
Matt Adams
will be getting some added playing time in the days ahead,
writes Derrick Goold
.
•
Bernie Miklasz wonders
if
Matt Holliday
is declining.
• It's the Cubs' time
in the spotlight
.
NL West
•
Jason Kubel
and
Cody Ross
are heating up,
writes Scott Bordow
.
• Arizona starts a stretch in which it'll play 20 games in 20 days,
writes Steve Gilbert
.
• The Padres continue to push toward
the top of the NL West
.
• Colorado's bullpen could
soon get a boost
.
AL East
•
Will Middlebrooks
met with a mentor, writes
Scott Lauber
. Middlebrooks has been frustrated, he acknowledged
over the weekend
.
•
Andrew Bailey
is
facing a challenge
.
•
Zoilo Almonte
is
off to a hot start
.
•
Andy Pettitte
remains driven,
writes Jeff Roberts
.
AL Central
• Jim Leyland has plans
to rest everybody
but
Prince Fielder
.
•
Anthony Swarzak
is
finally home again
.
AL West
• Nolan Ryan says
he's not worried
about losing
Nelson Cruz
to a suspension.
• The Astros are set to face
a whole lot of contenders
.
•
Nick Franklin
is catching
on quickly with Seattle
.
Other stuff
• Last fall, executives spoke of how the shift of the Astros to the AL West would affect pennant races, and Benjamin Hoffman
details how that is playing out
.
•
Mike Redmond
promises to be more animated the next time he gets ejected,
writes the great Joe Capozzi
.
And today will be better than yesterday.
April, 21, 2013
4/21/13
9:14
AM ET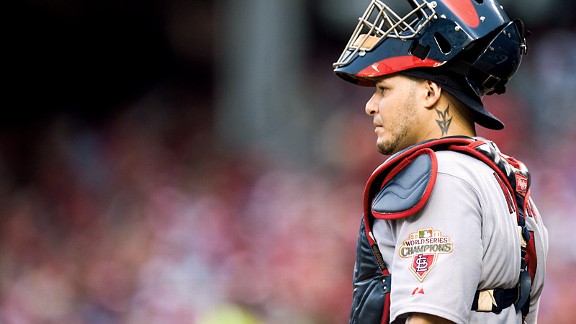 Rob Tringali/Getty ImagesYadier Molina does more behind the plate than just call the game for his pitching staff.
PHILADELPHIA -- The other
St. Louis Cardinals
players on the field keep their eyes on
Yadier Molina
constantly, pitch to pitch, in the way that interstate truck drivers might lock in on the leader of a convoy. Everything they do -- every decision, every movement -- follows what he does, and Molina's subtle instructions could come at any moment.
With a slight nod of his head, a subtle gesture of his hand, Molina will tell the fielders what's going to happen next, and where to go. "It really is amazing that he's able to do that with everything else that he has to think about," said center fielder
Jon Jay
.
To continue reading this article you must be an Insider
August, 29, 2012
8/29/12
9:33
AM ET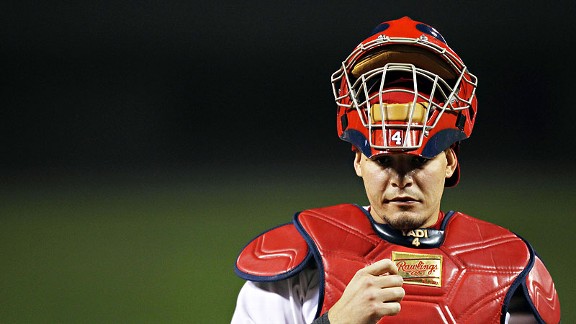 Ezra Shaw/US PresswireFor highly valuable catchers like Yadier Molina, blocking the plate makes no sense at all.
After enough hitters were nailed in the head during the first century of baseball, the batters started wearing helmets, because everybody realized that getting drilled by pitches is not a good way to stay on the field and get paid.
In the name of safety, most outfield walls have been padded. Nets have been placed in front of dugouts to protect bystanders from foul balls. Base coaches started wearing protection after the death of
Mike Coolbaugh
. Rules on how baserunners can slide into second and third base have been enforced to protect fielders. Pitchers are having their innings and pitch counts limited to improve their chances for long-term health and productivity.
And inevitably, there will be rules made to reduce collisions between baserunners and catchers, because it's a senseless outlier in baseball's risk/reward equation. Until then, however, the play will stupidly be allowed to go on, perhaps until someone else gets seriously hurt -- an ignominy that
Yadier Molina
narrowly avoided Tuesday night while trying to save one essentially meaningless run in one game in the midst of a career that should encompass thousands of runs and games.
On Tuesday night in Colorado,
Los Angeles Dodgers
outfielder
Matt Kemp
ran
full speed into the fence
in left-center field -- like a NASCAR driver hitting a wall flush -- nose-first, with almost all of the impact of the collision dissipating through Kemp's body. He was taken for further examination
on his jaw
.
Kemp undoubtedly was saved from some impact of the play by the padding on the wall, and the Dodgers will go to him and remind him that it makes no sense for a player in whom they have $160 million invested to mash head-on into fences. He is their most valuable player, maybe the best player in the National League, and an important asset to Major League Baseball.
The same conversation should be had with Molina, who is arguably the
St. Louis Cardinals
' most important player and maybe the best defensive catcher of his generation. In the spring, St. Louis signed Molina to a $75 million deal, for all that he does in running and leading the pitching staff, for all of his improvement as a hitter. The Cardinals chose to build around Molina.
But on a Tuesday night in August, Molina prepared to take a throw from right field and then block home plate, with the Pirates'
Josh Harrison
barreling down the third base line. Because, within most organizations, this is what catchers are expected to do.
The
Oakland Athletics
have told their catchers to not do this, and similarly, the
San Francisco Giants
have instructed
Buster Posey
to stay out of harm's way after his left ankle was shattered last year on a collision at the plate.
But generally, catchers are treated something like crash-test dummies without regard to their physical well-being and their long-term ability to earn money. In essence, they are told: Plant yourself in front of that small piece of earth and get blasted by that 200-pound athlete running full speed with a 30-yard head start.
Never mind that hitters now wear helmets, and outfielders are instructed to avoid fences, and young pitchers are shut down to save their arms. The old school still believes catchers should place themselves in a physical jeopardy to which nobody else on the field is subjected. The tools of ignorance, for sure.
Last year, Harrison was involved in a similar play at the plate. He was running home and had the same choice that a lot of runners have -- slide into a catcher wearing a full set of gear or attempt to run over the catcher. Harrison opted to slide, and he got buried and
got hurt
.
When a baserunner slides into a fully armored catcher, it's a complete mismatch; they will tell you that it's a great way to get injured.
So through the years, a lot of baserunners have gotten more aggressive, and they have a similar motive as the catchers. Just as the catcher wants to block the plate to cut off a run, the baserunner's mindset is to score -- and when the catcher stands in front of the plate, there are really only two options for a runner, who must make his decision in a split second.
This time, Harrison decided to
blast the catcher
, in an attempt to jar the ball loose, and when Molina turned with his head down, focused on the ball and lowered his body slightly to naturally brace himself for a collision, his head and neck were vulnerable.
From Rob Biertempfel's
story
:
"When I was about (30 feet) from the plate, I saw him slide his feet back," Harrison said. "The whole plate was blocked; there was no way to slide around him. My only chance was to go through him."
Trying to dislodge the ball, Harrison ran into Molina at full speed. As he turned his body slightly, Harrison's left arm came up and slammed into Molina's jaw. Molina, who outweighs Harrison by 35 pounds, hung onto the ball for the out.
"I really don't like being involved in those plays, because (catchers) are the ones with all the padding," Harrison said.
To continue reading this article you must be an Insider