Buster Olney:

Max Scherzer
January, 20, 2015
Jan 20
9:13
AM ET
big deal
goes down the ripples always roll out in many directions, as seen in the Nationals' signing of
Max Scherzer
-- a deal with a multitude of winners and losers.
Let's take a look
When a
January, 19, 2015
Jan 19
10:50
AM ET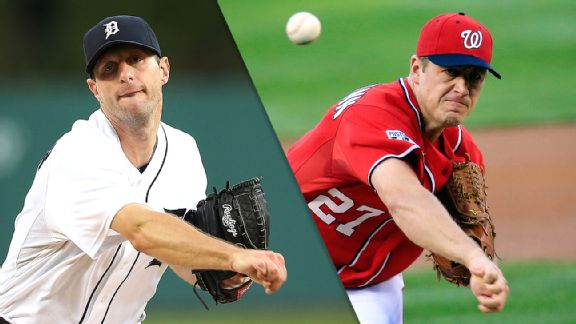 Getty ImagesMax Scherzer will join an already-formidable rotation anchored by Jordan Zimmermann.
The
Washington Nationals
have agreed to a seven-year contract with
Max Scherzer
for a reported $210 million, half of it deferred -- Scherzer reportedly will receive $15 million annually for 14 years -- the most
ever
spent on a free-agent pitcher, the most ever paid out to a right-handed pitcher and the second-most dollars doled out for any pitcher, with the deal slotting in behind
Clayton Kershaw
's and ahead of
Felix Hernandez
's.
With that kind of payout, the Nationals can reasonably expect a marked upgrade in 2015, yes?
Well … not really.
Scherzer is an outstanding pitcher who has 492 strikeouts in his past 434 2/3 innings, and perhaps he'll be the guy who pushes the Nationals to a place they haven't gone before, the World Series.
But if Washington had maintained the status quo with its rotation -- arguably the best in the majors as it was -- the Nationals probably would've had an excellent chance to get to the postseason again. Here is the WAR (wins above replacement) for each member of the Nats' rotation in 2014:
Jordan Zimmermann
4.9
Doug Fister
4.5
Stephen Strasburg
3.5
Gio Gonzalez
2.3
Tanner Roark
5.1
That's a tremendous group, reflected in its cumulative 20.3 WAR, and there really is no reason to think that quintet wouldn't do something close to that in 2015, or maybe even better. Fister, who turns 31 in a couple of weeks, is the oldest of the group, and seems to be getting better and better. Gonzalez is 29, Roark is 28, Zimmermann is 28 and Strasburg is 26.
But the Nationals appear poised to break up the band.
To continue reading this article you must be an Insider
January, 2, 2015
Jan 2
10:26
AM ET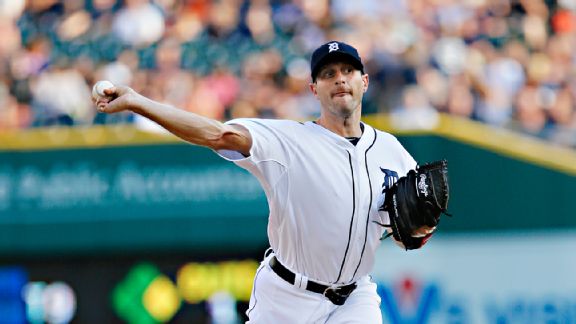 Duane Burleson/Getty ImagesWhich team will spend big to get the jewel of the free-agent market, pitcher Max Scherzer?
It's a holiday tradition, like counting down the final hours of the old year and watching bowl games on New Year's Day: trying to guess the landing spot of a prominent client of agent Scott Boras.
A few years ago, it was
Prince Fielder
, and last winter it was
Stephen Drew
and
Kendrys Morales
. This winter it's
Max Scherzer
, and baseball executives are doing the same thing fans (and sports writers) are doing in trying to forecast how this is going to play out.
But let's get one thing straight: All is good for Scherzer. In the end, he will get paid well to do what he loves to do, no matter where he winds up. In the case of Drew and Morales, who were not star players, the opportunities were limited. Scherzer is one of the best pitchers in baseball, and eventually something will get worked out.
We just don't know where, just as we had no idea in the first days of 2012 where Fielder would land.
To continue reading this article you must be an Insider
November, 30, 2014
11/30/14
9:41
AM ET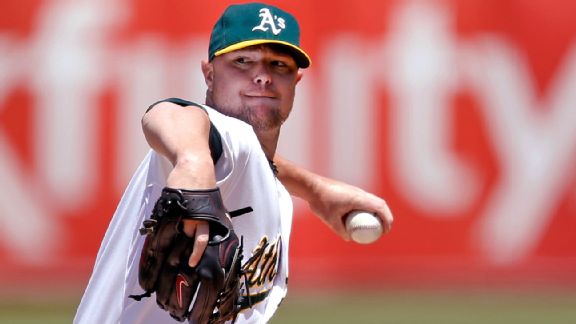 Bob Stanton/USA TODAY SportsSome believe Jon Lester will fetch between $135 million and $150 million in his next contract.
Andrew Miller
has a free-agent market all to himself, in a sense, as the only elite left-handed power reliever, and in the hours ahead he will choose his next team independent of anything else that happens with other players. There are a small handful of starting pitchers looking for one-year deals to rebuild value, like
Brett Anderson
. Theoretically, they could sign without being affected by other dominoes.
But many other pitchers -- including those who could be traded, like Oakland's
Jeff Samardzija
-- may have to wait for
Jon Lester
to set the price. Almost everything in the pitching market seems to be on hold until Lester makes his choice among offers from the
Boston Red Sox
,
Chicago Cubs
and
San Francisco Giants
(and perhaps others). Once that happens, the price ceiling will be established. "Then everything else will fall in line after that," said one agent.
Lester and
Max Scherzer
are regarded as the two best free-agent pitchers, but some club evaluators fully expect Scherzer's contract talks to carry over for weeks, as agent Scott Boras works to make a big deal happen -- something significantly more than the six-year, $144 million deal that the Tigers offered to Scherzer in the spring. Boras' negotiations often play out way past the winter meetings, and there is so little current buzz around Scherzer that some evaluators and agents theorize that one of two scenarios is developing with the former Cy Young Award winner:
1. He could be out on a limb, some evaluators believe, with his expected price undercut by the extraordinarily high volume of available pitching. "It's not the best time to be looking for a big deal," said one GM, noting the many pitching alternatives that can be found for less money.
2. He will be the target of a big, bold surprise strike by some team flush with cash, much in the way that the
Washington Nationals
jumped on
Jayson Werth
for $126 million in December 2010. Scherzer might be one among many options, but he is the best right-hander available
right now
with few strings attached, because he's a free agent. (A team would have to surrender a top draft pick to sign him.) Sure, you can land
Cole Hamels
,
Johnny Cueto
or
Jordan Zimmermann
, but any interested team would have to trade a major package of prospects in return.
So Lester is viewed as the bottleneck of the moment, and once he goes, an array of trades and signings will follow
To continue reading this article you must be an Insider
November, 2, 2014
11/02/14
9:25
AM ET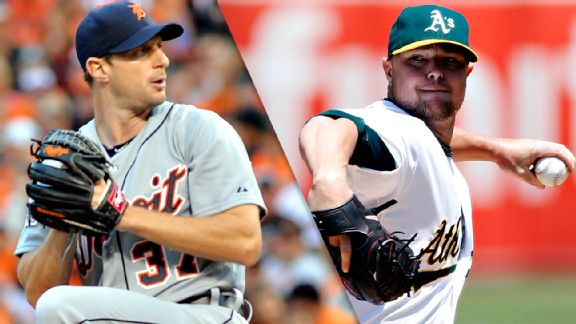 USA TODAY SportsMax Scherzer and Jon Lester are poised to sign huge deals. Are they worth it?
These are just some of the pitchers who could be available through free agency or trade in the next 13 months:
Max Scherzer
,
Jon Lester
,
James Shields
,
Francisco Liriano
,
Cole Hamels
,
Ervin Santana
,
Edinson Volquez
,
Brett Anderson
,
Jason Hammel
,
David Price
,
Johnny Cueto
,
Jordan Zimmermann
,
Jeff Samardzija
,
Zack Greinke
,
Rick Porcello
,
Doug Fister
,
Mat Latos
,
Mike Leake
,
Ian Kennedy
,
Hisashi Iwakuma
,
Justin Masterson
,
Jake Peavy
and
John Lackey
.
Major League Baseball's market has never seen so much attractive pitching available all at once, although executives throughout the sport are aware this shift is something of an optical illusion, created by the historic drop in run production in recent seasons.
As an example, Lester has a résumé filled with postseason excellence while pitching in the AL East: He dominated the playoffs in 2013, and followed that with his best statistical regular season in 2014.
But the lack of offense blurs the gap between Lester and the rest of this pack of pitchers.
Lester finished
12th this past season in xFIP
, a metric which measures pitching independent of the defense.
But here's the thing: Unless your name is
Clayton Kershaw
,
Felix Hernandez
,
Stephen Strasburg
or
Corey Kluber
, there wasn't a lot of separation from the pack.
To continue reading this article you must be an Insider
October, 11, 2014
10/11/14
10:43
AM ET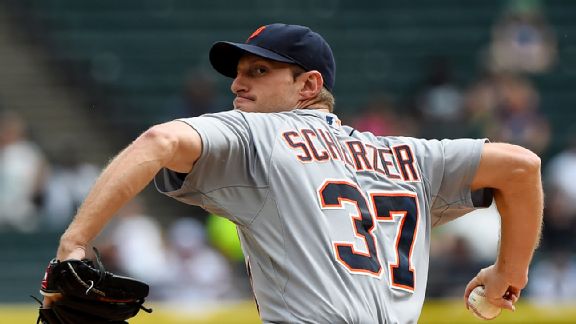 Mike DiNovo/USA TODAY SportsMax Scherzer will be hitting free agency this fall.
ST. LOUIS – A growing trend, over the last decade, has been for teams to lock down their best young talent into long-term deals, whether it be the Giants signing
Madison Bumgarner
to a contract through 2017 with club options for 2018 and 2019, or the Rays signing
Matt Moore
and
Chris Archer
to what are perceived to be team-friendly deals.
These sorts of contracts have meant that fewer high-end players have gone into free agency, and some agents say there has been a nudge from the players' association to get more players into the open market; to not settle for deals that are perceived to have significant value to teams.
An elite free agent, like
CC Sabathia
in the fall of 2008, has maximum leverage and can drive the salary ceiling higher. Sabathia got $161 million over seven years -- a record-setting deal that set the tables for some of the deals that followed, like that of
Felix Hernandez
,
Justin Verlander
and
Clayton Kershaw
, who all agreed to deals before reaching free agency.
Max Scherzer
and
Jon Lester
are heading into free agency this fall, along with
James Shields
, and they will all be paid well. But like changing weather conditions, the market setting for these free agents may not be as strong as it was for Sabathia.
To continue reading this article you must be an Insider
September, 17, 2014
9/17/14
10:01
AM ET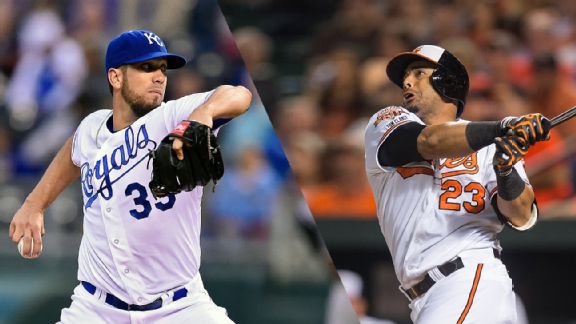 Getty ImagesJames Shields and Nelson Cruz are both candidates to get qualifying offers this offseason.
As the saying goes, those who don't learn from the past are doomed to repeat it. Not one of the 22 players who were extended qualifying offers the past two winters accepted them, and in a lot of cases, that made sense. But it's a strategy that failed for some players.
Stephen Drew
turned down a qualifying offer of $14.1 million last fall, and then, after failing to sign with a team in the winter, waited until May to sign with the Red Sox under the premise -- loyally regurgitated in many corners -- that he would benefit from not being attached to a qualifying offer this fall.
This has turned into a disaster. After taking $4 million less in salary than he would've gotten in a qualifying offer, Drew was behind in his timing when he returned to major league action and has never recovered. He is batting .156 overall, with an OPS of .527 (250 points lower than last season), and with the Yankees he's hitting .132. He probably will get just a fraction of what he would've gotten this fall with a qualifying offer, which is expected to be between $15 and $15.5 million.
Similarly,
Kendrys Morales
rejected a $14.1 million qualifying offer from the Mariners before eventually signing with the Twins -- who then traded him back to Seattle. As of Wednesday morning, he is hitting .205 with the Mariners, .223 overall, with seven homers in 350 plate appearances. At 31, he will be a free agent again, in a market already saturated with DH candidates, and he won't get anything close to what a qualifying offer might've netted him.
With that in mind, here are the candidates for qualifying offers in the upcoming market, and whether the player in question can expect to get an offer.
James Shields, SP, Royals: YES.
Shields has had another solid season and the Royals intend to give him a qualifying offer so they can get a draft pick when he signs elsewhere.
To continue reading this article you must be an Insider
May, 22, 2014
5/22/14
10:07
AM ET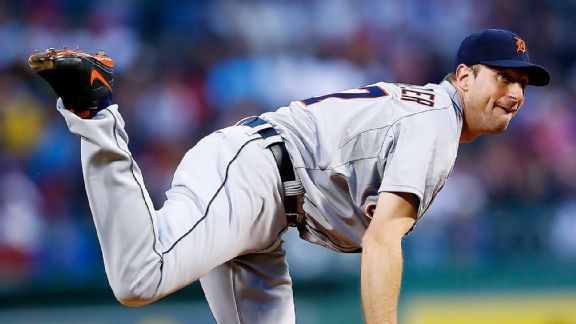 Jared Wickerham/Getty ImagesMax Scherzer still managed to impress while allowing 12 hits and seven earned runs Wednesday.
Max Scherzer
had his worst outing of the season Wednesday, and even in that he showed a side of himself that will be valued when he becomes a free agent in the fall. Scherzer allowed seven runs in the first three innings, with his pitch count spinning out of control, and yet he still held it together long enough to throw the last pitch of the seventh inning. He will get paid in a big way, and so will
Jon Lester
, whether it's by the Red Sox this summer or by some other team in the open market, and
James Shields
, who is doing what he has always done, taking the ball and
pitching well
.
Here are some other prospective free agents off to strong starts:
1. Victor Martinez, DH, Detroit Tigers:
On
Wednesday's podcast
,
Torii Hunter
offered a great description of how Martinez focuses, how he controls the tempo of each at-bat. Martinez, 35, is having one of the best seasons of his career, now having fully overcome the knee surgery that cost him the 2012 season and affected him the first half of 2013. So far he's hitting .329, with 12 homers, 16 walks and 11 strikeouts, sporting a .998 OPS. It would make sense for the Tigers to re-sign him, but if that doesn't happen, another team will jump at the chance to do so, given the nature of his at-bats and reputation for being an outstanding teammate.
2. Michael Morse, OF, San Francisco Giants:
Because of his injury history, he was able to get only a one-year, $6 million deal this past offseason.
To continue reading this article you must be an Insider
May, 18, 2014
5/18/14
9:49
AM ET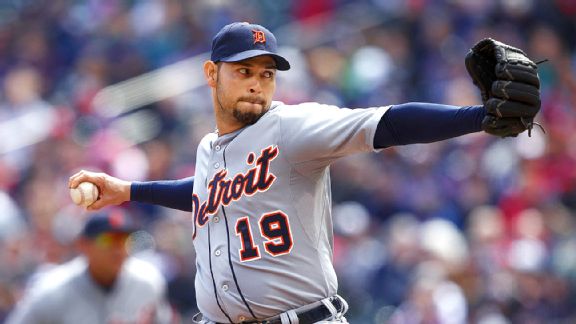 Jesse Johnson/USA TODAY SportsAnibal Sanchez allowed 25 stolen bases in 26 attempts during the 2013 season.
BOSTON -- From the first day of spring training, the
Detroit Tigers
players say, Brad Ausmus talked about the running game.
But not only the running game of the Detroit baserunners, who were told to look for opportunities to take a base when they see it. Ausmus also wanted his pitchers to think more about the running game.
When pitchers threw their bullpen sessions in the spring, about a third of their work was done from the stretch,
Alex Avila
recalled. They simulated situations in which there was a runner at first, or first and third. They worked on varying their delivery times to the plate and on throwing to first base.
Last year, opposing teams ran aggressively against the Tigers. Detroit allowed 128 steals in 157 attempts, a staggering rate of 81.5 percent, which ranked
29th in the majors
. Only two teams allowed more stolen bases.
This season, the Tigers have allowed 27 steals in 42 attempts, and their 35.7 percent rate of nabbing runners ranks
fifth in the majors
.
The pitchers have bought in to slowing down opposing runners, said Ausmus. That includes
Anibal Sanchez
, particularly, after he's had a lot of trouble with stolen bases in the past. Last year, Sanchez allowed 25 steals in 26 attempts.
This year, Sanchez's numbers aren't much better (six steals allowed in seven attempts), but Avila feels he's throwing better, and has put in the work to improve. "Throwing out runners is a two-way street," said Avila.
The Tigers added
Rajai Davis
and
Ian Kinsler
during the offseason, and so it was inevitable that Detroit would run more and steal more bases. The Tigers' baserunners generally have a green light to run, other than when they get a hold sign from the bench, and
Torii Hunter
believes the Detroit baserunners are assuming a natural aggressiveness.
Detroit
leads the AL in steals
with 36 -- one more than all of last season, when the Tigers finished
last in MLB
.
More on the Red Sox, Tigers
• The
Boston Red Sox
players have a strong sense of what it takes to win, after going from worst to first last season, and there is deep unhappiness with the team's situational play right now. They feel like they should be taking advantage of those opportunities to move runners in close games, given the team's dip in power production this season, and given Boston's own strong pitching. The Red Sox currently
rank 15th in runs
, after leading the majors -- by far -- in 2013.
• The sands in the hourglass continue to slide away in the time remaining for the Red Sox to sign
Jon Lester
to a long-term extension.
Clayton Kershaw
set the very top of the market when he got a $215 million deal in the offseason, but the fairer comparables for Lester might be
Cole Hamels
, who got $144 million from the
Philadelphia Phillies
a few months before he was set to hit the market as a free agent, or
Matt Cain
, who got a five-year, $112.5 million extension in the spring before his free-agent fall.
The Red Sox offered Lester $70 million over four years earlier this year, and while Lester has mentioned that he'd like to stay in Boston, there is typically a time in the baseball calendar when it makes more sense for a prospective free agent to simply wait until he can hit the market.
If Boston intends to make a stronger offer to the 30-year-old Lester, who is off to the best start of his career, then it makes absolutely no sense to wait before presenting the upgraded proposal.
To continue reading this article you must be an Insider
April, 25, 2014
4/25/14
8:08
AM ET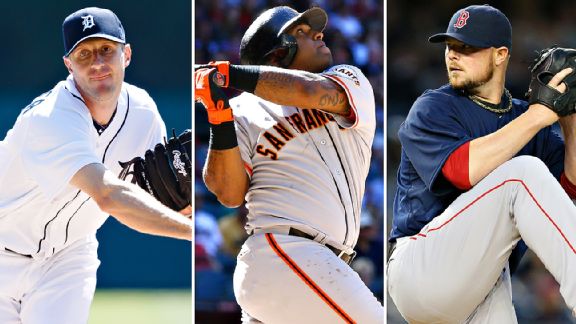 USA TODAY SportsMax Scherzer and Jon Lester are off to great starts in "prove it" years, while Pablo Sandoval has scuffled.
In the April leading up to
CC Sabathia
's free agency in 2008, his ERA
after four starts was 13.50
. Months later, he got the biggest contract ever for a pitcher -- $161 million -- after he had bounced back, and then been traded to Milwaukee and led the Brewers into the postseason.
All of that is a long way of saying that it's still very early, and there is plenty of time for the members of the prospective free-agent class of 2015 to place themselves on the road to really big dollars.
But the sample size is growing.
A rating of the first part of the season for free agents, on a scale of 1 to 10:
Max Scherzer
:
10
Nobody bet more on himself than Scherzer
To continue reading this article you must be an Insider
November, 8, 2013
11/08/13
8:31
AM ET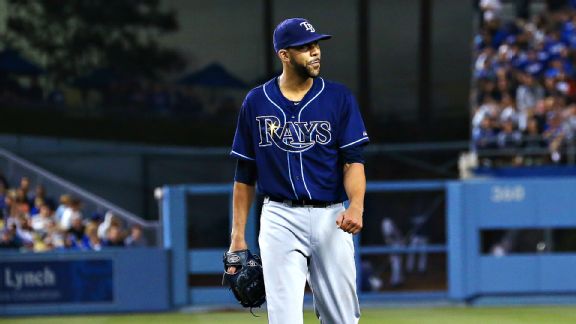 Stephen Dunn/Getty ImagesThe Rays may never be able to extract more value in a trade of David Price than they could this offseason.
The
Tampa Bay Rays
have been baseball's version of Seabiscuit over the past six seasons, the plucky team with the diminutive payroll racing and often winning against War Admirals such as the Yankees and Red Sox.
Logic tells us that the Rays shouldn't be able compete for the postseason annually, and yet year after year they have rolled out contending teams, accumulating, in order: 97 wins in 2008, 84 in 2009, then 96, 91, 90 and 92 over the next four seasons. They've made the playoffs four times in six seasons, an astounding feat that probably doesn't get the attention it deserves.
We could be tempted to say this happens because of The System of player evaluation developed by general manager Andrew Friedman and his staff, or because of the symbiosis that exists between the front office and Joe Maddon, who is regarded by some rival evaluators as the pre-eminent manager in the sport. We could credit players such as
Evan Longoria
and
David Price
.
But I've always thought that the central root of the Rays' success comes down to this:
To continue reading this article you must be an Insider
October, 11, 2013
10/11/13
7:19
AM ET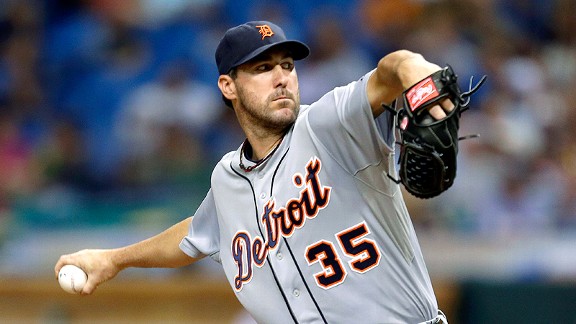 AP Photo/Chris O'MearaJustin Verlander has insisted his struggles have been mechanical, not physical. Maybe he's right.
The topic was
Justin Verlander
, and the two veteran hitters who had faced him this year spoke of the Cy Young winner in their dugout with great respect, but also with professional honesty.
"He's not the same guy," said one of the players.
The other nodded: "Not even close."
They talked about how Verlander's fastball in 2013 was less than it used to be, and about how this changed everything in the challenge of hitting against him. Because he wasn't throwing as hard and couldn't throw the ball past them, as he had in the past, he relied much more on his off-speed stuff. "He's got to trick you now," said one of the hitters. "He never had to do that before."
The early diagnosis of Verlander from these two particular players was the same shared by a lot of evaluators: All those innings logged, all those games when he drove himself past 120 pitches, as the game's best pitcher, had finally begun to catch up to him.
Well ... so much for that.
Verlander had said all summer that he felt that there were mechanical adjustments he needed to make, tweaks that would get his delivery back to maximum efficiency, and apparently he has made them, because at the end of what has generally been a less-than-dominant year, he has been exceptional, again.
To continue reading this article you must be an Insider
June, 25, 2013
6/25/13
10:56
AM ET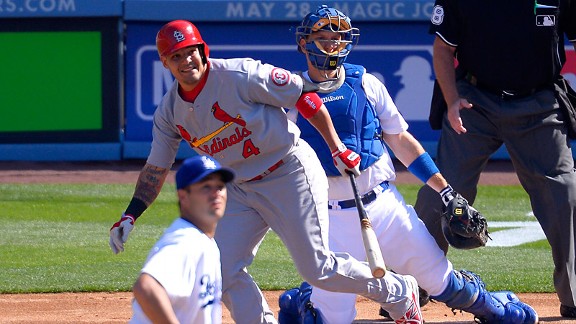 AP Photo/Mark J. TerrillYadier Molina now has a potent offensive game to go with his elite defensive skills.
I recently bumped into a longtime evaluator who offered an interesting handicap on the National League Most Valuable Player race. "Right now," he said, "
Yadier Molina
is the league MVP, hands down."
Over the next week to 10 days, every team will play its 81st game and reach the midpoint of the season, and the races for the major awards are starting to take form.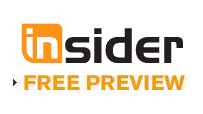 It's possible to win the MVP or the Cy Young Award with a mad finish, like
Vladimir Guerrero
did in 2004, but as the use of statistical analysis deepens, the more the broad, season-long view of performance will be weighted -- not only by teams, but also by the writers who vote, who have demonstrated they will pick and choose. We saw this in 2010, when voters ignored
Felix Hernandez
's 13-12 record and gave him the AL Cy Young Award. Of course, the same electorate ignored WAR and leaned on traditional numbers to select
Miguel Cabrera
over
Mike Trout
last year.
NL MVP:
Yadier Molina, Cardinals
He leads the NL batting race, with a .353 average, and among catchers he has the highest OPS. Remember, his offensive production is regarded as a complementary part of what he provides. He is renowned for his ability to handle a pitching staff -- and the Cardinals' work has been excellent this season -- and for positioning the defense, and for shutting down the running games of opposing teams.
Think about this number, which isn't necessarily related to Molina's MVP candidacy in 2013 but demonstrates the impact of his presence in a game. Since the start of 2006, these are the fewest stolen-base attempts against major league teams:
1. Cardinals: 645
2. Twins: 860
3. Reds: 863
4. Mets: 877
5. Diamondbacks: 889
6. Astros: 901
7. Mariners: 951
8. Brewers: 955
9. Nationals: 960
10. Orioles: 960
It's hard to measure exactly what a great catcher provides, but there's more than enough to support the scout's view that as of now, Molina's the front-runner.
The others in the conversation:
2.
Paul Goldschmidt
, Diamondbacks
3.
Carlos Gonzalez
, Rockies
4.
David Wright
, Mets
5.
Joey Votto
, Reds
Troy Tulowitzki
would be among the top three here if he weren't on the disabled list, with an extended absence ahead of him.
Carlos Gomez
, by the way,
ranks first in WAR
.
AL MVP:
Miguel Cabrera, Tigers
The guy is hitting .370, without the benefit of infield hits or being able to swing from the left side of the plate. And, by the way, he currently leads the AL in WAR.
2.
Chris Davis
, Orioles
3.
Evan Longoria
, Rays
4.
Manny Machado
, Orioles (second in AL in WAR)
5. Mike Trout, Angels
NL Cy Young Award:
Matt Harvey
, Mets
He's got a 2.05 ERA, which is second best in the NL behind
Jeff Locke
, and he leads in WHIP and in strikeouts.
2.
Adam Wainwright
, Cardinals (leads NL pitchers in WAR)
3.
Clayton Kershaw
, Dodgers (career 2.42 ERA in the second half)
Others in the conversation:
Patrick Corbin
, Diamondbacks;
Jordan Zimmermann
, Nationals.
AL Cy Young Award:
Max Scherzer
, Tigers
He's second in the league in WHIP, and in strikeouts. And he seems to be getting better as the season rolls along.
2.
Yu Darvish
, Rangers
3.
Clay Buchholz
, Red Sox (although he is drifting back because of his time on the disabled list)
Others in the conversation: Felix Hernandez, Mariners;
Hisashi Iwakuma
, Mariners;
Anibal Sanchez
, Tigers.
Around the league
•
Jose Reyes
is
rejoining the Blue Jays
. Reyes could be
back in the lineup Wednesday
.
•
Wil Myers
made himself at home in
his first game in the Trop
.
Jeremy Hellickson
is
on a roll
.
From ESPN Stats & Info, how Hellickson ended Toronto's winning streak:
A) Hellickson induced a career-high 14 outs on his changeup without allowing a hit. The 14 changeup outs are tied for the second most by any pitcher on changeups this season (
John Danks
, 16).
B) Hellickson started 19 of 24 hitters with a first-pitch strike (79 percent), his highest percentage in more than two years. He didn't go to a single 2-0 count for the first time this season.
C) Hellickson threw 66 percent of his fastballs down in the zone, his highest percentage since his rookie season in 2010. He induced 10 groundouts, tied for his second most in the past two seasons.
• There is really bad news for
Angel Pagan
,
Henry Schulman writes
.
• As
Vin Scully says
of
Yasiel Puig
here: "The kid has done it again." He led the
Dodgers to victory
.
There are more adjustments to come from opposing pitchers, given Puig's hyper-aggression at the plate. His rate of swinging at pitches outside of the strike zone is over 40 percent, which is very high, but not
at the rate of hitters
like
Pablo Sandoval
and
A.J. Pierzynski
.
When the pitch is inside the strike zone, his
rate of swinging is the highest in the majors
.
And as the pitchers try to adjust, so, too, will Puig.
From ESPN Stats & Info:
Two of Puig's three hits Monday, including his go-ahead HR in the first and his go-ahead single in the eighth, came early in the at-bat, something Puig has made a habit out of this season. All of his extra-base hits and homers have come within the first three pitches of a plate appearance. He's hitting "only" .286 after the plate appearance reaches four pitches, including .214 with two strikes.
Other assorted Puig notes:
1) He's hitting .688 (11-for-16) in the first inning this season.
2) Five of his seven homers have been to right field; no other righty has more than three such homers since Puig's MLB debut.
3) Puig leads all of baseball in batting average (.442) and hits (34) and ranks second in slugging (.753) since his debut on June 3.
4) The Dodgers are now 5-1 in games in which Puig has homered this season.
• We are re-learning this summer that even with the advances of modern medicine and the remarkable understanding doctors have of how the body works, what they present remains an educated guess, because of all the variables involved.
The belief was that
Mark Teixeira
would be able to play sometime in early May, and instead he took longer than that. Now, after coming back, he's still apparently not right and could be
headed for season-ending wrist surgery
.
On the other hand:
Alex Rodriguez
appears to be making
more progress than expected, quickly
.
The Nationals' medical staff
is under scrutiny
.
Bryce Harper
is set to begin his
injury rehabilitation assignment today
.
Ask
Corey Hart
about
how precise medicine is
.
• There's nothing new happening in the contract talks of
Robinson Cano
, he said, after
first saying he'll be a free agent at the end of the season
.
• On Monday's podcast,
Joe Nathan
talked about his
unusual path to the big leagues
, and about his conservations with
Mariano Rivera
.
Moves, deals and decisions
1. The Pirates aren't saying whether they will limit the innings of
Gerrit Cole
,
writes Travis Sawchik
. From his piece:
The baseball industry has managed young arms carefully in recent years, the most notable case being the Nationals' controversial decision to shut down Stephen Strasburg after their ace reached a predetermined innings limit last season despite the Nationals being in the midst of a postseason chase.

Does Cole face a similar innings cap if he remains with the Pirates?

Neal Huntington declined to answer Monday when asked if a specific innings cap for Cole exists, but the Pirates' GM indicated Cole is a considerable distance from reaching his workload limit.

"Part of our development plan is to build guys accordingly so that when they get to the big leagues, they are hopefully in a position to be able to log the innings without the media attention that some have gotten," Huntington said. "If he ever gets to his workload limit, we'll let you know."
One lesson that the rest of the industry gleaned from the Strasburg debate last year: Don't talk about innings limitations.
2. The Indians called
up a reliever
.
3. The Reds' next stretch of games
could impact the deadline talks
.
4.
Dan Straily
was
optioned to the minors
.
5. Mike Kickham was called up to
be part of the Giants' rotation
.
Monday's games
1.
Jonathan Papelbon
blew
another save chance
. It's worth repeating: The Phillies are crazy if they don't at least field offers and consider trading him right now, when there's a lack of available closers in the market and they have a chance to step away from the back end of his contract.
From Ryan Lawrence's story:
Papelbon, who had converted 13 straight save chances to begin the season, has blown 4 of his last 5 save opportunities. "He's in a little funk," manager Charlie Manuel said. "Things aren't going his way right now."

"It's not any tougher than any other situation I've been in," Papelbon said of his sudden cold spell. "I've been in this situation a million times before. I don't really carry previous ballgames into the next day. It's just not what I do. If you're a closer or relief pitcher or starter, if you take stuff into the next day, it gets out of hand."
2. The Indians are gathering momentum:
they won again
.
Dings and dents
1. Meanwhile,
Mike Adams
got bad news, but
Roy Halladay
got
good news
.
2.
Dylan Bundy
continues to
experience discomfort in his forearm
.
3.
Jedd Gyorko
continues
to make progress
.
4.
Alex Cobb
is hopeful he
can return this season
.
5. Carlos Gomez avoided major injury
the other day
.
6.
Peter Bourjos
has managed
to avoid the disabled list
.
NL East
•
Zack Wheeler
takes the mound for the Mets on Tuesday night,
looking to do better
.
• For
Justin Ruggiano
, opportunity
has paid off
.
• Atlanta GM Frank Wren believes his
offense will eventually click
.
NL Central
• Jeff Locke's parents
don't watch him pitch
, because they don't have the baseball package, while living in their little New England town. Nice piece by Michael Sanserino.
•
Matt Adams
will be getting some added playing time in the days ahead,
writes Derrick Goold
.
•
Bernie Miklasz wonders
if
Matt Holliday
is declining.
• It's the Cubs' time
in the spotlight
.
NL West
•
Jason Kubel
and
Cody Ross
are heating up,
writes Scott Bordow
.
• Arizona starts a stretch in which it'll play 20 games in 20 days,
writes Steve Gilbert
.
• The Padres continue to push toward
the top of the NL West
.
• Colorado's bullpen could
soon get a boost
.
AL East
•
Will Middlebrooks
met with a mentor, writes
Scott Lauber
. Middlebrooks has been frustrated, he acknowledged
over the weekend
.
•
Andrew Bailey
is
facing a challenge
.
•
Zoilo Almonte
is
off to a hot start
.
•
Andy Pettitte
remains driven,
writes Jeff Roberts
.
AL Central
• Jim Leyland has plans
to rest everybody
but
Prince Fielder
.
•
Anthony Swarzak
is
finally home again
.
AL West
• Nolan Ryan says
he's not worried
about losing
Nelson Cruz
to a suspension.
• The Astros are set to face
a whole lot of contenders
.
•
Nick Franklin
is catching
on quickly with Seattle
.
Other stuff
• Last fall, executives spoke of how the shift of the Astros to the AL West would affect pennant races, and Benjamin Hoffman
details how that is playing out
.
•
Mike Redmond
promises to be more animated the next time he gets ejected,
writes the great Joe Capozzi
.
And today will be better than yesterday.