Buster Olney:

Matt Harvey
January, 29, 2015
Jan 29
8:52
AM ET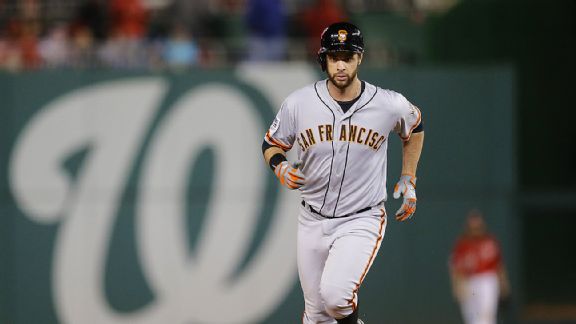 AP Photo/Patrick SemanskyCan Brandon Belt fill the void left behind in San Francisco by Pablo Sandoval?
Madison Bumgarner
will go down in history as one of baseball's most transformative players, because we can say with Richard Sherman-level confidence that without Bumgarner, the Giants never would have won the World Series last year -- not even close.
Bumgarner pitched well in the first half of the 2014 season, posting a 3.47 ERA in 20 starts and earning an All-Star bid. But he was better in the second half before hoisting the Giants' franchise onto his shoulders in October, when he threw more than twice as many innings as any other pitcher who picked up a ball in the postseason.
The left-hander reminded a generation of how one player can make a difference, as
Curt Schilling
and
Randy Johnson
did in 2001, and Orel Hershiser did in 1988. Not all transformative players will reach their level of course, but there are individuals whose performances could be linchpins to success for their respective teams. And this is not always just about the best and most expensive players who generate their usual production; it's understood that Clayton Kershaw's performance is crucial for the Dodgers, and
Joey Votto
, who has nine years left on his deal with the Reds, must produce for Cincinnati.
This is also about players who can be the difference between a team denting October, or not -- such as the Pirates'
Edinson Volquez
in 2014, the Royals'
Wade Davis
, the Angels'
Garrett Richards
, or Bumgarner.
Here are 10 pivotal players going into spring training:
1. Brandon Belt, San Francisco Giants
The Giants haven't had more than a decent offense even while winning championships, but now
Pablo Sandoval
is gone and it stands to reason that run scoring could be a problem that prevents San Francisco from making the postseason.
September, 11, 2013
9/11/13
9:44
AM ET
The tentative schedule for 2014 was released Tuesday, and you can already look forward to some interesting dates for next year, beyond those first two games played in Australia between the Diamondbacks and Dodgers on March 22-23.
1. April 4: The Dodgers unveil their latest acquisition at home
OK, so we don't know who exactly it will be. Maybe it'll be a manager, if Don Mattingly isn't retained. Maybe it'll be a new infielder. But the Dodgers are like the Lakers now, in that they are always looking for new and better, and That Guy will play his first home game for the Dodgers on this date, against the Giants.
2. March 31: The Return of Matt Harvey?
That's when the Mets are scheduled to play their season opener, and Harvey continues to say he's optimistic
he can avoid surgery
. Another interesting thing? His opponent that day could be
Stephen Strasburg
, if he gets the Opening Day nod for the Nationals.
To continue reading this article you must be an Insider
August, 27, 2013
8/27/13
9:17
AM ET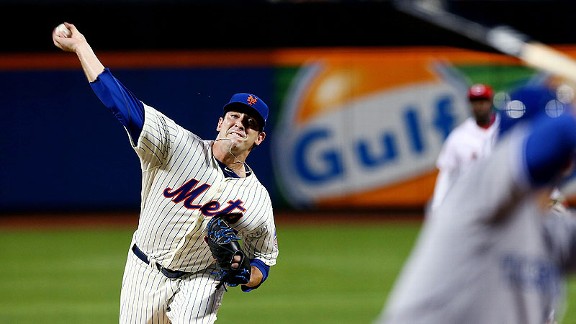 Elsa/Getty ImagesThe Mets did everything to protect Matt Harvey. They served his interests. What about theirs?
The
New York Mets
painted within all of the prescribed 21st-century lines in their handling of
Matt Harvey
. Drafted in 2010, Harvey didn't pitch in any games at the end of that summer after signing, and in his first year in professional baseball, he tossed 135 2/3 innings in 26 starts in Class A and Double-A.
In 2012, Harvey accumulated just 110 innings in 20 starts in Triple-A before being promoted to the big leagues and throwing another 59.1 innings in 10 starts, for a total of 169.1 for the entire year. This season, the Mets were suitably conservative in their handling of the young star, limiting him to 178 1/3 innings in his first 26 starts, while never
allowing him to throw
more than 121 pitches in any outing.
A decade ago, before pitch and innings limits became standard operating procedure, the best young pitcher in the game had nine starts of more than 121 pitches; in six starts in September that year,
Mark Prior
had pitch counts
of 131, 129, 109, 124, 131 and 133. He is now, seemingly, a cautionary tale.
The kind the Mets can point to as they have done everything right in their handling of Matt Harvey, according to current conventional wisdom in baseball, just as the Nationals did with
Stephen Strasburg
. But Harvey apparently
blew out his elbow
, just as Strasburg did. And as the search for the perfect formula for handling young pitchers continues without uniform success, some officials are beginning to believe that with all of the uncertainty about physiology and pitch history and mechanics that there is really only one hard truth about young pitchers: You control them for six years in their major league careers.
To continue reading this article you must be an Insider
June, 25, 2013
6/25/13
10:56
AM ET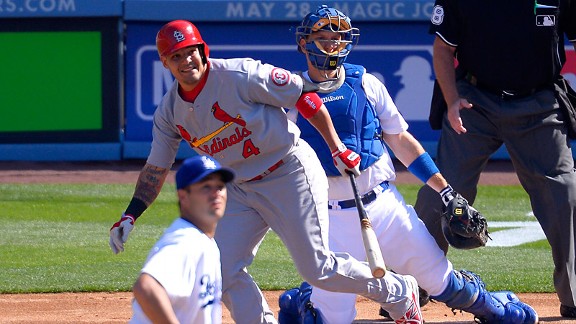 AP Photo/Mark J. TerrillYadier Molina now has a potent offensive game to go with his elite defensive skills.
I recently bumped into a longtime evaluator who offered an interesting handicap on the National League Most Valuable Player race. "Right now," he said, "
Yadier Molina
is the league MVP, hands down."
Over the next week to 10 days, every team will play its 81st game and reach the midpoint of the season, and the races for the major awards are starting to take form.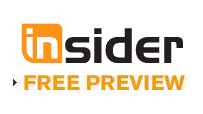 It's possible to win the MVP or the Cy Young Award with a mad finish, like
Vladimir Guerrero
did in 2004, but as the use of statistical analysis deepens, the more the broad, season-long view of performance will be weighted -- not only by teams, but also by the writers who vote, who have demonstrated they will pick and choose. We saw this in 2010, when voters ignored
Felix Hernandez
's 13-12 record and gave him the AL Cy Young Award. Of course, the same electorate ignored WAR and leaned on traditional numbers to select
Miguel Cabrera
over
Mike Trout
last year.
NL MVP:
Yadier Molina, Cardinals
He leads the NL batting race, with a .353 average, and among catchers he has the highest OPS. Remember, his offensive production is regarded as a complementary part of what he provides. He is renowned for his ability to handle a pitching staff -- and the Cardinals' work has been excellent this season -- and for positioning the defense, and for shutting down the running games of opposing teams.
Think about this number, which isn't necessarily related to Molina's MVP candidacy in 2013 but demonstrates the impact of his presence in a game. Since the start of 2006, these are the fewest stolen-base attempts against major league teams:
1. Cardinals: 645
2. Twins: 860
3. Reds: 863
4. Mets: 877
5. Diamondbacks: 889
6. Astros: 901
7. Mariners: 951
8. Brewers: 955
9. Nationals: 960
10. Orioles: 960
It's hard to measure exactly what a great catcher provides, but there's more than enough to support the scout's view that as of now, Molina's the front-runner.
The others in the conversation:
2.
Paul Goldschmidt
, Diamondbacks
3.
Carlos Gonzalez
, Rockies
4.
David Wright
, Mets
5.
Joey Votto
, Reds
Troy Tulowitzki
would be among the top three here if he weren't on the disabled list, with an extended absence ahead of him.
Carlos Gomez
, by the way,
ranks first in WAR
.
AL MVP:
Miguel Cabrera, Tigers
The guy is hitting .370, without the benefit of infield hits or being able to swing from the left side of the plate. And, by the way, he currently leads the AL in WAR.
2.
Chris Davis
, Orioles
3.
Evan Longoria
, Rays
4.
Manny Machado
, Orioles (second in AL in WAR)
5. Mike Trout, Angels
NL Cy Young Award:
Matt Harvey
, Mets
He's got a 2.05 ERA, which is second best in the NL behind
Jeff Locke
, and he leads in WHIP and in strikeouts.
2.
Adam Wainwright
, Cardinals (leads NL pitchers in WAR)
3.
Clayton Kershaw
, Dodgers (career 2.42 ERA in the second half)
Others in the conversation:
Patrick Corbin
, Diamondbacks;
Jordan Zimmermann
, Nationals.
AL Cy Young Award:
Max Scherzer
, Tigers
He's second in the league in WHIP, and in strikeouts. And he seems to be getting better as the season rolls along.
2.
Yu Darvish
, Rangers
3.
Clay Buchholz
, Red Sox (although he is drifting back because of his time on the disabled list)
Others in the conversation: Felix Hernandez, Mariners;
Hisashi Iwakuma
, Mariners;
Anibal Sanchez
, Tigers.
Around the league
•
Jose Reyes
is
rejoining the Blue Jays
. Reyes could be
back in the lineup Wednesday
.
•
Wil Myers
made himself at home in
his first game in the Trop
.
Jeremy Hellickson
is
on a roll
.
From ESPN Stats & Info, how Hellickson ended Toronto's winning streak:
A) Hellickson induced a career-high 14 outs on his changeup without allowing a hit. The 14 changeup outs are tied for the second most by any pitcher on changeups this season (
John Danks
, 16).
B) Hellickson started 19 of 24 hitters with a first-pitch strike (79 percent), his highest percentage in more than two years. He didn't go to a single 2-0 count for the first time this season.
C) Hellickson threw 66 percent of his fastballs down in the zone, his highest percentage since his rookie season in 2010. He induced 10 groundouts, tied for his second most in the past two seasons.
• There is really bad news for
Angel Pagan
,
Henry Schulman writes
.
• As
Vin Scully says
of
Yasiel Puig
here: "The kid has done it again." He led the
Dodgers to victory
.
There are more adjustments to come from opposing pitchers, given Puig's hyper-aggression at the plate. His rate of swinging at pitches outside of the strike zone is over 40 percent, which is very high, but not
at the rate of hitters
like
Pablo Sandoval
and
A.J. Pierzynski
.
When the pitch is inside the strike zone, his
rate of swinging is the highest in the majors
.
And as the pitchers try to adjust, so, too, will Puig.
From ESPN Stats & Info:
Two of Puig's three hits Monday, including his go-ahead HR in the first and his go-ahead single in the eighth, came early in the at-bat, something Puig has made a habit out of this season. All of his extra-base hits and homers have come within the first three pitches of a plate appearance. He's hitting "only" .286 after the plate appearance reaches four pitches, including .214 with two strikes.
Other assorted Puig notes:
1) He's hitting .688 (11-for-16) in the first inning this season.
2) Five of his seven homers have been to right field; no other righty has more than three such homers since Puig's MLB debut.
3) Puig leads all of baseball in batting average (.442) and hits (34) and ranks second in slugging (.753) since his debut on June 3.
4) The Dodgers are now 5-1 in games in which Puig has homered this season.
• We are re-learning this summer that even with the advances of modern medicine and the remarkable understanding doctors have of how the body works, what they present remains an educated guess, because of all the variables involved.
The belief was that
Mark Teixeira
would be able to play sometime in early May, and instead he took longer than that. Now, after coming back, he's still apparently not right and could be
headed for season-ending wrist surgery
.
On the other hand:
Alex Rodriguez
appears to be making
more progress than expected, quickly
.
The Nationals' medical staff
is under scrutiny
.
Bryce Harper
is set to begin his
injury rehabilitation assignment today
.
Ask
Corey Hart
about
how precise medicine is
.
• There's nothing new happening in the contract talks of
Robinson Cano
, he said, after
first saying he'll be a free agent at the end of the season
.
• On Monday's podcast,
Joe Nathan
talked about his
unusual path to the big leagues
, and about his conservations with
Mariano Rivera
.
Moves, deals and decisions
1. The Pirates aren't saying whether they will limit the innings of
Gerrit Cole
,
writes Travis Sawchik
. From his piece:
The baseball industry has managed young arms carefully in recent years, the most notable case being the Nationals' controversial decision to shut down Stephen Strasburg after their ace reached a predetermined innings limit last season despite the Nationals being in the midst of a postseason chase.

Does Cole face a similar innings cap if he remains with the Pirates?

Neal Huntington declined to answer Monday when asked if a specific innings cap for Cole exists, but the Pirates' GM indicated Cole is a considerable distance from reaching his workload limit.

"Part of our development plan is to build guys accordingly so that when they get to the big leagues, they are hopefully in a position to be able to log the innings without the media attention that some have gotten," Huntington said. "If he ever gets to his workload limit, we'll let you know."
One lesson that the rest of the industry gleaned from the Strasburg debate last year: Don't talk about innings limitations.
2. The Indians called
up a reliever
.
3. The Reds' next stretch of games
could impact the deadline talks
.
4.
Dan Straily
was
optioned to the minors
.
5. Mike Kickham was called up to
be part of the Giants' rotation
.
Monday's games
1.
Jonathan Papelbon
blew
another save chance
. It's worth repeating: The Phillies are crazy if they don't at least field offers and consider trading him right now, when there's a lack of available closers in the market and they have a chance to step away from the back end of his contract.
From Ryan Lawrence's story:
Papelbon, who had converted 13 straight save chances to begin the season, has blown 4 of his last 5 save opportunities. "He's in a little funk," manager Charlie Manuel said. "Things aren't going his way right now."

"It's not any tougher than any other situation I've been in," Papelbon said of his sudden cold spell. "I've been in this situation a million times before. I don't really carry previous ballgames into the next day. It's just not what I do. If you're a closer or relief pitcher or starter, if you take stuff into the next day, it gets out of hand."
2. The Indians are gathering momentum:
they won again
.
Dings and dents
1. Meanwhile,
Mike Adams
got bad news, but
Roy Halladay
got
good news
.
2.
Dylan Bundy
continues to
experience discomfort in his forearm
.
3.
Jedd Gyorko
continues
to make progress
.
4.
Alex Cobb
is hopeful he
can return this season
.
5. Carlos Gomez avoided major injury
the other day
.
6.
Peter Bourjos
has managed
to avoid the disabled list
.
NL East
•
Zack Wheeler
takes the mound for the Mets on Tuesday night,
looking to do better
.
• For
Justin Ruggiano
, opportunity
has paid off
.
• Atlanta GM Frank Wren believes his
offense will eventually click
.
NL Central
• Jeff Locke's parents
don't watch him pitch
, because they don't have the baseball package, while living in their little New England town. Nice piece by Michael Sanserino.
•
Matt Adams
will be getting some added playing time in the days ahead,
writes Derrick Goold
.
•
Bernie Miklasz wonders
if
Matt Holliday
is declining.
• It's the Cubs' time
in the spotlight
.
NL West
•
Jason Kubel
and
Cody Ross
are heating up,
writes Scott Bordow
.
• Arizona starts a stretch in which it'll play 20 games in 20 days,
writes Steve Gilbert
.
• The Padres continue to push toward
the top of the NL West
.
• Colorado's bullpen could
soon get a boost
.
AL East
•
Will Middlebrooks
met with a mentor, writes
Scott Lauber
. Middlebrooks has been frustrated, he acknowledged
over the weekend
.
•
Andrew Bailey
is
facing a challenge
.
•
Zoilo Almonte
is
off to a hot start
.
•
Andy Pettitte
remains driven,
writes Jeff Roberts
.
AL Central
• Jim Leyland has plans
to rest everybody
but
Prince Fielder
.
•
Anthony Swarzak
is
finally home again
.
AL West
• Nolan Ryan says
he's not worried
about losing
Nelson Cruz
to a suspension.
• The Astros are set to face
a whole lot of contenders
.
•
Nick Franklin
is catching
on quickly with Seattle
.
Other stuff
• Last fall, executives spoke of how the shift of the Astros to the AL West would affect pennant races, and Benjamin Hoffman
details how that is playing out
.
•
Mike Redmond
promises to be more animated the next time he gets ejected,
writes the great Joe Capozzi
.
And today will be better than yesterday.
May, 15, 2013
5/15/13
1:24
PM ET
I heard a great description of
Matt Harvey
's curveball the other day from a longtime evaluator, and it really would apply to
Clayton Kershaw
's curveball as well: Even when a hitter is looking for it, even when he plans to swing at it, even when he knows it's coming, it really doesn't matter -- he still can't hit it.
Over and over again, this is what happened to the Nationals' hitters
Tuesday night
, because over and over again, Kershaw pitched with the same pattern and there was nothing Washington was able to do to stop him. He'd get ahead in the count and then finish them off with a curveball; check out
Tyler Moore
25 seconds
into this video
, and it goes from there.
Kershaw threw a career-high 132 pitches in shutting out the Nationals over 8 2/3 innings
in a 2-0 Dodgers win
.
To continue reading this article you must be an Insider