Buster Olney:

Jacoby Ellsbury
November, 26, 2014
11/26/14
8:05
AM ET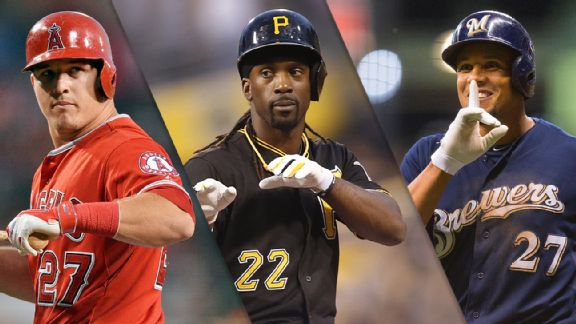 USA TODAY SportsThe top two center fielders in MLB aren't tough to pick out. From there it's a little more difficult.
Ranking the best center fielders is fairly simple at the top.
Mike Trout
, widely regarded as the best player in the game, is No. 1.
Andrew McCutchen
, arguably the second-best position player, is No. 2.
It gets more complicated after
May, 27, 2014
5/27/14
9:25
AM ET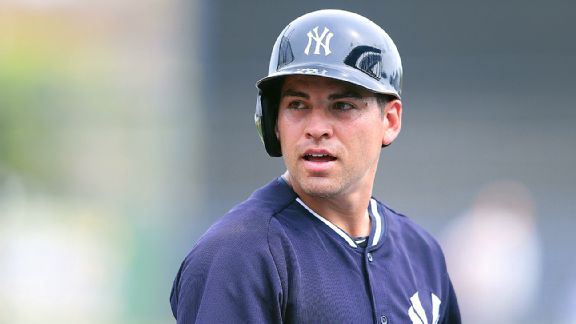 Leon Halip/Getty ImagesJacoby Ellsbury has a career stolen base success rate of 84 percent, the third highest of all time.
ST. LOUIS -- Mick Kelleher's first year in professional baseball was in 1969, and he says he had never seen before what he saw Monday: a crowd give a standing ovation to a catcher for throwing out a runner. But this is St. Louis and the catcher is
Yadier Molina
, and when he gunned down
Brett Gardner
in the eighth inning -- zipping a throw that
Jhonny Peralta
caught and dropped down on Gardner's left shoulder -- the fans all rose as one and chanted his first name.
"We've seen some pretty good catchers the last 40 to 50 years," said Kelleher, the first-base coach for the Yankees and a former Cardinal. "That was tremendous. I even get excited about something like that. Great baseball fans, great baseball city."
And an even greater catcher. Gardner was the 23rd baserunner who had attempted to steal a base against Molina this season, and the 13th to get thrown out. But when
Jacoby Ellsbury
drew a walk against
Randy Choate
to open the top of the 12th inning, with the score tied 3-3, Ellsbury figured he would try to steal at some point. The game situation dictated that he at least try, and besides, there is a difference between Ellsbury and most others who try to steal bases, including some faster than he is.
To continue reading this article you must be an Insider
December, 4, 2013
12/04/13
9:50
AM ET
When Gene Michael took over as the Yankees' general manager in 1990 and started rebuilding the team, he focused on two traits: left-handed hitting, because of Yankee Stadium's friendly right-field dimensions, and on-base percentage.
It's a time-honored formula, like Coca-Cola, and whenever the Yankees have had struggles, they've returned to it time and again, and did so again at the end of a crazy day of transactions Tuesday, in signing
Jacoby Ellsbury
.
He is a left-handed hitter, and he finished 19th in the AL in on-base percentage in 2013, after finishing 12th in 2011. His swing becomes more of a power factor in Yankee Stadium, where fly balls to right field become home runs.
Brian McCann
, another left-handed hitter, will be introduced at a news conference Thursday; he has long been among the catching leaders in on-base percentage and home runs.
With Ellsbury set to play center and
Brett Gardner
likely moving to left, the biggest part of the Yankee Stadium outfield will be covered by two shutdown defenders.
The Yankees will be better in 2014 than they were last season, when they failed to make the playoffs for only the second time in 19 seasons, and you knew there would be upgrades. Because the Yankees brand has never been about one player, as it was with the Orioles and
Cal Ripken
for a time. The Yankees brand has is built on success, on winning championships, and while Babe Ruth, Lou Gehrig, Joe DiMaggio, Mickey Mantle, Yogi Berra, Reggie Jackson,
Derek Jeter
and
Mariano Rivera
became stars as they helped to make that happen, the Yankees have long valued team success over the promotion of any individual player -- which is why they dumped Ruth, why they pushed out DiMaggio.
This is an overriding message they have attempted to convey to
Robinson Cano
's representatives in their negotiations.
To continue reading this article you must be an Insider
November, 23, 2013
11/23/13
10:00
AM ET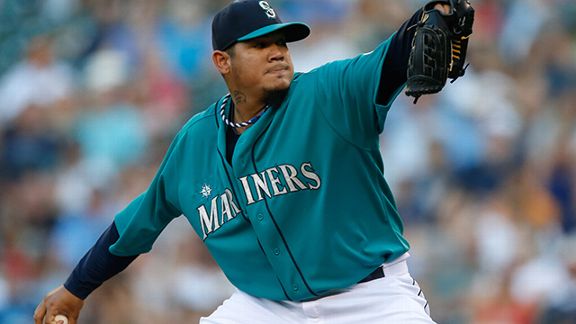 Otto Greule Jr/Getty ImagesStarter Felix Hernandez, signed through 2019, has Seattle's only long-term contract.
There are more than a few rising young executives -- and older executives, for that matter -- who are outside of the
Seattle Mariners
' organization and looking in, and they are wistful, wishing they could grab the Mariners' steering wheel.
First and foremost, they love the city, curled around Puget Sound, surrounded by fir trees and hemlocks; they see it as a great place to live. They love the ballpark, underrated and underappreciated. They see potential in the passion of a fan base that is dormant after more than a decade of struggles.
They see the Mariners as the great sleeping giant in baseball.
They see a possible financial powerhouse, given that the Mariners
own their own television network
.
They see a team saturated with prospects taken near the top of the draft.
To continue reading this article you must be an Insider
November, 4, 2013
11/04/13
8:46
AM ET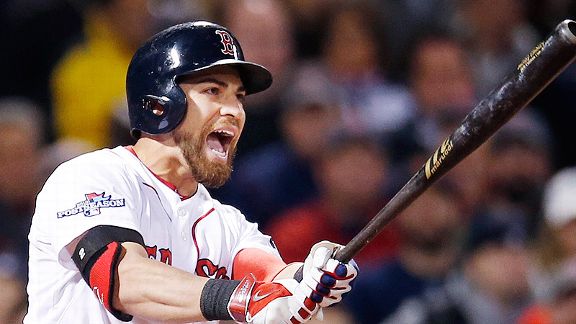 AP Photo/Elise AmendolaExpect Jacoby Ellsbury to get a deal that will shock even the most hardcore fans.
The contract talks for free agents can start tonight, and the way some evaluators speak about the market, it feels like there are teams and players all revved up and waiting for the green flag to drop. For baseball, this could be like shoppers bursting through the door the day after Thanksgiving.
Here are nine forces that will shape baseball's market:
1. There is money available. Lots of it.
Teams are receiving the first influx of dollars from Major League Baseball's massive national television packages, from ESPN and other entities, money that will allow clubs to nudge their budgets upward, and perhaps spend more than they planned on spending as they pursue a particular player.
The lower class of free agents may not necessarily benefit, but the guys at the top of the market --
Brian McCann
,
Jacoby Ellsbury
, etc. -- may get deals that could shock us.
To continue reading this article you must be an Insider
October, 31, 2013
10/31/13
9:57
AM ET
BOSTON --
Dustin Pedroia
spoke after Game 6, and before, about how much the Red Sox players cared about each other, and after
Matt Carpenter
's series-ending swing, the hugs were strong, heartfelt.
Today, instead of working out, they will sleep in, and there will be a parade Saturday. Then they will start to say their goodbyes for the start of 2013, and except for future reunion events, this particular group -- the players, the staff -- will never be together again.
Jacoby Ellsbury
will likely be one of those on his way out, given Boston's (failed) efforts to sign him to a long-term deal.
According to sources: After the 2011 season, for which Ellsbury finished second in the American League MVP race, the Red Sox offered him a deal that fell slightly short of $100 million. The counter-offer from agent Scott Boras, according to sources, was for a deal of about $130 million. The gap in the negotiations was too large to bridge at that time.
To continue reading this article you must be an Insider
October, 26, 2013
10/26/13
9:40
AM ET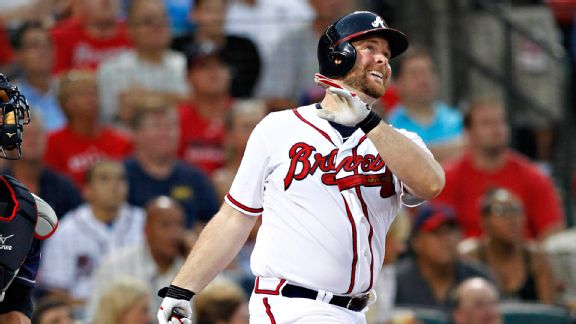 Brett Davis/USA TODAY SportsAs a free-agent catcher who can produce at the plate, Brian McCann could fetch top dollar.
ST. LOUIS – As the Cardinals and Red Sox play on, MLB's other 28 teams are preparing for the offseason market that will begin next week. There has been some early trade talk, officials say, some feeling out for what could be available, and teams are preparing their budgets and trying to figure out where the spending will go.
There is some consensus on that point: The free-agent market is going to be flush with cash, some highly ranked evaluators predict, but not with quality free agents. Which bodes very well for the best of the lot.
As one executive noted, there figure to be situations in which the middle class of free agents will appear so uninspiring that a bidder will make a push for the top one or two players at a given position, rather than settle for something less from the pack. "It's like what happened with
Albert Pujols
," the executive said. "That deal was driven by [the specter] of TV money, where they are looking for a name. It's an overpay, but they dive into it because of the splash."
With teams set to receive the significant windfall from Major League Baseball's new television contract, some evaluators expect that the best of the free agents could see the bidding for their services climb to unexpected heights.
If this happens, here are some stars who might benefit the most:
To continue reading this article you must be an Insider
September, 19, 2013
9/19/13
9:52
AM ET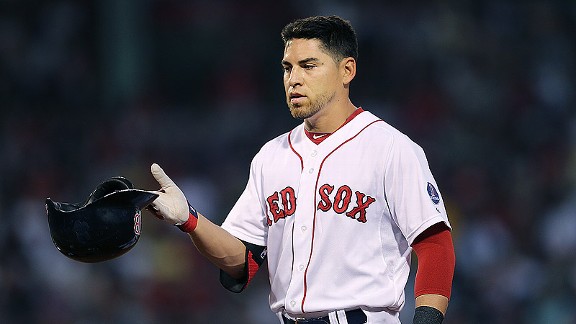 Jim Rogash/Getty ImagesThe Red Sox don't know what they can expect from Jacoby Ellsbury.
Even for teams that know they are going to play October games, questions hover. Such as ...

Boston Red Sox: What's the status of Jacoby Ellsbury?
He met with reporters Wednesday,
Alex Speier among them
, and Ellsbury said he can't wait to play, but the simple fact is he's running out of days to get some swings and he's dealing with a small foot fracture.
If the Red Sox wind up with the best record in the American League, it will buy them a few extra days to get Ellsbury into a cage so he can hit against major league-caliber pitching.
To continue reading this article you must be an Insider
September, 1, 2013
9/01/13
10:41
AM ET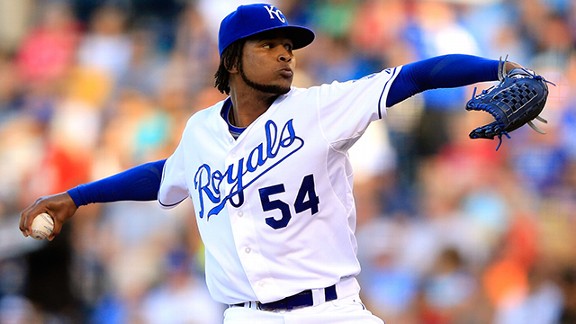 Jamie Squire/Getty ImagesErvin Santana has pitched well for the Kansas City Royals this season.
WASHINGTON -- A lot of players will wait a decade for their shot at free agency, after being drafted and signing as an amateur, and then playing some years in the minors before accruing the six years of service time that makes them eligible to test the open market. Along the way, some have worked through injuries, had failures along with the successes and have seen their service time manipulated by teams looking to maximize their investment.
Reaching free agency, then, is a big deal, a right that the players like Curt Flood fought for. Some players never get to free agency because they're not good enough or because they choose to sign as a very young player, and some, like
Albert Pujols
, get there only once.
For a lot of those players set to become free agents in another two months, the hope of spring training has been washed away. For others, the hope has been realized.
Here are 10 would-be free agents who have helped themselves so far in 2013:
1. Ervin Santana, P, Royals
At the time that Kansas City traded for him last fall, there was a lot of surprise within the industry that the Royals had been so aggressive, given Santana's diminished velocity and brutal 2012 performance for the Angels. But Santana bounced back in a big way,
lowering his ERA by almost two full runs
. Now he's 30 years old and is in position to get paid.
To continue reading this article you must be an Insider
May, 22, 2013
5/22/13
1:35
PM ET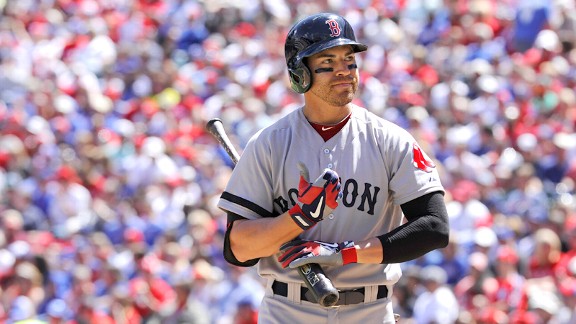 John Williamson/Getty ImagesThe time may soon come where the struggling Ellsbury ends up in a platoon role.
Jacoby Ellsbury
is a free agent after this season, and in an ideal world for him and the
Boston Red Sox
, Ellsbury would begin to turn around his season today, delivering many hits and home runs, fueling the team and his market value at the same time. The best-case scenario for Ellsbury and the Red Sox is for him to play so well that he puts himself in position for a big offseason payday, so well that Boston can offer him a one-year deal and set itself up for draft-pick compensation.
But if that doesn't happen, well, it could get very complicated. Because Ellsbury is hitting .242, with a .307 OBP -- among leadoff hitters with at least 50 plate appearances in the No. 1 spot, he ranks 31st -- and if this continues, there will be a time when his interests and those of the Red Sox will diverge. It's not going to be today, it's not going to be tomorrow, but eventually, it will happen.
Ellsbury demonstrated how good he could be in 2011, when he racked up 83 extra-base hits, 119 runs, 105 RBIs and 39 stolen bases, finishing second to
Justin Verlander
in the AL MVP race. But injuries limited him to 74 games last season, and in those, he hit .271, with a .313 OBP. So what he has done at the plate in 2013 more closely resembles the player he was in 2010 and 2012 than who he was in 2011.
In a vacuum -- if his name wasn't Jacoby Ellsbury, and he hadn't shown a high ceiling -- he would be a candidate for a platoon arrangement, given his .578 OPS against lefties this year. He has two extra-base hits against lefties this year, after having four in 110 plate appearances last year.
The Red Sox know that Ellsbury won't sign with them before becoming a free agent in the fall; he probably is not a part of their future. So at what point do they stop waiting for the 2011 Ellsbury and move on, to help the 2013 Red Sox as well as their own organizational development?
It's a situation that could become difficult, because it's obviously in Ellsbury's best interests to play every day, to take a strong performance into his free agency, and the Red Sox would love for that to happen. But if they reach the conclusion that it's not going to happen, it's in the best interest of the Red Sox to play somebody else, for the sake of this year's team and future Boston teams.
For example: Bryce Brentz, the 36th overall pick in 2010, has seven multihit games among his last 12 games in Triple-A. He's a right-handed, power-hitting outfielder with an .836 OPS against lefties, and he is a part of Boston's future. If the Red Sox began looking at alternatives to Ellsbury, they could use Brentz against lefties and start
Shane Victorino
in center field.
But part of Boston's decision-making for anything like that would have to include an assessment of how Ellsbury would react. Would it be a problem? Would it drive him? Or would it drive him
away
, mentally? And how important is Ellsbury's reaction, given the fact that he's almost certainly on his way out? Should the Red Sox explore a possible trade of the center fielder to a contender needing temporary outfield help?
None of those questions need to be asked if Ellsbury begins to play like the player he has shown he can be.
Boston manager John Farrell said Tuesday he has thought about dropping Ellsbury out of the leadoff spot,
writes Gordon Edes
. The Red Sox bats
have been dormant
.
Around the league
" Think about this: On his current pace,
Mike Trout
will finish this season with 191 hits, 83 walks, 93 extra-base hits, 112 runs and 121 RBIs.
Trout filled up the box score Tuesday night, becoming the youngest player in American League history to hit for the cycle after a 408-foot homer put the exclamation point on his great night. Mark Simon has a
full breakdown here.
" Kevin Gausman, one of the top pitching prospects in baseball, is
getting the ball on Thursday
.
"
Dan Straily
seemed to get in his own way in his first starts this year, falling behind in the count. But on Tuesday, it was as if a young pitcher climbed another rung on the ladder. Straily shut down the Rangers and bested
Yu Darvish
.
From
John Shea's story
:
Jurickson Profar was one of only two Rangers who got a single off Straily, and the pitcher picked him off. He had two three-ball counts, none after the first inning.

"I was really myself out there," Straily said. "It felt different. I had confidence to start the game. I was not going to let 'hurting myself' be what happened in the ballgame. The last few times out, I walked people, hit people. I wasn't getting hit hard. I was hurting myself. Tonight, my goal was to fill up the strike zone."

Straily was aggressive and efficient with his pitches. He struck out five, Andrus and Mitch Moreland twice, and walked nobody. He threw 88 pitches, 63 for strikes, and reached seven innings for the first time.

He said he's never been more confident as a big-leaguer.

"Any time you're a young player and not having the type of success you would like to have, yeah, you want to have one of these games where you go out and believe," Melvin said. "It would've been nice to give him three, four, five runs for a little breathing room. But who knows? Maybe that's what he needed, an outing where he had to be borderline perfect."
"
Max Scherzer
was overpowering on Tuesday night, with the last of his 118 pitches clocked at 98 mph. He retired the last 22 batters he faced,
writes Shawn Windsor
.
We had Scherzer on the podcast the other day and he was funny talking about how
he runs all of the Tigers' various pools and leagues
.
" On Tuesday's podcast, there was
a Don Mattingly discussion
, which will continue because the Dodgers lost again, this time with
Zack Greinke
on
the mound
.
"
Evan Gattis
:
Legend
. Here's
the video
of his game-tying homer in the ninth.
From ESPN Stats & Information:
The home run was his fourth game-tying or go-ahead home run in the eighth inning or later this season (no other player has more than two). It came on a slider on the inner half, as he continued his dominance against inside pitches this season. He's hitting .354 with six homers on pitches on the inner half, .186 with three homers on the outer half.
"
Stephen Strasburg
didn't win, but wow, his stuff was excellent Tuesday night, especially his changeup;
here's the video
.
But Washington lost again, when
Pablo Sandoval
basically
punished a baseball
, and the Nationals continue to drift in the standings. They're just a game ahead of the Phillies. Washington and Philadelphia have this going for them in the playoff chase in the weeks ahead -- they get to play a whole bunch of games against the two worst NL teams, the Mets (when
Matt Harvey
doesn't pitch) and Marlins.
" Sandoval had felt terrible before hitting the baseball into what Alex Pavlovic referred to as
Bonds Territory
.
From ESPN Stats & Info:
Sandoval's home run was calculated at 464 feet, the longest of his career and longest walk-off home run in MLB during the last eight seasons. It was also the second-longest home run hit in AT&T park over the last eight seasons (
Mark Reynolds
hit a 471-foot homer on Aug. 27, 2009).
" The Mets are 7-2 on the days when Harvey pitches, 10-24 on the days he doesn't pitch. He goes today against the Reds.
Moves, deals and decisions
1.
Steve Cishek
may or may not have lost his job
as the Marlins' closer
.
2. Within
this piece
, there is word that
Hiroyuki Nakajima
has been changing positions from game to game.
3. Evan Grant thinks trading Jurickson Profar makes
more sense
than moving
Ian Kinsler
to the outfield.
4.
Adam Lind
was moved to
the cleanup spot
.
Dings and dents
1.
Ryan Vogelsong
is going to miss a couple of months,
it appears
.
2.
Trevor Plouffe
got hit
in the head
.
3.
Nick Tepesch
has
a blister
.
4.
Jered Weaver
could be
back next week
.
5.
Rafael Betancourt
could wind up on the disabled list,
writes Troy Renck
.
6.
Mark Teixeira
and
Kevin Youkilis
are
making progress
.
7.
Chris Sale
was
scratched
.
8. For
Salvador Perez
, there is
good news
.
Monday's games
1. The Marlins look just a little different when
Jose Fernandez
is
not pitching.
2.
Alex Cobb
and
Fernando Rodney
somehow
found a way
.
3.
Jose Quintana
was
"the man"
in the White Sox's 3-1 victory over the Red Sox.
From ESPN Stats & Info
, how he won:
A. Great control: 61 percent of his pitches were in the zone, his second-best rate as a starter in his career (career average: 50 percent).
B. Good fastball: Hitters were just 1-for-14 against the pitch, striking out four times. It was just the third time in his career that he allowed one or fewer hits with a minimum of 10 at-bats. He also hit 94.5 mph on the radar gun, the fastest pitch he's thrown in his major league career.
4.
Aaron Harang
was rocked,
writes Ryan Divish
.
5.
Wilin Rosario
walked it off
.
6. The Phillies
broke out
.
7. The Pirates
keep getting better
, this time with a lot of help from
Travis Snider
.
8.
Mike Leake
was
outstanding against the Mets
.
NL East
" At a time when
Danny Espinosa
is struggling,
Anthony Rendon
played second base in the minors, as
Adam Kilgore writes within this piece
.
"
Cole Hamels
is
refusing to speak
. That's leadership: Leave it to teammates to answer for you.
"
Ike Davis
will
stay in the majors, for now
. The Mets are at a complete loss as to why he isn't playing better.
NL Central
"
Matt Garza
had a nice start in his
first outing off the disabled list
.
"
Adam Wainwright
had
a big night
.
" Another rookie is set to
join the St. Louis rotation
.
NL West
"
Brandon League
has struggled, but then again, so
has the Dodgers' whole bullpen
.
"
Edinson Volquez
had
a tough night
.
AL East
" Joe Maddon did a 180-degree turnaround on the
Yunel Escobar
gesture
issue
.
" For
Mariano Rivera
, all of
this is worth it
.
"
David Adams
is
making his mark
.
AL Central
"
Chris Perez
shut down
his Twitter account
.
" For the Royals: Desperate times,
and a comeback.
AL West
" Yu Darvish's response to a question about run support
could not have been more perfect
.
" The Astros have hired Larry Dierker
as a special assistant
.
Other stuff
" The whole spitting on the ball thing ended as
you might have imagined it would
. It's not 1921 anymore, with pitchers working with the same baseball for most of the game. The balls are rotated out constantly.
" The kangaroo court is a fading phenomenon,
writes Nick Piecoro.
" Arizona prospect Archie Bradley
just keeps getting better.
"
Nick Blackburn
was shocked by the
tornado devastation in his home state
.
And today will be better than yesterday.