September, 26, 2014
Sep 26
10:32
AM ET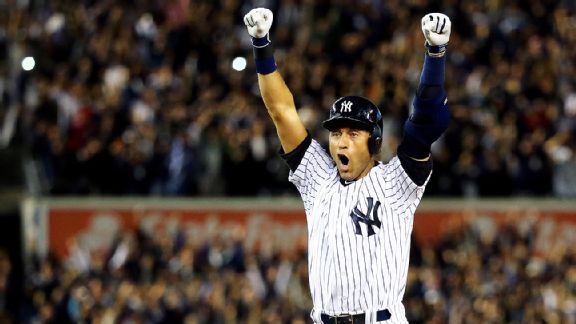 Al Bello/Getty ImagesDerek Jeter hit a game-winning RBI single Thursday night in his final game at Yankee Stadium.
Two camps have warred throughout Derek Jeter's career -- those who claim he has raised his level of play in crucial moments, versus the crowd of skeptics, who countered that Jeter merely cashed in on a fragment of his extraordinary number of opportunities on the big stage.
I always thought both sides missed the point. I don't believe Jeter suddenly got better when we were all watching, but
he has never been diminished by the pressure, either.
We've seen accomplished veterans playing in a critical spot, and they disintegrate, putting too much pressure on themselves -- trying too hard to get a big hit or struggling to command a fastball.
Jeter's greatest attribute has always been that he reduced the playing of games to the lowest common denominator: He just had fun. After the contracts were signed and the media questions were answered and the fans were acknowledged, he just had fun, treating a World Series game the same way he treated a season opener at Kalamazoo Central High School.