Buster Olney:

Hall of Fame
January, 6, 2015
Jan 6
9:15
AM ET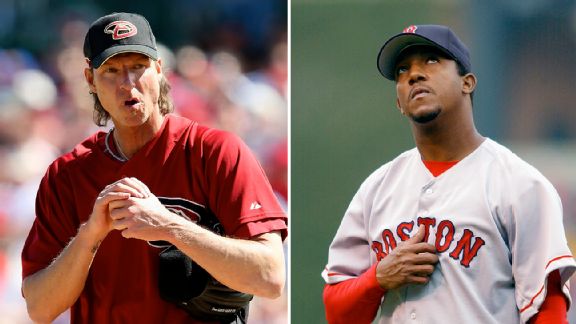 Getty ImagesWill Randy Johnson and/or Pedro Martinez break Tom Seaver's all-time voting percentage mark?
The headlines Tuesday will be about those players who have been elected to the Hall of Fame. Presumably,
Randy Johnson
and
Pedro Martinez
will gain easy election, and perhaps they will be joined by
Craig Biggio
, who came within two votes last year, and
John Smoltz
.
But as with all elections, some of the most interesting information beyond the results will be found in the exit polling, the specific numbers generated from the voting. That data will provide insight into the collective mindset of the voting body. Here's what to look for:
1. Will Randy Johnson and/or Pedro Martinez surpass the record voting percentage of Tom Seaver (98.8)?
Johnson is arguably the greatest left-handed pitcher in history, and among starting pitchers, Martinez ranks
No. 1 all time in adjusted ERA+
, a statistic that helps to compare players relative to their generations and ballparks.
December, 4, 2014
12/04/14
10:23
AM ET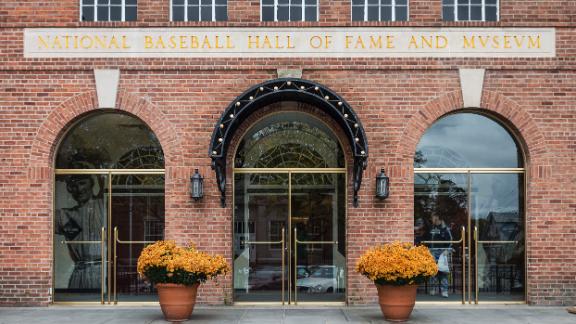 Mike Mussina
spent each of his 18 seasons in the most treacherous waters pitchers have ever faced, among the whitecaps of what will always be remembered as an era of rampant steroid use -- and in the offense-rich American League East, no less. He was a fly ball pitcher who called two homer-happy ballparks -- Camden Yards and Yankee Stadium -- his home during his career.
It's as if he navigated his way daily through one of those monstrous marble-hard golf courses in Scotland covered with bunkers that have names (such as St. Andrews' Road Hole Bunker), as compared to the Executive Par-3s of 2014. In 2000, Mussina's last season with the Orioles, 47 hitters mashed 30 or more homers; in 2014, only 11 batters reached 30 homers.
Mussina finished his career with a 3.68 ERA and is
19th all time in strikeouts
. He also is
24th in WAR among pitchers
, and most of the guys ahead of him on the list are in the Hall of Fame.
But his chances for induction will improve slightly this year because I'm abstaining from the voting for the first time, and won't submit a ballot. The same is true for
Curt Schilling
, and Tim Raines, and at least two others who I think should be inducted into the Hall of Fame.
To repeat: I think Mussina, Schilling and Raines and others are Hall of Famers, but
it's better for their candidacy if I don't cast a ballot
.
If that sounds backward, well, that's how the Hall of Fame voting has evolved, squeezed between rules that badly need to be updated and the progression of the candidates linked to the use of performance-enhancing drugs. The process needs to be pruned to allow voters to get back to answering a simple question about each candidate: Was his career worthy of the Hall of Fame?
To continue reading this article you must be an Insider
August, 11, 2014
8/11/14
12:05
PM ET
By
Jeff Idelson, Special to Insider
| ESPN Insider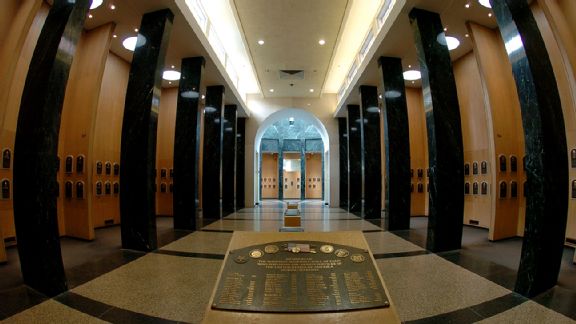 A. Messerschmidt/Getty ImagesThe Cooperstown museum is certainly a sight to behold.
Buster Olney is on vacation this week, but guest bloggers will be here each day in his place. Today we have Jeff Idelson, president of the National Baseball Hall of Fame.
On June 12, 1939, the National Baseball Hall of Fame and Museum opened its doors for the first time in picturesque Cooperstown, New York. Seventy-five years later, as the museum celebrates its diamond anniversary, the definitive repository for baseball history is going strong. Close to 16 million visitors have made the pilgrimage to the baseball mecca since Babe Ruth and 10 others gave their induction speeches, christening the first sports Hall of Fame in America.
I am often asked how the museum continues to be successful, year in and year out. The simple answer is relevance. The museum is forever evolving. As America evolves, so does baseball. And as baseball evolves, so, too, does the Hall of Fame. After all, it remains our national pastime.
To continue reading this article you must be an Insider
January, 9, 2014
1/09/14
9:07
AM ET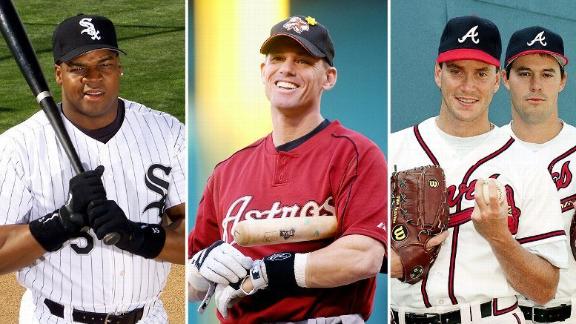 In the aftermath of Wednesday's Hall of Fame announcements, everyone from Jayson Stark to Tim Kurkjian to Dan Le Batard (among others) agreed that the Hall of Fame voting system is in disrepair. I thought
Jayson did an excellent job of laying out
how the current system led to a lot of collateral damage through the fractured process.
Last month, the Baseball Writers' Association of America decided to form a committee to make recommendations on how to fix the system. And that's all they can be: recommendations. Because the Hall of Fame voting belongs to the Hall of Fame, not the writers.
When the BBWAA committee finishes its work, here are the four points I hope it takes to the Hall.
No. 1: Make a formal offer from the writers to the Hall of Fame for the BBWAA to recuse itself from the voting. An offer, not an outright recusal.
No matter what your perspective is on the PED generation and its Hall of Fame candidates, the balloting has become something of a mess. Maybe you want to blame the voters who cast ballots for the presumed PED users, or maybe you want to blame the hardened majority, or maybe you want to blame the users or the institution of baseball or the Hall of Fame. No matter where your opinion is, its inarguable that it's become a controversial, convoluted, flawed process.
Think of this as a presidential crisis: When something isn't working, the administration officials involved will usually offer their resignation, because as the saying goes, they serve at the pleasure of the president.
To continue reading this article you must be an Insider
January, 8, 2014
1/08/14
9:45
AM ET
If the early polling is correct, as many as four players will be honored today as part of the
2014 class of the Baseball Hall of Fame.
Greg Maddux
will be close to unanimous,
Tom Glavine
and
Frank Thomas
are expected to blow past the required 75 percent, and
Craig Biggio
might squeak in. Jack Morris, it appears, will fall short, in his final year of eligibility.
But there also will be interesting data to be mined from the rest of the voting, like on any election day. Some of the more interesting precincts in the Hall of Fame voting worth watching today:
To continue reading this article you must be an Insider
January, 7, 2014
1/07/14
9:50
AM ET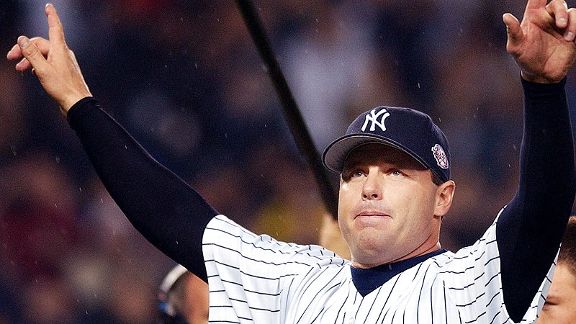 AP Photo/Gregory BullMLB recognizes Roger Clemens' accomplishments, and Hall of Fame voters should do the same.
On Monday afternoon, ESPN.com revealed the Hall of Fame ballots for
the 17 folks here who cast votes
, and this seemed to set Twitter on fire in the baseball corner of the world.
A brief review of the voting process: Voters are allowed to name up to 10 players on their ballots because of a longstanding rule. This is an
enormous
problem, as I've written about in the past, because of the logjam that has developed. I think there were 17 players worthy for induction on this year's ballot -- alphabetically, those are
Jeff Bagwell
,
Craig Biggio
,
Barry Bonds
,
Roger Clemens
,
Tom Glavine
,
Jeff Kent
,
Greg Maddux
,
Mark McGwire
, Jack Morris,
Mike Mussina
,
Rafael Palmeiro
,
Mike Piazza
, Tim Raines,
Curt Schilling
,
Sammy Sosa
,
Frank Thomas
and Alan Trammell.
But because of the Rule of 10, I had to leave seven of those players off my ballot -- Kent, McGwire, Mussina, Raines, Schilling, Sosa and Trammell -- and ended up checking boxes next to the following 10 names: Bagwell, Biggio, Bonds, Clemens, Glavine, Maddux, Morris, Palmeiro, Piazza and Thomas.
There were lots of questions about this on Twitter, and the 140 characters don't usually provide the space to give suitable answers, so we'll attack some of those issues more in depth here.
How could you vote for Palmeiro and not McGwire?
McGwire has been on the ballot seven times before this year and I've voted for him every time because he's one of the best players of his era: His 583 career homers rank 10th all-time, and he finished in the top six in MVP voting four times. He broke Roger Maris' single-season home run record, and regardless of whether he hit his 70 homers under the same circumstances as Maris, the fact is he got there. Major League Baseball has never expunged McGwire's 1998 record, or McGwire's numbers;
it's all right here, still
.
But because of the limits of the Rule of 10, I had to leave seven Hall of Fame-worthy players off my ballot, and had to come up with some sort of method of picking and choosing. There is no perfect way to do this, so basically what I did was to vote for the best players on the ballot for nine spots, and then, for the 10th spot, I made sure to vote for Morris because it's his last year of eligibility.
So I had to leave McGwire off the ballot. I think Palmeiro was the better player; he is one of four in history with 3,000-plus hits and 500-plus homers.
How could you vote for Morris over Mussina or Schilling?
Nobody needs to tell me about the greatness of Mussina or Schilling. I covered Mussina as a beat writer for The Baltimore Sun in 1995 and 1996, and at The New York Times in 2001, and he is Hall of Fame-worthy. He thrived in his career while competing in the AL East, with its history of stacked lineups, and in the midst of the steroid era. I witnessed firsthand a lot of the great stuff that Schilling accomplished, in the 2001 World Series and the 2004 postseason; he is a Hall of Famer, in my eyes.
But because of the Rule of 10, I had to pick and choose who I voted for, and because I don't think Mussina has a chance at being elected in his first year on the ballot, and don't think Schilling -- a colleague here at ESPN -- will get close enough this year, I turned to others.
In the future -- and hopefully, the HOF rids itself of the arbitrary Rule of 10 before next year's voting -- I will vote for Mussina and Schilling.
As I explained to Curt, I set aside a vote for Morris because it's his 15th year on the ballot. Last year, Morris had 67.7 percent of the vote, which is 7.3 percent short of the 75 percent required for induction. In the past, players in his situation have had their best shot at induction at this time, with a spike in their vote totals.
But I suspect that Morris' vote total will decline this year, and not because of the ongoing sabermetric assault aimed at his career (I understand the arguments, and just disagree). Rather, Morris will lose votes, I'd bet, because of the Rule of 10. Other voters, faced with the same logjam as I was, will feel compelled to not vote for Morris after voting for him in the past.
And there's something really terrible about that, because all of the candidates on this year's ballot, from
Moises Alou
to
Larry Walker
, should be judged solely on the merits of their playing career, and not how they might be squeezed onto a ballot.
How can you not vote for Tim Raines?
I have voted for him in the past, and I will in the future. My vote for him was sacrificed because of the Rule of 10.
Why aren't you weighing character in your vote?
There is no evidence that the character clause was given pivotal weight in more than a half-century of voting before the steroid issue popped up. Gaylord Perry admitted to cheating repeatedly -- heck, he wrote a book about it -- and was voted in. Ty Cobb had a long and ugly history of incidents not related to what he did on the field, and was voted in. Mickey Mantle was infamous for drinking problems, to the degree that it sometimes left him unprepared to play, and was voted in. Heck, the guy who had a lot to do with the composition of the character clause, legendary commissioner Kenesaw Mountain Landis, worked to keep black players out of the sport.
The Hall of Fame is not a house of the holy. It's a baseball museum -- the best sports museum in the world, in my opinion -- and nobody should pretend it's more than that. That includes the current Hall of Famers, some of whom admittedly used amphetamines in their careers
because that was the context of the times.
How can you vote for steroid users?
To continue reading this article you must be an Insider
December, 9, 2013
12/09/13
9:12
AM ET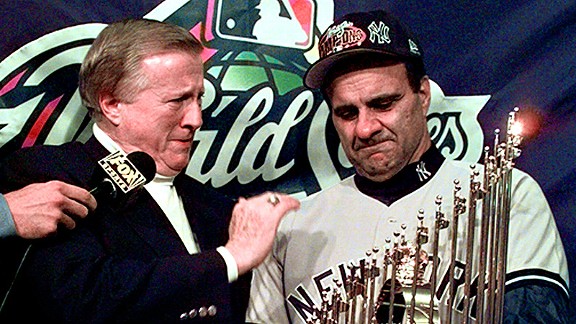 AP Photo/Pat SullivanJoe Torre was no master tactician, but he's still a Hall of Fame skipper.
LAKE BUENA VISTA, Fla. -- The manager's office in old Yankee Stadium was attached to a short hallway that players passed through as they entered or departed the clubhouse, and Joe Torre's desk was positioned in such a way that he could see everybody coming or going.
From time to time -- on rainy days, mostly -- he met with reporters in his office before games, and as he talked, Torre seemed to keep an eye out for a specific player or two that he wanted to speak with. When he saw them, he'd call out, to
Paul O'Neill
or
Bernie Williams
or
Derek Jeter
or
David Cone
. Maybe he wanted to check on an injury that had occurred the night before, or perhaps he had a specific question. The player would duck his head in the door, and exchange a few words with the manager.
But as one of the reporters who covered Torre, I always thought that he mostly just wanted to see their faces, the way a parent does when they greet their kids coming through the door at the end of school, to assess their expression, their mood, their body language.
I never thought Torre was especially adept at game strategy -- he tended to burn through relievers, for example, the way a kid exhausts a bag of Halloween candy -- and nothing in his history suggests he had a gift for developing young players. But he was a
great
manager -- a Hall of Fame manager, as he was told today, along with Tony La Russa and Bobby Cox -- because he had a natural affection for his players, and they felt and understood that.
It's a simple trait that can be exceedingly important, and it was for that group of players during the Yankees' dynasty of 1996-2001.
To continue reading this article you must be an Insider
November, 28, 2013
11/28/13
10:42
AM ET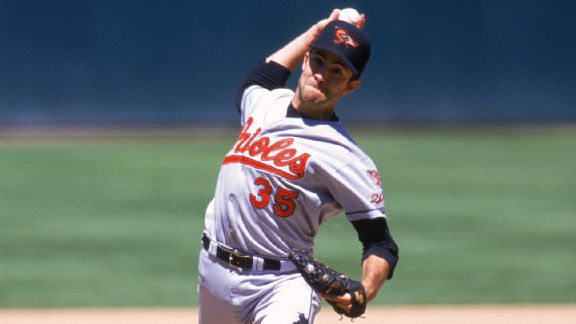 Otto Greule Jr/Getty ImagesMike Mussina is one of the Hall of Fame candidates who could be affected by the "Rule of 10."
The worst thing about the Hall of Fame voting has become the career dissection that accompanies it annually.
Jack Morris threw almost 4,000 innings in his career, including his 13 starts in the postseason, and along the way he finished in the top five in the Cy Young voting five different times. But every year for the last 14, as his candidacy for Cooperstown induction is measured over and over, there is loud and out-of-context and overstated conversation about what he
wasn't
. I get the debate, and yet still hate that there has to be a discussion every December about whether a respected player like Don Mattingly, Dale Murphy, Lou Whitaker or Alan Trammell -- who all had incredible careers -- is worthy.
It's a practice that seems unnecessarily excruciating. Imagine if they did this with the Oscars, and for 15 years the folks who created "The Shawshank Redemption" had to listen to renewed talk about why it just wasn't good enough.
But the problem in the Hall of Fame voting now is that the supposed worthiness of the candidates is not the only factor that now must be considered by a significant percentage of voters. Now a chunk of voters -- mostly those who have voted for players linked to PEDs -- have to decide who among the growing number of candidates is worthy of one of the 10 open spots on the ballot.
To continue reading this article you must be an Insider
November, 11, 2013
11/11/13
9:45
AM ET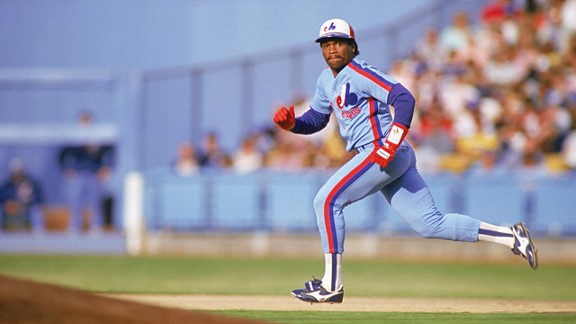 Andrew D. Bernstein/Getty ImagesTim Raines is the kind of player who will be hurt most by the 10-man ballot limit.
Very soon, the Hall of Fame ballot will arrive, with these players who I believe are Hall of Fame worthy:
Jeff Bagwell
,
Craig Biggio
,
Barry Bonds
,
Roger Clemens
,
Tom Glavine
,
Jeff Kent
,
Greg Maddux
,
Mark McGwire
, Jack Morris,
Mike Mussina
,
Rafael Palmeiro
,
Mike Piazza
, Tim Raines,
Curt Schilling
,
Sammy Sosa
,
Frank Thomas
.
I think you also could make a heck of a case for
Edgar Martinez
, Lee Smith and Alan Trammell.
That's 16 players I'd definitely vote for, and three others I'd like to continue consider within the shifting landscape of who is already in the Hall of Fame.
But in the end, my ballot will almost certainly look something like this at the time I mail it in in December.
To continue reading this article you must be an Insider
September, 23, 2013
9/23/13
9:22
AM ET
MILWAUKEE -- Rachel Robinson said last year that she is so glad
Mariano Rivera
is the last player to wear No. 42, and the affection she has for him was apparent during Sunday's ceremony, in the way that she held his face and looked into his eyes.
Jackie Robinson changed baseball and changed a nation, and he was at the heart of 10 years of extraordinary success for the Brooklyn Dodgers. He was a great player, with a .311 batting average and .409 on-base percentage and an MVP award among four top-10 finishes, and he was a transformative figure in the game's history. He became eligible for Hall of Fame induction in 1962, and
he received 77.5 percent of the vote
. In other words, he scraped by, getting the 75 percent needed for election.
Almost certainly, for some of the voters at that time, racism played a role in leaving him off the ballot. Maybe some didn't think his playing career was worthy, in comparison to the records of others who had gained induction, like Babe Ruth. Or maybe some writers decided that no player would ever be listed on their respective ballots the first time they became eligible, a practice that has continued over the last half-century.
To continue reading this article you must be an Insider
July, 18, 2013
7/18/13
7:38
AM ET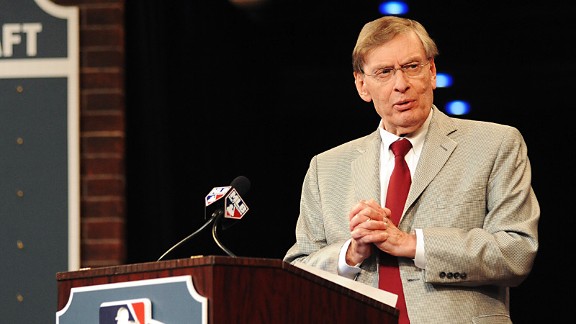 AP Photo/Tomasso DeRosaIf he times suspensions to happen before HOF ceremonies, Bud Selig could gain some backing.
Whenever the Biogenesis suspensions go down, Major League Baseball will enter a new stage of a public-relations battle -- and if commissioner Bud Selig is looking for the biggest splash, with the best chance for reinforcement, then he would make the announcements in the next seven days.
The Hall of Fame ceremony in Cooperstown, N.Y., will be held next weekend, in a year in which no recent retirees will be inducted, and if Selig makes his announcement of suspensions before Friday, he will be guaranteed three days of almost uniformly positive response.
See, the Hall of Famers will be asked, again, how they feel about steroid users and about MLB's recent fight against users, and over and over again most will almost certainly say that they don't think the PED users belong in the Hall of Fame and that Major League Baseball is doing the right thing.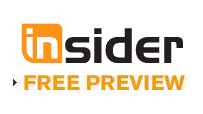 I don't agree with the PED stance of a lot of the Hall of Famers -- some of whom have admitted using amphetamines during their careers -- and personally, I don't care when Selig makes his announcement.
But having the support of folks such as Hank Aaron, Johnny Bench and others is an extremely powerful PR weapon for Selig, who is said by colleagues to be aware of how his legacy is being shaped. He might as well use the arsenal that is at his disposal.
The gloves are off in
the PED war
, writes Richard Griffin.
• Michael Weiner's stance on possible PED users has been different from that of his predecessors, players say. In the past, the union focused on privacy rights and doing everything possible to throw road blocks in front of Major League Baseball.
But players say that Weiner's stance has evolved with the practical realities of the time. On one hand, he will say that every player is entitled to the due process of the drug-testing system, and that it is the union's responsibility to help the player through this process.
On the other hand, Weiner also views the players' association as part owners of the drug-testing system; it is put in place by their players to protect the interests of their players, to help increase the chances for a level playing field. And he has told the players in so many words that if somebody cheats, they
should pay the price
.
From the piece:
"I can tell you, if we have a case where there really is overwhelming evidence, that a player committed a violation of the program, our fight is going to be that they make a deal," Weiner said without referring to specific players. "We're not interested in having players with overwhelming evidence that they violated the (drug) program out there. Most of the players aren't interested in that. We'd like to have a clean program."

• Rodriguez is confident he'll be back Monday. He just keeps on talking.

Trade buzz

1. Justin Morneau is bracing for the end of his time with the Twins, writes Mike Berardino.

2. Phillies president David Montgomery is showing optimism as his team nears a crucial period of decision-making.

3. For the Padres, rentals no longer make sense, says GM Josh Byrnes.

4. The Diamondbacks shouldn't rush into a deal they'll regret, writes Scott Bordow.

5. The Giants, now a potential seller, will have to try to turn it around, writes Henry Schulman.

The Giants have a long homestand to open the second half and unless they collapse completely -- say, lose eight of their next 10 -- I don't think there's any way they become all-out sellers before the July 31 trade deadline. Their stands are filled daily and they will not want to signal a complete elimination of hope for their customers with more than two months to play.

6. Seattle GM Jack Zduriencik doesn't expect to be aggressive before the trade deadline, writes Geoff Baker. From his story:


"In all fairness, I don't think I'm going to be aggressive," Zduriencik said before the break. "I don't think I'm going to go out there and start shopping our players. I don't think that's the right thing to do."

Zduriencik said his goal is to put "a healthy club on the field" once the season resumes Friday in Houston. He'll still take calls from interested trade partners and consider options to better the club.

But right now, he said, he's finally seeing the club he initially envisioned.

"We've been through a lot in the early part of this year between struggles, between injuries and setbacks," he said. "So, we like what's happened (in July), but who knows? I don't have a crystal ball. I can't predict one way or the other what's going to happen."

Notables

• Something worth remembering: Miguel Cabrera's second-half numbers have typically been better in recent seasons, and not by a small margin. Cabrera, second-half OPS versus first-half OPS:

2008: +113
2009: +34
2010: -74
2011: +121
2012: +135

Is this because opposing pitchers wear down in late July and August? The weather?

It's unclear. But he's got a heck of a shot to be the first player ever to win the Triple Crown in back-to-back seasons.

• Jim Leyland's approach to managing the All-Star Game was different from what we've seen in recent years, something he hinted at in a conversation with J.J. Hardy Monday. He told the Baltimore shortstop that he was going to play extensively, and that the American League was going to try to win the game.

He wasn't kidding. At the end of the fifth inning, the only starting position player who was out of the game was Robinson Cano, who had been hit by a pitch in his first plate appearance. And, in the final innings, Leyland relied heavily on matchups in choosing his relievers, matching left-handers against left-handers, right-handers against right-handers.

For years, the best players played the most in the All-Star Game; in 1963, for example, six NL starters got four plate appearances. Somewhere along the way, the All-Star Game evolved into some kind of a participation event, with managers clearing their benches and bullpens while trying to get everybody into the game.

Leyland -- who is part of Bud Selig's special committee of advisors -- veered the other way, and hopefully he has taken the handling of the All-Star Game in a different direction.

• Mark Attanasio sees a silver lining ahead for the Brewers.

Moves, deals and decisions

1. The Brewers got the sixth pick in the competitive balance lottery.

2. A Cuban pitcher says he is defecting.

3. Rangers executive Rick George resigned, and this would seem to leave more room for Nolan Ryan on the business side.

4. Mike Dee is joining the Padres.

Dings and dents

• Robinson Cano is day-to-day. I'd guess that Cano will be available to DH against Boston this weekend, at the very least.

AL East

• Manny Machado is in rare company as he chases the record for doubles. Machado is currently on a pace to hit 66 doubles, so he's a little behind.

• The Rays' pitching can make their hot streak continue, writes Gary Shelton. They face a difficult decision in a tough division, writes Marc Topkin.

• The Jays' starting pitchers are just not that good, writes Steve Simmons.

• John Tomase has a midseason report card for the Red Sox.

• The Red Sox are looking for the next Justin Masterson, writes Tim Britton.

AL Central

• The Tigers are poised for a good second half, writes Drew Sharp.

• The Twins intersect with timidity too often, writes Patrick Reusse.

• For the Royals, the first half was a frustrating quest for .500, writes Dick Kaegel.

AL West

• The Rangers' second-half goal is to stay healthy.

• The Athletics feel like there is room for improvement.

• J.P. Hoornstra has a report card on the Angels.

• Astros owner Jim Crane preaches patience.

NL East

• Jordan Zimmermann is the same as he ever was, writes Adam Kilgore.

• The Phillies still have hope in the weak NL East, writes Matt Gelb. Philadelphia is facing a crucial stretch of games in the second half.

• Sandy Alderson admits that his rebuilding plan is taking longer than he had hoped.

• Jose Fernandez's performance in the All-Star Game was overshadowed.

• Freddie Freeman enjoyed his All-Star experience.

NL Central

• The Cardinals have gotten some surprise contributions, writes Derrick Goold.

Carlos Beltran hopes to play three more years. He will be a coveted target in the offseason among AL teams because he has an excellent, disciplined approach at the plate and because he would be a solid outfield-DH option. He'd make sense for the Rangers, Yankees, Blue Jays, Rays, Mariners, etc.

• Gene Collier has a prediction for the Pirates' second half.

• Bob Nutting is no longer a punchline, writes Joe Starkey.

NL West

• All of the National League is scrambling, writes Patrick Saunders.

• Clayton Kershaw bristled at something that Bruce Bochy said.

Other stuff

• The Twins are nervous about the condition of Target Field after a Kenny Chesney concert.

• Bud Selig's patience over the Rays' attendance is thin. And I want my kids to do their chores on time.

• Matt Harvey envies Derek Jeter.

• Brett Myers got hammered on Twitter after rendering an opinion.

And today will be better than yesterday.