June, 11, 2014
Jun 11
9:59
AM ET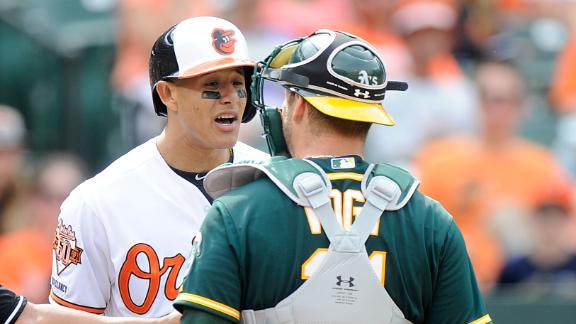 A lot of National Football League teams use point systems to help with decisions in certain on-the-fly situations, so they can keep everything straight. After touchdowns, head coaches and assistants often rely on a chart to determine when it's appropriate to kick an extra point or attempt a two-point conversion, within the context of the score and time remaining. During the NFL draft, general managers use predetermined value metrics to assess what they should give or receive in a trade for a particular draft pick.
This way, the coach or the club executives have a menu to draw from, like a kid in math class determining the area of a rectangle or the diameter of a circle. This way, their choices make more sense.
This sort of problem-solving seems especially relevant in the aftermath of the discipline rendered in the cases of
Manny Machado
and
Fernando Abad
on Tuesday, which, like other recent choices, appear to have been pulled off a spinning wheel of fortune. You don't know exactly what decision will pop up.
On May 30, Rays starter
David Price
drilled Red Sox slugger
David Ortiz
in the first inning, on the first pitch of the at-bat, and plate umpire Dan Bellino saw sufficient intent in the pitch -- and why not, given the Hatfields and McCoys history between these two teams -- to issue a warning to both teams.
In the fourth inning,
A.J. Pierzynski
doubled with two outs, leaving first base open, and Price hit
Mike Carp
with his very next pitch. Price was not ejected.
Then, in the top of the sixth inning, Boston starter
Brandon Workman
threw a shoulder-high pitch that was a couple of feet behind
Evan Longoria
, a clear message.
January, 1, 2014
Jan 1
9:51
AM ET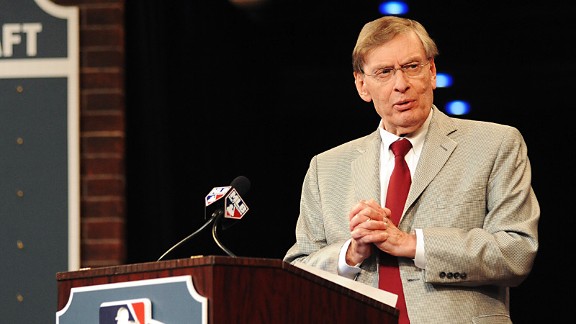 AP Photo/Tomasso DeRosaBud Selig says he will retire at the end of 2014, but some say he won't.
Tim Kurkjian had it right last spring when he said the hardest thing to predict in 2013 was who was going to finish fifth in the AL East. Many folks thought it would be the
Boston Red Sox
, and instead, they won the World Series with a group of invested players who reinvigorated Boston's fan base.
We can draw a lesson from that example, as we look ahead to 2014: You never know what you'll see on a given day. But you can predict the 10 most prominent story lines that promise to attract a lot of attention in the months ahead.
1. The identity of Bud Selig's successor
Selig has announced he will retire a year from now, so let the campaigning and the lobbying (and maybe some deal-making and backstabbing, in some quarters) begin in earnest.
I've heard three different theories about who will follow Selig from high-ranking club executives.
To continue reading this article you must be an Insider
August, 23, 2013
8/23/13
7:37
AM ET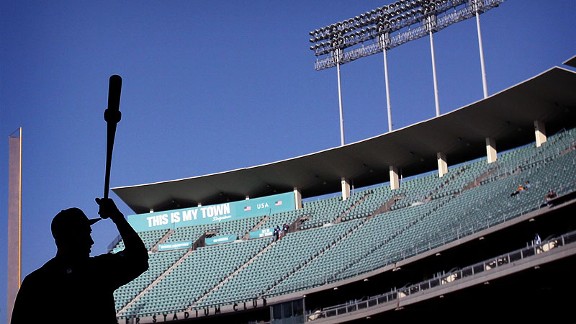 Jeff Gross/Getty ImagesAgainst the backdrop of his statement, there's still much we can't see about Ryan Braun.
About 10 minutes before the start of a "Sunday Night Baseball" game in Baltimore on June 30,
Chris Davis
finished his pregame routine and stopped alongside the photo well, where I was sitting. Davis had something on his mind.
Earlier in the day, he said, he answered a question posed to him on Twitter: Are you on PEDs?
He had responded no, and he talked about the responses to his response. A lot of folks didn't believe him.
To continue reading this article you must be an Insider
August, 15, 2013
8/15/13
8:35
AM ET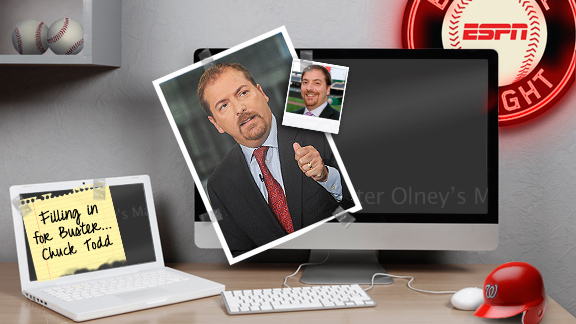 ESPN IllustrationAfter many years of blaming Bud Selig, Chuck Todd sees the commissioner in a new light.
Buster Olney is on vacation this week, so guest columnists are writing the lead of his column in his absence. So far, D-backs reliever Brad Ziegler wrote about MLBPA head Michael Weiner; Oakland reliever Sean Doolittle discussed what it's like to play for the A's; ESPN NFL draft guru Mel Kiper Jr. discussed his love of baseball; and super-agent Scott Boras offered up his opinions regarding how to fix the draft and free agency. Today, NBC News reporter and chief White House correspondent Chuck Todd and NBC "Meet the Press" host David Gregory take over.
In the world of politics, how successful elected officials first present themselves in their initial run for office is usually the perception that sticks with them for most of their career. Either they are a maverick/outsider who likes to make trouble for the establishment or they are an insider power climber who wants to be the establishment. How they first run and succeed or fail is how they are perceived for their career, and it's hard to get reporters and observers such as myself to ever see them in a different light.
Sometimes it takes the death of a politician before perceptions actually change in the media and the public. Just look at Harry Truman or Ronald Reagan.
After years of criticizing the commissioner of baseball from the cheap seats, I've found myself praising Bud Selig and even acknowledging that he's good for the game. Let me repeat, Bud Selig has been good for baseball. It's a sentence I never thought I would ever write. And I bet I'm not alone.
To continue reading this article you must be an Insider
August, 6, 2013
8/06/13
9:13
AM ET
The A-Rod-palooza will go on for many more weeks, given the daily promise that Alex Rodriguez will say something that will make us shake our heads -- such as when he all but painted himself as a Founding Father fighting on behalf of the Constitution during his news conference Monday. Rodriguez will continue to be the big story, until he goes away.
But the greatest impact for any of the suspensions handed down was on the
Texas Rangers
, who lost
Nelson Cruz
, a slugger responsible for 20 percent of their home runs in the first four months and four days of the regular season. They asked around before the trade deadline and couldn't find help, and in their desperation they convinced
Lance Berkman
to continue to try to play through injuries that forced him to contemplate retirement.
There could be one really interesting solution for the Rangers as they look to solve their power problem:
Adam Dunn
of the White Sox.
To continue reading this article you must be an Insider
August, 1, 2013
8/01/13
9:46
AM ET
Bud Selig has hoisted a hammer and he's holding it over the rest of Alex Rodriguez's career, and it's shaped in the form of a clause:
B. Conduct Detrimental or Prejudicial to Baseball

Players may be disciplined for just cause for conduct that is materially detrimental or materially prejudicial to the best interests of Baseball including, but not limited to, engaging in conduct in violation of federal, state or local law. The Commissioner and a Club shall not discipline a Player for the same act or conduct under this provision. In cases of this type, a Club may only discipline a Player, or take other adverse action against him, when the Commissioner defers the disciplinary decision to the Club.
As T.J. Quinn
reported Wednesday night
, Alex Rodriguez's representatives are in negotiations over some sort of a plea bargain. So this might be settled in the days ahead.
But I'd offer this advice to Selig: Keep your eyes on the big picture, and remember what your greatest weapon actually is -- and it's not XII (B) of the collective bargaining agreement listed above.
No, the greatest power in this whole fight is the strong sentiment of the players against the use of performance-enhancing drugs, which has slowly evolved over the past 20 years, with many speaking out loudly now.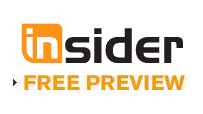 As Major League Baseball dove into the investigation of Biogenesis and Tony Bosch, wielding the threat of litigation and its own massive wallet, players have essentially stood alongside cheering, encouraging the powers that be to do what they need to do to maintain a level playing field. When
Ryan Braun
was netted and agreed to his suspension last week, many players -- from
Max Scherzer
to
Skip Schumaker
to
Zack Greinke
-- gave him the perp-walk treatment, publicly castigating him, with some players complaining privately that Braun didn't get enough.
Selig rightly claims that MLB has the toughest drug-testing policy in professional sports -- and here's the thing: It can be even better, tougher, if he properly uses all of that anger contained within the players.
Machiavelli would tell him: He should try to
use
Alex Rodriguez
, rather than destroying the last remnants of a baseball career that is already forever tainted.
He could try to do that by using his best-interests powers afforded under the CBA, and he could theoretically flex his commissioner muscles -- and maybe even broaden the central authority -- by giving Rodriguez a lifetime ban. If he does use this clause, Rodriguez does not have access to immediate appeal and would not be able to keep playing while he fought his suspension or ban.
But this might not be the most effective use of Rodriguez's situation because the backlash from the union might be stronger than Selig anticipates. The MLBPA is in a state of transition at the moment, as union chief Michael Weiner fights brain cancer, with new roles being defined and perhaps a new culture. The players don't want to protect cheaters, but, on the other hand, what Weiner has told them time and again, in spring training meetings and in conference calls, is that it is important that players have access to due process.
If Selig uses his best-interest powers and suspends Rodriguez under the CBA rather than the joint drug agreement, he will basically be taking him off the field before he can appeal -- before due process -- and will place himself in a position of being the judge and jury for Rodriguez, leading to a protracted arbitration.
From the players' perspective, that is not ideal due process. The union, whether led by Weiner or somebody else, might decide to fight for that principle, which could lead to a messy labor battle, with new faces at the table.
On the other hand: If Selig works within the confines of the drug-testing agreement, he could reach for the higher ground by using that union anger.
If Selig gives Rodriguez a 100-game suspension or a lifetime ban -- which he could do under the drug-testing agreement if he felt A-Rod's multiple offenses added up to enough to enact the "three strikes and you're out" provision -- Rodriguez would have the option of immediate appeal. And yes, he would remain on the field in the immediate aftermath to continue his rehabilitation, as he went through the due process prescribed under the rules of the drug-testing agreement.
But what this would allow Selig to do is go to the union, with all the evidence against Braun and Rodriguez in hand, and say the following:
Fellas, look: I know you're not happy with Braun's suspension, and damn it, neither am I. We wanted more. We want to go after the cheaters with more ammunition. We want to be more aggressive. We think Alex Rodriguez cheated all of you; we think he lied to all of you; we think he tried to make a mockery of our drug-testing system. He thumbed his nose at it and exploited the loopholes.

Let's close those loopholes. Let's make this better. Let's talk about lifetime bans for egregious second or even first offenders, rather than three-strikes-and-you're-out. Let's eliminate the incentive to cheat: Let's talk about voiding contracts under certain circumstances.

You guys don't like players like Braun and Rodriguez, and neither do we. Let's go after them.
If Selig uses this measured approach, he will put more subtle pressure on the union to act, to put muscle behind those recent words we've heard from so many players. And I think the players will be happy to go along. This is a situation ripe for Selig to exploit because Rodriguez is so unlikable.
But if Selig takes action that players perceive as grandstanding -- like he's taking Rodriguez down without bothering to work within the lines the union has so willingly laid down -- that's when he puts his larger work at risk. He does not want to create a situation in which union lawyers are pointing at his actions and warning the players against MLB's unilateral actions and overreaching, saying: There but for the grace of god go you.
Less is more in this situation, and it could be much, much more, if the commissioner plays this right.
He will win this battle, but he needs to focus on the larger war and how that victory can be achieved.
•
Jhonny Peralta
is trying not to think about
a possible suspension
.
• The Feds are focusing on Biogenesis,
writes Julie Brown
.
Trade stuff
1. Ruben Amaro Jr. is vague about
the Phillies' future
. It was a
quiet deadline for the Phillies
.
2. Neal Huntington was
slick at the deadline
. Hey, the Pirates are in a commanding position at this moment and appear as if they're a near lock to make the playoffs, so there really wasn't any reason for them to be hyperaggressive.
3. Terry Ryan was never offered
a major trade worth making
.
4. The Twins traded
Drew Butera
to
the Dodgers.
5. Dave Dombrowski got proactive
at this year's deadline
.
6. The Royals got
Justin Maxwell
in
a deal
. I thought this was a really smart, deft deal by K.C. and fully appropriate. The Royals aren't so close to the top of the standings that they should've gone all-in, and, on the other hand, they're not so far away that they should've held a sell-off. Maxwell gives them some depth, at the modest cost of pitching prospect Kyle Smith.
7. The Cardinals couldn't find the right deal,
writes Derrick Goold
.
Pete Kozma's offensive troubles are going to draw even more attention than they already have because of Yadier Molina's absence. Until now, Kozma was tucked neatly away in the No. 8 spot in the lineup, and his struggles were covered up somewhat by St. Louis's depth.
But now, with Molina out, the Cardinals might have difficulties getting production from their catchers; the bottom three spots in their lineup will be really, really weak.
8. The Reds didn't
make a deal before the deadline
.
9. The Indians continue to try to
look for the right trade
.
10.
Jeff Samardzija
could be
blocked on waivers
.
11. White Sox GM Rick Hahn is on his game,
writes Daryl Van Schouwen
.
Alex Rios
could
be traded in August
.
12. Red Sox players are in unanimous agreement: The
Jake Peavy
deal makes
the team better.
The effect was
felt in the clubhouse.
13. I thought the
Ian Kennedy
deal was
wholly appropriate for the Diamondbacks
because it felt as if his time with Arizona had run out, just as Justin Upton's did.
Kennedy had gone from finishing fourth in the NL Cy Young race in 2011 and starting the first game of the playoffs to struggling with one of the worst ERAs in the majors. The D-backs were frustrated with him, and there wasn't a lot of confidence that he was going to turn it around.
14. I thought it was
a great deal for the Padres
because GM Josh Byrnes knows Kennedy from his days with Arizona and Kennedy is healthy and still young and still relatively inexpensive. Maybe the Padres can fix Kennedy, maybe not, but he's well worth the low risk for them.
15. The Astros continue
to trade for depth
. If they get 50 wins this season,
Bo Porter
should be a manager of the year candidate; their highest-paid player makes $1.2 million.
16. The Giants made no moves at the deadline, which is completely understandable, given the many tickets they've
sold for the rest of the season
.
17. The Orioles added
some pitching depth
.
Dings and dents
1. The Cardinals must avoid overusing
Yadier Molina
when he comes back,
writes Bernie Miklasz
.
2. The Pirates lost a catcher
for the rest of the season
.
Wednesday's games
1. We keep waiting for the Nationals to hit rock bottom. This
might be it
. They are 11 games behind the
Atlanta Braves
.
2. The Indians continue to do great work, feasting on their
very weak second-half schedule
.
3. The Braves' magic number is down
to 44, incredibly
.
4. The Rangers won with
a walk-off, again
.
5. This week
belongs to the Pirates
. They go for the five-game sweep of the Cardinals tonight.
AL East
• The Red Sox moved back
into first place
.
•
Brock Holt
is filling in
at third base for now
.
NL East
• The Nationals
aren't to blame
for Drew Storen's struggles. Tyler Clippard shared his opinion on Storen's demotion
earlier this week
.
Other stuff
• Ryan Braun did not
fare well in a poll
.
And today will be better than yesterday.
July, 23, 2013
7/23/13
6:43
AM ET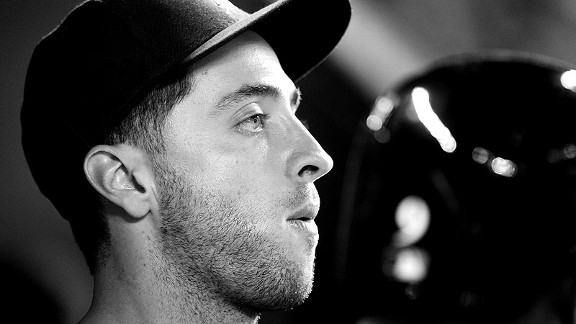 Marc Serota/Getty ImagesRyan Braun will sit out the rest of the season, but the hard feelings won't end there.
There was a moment recently when the shift in the attitude of Major League Baseball players toward performance-enhancing drug cheaters blossomed fully, when the last stages of evolution came into view.
The players have changed on this issue from the time the first gossip of steroids use in baseball began in the 1980s, moving from ignorance to ambivalence to acceptance to frustration to resentment to the current DEFCON 1 anger.
A pitcher drilled a hitter in a game this season, and when the inning was over and he returned to the dugout, the pitcher explained to his teammates that he had plunked the guy because he's a juicer -- a cheater, a PED user. The teammates who heard him understood.
To continue reading this article you must be an Insider
July, 18, 2013
7/18/13
7:38
AM ET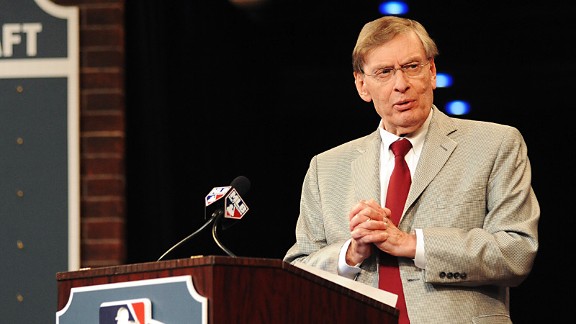 AP Photo/Tomasso DeRosaIf he times suspensions to happen before HOF ceremonies, Bud Selig could gain some backing.
Whenever the Biogenesis suspensions go down, Major League Baseball will enter a new stage of a public-relations battle -- and if commissioner Bud Selig is looking for the biggest splash, with the best chance for reinforcement, then he would make the announcements in the next seven days.
The Hall of Fame ceremony in Cooperstown, N.Y., will be held next weekend, in a year in which no recent retirees will be inducted, and if Selig makes his announcement of suspensions before Friday, he will be guaranteed three days of almost uniformly positive response.
See, the Hall of Famers will be asked, again, how they feel about steroid users and about MLB's recent fight against users, and over and over again most will almost certainly say that they don't think the PED users belong in the Hall of Fame and that Major League Baseball is doing the right thing.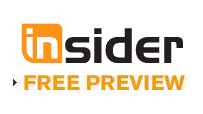 I don't agree with the PED stance of a lot of the Hall of Famers -- some of whom have admitted using amphetamines during their careers -- and personally, I don't care when Selig makes his announcement.
But having the support of folks such as Hank Aaron, Johnny Bench and others is an extremely powerful PR weapon for Selig, who is said by colleagues to be aware of how his legacy is being shaped. He might as well use the arsenal that is at his disposal.
The gloves are off in
the PED war
, writes Richard Griffin.
• Michael Weiner's stance on possible PED users has been different from that of his predecessors, players say. In the past, the union focused on privacy rights and doing everything possible to throw road blocks in front of Major League Baseball.
But players say that Weiner's stance has evolved with the practical realities of the time. On one hand, he will say that every player is entitled to the due process of the drug-testing system, and that it is the union's responsibility to help the player through this process.
On the other hand, Weiner also views the players' association as part owners of the drug-testing system; it is put in place by their players to protect the interests of their players, to help increase the chances for a level playing field. And he has told the players in so many words that if somebody cheats, they
should pay the price
.
From the piece:
"I can tell you, if we have a case where there really is overwhelming evidence, that a player committed a violation of the program, our fight is going to be that they make a deal," Weiner said without referring to specific players. "We're not interested in having players with overwhelming evidence that they violated the (drug) program out there. Most of the players aren't interested in that. We'd like to have a clean program."

• Rodriguez is confident he'll be back Monday. He just keeps on talking.

Trade buzz

1. Justin Morneau is bracing for the end of his time with the Twins, writes Mike Berardino.

2. Phillies president David Montgomery is showing optimism as his team nears a crucial period of decision-making.

3. For the Padres, rentals no longer make sense, says GM Josh Byrnes.

4. The Diamondbacks shouldn't rush into a deal they'll regret, writes Scott Bordow.

5. The Giants, now a potential seller, will have to try to turn it around, writes Henry Schulman.

The Giants have a long homestand to open the second half and unless they collapse completely -- say, lose eight of their next 10 -- I don't think there's any way they become all-out sellers before the July 31 trade deadline. Their stands are filled daily and they will not want to signal a complete elimination of hope for their customers with more than two months to play.

6. Seattle GM Jack Zduriencik doesn't expect to be aggressive before the trade deadline, writes Geoff Baker. From his story:


"In all fairness, I don't think I'm going to be aggressive," Zduriencik said before the break. "I don't think I'm going to go out there and start shopping our players. I don't think that's the right thing to do."

Zduriencik said his goal is to put "a healthy club on the field" once the season resumes Friday in Houston. He'll still take calls from interested trade partners and consider options to better the club.

But right now, he said, he's finally seeing the club he initially envisioned.

"We've been through a lot in the early part of this year between struggles, between injuries and setbacks," he said. "So, we like what's happened (in July), but who knows? I don't have a crystal ball. I can't predict one way or the other what's going to happen."

Notables

• Something worth remembering: Miguel Cabrera's second-half numbers have typically been better in recent seasons, and not by a small margin. Cabrera, second-half OPS versus first-half OPS:

2008: +113
2009: +34
2010: -74
2011: +121
2012: +135

Is this because opposing pitchers wear down in late July and August? The weather?

It's unclear. But he's got a heck of a shot to be the first player ever to win the Triple Crown in back-to-back seasons.

• Jim Leyland's approach to managing the All-Star Game was different from what we've seen in recent years, something he hinted at in a conversation with J.J. Hardy Monday. He told the Baltimore shortstop that he was going to play extensively, and that the American League was going to try to win the game.

He wasn't kidding. At the end of the fifth inning, the only starting position player who was out of the game was Robinson Cano, who had been hit by a pitch in his first plate appearance. And, in the final innings, Leyland relied heavily on matchups in choosing his relievers, matching left-handers against left-handers, right-handers against right-handers.

For years, the best players played the most in the All-Star Game; in 1963, for example, six NL starters got four plate appearances. Somewhere along the way, the All-Star Game evolved into some kind of a participation event, with managers clearing their benches and bullpens while trying to get everybody into the game.

Leyland -- who is part of Bud Selig's special committee of advisors -- veered the other way, and hopefully he has taken the handling of the All-Star Game in a different direction.

• Mark Attanasio sees a silver lining ahead for the Brewers.

Moves, deals and decisions

1. The Brewers got the sixth pick in the competitive balance lottery.

2. A Cuban pitcher says he is defecting.

3. Rangers executive Rick George resigned, and this would seem to leave more room for Nolan Ryan on the business side.

4. Mike Dee is joining the Padres.

Dings and dents

• Robinson Cano is day-to-day. I'd guess that Cano will be available to DH against Boston this weekend, at the very least.

AL East

• Manny Machado is in rare company as he chases the record for doubles. Machado is currently on a pace to hit 66 doubles, so he's a little behind.

• The Rays' pitching can make their hot streak continue, writes Gary Shelton. They face a difficult decision in a tough division, writes Marc Topkin.

• The Jays' starting pitchers are just not that good, writes Steve Simmons.

• John Tomase has a midseason report card for the Red Sox.

• The Red Sox are looking for the next Justin Masterson, writes Tim Britton.

AL Central

• The Tigers are poised for a good second half, writes Drew Sharp.

• The Twins intersect with timidity too often, writes Patrick Reusse.

• For the Royals, the first half was a frustrating quest for .500, writes Dick Kaegel.

AL West

• The Rangers' second-half goal is to stay healthy.

• The Athletics feel like there is room for improvement.

• J.P. Hoornstra has a report card on the Angels.

• Astros owner Jim Crane preaches patience.

NL East

• Jordan Zimmermann is the same as he ever was, writes Adam Kilgore.

• The Phillies still have hope in the weak NL East, writes Matt Gelb. Philadelphia is facing a crucial stretch of games in the second half.

• Sandy Alderson admits that his rebuilding plan is taking longer than he had hoped.

• Jose Fernandez's performance in the All-Star Game was overshadowed.

• Freddie Freeman enjoyed his All-Star experience.

NL Central

• The Cardinals have gotten some surprise contributions, writes Derrick Goold.

Carlos Beltran hopes to play three more years. He will be a coveted target in the offseason among AL teams because he has an excellent, disciplined approach at the plate and because he would be a solid outfield-DH option. He'd make sense for the Rangers, Yankees, Blue Jays, Rays, Mariners, etc.

• Gene Collier has a prediction for the Pirates' second half.

• Bob Nutting is no longer a punchline, writes Joe Starkey.

NL West

• All of the National League is scrambling, writes Patrick Saunders.

• Clayton Kershaw bristled at something that Bruce Bochy said.

Other stuff

• The Twins are nervous about the condition of Target Field after a Kenny Chesney concert.

• Bud Selig's patience over the Rays' attendance is thin. And I want my kids to do their chores on time.

• Matt Harvey envies Derek Jeter.

• Brett Myers got hammered on Twitter after rendering an opinion.

And today will be better than yesterday.
July, 16, 2013
7/16/13
9:43
AM ET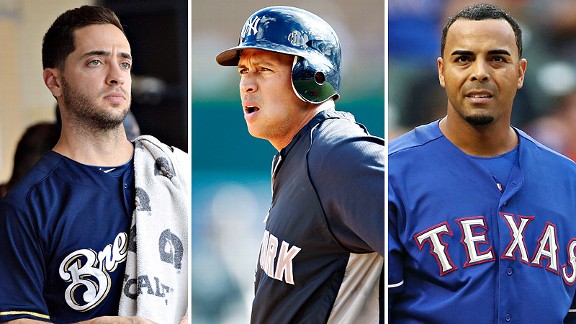 USA TODAY SportsRyan Braun, Alex Rodriguez and Nelson Cruz all could face lengthy suspensions for PED use.
Bud Selig didn't have to commission the Mitchell report, and there's a strong argument that he made a mistake by needlessly picking a scab that didn't have a chance of healing when he did. George Mitchell was never going to get all of the answers, or all of the names, and he instead generated a woefully incomplete document while tossing 86 players to the mob, completely out of context. And he did this while almost certainly knowing that he had barely scratched the surface.
But the Biogenesis fight is different.
Major League Baseball did not pick this fight. That was created by those who worked to beat the system, and once the rumors of a pod of PED use in Miami began to circulate -- as
written here early last November
-- the investigators for the sport essentially were left with two choices:
To continue reading this article you must be an Insider
July, 13, 2013
7/13/13
9:58
AM ET
Dodgers owner Walter O'Malley took baseball out west, uprooting the Brooklyn Dodgers and, by extension, the New York Giants, and, through the 1960s and '70s, he was viewed as one of baseball's major power brokers.
By the late '70s, however, union leader Marvin Miller had built the greatest practical power in the sport, through his successful efforts to get the players more control and more money. Don Fehr and Gene Orza inherited that influence and extended it: In the '90s, the sport turned only where they allowed it to go.
On the other side of the aisle, Bud Selig adeptly collected votes through old-fashioned horse-trading and arm-twisting, generally making sure that the new owners who came into the sport were those who played according to his rules. This is a dynamic that remains in place as baseball's central force.
Selig continues to insist that he will walk away from the sport after his current contract expires, which is after the 2014 season. He will be asked about that, undoubtedly, when he addresses the media before Tuesday's All-Star Game, and, presumably, he will say again that nothing can change his mind. Some of his employers, baseball's owners, believe that Selig, who turns 79 later this month, will be coaxed into another term.
But there will be a day when Selig won't be in power, and when you try to consider the landscape of possible heirs to the game's central power -- that which was passed on, like a baton, to O'Malley and Miller and Fehr and Orza and Selig -- there is murk.
On all sides. Nothing but murk.
As Jayson Stark wrote in May, there is not a replacement waiting in the wings to take over from Selig. You can ask 10 people about who the possible successor to Selig might be, and you will get 10 different answers, each with one significant qualifier:
He doesn't have the votes Bud has
. Selig has quilted together a consensus -- not necessarily agreement, but a consensus -- of big-market teams and small-market teams. This is how it came to be that the teams such as the Yankees and Red Sox and Phillies and Cubs have been handing over cash to teams such as the Rays and Marlins, and, at the same time, the small-market teams have gone along with a system of player procurement rules that continues to be stacked against them. Every team has reason to hate the system, but Selig's control has kept them all from diving into civil war.
To continue reading this article you must be an Insider
June, 20, 2013
6/20/13
8:14
AM ET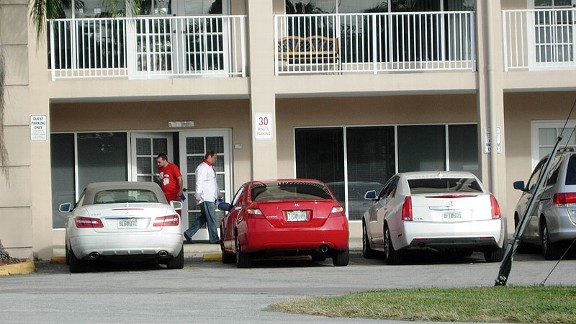 Mike Fish/ESPNMajor League Baseball wants the full story on Biogensis. And they're willing to pay for it.
If you've kept up with the
NSA surveillance stories of late
, then you're familiar with the logic behind the explanation for the decisions:
Yes, it's not an ideal situation, but this is the reality of our times and we have to deal with it.
It's a line of thinking that has been embraced by Major League Baseball in its evolving war on performance-enhancing drug users.
For years, the institution of baseball looked the other way. Then, a decade ago, Major League Baseball and the players' union agreed to the first form of PED testing. And as would-be cheaters have worked to circumvent the testing -- or to beat it straight up -- MLB has found itself neck-deep in a cesspool of characters and character.
This is not the fight they want, the fight they chose, or the fight they probably ever envisioned. But this is the reality of the times and they have to deal with it -- and like the CIA, one of their most effective weapons is cash, which they are wielding aggressively.
To continue reading this article you must be an Insider
June, 17, 2013
6/17/13
9:59
AM ET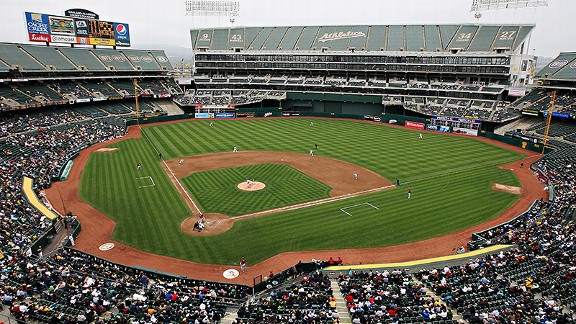 Brad Mangin/Getty ImagesSunday's sewage debacle could be just what the A's need to move forward on a new park.
"There are rich teams and there are poor teams. Then there's 50 feet of crap ... and then there's us" -- Brad Pitt as Billy Beane in "Moneyball"
ATLANTA -- Many miles from here, an embarrassment
for baseball played out Sunday
. If it was an isolated case of a burst pipe, or days of torrential rain, well, then you might understand how a Major League Baseball clubhouse would have sewage all over the floor.
But as any member of the
Oakland Athletics
from recent seasons will tell you, sewage has been a running theme for years, especially after the Raiders play their home games. It just so happened that this time, it happened as a result of the flushing that took place during baseball games.
This from Ryan Divish
:
To continue reading this article you must be an Insider
May, 10, 2013
5/10/13
8:32
AM ET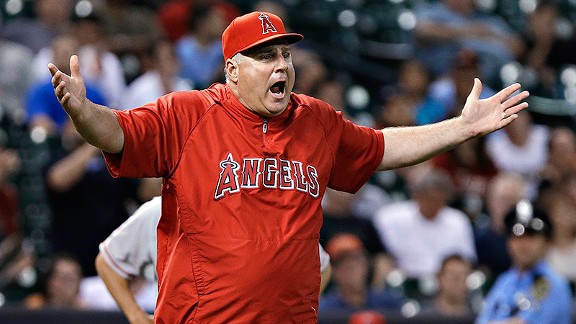 AP Photo/Pat SullivanMike Scioscia was vexed.
The look and tone that Angels manager Mike Scioscia aimed at the umpires in Houston on Thursday night reminded you of a third-grade teacher admonishing students over a paper airplane thrown across the room.
Scioscia's language, however, was a little bit more PG-13 than elementary school.
"You gotta be s------- me," Scioscia said, staring out at the umpires with incredulity.
We still don't know why the umpires allowed Houston manager
Bo Porter
to relieve
Wesley Wright
without the left-hander having faced a single hitter; Fieldin Culbreth would
not give an explanation
for the call that was made, as Alden Gonzalez writes.
Based on what Porter and Scioscia said after the game, the switch did not involve an injury to Wright. It may well be that the umpires botched a basic rule that is used at every level from Little League to the majors. If a pitcher is summoned into a game as a reliever, then Rule 3.05 (b) applies:
To continue reading this article you must be an Insider
May, 9, 2013
5/09/13
9:43
AM ET
There really is no gray area with the disputed home run call in the
Oakland Athletics
-
Cleveland Indians
game: Upon further review, the umpires still missed an indisputable call on Adam Rosales's
long drive to left-center field
.
There could be explanations. Maybe the television that the umpires have in Cleveland to review home runs is an old black-and-white from 1957 and has a problem with its horizontal hold. Maybe the remote control ran out of batteries.
Maybe there is some Magic Baseball thing going on, like the Magic Bullet Theory:
The ball stops in mid-air, changes direction, goes down, changes direction again … back and to the right … back and to the right … back and to the right…
The evidence is clear, and action is needed. Immediately. As in, the next few hours. The Athletics are in Cleveland and will play the Indians in a noon game today, and what needs to happen is for the commissioner to use his powers and overturn the call of Angel Hernandez's crew, and replay it from the point of the disputed home run. The score would be 4-4, it would be the ninth inning. Then, after the resolution of that game, the two teams can play the regularly scheduled game.
To continue reading this article you must be an Insider