Buster Olney:

Bryce Harper
February, 19, 2015
Feb 19
8:49
AM ET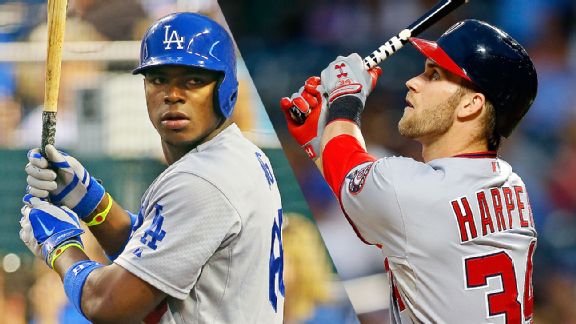 Getty ImagesWhere will 24-year-old slugger Yasiel Puig hit this season? And what about 22-year-old Bryce Harper?
When Joe Torre managed the
New York Yankees
, he liked to put pen to paper and jot down various lineup combinations to see how they might look and feel. His bench coach, Don Zimmer, would do the same, and they would discuss the combinations they had written out, like two mathematicians discussing a proof.
With lineups, however, there are no perfect answers, and no absolutes. Because the variables are changing constantly. Hitters streak or slump. Opposing managers poke and prod for the vulnerabilities in lineups, with different bullpen weapons. But most managers and general managers think about the possible structure of their batting order constantly, sorting through the quandaries.
Some are unwelcome problems. For instance, Phillies manager Ryne Sandberg
must find a place
to hit
Ryan Howard
, in the season after Howard has been told the team might be better off without him.
But other lineups present interesting puzzles, such as those that follow:
1. Who will hit cleanup for the Marlins?

Marlins manager
Mike Redmond
is
experimenting with different lineups
.
October, 4, 2014
10/04/14
11:42
AM ET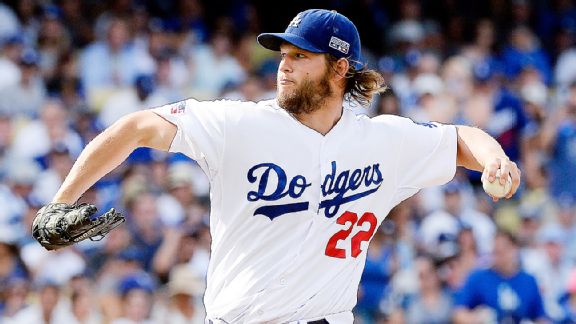 Richard Mackson/USA TODAY SportsClayton Kershaw may not get a chance for redemption.
LOS ANGELES -- A brood of reporters and cameramen waited near the locker of
Clayton Kershaw
, gathered for the expected confessional. With his hair still damp from the shower, Kershaw -- taller than most in the crowd before him -- glanced around the room, in the modestly sized Los Angeles Dodgers clubhouse, and decided to move, probably so he wouldn't inconvenience his teammates any more on this day.
Kershaw walked into the hallway outside the clubhouse and the media horde followed, and after Kershaw backed against a wall and the cameras and iPhones settled in a semicircle around him, he went about the business of dispensing blame.
On himself. Entirely.
It makes no sense that the best pitcher on the planet blew a five-run lead.
To continue reading this article you must be an Insider
July, 1, 2014
7/01/14
8:58
AM ET
Bryce Harper
returned to the Nationals with an attitude,
writes Thomas Boswell
. From his column:
Instead of "Nothing But Natitude," Harper's box could've read, "Nothing But Attitude." The 21-year-old exposed the fissures that have gotten more public between the young star and the Nats. Being back in the Nats' lineup after two months wasn't enough for Harper; he wanted to write the lineup, too.

Manager Matt Williams put Ryan Zimmerman at third base, Anthony Rendon at second base, Harper in left field and benched Danny Espinosa. He also batted Harper sixth, exiled from the glamorous heart-of-the-order spots. Harper disagreed, on all fronts, and said so several hours before the game.

"I think [Zimmerman] should be playing left. Rendon's a good third baseman. He should be playing third. We've got one of the best second basemen in the league in Danny Espinosa," said Harper. "Of course, we want the best-hitting lineup in there. [But] I think Rendon playing third and Zim playing left is something that would be good for this team. I think that should be what's happening."

This Harper proposal would also put Denard Span on the bench and Harper himself in center field, the position he's politicked for weeks to play.

Williams has talked about daily designer lineups, constantly changing. Harper's suggestion amounts to a fixed lineup -- to his advantage. If Harper were 10 years more established in deeds, not dolls, it'd be audacious to manage a team after being on the DL for more than half of the Nats' previous 193 games. But to do it with one homer halfway into a season?

Anything else? How are those internal lines of communication working?

"I haven't talked to nobody about anything, so I have no clue," said Harper, who frequently mentioned how happy and excited he was to return but never smiled. "I know I'm playing left tonight, via Twitter. So I guess that's where I'm going."

And what about batting sixth?

"I'm in the lineup. That's all that matters. If I had the lineup, it would maybe not be the same. He's got the lineup card. He's got the pen. That's what he's doing," said Harper. "So there's nothing I can do about it. I'm hitting sixth tonight."

So, the manager has three players out of position, the wrong guy benched, Harper batting in the wrong spot and he has to learn about this stuff on Twitter.

"Hopefully, nobody kills themselves trying to get a bobblehead," said Harper, who knows just how central Nationals marketers have made him to the franchise's merchandising identity.
I cannot recall an example of a young major league player doing anything like this.
To continue reading this article you must be an Insider
August, 9, 2013
8/09/13
8:14
AM ET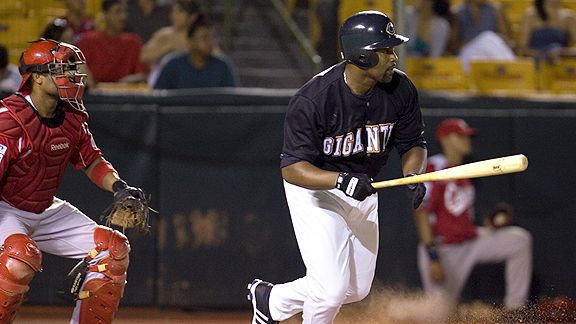 AP Photo/Brennan LinsleyWinter ball has long been a place for vets to prove they still have it, or for players injured during the year to get valuable reps.
Every winter, teams encourage players to go to winter ball to learn, to play, and the vast majority of those who join a team in the Dominican Republic or Venezuela or Mexico or Puerto Rico talk about how much they glean from the experience.
The What-Have-You-Done-For-Me-Lately Factor is not higher anywhere than it is in winter ball, because the teams do not care if you're a former first-round pick or a veteran of 10 years in the majors. If you don't produce, you're going to lose your job during the short and intense season.
Winter ball veterans who grew up in the U.S. or Canada talk about the benefit of being out of your comfort zone, and being forced to adapt to a new culture, as Latin American players do when they first sign with teams in Major League Baseball. But this year, it's not a sure thing that MLB will allow players under its umbrella to participate in winter ball.
Here's the issue: The Caribbean Federation is welcoming Cuba back into its championship series for the first time since 1960, as first
reported back in June
. This is a problem for Major League Baseball, which, like all businesses, is under pressure from the federal government here to not fuel a revenue stream into Cuba.
Under U.S. law, MLB is restricted from entering into any agreement with a league that includes Cuban membership without proper authorization. MLB and the Caribbean Confederation had a meeting about this Wednesday in an effort to reach a new agreement, according to a source with knowledge of the talks. The discussions will continue.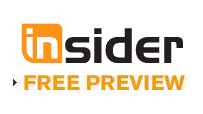 Notables
• The Orioles are said to be the most aggressive in placing waiver claims, which makes sense, given their current position in the standings, with the sixth-best record in the American League. The Orioles trail in the wild-card race by 1 1/2 games, and therefore can control access that any of the teams above them have to players on waivers.
•
Bryce Harper
would have liked to have seen
a little retaliation
after he got drilled the other day.
He was on Comcast and said this:
"I think if I'm the pitcher on my team, I think I'm gonna drill somebody," he said of the lack of retribution on Tuesday. "It's something that's part of the game, you know, yesterday, and it's also something that I think could light a fire for us. But, like I said, we're 14 1/2 games back and we don't need anybody getting ejected or doing anything like that. We got a great team and we gotta push to the end."
• There was a moment in Max Scherzer's start Thursday in which he seemed to lose the strike zone, for just a moment. So he circled behind the mound and took a deep breath and gathered himself, something he didn't always do in past years, when sometimes he couldn't stop an inning from snowballing.
Then Scherzer climbed back up the hill and applied the last bit of wrecking ball to what remained of the Indians. When the series began, it had been possible for the Tigers to be overtaken in the standings, and instead, Detroit buried Cleveland, seven games deep, and the Indians finished the series with
Ryan Raburn
on the mound
.
From ESPN Stats & Information: Scherzer became the first pitcher in Tigers history to be 17-1 after the first 18 decisions and according to the Elias Sports Bureau, the fifth pitcher in MLB history with at least 17 wins in his first 18 decisions of a season. He joins Rube Marquard (1912),
Roger Clemens
(2001), Roy Face (1959) and Don Newcombe (1955). Marquard had 18 wins, the others 17.
Entering Thursday, Scherzer ranked fifth in MLB with 78 strikeouts using his fastball. On Thursday hitters were 1-for-14 against that pitch, but he didn't record a single strikeout with the fastball and his Miss Percentage (3.7) was his the third-lowest since 2009. So how did he have so much success with his go-to pitch? Scherzer used his defense -- his In-Play Percentage of 51.9 was his highest since Aug. 2, 2011. His defense responded by not making an error while he was on the mound and the only hit he gave up via the fastball was a bases-empty, two-out single in the sixth to
Jason Kipnis
on a tough pitch down and away.
• The Indians will hang in there, Terry Francona
said after the game
. They've been awful against the Tigers and really good against the rest of baseball.
The news wasn't all good for the Tigers:
Alex Avila
returned to Detroit for
concussion tests
.
• Meanwhile: The Royals won again, and now are just 1 1/2 games behind the Indians and 4 1/2 games
out of the wild card
.
• Mark Melancon's cut fastball has become a significant weapon, with a late, hard downward break, down and in to left-handed batters -- with so much movement that hitters are mostly flailing at pitches out of the strike zone. Melancon is throwing the pitch about 60 percent of the time, according to Fangraphs, more than
double his use of the pitch in 2012
.
Like
Mariano Rivera
, Melancon can run his cutter in on the hands of left-handed hitters, as
he does on this pitch
. Left-handed batters have posted a .344 OPS against
him this season
, with two extra-base hits in 94 plate appearances.
• The Dodgers: You can't stop them, you can
only hope to contain them
.
Best moves
[+] Enlarge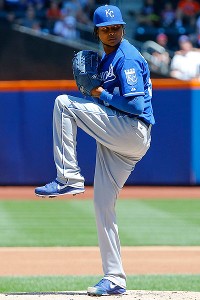 Anthony Gruppuso/USA TODAY SportsThe addition of Ervin Santana has been a coup for the Royals.
Jerry Crasnick has a piece that will post later today about the best moves of the offseason. Here's my Top 10:
1.
The Royals' deal for
Ervin Santana
. At the time, some teams passed on Santana because they thought he was in irretrievable regression, but he has given K.C. exactly what they had hoped to buy.
2.
The Atlanta blockbuster for
Justin Upton
and
Chris Johnson
. Not only did they get the middle-of-the-order slugger they wanted in Upton, but Johnson is leading the league in hitting.
3.
The Orioles re-signed
Nate McLouth
for $2 million. McLouth made this deal happen in the 24th hour.
4.
The Indians' signing of
Scott Kazmir
, who rediscovered his velocity and hard slider.
5.
The Rays' low-budget signing of
James Loney
. They always manage to find one or two gems every year.
6.
The Pirates' signing of
Francisco Liriano
.
7.
The Cubs' signing of
Nate Schierholtz
.
8.
The Tigers' signing of
Matt Tuiasosopo
.
9.
Shawn Kelley
for the Yankees. They made a minor deal for him, and he has been excellent.
10.
Cleveland's acquisition of
Yan Gomes
. They got him, along with
Mike Aviles
, as part of a deal for
Esmil Rogers
, and he has been a real plus for them.
A-Rod
•
Alex Rodriguez
returns
to Yankee Stadium tonight
. He says he's
looking forward to it
.
According to Chris Matcovich of TiqIQ.com, the secondary ticket market for this game has erupted. He notes: On July 31, the average price for Friday's game was $80.14. It has increased 39.94 percent since then to $112.15. Quantity is down 46.78 percent from Monday to about 5,000 tickets available.
The current get-in price is $49 (up 104.17 percent from Monday afternoon, when it was $24). The next-highest get-in price during the weekend series is Saturday, at $26.
It's probably not a good thing for a ballplayer when the New York Times is doing
favorable/unfavorable polls on you
-- and the results for A-Rod are not favorable.
Moves, deals and decisions
1.
Mark Reynolds
just stopped hitting, and he was
cut by the Indians
. Reynolds is owed about $1.7 million by the Indians for the rest of the season, so it's hard to imagine that he would be claimed on waivers.
2.
The Rangers did not come close to making a deal for
Alex Rios
before the trade deadline, so it's hard to imagine they could
get something done now
. The bottom line is this: Other teams see Rios as somewhat overpriced at $12.5 million and weren't willing to give up much in a trade for him, and the White Sox have been looking for solid return. Before the deadline, writes T.R. Sullivan, the White Sox wanted a package of
three players for Rios
-- so it's hard to imagine they'd just give him away now.
3.
Mike Rizzo must soon decide who to pick as a replacement for Davey Johnson, writes Amanda Comak, and
she mentions
that Washington could target
Bo Porter
, who is currently the manager of the Astros. Some of Rizzo's friends in the game believe he will pick
Matt Williams
.
4.
Ruben Amaro is taking a
huge chance
in re-signing
Chase Utley
, writes Bob Brookover.
Two things: First, these are decisions that are made at the highest level of the organization, so whenever we talk about the Phillies' choices, everything -- the good and the bad -- shouldn't be dropped at Amaro's feet alone. And second, the part that I don't get is essentially reinvesting in a team product that has been steadily regressing for two years. As the old saying goes: The definition of insanity is doing the same thing over and over and expecting a different result.
Utley could
earn $75 million
.
5.
The Athletics
claimed
Adam Rosales
, as Susan Slusser writes.
6.
Oakland is injecting
Sonny Gray
into its rotation
.
Dings and dents
1.
Omar Infante
could
be back soon
.
2.
The Cubs lost a reliever for the
rest of the season
.
3.
Rickie Weeks
landed
on the disabled list
. He is under contract for $11 million in 2014, with an option for $11.5 million in 2015.
4.
Tim Wood's comeback
is officially over
.
5.
Andrew McCutchen
is dealing
with some shoulder discomfort
.
6.
Chris Archer
expects
to make
his next start.
7.
An Astros rookie is
set to return
.
Thursday's games
1.
The Cardinals are not faring well in a
series of games
that is testing them, writes Derrick Goold.
2.
Jeff Samardzija
was
hit around
.
3.
For the third straight day, the
Pirates came back to win
.
4.
Dillon Gee
closed
out a sweep
.
5.
Tim Lincecum
had a
great outing
.
AL East
•
Dylan Bundy
says
he feels fine
and is right where he wants to be.
•
Manny Machado
continues to
grow as a player
.
•
Jacoby Ellsbury
is back to pulling the ball
with authority
, writes Brian MacPherson.
• Mike Rutsey asks: What should
the Blue Jays do
with
Adam Lind
?
AL Central
• The Twins want to maximize
their spots
in the Arizona Fall League.
AL West
•
Mike Trout
is unlikely to be
part of the MVP debate
given the Angels' struggles, writes Alden Gonzalez. I'd respectfully disagree and here's why:
Miguel Cabrera
has been dealing with some nagging injuries and if Detroit maintains its sizable lead in the AL Central, he might get more days off than he usually does, giving Trout an opportunity to build a significant statistical advantage.
I believe this, too: If Cabrera hadn't won the Triple Crown last year -- if he had led the AL in hitting and RBIs but not in home runs -- I think Trout would have won the MVP. But once Cabrera became the first player in 45 years to get a Triple Crown, voters looked past Trout's overall statistical advantage.
The same split of opinion among baseball people remains in place, I think -- the folks in uniform think Cabrera is one of the greatest players of all time, while a lot of front-office types believe Trout is the better player, and not by a small margin.
•
Brad Miller
continues to learn
, writes Ryan Divish.
• Without
Nelson Cruz
, the Rangers are
a pitching team now
, writes Gerry Fraley.
NL East
•
Matt Harvey
says his
knee is fine
.
•
Jose Fernandez
was really good, but the rest of the Marlins,
not so much
, as Andre Fernandez writes.
• The Braves are putting
it all together
, writes Mark Bowman.
NL Central
• Mike Matheny's policy
doesn't make sense
, writes Bernie Miklasz.
•
Jonathan Broxton
is excited to be
back with the Reds
.
NL West
•
Randall Delgado
is
on a learning curve
, as Nick Piecoro writes.
• The Rockies
are broken
, writes Mark Kiszla.
• A Padres reliever is having a
breakout season
.
•
Carl Crawford
looks back on his days with the Rays with
some fondness
, writes Marc Topkin.
Other stuff
• The Twins' CEO
is noncommittal
about the future of manager Ron Gardenhire.
• Some Blue Jays put the Latin drug
connection into context
, as Richard Griffin writes.
• It has not been a good summer
for Vanderbilt basketball
.
And today will be better than yesterday.
June, 12, 2013
6/12/13
8:56
AM ET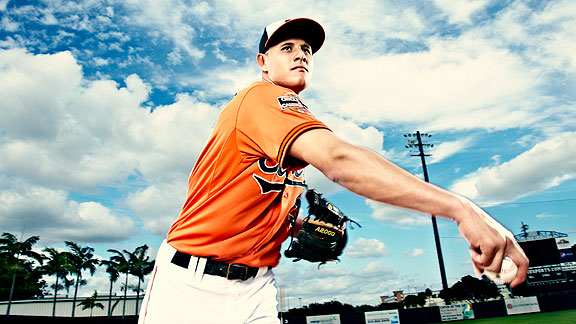 Peter Hapak for ESPNHow high does Machado rank among MLB evaluators? He's clearly in Harper and Trout's category.
One of baseball's most popular debates in the past year has involved two players:
Mike Trout
or
Bryce Harper
?
Harper is perceived to have more power, Trout more speed. Trout is thought to have more range, Harper the better arm.
But it's time that the conversation over the sport's best young player be changed. It must include a third player -- the Orioles'
Manny Machado
. In the year that Harper was drafted No. 1 overall, Machado was chosen two picks later, and the 20-year-old has continued to be overshadowed by Harper and Trout. He arrived in the big leagues a few months after the two last season, and hasn't had the sort of attention that the other two have had.
This season, however, Machado has blossomed, hitting .315 in his first 65 games, with 34 extra-base hits (including 27 doubles) and 41 runs. Already, Machado is regarded as one of baseball's best defenders on the left side of the infield.
I informally polled a bunch of talent evaluators around the sport about how they would rank the three players, and based on their answers, Machado already is viewed as a player comparable to the other two -- and there already is concern over Harper's ability to stay healthy.
Total number of votes: 9. Points are based on 3-2-1 system. Here are the results:
To continue reading this article you must be an Insider
May, 14, 2013
5/14/13
1:36
PM ET
You can count four or five steps on the warning track by
Bryce Harper
before he
crashes into the wall at Dodger Stadium in Monday's game
-- four or five steps on the
warning
track, which is called that for precisely the reason the name implies. Fielders can feel the change in their footing and are able to estimate, without looking down, how close they are to the fence.
So Harper either wasn't cognizant that he had sprinted onto new ground or else, more likely, he simply ignored all the sensory information gathered in his pursuit of A.J. Ellis' long fly ball. Harper collapsed onto the warning track and had to come out of the game and get 11 stitches. He was bleeding all over the place,
his manager said
.
Harper is one of the best young players we have ever seen, and his habit of going all out all the time is why he's fun to watch -- and why the Nationals should be concerned, and probably already are.
To continue reading this article you must be an Insider
April, 13, 2013
4/13/13
9:10
AM ET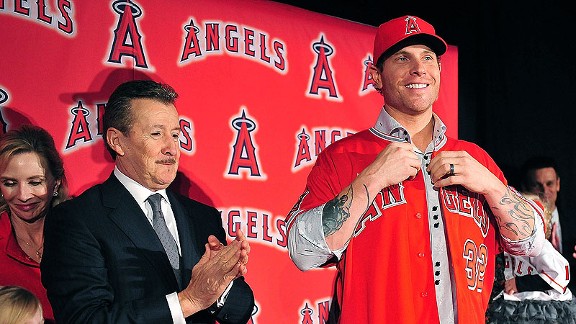 Gary A. Vasquez/USA TODAY SportsDespite signing major free agents such as Josh Hamilton, the Angels are just 2-8 this season.
There's no way an owner would invest as much money in a team as Arte Moreno has in the Angels without reacting strongly to a terrible start. Moreno has spent more than half a billion in payroll since the last time the Angels made the playoffs, and has another
half-billion or so in future commitments
to
Albert Pujols
,
Josh Hamilton
,
C.J. Wilson
and
Jered Weaver
, and so far Moreno's club is among the worst in baseball.
The Angels are already 6 1/2 games behind Oakland in the AL West and are winless in four awful games at home this week, games in which they were outscored 33-11. Friday's game ended with Hamilton forgetting the number of outs with his team down
five
runs, and getting
doubled off of first base
on a
foul ball
. From the
Associated Press story
:
To continue reading this article you must be an Insider