December, 25, 2014
Dec 25
10:11
AM ET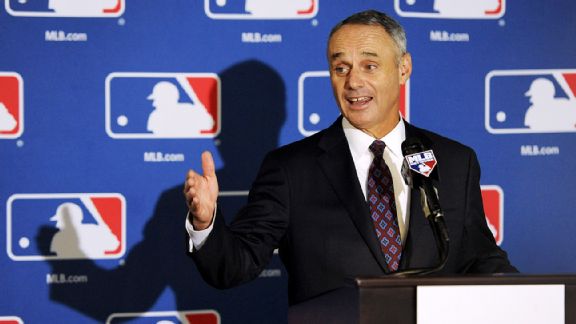 AP Photo/Steve RuarkNew MLB commissioner Rob Manfred has a plan to better market stars nationally.
As 2015 approaches, here are my 10 biggest storylines to watch in the world of baseball.
1. The new commissioner
Rob Manfred can probably relate to Prince Charles somewhat, because he's been waiting patiently for his turn at the throne in recent years. But his time will begin next month, when Bud Selig will follow through on his threat of many years and walk away from the job.
Manfred presumably will get all of the perks of the post, the use of the private jet -- hopefully, its codename is Fastball -- and the staggering salary that all commissioners get these days. We've already gotten a reaffirmation of what matters most to Manfred in recent days, when a new five-year collective bargaining agreement was worked out with the umpires. The current labor agreement with the players' union still has two years remaining before it is set to expire, and if Manfred stays with a proven formula for financial growth in the sport, he'll make the next agreement happen.
But what's next for him?