Red Sox had reasons to say nothing
April, 11, 2014
4/11/14
7:58
AM ET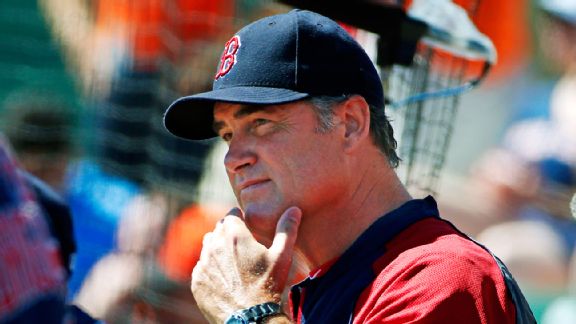 AP Photo/Gene J. PuskarJohn Farrell didn't make any issue of questions about a substance on Michael Pineda's hand.
The Red Sox have been there and done that with the accusations of pitchers using foreign substances, from Clay Buchholz's
shiny forearm
and game-day wet look to the green stuff seemingly
wedged into the leather
of Jon Lester's glove last October. They were probably disinclined to cast any stones at
Michael Pineda
Thursday night, as Pineda pitched the first innings with his right palm
covered by something
that looked an awful lot like leftovers from George Brett's bat three decades ago.
Pineda wasn't alone in substance scrutiny Thursday: An Astros pitcher
sprayed his arms
before his start Thursday, as Evan Drellich writes. At the very least, pitchers should and probably do know that they are being watched in high definition in the way that golfers are being scrutinized for rules violations. This is a pitchers' version of jaywalking in 2014, and while a whole lot of folks may cross the line, they might want to strive for subtlety.
But another reason the Red Sox may have not said much is