Reasons for Wainwright's success
June, 23, 2013
6/23/13
10:42
AM ET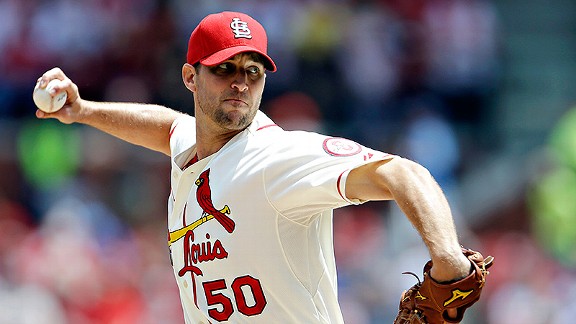 AP Photo/Jeff RobersonAdam Wainwright has a 11.11 strikeout-to-walk ratio, by far the best in baseball.
ST. LOUIS -- Oh sure,
Adam Wainwright
would rather have been on the field in 2011 doing what he loves to do. But he explained on Saturday that while he has always loved baseball, he sort of renewed his vows with the sport that summer as he went through his long recovery from reconstructive elbow surgery.
When the Cardinals were on the road, Wainwright and his wife, Jenny, structured their days around watching the team play, and enjoyed it so much that Jenny told Adam that when his playing days are over, she wants to get the television package that enables them to see all the major league games.
But for Wainwright, that year of watching everybody else play had a practical impact on how he thinks on the mound and how he pitches. He had always had very good command, but since he's come back, his control has been historically great because of a philosophical change that he adopted in his time of reflection.<!—offer-->
Wainwright takes the mound for the Cardinals on "Sunday Night Baseball" (8 ET, ESPN) against the
Texas Rangers
, with more wins (10) this season than walks allowed.
"It's a matter of making an intentional, solid choice to go out there to go out and attack hitters," said Wainwright.
Wainwright grew up in Georgia and liked watching
Russ Ortiz
pitch. Ortiz was a battler, never giving in, never throwing meatball fastballs in hitters' counts; it's a very passive-aggressive way of pitching, and it served Ortiz well in his career.
"In my mind, it was great that he never gave in," said Wainwright. "When he got into a big spot, he knew who was on deck, and he never gave in."
But as Wainwright reflected on that, he said he thought also about how
Chris Carpenter
,
Cliff Lee
and other aggressive strike-throwers went after hitters without any thought of who was on deck.
"What that did for me was put more emphasis on the pitch I was throwing," he said. "I made less mistakes that way. Now I can attack hitters more than I ever have."
That 2011 season, he said, he realized how much he loved baseball when he had it taken from him. So when he and Jenny watched games together, he was an active viewer -- keeping a spiral notebook by his side, jotting down notes and thoughts about what he saw.
"I wanted to know what made pitchers great," he said. "I wanted to know what made Carp great, what made Cliff Lee great, what made
Roy Halladay
great. On the other hand, what could I do better that could take my game to the next level?"
It's happened. Wainwright is in the midst of the best season of his career, with a 2.37 ERA, the best strikeout-to-walk ratio in his career (a staggering 11.11, which, if he carries it out over the full season, will be the
greatest of all time
) and a more efficient approach.
Wainwright's pitches per inning
2005: 15.5
2006: 15.9
2007: 15.7
2008: 14.8
2009: 15.5
2010: 14.6
2012: 15.6
2013: 14.0
The Cardinals need more from Wainwright Sunday night, given that Texas has taken the first two games of this series.
Martin Perez
-- who has been working on controlling his emotions on the mound -- had a
strong start Saturday
.
•
Max Scherzer
has reached a stage in his incredible 2013 season in which every time he has success, he's mingling with legends in his performance.
From ESPN Stats and Information:
Max Scherzer moved to 11-0 on the season Saturday, throwing seven innings of two-run ball to lead the Tigers to a 10-3 win over the Red Sox. He's just the fifth starting pitcher in the past 40 years to start a season 11-0 or better and the first to do it since
Roger Clemens
in 1997. Three of the previous four to start a season like that went on to win the Cy Young Award.
Scherzer struck out six, running his streak of starts with six or more strikeouts to 15. That's the longest streak by any pitcher to begin the season since
Pedro Martinez
and
Randy Johnson
did it in 2000 and tied for the fourth longest in modern baseball history.
From the Elias Sports Bureau, most consecutive starts with at least six K's to begin a season in AL history:
2000 -- Pedro Martinez, 29
2013 -- Max Scherzer, 15 (active streak, includes Saturday)
1999 -- Pedro Martinez, 15
2001 -- Pedro Martinez, 14
From ESPN Stats and Info, how Scherzer beat the Red Sox:
A. After allowing two runs and three hits in the first inning, Scherzer would settle down and allow only three hits the rest of the way. He threw 76 percent fastballs in the first -- and allowed two hits with the pitch -- but threw just 52 percent fastballs the rest of the way (one hit allowed).
B. With seven lefties in the Red Sox lineup, Scherzer threw a career-high 31 percent changeups. He kept 70 percent of his changeups down in the zone, his second-highest percentage this season.
C. Scherzer threw 75 percent of his fastballs on the outer third or further outside, his highest percentage in the last five seasons. All four of his fastball strikeouts came on pitches in that location.
D. Scherzer didn't walk a batter for the third time this season despite going to six three-ball counts. Three of his six strikeouts came with the count full, tied for his most in the last two seasons.
• Drew Sharp thinks Scherzer has won the
right to start the All-Star Game
.
Around the league
• That's 10 straight wins for the Blue Jays,
and counting
.
•
Lance Berkman
, a member of the 2011 Cardinals team that repeatedly ripped the guts out of the Rangers in the greatest World Series of all time, has enjoyed teasing his new Texas teammates about all of that. "To the victors go the spoils," Berkman said with a smile, as part of an interview that we may show on "Sunday Night Baseball." After the on-camera discussion, Berkman detailed his verbal (good-natured) torture of the other Rangers, saying that he has asked them whether the Texas clubhouse was more silent after Game 6 or Game 7.
• On a recent conference call, Dan Shulman posed a really interesting question: If you were thinking about winning only one championship in a given season and had all the players to choose from, would catcher
Yadier Molina
be the first guy you'd take?
The selection would be smart for a few reasons. He hits: He currently leads the NL with a .358 batting average. He directs the defense: The Cardinals' position players credit him with making subtle but pivotal adjustments in the field. And he is widely regarded as the best defensive catcher of his time.
General managers will tell you that of all the deficiencies in defensive metrics, there isn't really a great way to enumerate the work that catchers do. So you look at pieces and parts, and Mark Simon of ESPN Stats and Info dug these out: