Will MLB hold umps accountable?
May, 10, 2013
5/10/13
8:32
AM ET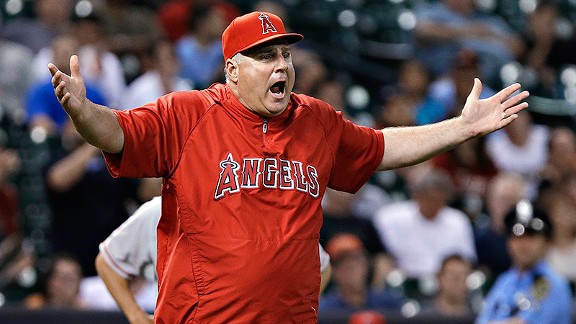 AP Photo/Pat SullivanMike Scioscia was vexed.
The look and tone that Angels manager Mike Scioscia aimed at the umpires in Houston on Thursday night reminded you of a third-grade teacher admonishing students over a paper airplane thrown across the room.
Scioscia's language, however, was a little bit more PG-13 than elementary school.
"You gotta be s------- me," Scioscia said, staring out at the umpires with incredulity.
We still don't know why the umpires allowed Houston manager
Bo Porter
to relieve
Wesley Wright
without the left-hander having faced a single hitter; Fieldin Culbreth would
not give an explanation
for the call that was made, as Alden Gonzalez writes.
Based on what Porter and Scioscia said after the game, the switch did not involve an injury to Wright. It may well be that the umpires botched a basic rule that is used at every level from Little League to the majors. If a pitcher is summoned into a game as a reliever, then Rule 3.05 (b) applies: