The volatility of relief
June, 10, 2011
6/10/11
8:34
AM ET
Mariano Rivera
plays baseball but doesn't watch it much, and he hasn't seen
Jonny Venters
pitch yet. When Venters' name came up in conversation with Rivera the other day, Rivera had a lot of questions -- about Venters' style (understated), about his stuff (a wipeout two-seam fastball that dives), about his attitude (Venters doesn't care whether he starts or closes).
Venters might be the most overpowering reliever in the game today -- as in, June 2011 -- and as the chat about the
Atlanta Braves
left-hander ended, the greatest reliever baseball has ever known smiled a bit and said, "We'll check back in four or five years and see where he is."
[+] Enlarge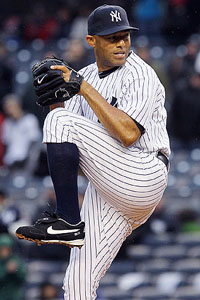 Jim McIsaac/Getty ImagesMariano Rivera understands that for top relievers, longevity can be hard to come by.
It was a telling remark, because Rivera knows, better than anybody, how relievers can flame out, from injury or overuse or confidence abandonment.
Within 24 hours of Rivera's remark, the Yankees learned that
Joba Chamberlain
-- the working definition of a comet reliever, given his first-year success -- will almost certainly require Tommy John surgery. At the end of last year,
Joakim Soria
was the most dominant reliever in the American League and now, just months later, he is working to pick up the pieces of his early season, having lost the closer's job in Kansas City;
he had a shaky inning
but got the save on Thursday.
Brad Lidge
has journeyed from dominant setup man to overpowering closer to demoted to World Series hero to (when he comes off the disabled list) a middle reliever.
So you can understand why Yankees general manager Brian Cashman isn't going to dive into the trade market ready to deal fistfuls of prospects for a
Grant Balfour
or some other veteran. He isn't going to redirect
Phil Hughes
into a bullpen role when he knows he might eventually need the right-hander as a starter, now that he's making progress; Hughes threw 90-92 mph in his work on Thursday. The GM was emphatic in a phone conversation Thursday night that he won't try to rush any of his prized prospects, like Manny Banuelos, into a bullpen role.
No, Cashman will try other solutions, like Kevin Whelan, who is having a strong season in Triple-A with an ERA of 1.67. The GM will hope that
Lance Pendleton
will continue to throw as well as he did in his first outings for the Yankees.
But being conservative only guarantees that assets will be preserved; it's a strategy that doesn't guarantee success. The Yankees went into this season believing they would have an overpowering bullpen in 2011, with
Rafael Soriano
and Chamberlain and
David Robertson
setting up for Rivera. Now Chamberlain is probably out for the year and Soriano might not throw another inning for the Yankees, and the Yanks desperately need bullpen solutions.
With relievers, with bullpens, the volatility doesn't require four or five years to manifest; rather, four or five days.
This could be the end of an aura with Chamberlain,
writes Tyler Kepner
.
• The firing of Oakland manager Bob Geren
wasn't a surprise
, but not just because a lot of his players didn't like him or because the Athletics were off to a terrible start that has been fueled by a wave of injuries to the rotation. Inevitably, there was going to be turnover with the Athletics because the franchise continues to rot day by day.
Eight hundred and two days have passed since the commissioner established a committee to study Oakland's ballpark future, and there is no end in sight. The Athletics don't know where they will be in three years, whether in Oakland or San Jose.
Part of the reason
why Bob Melvin was hired was because he is highly regarded as a professional. Right now, the Athletics are working through this for the here and now, and Melvin will have at least 'til the end of the year to make a case to keep the job. But until the ballpark situation is resolved, the franchise will continue to rot.
Trevor Cahill
got
knocked around
and the White Sox spoiled Melvin's managerial debut.
• Mike Moustakas, another part of the wave of talent that is reaching Kansas City,
was called up
by the Royals after Thursday's game, and he will play tonight. "We were looking for the right time to get him up here," said Royals GM Dayton Moore over the phone on Thursday evening, "and we felt now is the right time to do it. [Manager] Ned [Yost] wanted to get another bat in here, and our people feel like he's ready."
Moustakas struggled at the outset of this year, but even at a time when his overall production was down, the Royals' staff noted that Moustakas had a knack for run production -- he hit well with runners in scoring position and found a way to pile up RBIs. Moustakas started hitting a few weeks ago, and at the time of his promotion, he had a .287 average with 41 RBIs in Triple-A. Given the timing of the promotion, Moore noted, Moustakas will get about 400 at-bats in the big leagues the rest of this season, and like the other rising prospects already in the big leagues, he will have a solid chunk of experience in the majors heading into 2012.
Another star prospect, San Diego's Anthony Rizzo, made his debut and immediately produced for the Padres,
writes Bill Center
. Rizzo contributed right away,
writes Nick Canepa
.
• Knowing
CC Sabathia
, my guess would be that
David Ortiz
getting hit by a pitch in the fourth inning on Thursday was retaliation for
Alex Rodriguez
getting hit in the third inning.
You hit A-Rod, so we're going to drill your hottest hitter, who happens to be the bat-flip guy
.
But in the players' perfect world, all of this would take place without any discussion or dissection or debate from the media, which is why Ortiz (and other Red Sox and Yankees) are angry that it all has drawn a lot of attention;
Ortiz blamed the media
for his getting drilled by a 97 mph fastball from CC Sabathia.
The big picture of this series is that Boston closed out a sweep,
writes Mark Feinsand
.
• Think about these numbers: On the days that Jonny Venters is pitching with zero days of rest (like on Thursday night), opposing hitters are 1-for-40 with 16 strikeouts.
It's almost incomprehensible how good that is.
Venters got the save in relief of
Jair Jurrjens
, as the
Braves finished off a sweep
of the Marlins.
Moves, deals and decisions
1. The scars from the firing of a coach did not heal overnight,
writes Juan Rodriguez
.
2.
Prince Fielder
hasn't been distracted by his impending free agency at all,
as his manager noted
.
3.
Dan Uggla
was
benched again
.
4.
Charlie Blackmon
is
getting a chance
to play.
5. The Phillies
won't make a major move
, says Ruben Amaro.
Dings and dents
1.
Joe Mauer
could be back, and it will be tough for him to battle injury and perception,
writes Jim Souhan
.
2. The Pirates joined the ranks of teams looking for catchers, in the aftermath of the announcement that
Chris Snyder
is
out with a herniated disc
.
3.
Martin Prado
wasn't able to start
because of a knee problem
.
4.
Adam LaRoche
doesn't know
when he'll be able
to play again.
5. Terry Francona expects
Dustin Pedroia
to
play tonight
.
6.
Luke Gregerson
landed
on the disabled list
.
7.
The Tigers expect
to get
Magglio Ordonez
back on Monday.
Thursday's games
1.
Justin Verlander
is putting on quite a show,
writes Michael Rosenberg
. Verlander has made 14 starts this year, and in 13 of those, he's allowed three earned runs or fewer. From ESPN Stats & Information: Verlander pitched eight innings as the Tigers downed the Mariners 4-1. It was Verlander's seventh game this season of 8-plus IP, the most in the majors.
Most games of 8+ IP this season:
Justin Verlander -- 7
Roy Halladay
-- 6
Cole Hamels
-- 5
Kyle Lohse
-- 5
David Price
-- 5
CC Sabathia -- 5
Most games with 10+ strikeouts (since 2009):
Tim Lincecum
-- 18
Jon Lester
-- 14
Cliff Lee
-- 13
Justin Verlander -- 13*
* 10 strikeouts Thursday vs Mariners
How Verlander beat the Mariners:
A) Feel the breeze. Verlander recorded 24 swings and misses against the M's. That is the second-most in a game for any pitcher this season.
Jered Weaver
got 25 against the Blue Jays in April.
B) His breaking ball. On at-bats ending with curveballs, the Mariners were 1-for-10 (.100) with five strikeouts. That is the most curveball strikeouts for Verlander since he had six last Sept. 24. For the season, the opposition is hitting .111 against Verlander's curve.
C) Great starts. Verlander threw eight innings and retired the leadoff hitter in each frame.
2.
Johnny Cueto
was
"the man" for the Reds
.
3. The Diamondbacks won again on Thursday,
with a lot of help
from
Micah Owings
.
Josh Collmenter
, who started Thursday, is enjoying surprise success,
as Doug Haller writes
.
4. A questionable call went against the Rangers,
writes Jeff Wilson
.
5.
Todd Helton
and the Rockies rallied for a badly needed win,
as Jim Armstrong writes
.
6.
Madison Bumgarner
threw well
but lost
.
The Giants need
Pablo Sandoval
back.
7.
Lance Lynn
picked up
his first win
.
8.
Adam Dunn
took
a step forward
, as the White Sox blasted Oakland.
9.
Tyler Colvin
came through for the Cubs,
writes Paul Sullivan
.
10. The Brewers had
a rare hiccup
at home.
11. The Phillies had
one of those nights
.
12. A Mets pitcher stepped up,
as Andy Martino writes
.
13.
Matt Kemp
did his part, again,
but the Dodgers lost
.
14. The Mariners had no answers against a dominant pitcher,
as Geoff Baker writes
.
15.
Ricky Romero
didn't get
any breaks
.
16.
Alexi Casilla
gave the Twins
a chance to frolic
.
The Patience Index