Verlander assists Avila's rise
June, 28, 2011
6/28/11
8:01
AM ET
Alex Avila
's offensive numbers speak for themselves,
Justin Verlander
said Sunday morning, and he's right. Avila is hitting .298 with 10 homers and 42 RBIs, which are easily the best overall numbers of any American League catcher.
[+] Enlarge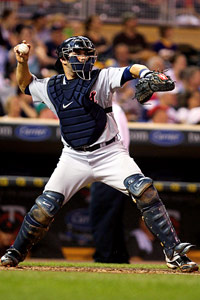 Brace Hemmelgarn/US PresswireAlex Avila's offense speaks for itself, but he's had to improve his work on defense.
But Verlander has been stunned by Avila's improvement defensively, as well. There were times in the past when Avila's inability to block a ball in the dirt has cost Detroit some important runs, Verlander recalled, and earlier this year, Verlander went to Avila and said to him, in so many words: "Hey, I'm not a catcher, but here's something I've noticed."
And Verlander went on to tell Avila that sometimes, when there was a ball in the dirt away from right-handed hitters -- a big pitch for Verlander, of course, because he'll sometimes try to finish off hitters this way -- Avila would sometimes drop his right knee to the ground. From Verlander's perspective, this seemed to lock the catcher into place and restrict his movement in blocking the ball.
Avila listened to the pitcher. "I don't know exactly what he did after that," Verlander said, "whether it was to talk with someone or watch videotape or whatever. But he changed immediately. It's incredible, really, how much better he got right away."
In Verlander's view, this is in keeping with Avila's overall defensive improvement -- how he frames the ball, how he reads hitters, how he calls pitches, how he throws. This goes a long way toward explaining why Verlander has been working hard through Twitter on Avila's behalf to get more All-Star votes;
check out his avatar
, and how many of Verlander's tweets are devoted to lobbying for his catcher.
&#8226 Verlander is off to a great start, and he thinks the biggest difference in how he is pitching is directly related to his fastball command. If he fell behind in the count three or four years ago, he said, he would tend to throw a fastball over the plate and take his chances. But over time, he has gotten more precise with his fastball.
He recalled an at-bat from his start on Saturday, against Arizona -- he fell behind two balls and no strikes to slugger Wily Mo Pena, and with his next pitch, Verlander pumped a fastball at the outer fringe of the strike zone. Pena swung; strike one. Verlander threw the next pitch in the same spot, right on the corner; strike two. Two perfectly placed pitches, and suddenly Verlander was right back in the count at 2-2 -- and he spun a curveball that Pena swung through.
Three or four years ago, Verlander said, that situation might have played out very differently. Because of his improved fastball command, Verlander said, "I feel like I don't have to ever give in to the hitter."
The Tigers won, although
Jim Leyland was ejected
along the way. The Tigers are
surviving the grind
.
&#8226 The Dodgers were responsible for Major League Baseball's greatest moment -- when Jackie Robinson had the courage to break the color barrier, after some careful thought and planning by Branch Rickey.
But now the Dodgers, a crown-jewel franchise, have filed for bankruptcy, which seems almost incomprehensible, considering the stature and the wealth that the team had in the past. Frank McCourt has made such a mess of this that in his filing on Monday, he revealed the salary of Vin Scully, the team's longstanding broadcaster and monument to dignity.
This represents rock bottom for McCourt's ownership, because short of Dodger Stadium being lit on fire for insurance purposes, it cannot get worse than Monday's turn of events, which ranks among the 10 worst chapters in Major League Baseball history.
Baseball's half-century of segregation would be its worst; the 1919 Black Sox scandal and the Pete Rose episode would be in the bottom 10. The steroid scandal would have to make a bottom 10, as would collusion, the clumsily arranged and executed plan to tamp down players' salaries. The loss of the last seven weeks of the 1994 regular season and the cancellation of that year's World Series, because of labor strife, would be in the bottom 10.
The Dodgers' current situation would rank somewhere around 9 or 10. The Dodgers have long been a lighthouse franchise for baseball, showing the way -- in the issue of race, for sure, but also in business and in player development, in the marketing of a franchise and a ballpark. And now the team has been swallowed up by Frank McCourt.
Commissioner Bud Selig would probably admit that allowing McCourt to join the club of baseball owners was a major mistake, and the sport is paying for that mistake, but the gross failures of administration and gluttony belong to McCourt.
Soon enough, McCourt's time as the Dodgers' owner will pass, and the franchise will be righted -- because,
as Bill Plaschke writes
, in the end, McCourt has nothing, but the Dodgers have it all.
The Dodgers' situation is closer to resolution,
as Bill Shaikin writes
.
McCourt is asking a judge to override MLB rules. McCourt is going down a road
few franchise owners have gone before
.
Here's some reaction to the Dodgers' filing, through
the Los Angeles Times
.
McCourt has dragged Scully into this,
writes Tom Hoffarth
.
Meanwhile, the Dodgers crushed the Twins 15-0. From ESPN Stats & Info, some notes on the blowout: The
Los Angeles Dodgers
had 25 hits, tying the team record for the most hits since the franchise moved to L.A. in 1958 (also had 25 versus the Angels on May 19, 2006).
Matt Kemp
,
Tony Gwynn
Jr. and
Trent Oeltjen
each had four hits, the 14th time in the live-ball era the Dodgers have had that happen and first time since July 26, 2002, versus San Francisco.
The Dodgers' 25 hits were more than they had in their previous three games combined (23).