Cliff Lee headlines calm all-stars
June, 29, 2011
6/29/11
8:14
AM ET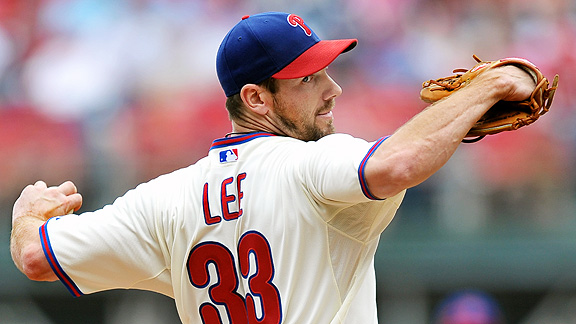 Drew Hallowell/Getty Images)Cliff Lee is as calm as it gets.
What anyone who knows
Cliff Lee
will tell you is that he is crazy-competitive, the sort of person who
must
win whether he's playing cards or basketball or ping pong, or if he's pitching.
What's strange about all that is that Lee
never
looks exercised, never looks as though he's overcome by anger or adrenaline or competitiveness.
Jake Peavy
is competitive, too, but he is constantly screaming at himself or commenting on the game situation, every emotion betrayed by his face.
CC Sabathia
mostly contains his feelings, but he'll pump his fist and scream in a big spot.
Lee? Nothing. You get more emotion from a statue. You see more expression from a Buckingham Palace guard.
The Phillies left-hander has a scoreless streak of 32 innings after
shutting down the Red Sox
on Tuesday, and other than the sprint he takes off the field at the end of every inning, Lee manages to look as though he's doing something as mundane as taking out the garbage or raking leaves.
Which got me to thinking while we're all making our choices for All-Star teams: Who would be part of the All-Calm Team? These are guys who are good at what they do but don't show a whole lot of emotion in celebration or in frustration.
This would be my version of what we'll call the All-
John Olerud
Team:
SP: Cliff Lee
Closer:
Mariano Rivera
C:
Joe Mauer
1B:
Adrian Gonzalez
(Watch him field tough grounders or make throws; he
never
rushes.)
2B:
Robinson Cano
SS:
Stephen Drew
3B:
Placido Polanco
OF:
Martin Prado
OF:
Nick Markakis
OF:
Andrew McCutchen
For the readers: Name your All-Calm Team (never to be confused with the All-Don't Care Team).
From ESPN Stats & Information, some notes on how Lee dominated the Red Sox:
A. Lee continues to mix up his pitches on the first pitch. Although that results in fewer first-pitch strikes, he hasn't been hit hard on the first pitch this month. Lee threw first-pitch fastballs to 15 of 29 batters (51.7 percent), below his season average of 62.6 percent but right in line with his June average of 52.0 percent.
B. Lee is getting fewer swings and giving up fewer hits on the first pitch. Tuesday, the Red Sox swung at the first pitch just three times, the fewest times against Lee in the past three seasons. The Red Sox put the first pitch in play just once, a
Dustin Pedroia
first-inning groundout.
C. Red Sox hitters were 0-for-8 in at-bats ending with a Lee off-speed pitch, the most such at-bats without allowing a hit for him this season. Thirty-four of Lee's 112 pitches (30.4 percent) were off-speed, his fourth-highest percentage this season. He got nine called strikes with his off-speed pitches, his most this season, and his strike percentage of 70.6 with his off-speed pitches is his highest this month.
D. Lee finishes the month of June with a 5-0 record, allowing just one run for a 0.21 ERA.
Lee became the first pitcher to throw three straight shutouts since
Brandon Webb
in 2007 and joined Robin Roberts (July 1950) as the only Phillies pitchers in the live ball era (since 1920) with three consecutive shutouts. With the shutout, Lee's scoreless streak has now reached 32 innings.
Most consecutive shutouts by left-handed pitchers in the past 30 years:
2011 -- Cliff Lee, Phillies (3)
1994 --
Randy Johnson
, Mariners (3)
1987 -- Teddy Higuera, Brewers (3)
1985 -- John Tudor, Cardinals (3)
1981 -- Fernando Valenzuela, Dodgers (3)