The big hurdle in Cliff Lee trades
July, 31, 2012
7/31/12
8:31
AM ET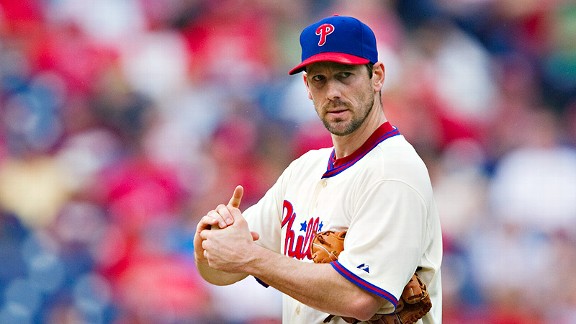 Howard Smith/US PresswireThe Phillies could find a trade partner for Cliff Lee, but they would have to eat a lot of salary.
As someone noted on Twitter on Monday, the Phillies' relationship with
Cliff Lee
has been like Ross and Rachel, or like something out of "90210." They get together; they break up; they get back together again; they break up.
To review: The
Philadelphia Phillies
made an aggressive trade to add Lee during the 2009 season, sending prospects to the
Cleveland Indians
to get him.
Then, that winter, after the Phillies came to believe that Lee wouldn't sign a reasonable long-term deal with them, they made an aggressive trade to get rid of him -- swapping him to the
Seattle Mariners
before speaking with the
Boston Red Sox
,
New York Yankees
and other possible bidders. (None of the prospects the Phillies got in that deal have made a dent in the big leagues.)
Just one year later, in December 2010, the Phillies made another aggressive move to get Lee, giving him the second-highest annual salary ever for a starting pitcher as part of a five-year, $120 million deal. General manager Ruben Amaro told reporters he should've never let Lee get away.
But a year and a half later, as the Phillies deal with the squeeze caused by their collection of massive contracts, they are looking to move Lee to get some financial relief, and their level of investment in the left-hander has become the biggest hurdle to a breakup.
The Phillies' talks with the
Texas Rangers
on Monday broke down because of what they wanted from Texas -- presumably third baseman Mike Olt and others -- and because they weren't offering much salary relief.
Over the next three years, Lee will be the highest-paid player in the majors. He's owed about $10 million for the rest of this year and $87.5 million for 2013-15, including a staggering $12.5 million buyout of an option in 2016.
Lee, 33, is 1-6 with a 3.95 ERA, but evaluators believe that he's a better pitcher than he's shown, and there is interest in him. The question Tuesday, in the last hours leading up to the trade deadline, is whether the Phillies can cope with the cost of a divorce.
For example: Lee could fit other teams on paper, such as the
Arizona Diamondbacks
or
St. Louis Cardinals
, but Lee's $25 million salary would represent about one-third of the Diamondbacks' $75 million payroll. The Phillies presumably would have to eat a heaping helping of what Lee is owed to make a deal work.
Maybe that will happen Tuesday, or maybe not. The Phillies have been desperate to shed dollars, to get some kind of payroll relief. They are a wealthy franchise with lots of fan interest and an enormous TV contract on the horizon, but the Phillies, like the Yankees and Red Sox, are scraping against the ceiling of the luxury-tax cap, and there is a lot of pressure within the sport to paint between the lines.
All of this is creating another episode in the always interesting relationship between Lee and the Phillies.
The Phillies put up the
For Sale sign
, writes David Murphy. The Phillies are
moving players
, writes Jim Salisbury.
The Phillies are aiming to get a
specific prospect
in their trade talks for
Joe Blanton
. It's hard to imagine any reason the
Baltimore Orioles
would give up a young player they liked for any starting pitcher right now; plenty of second-tier starters are available.
Money could be
an issue
, writes Dan Connolly.
Trade talk
• The
Atlanta Braves
have set themselves up to be one of the big trade deadline winners, dealing for
Paul Maholm
and
Reed Johnson
. Maholm is throwing really well right now, and he has an affordable $6.5 million option for 2013, and Johnson is a solid veteran with strong platoon numbers; Johnson has an .891 OPS versus
lefties
.
Maholm in
Turner Field
: five career starts, 32 innings, one homer allowed, 1.69 ERA. The pickups were a
perfect fit
, Frank Wren said. The Braves' trade is a
really good one
, writes Mark Bradley.
• The Rangers
landed
Geovany Soto
on a day when
Roy Oswalt
was
hammered
. Texas has just hours left to add pitching.
• The
Chicago Cubs
made two deals and
could make more
.
Ryan Dempster
thinks he could be next to go and
says there's no friction
between him and the team. Of course there is; Dempster and the Cubs haven't seen eye to eye about his situation.
• The Mariners made a
couple of trades
.
• The
Los Angeles Dodgers
continue to load up and
added another pitcher
.
• The
Pittsburgh Pirates
traded for a young, controllable
outfielder
.
• The Red Sox could be
buyers and sellers
.
Ryan Sweeney
, who had been among the players the Red Sox were talking about trading, hurt his hand
punching a door
.
Josh Beckett
had nothing for reporters, as they delved into the
trade talks about him
.
•
Scott Hairston
, the target of a lot of interest, had a
good day
. You have to wonder if the
San Francisco Giants
will make a move for Hairston.
• The Indians are looking at
2013 and beyond
as they make trades.
• The
Toronto Blue Jays
traded a couple of outfielders
for pitching
.
•
Kansas City Royals
general manager Dayton Moore tends to make deals right
before the deadline
, Bob Dutton writes.
• The Cardinals haven't found
the right fit
.
• The
Tampa Bay Rays
are unlikely to
make major moves
, writes Marc Topkin. They continue to be encouraged by
Evan Longoria
's
progress
.
•
Matt Reynolds
and
Rafael Betancourt
continue to
draw interest
from other teams.
• This would not be a good time for the Giants to
make a panic trade
, writes Tim Kawakami.
• The
Cincinnati Reds
don't need to
make a trade
, writes Paul Daugherty. It would make sense for them to add a left-handed hitter, such as
Juan Pierre
or
Lyle Overbay
, who was
designated for assignment
by Arizona.
Elsewhere
•
Mike Trout
has reached base 149 times in 80 games and has scored 78 runs.
Kendrys Morales
hit a couple of homers in
the same inning
.