What to do with Ubaldo Jimenez?
July, 30, 2011
7/30/11
10:16
AM ET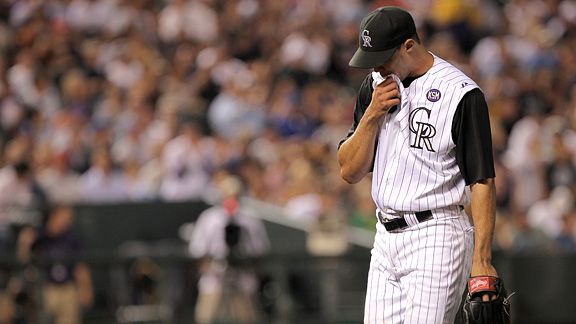 Doug Pensinger/Getty ImagesRockies ace Ubaldo Jimenez might be out of Denver soon.
The interest in
Ubaldo Jimenez
is divided into two camps. There's the group of teams that views him through a glass-half-full prism: It values his overall talent, his window of dominance in 2010, his improved performances this season and his reputation for being a first-rate person. These teams are satisfied that he's healthy and are ready to make a deal for a player with a very team-friendly contract. The Tigers and Reds are among those teams.
Then there are teams that view him through a glass-half-empty prism: They see the diminished velocity and the overall dip in command and performance this year, and they wonder why Colorado -- a small-market/mid-market team -- would be willing to move a pitcher who is theoretically a No. 1 starter-type talent who has a tremendous risk-free contract. These teams are probably not going to step up and make a deal for Jimenez in the last hours before the trade deadline.
The Rockies are in a strange place today, which other teams consider to be pivotal in the Jimenez talks. If Colorado maintains its very high asking price for the pitcher, it may have difficulty making a deal. If the Rockies lower their asking price, this will serve as confirmation for some teams that Colorado is intent on moving the pitcher as soon as possible, rather than waiting until the offseason for a deal.
To review, Jimenez's numbers: 6-9, 4.20 ERA in 2011, after going 19-8, 2.88 in 2010. His month-by-month ERA this year:
April 6.75
May 5.45
June 2.45
July 3.77
In the thin air of Colorado this year, he has posted a 5.55 ERA, but
on the road
, his numbers are much better, with a 2.83 ERA. He ranks 84th among 110 pitchers in batting average on balls in play,
at .298
, which suggests he's been unlucky; last year, he ranked 12th, at .255.
His contract almost couldn't be more attractive for a team looking to acquire an experienced front-line starting pitcher: He's making just $2.8 million this year, $4.2 million in 2012, and he has a team option for $5.75 million in 2013. A 2014 team option for $8 million goes away if he is traded.
There is a perception among other teams that Detroit is desperate to deal for another high-end starter, given the struggles of
Brad Penny
(opponents have an OPS of .900 against him).
Jimenez would fit the Reds' restructured priorities; Cincinnati is trying to improve the team for 2011, but in light of the Reds' slide this week, any major acquisition would have to be able to help in 2012 and maybe beyond. The Reds are looking for a starting pitcher and a leadoff hitter, which is why they've been talking to the
Houston Astros
about
Michael Bourn
.
• The question of Jimenez's future is hanging
over the Rockies
, writes Troy Renck.
Pondering Pence
• Rival officials peg
Hunter Pence
's arbitration awards at about $10 million and $14-15 million over the next two years, which is why his trade value was never going to be higher than it is right now, and why it was the right move for the Astros to trade the outfielder now for a couple of high-end prospects.
And from the Phillies' perspective, Pence makes the Phillies better now, giving them the veteran right-handed hitter Charlie Manuel has pined for since spring training. Pence is a high-energy-type person, and it will be interesting to see whether his transition to the Phillies will be smooth -- certainly, he'll be surrounded by better and more experienced players -- or whether he'll have to cope with some anxiety, given the pressures of the situation. Some other teams had pegged Pence as someone not worth the price; we'll see.
The Phillies rounded out their club with the addition of Pence, writes
Jim Salisbury
. Philadelphia kept
Domonic Brown
, as
Jay Greenberg
writes. This was the Phillies' latest buzzer-beater, as
Paul Hagen
writes.
Pence was emotional after getting word of the deal, as
Zachary Levine
writes.
From ESPN Stats & Info: How does Pence help the Phillies? For starters, he hits right-handed, and the Phils have struggled with lefties all season.
He also has four Defensive Runs Saved this season, better than either of the Phillies' corner outfielders: Brown minus-3 and
Raul Ibanez
minus-15.