Andrew Friedman faces a tough decision
August, 21, 2011
8/21/11
9:14
AM ET
Yankees general manager Brian Cashman once aptly compared his work to that of Sisyphus, the king doomed to constantly push a boulder up a hill, only to see it roll back down. Year after year, Cashman and Boston general manager Theo Epstein are now expected to construct teams with the ability to win a championship.
But they have the tools to do it. It's as if the
Boston Red Sox
and
New York Yankees
have bulldozers, while
Tampa Bay Rays
general manager Andrew Friedman is working with a shovel. You couldn't blame him if he began to suffer from American League East fatigue, trying to squeeze production out of every nickel of his payroll, while knowing that the Yankees and Red Sox will always have the wherewithal to paper over mistakes with dollars.
[+] Enlarge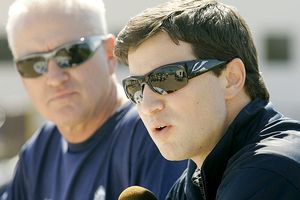 AP Photo/Steven SenneAndrew Friedman may leave the Tampa Bay Rays.
Friedman and those who work with him have probably done their jobs as well or better than any organization in the majors over the past five years, and yet most years, the odds are that Tampa Bay will be exactly where they are today: They are good, but not great enough to keep up with two division rivals that have staggering resources. And no matter how well the Rays develop players and run their finances, they will almost never retain their best players if they reach free agency.
Friedman, then, will have interesting choices this offseason, when he presumably will be offered the opportunity to take over the baseball operations of the
Houston Astros
, and perhaps the chance to run the
Chicago Cubs
.
With the Rays, he works among people he has come to know and trust, among people who know and trust him, the kind of work environment that nobody should take for granted. On the other hand, he does his work knowing that he can do everything perfectly within his means -- picking the best available players and maximizing value -- and the Rays may still finish a dozen games out of first place most seasons, well into the future. Because right now, Tampa Bay has roughly the same chance of getting a new ballpark as the U.S. has of balancing its budget. It's not close.
If Friedman goes to Houston, he would be reconstructing the Astros almost from the ground up. If he went to the Cubs, he would be taking on a franchise that hasn't won a championship in more than a century.
But from Friedman's point of view, leaving the AL East would be like going from the final table at the World Series of Poker to a neighborhood card game. There are no monster payrolls to contend with; in fact, if Friedman were to become GM of the Chicago Cubs,
he
would be the guy with the big stack of chips in front of him. The Pirates are improving, but they're still limited, and the Cardinals' budget may never go beyond $110 million. The Brewers are going to draw 3 million this season, to their great credit, but owner Mark Attanasio does have limits to how far he'll take his payroll, and rightly so; he bid aggressively on
CC Sabathia
and still was outbid by about 40 percent.
The 2011 payrolls for the NL Central teams in April, according to The Associated Press, and their respective rankings among the 30 teams:
Chicago Cubs $125.5 million (sixth)
St. Louis Cardinals
$105.4 million (11th)
Milwaukee Brewers
$85.5 million (17th)
Cincinnati Reds
$76.2 million (19th)
Houston Astros $70.7 million (20th)
Pittsburgh Pirates
$46 million (27th)
What Friedman will have to consider, too, is that this could be the best time for him to move. Right now, he is to baseball what Bill Belichick was to football in 2002. Nobody knows what could change in five years. Friedman may never again have the opportunity to take over the Astros, his hometown team. He may never again have the chance to pursue a chance like the one he would get with the Cubs -- a franchise with more than a century of history, excellent resources and a fan base prepared to bestow sainthood upon the executive who leads the next Cubs world championship victory parade.
A decade ago, Billy Beane -- who would also make sense as a candidate to run the Cubs now -- was in a similar situation that Friedman is in now, passing up the chance to take over the Red Sox. Beane made his choice for personal reasons, to remain close to his daughter from his first marriage, and he has no regret over that decision.
But almost a decade later, Beane is working in a place where he may never have a chance to win, in a bad ballpark, for an owner he really likes and respects in Lew Wolff.
Pat Gillick, Beane, Epstein, Cashman and Friedman all got into baseball because they love the sport -- but also because they are highly competitive people. And in the coming weeks, Friedman must ask himself how important it will be to him to consistently compete on a relatively level playing field in the years ahead.
If that's something he really wants, his best opportunity to leave Tampa Bay could be right now.
Friedman's candidacy has been
endorsed
by
Matt Garza
.
The comments by Tom Ricketts would seem to
rule out
assistant GMs from consideration, writes Dave van Dyck.
The Cubs want to have a GM in place by Oct. 1 to begin the offseason, and keep in mind that Cashman's contract does not expire until Oct. 31.
• The Cardinals hit into a couple of more
double plays
Saturday in their loss to the Cubs, bringing their season total to a whopping 136, or about 40 percent higher than that of any other National League team; they're currently on pace to hit into 174 double plays this season, which would shatter the NL record. From Katie Sharp of ESPN Stats & Info, the most DP groundouts in National League history (a statistic that wasn't kept until 1933):
As Katie notes: St. Louis is actually on pace to match the MLB record, which is 174 by the 1990 Red Sox (records only go back to 1939 for AL).
•
A.J. Burnett
said something
as he left Saturday's game, and the questions about this really irked Joe Girardi, as David Waldstein writes.
I'm not sure how it helps Girardi to handle this in the way that he did; the cover up is always worse than the crime. Burnett confirmed that Girardi wondered if the profanity he said was directed at him; the Yankees manager had the same exact same question that reporters asked.
Burnett was
terrible again
, Mark Feinsand writes.
Girardi
can't let
Burnett off the hook after his latest outburst. From Bob Klapisch's story:
The manager and Burnett stuck to an absurd story they'd cooked up, claiming the blow-up was rooted in a close pitch to Joe Mauer that wasn't called a strike. No one bought it, not even the YES announcers. Ken Singleton, following what he called the "old-school" code of conduct, stated the obvious: Burnett showed up his manager in front of millions of viewers.
Moves, deals and decisions
1. Dave Duncan left the Cardinals for personal reasons, as mentioned
within this piece
;
Shelley Duncan
left the Indians under the
same circumstances
, as mentioned within this Paul Hoynes notebook.
2. In the aftermath of the
Jose Tabata
signing, Pirates owner Bob Nutting says the time is right for
long-term deals
, Rob Biertempfel writes.
3. Skip Schumaker's future with the Cardinals is
unclear
.
4.
Shelby Miller
was suspended for a
violation
of team policy.
5.
Jim Thome
could be headed
back to the Phillies
, writes Larry Stone.
Dings and dents
1.
Drew Pomeranz
needed an
appendectomy
just three days after he joined the Rockies' organization, Troy Renck writes.
2.
Brian Wilson
is headed to the disabled list, Andrew Baggarly writes within
this notebook
.
3.
Carlos Quentin
was
hurt
in the White Sox's victory Saturday.
4. Bryce Harper is likely
done for the season
, Adam Kilgore writes.
5.
Adam LaRoche
has been watching a lot of games
on TV
.
6.
Alex Rodriguez
expects to
play
.
Saturday's games
1. What
Brandon Inge
has done in recent weeks is one of the coolest things we'll see in baseball this year: A veteran goes back to the minors willingly, in an effort to get better, and when he comes back, he
helps right away
. Time will tell if it sticks; Detroit has a 3.5-game lead.
2.
David Huff
and the Indians
got blasted
.
3. The Giants scored some runs, and
still lost
, John Shea writes; that's 16 losses in their past 22 games.
4.
Roy Oswalt
shut down
the Nationals. From ESPN Stats and Info, how Oswalt beat Washington:
A.
Oswalt had his longest start of the year thanks to the velocity on his fastball. Oswalt finished with six of nine strikeouts coming on his fastball (most this season), which he threw for the highest average velocity since the start of the season. As a result, the Nationals missed on 12 swings against Oswalt's fastball, the most he has generated all season.
B.
Oswalt was able to successfully change the eye level of the Nationals' lefty hitters and get them to chase. Oswalt threw 18 pitches in the upper-third to lefties, generating 12 strikes, despite throwing only six of those 18 in the strike zone. Five of Oswalt's strikeouts came on high pitches to lefties.
C.
Oswalt threw 82 of his 115 pitches for strikes (71 percent). It's the eighth time since joining the Phillies that he has thrown over 70 percent of his pitches for strikes. The Phillies are 5-3 when Oswalt meets this mark, with two of the losses coming by one run.
5. The Braves almost certainly are not going to catch the Phillies in the standings, but they are
playing well
:
Dan Uggla
had a big day in backing
Brandon Beachy
.
6. The Mets had a
tough day
.
7.
Kevin Gregg
had a really, really
bad day
, Jeff Zrebiec writes.
8. Saw the Cubs-Cardinals game on Saturday and thought Mike Quade had one of the better managerial moments of the season. Matt Garza got very frustrated right away with the strike zone of Laz Diaz -- in the very first inning -- and with a runner on base and one out and a 3-0 count on
Albert Pujols
, Quade ordered the intentional pass of Pujols. When Garza got the sign for the intentional walk, he stomped behind the mound in frustration. Then, after delivering the pitch, he shot a glance into the dugout, and slammed a resin bag to the ground in frustration. Garza then walked
Lance Berkman
to load the bases, and Quade walked out of the dugout to visit the mound -- and while watching, it seemed like it had the possibility of a blowup. But Quade reached the mound with a smile, appeared to make some sort of joke, and calmed the situation rather than respond to Garza's anger. The Cubs pitcher got a double-play grounder to get out of the inning, and he dominated thereafter, in one of his best outings of the season. From ESPN Stats and Info, how Garza won:
A.
Garza varied location well using his fastball, throwing it for 57 of his 110 pitches. He threw 29 fastballs in the zone, but he threw it in the zone only three times in a hitters' count. The Cardinals chased 13 fastballs outside the strike zone, the most chases that he has gotten on the pitch since Opening Day (15 against the Pirates).
B.
Garza was able to use his fastball effectively inside to righties, with velocity. His fastball's average speed inside to righties was 94.9 mph. He threw only 15 inside fastballs to righties, but 13 were in the zone. He did not allow a hit and registered three of his eight strikeouts.
C.
Interestingly, Garza pitched a lot from the set, throwing 51 pitches with runners on base (1 H, 3 K), the most he has had with runners on dating back to June 11. His previous high for pitches with runners on in a win was 43 on May 11, also a home game against the Cardinals.
9.
Wade Miley
got pounded and the
Diamondbacks lost
.
10.
Aroldis Chapman
struggled
against the Pirates.
11.
Tim Wakefield
again
missed out
on his 200th victory, after the bullpen surrendered a lead.
12.
Jeremy Hellickson
shut down
the Mariners.
13. The Royals had a really
big inning
, Bob Dutton writes.
14.
Dexter Fowler
redeemed himself
.
15. The Rangers
lost it late
with
Koji Uehara
on the mound.
16. An Astros rookie ran through a stop sign, and
it paid off
.
17. Offense was a
problem again
for the Jays, writes Mark Zwolinski.
18.
Gio Gonzalez
snapped a
losing streak
, writes Steve Kroner.
19. The Padres
crushed the Marlins
, again.
20. The Twins piled up a
lot of runs
early.
Other stuff
• The debate on the HGH issue is bound to
get testy
, writes Nick Cafardo.
• Joe Maddon wants his players to
show up later
for home games, Marc Topkin writes.
•
Brett Lawrie
is
Mr. Intensity
.
• The Pirates have been able to capitalize on a system that
doesn't involve slotting
, Michael Sanserino writes.
• The Mets' ownership
traded barbs
with the Madoff trustee.
•
Miguel Montero
has been
throwing out runners
, Nick Piecoro writes.
•
Carl Crawford
is too good to stay
this bad
for too long, writes Nick Cafardo.
• The Mariners' farm system is
showing promise
, writes Larry Stone.
•
Nick Masset
hasn't been
himself this season
. In fairness to the right-hander, he has been asked to pitch in a whole lot of games this year.
•
Craig Kimbrel
threw
100 mph
the other day.
• Fifty years later, Roger Maris' 61 homers
look even better
, writes George Vecsey.
• Today, the Padres will retire the No. 51 of
Trevor Hoffman
. And in five years, he'll be inducted into the Hall of Fame, presumably. It's
Trevor Time
, as Nick Canepa writes.
And today will be better than yesterday.