FA market deeper than just Prince, Pujols
September, 25, 2011
9/25/11
8:42
AM ET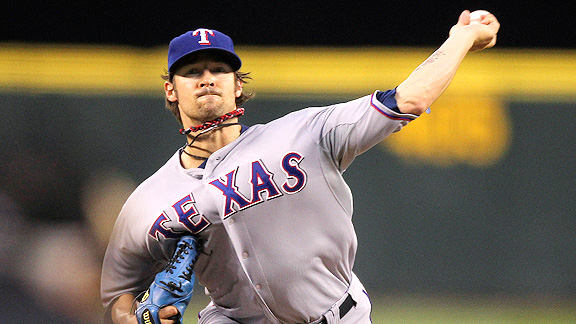 Otto Greule Jr/Getty ImagesC.J. Wilson won't earn Pujols money in free agency, but he will have plenty of rich options.
Albert Pujols
is going to make a lot of money in free agency this winter, and so will
Prince Fielder
, but neither is going to be getting a high volume of phone calls. They are like the mansions on the mountain, out of the price range for many potential buyers.
But there are others in the free-agent class who will be generating a lot of interest, either because of their unique position in the market or because of their skill set.
1. C.J. Wilson, Texas Rangers
We'll probably know very soon after the
New York Yankees
' season ends whether
CC Sabathia
is going to opt out of his contract, but if he doesn't, Wilson will be regarded as the best experienced starting pitcher on the market place (Yu Darvish has won over scouts who have seen him in Japan, but he's in a separate category because of the nature of the bidding process).
The Rangers will attempt to re-sign Wilson, but they might have to compete against many clubs, from the
Washington Nationals
(who might be one frontline starter from being serious contenders for a playoff spot) to the
Chicago Cubs
(who have about $50 million coming off their books) to the Yankees,
Boston Red Sox
,
Los Angeles Dodgers
,
Detroit Tigers
, etc. No potential free agent is in a better position for leverage than Wilson.
2. Joel Peralta, Tampa Bay Rays
Need to rehabilitate your career as a reliever? Just call the Rays, who have a knack for turning journeymen into rich men. Peralta was targeted by Tampa Bay as a bargain-basement project, and he's posted an 0.94 WHIP in 65.2 innings while earning his AL East merit badge this year. Peralta has allowed
one run since Aug. 4
, and in a market that will be thin in serviceable right-handed relievers, he will get paid this winter.
3. Michael Cuddyer, Minnesota Twins
When the Twins veteran turned down an extension offer from Minnesota recently, he raised the hopes of some teams that he'll be willing to play elsewhere -- and if so, there's a lot that rival scouts like about him. First, he's versatile, with the ability to plug holes in the outfield and infield. Second, he's productive, coming off another steady year of power and on-base percentage (18 homers, .347 OBP) -- and in particular, he hammers lefties (.315 average, .411 OBP).
And third, Cuddyer is generally viewed as one of the best leaders in the sport, someone who will set a standard of conduct for younger players. He'd be a perfect fit with the
Toronto Blue Jays
, who could be poised for a 2012 breakout, or with the Red Sox, who worked like crazy to find a right-handed hitter who could complement their outfielders. He'd drop in nicely with the
Milwaukee Brewers
, if they have to identify stopgaps at first base, or with the
St. Louis Cardinals
, if they were to lose Pujols. He'd be an excellent addition for the Yankees,
Atlanta Braves
or the
San Francisco Giants
. Cuddyer probably isn't going to be getting any four-year offers at age 32, but he will have a lot of choices.
4. Jason Kubel, Twins
He's not going to get a massive payday, but teams will look at his home/road splits and attach some of his offensive regression to Target Field, where he posted a .691 OPS this year. Kubel fared much better on the road, with an .821 OPS, and for an AL team (
Baltimore Orioles
?
Cleveland Indians
?) looking for a boost at corner outfield and at DH, Kubel will be an attractive option.
5. Jim Thome, Indians
He hasn't made up his mind whether he wants to play, but if he decides to come back for another one-year deal, he'll have NL teams (like the
Philadelphia Phillies
) lined up to offer him a
Matt Stairs
-like role as a pinch-hitter, and he could have clubs such as the Twins prepared to give him some DH at-bats. He'll have options, if he wants them.
6. Javier Lopez, Giants
Look, nobody is going to go crazy to sign Lopez and offer a
Rafael Soriano
deal. But he has proved himself to be a good matchup lefty, and he has postseason experience, which means that a lot of teams will probably have conversations with his agent. Lefties have hit
.165
against him this season, with one extra-base hit in 91 at-bats, and keep in mind that the Yankees, Red Sox, Rangers, Brewers, Cardinals and other contenders spent a lot of time and energy this summer looking for a matchup lefty.
7. Grady Sizemore, Indians
The Indians haven't decided yet whether they will pick up the $8.5 million option on Sizemore for 2012, and if they don't, you can't blame them. Cleveland had a $50 million payroll in 2011, and Sizemore has played in a total of
210 games
over the past three seasons. In 71 games this year, he's hit .224, with 10 homers and 85 strikeouts in 268 at-bats -- including a .139 average in the month of September.
But Sizemore is like the
Brandon Webb
of pitchers: While he's dealt with a lot of injuries, there is enough of a track record of high-end success that a lot of teams will be intrigued by what he could do at age 29. And if the Indians cut him loose, he'll have opportunities.
Notables
• The stands are loaded with scouts these days, whether they are doing advance work for the postseason or preparing for the transactions of the winter ahead. And rarely does a September call-up generate the kind of response that
Matt Moore
did with his major league debut on Thursday night, when he struck out 11 in five innings against the Yankees.
New York fielded only half of its everyday lineup against Moore, and the Yankees had clinched the night before and may have been sluggish. But Moore had dominant stuff -- including a breaking ball so good that one Yankees veteran said when he went to the plate he looked for the first fastball.
Two scouts said that if the Rays make the playoffs -- and they enter play today 1.5 games behind the Red Sox -- that Tampa Bay should start Moore. "He's one of their four best starters," said one scout. "You can't start [Jeff] Niemann or [Wade] Davis over this guy. It's not even close."
•
Matt Kemp
went 1-for-4 on Saturday. From ESPN Stats and Info: Kemp now trails
Ryan Braun
by six points for the batting title. Assuming he has 20 remaining AB spread over the final four games, he would need 10 hits to pass Braun (assuming Braun remains at .331).
•
AL wild card
The great question for the Red Sox going into their weekend series against the Yankees was whether they had a pitcher throwing well enough to slow New York's lineup. The Yankees are second in the majors in runs and now have been improved by the addition of rookie
Jesus Montero
.
Jon Lester
was hammered Saturday, and today Terry Francona turns to
Tim Wakefield
and
John Lackey
.
Lester was
pulled
in the third inning, Peter Abraham writes. From the story:
Lester emphatically insisted his series of poor starts are not the result of a hidden injury.