Bright minds are next undervalued asset
October, 2, 2011
10/02/11
9:14
AM ET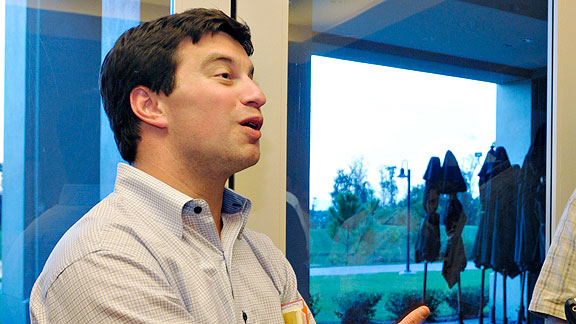 AP Photo/Phelan M. EbenhackRays GM Andrew Friedman could be some team's most important offseason acquisition.
Set aside the events of the past week and consider this question: As the
Boston Red Sox
rose to power over the past decade, winning two championships and filling Fenway Park consistently with folks eating hot dogs and drinking beer while they sing "Sweet Caroline," who have been the 10 most valuable assets, the leaders in per-dollar production?
David Ortiz
, an elite run-producer and popular player, would have to be on that list someplace, and so would
Dustin Pedroia
and
Kevin Youkilis
.
Curt Schilling
made $52.5 million in his four seasons with the Red Sox and helped end an 86-year drought by pitching on a surgically repaired ankle, so he'd probably rank in the top 10, as would
Josh Beckett
, who was pivotal to the 2007 championship.
But the leader in per-dollar production for John Henry over the past decade, the person responsible for generating the most money relative to his salary, would be general manager Theo Epstein, who might've made less in his decade of service than
Carl Crawford
did in 2011 and has helped to generate hundreds of millions of dollars in profit.
"Theo turned around their baseball operations, and it changed everything for that franchise," a rival GM said.
The same could be said for the hiring of Pat Gillick by the
Philadelphia Phillies
, who went from a good, sturdy franchise into a financial superpower that is in position to afford a rotation that includes
Roy Halladay
,
Cliff Lee
,
Cole Hamels
and
Roy Oswalt
.
A really smart executive recently said that he thinks the greatest market efficiency in baseball currently is in the front office. "If you get really good people to make good decisions in your baseball operations, it could mean the pockets of the owners are lined," the executive said.
Baseball is an industry that generates something in the range of $6-7 billion a year, according to the commissioner's office, and yet the people who make the most pivotal decisions -- on the investment in the farm systems, on the hiring of staff, on the trades and acquisitions -- earn something in the range of $800,000 to $3.5 million a year, or about the same as
Alex Rodriguez
does in one two-week salary cycle.
Ozzie Guillen just got a four-year, $10 million contract from the
Florida Marlins
, a deal which, in the world of the front office executive, would be a staggering investment.
"If I were owning a team, I would go out and sink my money in front office talent," a high-ranking executive said. "Hire the smartest and best people, and let them go hire the best staff people they can. Forget about titles; pay them well, and bring them in. Because you could fund an unbelievable front office for what it takes to pay a couple of utility infielders."
Think about this from the perspective of Tom Ricketts, owner of the
Chicago Cubs
. There is a lot of clamoring for him to go invest in one of the high-end free-agent first basemen, either
Albert Pujols
or
Prince Fielder
, a signing that would likely cost him something in the range of $180-200 million. Both would come bearing major risk, of course, given the inherent possibility of injury.
Or Ricketts could decide that his primary pursuit would be to go after Epstein, or
Tampa Bay Rays
GM Andrew Friedman. He could offer either a contract that would be enormous, in the baseball operations world -- let's say, five years and $20 million -- and it would be a relative pittance compared to what he would need to pay either Fielder or Pujols.
And an investment in someone like a Friedman or an Epstein or a Gillick would be like investing in infrastructure, because that person would bring in other good people. If Friedman were to foster something as extraordinary as what has been built in Tampa Bay, the Cubs would become an NL powerhouse and the kind of money-making machine that the Red Sox have become.
Success wouldn't be guaranteed, of course. It's possible that Epstein or Friedman would go to the Cubs and their moves wouldn't work, and the losing would continue. But even if Ricketts were to pay an exorbitant GM salary, it would be a lot more cost-efficient than, say, an investment in
Carlos Zambrano
.
Ricketts should be going after the best and the brightest minds, and he should be doing so with an open checkbook, making offers that cannot be refused.
Epstein and Ryne Sandberg
could be in the Cubs' future
, writes Gordon Wittenmyer. There are signs Epstein
could be available
, writes Phil Rogers. The Cubs possibility is
still there
for Epstein.
Wrote here in August about the
Cubs' pursuit
of Friedman and
Epstein
.
On The Postseason
1. Milwaukee Brewers vs. Arizona Diamondbacks
From ESPN Stats and Info, how
Yovani Gallardo
dominated:
A.
Gallardo had his fastball working when staying out of the middle of the zone. Thirty-two of Gallardo's 55 fastballs were either up or down, and the Diamondbacks went a combined 0-for-6 with three strikeouts in those at-bats. In his past five starts, 11 of the 13 hits Gallardo has allowed with his fastball have been in the middle.
B.
Gallardo's success with the fastball set up his offspeed pitches. With the slider, 20 of 30 were away, leading to three outs. The curveball was even more effective because of Gallardo's location. Seven of Gallardo's 21 curveballs were below the strike zone, leading to two strikeouts and a groundout. The Diamondbacks went 0-for-5 overall in at-bats ending with a Gallardo curveball. Gallardo hasn't allowed a hit against his curveball in his past three starts (0-for-21, 15 strikeouts).
Gallardo is the fifth pitcher to go at least eight innings while allowing no more than one earned run and striking out at least nine in an NLDS Game 1. Each of the last three pitchers to do it --
Tim Lincecum
in 2010, Hamels in 2008, Schilling in 2001 -- did so for a team that won the World Series. The other,
Kevin Brown
in 1998, helped the Padres reach the World Series.