The great AL MVP debate
November, 21, 2011
11/21/11
8:20
AM ET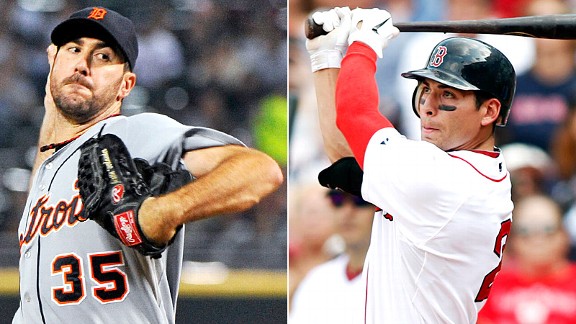 US PresswireJustin Verlander and Jacoby Ellsbury both put up MVP-caliber seasons in 2011.
If you are looking for precedents for the AL Most Valuable Player Award voting, maybe the best could be drawn from the
1876 presidential election
, when there was no consensus and the guy who won the popular vote wound up losing. Thankfully, federal troops will not be involved in the resolution of today's MVP decision.
But the arguments will go on long past 2 p.m., when the voting results will be announced. It's possible that
Justin Verlander
will get the most first-place votes and still lose, because some voters have chosen to keep him off their ballots entirely.
Jose Bautista
had the best offensive numbers of any AL player, and yet he may lose because the
Toronto Blue Jays
were never in contention -- a dynamic which reignited the conversation about what actually defines "most valuable."
Miguel Cabrera
was the most consistent force for the
Detroit Tigers
.
Curtis Granderson
had big-time production, with 136 runs and 119 RBIs, but by season's end, there was debate about whether Granderson was the MVP on his own team, over
Robinson Cano
.
And the
Boston Red Sox
had a trio of MVP candidates all year, from
Dustin Pedroia
to
Adrian Gonzalez
to
Jacoby Ellsbury
, and they all were in the lineup as Boston suffered the greatest September collapse in baseball history.
The guess here is that Verlander will get the most first-place votes, but because of how splintered the voting figures to be, the key will be holding down one of the top three spots on as many ballots as possible. And it figures that Bautista and Ellsbury will be ranked No. 1, No. 2 or No. 3 on almost all the ballots, and will wind up being the Rutherford B. Hayes of the 2011 AL MVP voting.
I emailed a handful of talent evaluators about what they saw in Ellsbury this year, as he emerged to become one of the best players in the majors. Their responses:
From an AL evaluator:
"Jacoby Ellsbury is a freak athlete that put every aspect of his game together this year. He's always been a top-notch fly-chaser in centerfield, and somehow he took it to another level defensively. On the offensive side, he's been a revelation. Previously, he used to control the strike zone and take defensive swings. Now he's attacking and looking to punish the first quality strike he sees. Plus, he's found a way to create extension and loft throughout his swing, which has enabled him to go from a player that previously poked at the baseball and now he's become a multi-faceted player capable of destruction."
From an NL evaluator:
"Two factors for me on Ellsbury. 1.) He got healthy and got his strength back. 2.) He changed his approach to more power than getting on-base and running; the increased power coincides with decreased stolen base, lower walk, and higher strikeout totals. He's healthy and continues to mature as a player, but it is a different approach at the plate."
From an AL scout:
"Ellsbury seemed to understand exactly what was expected of him this year in terms of the day to day stuff, playing even though he wasn't necessarily feeling like he was 100 percent. He kept an impressively even keel and excelled even in high leverage situations because of it. He seemed like he was comfortable with the expectations of him and did seem to carry some of last year with him this season as motivation. It seemed like the maturation process just kicked into high speed this year, he deserves a ton of credit or taking it to the next level and making The Leap."
From an AL evaluator:
"He has gotten stronger, when he first came up it was light contact and a speed game. I don't think he will ever repeat the 2011 season, but with a threat of power, his OBP will go up as pitchers just can't challenge him. He's solid in center field, taking better routes to balls, arm is short but you can't take too much from him. So the main thing is he has gotten stronger and staying through the ball better that makes him a power threat and a more complete player."
From ESPN Stats and Info: