McCutchen sets the table for Hosmer
March, 5, 2012
3/05/12
7:36
AM ET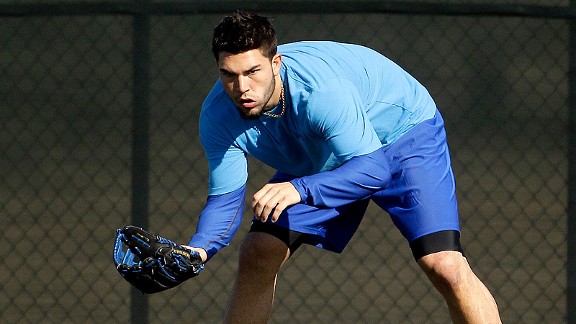 AP Photo/Charlie RiedelSigning Eric Hosmer long-term is crucial for Kansas City's continued success.
This would be the 27th consecutive season the
Kansas City Royals
would not be part of the postseason, if they don't make it. For the
Pittsburgh Pirates
, this would be the 20th consecutive year without being part of baseball's October.
So for the fans of these two teams, progress is measured in other ways, and this morning's news that the Pirates and
Andrew McCutchen
have agreed to a
six-year deal
is maybe the best thing to happen to the team since before Sid Bream slid home. Fairly or not, the question of whether the Pirates would be able to keep McCutchen and build around him -- as the
Colorado Rockies
have with
Troy Tulowitzki
and the
Milwaukee Brewers
with
Ryan Braun
-- has been a Pittsburgh referendum on whether the team is serious about winning.
The Pirates have a foundation piece in place now. The Kansas City Royals are trying to do the same thing, with the wave of young talent it has drafted and developed. Last week, catcher
Salvador Perez
-- who the Royals hope will follow in the path of
Yadier Molina
and eventually become a productive hitter -- agreed to a five-year, $7 million deal. Kansas City is in negotiations with
Alex Gordon
, who is coming off the best season of his career, and whether or not they can get something done with him, there figure to be talks with shortstop
Alcides Escobar
, who is already regarded by some scouts as baseball's most talented defensive shortstop.
These conversations are a prelude to the team's most significant target: first baseman
Eric Hosmer
, who is the Royals' version of McCutchen, as a superstar-level talent.
"It's important for us to sign as many of our good young players as we can, long-term," Royals GM Dayton Moore said Sunday. "We need as much flexibility as we can get the next three to four years ... obviously, there is risk involved with it, but there's cost certainty.
"And you're going to have a comfort level with your own players, the guys who are homegrown, because you know them and know their families."
The risk for the Royals, of course, is if the players don't turn out to be as good as expected or if they get hurt. The
Cleveland Indians
were the pioneers of this kind of long-term thinking in the '90s, and with their best young players locked up, the Indians were able to build and plan and add.
A foundation of Hosmer, Gordon, Escobar and Perez not only would give the Royals a chance to win, but also would frame a structure well into the next decade, because salaries would be locked in place and budget space would be defined.
If the Royals cannot sign Hosmer, they will be in the same position as where the Brewers were with
Prince Fielder
the last couple of years. Because Milwaukee couldn't sign him to a long-term deal, it had to decide whether to trade him for less than equal value on the market or keep him and try to win as long as possible, knowing that he'd eventually walk away as a free agent. The Brewers kept him, and fans filled their ballpark in 2011 as Milwaukee made the playoffs, a last hurrah with Fielder before he signed with the
Detroit Tigers
in the offseason.
The
Cincinnati Reds
are now facing this situation with
Joey Votto
, who will be eligible for free agency after the 2013 season.
Fielder is represented by agent Scott Boras, whose clients typically go into free agency rather than signing a long-term deal in the way that Tulowitzki and Braun did.
Hosmer is a Boras client.
There are agents and general managers who believe, however, that it is extremely difficult for any young player to turn down a massive offer with a big, crooked number. "If you're 23 years old," said one agent, "are you going to turn down tens of millions of dollars?"
McCutchen did not, an enormous moment of progress for the Pirates. How will Hosmer react? We may well find out sometime in the weeks and months ahead.
If the Royals are to sign Hosmer to a Tulowitzki-like deal, a leap of faith will be required from Kansas City's ownership. But keep in mind that every time Moore's front office has asked for an extraordinary expenditure -- whether it was a free-agent signing of
Gil Meche
or
Jose Guillen
, or an investment in a draft pick -- the Glass family has responded. If there is a Hosmer deal that can be made, it's hard to imagine it won't get done.
The Royals had a
good first day
.
Notables
•
Corey Hart
will
miss the start
of the Brewers' season.
• Bees delayed a game
41 minutes
, as Nick Piecoro writes.
• Rockies prospect
Alex White
was
arrested on the suspicion of DUI
, writes Patrick Saunders. From the story:
The Rockies have a program in which a player can call the team and arrange for transportation if the player believes he has had too much to drink.
"We sat down with these guys and explained to them that in this area in Scottsdale, they have to be really careful," [General Manager Dan] O'Dowd said.