Yankees face difficult decisions now
July, 10, 2014
7/10/14
9:52
PM ET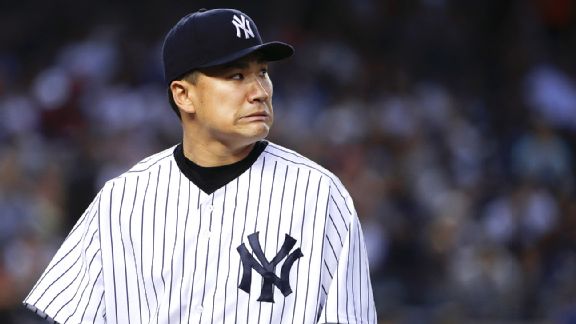 AP Photo/Julie JacobsonMasahiro Tanaka's total of 12 wins this season is tied for the major league lead.
Editor's Note: This blog has been updated to reflect official injury news regarding Masahiro Tanaka, released Thursday evening.
Somebody wearing a uniform undoubtedly uttered the words "I told you so" on Wednesday night after news of Tanaka's elbow issue spread across the majors, and it's very possible that this was a four-word refrain in a lot of clubhouses. That four-word refrain would only be repeated on Thursday night when the league learned that Tanaka had a partial UCL tear in his elbow, an injury that often leads to Tommy John surgery. That's because over the first two months of this season, even as Tanaka dominated hitters and earned the respect of opponents, there was a feeling among many players on other teams that it was only a matter of time before he broke down.
That opinion was not based on his daunting accumulation of pitches in Japan, where he threw 160 pitches in a start last fall before pitching in relief the next day. Rather, opposing hitters and pitchers and coaches and managers watched him throw splitter after splitter after splitter at high velocity, and they reached the conclusion that he was destined for surgery.