Wild rules could alter playoff games
September, 18, 2012
9/18/12
9:51
AM ET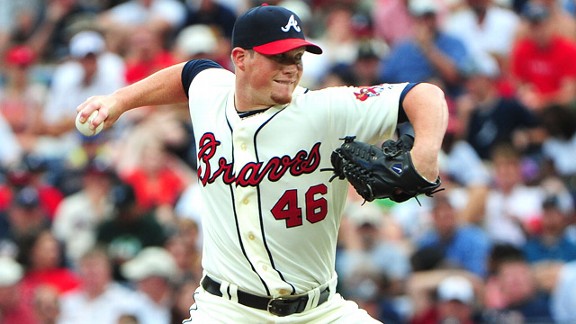 Scott Cunningham/Getty ImagesCraig Kimbrel could be one of many relievers featured on Atlanta's wild-card game roster.
Some of the
San Francisco Giants
spoke recently about how they view the
Atlanta Braves
as a really dangerous postseason team because of their dominant bullpen pieces and the power in their lineup. It's possible that the Braves will finish this season with the second-best record in the National League, a reflection of how well they've performed.
But it's also possible that their postseason will last exactly one game. If the Braves finish as the No. 1 wild-card seed -- and right now, that appears likely -- then they'll have to win the wild-card game against the
St. Louis Cardinals
or
Los Angeles Dodgers
or one of the other five teams vying for the last NL playoff spot. "When it's just one game, the worst team in baseball can knock out the best team," a GM mused last week. "Anything is possible."
The wild-card games will be conducted under circumstances we've never seen before in the postseason. The participating teams will set 25-man rosters for this one-game, winner-take-all extravaganza -- rosters that don't have to carry over to the division series matchup.
So the Braves and the other wild-card entrants don't have to carry multiple starting pitchers.
If Atlanta decides to start
Kris Medlen
in the wild-card game, there won't necessarily be any reason to carry
Mike Minor
,
Paul Maholm
and
Tommy Hanson
. Rather, the Braves could round out their roster with specialists. They could carry a third catcher, for example, whose presence would allow Fredi Gonzalez to aggressively pinch-run for
Brian McCann
or
David Ross
, and extra pinch-hitters, pinch-runners and relievers. You might see the wild-card teams carry rosters of 11 pitchers and 14 position players -- but with 10 relievers available, allowing the managers to focus on matchups batter after batter down the stretch.
Because the new playoff format and rules had to be put together quickly, it may be that changes will be forthcoming, as the practical use is evaluated. As part of the reward for division winners, for example, it might make sense to ask the wild-card teams to declare their 25-man rosters for the first two rounds of the playoffs -- forcing them to carry starting pitchers for the wild-card game and perhaps use them.
But on the other hand, allowing a separate 25-man roster for the wild-card games alone could be very fair, giving the managers as many weapons as possible in a winner-take-all situation. The work of an entire summer will be at stake.
The
Cincinnati Reds
have time to put together their
playoff roster
, as John Fay writes.
Elsewhere
• Watched the Tigers' loss to the
Chicago White Sox
on Monday, a crusher for Detroit, and yet again the Tigers had to try to overcome a
defensive play not made
-- the turn of a double play -- a failure that cost them two runs in a 5-4 loss. Jim Leyland said the Tigers have been
talking about defense
. From Lynn Henning's story:
They didn't field ground balls with enough skill to compensate for some isolated pitching miscues, nor did they handle double-play tasks with the flair to support those precious leads Detroit hitters had gouged from White Sox pitchers.
"Yes, that's the one thing we've been preaching," Leyland said after the Tigers had lost their ninth consecutive one-run road game. "Twenty-seven outs, not 30.