The next tier of free agents
December, 21, 2012
12/21/12
7:36
AM ET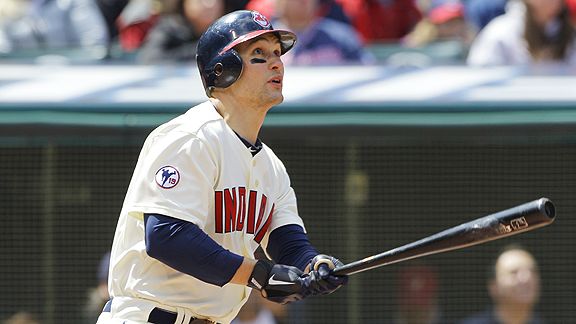 AP Photo/Mark DuncanThis is not the demand we would have presumed for Grady Sizemore, unrestricted free agent, a handful of years ago.
There are only a few big contracts remaining under baseball's offseason tree. Some teams are now waiting for the prices of the remaining free agents to drop so they can plug a hole or round out their rosters.
Here are the best of the rest, beyond
Michael Bourn
,
Nick Swisher
,
Rafael Soriano
and
Kyle Lohse
-- the best second-tier and third-tier free agents remaining:
Joe Saunders
: I got a text in the middle of the winter meetings from a veteran player. "Why isn't there more talk about Joe Saunders?" he wrote. "He's really good." He is unspectacular but solid, for sure, consistently taking the ball and posting ERAs in the range of 3.60 to 4.60 in
his career
; he had a 4.07 ERA for the Diamondbacks and Orioles last year.
I spoke with Saunders the day after he shut down the Yankees in
Game 4 of the playoffs
-- he also started and won the one-game wild-card game
against Texas
-- and he talked about how much he liked pitching for the Orioles, and how he was very open to coming back. And there has been a lot of sentiment within the Orioles' organization to re-sign Saunders, a Virginia native.
Now that other starting pitchers have come off the board, the market for him is becoming more defined, with four teams involved, and the Orioles have stepped up in their efforts to keep him. It seems Saunders would be in position to get more than the two-year, $15 million deal signed by
Joe Blanton
.
Scott Hairston
: The Yankees are desperate for right-handed hitting and there could be no better second-tier fit than Hairston, who does damage against left-handed pitching; last season, he posted a .550 slugging
average against lefties
. For his career, he's got a .500 slugging percentage
against lefties
. He'd be a perfect complement to the very left-handed Yankees' outfield (
Ichiro Suzuki
,
Brett Gardner
and
Curtis Granderson
), and serve time at DH.
But he might be too expensive for New York in a winter in which they have reduced payroll. The 32-year-old Hairston made $1.1 million for the Mets last year and hit 20 homers, and he could be looking for something much better than that;
Jonny Gomes
, a similar player, got a two-year, $10 million deal from Boston.
Hairston had been talking
with the Cardinals
, writes Adam Rubin, before they signed
Ty Wigginton
.
Lance Berkman
: Under the right circumstances, there will be no shortage of interest in him because when he's healthy, he can be a devastating on-base percentage machine. Even in a season in which he hobbled through only 32 games last summer, he posted a .381 on-base percentage. But there are three overriding questions that executives privately say they have about him:
A) Is he healthy, after having knee surgery?
B) Is he in shape?
C) Is he motivated to play again? Because he needs C to get to B.
J.P. Howell
: He'll soon sign, perhaps with Washington. As he came back from shoulder surgery, his fastball velocity steadily improved throughout the 2012 season -- with his
highest reading coming
in his final appearance of the year, a sign that he could get back to being what he was for the Rays in 2008.
Mike Gonzalez
: The veteran reliever is available again, and he showed that he's still a good matchup option; lefties had a .525 OPS against Gonzalez last season.
Dallas Braden
: He has a reputation among former teammates for really knowing how to pitch, for doing more with less. But Braden is recovering from shoulder surgery and hasn't pitched since April 16, 2011. He's not going to get much money, but he is going to get a chance.
The Yankees have
shown interest
in Braden and
Jair Jurrjens
, writes Gerry Fraley.
Travis Hafner
: For AL teams looking for depth, he'd be a classic make-good guy to bring to spring training. He won't cost much, and he'll take a walk and hit some home runs; in 66 games last season, he had a .346 on-base percentage with 12 homers. One problem: He wouldn't fit all rosters because he can't play a position. The Yankees, for example, might want to keep flexibility at the DH spot because of the general age of their roster.
Matt Lindstrom
: He finished 2012 nicely, allowing one run in 11 September appearances and closing with a 2.68 ERA for the season. Right-handed hitters had a
.573 OPS against him last season
.
Grady Sizemore
: Injuries have derailed him over the past four seasons, limiting him to 210 games; he didn't play at all in 2012. Now he has become an attractive buy-very-low free agent, because everybody still remembers the athleticism, the speed, the power. The Mets are reportedly one of the teams interested in signing him; Tampa Bay might be a very good fit.
[+] Enlarge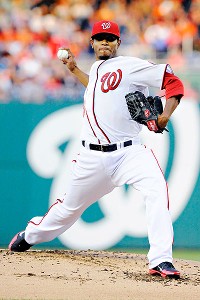 Brad Mills/US PresswireEdwin Jackson posted a 4.03 ERA in 31 starts for the Nats in 2012.
Notables
•
Zack Greinke
finished 58th in the majors in ERA in 2011 and 27th in 2012, and he got $147 million.
Anibal Sanchez
got $80 million. So if you think that
Edwin Jackson
is overpaid at $52 million over four years, well, this is the going rate; he's more expensive than Joe Blanton but less expensive than
John Lackey
. Jackson is plow horse, never overpowering but generally consistent -- he has never had any major arm issues at 29.
And as the Cubs rebuild, draft picks and signing bonus money cannot be ample in the way they used to be, and they must now work within the constraints of the international signing bonus cap. So overpaying in the free-agent market, as they simultaneously rebuild the player development system in a way that suits Theo Epstein and Jed Hoyer, is the best way for them to get better -- and their rotation should be improved next year. The Cubs finished 23rd in starters' ERA in 2013 at 4.52, but with the makeover, they now have a large number of options behind
Jeff Samardzija
,
Matt Garza
and Jackson --
Scott Baker
,
Scott Feldman
,
Travis Wood
and the newly signed
Carlos Villanueva
. The Reds and Cardinals are still probably long strides ahead of the Cubs, but there should be progress for a team that went 61-101.
Villanueva will challenge for
a rotation spot
.