Yu Darvish's specialized skill
April, 25, 2012
4/25/12
8:28
AM ET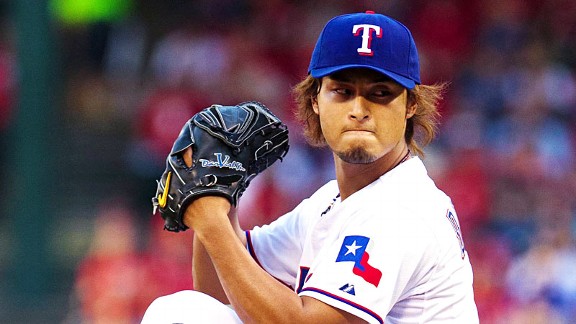 Kevin Jairaj/US PresswireIn addition to great raw stuff, Yu Darvish has a feel for his pitches that sets him apart.
There was a moment during
Yu Darvish
's start against the
New York Yankees
on Tuesday when
Texas Rangers
catcher
Mike Napoli
dropped into a squat to call a pitch and made an unusual sign -- sort of an upside-down L, aimed in the direction of the right-handed batter.
Ken Singleton, broadcasting the game on YES, noted that he had never seen a sign like this before. This is what a catcher must do when his pitcher has more than three or four or five pitches -- invent signals beyond the standard stuff.
It's one thing to be able to throw a lot of pitches, but it's a different kind of challenge entirely to maintain command of such a wide array. There are only so many bullets for a pitcher between starts, only so many times they can throw a baseball, and this is why a lot of pitchers will streamline their repertoire.
While throwing 35 to 50 pitches in their bullpen session, and while playing catch daily with their catching partner, they'll devote a certain percentage of their throws to fastballs, some to their breaking balls, some to their changeups -- depending on what pitch needs the most work, the most maintenance.
Derek Holland
is Darvish's catching partner, and he says the right-hander can somehow maintain command of all of his different pitches with minimal practice.
He throws a couple of different fastballs, two different speeds of curveballs (a hard curve and a big looping curveball), a slider, a cutter, a splitter. This means that he's probably throwing one or two of his pitches only four or five times a week and keeping them game-ready.
This is an incredible, difference-making skill, reflecting a gifted feel for how to make a baseball move. Imagine a quarterback who could master an entire offense while practicing particular plays only once or twice a season.
Pedro Martinez
had this skill.
Orlando Hernandez
-- El Duque -- had this skill.
Roy Halladay
has this.
Yu Darvish has this.
He wowed the
sellout crowd
, writes Jeff Wilson. Evan Grant picks out
some moments
from the start.
Darvish gave everybody reason to
believe the hype
.
From ESPN Stats & Info, how Darvish won:
A)
Darvish threw 82 of 119 pitches (68.9 percent) for strikes, well above his 56.8 percent average entering the night.
B)
He started 21 of 33 hitters (63.6 percent) with a first-pitch strike. In his first three starts, he threw a first-pitch strike to less than 48 percent of all hitters.
C)
Thirteen of the 21 balls in play (61.9 percent) against Darvish were hit on the ground, compared with 42.1 percent in his first three starts. Twenty-two of Darvish's 25 outs were either grounders or strikeouts.
D)
Lefties entered Tuesday hitting .313 against Darvish; the six Yankees lefties in the lineup Tuesday were 4-for-21 with eight strikeouts against Darvish.
E)
Yankees lefties were 0-for-5 with four strikeouts in at-bats ending with Darvish's curveball.
F)
Yankees hitters were 1-for-12 with five strikeouts with men on base.
G)
The Yankees chased 25 Darvish pitches out of the strike zone; opponents had chased an average of 12 in Darvish's first three starts.
Darvish is the second starting pitcher in Rangers history with 10 strikeouts and 0 ER against the Yankees. Joe Coleman struck out 11 in nine scoreless innings in 1969.
From Elias:
Since divisional play began in 1969, only two other pitchers besides Darvish have hurled at least eight shutout innings with 10 or more strikeouts in their first career start against the Yankees: Baltimore's Bob Milacki on Sept. 28, 1988, and Cleveland's
Bartolo Colon
on Sept. 21, 1998.
Hiroki Kuroda
was good, but the
other guy was better
.
Notables
• The
San Francisco Giants
were really annoyed that a
ball was thrown behind
catcher
Buster Posey
.
•
Ryan Zimmerman
got
unfavorable results
in an MRI, writes Adam Kilgore.
• Dylan Bundy was
unhittable
, again, as Jon Meoli writes. The Orioles prospect is 13 innings into his professional career and still hasn't allowed a hit.
•
David Ortiz
has been killing the ball, and
he wrecked
the
Minnesota Twins
with another opposite-field double and a monster home run. Ortiz has been hammering hits to left field -- far more than last year.
From Justin Havens of ESPN Stats & Info, where Ortiz has been getting his hits:
2012LF:
13 (46.4 percent)
CF:
7 (23.3 percent)
RF:
8 (26.7 percent)
2011LF:
49 (30.2 percent)
CF:
49 (30.2 percent)
RF:
64 (39.5 percent)
Josh Beckett
practiced some
anger management
.
• The other day on "Baseball Tonight," I was asked to assign a pie chart of blame for Boston's 4-10 start, and this is how I broke it down:
Boston ownership and president Larry Lucchino:
35 percent. The buck stops there.
Players:
30 percent. They make it happen, either way.
Theo Epstein:
29 percent. He is gone, but the composition of the team is still built on his decisions.
Ben Cherington:
3 percent. He didn't have a lot of payroll flexibility during the winter. The one major move that has really boomeranged on him is the trade for reliever
Mark Melancon
.
Bobby Valentine:
3 percent. He simply hasn't been around very long.
Here's the thing: If the Red Sox were 10-6, and not 6-10, the Pie Chart of Blame would be the Pie Chart of Credit, and it would break down with the exact same percentages.
Moves, deals and decisions
1. The
Pittsburgh Pirates
and
Colorado Rockies
get to
add a 26th man
today, writes Rob Biertempfel.
2.
Freddy Garcia
will get
another chance in the rotation
, writes Marc Carig.
3. Tal Smith has been hired to oversee an
independent league team
.
4.
Ryan Roberts
has been
benched
.
5.
Jarrod Parker
gets the
ball tonight
, as John Shea writes.
6.
Aubrey Huff
is dealing with a
personal matter
, writes Alex Pavlovic.
7. The
San Diego Padres
continue to have a spat over an element of their
local television situation
.
Dings and dents
1. The
New York Mets
put
Jason Bay
and
Mike Pelfrey
on the
disabled list
.
2.
Michael Pineda
is going for a
second opinion
.
3.
Carl Crawford
wants a
second opinion
.
4.
Ryan Madson
has started
his rehab
.
5. The Brewers'
Chris Narveson
is
headed for surgery
.
6.
Ryan Howard
will be limited for at least
one more week
.
7. Justin Smoak's hamstring is
hurting
.
Tuesday's games
1.
David Price
was dominant, throwing
a shutout
, writes Marc Topkin.
From ESPN Stats & Info:A)
Los Angeles Angels
hitters were 0-for-13 with two strikes; opponents were 9-for-36 with two strikes against Price in his first three starts.
B)
Price started 21 of 32 hitters (65.6 percent) with a first-pitch strike, higher than his 55.1 percent rate in his first three starts.
C)
With no lefties in the Angels' lineup, Price relied on his changeup. He threw 29 of them and got a career-high 10 of his outs in at-bats ending with the pitch.
D)
Angels hitters were 1-for-15 in at-bats ending with a fastball.
2.
Johan Santana
was
The Man
for the Mets, striking out 11. He had the best command in this start that he's shown all season, and it's probably not a coincidence he had six days between outings.
3. The Pirates
refused to wilt
.
4.
From Elias:
Chipper Jones
hit his fifth career HR on his birthday, tied for the most among active players with
Alex Rodriguez
and
Todd Helton
. Other career numbers on Jones' birthday: .429 batting average, 11 RBIs, eight strikeouts. Jones also joins Tony Phillips, Wade Boggs, Joe Morgan (hit two) and Bob Thurman as players who homered on their 40th birthdays.
Jim Thome
and Darrell Evans hold the MLB record, homering on their 41st birthdays.