Plan B for facing Josh Hamilton
May, 13, 2012
5/13/12
8:34
AM ET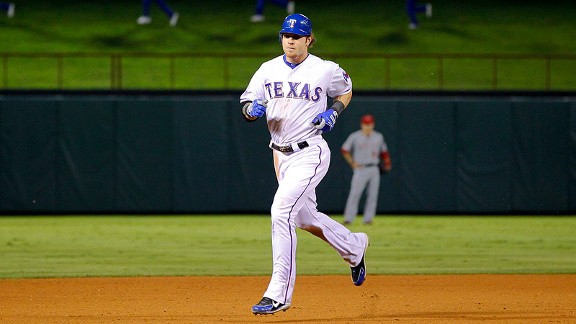 Jim Cowsert/US PresswireJosh Hamilton has had plenty of chances to work on his home run trot recently.
ARLINGTON, Texas --
Josh Hamilton
has 18 homers in the Rangers' first 34 games, something nobody has ever done in the history of baseball. But here's another number that is a little stunning: Hamilton has just 13 walks, with five of those being intentional.
How unusual is that 18-to-13 home run-to-walk ratio Hamilton currently has?
Well, consider the number of walks drawn by the greatest single-season home run leaders in history:
1.
Barry Bonds
, 2001: 73 homers, 177 walks
2.
Mark McGwire
, 1998: 70 homers, 162 walks
3.
Sammy Sosa
, 1998: 66 homers, 73 walks
4.
McGwire, 1999: 65 homers, 133 walks
5.
Sosa 2001: 64 homers, 116 walks
6.
Sosa, 1999: 63 homers, 78 walks
7.
Roger Maris, 1961: 61 homers, 94 walks
8.
Babe Ruth, 1927: 60 homers, 137 walks
9.
Ruth, 1921: 59 homers, 145 walks
The pitchers have always reached a tipping point in dealing with a hitter as good as Hamilton is right now, when they decide the risk of facing the hitters behind Hamilton is lower than it would be to throw a pitch to the slugger.
There is an intermediate step for pitchers to try, an approach that was used against
Vladimir Guerrero
, who seemed to swing at anything he could reach. Pitchers would expand the strike zone -- almost to where they would roll it to the plate.
Pitchers could throw stuff far out of the strike zone to see if Hamilton will hack at it. The numbers suggest that he might.
Mark Simon of ESPN Stats and Information dug out these stats: Going into Saturdays' game, Hamilton had swung at the first pitch in his at-bats 57.5 percent of the time -- by far the most of any hitter in the majors.
Freddie Freeman
ranked second, at 51.7 percent.
Hamilton had swung at the second pitch 60.6 percent of the time, more than any hitter in the majors other than the Cubs'
Darwin Barney
, who had swung at 60.7 percent of his second pitches.
"I don't know why they throw him a strike," a talent evaluator said this weekend. "He swings at everything. Why throw anything over the plate?"
There have been moments in the past when Hamilton's hyper-aggressiveness has exasperated the Texas staff -- such as during the postseason last year, when the
Detroit Tigers
gave him nothing to hit early in that series and Hamilton swung anyway. Later in that series, Hamilton made an adjustment, taking more pitches and going a little deeper in the count and giving himself a better chance to do damage.
But generally, Texas manager Ron Washington believes that Hamilton should be left alone, rather than being admonished for jumping at pitches early in the count. In 2012, that approach is working for Hamilton in a big way.
"I've never seen a hitter with better pitch recognition," said the evaluator. "He gets that front foot down and then adjusts with his hands. It doesn't matter whether it's 98 mph or 75 mph -- he'll adjust."
In other words: If it's a 98 mph fastball, Hamilton is ready for it. He plants his front foot in his swing, identifies the pitch, and then swings. If it's a changeup, Hamilton will read it, wait before starting his hands, and then swing. If it's a slow breaking ball, Hamilton will read it, wait before starting his hands, and flick his bat at it, as if he's swinging a wiffle ball bat.
That's what he did on Saturday, clubbing his 18th home run on a curveball from former teammate
C.J. Wilson
. It was Hamilton's ninth home run in his last six games -- and his seventh off a breaking ball this year.
From ESPN Stats and Info, the year-by-year total of home runs for Hamilton against breaking pitches:
2012:
7
2011:
6
2010:
6
2009:
4
2008:
1
He has killed everything on the strike zone compass this year -- up, down, inside, outside, low-and-outside, high-and-inside.
It might be time for pitchers to start beyond the far reaches of the strike zone and see if Hamilton will follow them. If he doesn't and starts taking walks, then facing the hitters behind him might be far less treacherous than pitching to a hitter who is doing things we have never seen before from anyone, whether it's Ruth, Maris, McGwire or Bonds.