Early signs of a new Dodgers era
May, 17, 2012
5/17/12
8:22
AM ET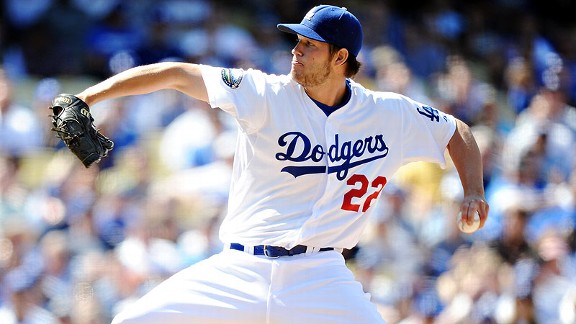 Harry How/Getty ImagesClayton Kershaw is among the Dodgers players who have made efforts to engage the fans.
Dodgers players have exercised gallows humor in recent years, as former owner Frank McCourt's ugly financial situation manifested itself in organizational cutbacks. "I don't write any checks," one player said privately last summer, "until I know for sure that my paycheck has cleared."
But times have changed quickly. The
Los Angeles Dodgers
have new ownership, they are in first place, and this is a time of renewed commitment -- the organization to the players and vice versa.
The family room at Dodger Stadium has already been renovated, and there are more changes to come to make the players more comfortable.
Stan Kasten, the new team president, met with the players recently and provided each of them with two jerseys signed by Magic Johnson -- one personalized to the player, and the other to be used for the player's favorite charity. And Kasten told the players that the Dodgers needed them to be part of the organization's effort to touch the community.
What Kasten said, in so many words, was this:
A few minutes ago, your faces lit up when I gave you that autographed Magic Johnson jersey -- and that's exactly the reaction that our fans have when they get something from each of you.
On Sunday, Kasten asked four members of the team to go to a gate at Dodger Stadium as fans came through the turnstiles; a fifth player,
Clayton Kershaw
, also volunteered. After they finished, pitcher
Aaron Harang
approached Kasten and told him how much he enjoyed it and how he had thought about what Kasten had said about their possible impact on fans.
The response to this new era in the Dodgers' history, Kasten said, "has been phenomenal."
Lowe's mechanical adjustment
In the midst of the bottom of the ninth inning of Derek Lowe's
shutout
against the
Minnesota Twins
the other day,
Cleveland Indians
catcher
Lou Marson
went to the mound and asked the pitcher what he wanted to throw with his next pitch.
"Do I really need to answer that, Lou?" Lowe replied, with a smile. "C'mon."
Of course Lowe was going to throw his sinker, which he threw on 115 of his 127 pitches in the victory, the 172nd of his career. It's the quality of his sinker that has been responsible for his remarkable turnaround. Lowe, who turns 39 in 15 days, is 6-1 with a
2.05 ERA
.
Even last year with the
Atlanta Braves
, Lowe said over the phone on Wednesday evening, he knew exactly what he was doing wrong with his sinker. Lowe tended to bend over too far in setting up for his delivery, and then his front (left) shoulder would fly open and his sinker would flatten out. He and Atlanta pitching coach Roger McDowell worked on this problem repeatedly, but Lowe would get into the rush of a game and the needed physical adjustment would evaporate.
But Lowe continued to work through the winter and through spring training on his delivery, and he has been able to maintain it and fight off his own instinct to constantly tinker with pitch grips and pitch selection and mechanics. He's focused on his sinker, and his ratio of ground balls to fly balls is the best it's been in five years. He got 22 ground ball outs against the Twins the other day.
"The most gratifying thing about this start is that I had to put in a lot of time and effort to change stuff, and I've had the results," he said.
The Indians
took care of business
against
Felix Hernandez
on Wednesday night, as well.
Notables
• The Jim Eppard era began for the
Los Angeles Angels
, who brought in the hitting coach after firing Mickey Hatcher following Tuesday's game -- and
Albert Pujols
mashed his
second homer of the season
. The Angels are hoping that Eppard can
spark the offense
, writes Bill Plunkett.
Mike Scioscia defended Hatcher's work but says it's
time to move on
.
For the first time, you have to wonder when
Scioscia's time could expire
, writes Mark Whicker.
•
Stephen Strasburg
has thrown 48 innings, which means he is about 110-120 innings short of the 160-inning range; when he reaches that, the
Washington Nationals
will prepare to shut him down for the season.
A rival executive noted the Nationals' current surplus in starting pitching right now, as well as Washington's strong standing in the NL East, and wondered if maybe this might be a good time to sideline the right-hander -- to save innings for September and maybe October.
"The rest of their rotation is healthy," he said, noting the performances of
Jordan Zimmermann
,
Gio Gonzalez
,
Edwin Jackson
and
Ross Detwiler
. "They've got [Chien-Ming] Wang coming back, and
[John] Lannan
is in Triple-A. If they have Strasburg throw light bullpens but not start, that'll save the innings -- which is a really, really hard thing to do."
The Nationals are 23-14 after Gonzalez's most
recent masterpiece
. The
return of Wang
may shake up the Washington pitching staff, writes Amanda Comak.
A teammate says the
Hot Stuff incident
didn't happen.
• The most underrated reliever in the majors so far this year might be Oakland's
Ryan Cook
, the 24-year-old right-hander who has held opponents to four hits in 17.2 scoreless innings of work. Lefties are
1-for-27 against him
.
•
Brett Lawrie
is appealing his
four-game suspension
. I thought he was lucky he didn't get more, and I'm guessing there are some umpires who are not happy with the length of the suspension. From Richard Griffin's story:
Because of back-to-back two-game series, the same umpiring crew, led by Dale Scott, stayed in town to work the Yankees series as well. That being the case, Miller was at third base, working right beside Lawrie, who was playing while his suspension is under appeal. Awwk-ward.
As such, at 6:20 p.m., Lawrie made his way down the tunnel to the umpires' dressing room, knocked on the door and was ushered in to say his piece and make peace with Miller. The meeting lasted all of one minute. The effort was there, but it doesn't mean it's all good between the two.
When the umpires appeared on the field they were greeted with a chorus of boos to home plate. The seemingly light four-game suspension seemed less than a ringing endorsement of Miller by MLB and likely did not sit well with the umpires. When the Jays came out for the first inning, Miller strode out to short left field as Lawrie ran to his position. There was little interaction throughout the contest. The only thing Lawrie still thinks went wrong was a bad helmet hop.
The Lawrie helmet-throwing incident was a little like the Clemens bat-throwing incident in the 2000 World Series. I don't think
Roger Clemens
meant to necessarily hit
Mike Piazza
with the bat shard ... but I think he was aiming for the near-miss. Same with Lawrie, in the way he fired his helmet at the feet of umpire Bill Miller.
Ben Walker writes that Lawrie's rant joins a list of
others in baseball history
.
•
Adrian Gonzalez
had a problem with a
plate umpire's strike zone
.
• Felix Hernandez got
hit hard
.
His
fastball velocity
is down five mph since the start of the 2007 season, according to fangraphs.com:
2007:
96.3 mph
2008:
94.5 mph
2009:
93.8 mph
2010:
94.4 mph
2011:
93.4 mph
2012:
91.5 mph
•
Carlos Gonzalez
is hitting .362 in Colorado this year, with a 1.178 OPS in 58 at-bats. On the road, however, he's been a very different player, with a
.736 OPS
. These numbers are right in line with Gonzalez's time with the Rockies.
2011:
.999 OPS at home, .757 OPS on the road.
2010:
1.162 OPS at home, .775 OPS on the road.
2009:
.943 OPS at home, .811 OPS on the road.
Dings and dents
1.
Drew Storen
is aiming to come back
around the All-Star break
, writes Adam Kilgore.
2.
Will Rhymes
survived a scare in the
Rays' latest victory
.
3. The backups to the Giants' backups are
getting hurt these days
; San Francisco played short-handed.
4.
Brandon Inge
appears headed to
the disabled list
, as Susan Slusser writes.
5.
Vance Worley
landed on
the disabled list
.
6.
Chase Utley
fielded
grounders
.
7.
Ivan Nova
is on
the mend
.
8.
Brian Roberts
says he's
closer than ever to returning
. Whether he represents an upgrade is an open question; remember, Roberts is 34 years old and hasn't played in a year, and he's played 98 games since the end of the 2009 season.
9.
Carlos Beltran
is hurting and was
out of the lineup again
.
10.
Josh Tomlin
is set to
have another MRI
.
11.
Grady Sizemore
took batting practice and is aiming to
come back in June
.
12. The Twins lost
two players in their victory
against the
Detroit Tigers
.
13.
Daniel Hudson
threw in an
extended spring game
.
14.
Matt Kemp
is due back
May 29
.
Moves, deals and decisions
1. The
Tampa Bay Rays
traded for
a farmhand
.
2.
Alex Presley
was
sent to Triple-A
, as Rob Biertempfel writes.
3.
Daisuke Matsuzaka
is
not close to joining
the
Boston Red Sox
, writes Peter Abraham.
4.
Joaquin Benoit
is filling in as the
Tigers' closer
.
5. Some Royals prospects
were promoted
.
6. Right now,
Aroldis Chapman
is
where he is needed
, says Dusty Baker.
7. The
Milwaukee Brewers
signed a
pitcher
.
Wednesday's games
1. The
Miami Marlins
are
gathering momentum
, with a lot of help from
Giancarlo Stanton
.
2. The
Toronto Blue Jays
mashed the
New York Yankees
with
some homers
.
3.
Jamie Moyer
inspired the
Colorado Rockies
and picked up
win No. 269
.
From Elias:
Moyer became the oldest player in MLB history to record an RBI (since the stat became official in 1920) with his infield single Wednesday night against the Diamondbacks. Moyer, at 49 years and 180 days old, beat
Julio Franco
by 155 days.
4.
Hiroki Kuroda
got
pounded
.
5.
Adam Jones
does a lot of good work in
extra innings
.
6.
Yu Darvish
was
The Man
for the
Texas Rangers
, again. Darvish says he's
not completely satisfied
.
From ESPN Stats & Information, how Darvish won: