Could the Phillies be deadline sellers?
May, 28, 2012
5/28/12
9:32
AM ET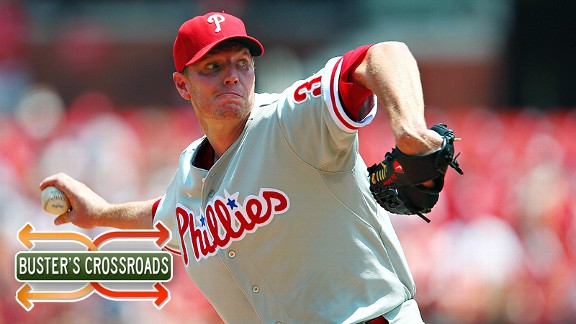 Dilip Vishwanat/Getty ImagesRoy Halladay's injury is another setback for the 2012 Philadelphia Phillies' season.
ATLANTA -- We didn't need a radar gun to know there was something amiss with
Roy Halladay
, who left his start against the St. Louis Cardinals on Sunday after two innings because of shoulder soreness. The hitters were telling us that, with more aggressive swings against him, with significantly better results.
This month, Halladay has allowed 44 hits and 24 runs in 35.1 innings, including five homers in his
last three starts
. This is a pitcher who allowed only 10 homers for
the entire 2010 season.
Hitters are swinging, and they are not missing.
But the radar gun has been providing clues, too. Halladay's velocity has been down this year, as
Fangraphs.com
notes.
As Phillies' officials and coaches go to work today, they have no idea what they'll get out of Halladay for the rest of this season, just as they don't know what they could draw from
Ryan Howard
(who is improving) or
Chase Utley
.
The Phillies are in last place in the NL East, but that standing is deceptive; Philadelphia has been playing much better of late, with 10 wins in their
past 15 games
, and they have climbed over .500, to 25-24.
The Phillies are five games out of first place, in a division that has been steamrollered by injuries: The Nationals have lost
Jayson Werth
,
Drew Storen
and others, while the Braves have lost the middle of their lineup over the past 10 days.
The Phillies have reached a crossroads, and have decisions to make.
They could stand pat with their current roster, and look for a Halladay replacement from within.
Vance Worley
has seemingly made progress as he works his way back from arm trouble, and if he steps back into the Philadelphia rotation, the Phillies could plow ahead with a five-man staff of
Cole Hamels
,
Cliff Lee
,
Joe Blanton
(who has been dangled in trade talks for a lot of the past two years, but suddenly seems indispensable),
Kyle Kendrick
and Worley -- with the hope that Halladay comes back, after benefiting from a shutdown.
The Phillies could be the team that jumps on
Roy Oswalt
, the most prominent free-agent pitcher still available. All winter, teams thought that Oswalt had priced himself beyond his actual worth; last year, the right-hander threw 139.2 innings, while dealing with back trouble. He had a 3.69 ERA, and his 1.34 WHIP -- respectable for sure -- was the worst of his career. Some club evaluators have viewed the 34-year-old Oswalt as someone from whom you could expect about 100 innings, with a significant risk for more back trouble.
The Phillies already have a
record payroll
, at $173 million -- which is about double what it was in 2007. Oswalt could cost something in the range of $5 million to $7 million, and he is probably weeks away from being ready to rejoin a rotation.
By the time Oswalt is ready to pitch in the big leagues, the trade market could loosen up, and the likes of
Ryan Dempster
will be up for grabs. In getting someone like a Dempster or a
Shaun Marcum
, the Phillies would have to part with prospects from a farm system already thinned by trades for Halladay and Lee in recent years.
There is another option for the Phillies, of course -- an option that is almost certainly out of the question. They could decide that because of Halladay's injury, along with the uncertainty about what Utley and Howard might give them, the Phillies could be aggressive sellers. They could market possible free agents Hamels and
Shane Victorino
, to add to their farm system.
For the readers: If you were running the Phillies, would you:
A.
Stand pat, and try to grind it out and buy time for something to change?
B.
Call Oswalt today and get him signed?
C.
Move aggressively in the trade market for someone such as Dempster?
D.
Begin to turn over the roster and trade off the likes of Hamels?
The guess here is that the Phillies will check again on Oswalt's price, while standing pat. We'll see.
Charlie Manuel acknowledged his concern after Halladay's exit Sunday,
writes Bob Brookover
. From Bob's story:
Pitching coach Rich Dubee removed Halladay from the game after the second inning because he did not like what he was seeing on the mound and he already knew that the righthander was experiencing soreness.

"I know he's had a cranky shoulder," Dubee said. "He hasn't looked right and he didn't look right today. I knew he wasn't going to come out of the game. I basically said that was enough."

Halladay said he first felt soreness "about halfway through" his previous start against the Washington Nationals.

"We checked everything out, and strength and stuff was fine," Halladay said. "But we were just careful this week, cut back on throwing, did all the normal stuff [to deal with soreness]. You have this stuff from time to time and you know most of the time if you take care of it, it kind of goes anyway."

Dubee indicated that Halladay's soreness dates from beyond his last start.

"Yeah, it's been an issue," he said. "It's been there. It's been lingering. Some days it's better than others. Chicago was better than others. Even the start of the last game it was better and then got cranky. Today, warming up he felt fine, but as he got into the game and sat down and even before the first inning, it was just hard to get it going again."
Halladay doesn't think this is the
same kind of problem
that he had in the past with the Blue Jays, as Jim Salisbury writes. Here's
video
of Halladay's talk with reporters.
Halladay's pitch selection indicates a dramatic change in his approach this year, with a greatly reduced percentage of fastballs (see chart).
The Phillies saw some
progress
in Utley over the weekend.
For now, Oswalt is
not an option
for the Rangers, writes Jeff Wilson.
•
Freddie Freeman
was wearing glasses when he came out to join his teammates to stretch before Sunday's game. But stretching is about all he can do these days, as he tries to deal with his eye problem; in layman's terms, he cannot generate the tears needed to moisturize his eyes. Freeman has been trying a wide range of possible solutions, from protective eyewear to new batting stances, in an effort to see the ball better, and is getting no traction on a fix.
Braves manager Fredi Gonzalez tried throwing batting practice to him Saturday, and after watching his first baseman struggle to angle his body in an effort to see the ball -- turning his head awkwardly, so that he could use both eyes, rather than just his right eye -- Gonzalez shut down batting practice.
The problem first came up when the Braves played in Colorado earlier this month, and Freeman has five hits in his last 40 at-bats; his eyesight has been worsening, he said Sunday, to the point that he has needed his prescription changed repeatedly.
There is some good news for the Braves:
Brian McCann
came to the park Sunday believing he might play, after missing most of the week with the flu, and he was available to pinch-hit last night. McCann could be back in the lineup today or Tuesday; Gonzalez has talked to him about starting a game and perhaps getting in five innings, and more importantly for the struggling Braves, three at-bats.
The Braves dropped their
seventh in a row
Sunday.
Chipper Jones
had
surgery
, Chris Vivlamore writes.
•
Gio Gonzalez
was
ridiculously good
on "Sunday Night Baseball," striking out 10 and allowing one hit and two runs over seven innings -- and his ERA actually went up, to 2.04. He's allowed 33 hits in 61.1 innings, with 79 strikeouts. Once again, a Washington
catcher is hurt
.
• Jim Tracy was asked if
Jamie Moyer
might be
dropped
from the Colorado rotation.
• The Giants'
Melky Cabrera
is turning the game
into a joke
. Cabrera leads the major leagues with 73 hits this season. They were
yelling across the room
at him, writes Alex Pavlovic.
From The Elias Sports Bureau:
Over the past 75 years (1937 to 2011) the only other Giants player to record as many as 73 hits over the team's first 48 games of a season was Willie Mays in 1958. Mays had a .424 batting average with 84 hits, 13 homers and 39 RBIs through the Giants' first 48 games in the club's first season in San Francisco.
• The White Sox -- roaring forward in the standings, as they swept the Indians over the weekend -- are
rolling
, led by
Paul Konerko
. From ESPN Stats and Information: Konerko hit his 400th career home run as a member of the White Sox, joining
Frank Thomas
as the only players to accomplish the feat.
Moves, deals and decisions
1.
Heath Bell
is still the
Marlins' closer
.
2. The Astros summoned a lefty who has been
dominating in the minors
.
3.
Ted Lilly
is being
replaced by a youngster
.
4.
James Russell
could be the
Cubs' closer
.
Dings and dents
1.
Jorge De La Rosa
didn't last long
in his rehab start Sunday.
2.
Franklin Gutierrez
looked better
in his rehab work, as mentioned within this Bud Withers notebook.
3.
Mark Ellis
visited
his teammates.
4. The Padres are
waiting
for
Carlos Quentin
; he's about to join the team.
5.
Yadier Molina
was
overcome by the heat
.
6.
Anthony Rizzo
is dealing with some
wrist soreness
.
By The Numbers
From ESPN Stats & Info
9:
Home runs hit between Rockies and Reds at Great American Ballpark, the most in a single game at that ballpark.
11:
Mat Latos
became the 11th pitcher to win a start despite giving up five home runs (all solo) in the Reds' 7-5 win.
400:
Home runs by Paul Konerko as a member of the White Sox; second all time behind Frank Thomas (448).
1938:
The White Sox scored 12 runs, their fourth straight game with at least nine runs. It's the first time they have scored nine or more runs in four straight games since 1938.
Sunday's games
1.
Hiroki Kuroda
was
The Man
for the Yankees.
From ESPN Stats and Info, how Kuroda beat the Athletics:A.
Kuroda worked up in the zone and above, throwing 32 pitches up and getting eight outs. Seven of the eight outs came with Kuroda's fastball.
B.
Kuroda's secondary pitch was his slider and he used it to success against the Athletics. Kuroda threw 31 sliders (30 percent of total pitches) and the Athletics went 0-for-4 with four flyouts in at-bats ending with the slider.
C.
The Athletics had runners on base in three innings, but went 0-for-7 with two strikeouts. They didn't get their first runner in scoring position until the seventh inning and went 0-for-2 with RISP.
2. The Cubs lost, again; that's
12 in a row
, Gordon Wittenmyer writes.
3. For the Diamondbacks, it felt like
old times
.
4. The Angels are almost all the way
back to .500
after sweeping the Mariners.
5.
Sean Rodriguez
got a
huge hit
.
6. The Jays
got crushed
.
7. The Rangers' run differential is now at
plus-97
; they blew out Toronto on a day when
Yu Darvish
was ailing
.
8.
Chris Capuano
and the Dodgers
never lose
.
9.
Adam Wainwright
rescued
the Cardinals.
10. The Brewers lost
another series
.
11. The Pirates put up a
big number
.
12.
R.A. Dickey
dominated the Padres
.
13. The Red Sox
continue to struggle
to get over .500.
14. The Tigers took the
tonic
otherwise known as the
Minnesota Twins
.
15.
Matt Capps
blew a save chance
, spoiling the day in Minneapolis.
16. The Reds won Sunday's
home run derby
. Their ballpark
does giveth
, and taketh away, as Paul Daugherty writes.
17.
Ubaldo Jimenez
issued a
bunch of walks
, writes Sheldon Ocker.
Other stuff
• A fan wearing a Braves cap leaned over from the stands during "Sunday Night Baseball" and asked which team had the best fans in the game. It's an interesting question, but I'd cast a vote for Milwaukee fans.
There are
3 million reasons
why the Brewers should try to win this year, writes Michael Hunt.
• The Red Sox played
classical music
for the Rays.
• Dejan Kovacevic wonders why the Pirates can't
add more offense
.
•
Coco Crisp
is grateful for the
fans' support
, writes John Shea.
• The Orioles gave their
fans hope
, but a sense of doom hangs over the team, writes Kevin Cowherd.
•
Giancarlo Stanton
is more proud of his
higher batting average
than his home runs.
•
Billy Butler
is beginning to
mount a challenge
to the Royals' home run record.
• The Indians' attendance issues are about
more than the Dolans
, writes Bud Shaw.
• The Giants' schedule is
about to get softer
, Henry Schulman writes.
• The Angels have been winning with a
committee of closers
, writes Mike DiGiovanna.
•
Ryan Roberts
has been
hitting a lot better
.
•
Justin Smoak
has been
turning it around
.
• Mississippi State
won the SEC tournament
. Vanderbilt expects a
No. 2 seed
in the NCAA tournament.
• Let's start the movement now: Stanton needs to be in the Home Run Derby.
And today will be better than yesterday.
To continue reading this article you must be an Insider