How Tigers must turn it around
June, 7, 2012
6/07/12
8:47
AM ET
The
Detroit Tigers
are now six games below .500 after a
muffed fly ball led to a loss
to the
Cleveland Indians
on Wednesday night. Detroit is six games behind the
Chicago White Sox
and a half-game ahead of the
Kansas City Royals
.
If anybody told you they saw this coming, well, attach a lie-detector test to them and aim a bright light into their eyes. The Tigers ran away with the AL Central last year, they looked great in spring training, and they were viewed as the most prohibitive favorite of any team in the majors after spending $214 million to sign
Prince Fielder
.
But the Tigers just keep losing, and losing ugly. Detroit ranks 25th in ERA, at
4.26
, and shockingly the Tigers rank 15th in runs scored -- tying with the
Philadelphia Phillies
in that category.
That's worth repeating: The Tigers -- with
Miguel Cabrera
and Fielder and
Alex Avila
and the rest of what was expected to be a very deep lineup -- have scored exactly the same number of runs as the Phillies.
But now the Tigers are faced with the challenge of digging themselves out of this early-season hole, and the question that manager Jim Leyland must be asking himself is: How?
There are no simple answers because of the team's horrific defense.
When you talk to rival evaluators about Cabrera, they'll tell you he's been OK at third base and certainly not as bad as they expected him to be. Shortstop
Jhonny Peralta
catches everything that's hit at him. Fielder is functional at first base. Corner outfielders
Brennan Boesch
and
Delmon Young
(or
Andy Dirks
) are workable.
The problem for the Tigers is that outside of center fielder
Austin Jackson
, there is not a single plus defender on the field. Almost all of them are subpar defenders, so there isn't anyone who consistently turns would-be hits into outs, no one who can rescue the pitcher with an inning-changing play. You could win with Cabrera at third base; you can't win with six Cabreras, essentially, around the diamond.
Peralta:
Ranks among the
bottom half of shortstops
in FanGraphs' defensive metrics.
Cabrera:
Ranks last
among third basemen
.
Fielder:
Next-to-last
among first basemen
.
Tigers' second basemen:
They are rated -- in a cluster -- among the
worst in the majors
with more than 100 innings defensively.
Boesch:
Ranks third-from-last
among outfielders
.
Left fielders Young and Dirks:
They are rated among
the bottom half
of players at their position.
Jackson is among the best center fielders, but he is on the disabled list; his rehabilitation assignment
should start today
.
The pitching can get a little better, but because of the defense, it's probably not going to get a lot better.
It's not an easy lineup to change because of the amount of money invested and the long-term commitments. You can't move Cabrera or Fielder; remember,
Victor Martinez
will likely return to the lineup sometime in late August or September as the DH, locking in Cabrera and Fielder at third and first, respectively.
Quite simply, the Tigers will have to slug their way back toward .500. They're going to have to hit better and win the 9-6 and 10-7 games.
It'll be interesting to see if, along the way, the Tigers look for opportunity to upgrade their middle infield. The Tigers have short-term investments in their second basemen, and Peralta is signed for $5.5 million for this season. They could try to pry away someone like
Brendan Ryan
of the
Seattle Mariners
, who is arguably the best defensive shortstop in the majors. They could consider someone like the Rockies'
Marco Scutaro
as a possibility at second; Scutaro has been a little bit better than the Tigers' second baseman in
his defensive play
.
There was more bad news for the Tigers on Wednesday, when Avila was
placed on the disabled list
.
The Tigers' mental blunders are becoming
all too common
, writes Bob Wojnowski.
Boesch is now in the
same place
that
Brandon Inge
and
Ryan Raburn
were before.
Elsewhere
• The
Los Angeles Dodgers
should be
really concerned
about Clayton Kershaw's foot injury, writes Steve Dilbeck.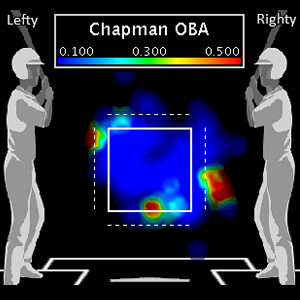 ESPN Stats & InformationAroldis Chapman's heat map against all hitters this season.
• A week into June, and
Aroldis Chapman
still hasn't allowed an earned run.
To review: Chapman has registered 87 outs, and 52 have been
strikeouts
. In his last three innings, he has struck out eight. He hasn't allowed a hit in his last eight outings.
And consider the helplessness that hitters must feel when they reach two-strike counts. Here are the results against Chapman when an at-bat reaches a two-strike count:
0-2:
2-for-13, nine strikeouts.
1-2:
1-for-23, 20 strikeouts.
2-2:
1-for-18, 11 strikeouts.
3-2:
1-for-17, 12 strikeouts.
In all two-strike counts then, hitters are 5-for-71 -- all singles -- with 52 strikeouts.
He's all three Nasty Boys
rolled into one
, writes Hal McCoy.