Josh Hamilton's free-agent company
June, 8, 2012
6/08/12
8:18
AM ET
Cole Hamels
is positioned perfectly for free agency, because it appears there will be nobody else like him on the market in the fall, assuming he doesn't sign with the Phillies. (And as of Thursday evening, his contract talks with the Phillies remain dormant.)
Zack Greinke
might be the second-best starter available this fall, and there are some big-market teams that will likely pass on him altogether because of questions about how he would adapt.
[+] Enlarge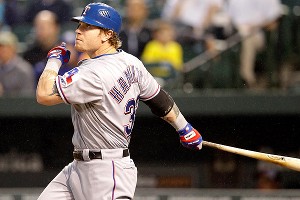 AP Photo/Patrick SemanskyWeird thought: Josh Hamilton's next deal might not approach the one Jayson Werth got.
But the fall market for outfielders looks to be much more flush, with many accomplished players poised to cash in on free agency at a time when a lot of executives are re-evaluating the proper risk on long-term contracts and trying to determine appropriate prices.
This might not be a good thing for free-agent outfielders.
Less than two years ago,
Carl Crawford
got a seven-year, $142 million deal from the Red Sox, and
Jayson Werth
landed a seven-year, $126 million contract with Washington. Many club officials now consider those signings to be wildly outpriced -- yet it was just two weeks ago that
Adam Jones
, still more than a year from free agency, got a six-year, $85.5 million deal from the
Baltimore Orioles
.
What does all this mean for outfielders about to reach free agency? "I think the market is still trying to decide," a GM said Thursday.
But the number of alternatives may ultimately work against all of them, in one way or another.
The outfield free agents-to-be:
Josh Hamilton
: He'll be the most prominent name on the market, and nobody doubts his talent -- least of all the Rangers, who look at him as a game-changer. But what's the proper level of investment, given the risks suggested by his personal history? If Hamilton is going to be in line for a deal over $100 million, which teams, exactly, are going to compete with the Rangers?
The Yankees are now bumping up against their budget and already have other pressing needs -- most notably Robinson Cano's impending free agency in the fall of 2013 -- so it's highly unlikely they'd get involved. The Red Sox already are overstocked with big contracts. The Angels are loaded with outfielders. The Cubs are rebuilding from the ground up, so it might make little sense for them to throw out a huge deal to an over-30 outfielder when they're burdened by Alfonso Soriano's deal. The Mets have to deal with David Wright's situation first.
Baltimore could an interesting option, one GM mused. "But I don't think he's got a lot of places to go," in light of what his salary will be.
The big question about the Rangers' offer to him is going to be how many years will they guarantee. Two? Three? Four, with a lot of vesting options attached? We'll see.
Hamilton intends to use his free-agent dollars for
philanthropic purposes
, writes Randy Galloway.
Michael Bourn
: He is having an excellent season, hitting .305 with a .357 on-base percentage, and he's on pace for a season of 210 hits, 117 runs and 43 stolen bases. And he's a center fielder.
Andre Ethier
: Other Dodgers felt like he came to camp with a renewed sense of purpose, and it's showing: He's been mashing, hitting .305 with 48 RBIs, and is in line for a lot of top-10 MVP votes.
Melky Cabrera
: He's a wild card, because of his explosive emergence as an elite outfielder the last two seasons. He had 201 hits for the Royals in 2011, and Kansas City, looking to free up center field for
Lorenzo Cain
, swapped him to San Francisco -- and Cabrera has generated more of the same, with a .403 on-base percentage and 25 extra-base hits among 87 hits. He left Thursday's game with a hamstring issue.
Shane Victorino
: The Phillies' Gold Glove center fielder was offered a three-year deal in the offseason, and he's looking for five years. So far this year, he's hitting .249 with seven homers.
B.J. Upton
: There has always been a sense among evaluators that Upton was capable of doing more than he's done. Still, he has hit 20-plus homers and stolen 30-plus bases and played an outstanding center field, and he's just 27 years old.
Carlos Quentin
: Rival officials believe he could be the first prominent hitter
dealt this summer
, and he's been crushing the ball since being activated off the disabled list. But with the Padres' ownership in a state of flux, the team could look to slow-play this situation, and give the incoming owners -- whoever they turn out to be -- a chance to bid on him before he hits the market place. There are no ongoing talks, but some officials guesstimate that Quentin could be in line for a deal in the range of four years, $48 million; that could climb to
Jason Bay
territory (4/60) if Quentin stays on the field and keeps hitting.
Nick Swisher
: He's hitting .250, with eight homers and 35 RBIs, but typically, he has been an on-base percentage machine. Swisher is 31 years old.
Torii Hunter
: He's reached the age at which he's not going to get a huge deal, but he's in great shape and is a nice alternative on a short-term deal.
Angel Pagan
: He's hitting .321 this season.
Notables
•
R.A. Dickey
ran his scoreless streak
to 24 2/3 innings
.
His command of his knuckler, an extraordinarily difficult pitch to master, is remarkable. Compare Dickey's strikeout-to-walk ratio this year to the best single-season K/BB rates of other knuckleball pitchers:
R.A. Dickey: 4.11
Phil Niekro 3.39
Joe Niekro 2.41
Wilbur Wood 3.39
Tim Wakefield
2.63
Charlie Hough 2.23
From ESPN Stats & Info, how Dickey shut down the Nationals:
A)
Thirty-six of the 37 two-strike pitches Dickey threw were knuckleballs. Nationals hitters were 1-for-14 in two-strike at-bats.
B)
Recorded 13 ground-ball outs (including two double plays), his most in a start this season.
C)
Nationals hitters were 1-for-8 in at-bats ending with a pitch away, and 0-for-7 in at-bats ending with a pitch inside. All eight of Dickey's strikeouts came on pitches off of the middle of the plate.