Boston Red Sox deep in dissension
June, 18, 2012
6/18/12
8:47
AM ET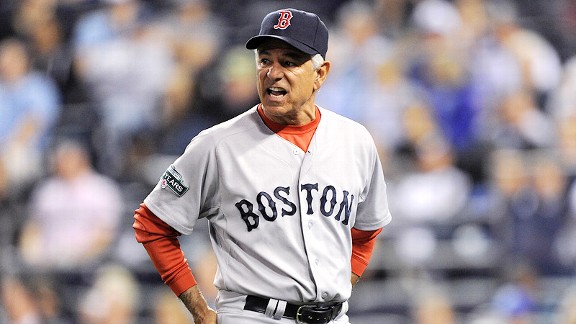 Peter G. Aiken/US PresswireSo far, there haven't been many happy days for Bobby Valentine's Red Sox.
CHICAGO -- Anybody who has had a 30th birthday has witnessed troubled marriages. The frustration and exasperation of those involved is deeply felt, and because of the requirements of the union, there is little respite. They have to deal with each other every day.
And because everything that is said and done is viewed through the prism of that frustration and exasperation, the whole situation is refueled constantly. Stuff that really shouldn't be a big deal becomes a big deal, because of what happened before.
Which brings us to the 2012
Boston Red Sox
.
The unhappiness that exists among the Boston players and staff is multilayered and deep. Calls and texts and complaints about daily events and exchanges are being sprayed all over the baseball landscape as some involved share their frustration with friends and family and agents. Some already are talking about looking for work elsewhere down the road.
There is frustration about how individual situations have been handled, about communication. For those aware of the problems, there is bad body language on display during games, as the anger manifests.
"Did you see that?" an official texted during the weekend here after some particularly egregious posturing.
Nobody has really gone on the record -- yet -- but it's clear that if the Red Sox are to win this year, it'll have to be in spite of the bad feelings. This team won't turn into Happy Town any time soon. There are too many irreconcilable differences in place.
But undoubtedly, the Red Sox can win; if you're looking for a parallel, think about the 1977-78 Yankees. Reggie hated Billy and Thurman hated Reggie and George sided with Reggie until he sided with Billy, until George fired Billy after what Billy said about George and Reggie.
Boston is four games out of the wild card. As manager Bobby Valentine noted before Sunday's game, a board in the Fenway clubhouse lists all the injured players, and in each case, there have been no setbacks.
Cody Ross
could be activated Tuesday,
Carl Crawford
might be back in early July, and
Jacoby Ellsbury
isn't far behind. Andrew Bailey's rehabilitation is going well, and he'll pitch this season, and
Daniel Bard
might go back to being one of the most dominant setup men in the game. The Red Sox are looking for a starting pitcher, and if they land someone like
Ryan Dempster
by the trade deadline, that could stabilize the situation.
But if the Red Sox don't make the playoffs, there will be a time when all the exasperation and frustration spills out spectacularly. Most divorces get ugly.
The Red Sox
won ugly
on Sunday, Scott Lauber writes.
Ryan Kalish
had a
great return
to the big leagues.
Franklin Morales
had a
strong outing
in his return.
Valentine is no longer in the
comfort of the booth
.
Twins desperately searching for arms
Minnesota Twins
GM Terry Ryan said over the phone the other day that his organization really isn't that picky -- it will draft any pitcher who gets hitters out, whether he relies on a fastball or slider or changeup or something else. There was talk in the industry after the Twins took so many hard throwers in the draft that they are focusing on collecting power pitchers, and Ryan didn't agree with that perception.
But Ryan did freely acknowledge that as the Twins made their choices, they were cognizant of pitchers falling to them. "We don't have enough pitching," Ryan said. "We need pitching, and we need it bad."
Adding pitching is a priority for Minnesota, and executives with other teams have quietly wondered whether Ryan will look to flip some major league assets for young pitching -- most notably center fielder
Denard Span
, who is under contract through 2014 with an option for 2015, and
Josh Willingham
, who is in the first year of a three-year, $21 million deal.
Keeping with the way he has handled such things, Ryan declined to address questions about his plans to buy or sell.
The Twins' pitching was
excellent in extra innings
Sunday.
Joe Mauer
is
nicked up
.
Elsewhere
• This is baseball: When the
Colorado Rockies
traded for
Jeremy Guthrie
, acquiring him in return for
Jason Hammel
and
Matt Lindstrom
, the industry consensus was the Rockies had gotten the better part of the deal, easily. Now Hammel is having a strong season while Guthrie has a 6.91 ERA, and Colorado has made it known to other teams that the right-hander is available immediately. He could have some value, because his ERA in Colorado is 9.53 while his road ERA is 4.23.
The
Toronto Blue Jays
lost three starters in four days, and given Guthrie's solid history in the AL East, it'd make sense for Toronto to take a run at him. Toronto swept the
Philadelphia Phillies
over the weekend, hanging in the
AL East race
. Meanwhile, all of Toronto's injured pitchers are
going to see specialists
.
Guthrie lost Sunday and
Carlos Gonzalez
got hurt,
writes Patrick Saunders
.