The difference in Andrew McCutchen
June, 21, 2012
6/21/12
8:55
AM ET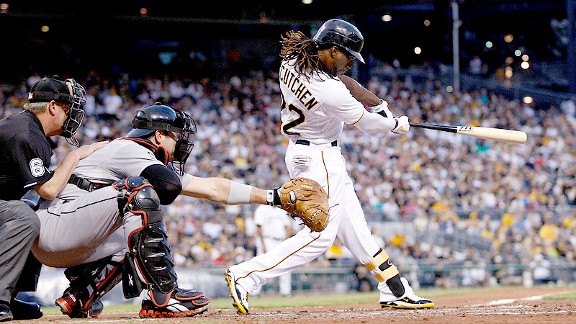 Jared Wickerham/Getty ImagesWhen Andrew McCutchen got comfortable with his new stance, he noticed his increased power.
Andrew McCutchen
did not wait before beginning his swing reconstruction last fall. He didn't head off to Aruba for a couple of weeks to decompress, didn't lie on a couch someplace, didn't spend October managing his fantasy football team.
The Pirates' 2011 season ended Sept. 28, and how long was it before McCutchen was back in a batting cage and adjusting to the significant changes he had made with his stance? "Three weeks," McCutchen recalled in a recent conversation. "I wanted to get comfortable."
While the
Texas Rangers
and
St. Louis Cardinals
journeyed their way to the World Series, McCutchen was back at work in a Florida cage with former teammate
Steve Pearce
, fixing his swing mechanics, working on getting the right measure of balance on his back leg. Too often, McCutchen had felt his timing had been inconsistent. "There were times when my [swing] path to the ball was either too early or too late," McCutchen said. "There were pitches that I should've been on" -- and mashing -- "but instead, I rolled over the ball."
Before McCutchen started in the cages, he had watched videotape of hitters he thought would help serve as models for a new setup.
Manny Ramirez
, who has always been viewed by his peers as one of the most balanced of hitters.
Ryan Braun
, who had an MVP season last year.
Yadier Molina
, who has gotten better and better at the plate throughout his career. "I wanted to see how they went through their swing -- the rhythm, the timing," McCutchen said.
McCutchen decided to open his stance: A right-handed hitter, he moved his front leg -- his left leg -- back from home plate.
Now, as a pitcher begins his delivery, McCutchen's swing mechanics are triggered. He raises the bat in his hands; he lifts
his left leg slightly
and then plants his front foot. His weight shift, from his back leg into his swing, is smooth and powerful, and he fires his bat through the zone.
But it didn't feel natural to him at the outset, when McCutchen first started his offseason work in the cage with Pearce at Florida Southern. "I told myself that the more that I did, the more I worked with it, the more comfortable I'd be," McCutchen said.
He kept swinging through November and December, and when he joined a minicamp the
Pittsburgh Pirates
held in January, he could feel the difference; he was able to really drive the ball to right-center "with some authority," he said.
The offseason work carried over into this season; he's
hitting
.332 with 12 homers, 39 RBIs, 14 steals, a .951 OPS.
If you filled out an NL MVP ballot today, it might look something like this:
1.
Joey Votto
,
Cincinnati Reds
2.
Braun,
Milwaukee Brewers
3.
David Wright
,
New York Mets
4.
McCutchen, Pirates
5.
Carlos Gonzalez
,
Colorado Rockies
6.
Carlos Beltran
, Cardinals
7.
R.A. Dickey
, Mets
8.
Melky Cabrera
,
San Francisco Giants
9.
Matt Kemp
,
Los Angeles Dodgers
10.
Molina, Cardinals
Elsewhere
•
Brandon Beachy
is having
Tommy John surgery
, a body blow for the
Atlanta Braves
. Rival executives believe that Atlanta will be active in the market for starting pitching.
• After the battle of words between Joe Maddon and Davey Johnson,
Stephen Strasburg
shut
down
the
Tampa Bay Rays
.
When a players is traded and later faces his old teammates, his old team will change its signs, as a matter of course. It's considered fair game to ask an incoming player for information about his previous team's signs, or about how to pitch to batters on his old team, or about some other elements of that club. I've heard of teams specifically acquiring a player recently dumped by a rival largely for the information -- especially catchers, who are the information highways of the sport.
But where is the line about what information you can use?
It falls within that gray area covered in the volumes of baseball's unwritten rules, apparently.
Johnson did concede that Maddon is the more dominant force in the
Twitter realm
, as Marc Topkin writes.
Peralta could hear about the
penalty he faces today
.
From ESPN Stats and Info, how Strasburg won:A)
Missed bats: Strasburg induced a career-best 21 swings and misses. All 10 of his strikeouts were swinging. It's Strasburg's sixth career game of 10 or more strikeouts, but the first in which all were swinging.
B)
Rays hitters missed on 11 of their 14 swings (79 percent) against Strasburg's changeup, including all six swings before two strikes. His five changeup strikeouts tied a season high. Only two Strasburg changeups were put in play, both of which were on the ground.
C)
Twenty-five of the 26 changeups (96 percent) Strasburg threw were down or below the strike zone, his highest percentage in his career (min. 10 changeups).
Highest miss percentage on changeups this season (qualified starters)
Strasburg -- 55 percent
Cole Hamels
-- 48 percent
Johan Santana
-- 45 percent
Felix Doubront
-- 43 percent
• I don't think any team is having a tougher season than the Rockies, who came in with some high expectations. Colorado has pitched terribly, and on Wednesday, the Rockies suffered a
gut-wrenching loss
and learned that shortstop
Troy Tulowitzki
is going to be
out a long time
.
Moves, deals and decisions
1.
Justin Verlander
could
get the ball
for the All-Star Game if asked. He'd be an excellent choice.
2. Danny Hultzen was promoted to
Triple-A
.
3.
Tyson Ross
was
promoted
.
4. There are
no moves on the horizon
for the
Miami Marlins
, says Ozzie Guillen.
5.
Roy Oswalt
is
set to start
for the Rangers.
6. The Rangers should get
Chone Figgins
,
writes Evan Grant
.
7.
Jacob Turner
makes his 2012 major league debut today, and
Mike Matheny
is excited to
see him pitch
.
8. The
Boston Red Sox
have
stepped up their efforts
to trade
Kevin Youkilis
, writes Nick Cafardo.
9. The
New York Yankees
signed a
left-hander from Cuba
.
Dings and dents
1.
Jerome Williams
had a
scary episode
.
2.
Mitch Moreland
is headed to
the disabled list
.
3.
Drew Hutchison
won't need
elbow surgery
.
4.
Salvy Perez
appears to be very close to
returning to the big leagues
, as Bob Dutton writes.
5. The Reds are downplaying
Aroldis Chapman
's
ailment
.
6. A
Chicago Cubs
reliever got
very lucky
.
7.
Shaun Marcum
's elbow is OK, in the big picture, but he still might wind up on
the disabled list
.
8.
Joe Mauer
may not
start until Friday
.
9.
Chase Utley
had another
good day
.
10.
Dustin Pedroia
got a
scare
.
11.
Nick Markakis
needs
more time
.
By The Numbers
From ESPN Stats and Info
4:
Tommy Hanson
,
Phil Hughes
and
Jason Vargas
each allowed at least four home runs.
9:
Home runs combined for the Braves (5) and Yankees (4) on Wednesday.
10:
David Ortiz
's grand slam was his 10th as a member of the Red Sox, second-most in franchise history.
20:
Home runs for Ryan Braun this season, first NL player to do so.
29:
The Mets pitchers had their scoreless streak end at 29 innings.
42:
The number of home runs hit Wednesday, tied for the second-most in a single day this season.
Wednesday's games
1. Jim Leyland tipped his cap to the
opposing pitcher
.
2.
Jason Heyward
was
The Man
for the Braves, mashing two of the five homers hit by Atlanta.
From ESPN Stats and Info:
Heyward homered twice in the win against the Yankees, his third career multi-home run game. It continued a June renaissance for Heyward, who struggled mightily in May (see chart).
3.
Jason Vargas
was
pounded
.
4. The Giants were
shut out again
.
5. Watched a lot of
Jered Weaver
's start against the Giants Wednesday night, and he was back to
doing what he usually does
.
6. The Dodgers
struggled for runs
.
7.
Justin Upton
and the
Arizona Diamondbacks
exploded for
14 runs
.
8.
Ricky Nolasco
was
blown up
. Ozzie Guillen defined
the tonic
for a bad day.
9.
Gavin Floyd
stepped up, as
Toni Ginnetti writes
.
10.
Jordan Lyles
threw well
but lost
.
11. The Rangers are feasting in interleague play, and Wednesday,
Yu Darvish
picked up
his ninth victory
.
12.
Jonathan Broxton
and the Royals just keep winning -- although they had some
tense moments Wednesday
.
13.
Jake Westbrook
and the Cardinals
climbed over .500
.
14.
Justin Masterson
was
The Man
for the
Cleveland Indians
.
15. Tom Haudricourt tweeted during Wednesday's games that anybody who didn't hit a home run in the Jays-Brewers series should be DFA'd, which means
everybody's safe
.
16.
Francisco Liriano
pitched
well
.
17. The
Philadelphia Phillies
pieced
together a victory
.
18.
Felix Doubront
got a whole lot of
run support
.
19.
Dillon Gee
had a
good outing
for the Mets.
20. Phil Hughes gave up a
bunch of long balls
. It was hot in the Bronx and the ball was flying; when Heyward hit his second homer, he was on his front foot and flicked his wrists. Watching on TV, I thought Heyward might've hit a flare between the outfielders -- and the baseball soared into the stands in right field.
Hughes has problems when his
fastball is off
, writes Bob Klapisch.
Other stuff
• Eddie Murray has been linked to an
insider trading probe
.
• Gerrit Cole was outstanding in his
Double-A debut
.
•
Matt Moore
is on a
serious roll
.
• Manny Acta is
sick of watching
Joey Votto.
• The
lack of extra-base hits
are a bad sign for
Alex Rodriguez
.
• Jeffrey Loria believes the Marlins are a
good team
.
• Terry Collins and the Mets put on
a good show
, writes Ken Davidoff.
• The hype for
Anthony Rizzo
could
be a problem
.
•
Drew Pomeranz
is
making progress
, writes Rick Morrissey.
•
Colby Rasmus
was helped by some
chats with his manager
, writes Mike Rutsey.
• This was a
very different Father's Day
for Vanderbilt baseball coach Tim Corbin and his step-daughter, Molly Blatt.
•
Roger Clemens
will
not get a vote
from Randy Galloway for the Hall of Fame.
And today will be better than yesterday.