The Cubs should deal Dempster now
July, 15, 2012
7/15/12
8:18
AM ET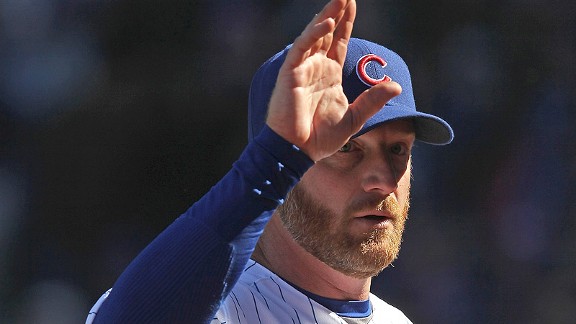 Jonathan Daniel/Getty ImagesRyan Dempster has had quite a farewell in Chicago, and the Cubs should cash in on his value.
Ryan Dempster
's six scoreless innings for the
Chicago Cubs
on Saturday were probably his last with the team, because now is the best time to trade him. Dempster is healthy now, after being on the disabled list earlier this year, and if the Cubs deal him before his next scheduled start -- rather than later this month -- his presence won't complicate their marketing of
Matt Garza
in late July.
Last July, if you recall, the
San Diego Padres
listened to offers for
Heath Bell
and
Mike Adams
, and in the end, they couldn't get what they wanted for Bell partly because of the persistent interest in Adams.
So Dempster will soon be gone, at a time when he's throwing really well; he's been able to throw a split-fingered fastball lately after limiting its use in the past because of a blister. Opponents have a .562 OPS against Dempster, easily the lowest mark of
his career
, and his ERA of 1.86 is the
lowest
in the majors. The Cubs are selling a stock performing at peak level, and beyond the numbers, Dempster is highly regarded for his personality, his clubhouse presence and his experience.
There are
10 teams involved
in the pursuit of Dempster, writes Bruce Levine.
Earlier this season, when there were fewer teams declaring themselves as buyers, the Dodgers appeared to be the favorite for the right-hander -- and they still may land him.
But there is more competition for him now, and the Cubs are willing to eat a whole lot of the money owed to Dempster for the rest of the season, because they want to get the best possible talent in return.
Here's a list of teams for which Dempster could be a fit:
Cleveland Indians:
Cubs president Theo Epstein has made multiple deals with the Indians in the past when he was in Boston, and Cleveland is looking for a rotation stabilizer.
Baltimore Orioles:
With
Jason Hammel
down, the Orioles are looking for a starter to stop the bleeding in their rotation.
St. Louis Cardinals:
They have had fraying in their rotation this season. They know Dempster, and he knows the division. The Cubs would deal within the division because at this stage in their rebuilding efforts, they are simply looking for the best prospect match.
Chicago White Sox:
It's unclear how much more
Chris Sale
will help the White Sox, and Dempster could provide a big lift.
Washington Nationals:
At some point, the Nationals are going to shut down
Stephen Strasburg
, probably in late August or early September. Dempster would be a perfect addition to the Nationals' solid rotation.
Boston Red Sox:
Red Sox GM Ben Cherington has said he's looking for starting pitching, and Epstein could find common ground, given his knowledge of the Red Sox's farm system.
Detroit Tigers:
This is an all-in year for the Tigers, but it's unclear whether Detroit would consider a swap of Nick Castellanos in a Dempster deal, or if the Tigers would hold him out for more than a 2½-month rental such as Dempster.
New York Yankees:
Dempster could fit, but there's really no pressing need for New York. It's hard to imagine the Yankees extending themselves significantly at a time when they're beginning to run away with the AL East.
Los Angeles Dodgers:
Dempster would boost the Dodgers' chances, and the perception of L.A. in other front offices is that the new ownership wants to do everything possible to win now. But now that the Dempster bidding has gotten more competitive, it's unclear whether the Dodgers can outgun other teams for him.
Los Angeles Angels:
Injury issues have popped up for both
Dan Haren
and
Ervin Santana
, making starting pitching a priority for this team.
Toronto Blue Jays:
Dempster would be a nice "tweener" addition for the Blue Jays, who are hanging on the edge of the wild-card race. He wouldn't be as expensive as Garza, and he would be a badly needed upgrade over what the Blue Jays have.
Pittsburgh Pirates:
If they can add one more solid starter, they would strengthen the foundation for a team already good enough to win the NL Central. Epstein and Pirates GM Neal Huntington have made many trades in the past.
Atlanta Braves:
They have been considering their options in the market for starting pitching, and at a time when the Cubs are looking for young starters, the Braves have some to offer.
Dempster has been a
terrific pitcher and a great role model
for the Cubs, writes Rick Morrissey.
The Cubs have been
playing well
, writes Dave van Dyck.