Secret to Cardinals' offensive success
June, 9, 2013
6/09/13
10:47
AM ET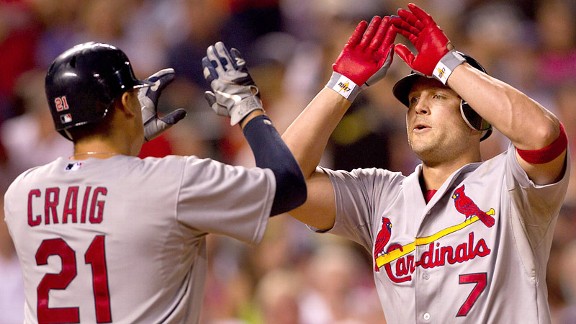 Justin Edmonds/Getty ImagesAllen Craig, Matt Holliday and the Cardinals have a .410 OBP with runners in scoring position.
CINCINNATI -- Pitching to the St. Louis Cardinals is like standing on a hill of fire ants. You might get one or two of them, but the rest will keep coming, and they will get you.
The other day, the Reds' Mike Leake -- who has been pitching well lately -- was working a scoreless game as he faced the middle of the St. Louis lineup, and with a runner at first and one out in the fourth, the right-handed-hitting Allen Craig started fouling off pitches. All of them went to the right side, not because he was overwhelmed by Leake's stuff and he was late, but because this is the approach of almost all the St. Louis hitters: They let pitches travel deep in the strike zone to give themselves a better chance to see the ball, and they look to hit it to the opposite field or through the middle.