Handicapping the Josh Hamilton market
November, 26, 2012
11/26/12
7:58
AM ET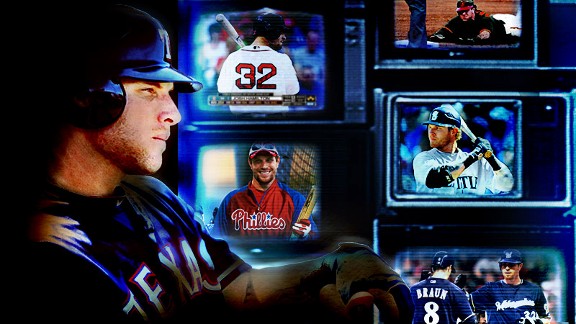 ESPN.com IllustrationHamilton has suitors, but no one is yet willing to offer more than a three-year deal.
This is what
Josh Hamilton
achieved in 2012: 43 homers, tied for the second-most in the majors. One hundred twenty-eight RBIs, which ranked second in the majors. One hundred three runs; only seven players scored more. He finished fifth in the American League MVP voting.
This is what Hamilton somehow simultaneously achieved in 2012: He managed to create
more
questions about him, about his value, about the risk of signing him.
Somehow, evaluators are asking questions such as this -- Will Hamilton go into operation shutdown if you give him the contract that he's looking for? He seemed to struggle to maintain his focus in a lot of games and weeks last year, so will he simply drift off once he gets an enormous contract?
All of this makes for the most unique set of circumstances for any free agent since the system began in 1976, a mix of raw power and doubt and extraordinary natural ability and rumors. Anybody who tells you he or she knows exactly how this will end up is apparently the only person who thought in early December 2011 that
Prince Fielder
would land with Detroit.
I asked a handful of baseball officials and invested agents to venture an educated guess on where Hamilton will land -- and all but four of them split their votes, which tells you a lot about how wide-open and uncertain this situation appears to be:
The results:

Texas Rangers: 4 votes (Two full, four half-votes)