Top 10 rotations in MLB history
January, 20, 2013
1/20/13
8:56
AM ET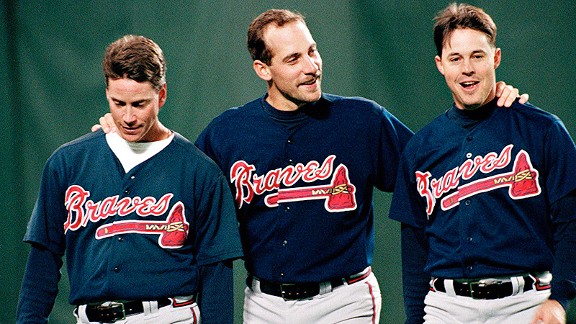 AP Photo/Doug MillsTom Glavine, John Smoltz and Greg Maddux were a formidable trio in the 1990s for the Braves.
I grew up as a crazy
Los Angeles Lakers
fan right in the middle of
Boston Celtics
country in central Vermont, which meant that all of my friends rooted for Larry Bird and Robert Parish and Cedric Maxwell, and I rooted for
Kareem Abdul-Jabbar
and Magic Johnson. I loved the debate, even when it was certain that we would disagree.
It is in that vein that we present a weeklong series ranking the greatest units in baseball history -- the greatest rotations, the greatest bullpens, outfields, infields, lineups and teams.
It's a sure thing: We are going to disagree. And that's a big part of the fun.
Here's my list of the top 10 MLB rotations of all time:

The Atlanta rotation was so good for so long that you could actually make a case for about a half-dozen other seasons -- 1995, the year that the Braves won the World Series, or 1998, 1999, 1993 or maybe 2002. I solicited opinions on this from a bunch of colleagues, from Jayson Stark to Justin Havens to Frank Labombarda of the Elias Sports Bureau, and Jayson sent along a list of the teams with the greatest differential between their staff ERA and the league average. Five of the top 30 teams were those Braves teams of
Greg Maddux
,
Tom Glavine
and
John Smoltz
.
In 1997, the difference between the Braves' staff ERA of 3.18 was more than a run better than the league average -- 1.03 runs, to be exact -- which is the fourth-best of all time. That year, John Smoltz had 241 strikeouts in 256 innings, with a 3.02 ERA, and he was arguably the
fourth-most effective starter
in their rotation.
Denny Neagle
went 20-7 with a 2.97 ERA and 1.084 WHIP, and finished third in the Cy Young voting; Glavine had a 2.96 ERA; and Maddux finished second to
Pedro Martinez
in the Cy Young voting after posting a 2.20 ERA.
And within the next five years, we'll probably be able to say that three-fifths of the Atlanta rotation was composed of Hall of Famers, which means even more today than it did two weeks ago.

This rotation included three pitchers who would eventually be inducted in the Hall of Fame. Sandy Koufax, in his last season before retiring, posted a career-low 1.73 ERA with 317 strikeouts in 323 innings. Don Drysdale had the highest ERA among the starters at 3.42, and the guy filling the No. 4 spot in the four-man rotation was 21-year-old Don Sutton, who went 12-12 with a 2.99 ERA. Claude Osteen, the Dodgers' No. 3 starter, surrendered just six homers and 65 walks in 240 1/3 innings, the foundation for his 2.85 ERA. The difference between the Dodgers' staff ERA that season -- built on the 1,062 innings of those starters -- and the league average was 0.98 runs, the eighth-best in major league history.

On the second day of spring training that year, the Phillies' rotation of
Roy Halladay
,
Cliff Lee
,
Cole Hamels
,
Roy Oswalt
and
Joe Blanton
held a news conference together, and the whole thing was a little awkward. Halladay and Lee are naturally reticent, and none of the other three was inclined to speak out of turn. When Blanton was asked, in so many words, whether he felt he was worthy of being in the same company as the other four, Oswalt reacted with a look of disgust at the question.
But while they didn't like talking about themselves, they lived up to the hype. The Phillies' rotation posted a 2.86 ERA that season, best in the majors, and Philadelphia went 102-60. Halladay, Lee and Hamels all posted ERAs at 2.79 or lower, and at one time or another, each of them was part of the Cy Young conversation during that summer. Halladay threw the second no-hitter in postseason history.
Halladay could retire today and be all but assured of induction into the Hall of Fame, and Hamels has started his career strongly and given himself a chance to someday join Halladay. Either way, Hamels and the rest of the 2011 Phillies can say they were part of one of the greatest rotations of all time.

The Indians went 111-43 that year, setting the modern-day American League record for wins -- later broken by the 1998
New York Yankees
and then the 2001
Seattle Mariners
-- and their rotation led the way. Early Wynn and Bob Lemon each won 23 games, Mike Garcia went 19-8, and No. 4 starter Art Houtteman went 15-7 with a 3.35 ERA. The No. 4 starter? The 35-year-old Bob Feller, who mustered a 3.09 ERA in his 19 starts. Wynn, Lemon and Feller all were eventually inducted into the Hall of Fame -- as was a veteran reliever on that team who chipped in with one spot start, the
33-year-old Hal Newhouser
. Cleveland posted a staff ERA that year of 2.78, markedly better than any other team's; the
Chicago White Sox
finished second at 3.05.

It was the dead ball era, and pitching dominated, but no staff might have dominated the way that this Cubs team did. The Cubs' ERA was 1.73, with five of the eight members of the team checking in with ERAs under two runs per game: Orval Overall went 23-7 with a 1.68 ERA; the legendary Mordecai Brown had a 1.39 ERA; Ed Reulbach at 1.69; Carl Lundgren, 1.17; and Jack Pfeister, 1.15. In the sweep of the
Detroit Tigers
, which included a
3-3 tie in Game 1
, the Cubs' staff allowed four earned runs in those five games.
Oh, what the Cubs would give to have a pitcher like Overall now.

That year, a 39-year-old Nolan Ryan struck out 194 in 178 innings with a 3.34 ERA -- and he was the Astros' No. 3 starter. Mike Scott's splitter (or whatever it was) was at its best, and he posted a 2.22 ERA with 306 strikeouts in 275 1/3 innings. Bob Knepper was 17-12, 3.14, and Jim Deshaies was 12-5, 3.25 in 26 starts. That staff generated 1,160 strikeouts, easily the most in the majors, and Houston's rotation ranked No. 1 in ERA in the majors that year at 3.06.
Their season would end with a wrenching playoff defeat to the
New York Mets
, because the Astros on that team -- and some Mets, for that matter -- will always believe that if Houston could have forced a Game 7, Scott would have gotten the ball and won. He had been dominant in his first two starts, allowing one run and one walk in 18 innings, with 19 strikeouts.

The Orioles lost the World Series in seven games that year, but this might have been the
best pitching staff
among the many great staffs managed by the late Earl Weaver. This rotation is famous for being the only rotation in history with four 20-game winners -- left-hander Mike Cuellar (20-9), right-hander Pat Dobson (20-8), right-hander Jim Palmer (20-9) and left-hander Dave McNally (21-5). The Orioles' staff pitched 1,415 1/3 innings that year, and the starting four accounted for 1,081 of those.
It's hard to make a case for this quartet as being the greatest rotation of all time, though, given the fact that Baltimore's staff ERA was just a shade better than those of the
Oakland Athletics
, the California Angels and the White Sox. But the Orioles' staff was extremely efficient: Baltimore finished ninth in the league in strikeouts that season but allowed the fewest walks -- and in keeping with Weaver's directive about avoiding beanball battles, the Baltimore batters hit only 18 opponents that year, the fewest in the majors. The Orioles had a great defense, and Weaver implored his pitchers to take advantage of it -- and in 1971 they did, day after day.

8. 1948 Cleveland Indians
Cleveland's staff ERA was more than a half-run better than any other AL team's, and the Indians' primary five starters of Bob Lemon, Bob Feller, Gene Bearden, Sam Zoldak and Don Black did a lot of heavy lifting in that season -- manager Lou Boudreau used each of them for
at least six relief appearances
as well. Lemon had a couple of saves and Feller had three among the Indians' league-leading 30 saves. The Indians' ERA of 3.22 was 1.06 runs better than the league average, the third-highest of all time.
The difference in eras may be best borne out by this number: Cleveland's accomplished staff combined for 593 strikeouts in 1,409 1/3 innings, or 3.79 per nine innings. According to Katie Sharp of ESPN Stats & Info, the last team to post a strikeout/9 ratio this low was the 1983
Kansas City Royals
.

9. 1939 New York Yankees
It's a group of pitchers mostly forgotten by history because of the dominance of the Yankees' lineup that year, but consider this: The staff ERA of 3.31, or 1.31 runs better than the league average of 4.62, represents the greatest difference in baseball history. The Yankees' ERA was almost three-quarters of a run better than any other AL team's, in a year in which New York went 106-45. Manager Joe McCarthy employed his own version of a pitch count that year: Eight different pitchers had at least 11 starts, and not one of them started more than 28 games. Nonetheless, Red Ruffing went 21-7 with a 2.93 ERA, and Lefty Gomez went 12-8 with a 3.41 ERA, in 26 starts.
Three
of the top four
leaders in hits per nine innings
were members of the Yankees' rotation.
That season will always be remembered for the last days of Lou Gehrig's consecutive-games streak and for Joe DiMaggio's pre-eminence. But the Yankees' pitching was sensational.

10. 1905 Philadelphia Athletics
It was a different time, and really, a different game. Connie Mack used a total of seven pitchers that year, and his big four of left-handers Eddie Plank and Rube Waddell and right-handers Chief Bender and Andy Coakley combined for 1,169 of the team's 1,383 innings
that season
. Waddell had a monster season, posting a 1.48 ERA and striking out 287 hitters in 328 2/3 innings -- and he went 27-10.
Others considered:
The 1968
St. Louis Cardinals
-- It was very, very difficult to leave them out. With Bob Gibson leading the way with a record-low 1.12 ERA, St. Louis had an ERA of
2.49 that year
, and he was followed in the rotation by Nelson Briles and Steve Carlton.
The 1926 Philadelphia Athletics -- At a time when offense had started to take over the sport, Connie Mack's staff posted a
league-best 3.00 ERA
. Philadelphia finished third that year even though that the staff ERA was 1.02 runs per game better than the league average, the fifth-best of all time. Hall of Famer Lefty Grove led the way for that rotation.
The Oakland Athletics' rotations from 1972 to 1974 -- Catfish Hunter, Ken Holtzman and Vida Blue were the Maddux-Glavine-Smoltz of those years.
The 1986 New York Mets -- Before they outlasted the Astros and Red Sox in the postseason, the Mets were a regular-season machine, going 108-54 -- and their rotation did staggering work. Sid Fernandez, their No. 4 starter, allowed just 161 hits in 204 1/3 innings, and their No. 5 was a 24-year-old Rick Aguilera. Dwight Gooden, Ron Darling and Bobby Ojeda fronted the rotation, with Gooden posting a 2.84 ERA.
The 1998 Yankees -- Led the AL in ERA by a significant margin as the Yankees won 114 regular-season games.
The 2001
Arizona Diamondbacks
--
Curt Schilling
and
Randy Johnson
combined for 665 strikeouts in 506 1/3 innings that year and carried that rotation.
The 2003 Oakland Athletics --
Mark Mulder
,
Tim Hudson
and
Barry Zito
were in their prime.
---
New York baseball writers' dinner report
Old friend Willie Weinbaum attended the New York baseball writers' dinner Saturday, and as he does every year, he checked in with this file -- after a day filled with sad news.
As Saturday's 90th annual Baseball Writers' Association New York chapter awards dinner began, chairman Tyler Kepner of The New York Times announced the names of baseball figures whose lives had ended in the past year, concluding with Hall of Famer Earl Weaver, who died the night before at age 82.
Then word started to get around that another Cooperstown immortal, Stan "The Man" Musial, died Saturday at 92. "It is a very sad day for me," Willie Mays said in a brief interview after being informed of his perennial National League All-Star Game teammate's passing. Mays, on hand to celebrate the 2012 Giants' world championship honorees and the chapter's "Willie, Mickey and the Duke" award to his 1973 Mets, called Musial "a true gentleman who understood the race thing and did all he could.
"I never heard anybody say a bad word about him, ever."
Rather than cast a pall, the news seemed to infuse the event with a renewed spirit of reflection and reveling in the people present -- like the 81-year-old "Say Hey Kid."
The Nationals' Davey Johnson accepted the NL Manager of the Year award and immediately lightened the mood by thanking both presenter Terry Collins, the Mets' manager, for trading
R.A. Dickey
out of the league, and fellow honoree
Chipper Jones
for retiring. Johnson also reminisced about Weaver, his indomitable manager with the Orioles, whose confidence even back in his days as a shortstop was over the top for someone "only 5-foot-3 who couldn't run and couldn't throw."
Jones, recipient of the William J. Slocum-Jack Lang Award for meritorious service, was a legendary Mets killer, and his prolific numbers against them made up most of his introduction. Jones said he'd gotten the itch to go to spring training this year and looked at the Braves' website, but worked out for five minutes and decided "it's better to go to Hawaii."
Giants catcher
Buster Posey
, a Georgia native, received his NL Most Valuable Player award from Jones and then chided him -- as did others -- about being long in the tooth. Posey recounted starting to watch Jones his rookie year, "when I was 6 or 7 -- I don't want to make you feel old ... my dad's 10 years older than you."
Earlier in the day, American League MVP
Miguel Cabrera
, MLB's first Triple Crown winner since 1967, and Rookie of the Year
Mike Trout
got together for an ESPN The Magazine cover photo shoot. Trout said he'd rented a tuxedo for the BBWAA banquet but has plans to buy one. Judging by Cabrera's predictions of MVP and other awards for Trout, investing in a tux seems practical for the young Angel.
Instead of a traditional comedian, often the entertainment at these shindigs, the showcase act was Gar Ryness, better known as the "batting stance guy." And Ryness' act didn't disappoint, as he mimicked Cabrera's home run trot, Posey's quizzical expressions on questionable calls and the idiosyncrasies of
CC Sabathia
,
Nick Swisher
and
Derek Jeter
. He also joined the jabbers at the recently retired Jones, saying that when Hank Aaron hit his 715th homer 39 years ago, Dusty Baker was on deck, Davey Johnson in the hole and Jones next.
Dinner emcee Kepner is a Vanderbilt alumnus, and he expressed special pleasure in the AL Cy Young Award going to former Commodore
David Price
, who proclaimed his love of the game from the time he first played it as a 2-year old.
Ever-topical Mets general manager Sandy Alderson played the Manti Te'o card in making light of his team's no-name outfield, telling the audience he has had "serious discussions with several outfielders I met on the Internet; one I really like says he played at Stanford."
Alderson wished his former pitcher R.A. Dickey well, saying he hopes the knuckleballer, now with Toronto, becomes the first to win back to back Cy Young Awards in two different leagues, in two different countries.
The 38-year-old Dickey received the NL Cy from a mentor, Hall of Fame knuckleballer Phil Niekro, who said Dickey's career is "only beginning." How meaningful to Niekro was the chance to present the award to Dickey? Niekro said he told his wife that if their wedding had been scheduled for Saturday, he probably would've rescheduled it.
Jim Abbott, winner of the Casey Stengel "You Could Look it Up" Award commemorating his no-hitter for the Yankees 20 years ago, recalled firing the game's first pitch to the backstop and then walking leadoff hitter
Kenny Lofton
on five pitches. But as the momentous performance progressed, Abbott, who was born without a right hand, said he thrived with the rousing support of the fans, who vented at Lofton "like you would not believe" in the ninth inning when he unsuccessfully tried for a bunt single.
Abbott paid tribute to the respected baseball officials Jeff Idelson, president of the Hall of Fame and former public relations director of the Yankees, and Tim Mead, a longtime Angels executive, for their teachings about how to treat people. And he cited his career and the BBWAA award as examples of what his father taught him, that "what's taken away once will be given back twice."
Courage in the face of adversity is the common denominator cited for the co-winners of the Arthur and Milton Richman "You Gotta Have Heart" award. MLB Players Association executive director Michael Weiner, despite being diagnosed with brain cancer last summer and dealing with a taxing treatment regimen, has helped the sport forge historic, new approaches to performance-enhancing drugs. Weiner stated his commitment to live his life and do his job as always and described the outpouring of support for him, his wife and their three daughters as "off the charts."
The youngest person on the dais, perhaps ever, was 10-year-old Lindsey Duquette, daughter of former Mets and Orioles general manager Jim Duquette. For eight years and through 22 surgeries, Lindsey says her rare kidney disease, focal segmental glomerulosclerosis, controlled her family. But thanks to Jim's kidney donation last summer, Lindsey says she is doing well and can be of help to others. Her speech followed her dad's, and she projected impressive calmness for a speaker of any age. To Weiner, her father's fellow alumnus of Williams College, Lindsey said, "if you ever need any advice when you're in the hospital, I'm available."
News and notes
Here is a
clip of the final at-bat
of Stan Musial, the creator of baseball's most perfect statistic: 1,815 hits at home, 1,815 hits on the road.
Tim Kurkjian offers his
memories of Musial
and
of Weaver
.
Dick Goldstein, who writes some of the best obituaries anywhere, does justice to Musial's legacy
here
. As you can imagine, the St. Louis Post-Dispatch has extraordinary coverage of the passing of that city's
greatest sports icon
.
There was a
record crowd
at the Orioles' fan fest, where Weaver was honored.
Jayson Stark writes about Weaver's
secret weapon
.
Thomas Boswell writes about Earl Weaver,
the master
. Old friend Dave Ginsburg writes about a man
beloved in Baltimore
.
Corey Hart
will need knee surgery and will
miss the start of the season
. This is not a minor procedure; if it were a simple cleanup, he'd be ready for the start of the season.
Moves, deals and decisions
1. There are interested teams champing at the bit to get involved in the
Justin Upton
conversations with Arizona, which focused earlier this month on talking with two teams that are on Upton's no-trade list -- the Mariners and the Cubs.
2.
Adam Wainwright
isn't setting any deadlines
in his talks with the Cardinals, writes Derrick Goold.
3.
Garrett Jones
worked out a
one-year deal
.
4. Lynn Henning has
some questions
for Tigers GM Dave Dombrowski.
5. The Cubs are willing to spend
$300 million
for renovations.
6.
Delmon Young
and
Luke Scott
are among the
Rays' DH options
.
7. The Padres and
Chase Headley
are
far apart
in their arbitration filings, writes Bill Center.
Other stuff
" The Cubs are
open to the idea
of bringing
Sammy Sosa
in from the cold.
"
John Axford
will be able to
pay off his student loans
now.
"
Matt Kemp
wants to be
ready on Opening Day
.
"
Rich Hill
is a big fan of
Boston's signing
of
Ryan Dempster
, writes Scott Lauber.
" The U.S. won't be putting its
best team on the field
in the WBC, writes Troy Renck.
" The Rangers' rotation might be its
most important building block
, writes Jeff Wilson.
• Some Braves pitchers say throwing in the WBC
will help, not hurt
.
" The Indians are pleased with the
middle-infield depth
that they are developing, writes Paul Hoynes.
" The Tigers are on their
winter caravan
.
" Royals fans
filled a convention center
, writes Pete Grathoff.
And today will be better than yesterday.